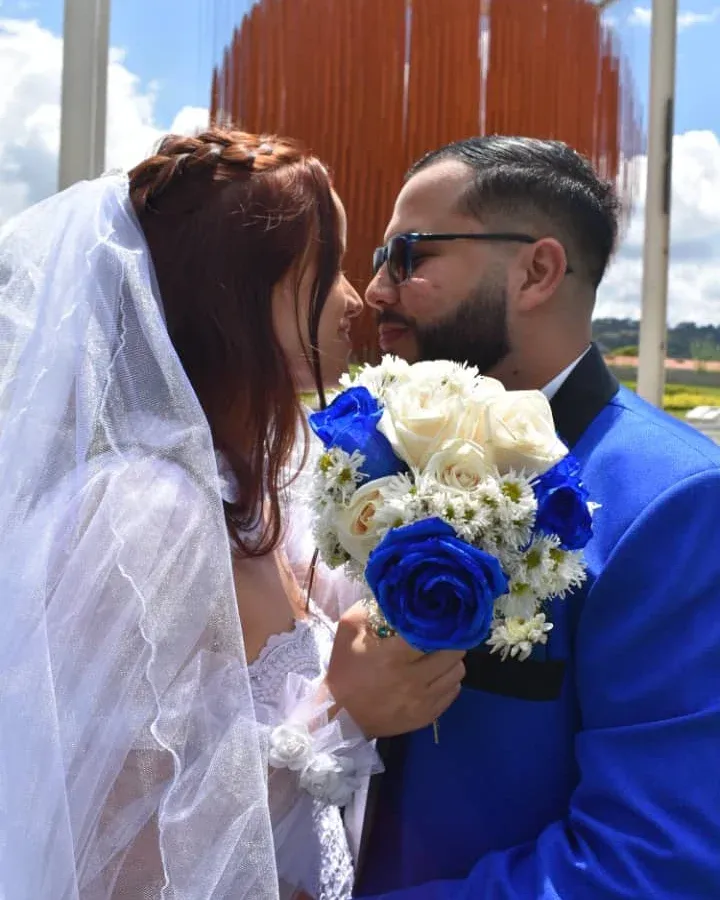 Después de tanto tiempo, días, meses y años la espera ha terminado oficialmente soy un señor casado y feliz. La travesía que muchos de ustedes vieron por acá hoy se ve en parte de estas fotos que decido compartir con ustedes, fueron más de 1509 fotos y aquí hoy solamente dejaré 4 que son un resumen de ese momento tan especial vivido y celebrado el 15 de octubre de 2022.
Como pueden observa el azul fue el color predominante en esta celebración, era nuestro color ideal, es el color que nos gusta y queremos dar esa identidad a una fecha tan especial para nosotros. Hoy estoy seguro que lo más importante de una celebración como esta es la identidad de los esposos y nosotros nos nos quisimos quedar atrás, tanto que luego de la boda tomamos unos minutos para realizar una foto en la esfera de Soto que se encuentra en la ciudad de Caracas, Venezuela.
After so much time, days, months and years the wait is over I am officially married and happy. The journey that many of you saw here today is seen in part of these photos that I decided to share with you, there were more than 1509 photos and here today I will only leave 4 that are a summary of that special moment lived and celebrated on October 15, 2022.
As you can see blue was the predominant color in this celebration, it was our ideal color, it is the color we like and we want to give that identity to such a special date for us. Today I am sure that the most important thing in a celebration like this is the identity of the spouses and we did not want to be left behind, so much so that after the wedding we took a few minutes to take a picture in Soto's sphere which is located in the city of Caracas, Venezuela.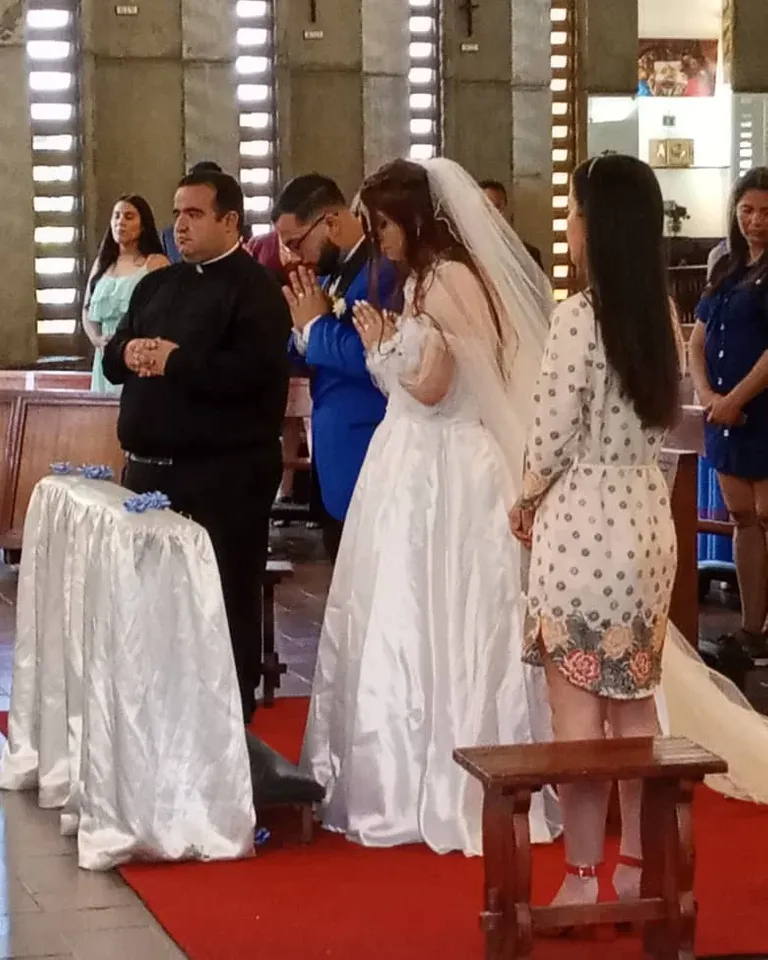 Fue así como nos prometimos acompañarnos y amarnos hasta la eternidad, un amor para siempre y un sí que se renueva todos los días. Ha pasado ya un mes y medio y apenas estoy publicando por acá debido a que la luna de miel y ajustarme a mis nuevas responsabilidades me habían consumido el tiempo y me impedían decidir una foto para mi primera publicación anunciando que soy un hombre casado con s y no con z
De verdad que la celebración estuvo cargada del sentimentalismo propio pero además llena de signos y símbolos que pronto conocerán, fue una boda que sale de lo clásico pero que contó con la mejor compañía de nuestros familiares y amigos, estuvieron los que debían estar y eso nos llenó de mucha alegría, el sacerdote que nos acompañó y presidió la eucaristía fue nuestro párroco y eso nos causa mucha alegría, además sus detalles dentro de la liturgia lo hicieron mejor todavía, lo que seguro hasta este punto es que la celebración de nuestra boda la disfrutamos
That's how we promised to accompany each other and love each other until eternity, a love forever and a yes that is renewed every day. It's been a month and a half and I'm barely posting here because the honeymoon and adjusting to my new responsibilities had consumed my time and prevented me from deciding on a photo for my first post announcing that I'm a man married with an s and not a z.
Truly the celebration was full of sentimentality but also full of signs and symbols that you will soon know, it was a wedding that goes out of the classic but that had the best company of our family and friends, there were those who should be there and that filled us with great joy, the priest who accompanied us and presided the Eucharist was our pastor and that causes us great joy, also his details within the liturgy made it even better, what is certain at this point is that our wedding celebration we enjoyed it.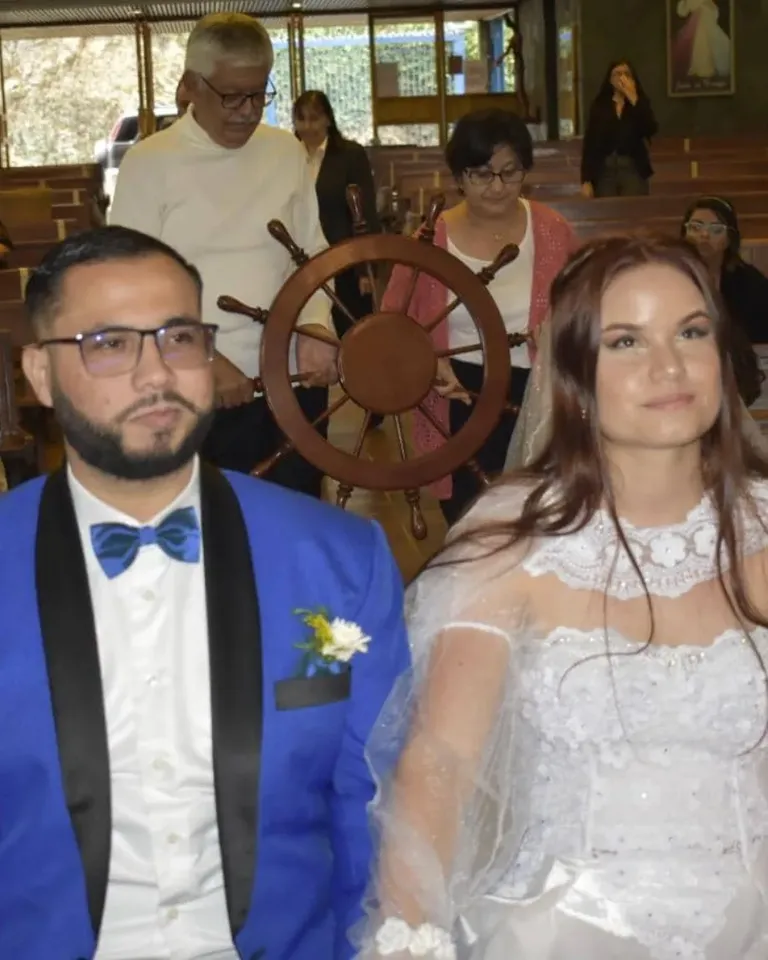 Tuvimos espacio para la oración, para reír y quizás para llorar, a propósito te pregunto ¿Crees que uno de los dos lloró o lloramos los dos? Déjalo saber en los comentarios y te daré detalles en el la siguiente publicación. Por otra parte, nos acompañó unos de los símbolos que en reiteradas ocasiones han visto en mi blog, el timón, este es parte del movimiento en el que crecimos y por ende no podía faltar porque ha sido factor de unión y crecimiento en nuestro noviazgo, gracias a él nos hemos conocidos más.
Fue llevado por dos esposos que som parte del movimiento también llamado Encuentros de Promoción Juvenil, los dos pensamos en ellos porque consideramos que en estos esposo se encierra el bello concepto del timón y ese que queremos acoger en nuestra vida ahora como esposos, cómo familia. Estábamos muy emocionados y felices y lo mejor fue que el estrés no tuvo espacio en un día tan importante para nosotros.
We had space for prayer, to laugh and maybe to cry, by the way I ask you Do you think one of us cried or we both cried? Let me know in the comments and I will give you details in the next post. On the other hand, we were accompanied by one of the symbols that have repeatedly seen in my blog, the rudder, this is part of the movement in which we grew up and therefore could not miss because it has been a factor of union and growth in our courtship, thanks to him we have known each other more..
It was taken by two husbands who are part of the movement also called Encuentros de Promoción Juvenil, we both thought of them because we consider that in these husbands is enclosed the beautiful concept of the helm and that we want to embrace in our life now as spouses, as a family. We were very excited and happy and the best thing was that stress had no place in such an important day for us..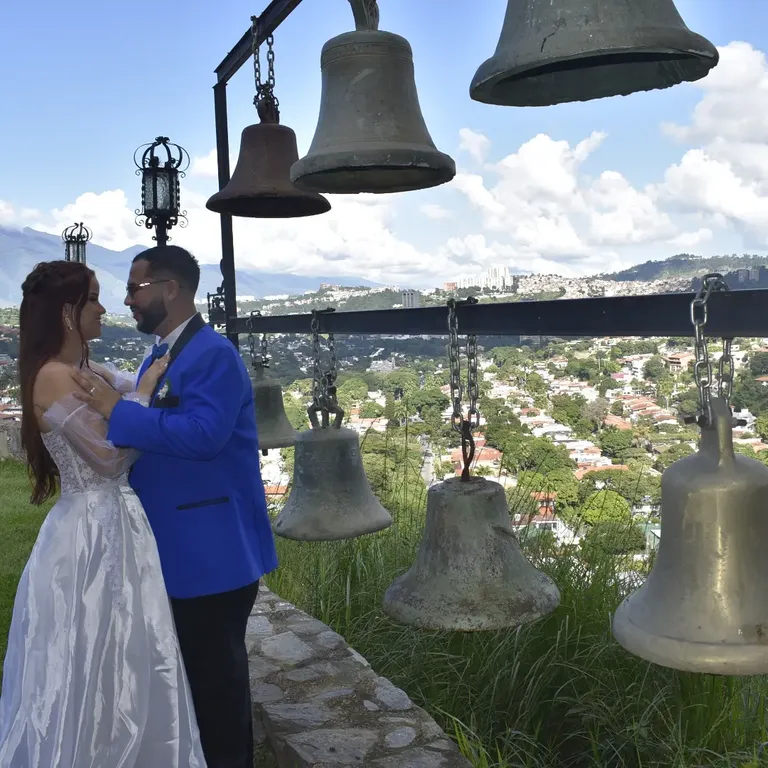 Luego de la celebración dentro de la Iglesia nos fuimos a tomarnos unas fotos por la autopista de nuestra ciudad y luego llegamos al lugar donde iba ser la recepción de nuestra boda, un espacio que fue soñado y anhelado por los dos, cuando lo visitamos quedamos profundamente enamorados y sumamos esfuerzos por meses para materializar ese sueño de este lugar publicaré más fotos luego y estoy seguro que muchos de ustedes quedarán encantados.
Se encuentra aquí mismo en nuestra ciudad, Caracas - Venezuela y lo mejor es su vista, nos permite ver la ciudad y deleitarnos de un hermoso atardecer, la brisa y frescura de un ambiente ideal para inmortalizar la celebración de nuestra boda. Hoy les comparto que lo disfrute y que estoy muy feliz de este paso dado y de todo aquello que costó, en Venezuela aún nos podemos casar y si es con la mujer de tu vida no lo dudes, hoy me siento inmensamente feliz.
After the celebration inside the church we went to take some pictures along the highway of our city and then we arrived to the place where our wedding reception was going to be, a place that was dreamed and longed by both of us, when we visited it we were deeply in love and we made efforts for months to materialize that dream of this place I will publish more pictures later and I am sure that many of you will be delighted.
It is located right here in our city, Caracas - Venezuela and the best thing is its view, it allows us to see the city and enjoy a beautiful sunset, the breeze and freshness of an ideal environment to immortalize the celebration of our wedding. Today I share with you that I enjoyed it and I am very happy with this step taken and all that it cost, in Venezuela we can still get married and if it is with the woman of your life do not hesitate, today I feel immensely happy.


Fuente: Imagen realizada en canva
Nota
Fotografías desde cámara profesional Nikon por DG fotógrafo.
Note.
Photographs from professional Nikon camera by DG photographer.
Traducción al Inglés desde Deepl.com
English translation from Deepl.com