¡Feliz día del amor y la amistad! No hay mayor amor que el de una madre. 💕
Happy Love and Friendship Day! There is no greater love than a mother's love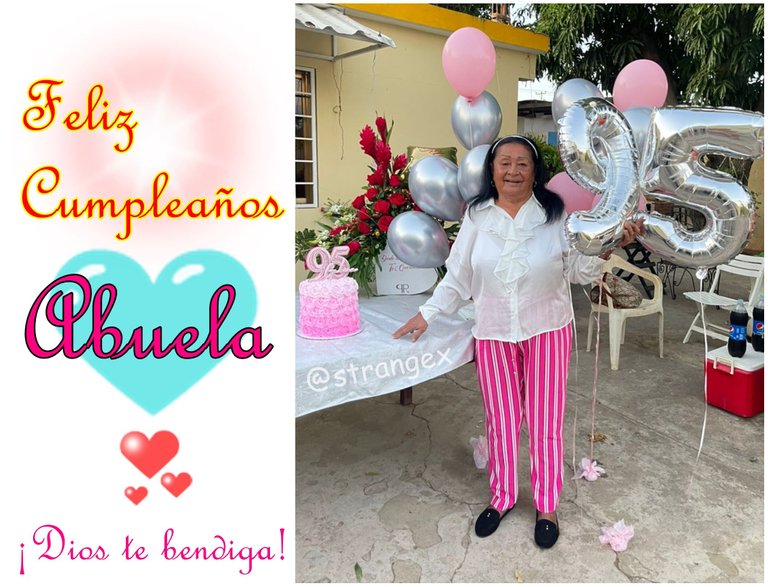 Hola amigos DIOS LOS BENDIGA que contento estoy de presentarles lo que fue este día y aunque tuve problemas con el internet, aquí sigo...
Hello friends GOD BLESS YOU how happy I am to present what was this day and although I had problems with the internet, here I am....
Este maravilloso día comienza conmigo levantándome temprano para desayunar y ponerme a realizar un pequeño obsequio para la persona protagonista de este día... MI ABUELA.
Con materiales reciclados y en perfecto estado armé una base doble para colocar dulces, justo como las vemos en las mesas de dulces de todos los cumpleaños. ¿Qué tal? en ellas coloque trozos de torta y dulces para llevarle a mi abuela por su Cumpleaños.
This wonderful day begins with me getting up early to have breakfast and start to make a small gift for the person who is the protagonist of this day... MY GRANDMA.
With recycled materials and in perfect condition I made a double base to place sweets, just like the ones we see on the candy tables of all birthdays. How about? I placed pieces of cake and sweets on them to take to my grandmother for her birthday.

Seguidamente terminé de hacer un corto pero emotivo video para compartir... donde salen los miembros de mi familia acompañando en diferentes momentos a mi viejita hermosa. Usé un temazo de pimpinela Lo mejor que la vida me dio, Edite y arme el video para mostrárselo más tarde cuando la vea.
Then I finished making a short but touching video to share... where my family members are with my beautiful old lady at different moments. I used a great pimpinela song Lo mejor que la vida me dio, I edited and edited the video to show it later when I see her.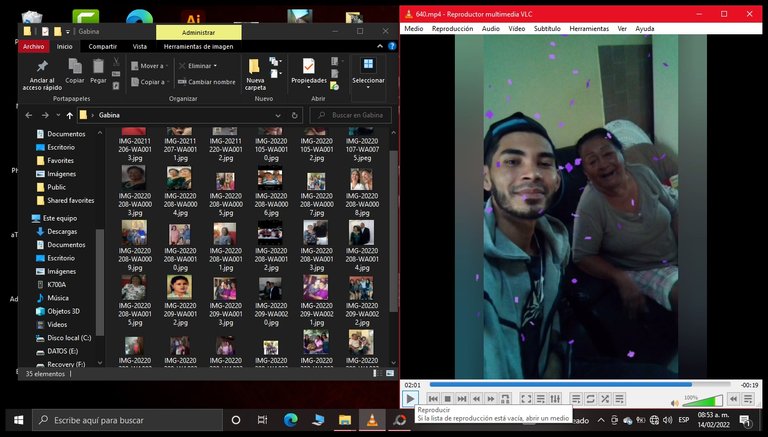 Mientras se guardaba el video fui a almorzar y noté que mi bicicleta estaba vacía y la verdad no entendía porque, si tenia días sin usarla.
Así que si quería ir a la reunión más tarde debía repararla pues la casa donde vive mi abuela queda bastante retirado de la mía.
¡BUENO, MANOS A LA OBRA!
While the video was being saved I went to lunch and noticed that my bike was empty and I didn't really understand why, since I hadn't used it for days.
So if I wanted to go to the meeting later I had to repair it because the house where my grandmother lives is quite far from mine.


WELL, GET TO WORK!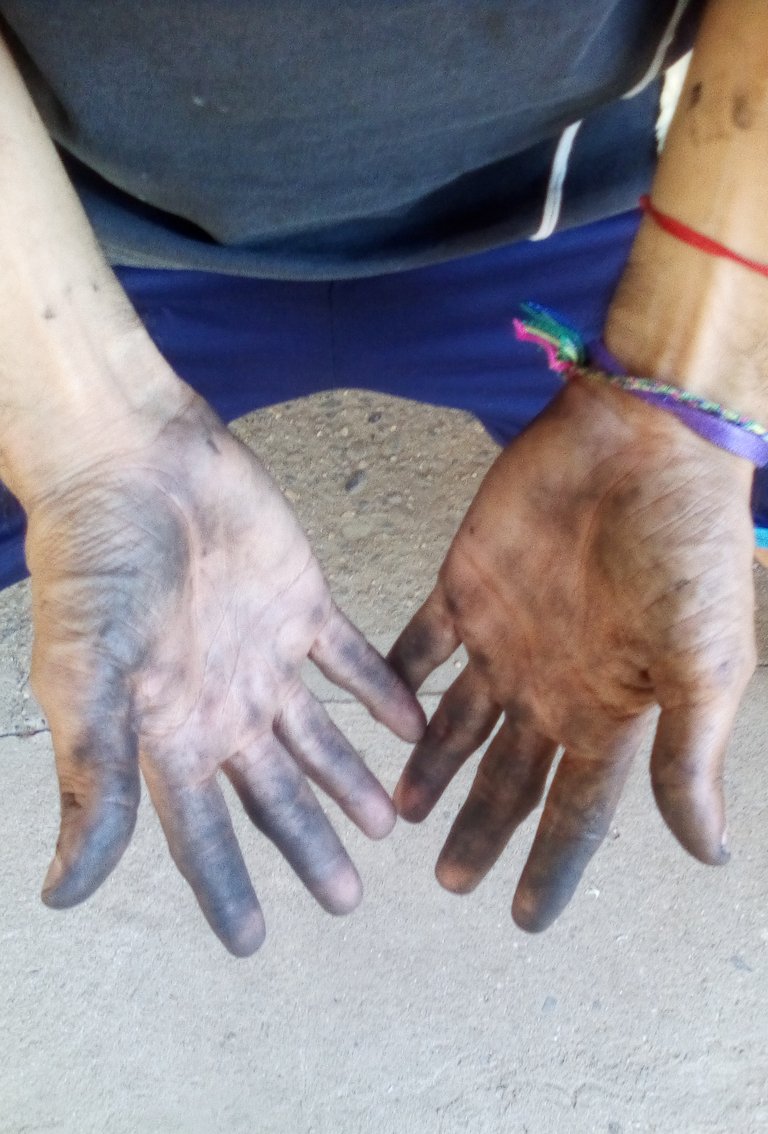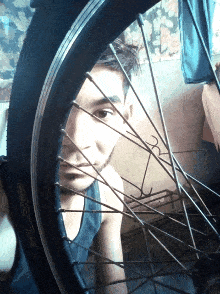 Como ven mis manos quedaron muy bonitas, listo para abrazar a alguien 😆😆😆
Me fui a bañar, ya eran las 4:00pm, organicé mis cosas y decidí salir aunque el sol lo tendría de frente, saqué mi bicicleta, me puse un suéter nuevo y salí de mi casa.
As you can see my hands were very pretty, ready to hug someone 😆😆😆😆😆😆😆😆😆😆😆😆.
I went to take a bath, it was already 4:00pm, I organized my stuff and decided to go out even though the sun would be in front of me, I took my bike out, put on a new sweater and left my house.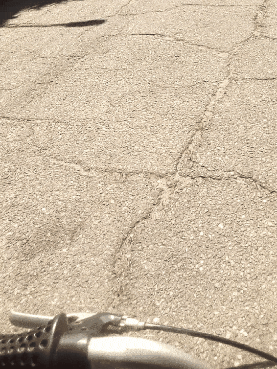 🤦‍♂️
A un par de cuadras de mi casa la cadena de mi bicicleta se salió y me devolví para ajustar mejor.
😭😭😭
Si me llené de grasa mis manos otra vez, pero esta vez quedó mejor y pude salir tranquilamente y sin prisa a la reunión familiar.
😊😊😊
🤦‍♂️
A couple of blocks from my house my bike chain came off and I went back to adjust it better 😭😭😭😭 ... Yes I got grease all over my hands again, but this time it looked better and I was able to leave quietly and without haste to the family reunion. 😊😊😊

¡FINALMENTE LLEGUÉ!
Entre a la casa de mi abuela y le entregue mi presente, me dijo que le gustó mucho 😍😍😍
I FINALLY ARRIVED!
I went into my grandmother's house and gave her my present, she told me she liked it very much 😍😍😍😍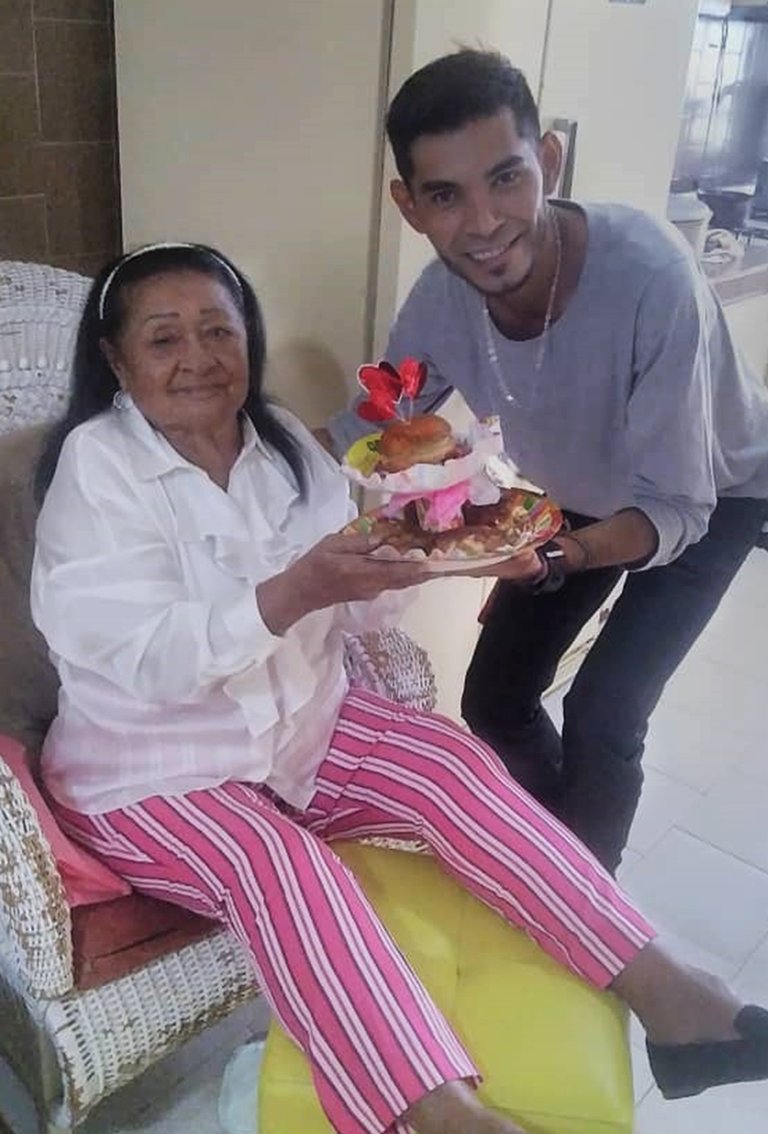 Ella no sabia que le teníamos preparada una sorpresa, mientras ella estaba adentro viendo Televisión mis primos, primas y Tíos armamos todo afuera para que ella se sorprendiera...
Mesa de pasapalos y dulces donde mis tías terminaron colocando mi regalo como parte de la decoración... al menos mi abuela comió de lo que le llevé. 😂😂😂
She didn't know that we had prepared a surprise for her, while she was inside watching TV my cousins, cousins and uncles set up everything outside for her to be surprised....
Table of pasapalos and sweets where my aunts ended up placing my gift as part of the decoration... at least my grandma ate from what I brought her. 😂😂😂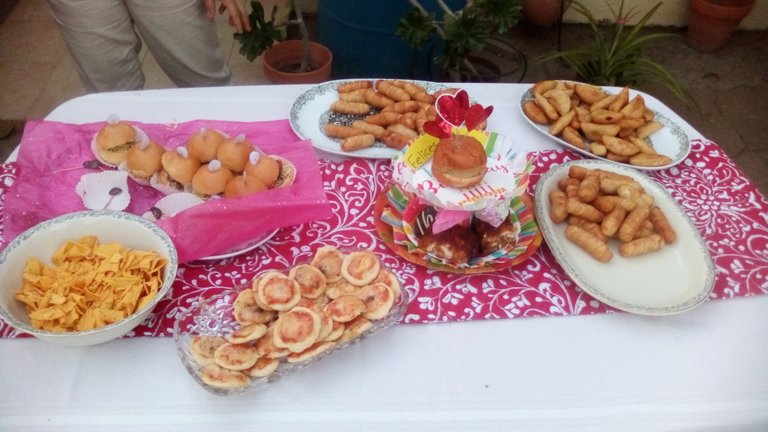 Nos tomamos muchas fotos con abuela y si las coloco acá, el post será larguísimo JAJAJA...
En esta foto estamos los nietos que pudimos asistir, tratamos de sostener el 95 y yo terminé casi que separado de todos... igualmente me encantó la foto.
We took many pictures with grandma and if I put them here, the post will be very long... HAHAHAHAHA....
In this picture we are the grandchildren who were able to attend, we tried to hold the 95 and I ended up almost separated from everyone... I loved the picture anyway.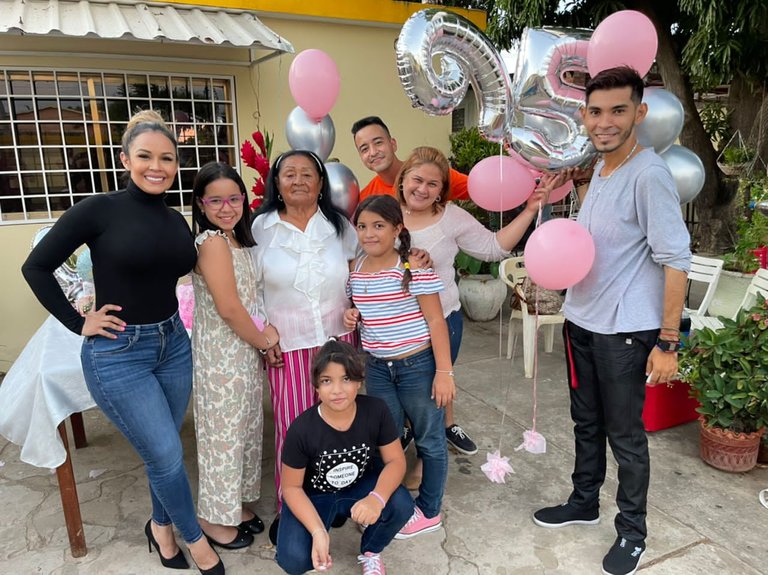 Mi prima junto a mi tío le trajeron MARIACHIS... 🤩🤩🤩
My cousin together with my uncle brought her MARIACHIS.... 🤩🤩🤩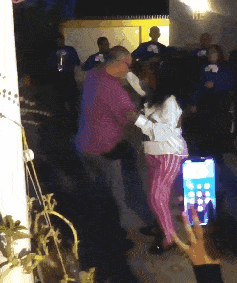 Le cantaron muchas canciones y bailaron con mi abuela...
Uno de mis tíos le cantó, otro la sacó a bailar y aunque ella estaba un poco cansada se levantó feliz para disfrutar mucho más de su cumpleaños... La verdad estuvo todo muy bonito.
🎈 Y LOS CUMPLIÓ FELIZ 🎉
Gracias a Dios todo poderoso por permitirnos esta alegría.
They sang many songs and danced with my grandmother....
One of my uncles sang to her, another one asked her to dance and although she was a little tired she got up happy to enjoy her birthday even more.... The truth was all very nice.
🎈 AND HAPPY BIRTHDAY 🎉
Thanks to God almighty for allowing us this joy.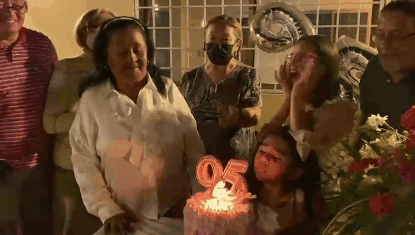 Mi primita Julietta tuvo que contener a Jimena la terrible ¡¡¡Sopladora de velas!!! 😂
Luego le mostramos el video y se emocionó muchísimo en especial al ver una foto de ella junto a mi abuelo que sé que nos cuida desde el cielo. 🥰
My little cousin Julietta had to restrain Jimena the terrible candle blower!!!!! 😂
Then we showed her the video and she got so excited especially seeing a picture of her next to my grandpa who I know is watching over us from heaven. 🥰

Nuestro mayor deseo es que nuestra abuela siga mucho más tiempo junto a nosotros y que aquellos que hoy están en el exterior del país puedan volver y celebrar todos juntos los 100 Años...
Dios mediante. 🙏
Finalmente llegue a casa alrededor de las 10pm y caí rendido en la cama.
A pesar de los obstáculos todo salió increíble.
Estoy muy contento.
😁
😁
😁
Our greatest wish is that our grandmother will be with us much longer and that those who today are outside the country can return and celebrate all together the 100 Years...
God willing. 🙏
I finally got home around 10pm and fell into bed.
Despite the obstacles everything went amazing.
I'm very happy.
😁
😁
😁
GRACIAS.
THANKS!

🎨📸 Fotografía y Edición: Realizadas por mi mismo, StrangeX, con mi teléfono KRIP K7, Otras con el iPhone X de mi prima... y editadas con Photoeditor App y Photoscape.
🎨📸 Photography and Editing: Shot by myself, StrangeX, with my KRIP K7 phone, Others with my cousin's iPhone X... and edited with Photoeditor App and Photoscape.