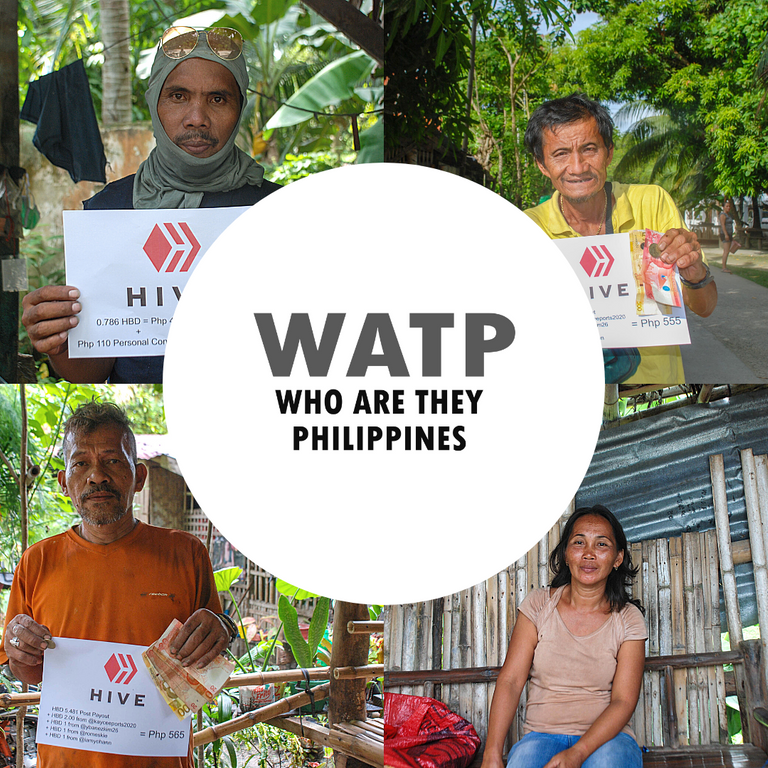 Hello #Hive,
A month ago, I (@iamyohann), with the support of some hiveians, started the #WhoAreTheyPhilippines initiative.
I am currently living in the Philippines and a month ago, I needed some machetes and lawnmower blades sharpened. I made my way to the local bladesmith and I started chatting with him while he was working on my blades.
His shop is falling apart and to be honest looks more like ruins than an actual shop. With that in mind and after getting to know a bit more about him and his family and how life is not easy for them, it dawned on me.
I am still a newbie on hive but I have been lucky to quickly be appreciated and rewarded for my content. So my idea then was that I needed to share some of this success or pay it forward with someone who needs it more.
This is how and when #WhoAreTheyPhilippines started.
#WhoAreTheyPhilippines is a weekly project where I randomly select a person in the area where I live or work. I interview that person, take a few pictures and then post about him/her on the Hive PH Community. After 7 days, when the author reward can be claimed, I convert the whole HBD amount to the local currency (PHP) and hand it over to him/her along with some contributions from some Hiveians who believe and support this initiative.
At the same time, I would like to also show a bit more of the Philippines to you hiveians all over the world. So far, it's mostly been about the jobs one can find in most Philippines' municipalities but I want to try and evolve it bringing more value while still featuring 1 random person.
The project is still new and I'm still working on it. I'm also open for any suggestions.
So far, I have featured 4 persons and handed over 3 rewards.
Every week, I receive support and contributions from some people, most of them from Hive PH community.
I am very thankful and happy about this but their contributions are sent to me directly and I think it would be better if I separate my own personal account with the #WhoAreTheyPhilippines initiative. This would make it much easier for me to keep track of all the contributions and rewards and also make it entirely transparent for everyone to see.
So the next feature will still be posted under my own account (with @whoaretheyph being 100% beneficiary) in order for me to properly announce the handover. After that, @whoaretheyph will be fully taking over.
What Do I (@iamyohann) Get Out Of This Initiative?
Nothing, other than the satisfaction of having done some good and participated in helping someone in need, even if it is just a small reward for the featured person. For some of them, even a little amount makes a difference.
This initiative makes me step outside of my comfort zone. I am a bit of an introvert person so you can imagine that going around looking for someone to approach and interview is not something I find easy to do. Yet, I do it because I believe the outcome can be rewarding, both for me and the person.
The smile on the person's face when I come back a week later to see them and hand over the reward to them is priceless. This is why I am doing it.
I'm not good with video but I am very soon going to try and record those moment so that you can also appreciate the reaction of the person.
Since I will be the one to hand over the actual money, @whoaretheyph will transfer the HBD amount to be given to the feature to my account every week.
What about the Hive Power rewards?
@whoaretheyph will keep the Hive Power rewards as I am hoping to, overtime, be able to use it to help hiveians with upvotes and maybe some curation too. For sure, it will take time before this account can make a difference with upvotes but it's the goal anyways.
Who is Behind The Happiness?
Some of the features have had a good author reward but so far, the contributions have made a bigger difference.
As of now, HBD 44.96 and Hive 0.99 have been donated to #WhoAreTheyPhilippines.
The benefactors who I thank from the bottom of my heart are @ybanezkim26, @kayceeports2020, @romeskie, @discoveringarni & @mrnightmare89
Some of it has been used already for the 3 previous featured persons and this is the current status:

The remaining contributions will be transferred to @whoaretheyph account after the next feature.
---
Check out the previous editions here:
WATP #1 - Ernesto The BladeSmith and Ernesto's HBD Reward
WATP #2 - Marito The Trisikad Driver
WATP #3 - Pampilo The Vulcanizer.
WATP #4 - Virgilia The Sari-sari Store Owner
---
Feel free to follow @whoaretheyph account so that you can see the weekly feature in your feed.
Also, You still have until Thursday to help Virgilia with your upvote, every little bit helps 🙂
Thank you all!