The newbiess had a meeting recently which was anchored by @starstrings01, @eddiespino and @projectmamabg. During the meeting, we discussed plagiarism, tagging, sourcing, engagement, and how to construct an article on hive. The meeting was an interesting one, and I was glad I attended because I ended up knowing more that what I thought I knew.
This is my second newbies initiative task, and I am meant to answer some questions to ascertain that I understood what was taught and also help other Hiveans understand more about these topics.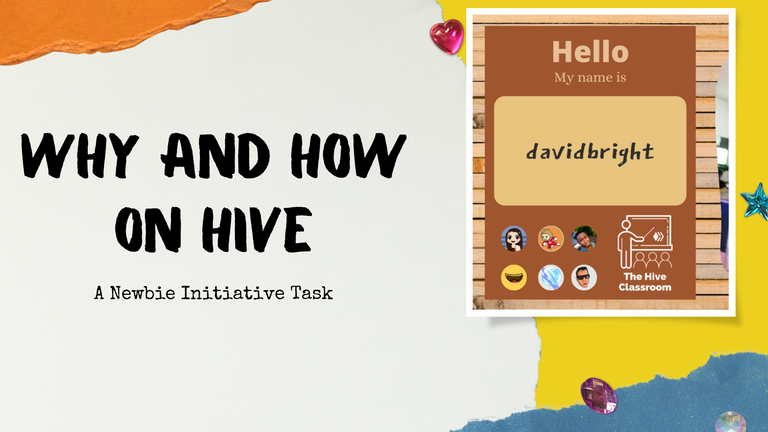 Designed using canva



WHY MUST YOU AVOID PLAGIARISM?
First and foremost, we must understand what plagiarism is all about before we can know why we must avoid it. Plagiarism in my own understanding can simply be defined as using other people's ideas or words as yours without seeking the permission of the owner or giving credit to the owner.
Hive as a platform abhors and frowns at plagiarized contents and as writers, we ain't expected to use another person's work without giving credit to the owner. If possible, it is adviceable to write your post without including a portion of another person's work but if your must, then you need to properly source and give credit to their owners.
You are not expected to copy and paste other peoples work just because you want to get upvotes. You must be creative enough to come up with quality contents except you ain't ready to be a writer. Hive isn't like other platforms that allows you to just post any article even though it isn't yours. Hence, to avoid being downvoted or muted, avoid plagiarism.



HOW DO YOU SOURCE A TEXT OR IMAGE ON HIVE, AND WHY DO WE HAVE TO SOURCE TEXTS AND IMAGES THAT ARE NOT YOURS?
Sourcing is one of the major problem most people have on this platform. I have seen so many articles with images which were not sourced. Most people believe they can just take any image, quotations or portion of another person's article without sourcing them. Hive frowns at this act because it's seen as plagiarism and anyone caught plagiarizing will be severely punished.
It is important to note that using images that are not free isn't acceptable and except you decide to buy those iStock images, you ain't expected to use them. We are adviced not to use images from platforms like Facebook, WhatsApp, Google, pin interest and even Instagram. There are several free sites that have been made available where you can get your free images from. Some of this free sites are pixabay.com, unsplash.com, pexels.com, and giphy.com for GIFs.
When sourcing a text that isn't yours, for example, when sourcing "Learning never exhausts the mind.", it is recommended that you use the greater than symbol (>), then space before writing the words. The quoted words will appear like this;
Learning never exhausts the mind.
When you are done with that, it is expected you state under the quoted words the source of the texts you used. Using the quote above as example, the format will look like this;
[source](the link to the website you got it from). It appears like this
When you click on it, it directs you to the particular website you sourced the text or image from. You can also use this same method when sourcing an image after you must have uploaded the image.



WHY SHOULD YOU NOT TAG NUMEROUS PEOPLE ON YOUR POST?
Before answering this, let's get to know what tagging means. Tagging is a way of drawing the attention of people to your post by mentioning them in it. When people are tagged, they get the notification and this would make them view your post easily.
Even though it is okay to tag people, I don't see it as being expedient. Research has shown that so many persons don't find it funny or appreciate when you tag them on your post. They see it as if you are disturbing them and some might end up downvoting or muting you because they might think you are tagging them because you are looking for upvotes. If you must tag, let it be those you know.



WHY YOU SHOULD NOT PUBLISH THE SAME ARTICLES NUMEROUS TIMES?
I kept wondering when I saw this question if this was even possible. Are there people out there who publishes the same articles numerous times? Who does that? Hive is a platform that frowns at anything spamming, and you are a spammer if you have such attitude of publishing the same article numerous times.
Spammers are severely punished when they are caught, and I don't think any of us would want to be punished. I believe that anyone who sees or calls him or herself a writer wouldn't spam. As a writer, you must be creative enough to come up with different ideas sporadically. Even though there are sometimes a writer experiences "writer's block", that doesn't mean he or she should publish the same articles numerous times.



WHAT IS THE ACCEPTABLE AMOUNT OF ARTICLES YOU CAN PUBLISH PER DAY?
Hive allows you to write more than 3 posts a day, but I wouldn't advice anyone to publish more than 2 posts per day. Speaking from experience, I tried publishing more than 2 posts on a particular day and I found out that even my second post didn't receive upvotes like the first post and this is because you don't expect someone who gave you a 100percent upvote on your first post to give you the same percentage of upvotes on your second post not to talk if the third post.
Even though you have the opportunity to publish more than three posts on hive platform, wisdom is profitable. Even if you have the inspiration to write more than 2 articles in a day, I will advice that you save these articles on your draft instead of publishing them as your third and fourth posts. You still have the next day to publish such posts.



WHAT IS THE IMPORTANCE OF ENGAGEMENT?
The importance of engagement can not be underestimated. Engagement has proven to be the key to success on hive. It is the pillar behind you getting noticed on this platform.
You engage when you make quality comments on other authors post. You engage when you start an intelligent conversation with authors on their posts. When you engage, people will have no option than to follow you and this will give room for more visibility of your blog and more support on your blog. Engagement also tends to build your reputation on hive blockchain.
Without engagement, nobody will know that you exist on the blockchain. You can't be where you want to be without engagement. With engagement, you get to meet people, make friends and learn new things.



WHAT OTHER POINTS DID YOU LEARN FROM THE VIDEO?
There are so many things I learnt from the video. Some of these things are;
I learnt that when constructing an article on hive, I need to consider the title of my article, the first paragraph and the header image. Nobody sees our full post, they just see our title, our header image and our first paragraph. These things are what attracts people to click on our article, and so we must make them captivating.
I learnt that I can also share my posts on other social media to get more views and more engagements.
I also learnt that I can use dividers to beautify our posts and if possible source these dividers.
I learnt how to make my posts look better and more professional using the tutorials that were shared on markdown and HTML. I benefitted from these tutorials and I believe others will also benefit from it and that's why I will be sharing these tutorials with us. Here they are;
https://explore-hive.dblog.org/bg-en-kak-da-razkrasim-statiite-si-how-to-beautify-your-articles
https://peakd.com/tutorial/@carrieallen/ultimate-markdown-tutorial
https://peakd.com/hive-174578/@victoriabsb/tutorial-de-markdown-completo-or-traduccion-autorizada



I guess some of us must have benefitted from this article just as I did during the meeting. Thanks to the newbie initiative team for this wonderful project. May God bless you all.
Thanks for reading. Stay safe and remain blessed.