23/08/2022
We have just released the last major update to your Farming Tales farms before the official release of New Waxchester: the Single Sale System.
From now on, you will be able to individually manage the products inside your barn, deciding from time to time which ones to keep and which ones to sell. This new system will be very important to allow you to keep those products you want to use and improve in New Waxchester, and to participate in the weekly task, which we will release soon.
Like any major update, we ask you for a little patience in case bugs or malfunctions occur, which as always we will try to correct as quickly as possible.
As usual clean your cache and reload before to play the game, if any problem persists just try using the incognito mode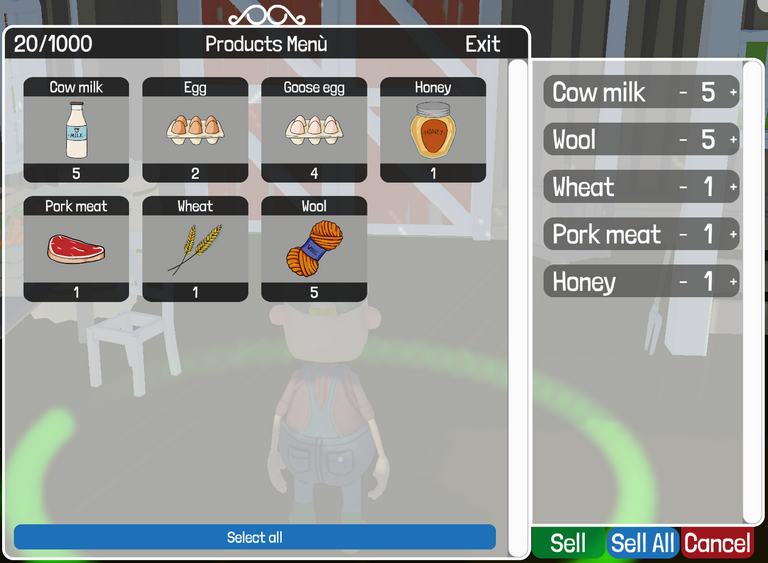 26/09/2022
After a few days of silence it is time again to share some important news and upcoming updates with the community:
Let's start with the most awaited one: we have officially started to work on linking the Unity build to New Waxchester. As already communicated, today we have updated our smart contracts in order to be ready for the release. Next week (or in the next few days) we will share with you all a big surprise for this event, which we hope will be very welcome.

Our partners from Makeship have confirmed to be ready with the shipments of Frank and Concetta plushies. Tomorrow we will deliver your redeem-code to them, needed to redeem your bonus NFTs (revealing the secret NFT).

Farming Tales' real honey redeem process officially closes tonight. In the next few days you will be contacted by @Phage | farmingtales 🐝 to confirm the shipment, and within a few days (hoping for the cooperation of customs) you will receive your honey.
Finally, I want to thank the whole community once again for your patience while waiting for the release of New Waxchester. We know it took a lot longer than expected, but a huge amount of work has been done, and the final result is far better than what we set out to do. Those of you who have been following us from the start know that one of my biggest regrets is having released Farming Tales in "beta" version, when in this world gamer-investors expect well-functioning products. This is why we decided to take the time to build a good product when creating New Waxchester.

01/10/2022
As you know, a month ago we launched the new Farming Tales deflationary system, which will lead to the progressive increase of the prices of the craftable productive items within the game.
We have decided that, to make life easier for all of you (and for all of us) starting this month the halving will take place on the first day of each month, increasing the price of the craft by 5,947% as planned. This increase will cause the craft price to double each year.
Prices have just been updated!
P.S. As you may know, all the team is now away for the Nefty Block Unconference in Amsterdam. We'll be back in a couple of day, so be patient if we're not checking our DMs. Phage will start working on Honey Shipments right after that.


17/10/2022
Starting from this moment, it is possible to proceed with the redeem of your Foraging Bees 🐝 in WAX or SEST :SEST:.
To start the redeem process, please post the following information in the channel ├🍯honey-redeem:
your wallet;
the number of bees you want to redeem;
the currency with which you want to redeem;
if available, the bee stake transaction.
The redeem value is 12.5$ (ROI +25%) and the exchange rate is fixed at the current value of WAX and SEST:
WAX: 0.08221 $
SEST: 0.00233 WAX
Redeem will be available until 23:59 on Wednesday 26 October
🚨 Finally, I remind you that the redeem in WAX, as announced at the time of the sale, is only available for Foraging Bees purchased before 27.05.2022 (max mint #601)
Moreover, it's time for a couple of good updates 📰 :
Our friend from Makeship should have sent all the redeem-code to your mail to redeem your new Vineyard 🍇 and Skin 👕 voucher. As you know, we're now fully focused on New Waxchester release, and we cannot deal with other implementation. Blend for vouchers will be made available right after the release, along with Cat and Hemp implementation.

We're now approaching the last stage of bug fixes 🔨 and improvements before New Waxchester 🏡. We've scheduled a new big test for Wednesday, and i really hope to show you something good from this test. We're also finalizing two big surprises, and i'm pretty sure this wait is worth: first surprise will be about marketing 🎥 , and second one, well... Will be big... We're going to implement a whole new use case for SEST :SEST:.

We're also speeding up 🚀 the integration with Solana, and it will be probably available since day 1.

24/10/2022
In the last announcement 📣 we promised some images directly from New Waxchester 🏡 , to show you the status of the work; I am happy to report that the tests have been a success, and that we think we will be able to officially announce the New Waxchester release date soon 🔜 .
We are finishing the integration with the system that will allow users from Solana to participate in some of the minigames. To answer the doubts of some of you, the new system will not replace the existing one, but will simply offer a new way to get rewards thanks to the leaderboards of our friends at Insert Stonks.
After this step, all that remains is to wait for the response of a possible large partner that we would like to involve in the launch of New Waxchester... This partnership could lead to what many of you have been asking for a long time, namely the listing of one of our coins ( maybe a new one?) on a CEX 🚀 .
You can find some screenshots in the channel ├👀sneak-peeks, and I leave you with a small video showing one of @xdualx | farmingtales 📘 recent additions to New Waxchester: an interactive square where various types of events will be hosted. We plan to host an important event of our company directly in the new amphitheater already in November!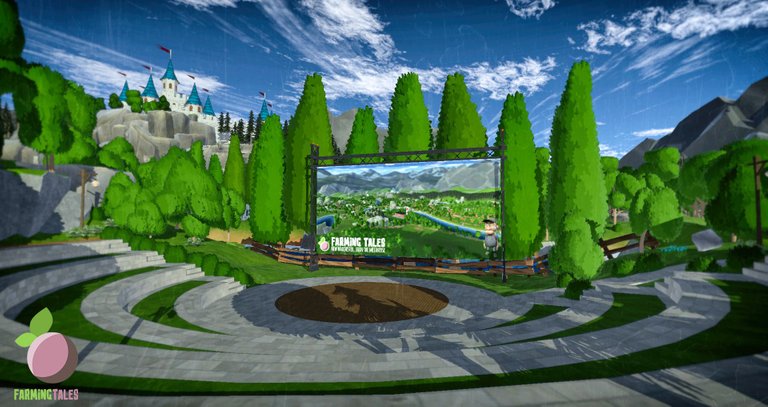 29/10/2022
As usual, before a big announcement, I want to start by thanking all the Farming Tales community, which in recent months has shown a lot of patience and trust in the development team! Thank you very much, this would not be without you.
And now… Yes, it is the moment you have all been waiting for a long time: we are finally able to communicate to you an official date for the 🚨 🏡 🚨 RELEASE OF NEW WAXCHESTER 🚨 🏡 🚨 and the real metaverse of Farming Tales!
🚨 🚀 🚨 The update will be Monday 28 November! 🚨 🚀 🚨
I would like to quickly list what will be the main innovations introduced with this massive update:
Activation of the multiplayer metaverse;
Activation of buildings owned by the players, for product improvement;
Activation of minigames and rewards 🚜;
Leaderboard activation on Inster Stonk (Solana);
Stake of the cat 🐱;
Stake of hemp filed 🥬;
Vineyard stake 🍇;
Bridge and reward implementation towards the Rebus Chain (Cosmos);
Activation of the interaction systems between the users in the game.
Last but not least, release of the AUREUS token. The AUREUS will be the third Farming Tales token, and will be the token through which you can perform all actions within the metaverse.
If you are a Farming Tales :FT2: player, you will not need to buy this token, but you can get it the same way you get CBITs today. In fact, a new stake pool will be activated, both for SEST

and CBIT

, through which you can obtain the new token.
Specifically, AUREUS has a limited supply of 21,000,000 AUREUS.
This supply is distributed as follows:
40% reserved for WAX users through SEST staking ;
10% reserved for WAX users through CBIT staking ;
10% distributed through rewards on Solana;
10% distributed through rewards on Cosmos (Rebus);
10% reserved for listings on CEX;
20% partnerships and future integrations.
The AUREUS will be distributed over the course of 10 years, and the quantity distributed will be halved every year. We will discuss tokenomic in detail during the next AMA live on Monday 7th November!
We have so many things to tell in detail about New Waxchester and upcoming updates, and it would be impossible to include everything in this announcement. So stay tuned, in the coming days we will dedicate some time to each of these new features!

01/11/2022
Today is the start of a new month and, as usual, our deflationary :SEST::CBIT: system takes the next step, which is to increase the crafting cost of common animals and common gardens by 5.947%. Below are the modified prices on the marketplace.
| | | |
| --- | --- | --- |
| Common Cow | 2807 | 2974 |
| Common Goat | 2807 | 2974 |
| Common Goose | 2807 | 2974 |
| Common Hen | 2807 | 2974 |
| Common Pig | 2807 | 2974 |
| Common Sheep | 2807 | 2974 |
| Common Garden | 6736 | 7137 |

02/11/2022
As promised, in these days that separate us from the release of New Waxchester we will try to tell you more about some aspects of the new update.
Tonight I want to talk to you about the new tokenomic linked to AUREUS, and about the new pool that will give a new use case to SEST, CBIT and more ...
As you know, AUREUS will be a limited token, with a maximum supply of 21,000,000 that will be distributed to metaverse users over the course of 10 years. 50% (10,500,000) of the AUREUS will be reserved for WAX users of Farming Tales, stakeholders of SEST (40%) and CBIT (10%).
YEAR SEST CBIT
1 4,200,000.00 1,050,000.00
2 2,100,000.00 525,000.00
3 1,050,000.00 262,500.00
4 525,000.00 131,250.00
5 262,500.00 65,625.00
6 131,250.00 32,812.50
7 65,625.00 16,406.25
8 32,812.50 8,203.13
9 16,406.25 4,101.56
10 8,203.13 2,050.78
AUREUS will be airdropped directly into the stakeholder wallets once a week, according with the amount of SEST or CBIT in stake.
Remaining AUREUS can be released in different ways:
10% via stake of $ REBUS or $ LUDUS on the Rebus (Cosmos) blockchain
10% through dedicated activities on the Solana blockchain
10% reserved for listing on a CEX
20% future events and partnerships
AUREUS will be the token that will move the metaverse economy, and all activities within it will be paid or rewarded thanks to it. In our plans this should be a great advantage for Farming Tales users and farmers who will be the only ones able to "farm" large quantities of the token. Indeed, while the metaverse will open its doors to different blockchains and to users from different realities, the heart of the farm, the production center of the Farming Tales metaverse, will remain firmly on WAX.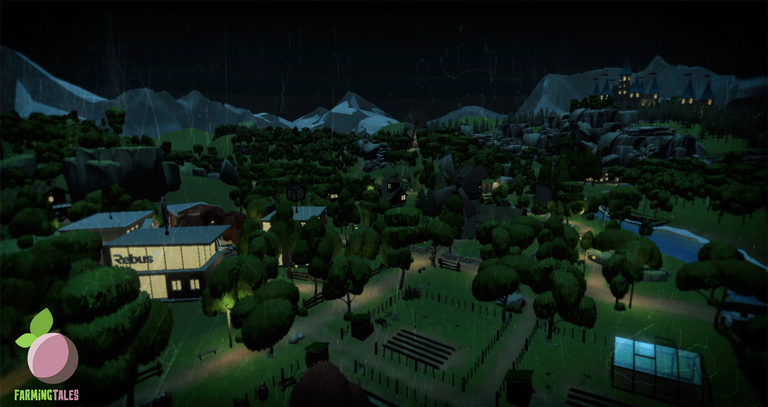 07/11/2022
With the announcement of the release date of New Waxchester (28th November), a lot of new and returning players have been a bit overwhelmed by the complexity of the game and the changes we made in the past months. Even though everything is documented in the whitepaper and discord, we want to add another alternative to learn about the game.
With the help from @warriorlion , we made a few YouTube videos to explain some of the basic mechanics of Farming Tales. We highly recommend watching them to get more familiar with the game if you are a new or returning player.
Beginner Guides:
How To Start Farming Tales:
New Waxchester Tour:
Specific Game Features Guides
• How to Craft and Blend Animals -
• How to Stake SEST to Earn CBIT -
• How to Stake Buildings and Animals -
• How to Stake Your Water Tower and Silo -
• How to Stake Pets -
• How to Stake Your Lumberjack, Fishing Pier and Other Buildings -
• How to withdraw and deposit sest/cbit -
• How to Harvest -
• How to Use Your Barn -
• How to Use Your Garden -
Today, we also had our 10th AMA Session. If you missed it, you can watch it on Twitch or YouTube:


Youtube:


Twitch:

08/11/2022
As promised, the time has finally come to release a little surprise that we have prepared for the whole community, which we hope will entertain you and, above all, entice new players to enter our metaverse.
Here is the first official trailer of New Waxchester, made by Mira Produzioni.
Feel free to share it wherever you want!

15/11/2022
DeFi & Onboarding the Metaverse!

ㅤGood morning everyone, farmers!
Today, while waiting for the release of New Waxchester, we want to talk about another of the big news coming to the metaverse: DeFi.

ㅤThose of you who have been following us since the beginning know that one of the main focuses of the Farming Tales team has been to use all possible sources of income to support the project, without proceeding to any cash-out after that of the big sales of a year ago.

ㅤOnboarding in the upcoming metaverse will also follow the same principles, and most onboarding activities will have the sole purpose of supporting the metaverse itself.

ㅤWe have therefore decided that for external partners, onboarding in the metaverse, i.e. the presence of an exclusive building dedicated to the partner, will be available through the payment of a certain sum, which interested parties will have to pay through their project token. This token will neither be sold on the market nor used by the team, but will be included in a 12-month DeFi pool, and will be distributed to users on the basis of SEST, CBIT or AUREUS stake. At the end of the 12 months, the individual partners will be able to decide whether to renew their partnership for the following year.

Example:
ㅤProject X wants to enter the metaverse, requesting their building with Y functionality. The Farming Tales team builds the building and places it in New Waxchester. Project X team pays with their token, which is placed in a stake pool. Users can access this pool using SEST (or sometimes CBIT or AUREUS).

ㅤThe onboarding modalities will be announced shortly, and the campaign will start immediately after.
The payment for the onboarding will depend on the features requested.

ㅤWhile the classic onboarding will be aimed primarily at other projects and companies, we will also make available a form of onboarding aimed at individual players who want to advertise their personal businesses. In this case, the onboarding payment will have to be made using a cryptocurrency agreed with the team.
Why this choice?
ㅤFrom a financial point of view this may seem like a counterproductive choice for the team, but it is not. Also for Nodo42 (the company built behind Farming Tales), as well as for many of our players, the most important goal is the long-term sustainability of the project. This sustainability cannot in any way be achieved by pursuing the sales strategy with the aim of earning from users. Our idea, therefore, is to create an environment that is as healthy and self-sufficient as possible. If we are able to achieve our goal, the company's profit must come solely from the secondary market.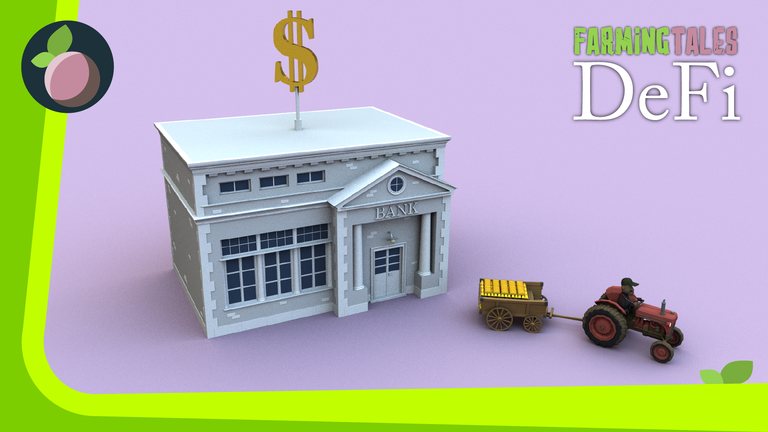 22/11/2022
The big New Waxchester update is 6 days away, and we are happy to let you know that the work on it is progressing as planned.
In the meantime, we'd like to tell you a bit more about how the town's buildings will work.
The mechanism is quite simple, in the early stages you will be able to interact with the NW buildings only from the outside; however, we are also working on the creation of the interiors, which will be made available later. From a technical point of view, the implementation of the interior poses some challenges that we are thinking about how to solve in the best way, and in the near future there will probably be a lot of news within the metaverse.
Each building in the town will give you the ability to refine the goods you produce on the farm, creating more valuable new products. A fixed percentage of the value of the new product will be paid to the building owner. Currently the percentage has been set at 5%, but in the future, we would like the community to decide via DAO whether to make these percentages dynamic or not.
For players to craft the new more valuable products at the NW buildings, they need follow these steps:
Harvest products from the farm and keep them in the Barn.
Go to NW at the building required for the product you want to craft (i.e. Windmill for Flour).
Start the crafting process which is finished instantly.
The result of the craft will appear in the Barn.
The image below is from the Alpha version and the information on it is not final!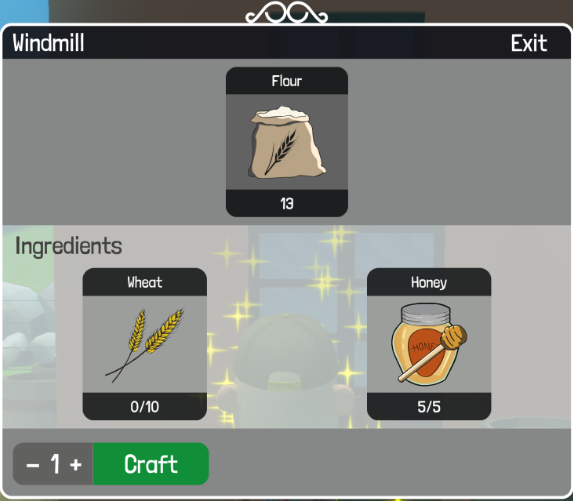 In order for players to start the crafting process, they need to already have enough SEST in their game wallet to pay the 5% fee to the owner of the building.
For example:
If a player wants to craft 1 unit of Flour which is valued at 3456 SEST, he needs to pay 172.8 SEST upfront to initiate the crafting process.
Some of the use cases for the new products will be:
Weekly Tasks.
"Feeding" the workers.
Note: Not all products will be available at the launch on November, 28th.
Today is also the day we resume auctioning New Waxchester buildings. The auction for Bakery just started and you can bid on it in ├💰auctions. The winner of the auction will have 7 days to pay the required amount of SEST to receive the Bakery NFT.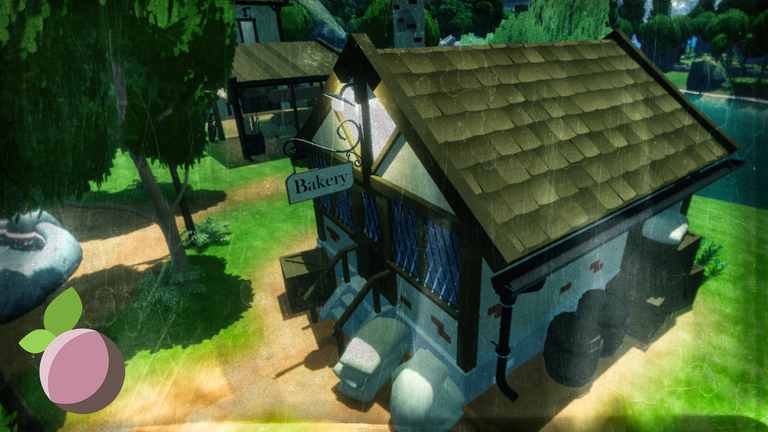 24/11/2022
A few more days to wait before the patch you've all been waiting for. In the meantime, we would like to pass the wait with two events related to the vineyards:
Saturday 26 November at 20:00 UTC, we will activate the blend for the owners of the "Vineyard Voucher", which will be used to create the NFT of the Vineyard to be used within the game:
https://neftyblocks.com/c/farmingtales/blends/blend.nefty/21344

Today, Friday 25 November, the #1 mint "Vineyard Voucher" auction started on Nefty and it will end at 17:00 UTC.
https://neftyblocks.com/marketplace/auctions/2469

25/11/2022
Today we start a new auction for a New Waxchester building: Blacksmith. You can already bid on it in ├💰auctions for the next 48 hours.
Our previous auction, the Bakery, was won by BabyBlue007 for 4,650,000 SEST.
Also, as a note, we saw that many of you were confused about how the new staking pools will work. There will be 2 new staking pools at NW launch:
SEST staking for obtaining Aureus
CBIT staking for obtaining Aureus
This means, that the current staking pool of SEST for CBIT, does not count towards the Aureus pools.
More details about staking for REBUS will come in the following days.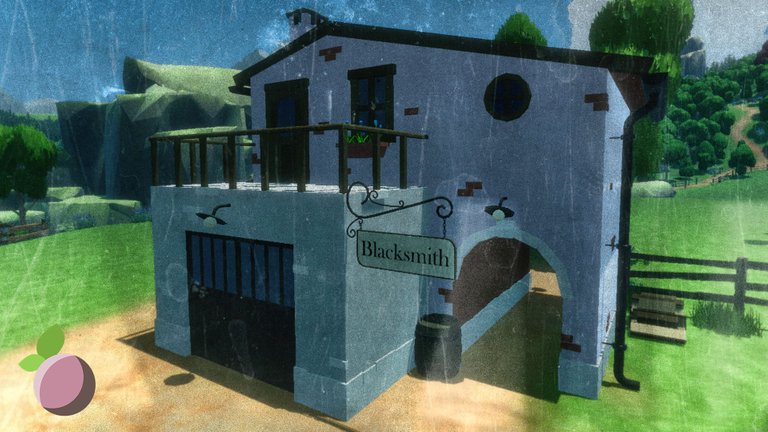 27/11/2022
Tomorrow, November 28th, at around 9 AM UTC, we start patching the game for New Waxchester. This means that the game will be unable to be played for the duration of the process. The expected downtime is 12 hours, give or take.
Before New Waxchester goes live, we will post a detailed announcement with all the information about the new features this patch brings.
Tomorrow, we also have an AMA at 5 PM UTC with our partners from Insert Stonks. As always, the AMA will be on our twitch (
), and you are all welcome to come and ask any questions you might have.
https://discord.gg/TN4Jekww?event=1046004631463018516



30/11/2022
It's done! I want to apologize once again for this delay, but as we also discussed during the last AMAs this is a very big update, and we expected to encounter some problems.
We have just finished fixing everything important, and we are ready for the release, which will mean stopping the game for some time, and uploading the new build.
Here in Italy it is now past midnight, and we have therefore decided to proceed with these steps early tomorrow morning. This is to avoid that in case of problems during the night it is not possible to fix them quickly. We have done a huge job in these two days, and we need a few hours of rest before the big step.
I know you have been very patient up to now, but these last hours of waiting that we ask are important to avoid problems caused by haste.
🚨 Maintenance and update are scheduled for 30.11.2022 at 08:00 UTC 🚨
30/11/2022
After a very long wait (and a few more hours), we are finally pleased to announce that Farming Tales is back online and that from now on it is possible to visit New Waxchester !
It has been a very long journey, and the whole team wants to thank you for the infinite patience you have had However, we are sure that it is worth it, and that this is the first step in a very long story, which will lead Farming Tales to be one of the most important metaverses around.
So... What will you find in the city?
In the newly released update you will find the main features of the metaverse, which will be slowly integrated in the coming days by many smaller innovations, and some important news for your farms:
Farms:
New Waxchester:
Buildings for refining products
Bank for stake and AUREUS
Tractor race (free for some days)
Multiplayer
No action is required from building owners. When players use your building to refine a product, 5% of the value of the goods is automatically credited to your game wallet.
What will be implemented in the next few days?
If these main features work without problems, in the coming days we will slowly start integrating all the other planned functions including voice and text chat in the metaverse, leaderboards, new activities, weekly tasks, new buildings and much more.
Known bug
Sometimes barns don't appear in farms; to fix it just reach the barn interaction point and interact with it;
When you try to connect the WAX wallet from New Waxchester, the UI does not update your stats; refresh the page to fix it.
Fixing patch expected tonight
As discussed in the last AMA, we need all your feedback to fix bug and improve this release, so feel free to report anything
See you in New Waxchester! @ https://play.farmingtales.io/ Keep in mind that you need to create a dedicated account to join the multiplayer, all the info are into the game!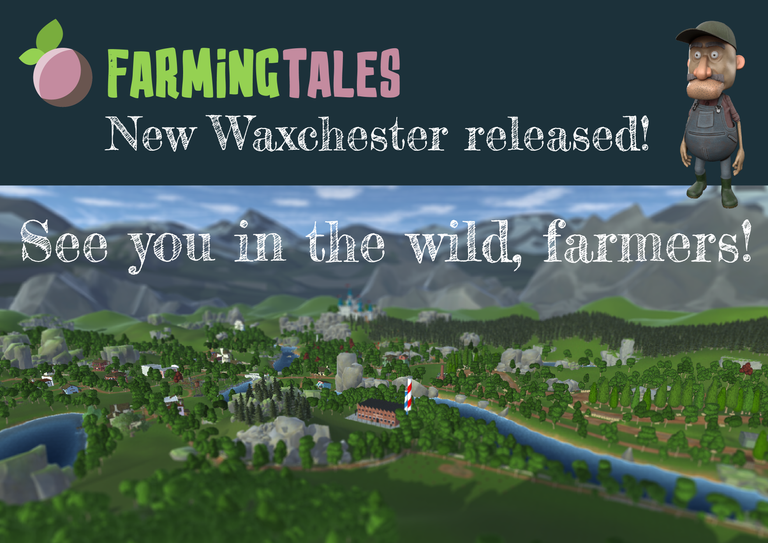 01/12/2022
To celebrate the release of New Waxchester and to reward our community for the patience they had for us to deliver what we promised, we prepared for you a Dropxmas event!
On each day from now on till December 24, you can claim prizes on our website. The links for the drops are revealed each day at 00:00 UTC or 12:00 UTC, randomly.
https://www.farmingtales.io/dropxmas/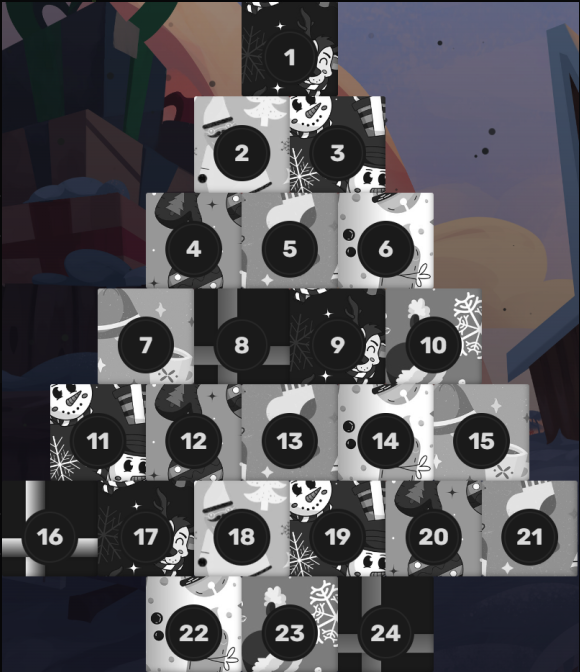 ---

---
If you don't know Farmingtales yet, we invite you to join our Discord. There you will find a lot of information for you to enjoy and have fun with the best NFT 3D farm game.

And if you are a Farming Tales player but don't have a Hive account, watch this tutorial and sign up to participate in this contest.
Discovery-it's Guide to Getting Started on Hive.blog

Social:
---

---