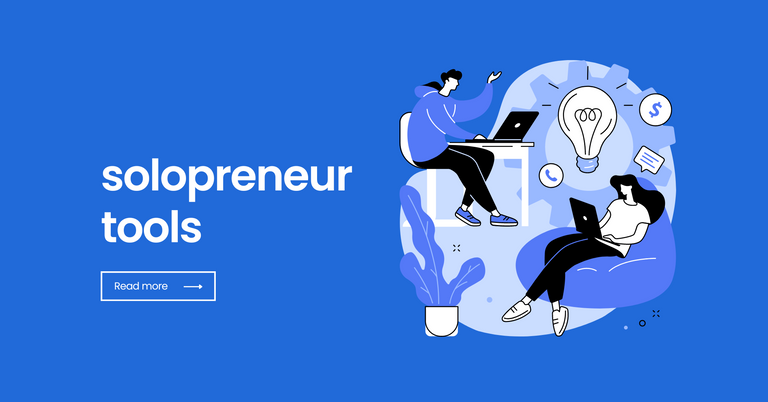 ---
In the past, it was challenging to start a business. You would need to rent an office space, hire employees and spend a lot of money on marketing. It could take months or even years before your business makes any profits. Today, with the help of technology, you can start your own one-person digital business in just days with the bare minimum capital!
All you need is creativity and lots of resilience to learn & grow. Here's the list of 6 tools that can replace employees and support your operations as a solopreneur:
Design On Canva
Canva is an online design tool that allows you to create professional designs for social media, business cards, newsletters, blog posts, websites and more. It's great for beginners who are just getting into the world of graphic design because it makes things easy!
You can choose from pre-made templates or start with a blank canvas and add elements as you see fit. This simple platform allows you to use images from your own computer or search for them in its library.
You can even edit existing photos by adding text or changing the color scheme so that they match your brand better than ever before!
Develop Websites With Webflow
Webflow is an easy-to-use visual website builder that allows you to build any type of website. It's a drag-and-drop builder, so you can create responsive websites without writing a single line of code.
You can use Webflow for anything from personal blogs to eCommerce stores and everything in between. Plus it's quite cheap.
Domain Names On Namecheap
Once your website is up and running, it's time to get a domain name. A domain name is what people will type in their browsers to visit your site. Some common examples of domains are "google.com" or "linkedin.com".
NameCheap is one of the best places to buy domain names because they offer a 15-day money-back guarantee, great customer service, a good reputation, and some useful tools like free WhoisGuard privacy protection for new domains that can help protect your information from being exposed online (this isn't needed to get started but highly recommended).
Automation On Zapier
Zapier is a web-based automation tool that lets you connect your apps and automate tasks to make your work easier. Zapier allows you to use one trigger to create multiple actions in any number of other applications.
You can create automated workflows with additional steps, depending on what's needed for your business.
You can also set up rules that dictate when or why a certain action should be taken by the system, such as measuring how many subscribers you acquire every day or week and sending automatic follow-up messages based on those numbers. The possibilities are endless!
Copywriting Via Copy AI
Copy AI is a piece of software that can write text for you. It uses machine learning to analyze how words and phrases are used on the web, then it generates its own copy.
It's great to use Copy AI because:
It takes away the importance of writing perfect English (or any language)

You don't have to hire writers or editors anymore

You can use it anywhere and anytime!
Video Editing By Cap Cut
Cap Cut is a video editing software that comes with all the features needed to make professional quality videos. It can be used by any one at any level of expertise, from beginners to professionals.
It has an intuitive interface and offers a rich set of video editing tools that allow you to create videos as per your needs. The best part about this software is its free which makes it accessible for everyone interested in video making without having to spend a fortune on expensive software like Adobe Premiere Pro.
Cap Cut works on all platforms such as Apple and Android and you can edit awesome videos on your smartphone.
Email Marketing ConverKit
ConverKit is an email marketing automation tool that helps you build a targeted email list and increase sales.
It is a great option for small businesses, creators, and entrepreneurs who want to grow their businesses with email marketing.
ConverKit offers:
A free 14-day trial so you can try it before you buy! (no credit card required)

A 30% discount on all plans during the first year after sign up when you pay annually.
All In One Workspace On Notion
Notion is a powerful tool that helps you organize your thoughts and ideas. It can be used for many different things, but the main benefit of Notion is that it allows you to create and share documents with other people.
You can create a number of different types of content within this app, including:
Tasks & To-Do Lists

Templates or Blueprints

Brainstorms & Ideas
One thing I love about Notion is its ability to automatically generate checklists as well as set reminders when tasks are due. This way, nothing gets forgotten!
If you're looking for an all-in-one workspace on any computer device then definitely try out Notion today.
Conclusion
It's true that there are plenty of tools out there that can help you to start a one-person business. However, not all of them will be right for you. You need to find the ones that match your personal needs and preferences as well as your unique skill set.
Once you have chosen the tools that work best for you, though, don't forget about other important aspects such as personal branding! It is essential for every solopreneur who wants their business to succeed long term.
Which one did you like the most? Comment below!
---
Follow: https://leofinance.io/@finguru
Twitter: https://twitter.com/finguru6
Discord: finguru#4062
---
Not financial advice. For infotainment purposes only.