According to UNICEF, Nigeria has the highest proportion of air pollution-related pneumonia deaths occurring among children under five. The World Bank reported that 94% of the population in Nigeria is exposed to air pollution levels that exceed WHO guidelines.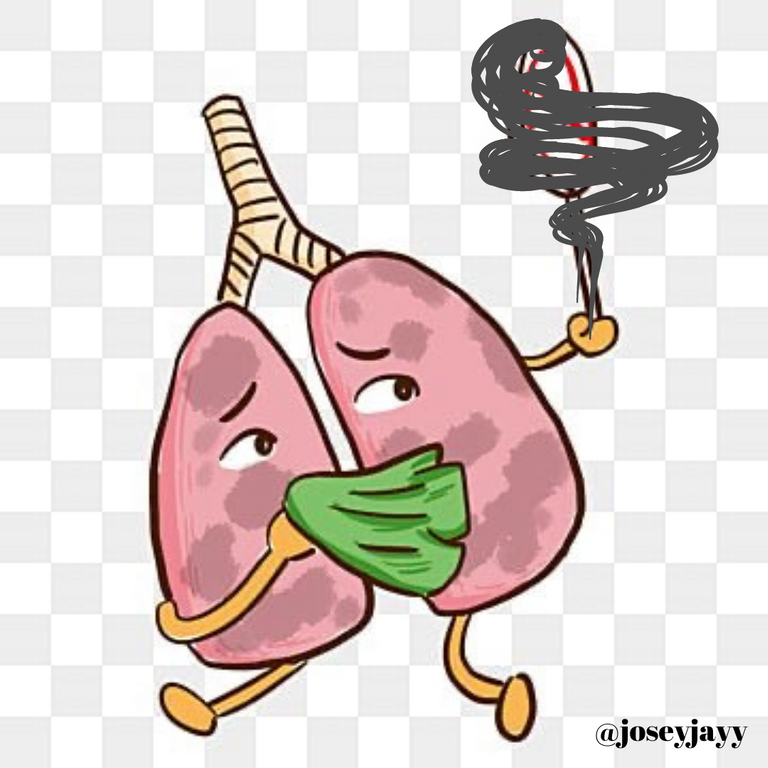 Graphical representation of sad lungs
You may be wondering if AIR POLLUTION is the only pollution present in Nigeria?🧐 Well it is not, there are 4 major pollution in Nigeria,namely; Water pollution, Land pollution, Air pollution and Noise pollution.
  Before I go any further,WHAT 

IS

 POLLUTION? Pollution 

is

 a derivation 

of

 the word "pollute"-which means 

to

 make something dirty 

or

 no longer pure, especially 

by

 adding harmful 

or

 unpleasant substances 

to

 it.Research has shown that 

as

 the population 

of

 a country grows/increases 

with

 attendant pressure 

on

 the environment especially 

in

 the wake 

of

 improved technologies, environment abuse 

and

 pollution 

is

 nevertheless heightened 

with

 corresponding effects 

on

 lives 

of

 people 

and

 other living organisms. It has been observed that man through industrial, agricultural 

and

 the ever increasing urbanization process, security 

and

 terrorist activities tend 

to

 directly/indirectly pollute the environment.
According 

to

 WHO, 

4

 worst cities 

in

 the world 

for

 air pollution are 

in

 Nigeria. These cities include Onitsha, Kaduna, Aba 

and

 Portharcourt.

I will be talking about pollution in Portharcourt,Rivers state.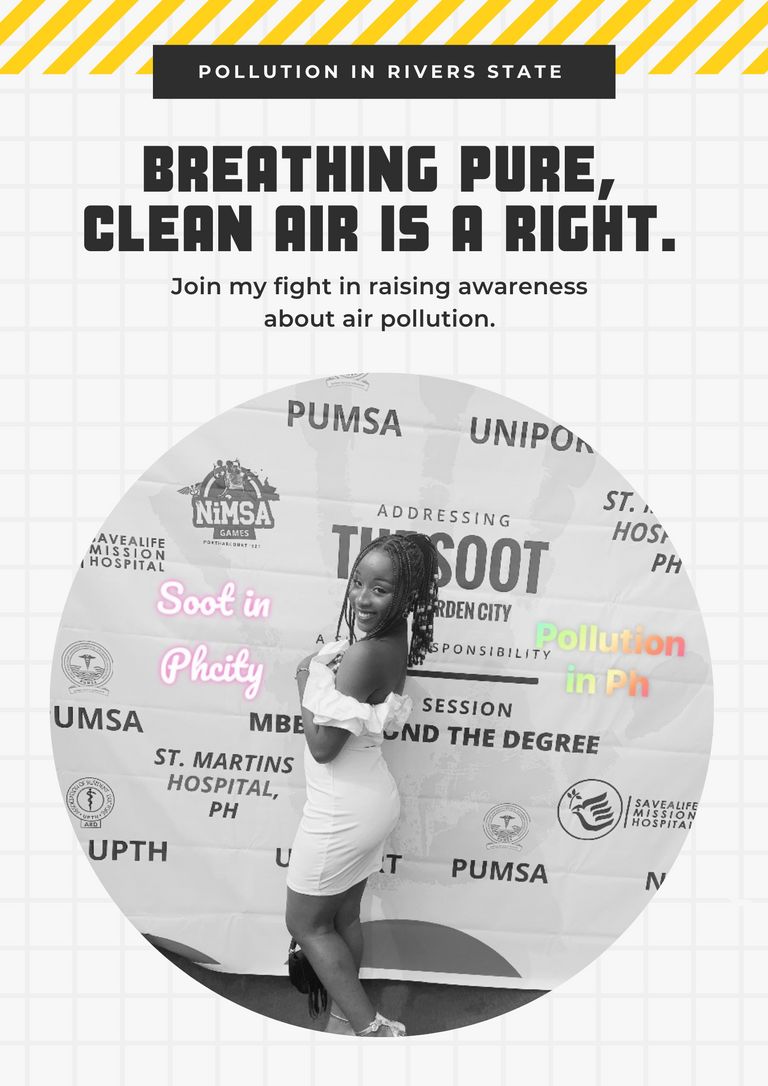 In the year 2019, I started residing in Rivers State because I got admission at Uniport. I noticed that whenever I went to school from home after a short break or holiday, I always caught a flu. I noticed the air in the state was so dense and wasn't clear but this wasn't visible to the ordinary eyes. Not until, December 2021, the dense and dirty air in Rivers state wasn't a myth anymore. It was glaring and obvious.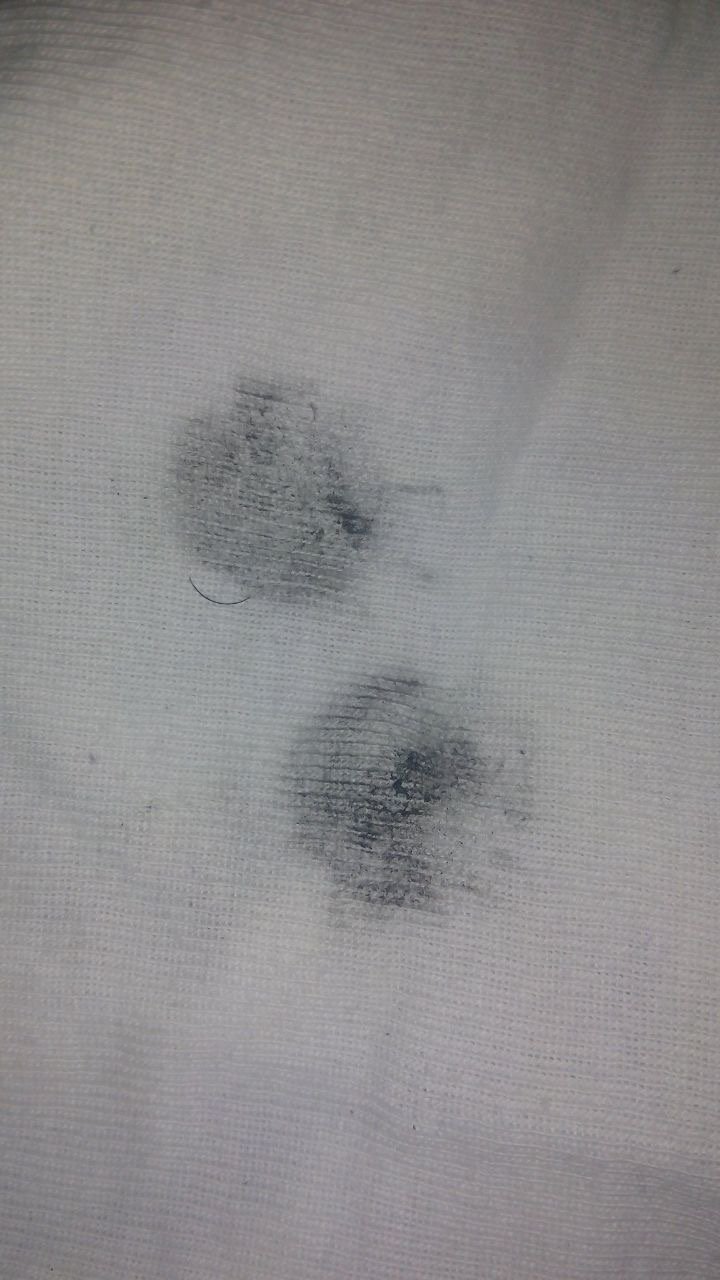 A picture of the handkerchief I sneezed on around December 2021
These period were not the best times for residents of Portharcourt. It was difficult to breathe clean air in the city.The bad air was as a result of the product of incomplete combustion of hydrocarbons (i.e The crude oil). The name of this by-product is SOOT (black carbon).
 What 

is

 SOOT? SOOT 

is

 the common name 

for

 a type 

of

 particle pollution called PM 

2.5

. This particle has the ability 

to

 penetrate the lungs 

and

 bloodstream easily 

and

 it 

is

 

in

 fact listed 

by

 the Environmental Protection Agency (EPA) 

as

 one 

of

 the deadliest forms 

of

 air pollution.

WHAT ARE THE CAUSES OF SOOT IN PORTHARCOURT?
Rivers State also referred to as the treasure base of the nation is blessed with many natural resources which is supposed to be a blessing to individuals around but this blessing has been a curse to the individuals because of the illicit activities of a few to enrich themselves to the detriment of all.
These are the causes of soot in Rivers state;
80% of the soot in the city are from illegal refineries aka kpofire diesel and kerosene. Have you heard of kpofire before??? These are illegal refineries that steal crude oil and try to refine them to get low quality fuel to sell to individuals and enrich themselves. Such greed!
Gas flaring petrochemical industries.
Burning of oil spills by incompetent contractors.
Asphalt plants.
Emission from fertilizer companies.
Residents burn and roast meat using tyres.
Bush burning and burning of sundry waste.
Exhaust fumes from petrol/diesel.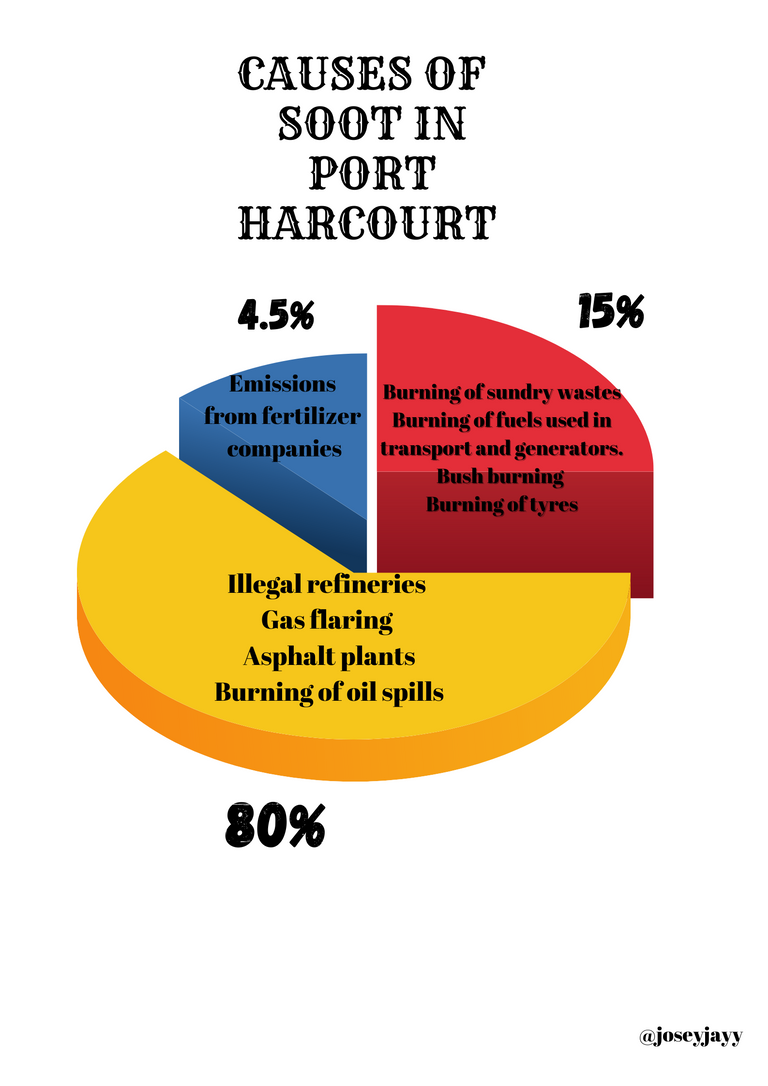 From the pie chart, it is seen that the main cause of pollution in Rivers state is the human factor, the illegal refineries😔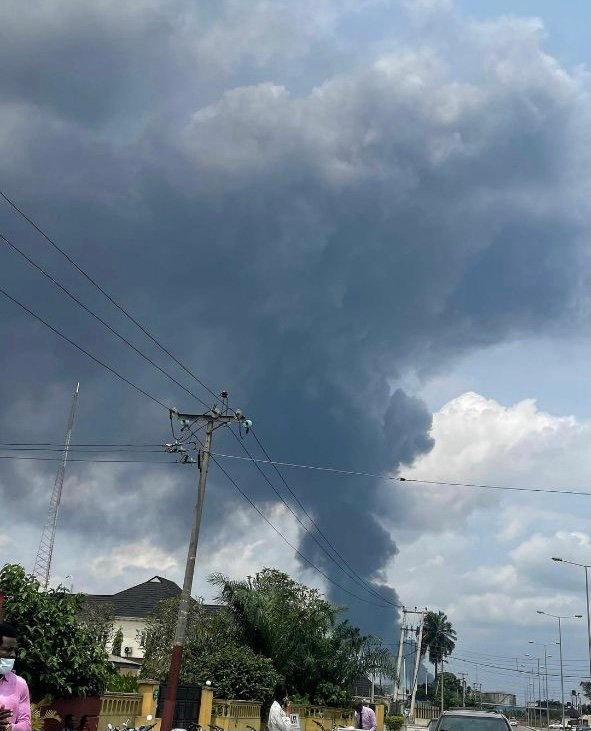 Don't be scared😂, nothing is burning, this is just a normal day in Portharcourt city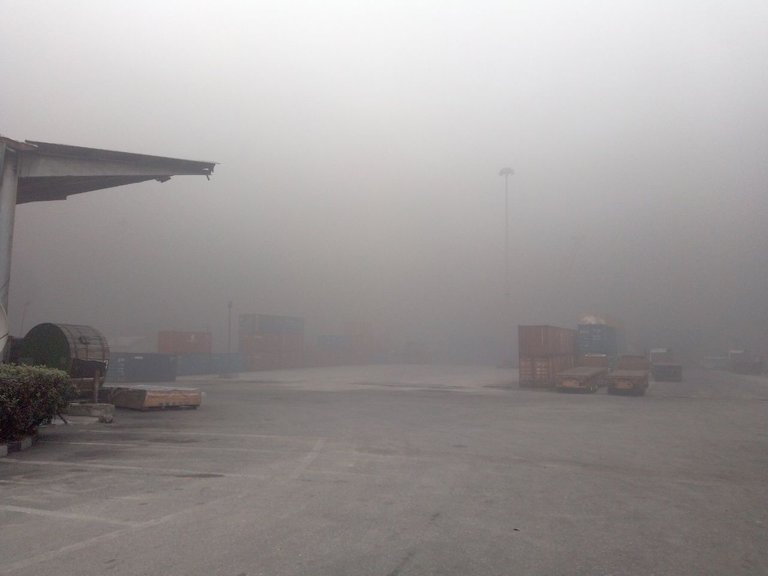 This was taken at 9:45am in the morning,how will drivers see the vehicles ahead of them in this kind of atmosphere?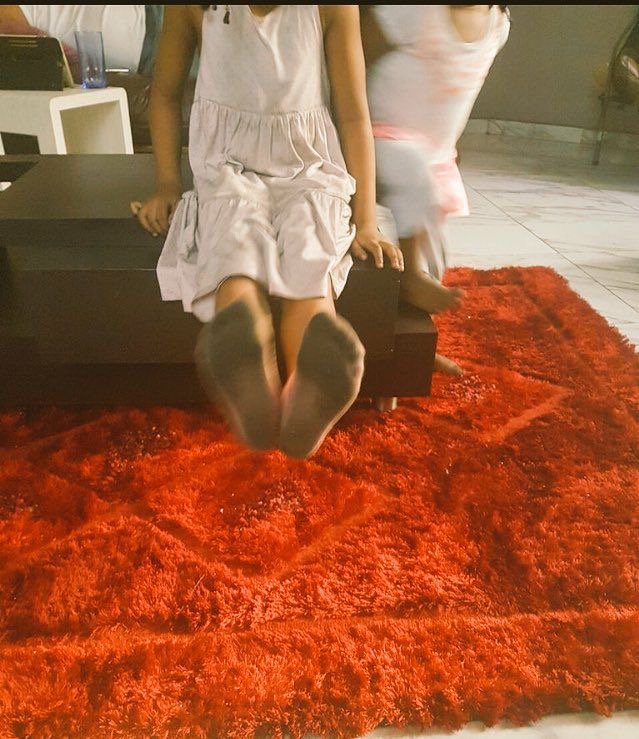 This is my cousin, I went visiting, she was at home all day but see under her feet
EFFECTS OF SOOT
The effect of this horrible soot cannot be overemphasized.
It can cause adverse respiratory disorders, Lung cancer, skin and reproductive conditions. ARE OUR LUNGS SAFE??!
Aggravated asthma
Some of the compounds in soot - primarily sulfur dioxides and nitrogen oxides - react in the air with moisture to form acid rain. This can then fall and acidify lakes and rivers, harming a variety of different ecosystems.
Stroke due to shortage of blood supply to the brain because of the soot.
Soot causes eye defects like Cataract.
Soot causes haze which reduces visibility drastically.
Premature death.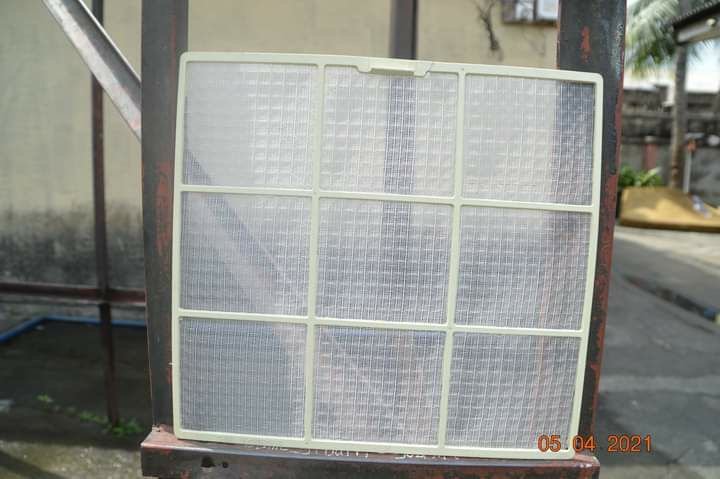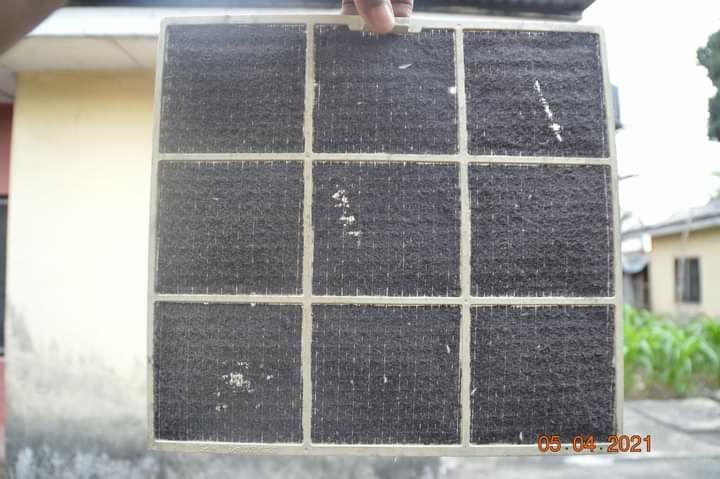 This is my friends AC filter that he washed, see how bad it turned in 2 days
These illegal bonkeries also get into water bodies affecting aquatic life and surrounding water bodies.

Picture from google
SUGGESTED SOLUTIONS TO THE POLLUTION IN RIVERS STATE
The federal government should liaise with the state government to sanction the illegal refineries in the state.
The policy of wearing face masks should be enforced until the issue of soot is rectified.
Refineries and oil rigs should be built far away from residential areas.
Government should encourage recycling of plastic and metals.
Operation #plant a tree should be enforced on each household. The soot affect plants too but the trees still help in recycling the soot.
In my opinion, I think the main solution is to stop illegal refineries totally because that's the root of the problem.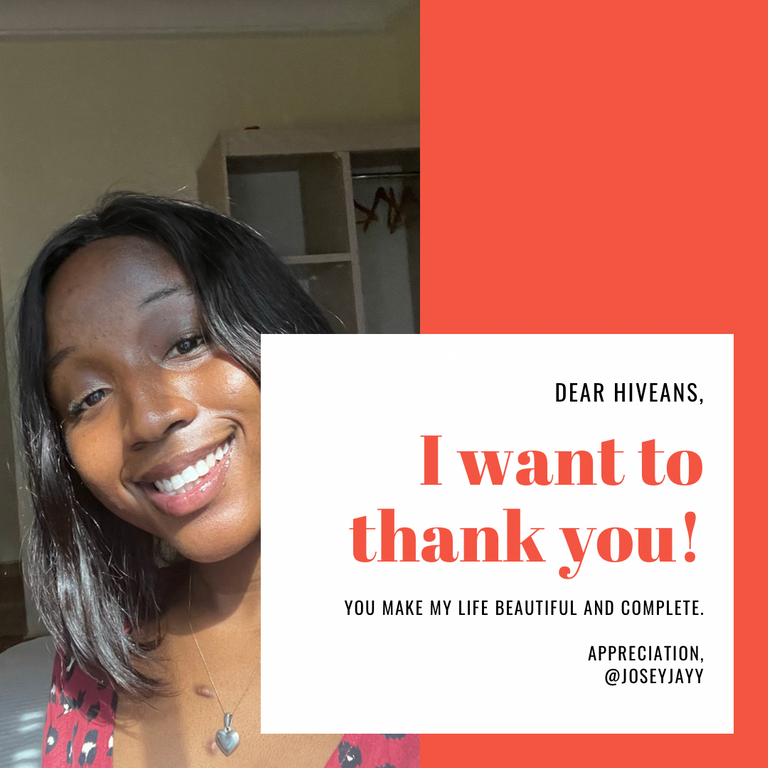 References; Tribuneonlineng.com
Research gate.
Energyeducation.ca