Life side by side with plants that provide a source of food is the peace that comes at a price.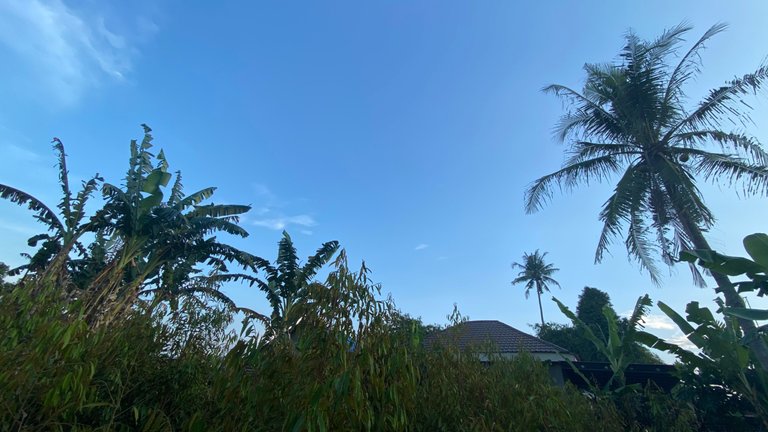 ---
---
---
Strolling in the gardens always has a pleasant side, although sometimes in the tropics it becomes unpleasant because the air is too hot. That's also why farming is so tricky here. Adjusted to the intensity of rain and sunlight.
Day by day, I realized that planting is not only done by farmers on a large scale. Indeed, I am too lazy to plant it every day because I still have trouble managing a schedule. Unfortunately now, in my living area have no suitable area for gardening. But I am obsessed with growing more if I have my own garden in the right area. :(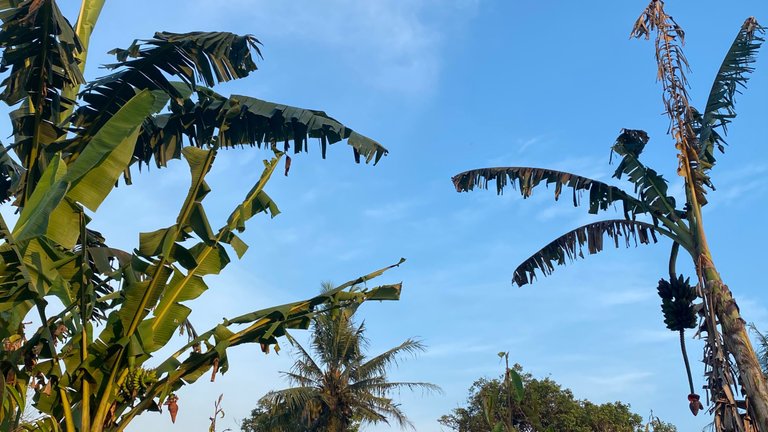 So in my opinion, farming activities are expensive and a blessing. I am aware that not everyone can do things from planting to harvesting, but that also does not rule out the possibility for us to learn. As my mother once said that there is a "cold hand" skill that gives someone the blessing to successfully plant anything, and not everyone can do that. But even so, we still have to try our best to learn to plant, especially for vegetables, fruit, and herbs that are usually eaten for daily needs.
---
---
---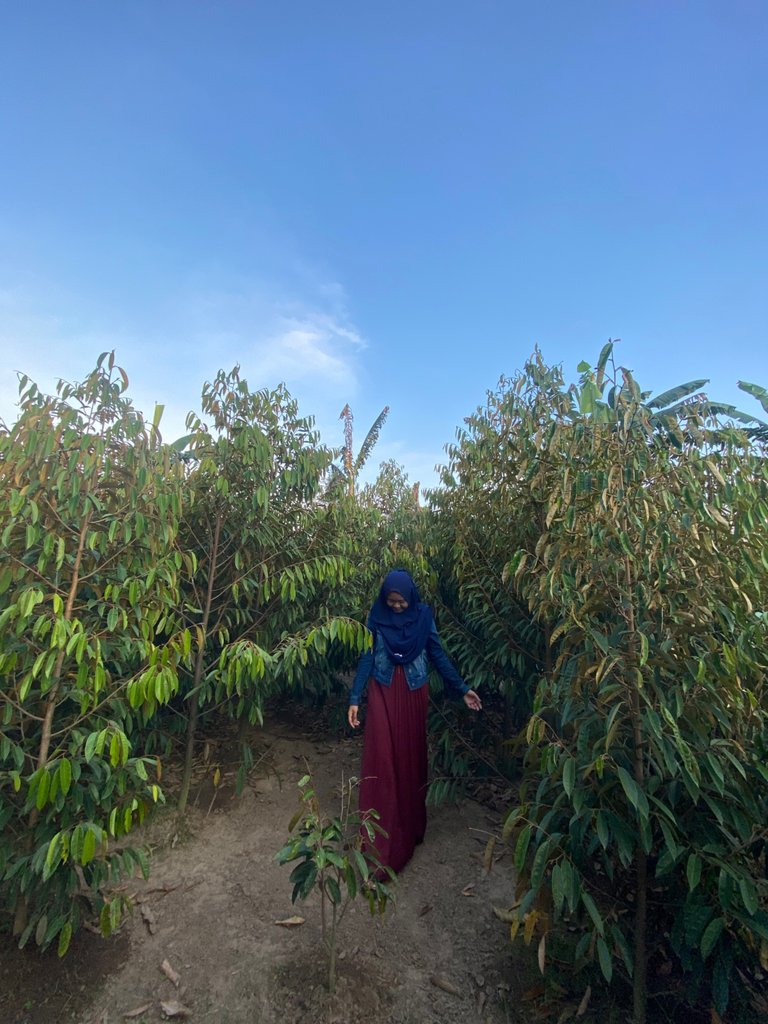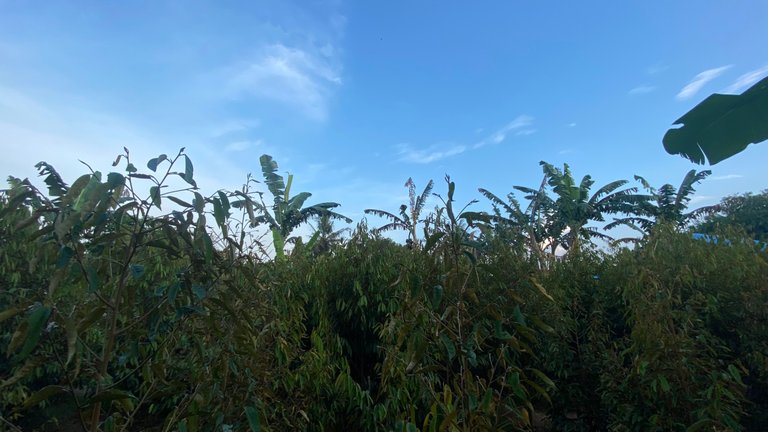 This time I share about my walking activities in my friend's garden. I walk around at sunset so it doesn't get too hot. This is not a garden I generally visit, and I became so excited! Let's see.
---
---
---
Durian Garden
Durian fruit is my favorite! This is my first time visiting a durian tree garden. Well, this is my friend's business, and in the future, I plan to work with my friend to own half of the estate's assets.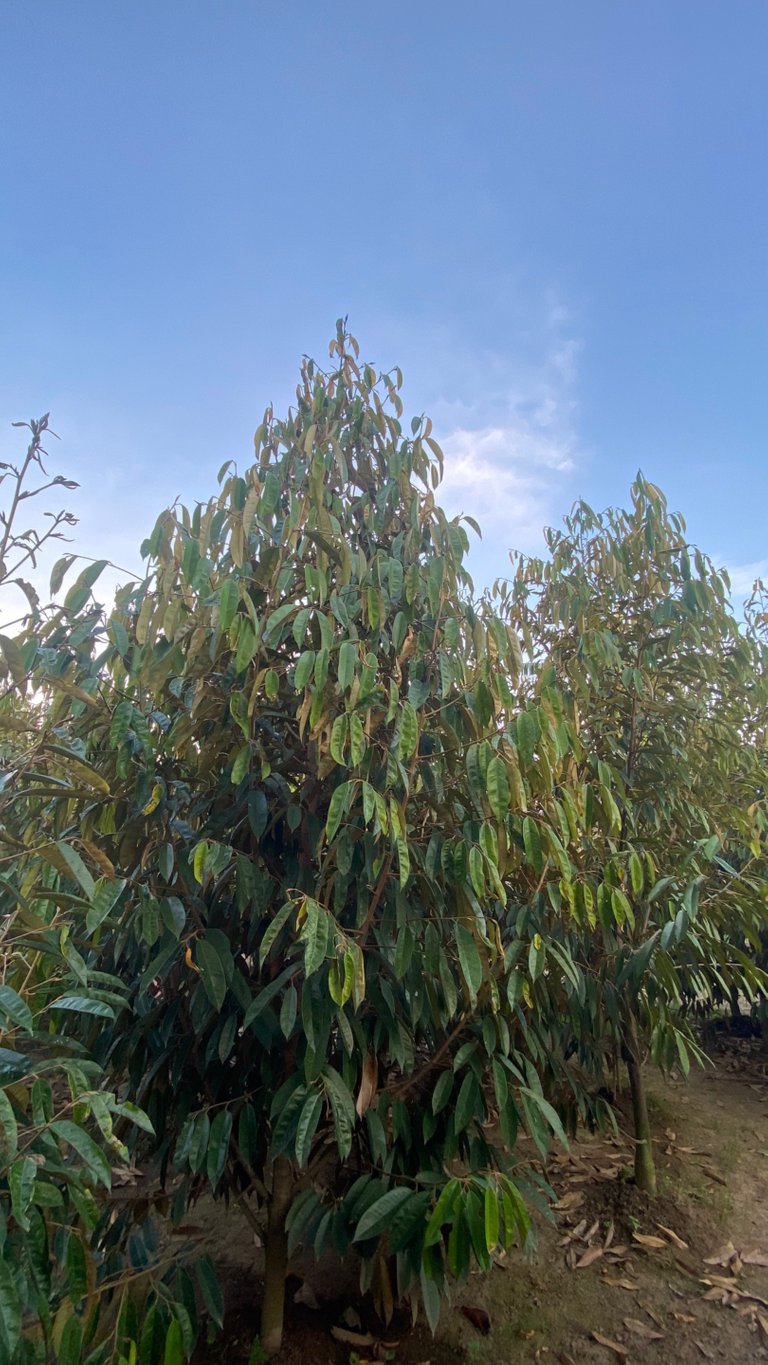 These durian trees are for the nursery phase. The age of these durian trees is almost 2 years. Before being sold to buyers, it will be transferred to the planting media first. Arguably, these durian trees are the garden's greatest valuable asset.
Usually, one durian tree sells for IDR 250K / $18. Until now, the demand is still quite high. But the risk of loss will always be there, that's what business is.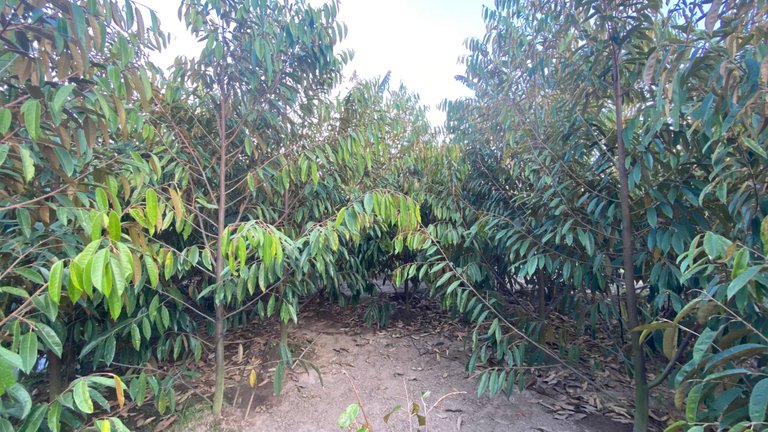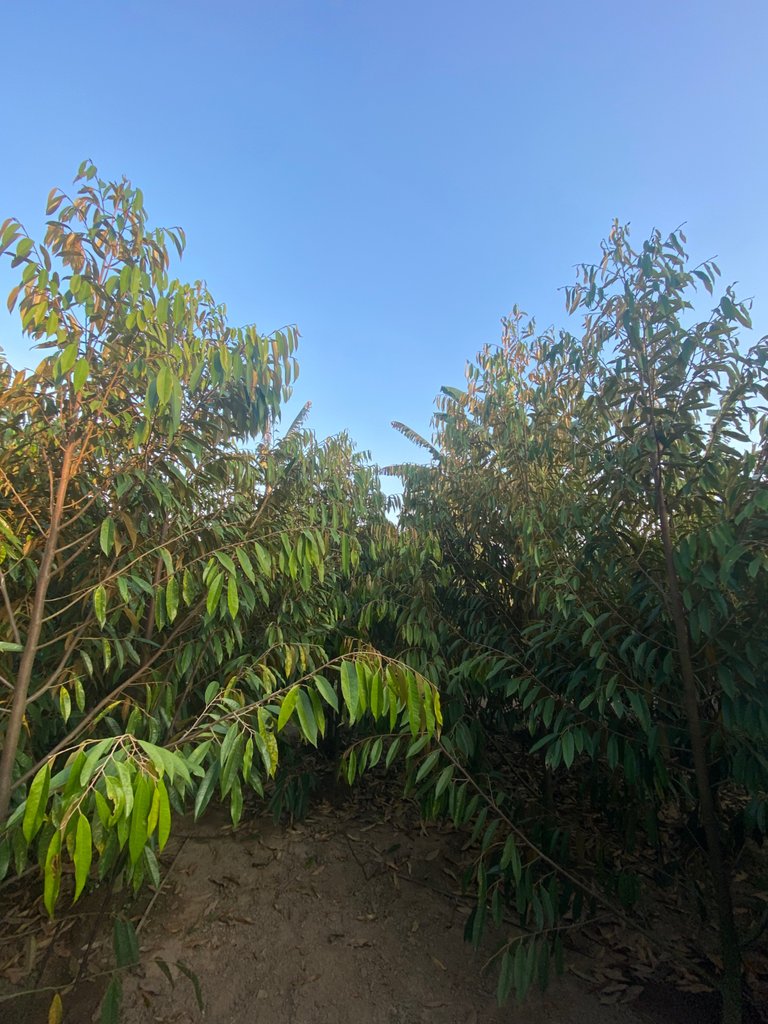 I hope these durian trees will sell well at the right time. Because it will not be possible to be traded if the age of the tree is too old to exceed 3 years.
Next, let's walk in another area. On the other side of the durian tree, other fruits and vegetables are also planted. There are also coconut trees.
---
---
---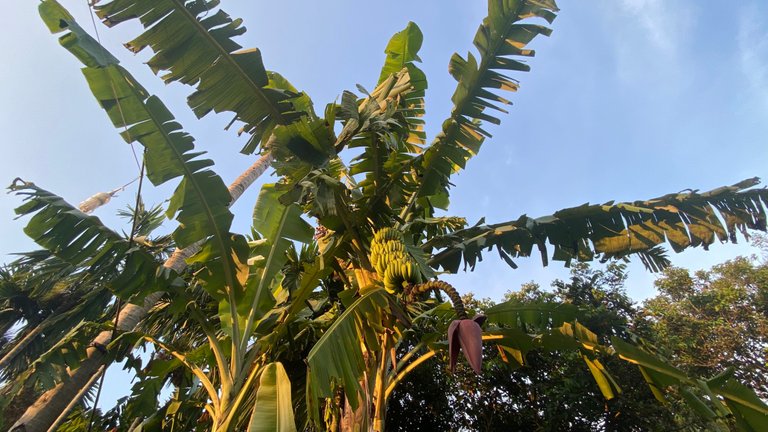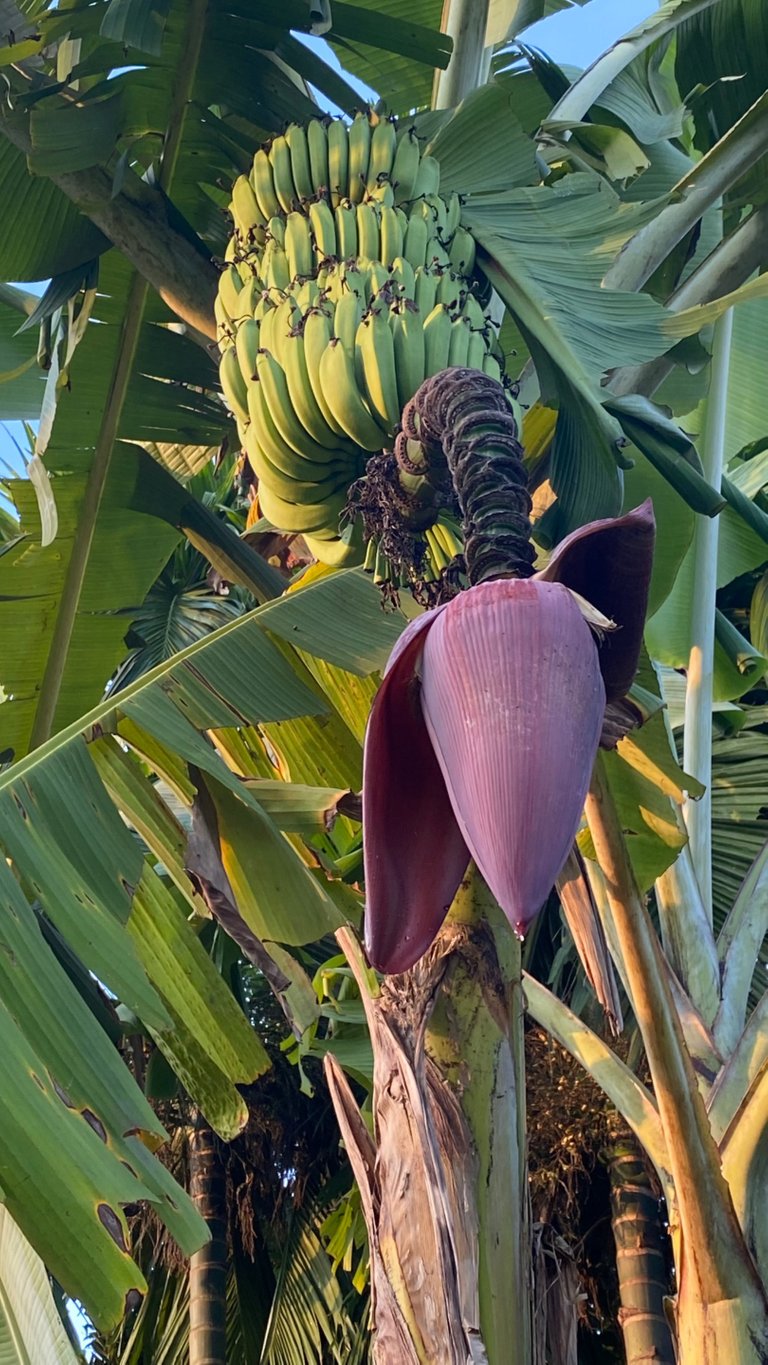 The most dominant seen in this garden besides durian trees are banana trees. There is not just one type of banana here. There are many varieties of bananas with various flavors, and types of serving methods. So not all bananas can be eaten just raw directly. There are types of bananas that must be cooked first.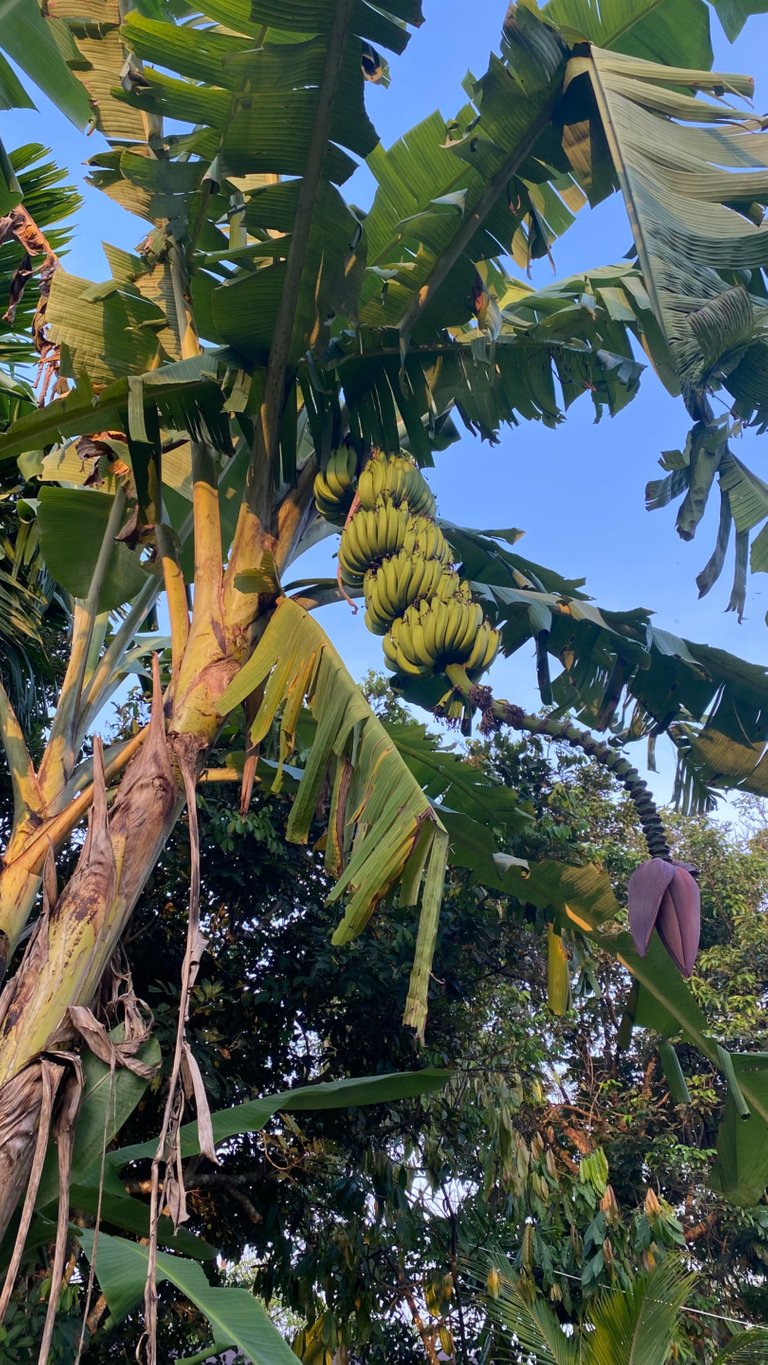 These bananas really help fill you up. So you could say the existence of banana trees can help to survive. Not to mention from the economic aspect, the fruit and leaves can be sold or can be exchanged for other foodstuffs in the same community in the village.
Regarding banana trees, the need for banana leaves is actually quite high. It's just that, because the supply of banana trees has decreased drastically, people have finally switched to using other materials to wrap food. It is indeed quite sad here.
But while there is a supply of banana leaves, here we must make the best possible use of banana leaves for wrapping food ingredients.
---
---
---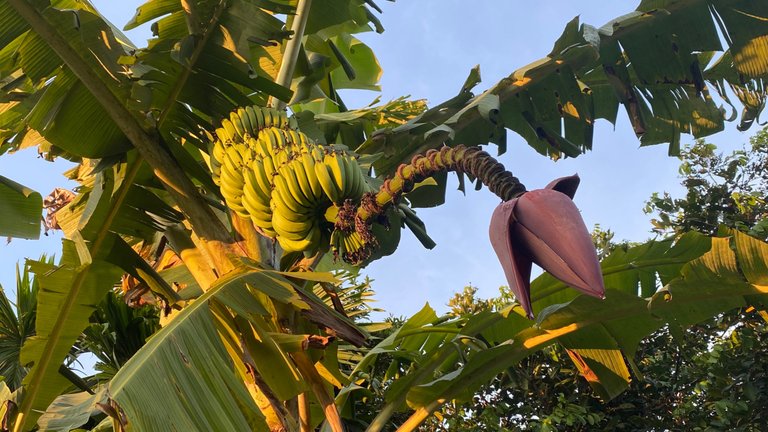 The sunlight before sunset is quite beautiful. It shone on the bananas that made me snap at that moment. Natural sunlight does make objects look more attractive. Right?
---
---
---
Apart from photographing bananas with banana flowers, I also took portraits of some interesting objects. It was about the part of the petals of the banana flower that had fallen to the ground.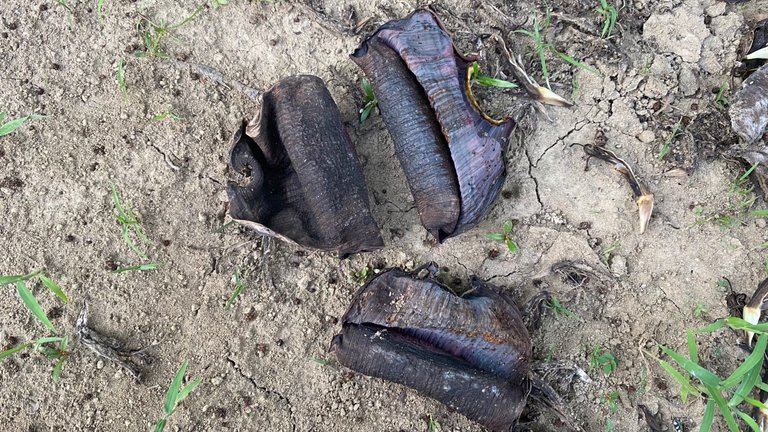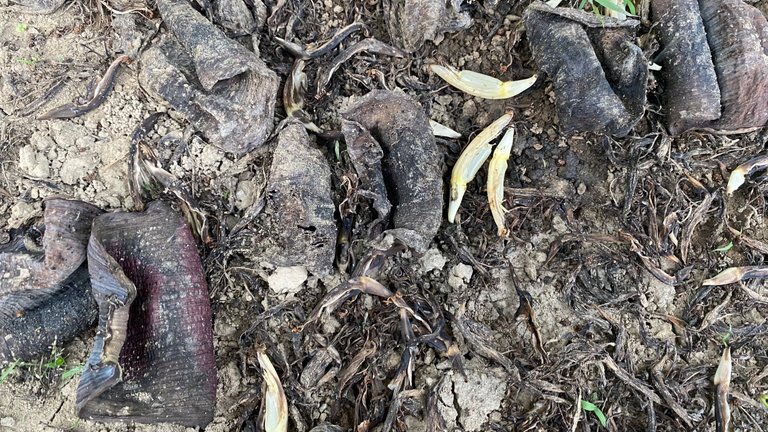 Banana flower petals that have changed color from red to black. It also appears to have shrunk from its original shape.
---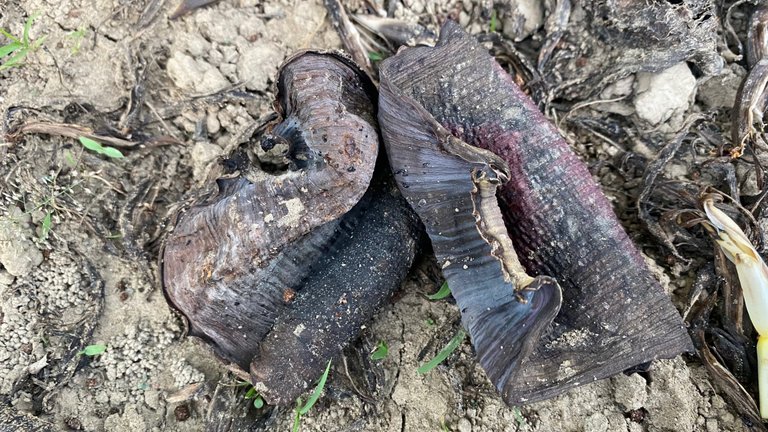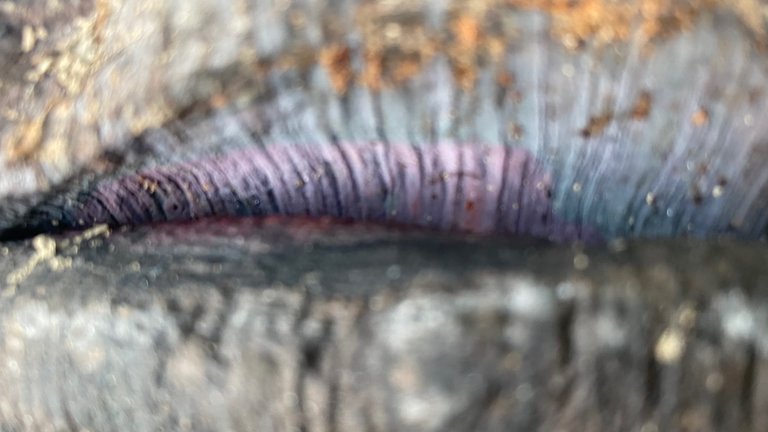 ---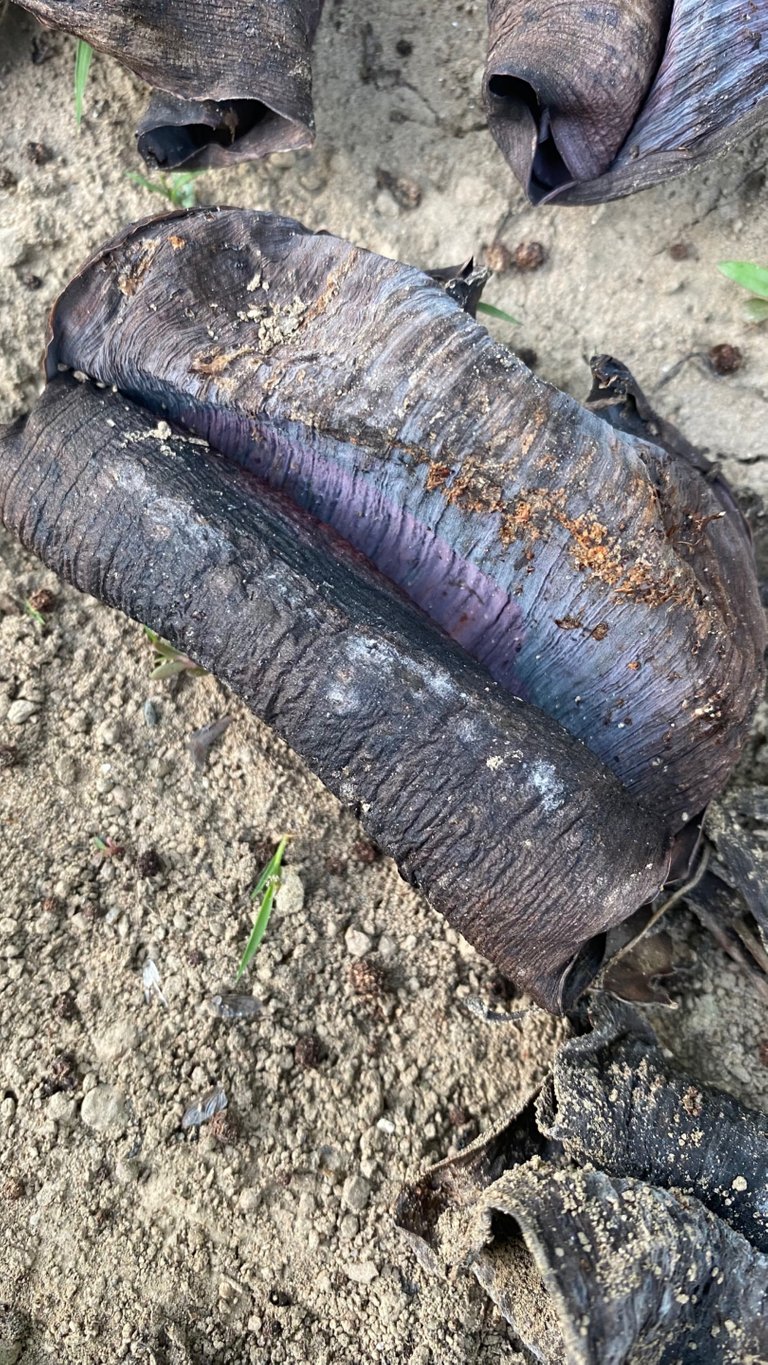 ---
---
---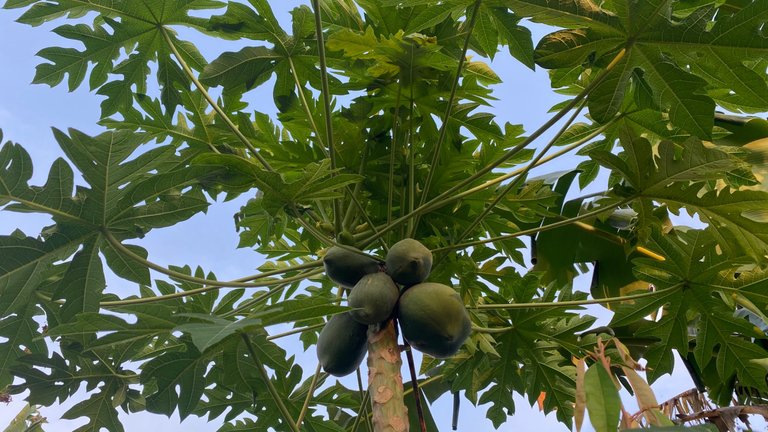 Next, there is a papaya tree that is bearing fruit. Unripe papaya fruit can be cooked into vegetables. While ripe papaya is served raw and used as an ingredient for juices and fruit salads. Half-ripe papaya is usually served with pickles. Did you ever eat raw papaya or ripe papaya?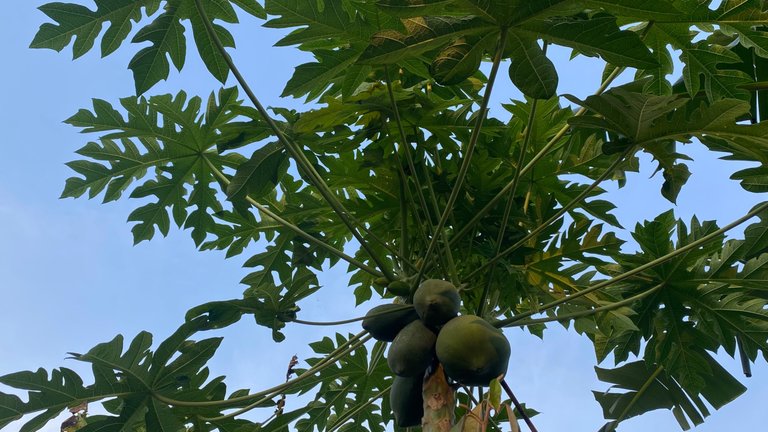 ---
---
---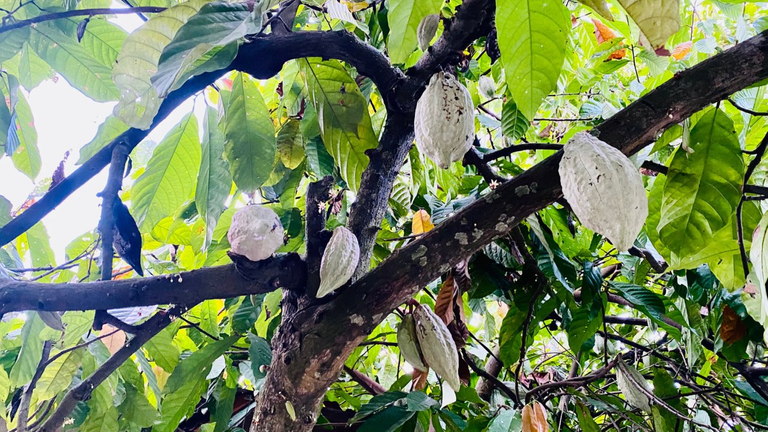 There are also cacao trees, which are usually sold dry to make cocoa powder and other food products. I have discussed this cacao tree in my previous post: Ripe Cacao Fruits From Garden.
---
---
---
There are also cassava trees for sale for their leaves and fruit. Also, other trees are less populated in this garden, and I didn't take pictures of them.
---
---
---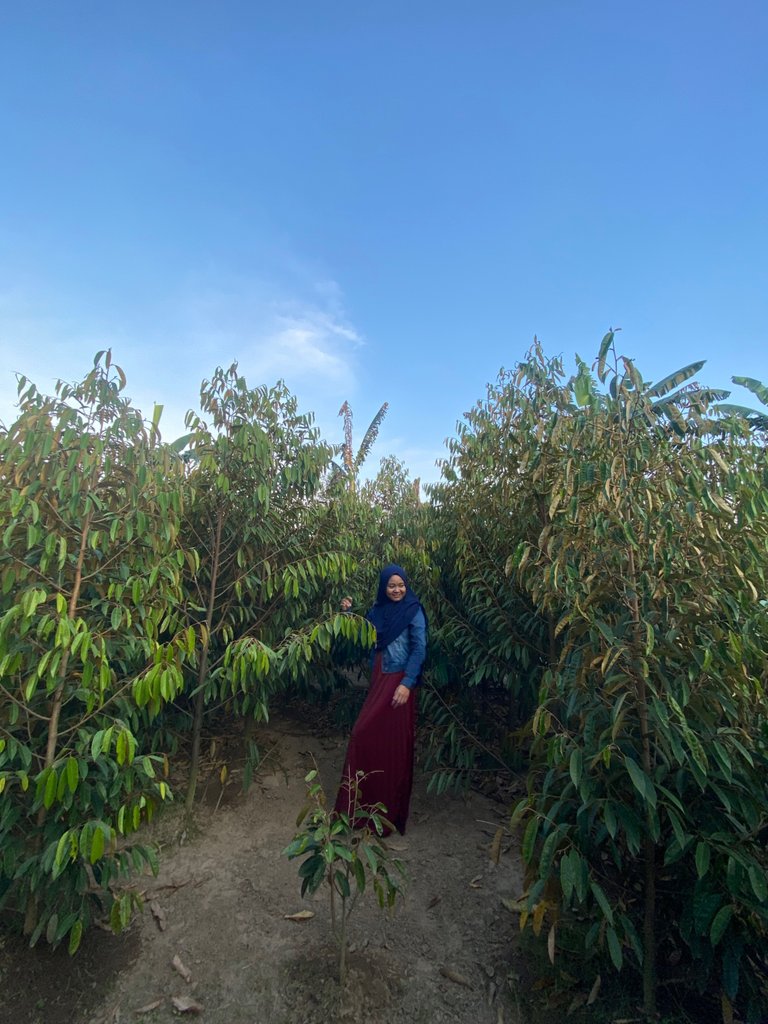 That was my activity for an afternoon walk before sunset in the durian garden and also some other food sources. I hope you guys can see something new from my post. I am happy to be able to share my activities in this delightful garden. I hope you guys will be happy too.
---
---
---
---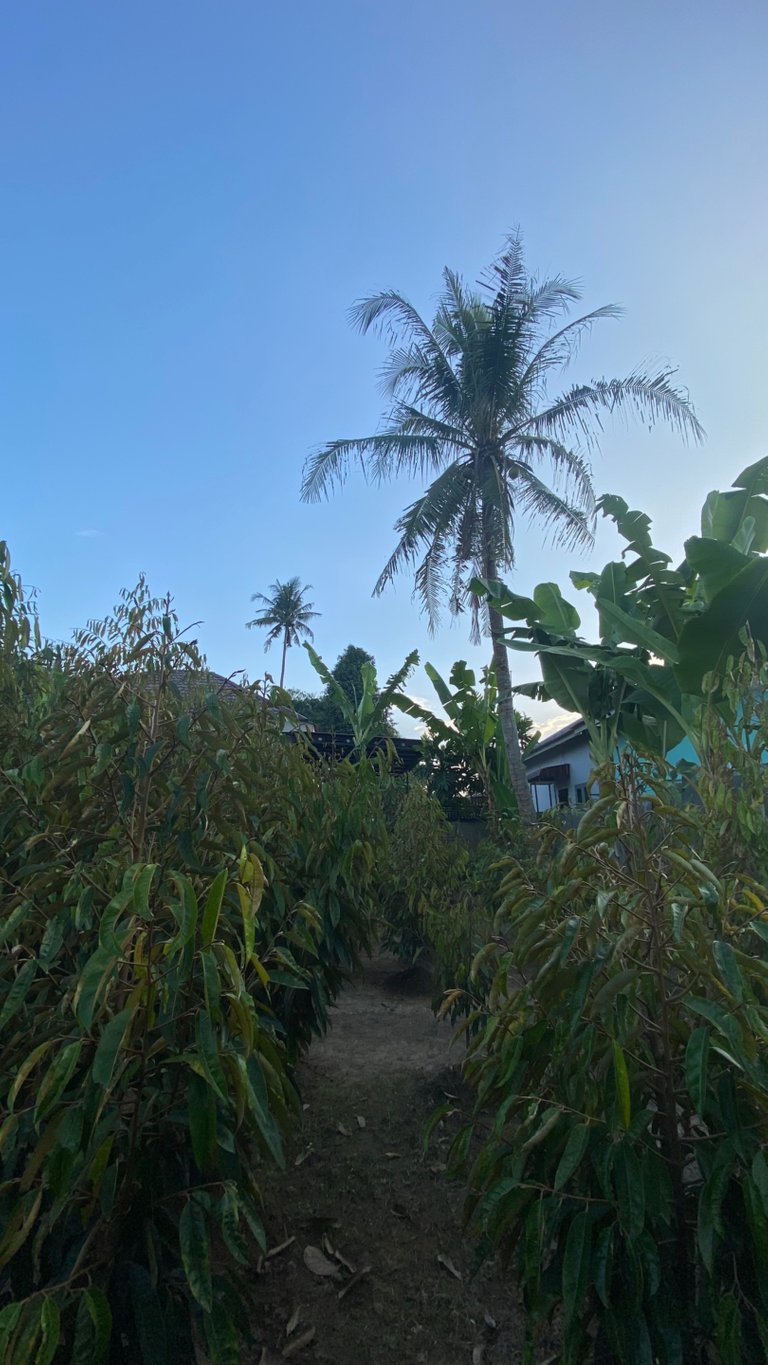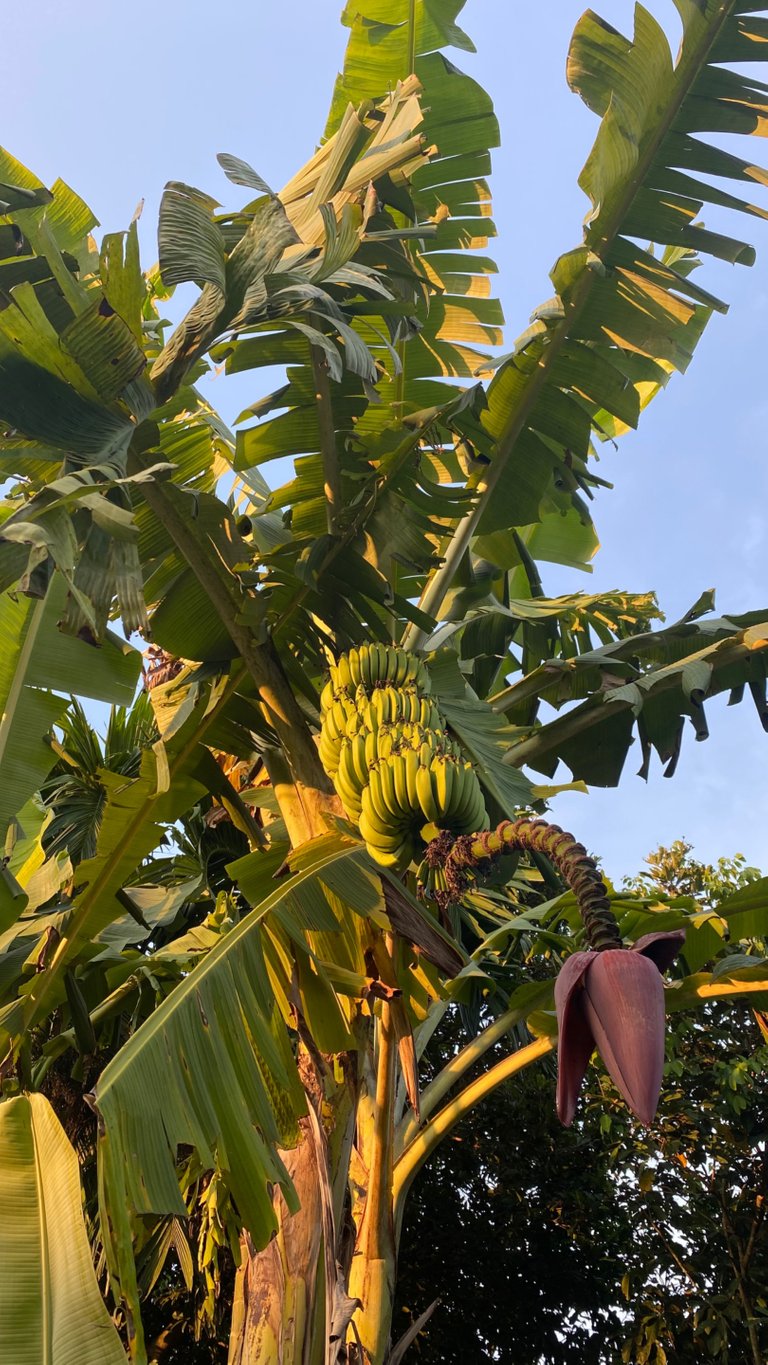 ---
I hope you can find what you deserve to find today. Have a great day, good people, HIVE Lovers!
---
---
---
Thank you for reading my blog and reblog if you want my blog this time worthy of reading by others.
---
---
---
Best Regards,
Anggrek Lestari
---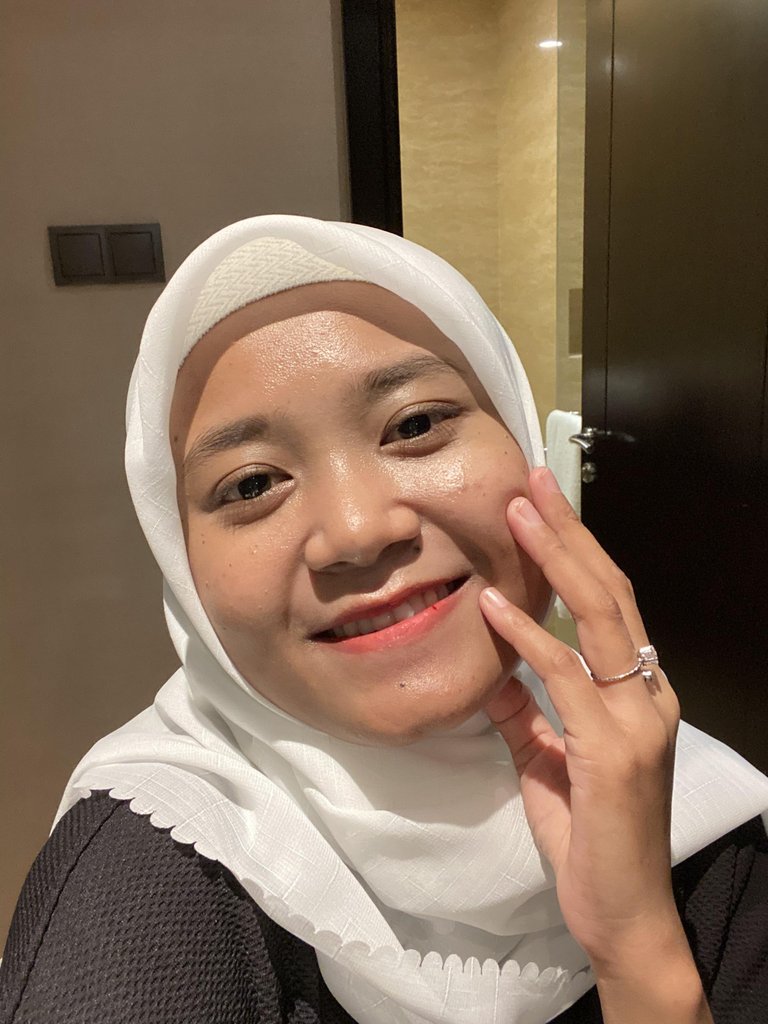 Who is Anggrek Lestari?
Anggrek Lestari is an Indonesian fiction writer who has published two major books. Now She is a full-time content creator. She has a goal to share life, poem, food content that makes others happy and can get inspiration.
Make sure you follow her blog as well for some interesting discussions about life other than food.
If you need a copywriter for your projects, Anggrek Lestari will be ready to help you.
Contact Person: [email protected]
Discord: anggreklestari#3009
---