Two and a half years. 600+ hours of painting. Countless more hours of planning, thinking, stressing, practicing, redoing and more to reach the finish line. I cannot describe the joy and relief I feel reaching my goal and seeing this project all the way through. So many times I hit roadblocks. Self doubt, that I wasn't skilled enough to keep going. Artist blocks of creativity where everything I painted I had to redo. Or I couldn't' find the motivation to pick up a brush that day or for the next month...I was so daunted by the project I had set up for myself, but I overcame and I finally completed it this past month, March 2022!
It all started with a commission request in late summer of 2019. A mix of Avatar(James Cameron's Avatar) and Ferngully; with fairies, dragons and thick jungle full of glowing plants with floating islands. From there it was my artist will and creativity to what its end product looked like. It was my first real big paid commission request and my excitement to make something spectacular tugged at me too much, rather then stick to the skill sets I had at the time, what I was capable of making then. She said she was happy to wait as long as it took and so...grappling with this, my perfectionism won out in the planning stages. And so I decided for myself to set out to "make the best damn piece of art I ever had". Oh boy...what had I set myself up for?!
So I began. I bought a giant canvas(4ftx3ft) and set out to make the largest solo piece I have ever made, not realizing the size of the project I was committing to. Having only a vague idea in my head and a couple quick scratchy sketches, I began painting. At that point in my artist journey and skill set I had not started learning how to sketch out the piece in basic detail before starting to put paint to canvas and so in the blocking stages I completely redid the whole canvas three different times before I finally felt I had the composition I could go forward with. Doing it this way I made things quite difficult for myself to say the least, not to mention the waste of paint on a canvas that large.
Here are a couple different stages of blocking before I finalized my composition: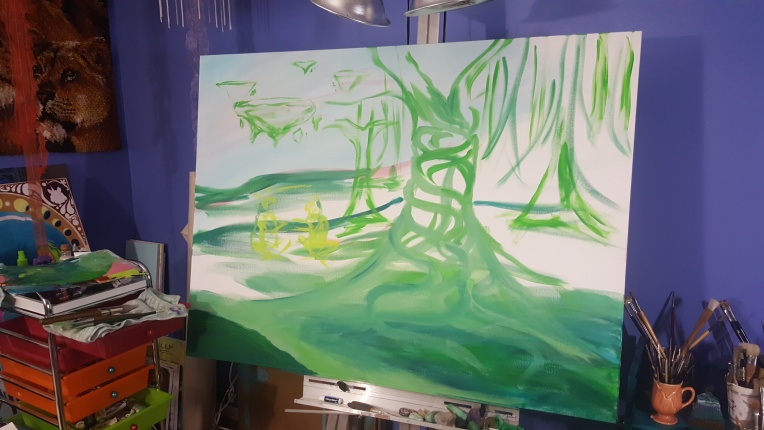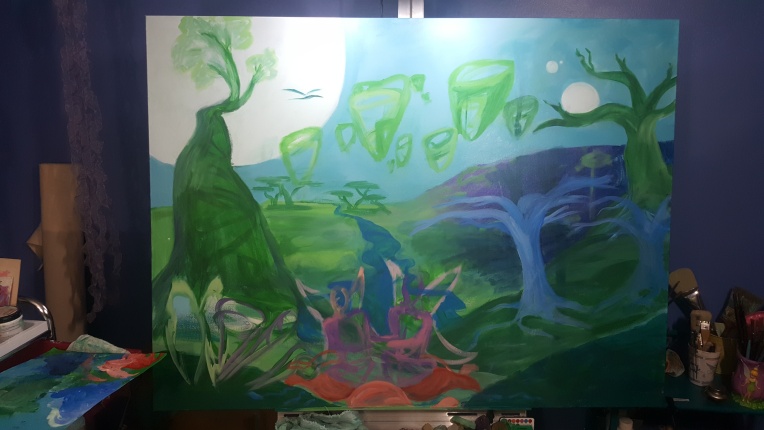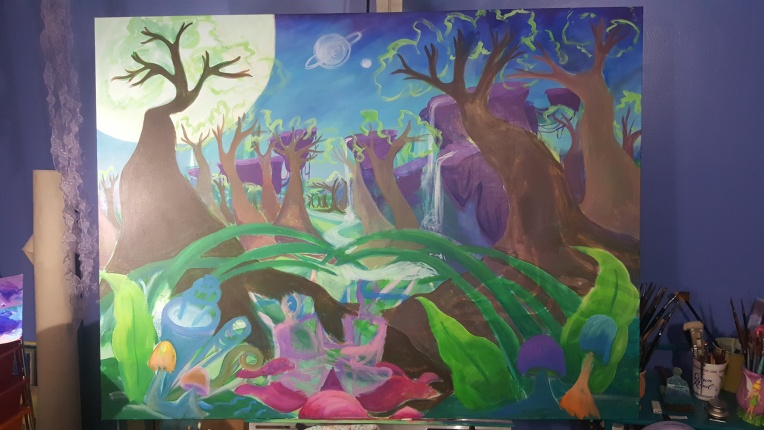 Months and months passed with me concerned about the piece, stressing on it not being even close to done (and that I wasn't making forward progress) to the point I didn't work on it. It sat against a wall, taunting me. I would stare at it for hours without working on it and then spend more hours constantly tightening and "tidying up" the blocked out piece. Soon though, I began to feel like I had something to work with.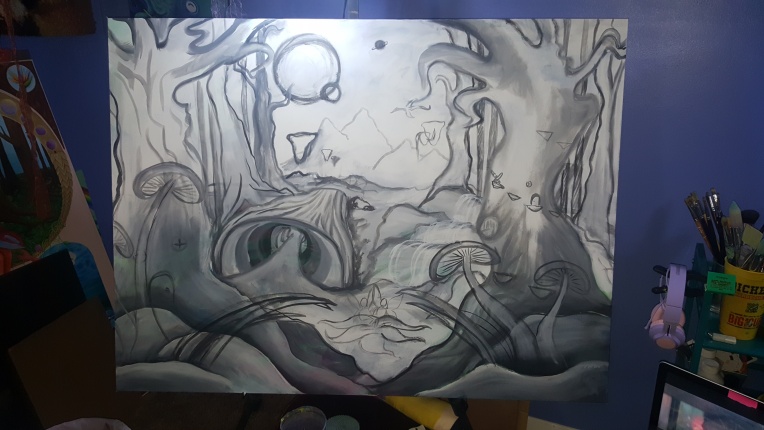 I spent a lot of time figuring out my initial blocking as you can see from the above pictures. A lot of time was wasted lol but it was a great learning lesson... I have since learned to do this much faster and better with some good techniques I've picked up from working around other artists in the community. As my husband always reminds me "Work smarter, not harder"
I learnt about "under paintings" in this time and it really helped me figure out and finalize the blocking so I could finally move forward to color. And it really helped me clarify how the piece would flow without struggling with color theory at the same time which I've found can stifle the creativity very much so. (Underpainting is painting with only black and white to fine tune the shadow and depth of the painting before any color goes in)
It wasn't until March 2020 that I finally started forward with colors and actually making progress beyond blocking. With new sketches I'd done and lists of notes for what I was to paint, I started to feel a bit more confident (though I had a lot to go still in overcoming fears and doubt).
At this point in time I had finally learned to sketch out a piece before painting (a bit too late, but oh well! Its helped with new pieces since). I had also learned that the best way to paint the crisp details I liked to paint I needed to start from the very background and slowly move forward to things in the foreground last. This was a hard one for me as before I loved to paint detailed creatures first in my painting and then of course I struggled to get all the background details in behind it, usually spending more time fixing things when I could have done it much simpler and faster. I had to control the urge to do something closer in the foreground so as to keep my forward progress until I reached that point in my painting and not have to end up backtracking again.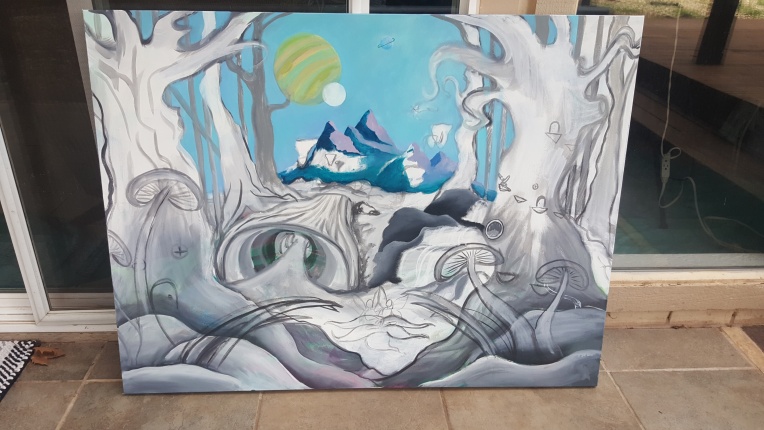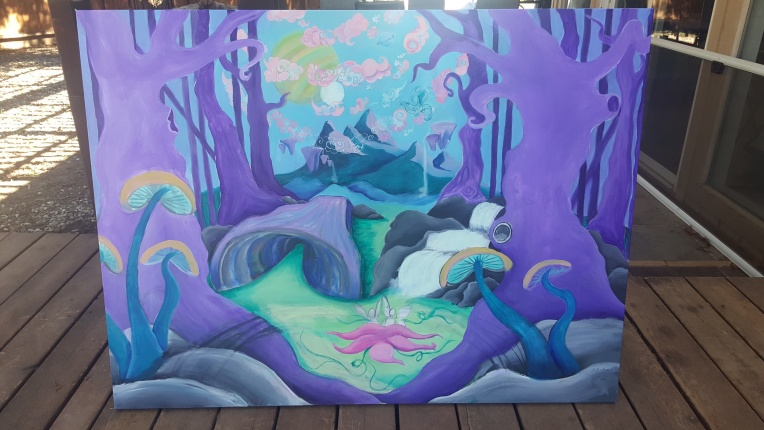 Not painting any creatures or details beyond the landscape I was working on was so difficult, but it also set up the surprise for my audience the magic that would soon pop up into the forest I was building. The beginning stages of detailing gave no idea to the fairy grotto I was planning on adding. It was actually kind of neat to watch the piece grow like this, almost like the forest was growing right before my eyes.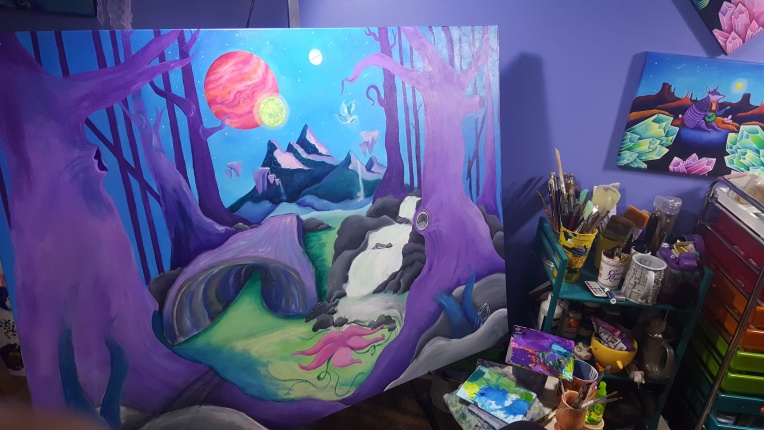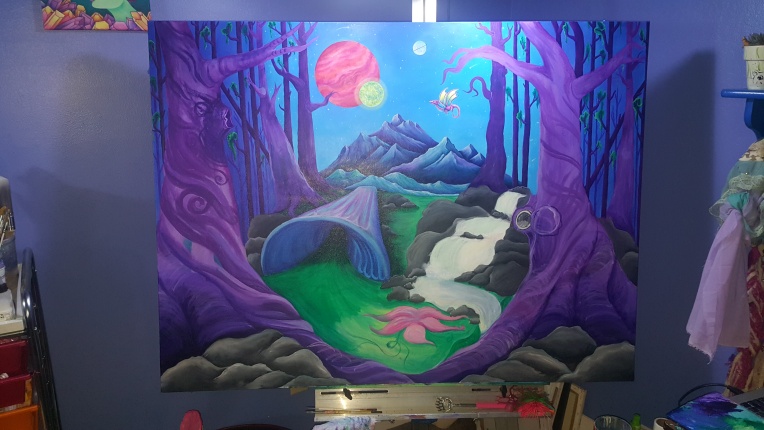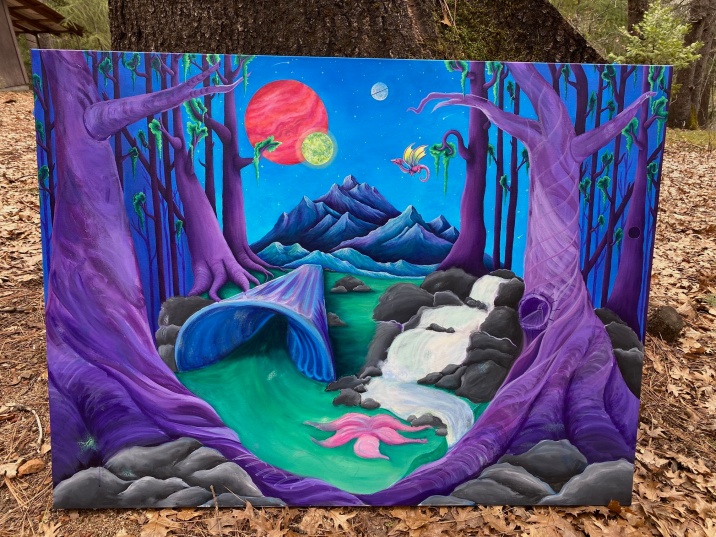 By this point I was getting pretty excited, summer 2020 was over, 2021 was on the way. I really took advantage of my "shelter in place" during covid and honed in and put a lot of work in on the piece. It was almost time for the plants and fae to start popping in and I couldn't wait. I could see it all in my head so clearly and I was chomping at the bit to bring it to life.
Well, that's all for the story of my art journey for now, its a pretty long story to tell and I didn't want to overwhelm you all. If you made it this far, thank you for taking the time to read about my art and journey to finish this piece. I appreciate you!
Catch my next post tomorrow where I reveal the full finished piece in all its wonderful fairy magic detail!! It's a show-stopper guys, seriously, don't miss it!
(a small detail shot of the finished piece)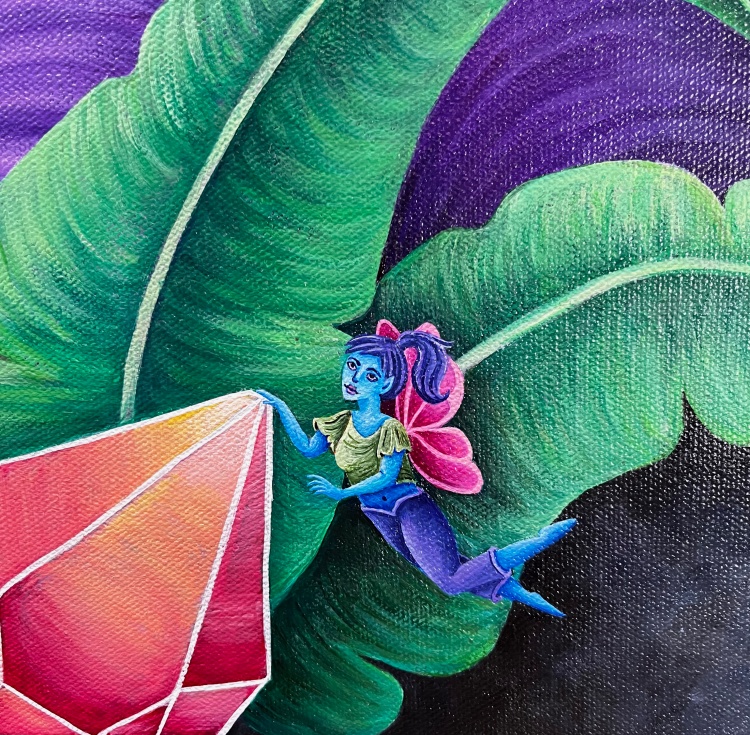 (all work shown in this post is original, painted by Bree Like A Tree, and copyrighted)