Hey all, this is the continuation of my hive post yesterday about my 2.5 year art endeavor to create my largest solo piece to date with over 600+ hours of painting. If you missed my previous post, part 1, you can view that here: https://hive.blog/hive-156509/@breelikeatree/2-5-year-art-endeavor-finally-reaches-an-end-i-did-it-part1
Up until now, this project had been a whirlwind of options and directions. And I was finally feeling like I had the beginnings of a finished product. I was finally making traction. My blocking was solidified and I had begun to get the landscape cleaned up and finely detailed. My floating islands were looking good and I satisfied a small bit of my need to put some creatures in with some of the farther back critters hanging out. It had been almost a year since I had started this piece and I had so much more time to go. I started to dread this piece would never see being finished. The mental struggle for an artist to create can be overwhelming sometimes, and we create our own artist blocks that we must overcome. It was a hard road ahead of me, but looking back, it was so crucial for me as an artist to create this piece. It pushed me so far out of my comfort zone, and because of that I grew so much and leveled up my skills.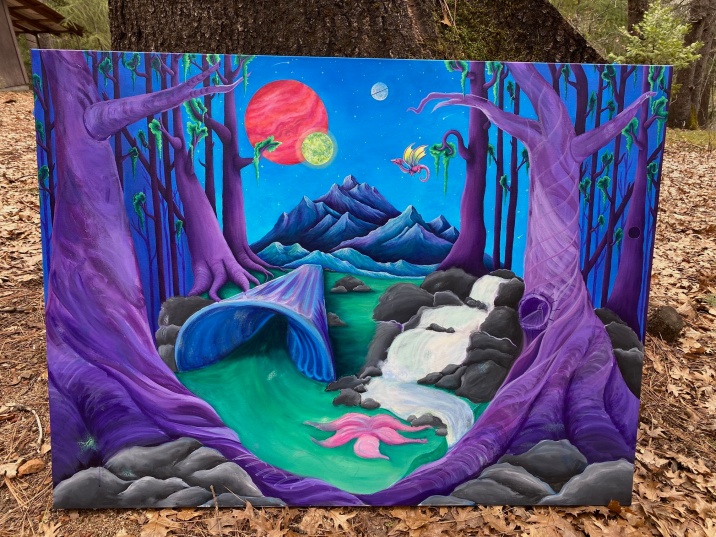 It was another 6 months of work after that first year. Filled with self doubt(and putting the canvas against a wall for more months at a time), stress on myself for not making progress; and then making 4 other new pieces of art in that span of a year and a half of time. Those other pieces helped teach me new skills and confidence to slowly slug along on the giant looming in the corner of my studio before I was finally at the point in my skill set and confidence to start putting life into the piece, to keep going.
It would take yet ANOTHER year of work from there, the sudden loss of someone extremely close to me and my art becoming so stagnant because of the creative strain this piece was putting on me just sitting, that I finally got the motivation and determination within myself to sit my butt down and log almost 10 hours a day for 3 months. Only giving myself a few days here and there to rest from burnout and get some sunlight on my "cave(studio) dwelling" artist self. I was determined to finish, and I would not let the world around me or myself deter me from getting this thing done or I felt it would never happen.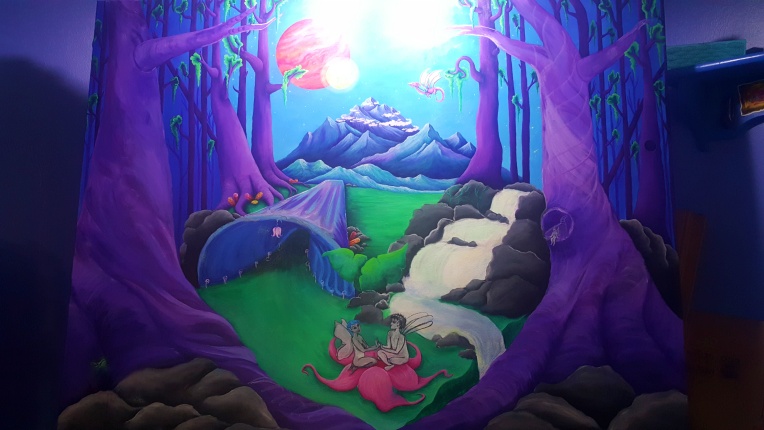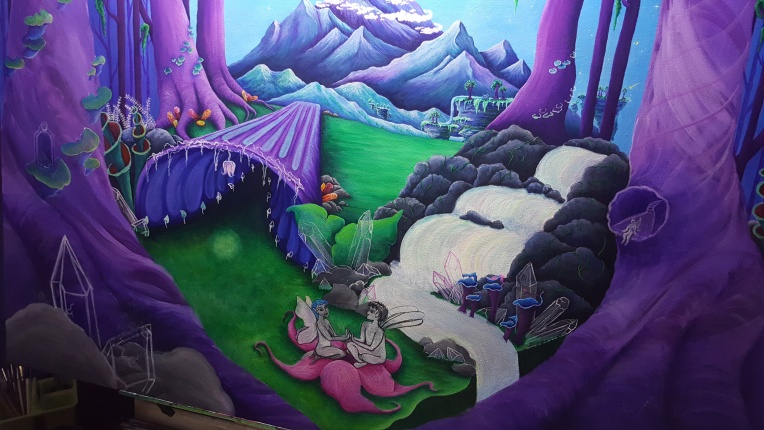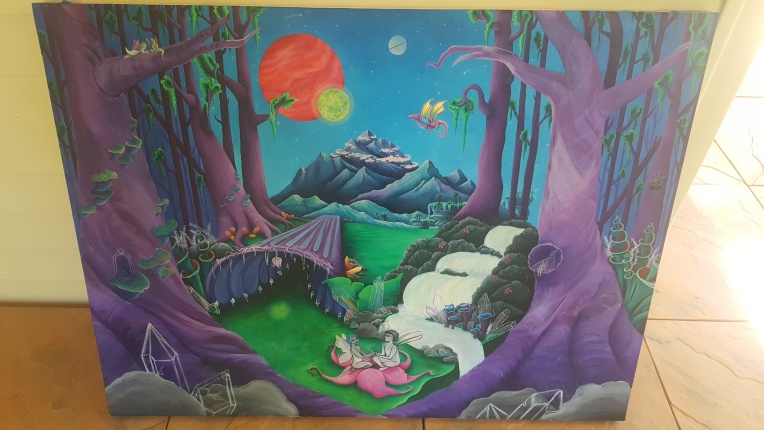 And I finally reached that finish line and it feels SO GOOD!!! I cannot describe the weight lifted from my shoulders upon finishing, signing and delivering. And the joy at how much she loves it!! She wanted it to be a surprise so she had seen nothing of the piece until it was presented to her finished in all its magical glory. It was quite a fun experience to see her face upon the reveal of showing the piece to her. Seeing her joy and hearing how it far exceeded her expectations and how much she loves it really solidified my confidence in myself as an artist.
I am so thankful to my collector and patron for commissioning me, being so dang patient through it all and giving me the freedom to make the piece I did. Thank you!! I would never have made the piece I did nor reach the skill sets I have if I had been rushed to do it. I have reminded myself through the making of this piece, art is slow and thats a good thing sometimes. Take your time, you'll get there. Be good to yourself and know you can, however long it takes. One step in front of the other, YOU CAN DO IT!!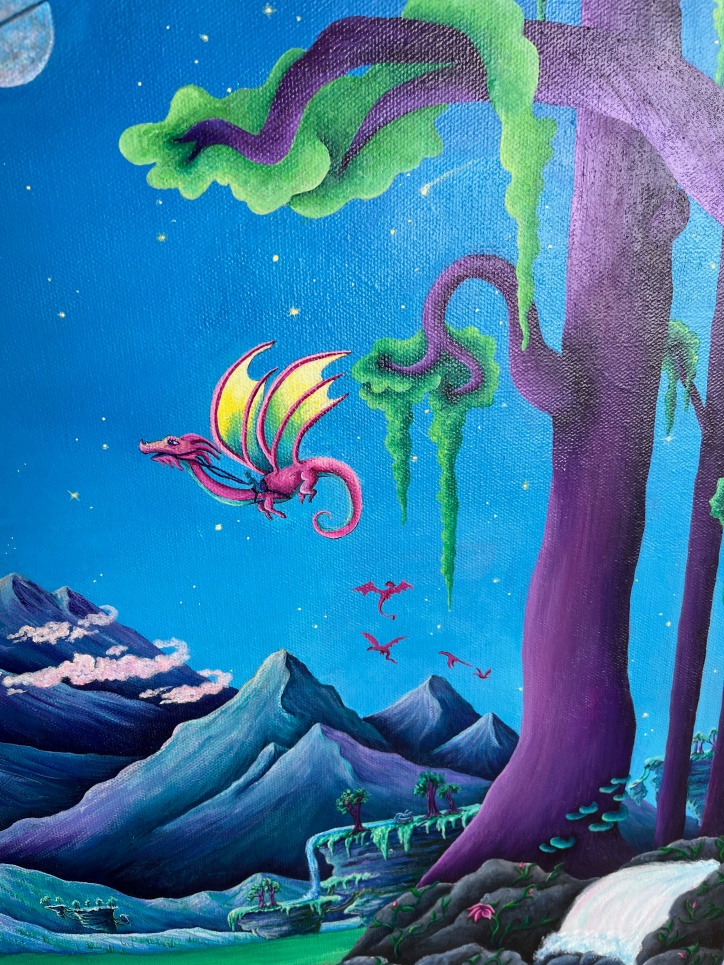 Getting through this piece was so heart crushing for me at first as I felt I would never be skilled enough to do it. I created a lot of self doubt and created a giant artist block for myself. I had to teach myself the only way I would be skilled enough is if I set myself to learn how. And even if I didn't reach the exact goal I wanted to, if I didn't get it to the exact picture I saw in my head it would still be good enough as it would be my work. Mine and that was good enough.
I learnt so much trying to tackle this piece. About myself, personally and as an artist. I learnt how to be kind to myself, how to have confidence in the things I do and when I don't know how to do something, set out to learn how. Plus I also upped my skill set as artist so much in the time span from when I started until the time I finished. I feel this piece pushed that a lot. It really challenged me. I had to learn how to do a lot with the vision of this piece I had set myself to do. I had never really painted people before due to how difficult posture, facial features and hands were to me at that point. (I also drew over 100 people and 30 hands with practicing before finally painting lol) After this piece I feel so confident I can, I pushed myself past my fears and doubts and overcame my own shadows. Its so empowering. I feel ready to tackle any project I set out to do.
I continue to remind myself: "It may take some time, practice and patience to do it but don't discourage and keep going, keep trying. You'll get there."
Fear is such a creative stifler. No matter what art you aspire to create, fear is always something you must overcome. If not, you don't create.
I am so proud of myself that I completed this piece, I overcame my own fears about myself and kept going. And I surprised myself. I created the best piece I have ever made. I reached my initial goal, though the vision is different from the piece I created its still my very best. Its surreal to stare at something you made and be impressed by your own work. I never thought I could be this good and excitedly I know I have so much more to learn. So many more skills to learn, levels as an artist to reach. I feel like I reached a mountain top on my journey to the highest peaks ahead of me. I can see what lies ahead and though the journey will be long and arduous with many hard paths in front of me, I cannot wait to see where it takes me. I am ready and I feel so confident I can. I have never felt this confident about tackling the projects ahead of me, this confident as an artist. Its new, but its a good feeling I hope to keep with me as I continue forward with my art.
And So I present to you all, my finished piece. ENJOY!
Avatar Gully!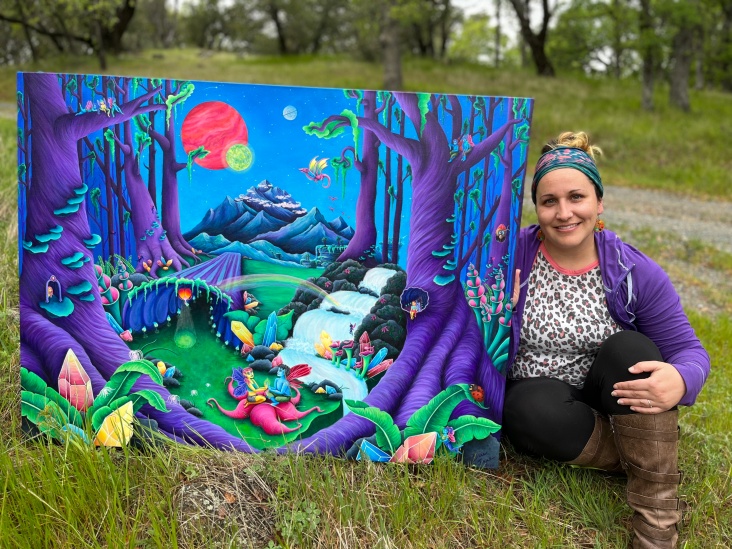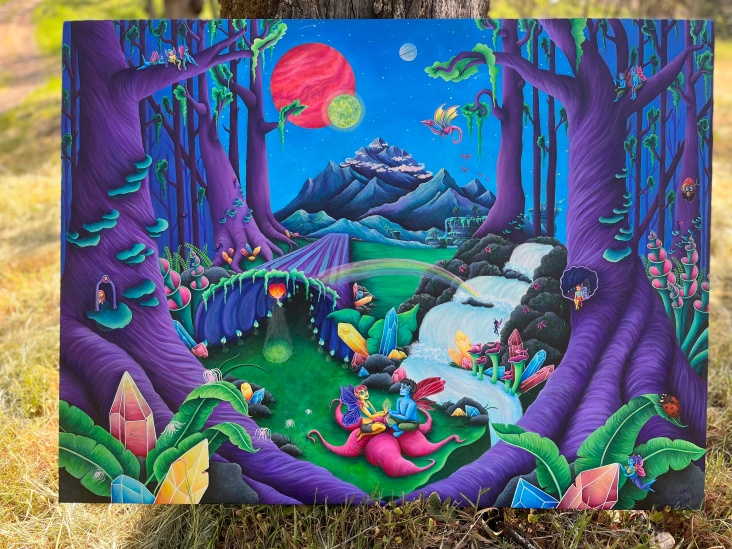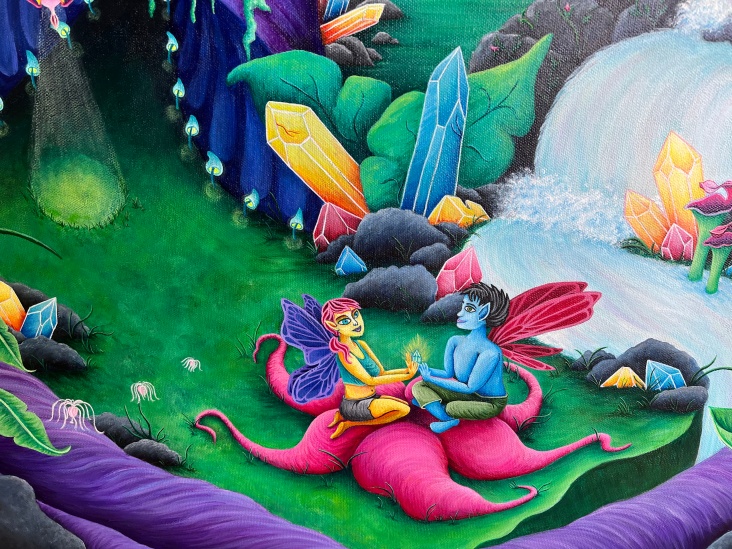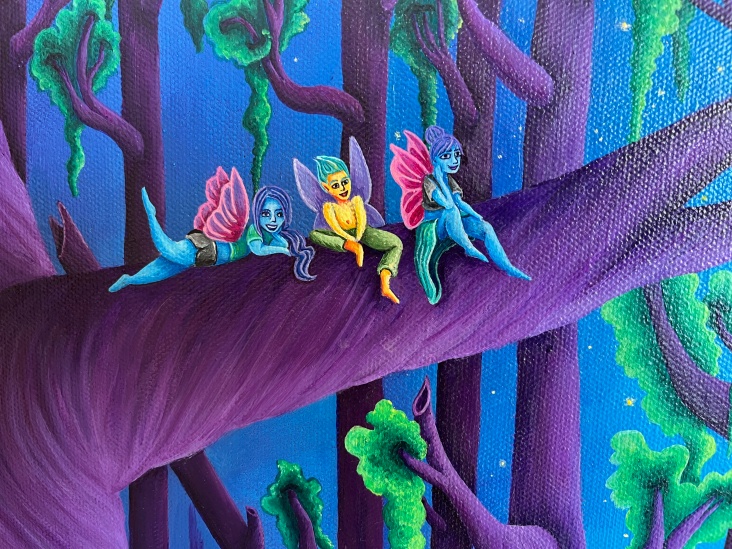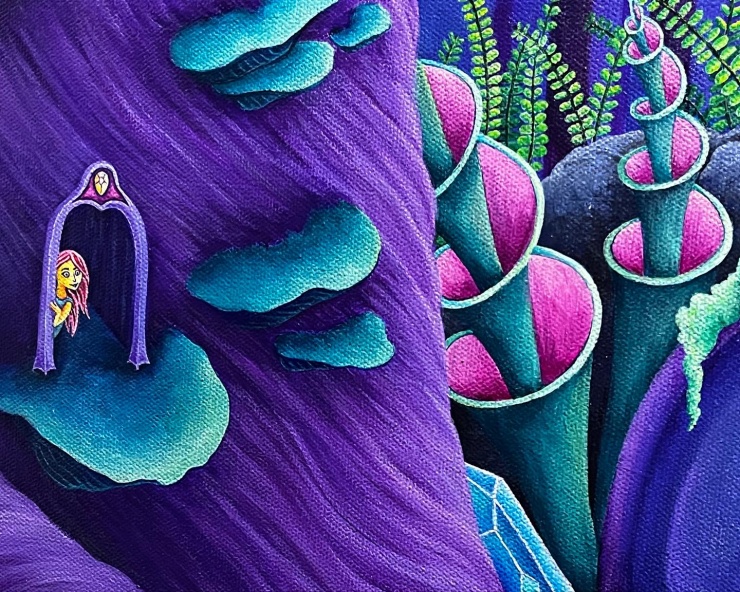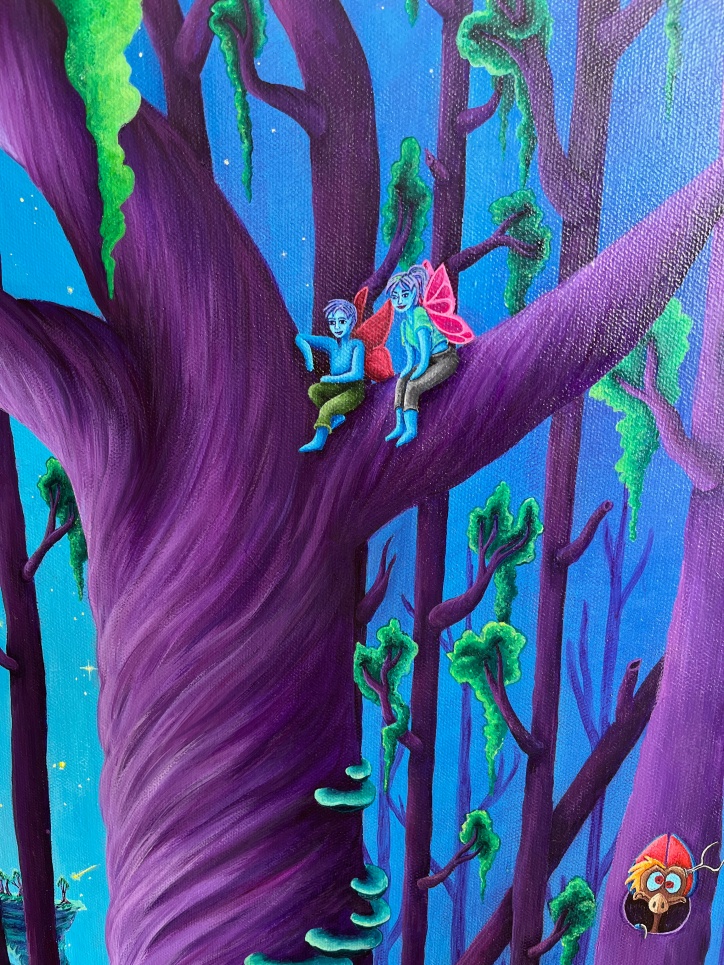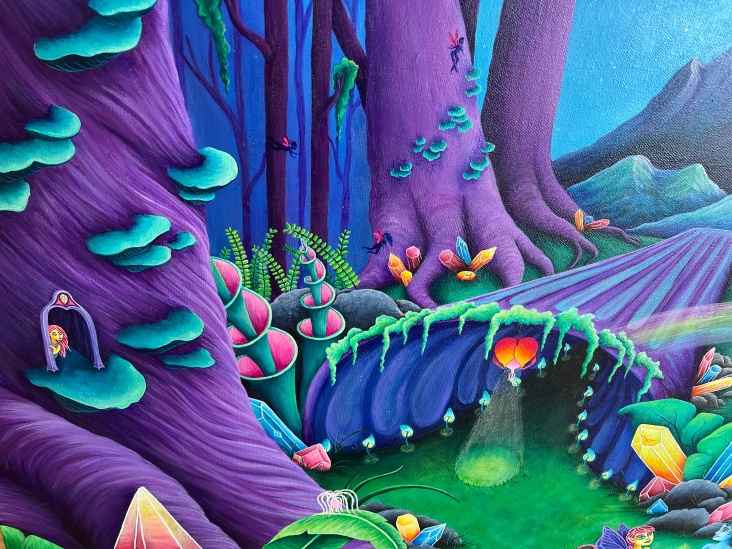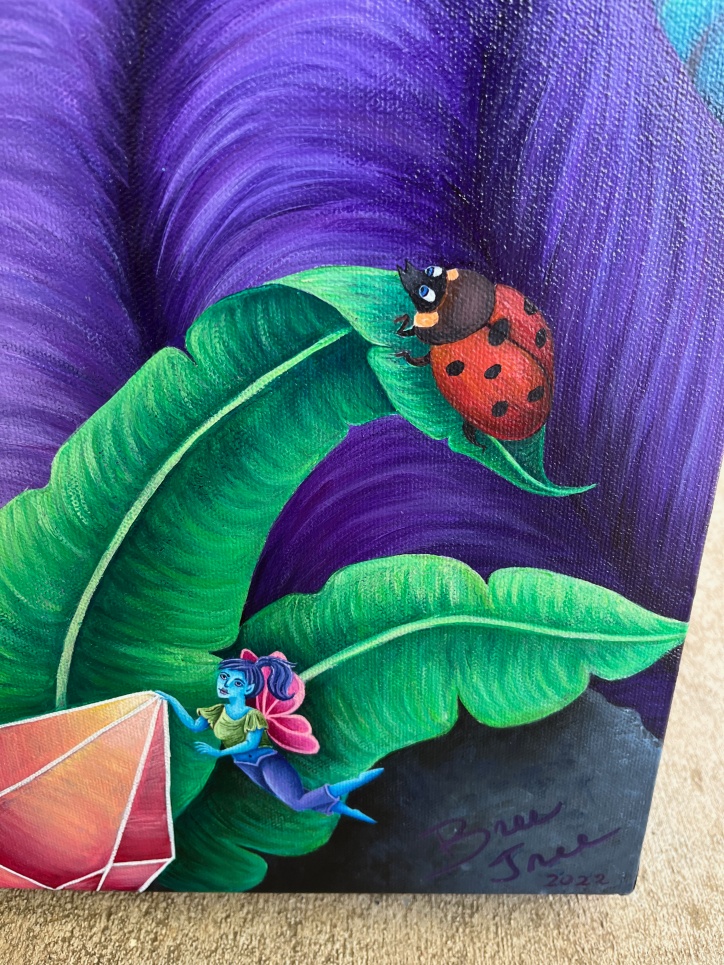 (all work shown in this post is original, painted by Bree Like A Tree, and copyrighted)