The benefits of Blockchain have taken on a new body in hive, inspiring digital and traditional artists to create their best works and put them up for sale: @Nftshowroom.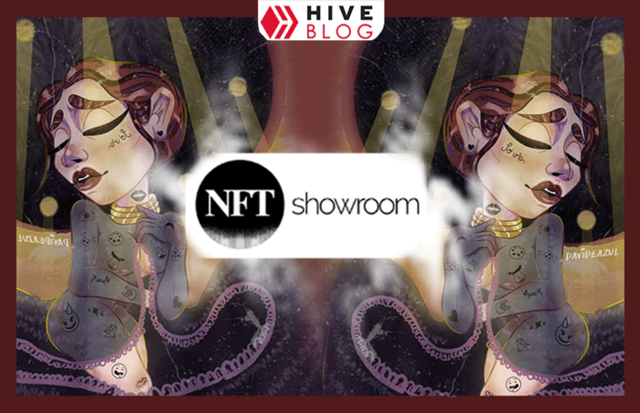 I AM ALREADY A WHITE LIST ARTIST!



About a week ago, I was accepted into the @nftshowroom whitelist, this news made my day, I immediately started preparing everything for this new platform.
So within all my arts, I thought it appropriate to select 3. Among those, this illustration that is for sale.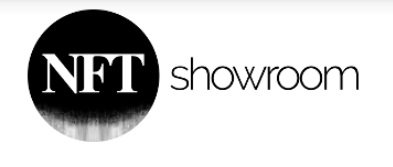 This relatively new platform came to Hive to brighten the existence of many artists, now we have the opportunity to tokenize art. What do I mean by this? Tokenizing your work allows you to sell it through the blockchain in limited or unique pieces.

IMMEDIATELY I CHOSE MY FIRST ART TO TOKENIZE , this piece is one of my best illustrations and I thought it was right to publish it.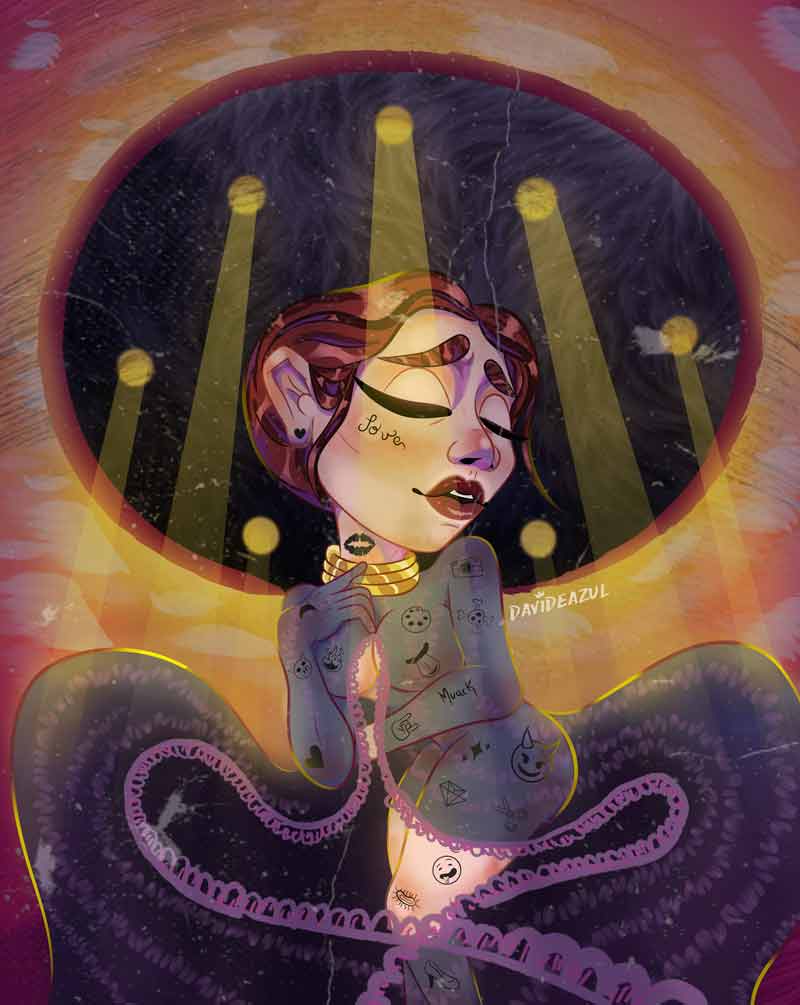 It's elegant, artistic, a good finish, and it's on sale now!
ART PIECE LINK ON NFTSHOWROOM
I was very excited to upload it to @NFTshowroom, I was curious to know who would even buy one, but even though they haven't bought the first one yet, it doesn't mean they won't get it later.
I have faith that someone will want to take home this beautiful Lady ❤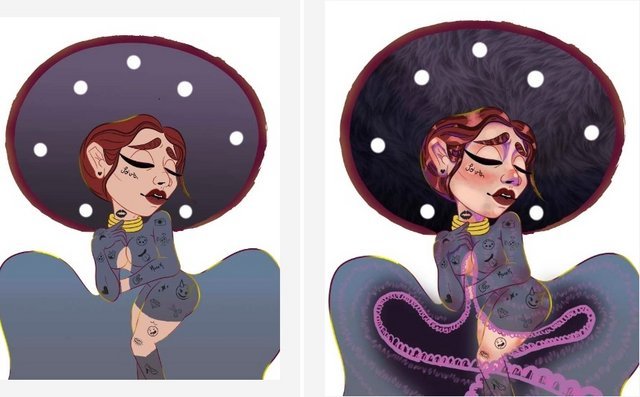 If you are interested in the process of this illustration, I made a post where I explain in more detail about this art

❤ ON SALE! ❤



So, well, this beautiful lady is looking for the person responsible for her melancholy.
I FEEL YOU HERE, is the title I gave it. Well, nostalgia, love and passion is what this illustration represents (haha, in Spanish he rhymed what I said) . Also, as a description I give you a little poetry of my authorship.
"You are here, inside my body. I no longer have to look for you among my forgotten poems." -Gatolector.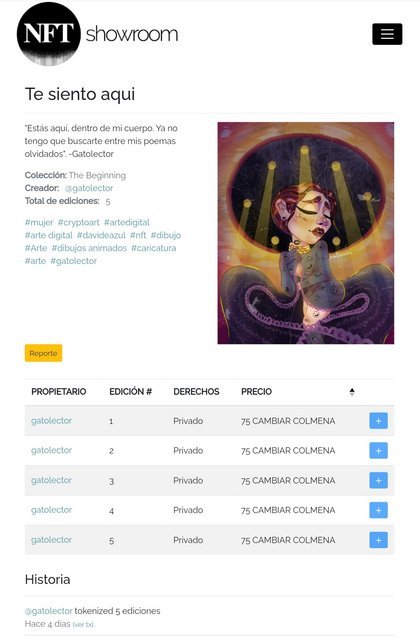 I would be very grateful if you contribute with the purchase.
ART PIECE LINK ON NFTSHOWROOM
TAKE ADVANTAGE OF! ONLY 5 EDITIONS.




For the rest, I want to give a greeting and thanks to @stellabelle who helped me in my process to upload this work because I did not understand some things and to the @onchainart community that always supports my Art publications.
More art, gifs, and videos are coming soon!

Follow me on my social networks:
---
POST EN ESPAÑOL:
---
Los beneficios de la Blockchain ha tomado un nuevo cuerpo en hive, inspirando a los artistas digitales y tradicionales a crear sus mejores obras y ponerlas en venta: @Nftshowroom.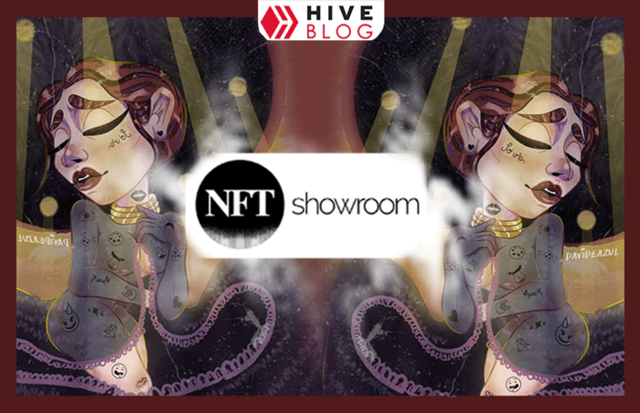 ¡YA SOY UN ARTISTA DE LA LISTA BLANCA!



Hace aproximadamente una semana, fui aceptado en la lista blanca de @nftshowroom, esta noticia me alegró el día, de inmediato fui preparando todo para esta nueva plataforma.
Así que dentro de todas mis artes, creí conviente seleccionar 3. Entre esos, la presente ilustración que está en venta.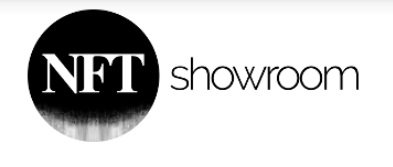 Esta plataforma relativamente nueva llegó a Hive para alegrar la existencia de muchos artistas, ahora tenemos la oportunidad de tokenizar el arte. ¿Qué quiero decir esto? El tokenizar tu obra te permite venderla a través de la blockchain en piezas limitadas o únicas.

DE INMEDIATO ELEGÍ MI PRIMER ARTE PARA TOKENIZAR, esta pieza es una de mis mejores ilustraciones y creí acertada publicarla.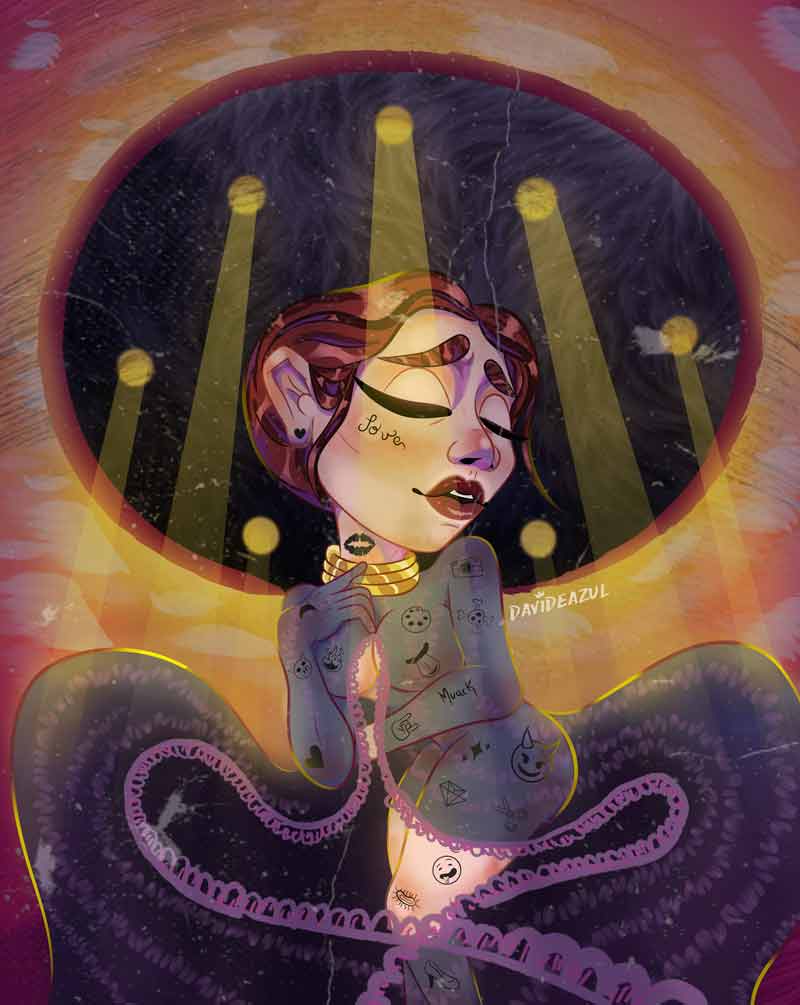 Es elegante, artística, un buen acabado ¡y ya está en venta!
ART PIECE LINK ON NFTSHOWROOM
Estaba muy emocionado al subirla a @NFTshowroom, me picaba la curiosidad por saber quien compraría tan siquiera una, pero aunque aún no compran la primera, no quiere decir que no la obtendrán más adelante.
Tengo fe que alguien querrá llevarse a casa a esta hermosa Dama ❤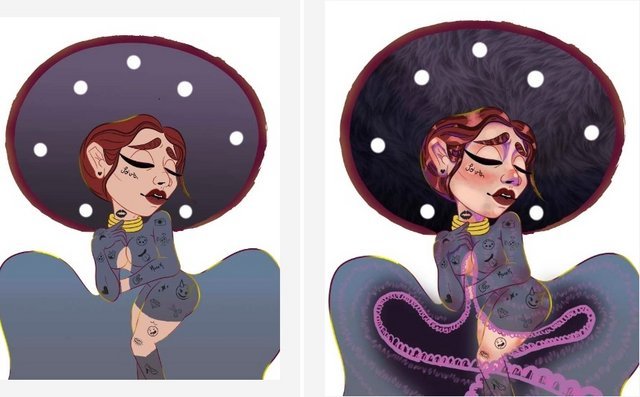 Si te interesa el proceso de esta ilustración, hice un post donde explico más a detalle sobre este Arte

❤ ¡EN VENTA! ❤



Así que, bueno, esta hermosa dama anda buscando a la persona responsable de su melancolía.
TE SIENTO AQUÍ, es el título que le dí. Pues la nostalgia, el amor y la pasión es lo que representa esta ilustración (jaja, en español rimó esto que dije). Además, como descripción te regalo una pequeña poesía de mi autoría.
"Estás aquí, dentro de mi cuerpo. Ya no tengo que buscarte entre mis poemas olvidados." -Gatolector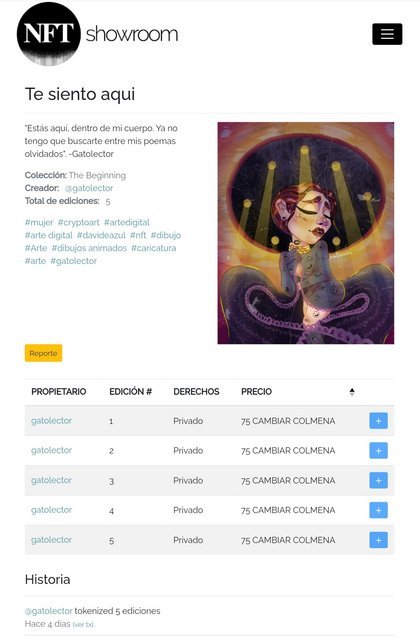 Estaría muy agradecido si contribuyes con la compra.
¡APROVECHA! SOLO SON 5 EDICIONES.




De resto, quiero darles un saludo y agradecimiento a @stellabelle quien me ayudó en mi proceso para subir esta obra pues no entendía algunas cosas y a la comunidad @onchainart que siempre apoya mis publicaciones de Arte.
¡Pronto vendrán más arte, gifs y videos!

¿Te gustó? Sígueme en mis redes sociales: