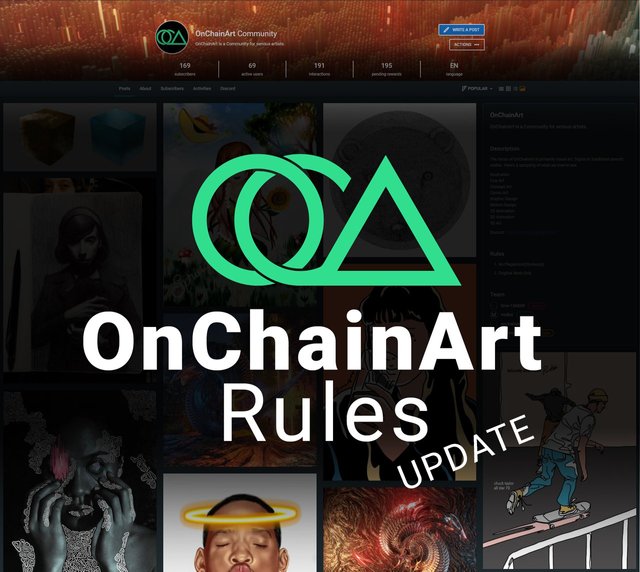 What's up everyone, @midlet here with a few announcements and updates regarding OCA. So first off the community is growing well and there's a ton of amazing artwork being posted here day in and day out which I love to see.
I feel confident at this point that if you're a good artist, you can come to Hive and you won't be overlooked or have that feeling a lot of us old timers had when we got started where basically your first month or so was you talking to no one and there being no relationship between the quality of your work and the rewards you'd receive. It's a new day and I think this place is growing into something that can be great and add a lot of value to Hive.
That said, this Community is like a piece of artwork for me. It's something I'm always thinking about how to improve and how to polish it to make it even better.
One of the core philosophies I had in mind when creating OCA was that Communities need to be very niche and specific to be successful. I think even having a community just for "art" is too broad, but at the time I created OCA there weren't any other art Communities(I made it before Communities were even announced, during the beta) so I left things pretty open. Things have evolved a bit more and I want to further craft this community into what I ultimately had in mind. So I'll be restricting a few types of content in OCA from this point forward and updating the rules for posting here.
Some of this is based on keeping the focus of this community narrow and some are to curb what I see as abuse.
Rule addendums
If you use photography as a source for creating artwork, that's still fine. A good example of this is the work of the amazing @barbarabezina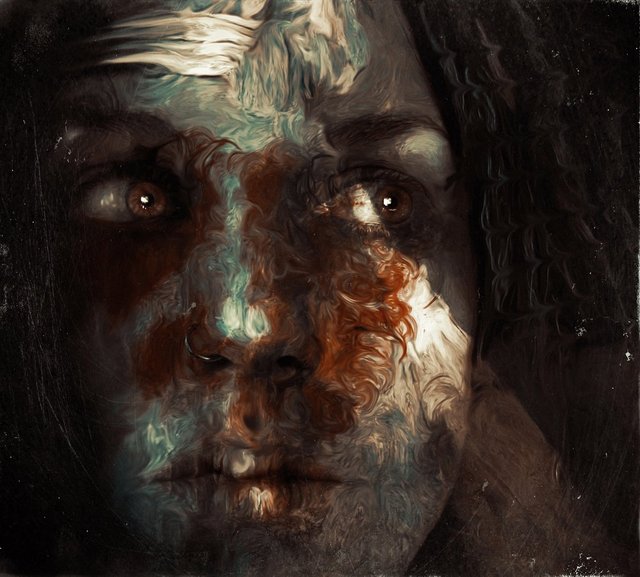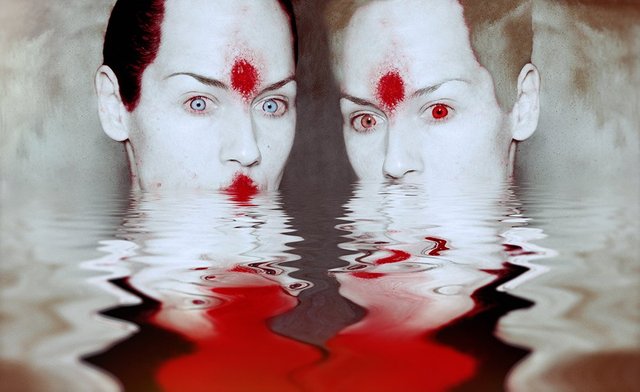 but if the work you're showcasing is JUST photography, then it's a better fit for the Photography Community admined by one of the Mods here in OCA @kommienezuspadt.
Photography posts in OCA will be muted from this point on.
Again, there is nothing wrong with this sort of work, but I don't think it's a good fit for OCA and there is a Community where I think it's a better fit at this point. Alien Art Hive is a great Community Admin'ed by the amazing @juliakponsford and I think that sort of work is a great fit for that Community.
The whole point of Communities is to get people to the content they want to see faster, and connect people interested in the same type of stuff. Supporting these communities is a net positive for Hive.
I'm still allowing crafts even though I don't really think that's a great fit either, but it's because as far as I know there is no crafts Community yet. At least not one that is well curated, but for the record I think if you're really into crafts, making a Community is a huge opportunity. The reality is that success on Hive is in large part due to having a positive reputation. I don't mean the score, I mean people know you as someone working to better Hive and creating real value. Obviously there are a lot of people into crafts, so if that's your thing, I'd say take the leap and own that Community.
Sharing Reference if your art is based on a single reference.
Some of you already do this, but I'd been hesitant to make it a rule because it's not really the norm on other platforms and when new users come here I didn't want to throw a bunch of restrictions at them while I'm trying to get them to post. But over time I've come to the other side of this debate and I think it just provides needed clarity for exactly what it is you're showcasing. So the rule will be to provide a link to the original source photo. The photo does not need to be included in your post, just a link to it, but if you want to share the photo as part of your post of course you can do that too. The exception to this rule is if you own the photo reference, or have purchased the rights to them. An example of this would be if you buy a photo reference pack. Since you bought the photos, they don't exist online and since they are a for profit product it wouldn't make sense to post them here.
Keep in mind this is for PHOTO references and that studies of drawings and paintings are still not allowed in OCA.
Cracking Down on Abuse
So now for the not so fun part. It's not rampant, but I've seen more instances lately of work that is not a drawing or painting trying to be passed off as a drawing or painting. It's the less legit side of using filters and AI. I think these are powerful tools and can be used to make amazing work, but they can also be used to deceive people into thinking someone is doing one thing when they're doing another. HiveWatchers and HiveKeepers are constantly patrolling the streets of OCA. I don't like getting DM's from them. Do me a favor and don't be a dick. If you can't draw or paint or sculpt, or 3D model, or something along those lines, this is not the community for you. As it's said since the very beginning. "OCA is a Community for serious artists". Look, I'm not naive, I know that a lot of rewards are flowing through here and that's going to bring with it people looking to capitalize, but from this point on these offenses are going to be one strike and you're out. If you do this sort of thing even once, I find it hard to believe that you're going to ever add any value here. You'll also be reported to HiveWatchers and HiveKeepers so it's really not worth it if you want to continue as a part of this community.
Alright, that's about it. I'd appreciate it if you all see someone breaking the rules and you think it's probably not malicious, kindly let them know so they can avoid any issues. Keep being awesome OCArtists!