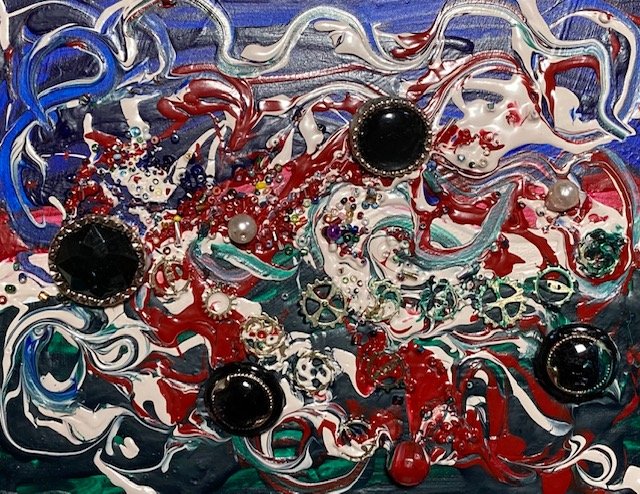 (ENG)
This is my original artwork.
"Black Eyes Are Looking"
Mixed Media,14x18cm,2021
In the chaos, the black eyes are looking at you. It's the human eye, the dog eye, the cat eye. I don't know, but my black eyes are shining. eerily shining eyes. I feel like being sucked in.
Today I arranged the paintings for the personal exhibition in May. I am worried about staying in the gallery because I have a lot of sickness, but the owner of the gallery doesn't care about that. It is important to have many customers come and satisfy them! he said angrily. Well, that's true ......。 but he doesn't have to be so angry ......。
(JPN)
これは私が創った作品です。
「黒い眼が見ている」
ミクストメディア、14x18cm、2021
混沌の中から黒い眼がこちらを見ています。それは人間の眼か犬の眼か猫の眼か。わからないけれども黒い眼が光っています。不気味に光る眼。私は吸い込まれそうになります。
今日も5月の個展に向けて絵の整理をしました。私は色々と病気を持っているから在廊が心配なのですが、ギャラリーのオーナーさんはそんなことはどうでもよいこと、だくさんのお客様に来てもらって、お客様に満足していただくことが大事!と怒りました。まあ、そりゃおっしゃる通りですが……。そんなに怒らなくても……。
---
My Website / 私のウェブサイト
https://ydart.exout.net/
My Artwork sales site / 私の絵の販売サイト
https://ydart.stores.jp/
My stock illustration / 私のストックイラスト
https://www.shutterstock.com/ja/g/vvv753