Aveces la inspiración es tan grande que no basta una sola forma de expresar el sentimiento.
Sometimes the inspiration is so great that a single way of expressing the feeling is not enough.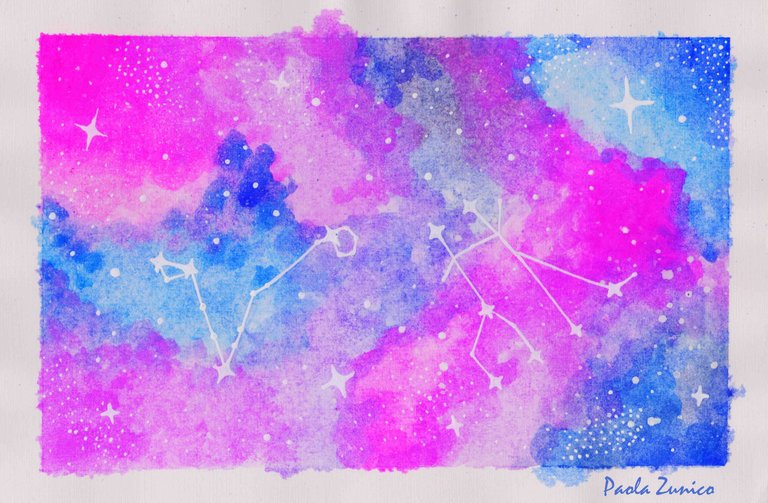 El arte puede ser una forma maravillosa de expresar un sentimiento. Comencé haciendo una pintura en acuarela de las constelaciones de Piscis y Géminis para expresar mi sentir por una persona especial en mi vida, sin embargo, con eso no fue suficiente, encendida con la musa de la inspiración brotó de mis palabras esta poesía que complementa perfectamente lo que trato de decir a través de la pintura.
Art can be a wonderful way to express a feeling. I began by making a watercolor painting of the constellations of Pisces and Gemini to express my feelings for a special person in my life, however, that was not enough, fired with the muse of inspiration, this poetry sprang from my words that perfectly complements what I'm trying to say through painting.
Y comprendí que no debía buscar afuera lo que estaba dentro de mi, en mi esencia, en mi ser.
Aprendí a amarme, aprendí a aceptarme con mis luces y mis sombras.
Disfrute de la soledad, disfruté de la compañía y entendí lo que era amar desde la libertad, desde la entrega y la pureza sin esperar nada a cambio.
Entonces llegaste tú, a mostrarme que habia hecho bien mi trabajo.
Que siempre estuviste ahí a pesar del tiempo y la distancia.
Esperando el momento oportuno, esperando el momento perfecto en que nuestras almas ya libres de toda carga se reencontrarán.
Y te reconocí en las estrellas y te reconocí en el firmamento y aunque fue obscura la noche, el amanecer resplandecía envuelto en luz.
En la luz de nuestros corazones que avivaron su llama al reconocernos en la sagrada presencia del amor.
And I understood that I should not look outside for what was inside me, in my essence, in my being.
I learned to love myself, I learned to accept myself with my lights and my shadows.
I enjoyed the solitude, I enjoyed the company and I understood what it was to love from freedom, from surrender and purity without expecting anything in return.
Then you came along, to show me that I had done my job well.
That you were always there in spite of time and distance.
Waiting for the opportune moment, waiting for the perfect moment when our souls, now free of any burden, will meet again.
And I recognized you in the stars and I recognized you in the sky and although the night was dark, the dawn was shining wrapped in light.
In the light of our hearts that fanned their flame by recognizing us in the sacred presence of love.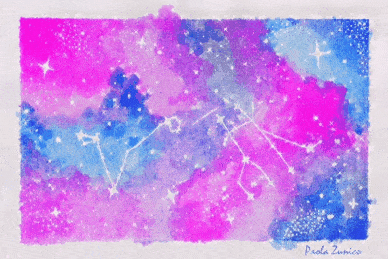 Para elaborar está pintura use cartulina de hilo, acuarelas Fabercastel, guache Lukas y bolígrafo de gel blanco Uniball.
For making this art I used fine cardboard, Fabercastel watercolors, Lukas Gouache and Uniball white gel pen.
CRÉDITOS / CREDITS
Translated with www.DeepL.com/Translator (free version)