I don't think they'll be quoting much of this answer! The email from the New York Times is below.
And here is my response 👆🏻to said New York Times 'journalist' in plain text....
Hi Michael,
Its not a problem for me to reply to a media request, especially to an anti-Trump New York Times ideologue such as yourself.
Enrique is someone who I have spoken to once, and from my conversation with him he doesn't seem to fit the "white supremacist" narrative that Biden supporting ideologues such as yourself seem to keep regurgitating ad nauseum.
Perhaps instead of focusing your ideological ire on patriotic people who love their country, people who revere the constitution, the bill of rights, freedom of speech and the second amendment, maybe, just maybe, you could turn your 'professional' attention to the current child-sniffing commander in chief and his family ties to Ukraine, the CCP and Eastern European sex/human trafficking rings???
Where is Hunter?
What is he doing?
What did he have on his laptop?
What's going on with the Durham report?
These issues would seem to me to be much bigger stories than the regurgitation of a far-left narrative claiming 'far-right' insurrectionists storming the capitol building? Maybe you could turn your investigative journalism to the 'ANTIFA insurrectionists' who stormed the capitol building that day???
To conclude I will finish off with a quote from the dementia patient child-sniffing commander in chief, the man who democrats nominated for President, the man so beloved even the dead voted for him in record numbers, he gave an immense speech in Delaware that had child predators leg hairs standing on end….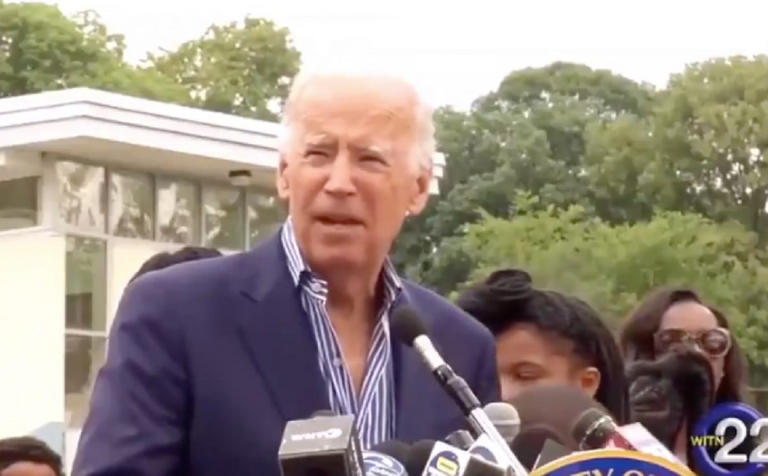 "And by the way I sit on the stand, and I get hot and, I gotta lot, I got hairy legs that turn, that, that, that turn errr errm blonde in the sun. And the kids used to come up and reach in the pool and rub leg down so say, and then watch the hair c come back up again. They'd look at em.
So, I learned about roaches, I learned about kids jumping on my lap, and I've loved kids jumping on my lap, and ill tell you what, the men are now all men, the guys I work with down here, and they're all guys at the time. They're all good men."
Maybe you would like to print this in the New York Times? It's so much more newsworthy than the left-wing Trump hating bile your 'profession" pass off as 'journalism'.
All the very best to you and yours
Tommy Robinson (an unapologetic patriot and Trump supporter from across the pond).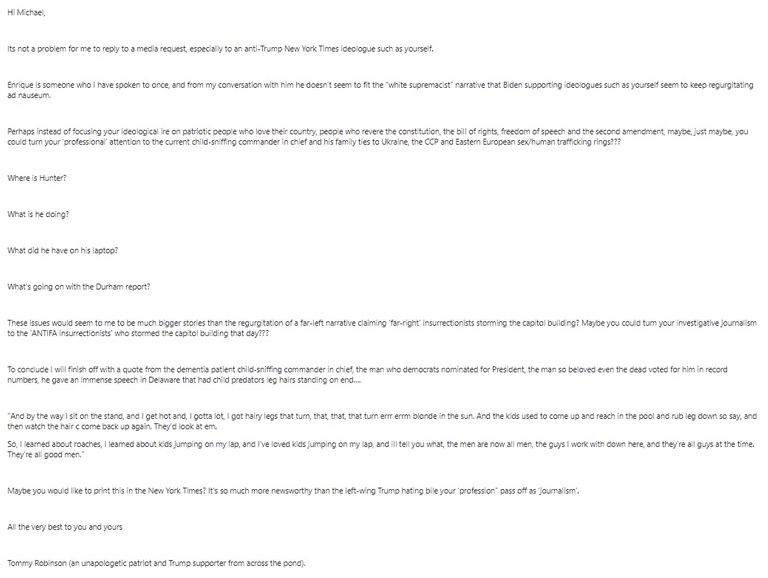 For those of you who cant open or enlarge the email I got from the New York Times, here is the email in plain text that I received.....
Hi there,

Thanks again for reaching out. I'm interested to know more about your relationship with Enrique Tarrio and the Proud Boys, as well as other american political activists and officials. I saw the live stream of your conversation in November, and referenced it in this recent article (https://www.nytimes.com/2021/01/24/world/europe/capitol-far-right-global.html).

At the end of the video, you both promised to continue talking. Do you remain in touch with one another? How has the Capitol violence on Jan. 6 affected this communication, if at all? What are your thoughts on the Capitol violence. Do you consider it something positive for your movement, a teaching moment perhaps, or did it have a negative affect on your work?

What of the inauguration of Joe Biden? In the livestream from November, you suggested that Trump's departure from the White House would have disastrous consequences for the Proud Boys and your movement more broadly. Do you still think that? Have you experienced any direct consequences as a result of the change of administration? What about your allies in the United States?

In the live stream you mentioned meeting with five congressmen from Tennessee in London? Can you provide more details? Who were they and what were they in London for. Do you maintain any contacts with American officials? I know that Congressman Paul Gosar has been an ally and that Donald Trump Jr. has tweeted his support. Have you spoken with either of them recently?

I'll leave it at that for now. Feel free to answer at your leisure.

Best,
Michael