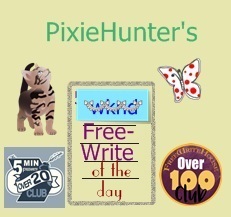 I've got a car crush
it makes my face blush
Candy apple red it's not
but metallic blue, with maybe yellow dots
yeah eh ehhhh.
You'd have to see it
to even believe it.
Its not your average wheels
bet I could make all little girls squeal.
they be like,
Alllll right,
that's the color
shiny and brighhhhhht.
my barbie needs that so,
its better than this stupid pink,
that doesn't glow.
Mommy, can I have oneeee?
I want to have fun.
Noooo you may not,
but go ask your father
and why the yellow dots?
Umm, cuz they can't be black on dark blue.
I swear it's only the coffee. I put a little twist on my entry. You have to sing it as you read it, lol..Oh, btw I would never put dots of any color on my vehicle lol.
Happy weekend everyone.