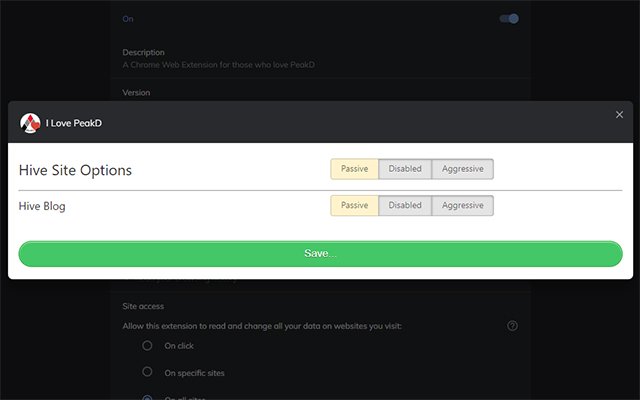 Do you absolutely LOVE the PeakD.com interface for HIVE?
Well I have created an extension for you!
What does it do?
"I Love PeakD" is a web extension for both Chrome/Brave and Firefox that will redirect any Hive.blog URL's to PeakD.com
Why Though?
Other people like to use the platforms that suits them (which is fine) so when they share a link, it will likely be from the site they prefer. With "I Love PeakD" installed, you won't have to worry about changing URL's or interfacing with a website you don't like to use.
But what is PeakD?
PeakD.com launched in 2020 as a version of SteemPeak.com on the HIVE blockchain centered on integrating Hive and many other blockchains. The Peak projects began with SteemPeak.com in early 2018. The story is that @asgarth became too impatient with the then 20-seconds limit on comments. As a developer, he dove into Steem to see if he could create his own tool that would queue his comments. Lo and behold, he never stopped implementing new features and soon, a team would form that is the driving force behind the PeakD that you see today.
Our passion for blockchain, decentralization and our photography connection brought us together and made us a great team.
Since the beginning we have strived for an INTUITIVE site, one that we could invite friends to and they wouldn't be confused. We also wanted a powerful site with all the tools we ever wanted in one place.
[Source]
So how do I install?
Chrome/Brave - https://chrome.google.com/webstore/detail/nnjpaiehjlcdpajkbajkkdnepdafiiaa
Firefox - https://addons.mozilla.org/en-US/firefox/addon/i-love-peakd