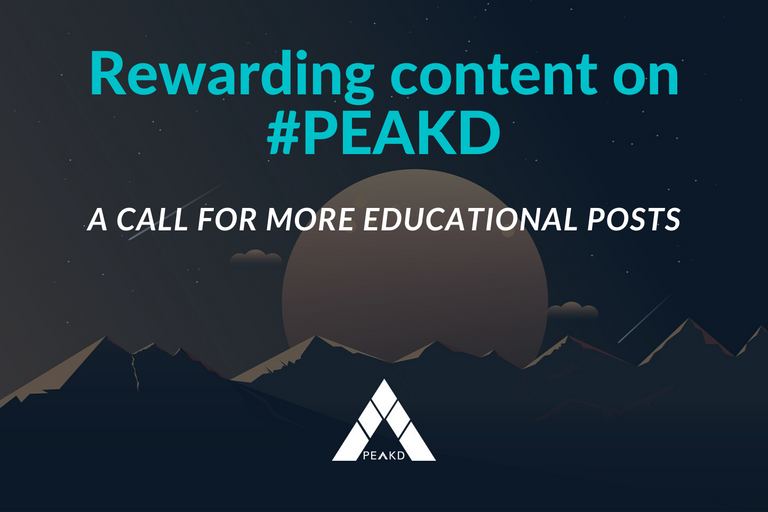 When people write content about PeakD and any of the many many feature sets we go through and check the posts in the #peakd topic.
We sort by RECENT posts and find different ways to reward people educating other users. Posts that are primarily about #peakd are also welcome in the PeakD Community
https://peakd.com/c/hive-163399


1. Vote on the posts
We will readily vote on good content that educates or excites others about hive/peakd
2. Give the post a tip
It's not a set amount and sometimes it could be BTC or DOGE or the normal HIVE tips.
3. Interact and answer questions
In addition we do check many MENTIONS of @peakd as well
4. We even cross post into our community
Specially when we find some great stuff that we'd like immortalized on the community feed to help others.
5. Pay for Promotion
Now that new promotions are out this is something we plan to do when we find a post that we think a lot of people should see. So we're on the look out.
What is your favorite educative PeakD post? We're looking for one to promote as long as the content is still current
DON'T USE #PEAKD UNLESS IT'S ACTUALLY ABOUT PEAKD
For months now we have been politely telling users to NOT use #peakd unless it's about #peakd so you will see our tag is very easy to curate and not full of unrelated posts. Most people we've informed have quickly stopped using the tag and have been very understanding and we understand that it just comes from a long tradition of abusing topic-tags in the past.
#peakd is not an action tag that does an action like give a reward or something like that it's an actual TOPIC TAG. It's for our own use and others that want to know more about one of the Peak Projects.
---

Review a new (or old) feature
Educate users on how to do something
Talk about potential for hive and PeakD
Ask questions
Answer questions
Give input or new ideas
Mention your favorite badges or communities
Top 10 features
---

"VOTES ARE LIMITED ... TIPS ARE UN-LIMITED"
This is just a side note that any person and specially all companies can easily reward and incentivize content and promotion via tips which are not limited upon investing in thousands of dollars worth of HIVE.
PeakD is a small company and we believe giving tips is a way to show users that we really appreciate them and the content they write.


We challenge you to do a top ten post... or any educational post at all about #peakd
... Something that helps other Hive users. We all know PeakD has tons of features to talk about.
This isn't a competition, this doesn't have an end date we will continue to reward #peakd content for a long time to come. However for a little while we will certainly increase our TIPS and effort to find content to pay for promotion. If you think your post about peakd/hive is a good one for all peakd users let us know... partly because we don't want to promote if you're not ok with it as sometimes people don't know if you or we paid for the promotion.
---