We want to share some of the future plans and get your insights of how you would order things if you were involved... but first a recap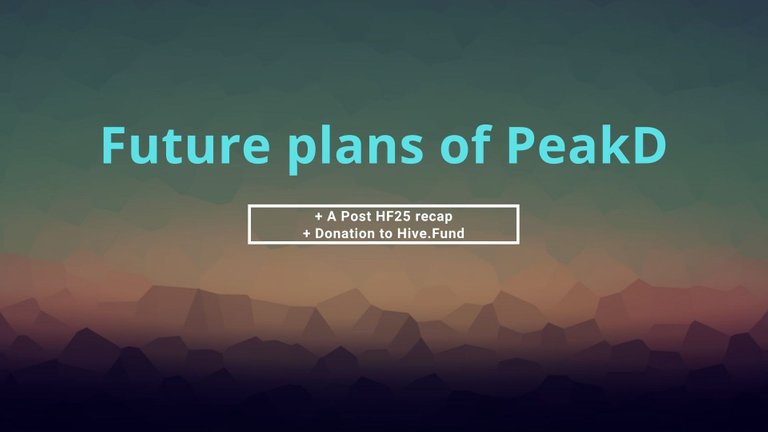 LOOKING BACK AT THE WEEK
We spent a TON of June working on the HardFork including making support for the Testnet and developing the features that were released during the HardFork and then also doing our role as blockchain producers and upgrading servers and supporting other blockchain producers ... it put us back a bit on other PeakD development but we're now back to the new feature grind and loving it.
At launch of the HF we were one of the only interfaces (maybe the only interface) for most all the new features.
TECH IS WORKING GREAT
We haven't noticed any glitches, the nodes have been behaving themselves.
We even have great technologically minded users creating helpful proposals to add even more NODE support. We've been advising him on what would help Hive/PeakD users the most
Vote on this project: https://peakd.com/me/proposals/184
RE-CURATING A WEEK OF POSTS
A lot of people stepped in to add votes to posts that were written before the curation changes but that needed new votes to stablize and determine the curation rewards. The curation rewards were distributed decently well. We powered up some of our funding money and did some voting... we will be donating those 7 days of heightened curation rewards (1000 HIVE) to @hbdstabilizer to fund the @hive.fund.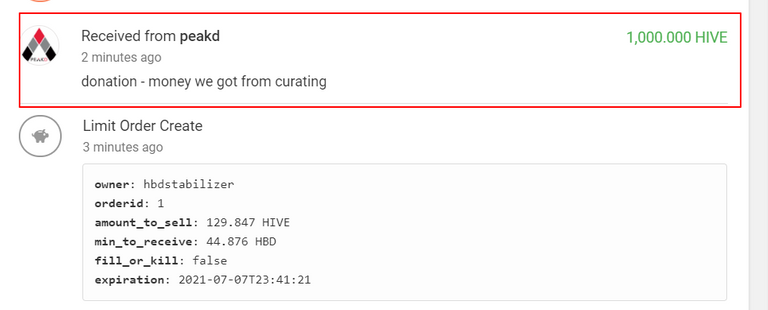 EXCHANGES NOT SUPPORTING RECURRING TRANSFERS... YET
We are updating the site to warn anyone transferring to a known exchange site that Recurring Transfers may not work and the risk is up to them. We hope that exchanges choose to enable support on their end.
NOT MUCH USAGE FOR CONVERSIONS... YET
At the moment of writing this HBD is right there at $1.00 and has never strayed very far from $1.00 this whole week. The new high peg has worked great and now to advertise the 7% apr and build up some pressure so that it always stays almost at the point of bubbling over.
HAVE NOT TURNED ON OLD POST VOTING ... YET
Oversite and we'll turn that on soon. And we'll also upgrade some of our services to use this. We'll create a most visited post of the MONTH because now that is available.
RECURRING TRANSFER FEATURES ARE JUST BEGINNING
The features released last week are just a foundational start to enable everything that we think this feature could do. We're excited about this feature as having a Patreon-style system with decentralization is one of the holy-grails for business minded content creators. There are many many steps left in the process but this was a foundational step that enable a lot of the next ones.
WHAT SHOULD BE NEXT?
This is a list of some things we are GOING TO DO for sure... we just would love some insights into what you would like to see soon.
Tell us which ones you want to see first and why? Is this for you or because it will be awesome for people you want to onboard? etc
RANK THEM - Tell us why
BEFORE I GIVE THE LIST:
These are features we need to get out of the way before we move to the others. The UI set is actually pretty large but it impacts all the VIDEOS and HOW-TO posts we do in the future and we want all those UI changes done before we do too much new educational material.
We're first doing a list of UI improvements to every menu (including settings), post details and community layout.
We always have small customer requests and bugs each week and lots of small fixes and improvements which we haven't listed here.
And there are other bigger projects we have not listed.
A. MUTE LISTS
Aka personally integrated "blacklists" ... you get to decide your own muting experience.
B. SCOTBOT REWARDS
HiveEngine integration meaning see author rewards from other 3rd party reward pools. Then maybe also sorting of content on some pages based on those rewards.
C. NEXT STEP TOWARD PATREON-LIKE SOLUTIONS.
There are many steps and the next one is really dang cool but kinda want to be a surprise. But then the one after that is probably encryption to make paywall experience an option
D. ONE CLICK CUSTODIAN ACCOUNTS FOR NEW USERS
Meaning sign up with FB login and don't have to deal with keys until they're ready to own their own account and be responsible for keys. This is for your friends and family who just want to comment on your post. They don't care about crypto or blog writing... YET!
E. DELEGATION SYSTEM
If we have enough going on we could do that other stuff and wait until RC delegation is added into Hivemind so that we don't have to do HP delegation then spend time switching to RC delegation
F. PROPOSAL PAGE UI UPGRADES
One feature is to save your vote yes AND no so that we can remember that you voted and you have a view where only new proposals come in.
G. LANGUAGE SUPPORT
Every time we do a ton of work on the site we are thankful we haven't made this feature yet so that users have to keep up with the massive amount of pages on pages on PeakD... but eventually we'll need to pull the trigger and make it open for volunteers to translate everything.
H. CUSTOM CUSTOMIZABLE FRONT ENDS
These will be in addition to the social media experience and will have custom URLs and the ability to make it the way you want... this won't replace a user's ability to go to your normal looking page but perhaps it's a place you want to direct YOUR fans to have the experience YOU think they should have.
I. MORE ANALYTICS INTEGRATION
This is one of the projects that has lots of small separate projects to implement. More analytics about your posts. More analytics for communities. Analytics that show what the most visited posts, topics, communities, collections, badges are. Perhaps help highlight who's bringing in a lot of traffic from Twitter, FB, Reddit etc.
J. AD REVENUE FOR POPULAR COMMUNITIES OR USERS
We hope to create a system to help communities integrate ads upon their request. Meaning their community gets rewarded and the community decides how to distribute that money. But also same for users who know how to get a lot of page views and visitors.
K. WELCOME PAGE / SENSE OF DIRECTION FOR NEW USERS
We want to give new users ideas of what to do... even a general task list of what is normally done. Maybe even a badge they get when they complete a check list of normal things a new user does. Then maybe extend this to intermediate users and give incentive to get those badges and show off that they're a pretty knowledgeable hive/PeakD user.
L. OTHER?
Tell us your idea... maybe it's on our list which is has dozens of other ideas... maybe it'll help move it higher on the to do list.