A new release of peakd.com is now available. Keep reading to discover the new features and check the full list of improvements ;)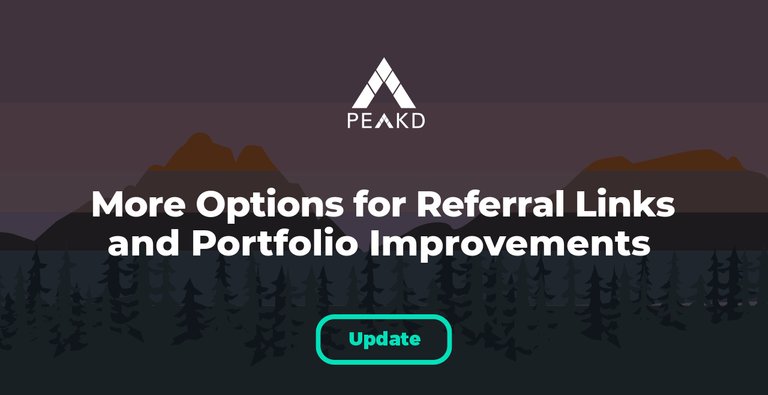 1. Allow referrer account to be tracked on all pages
Starting with this release it's possible to use every peakd.com link to share content and set a referrer account.
This means that sharing a link similar to this one will set the referrer account to @peakd when a new user join the platform after checking the post:
https://peakd.com/hive-163399/@peakd/more-options-for-referral-links-and-portfolio-improvements?ref=peakd
Keep in mind these simple rules:
This only applies to new user
The referrer account is stored for 2 days. If the new user does not signup in 2 days the referrer is reset
The new user has an option to manually drop the referrer account during the signup (this will default the referrer to the main @peakd account)
2. New option in the share panel to share a post with the referral details
To easily share links to PeakD posts with your referrals there is now a new option in the share panel:

Using the new 'Referrals Link' option will automatically add ref=username to the link.
3. Manually select posts to include in your Portfolio page
This had been requested by multiple users and it's finally available. You can now manually select the posts to include in your Portfolio page with a flag in the Advanced section of the post editor.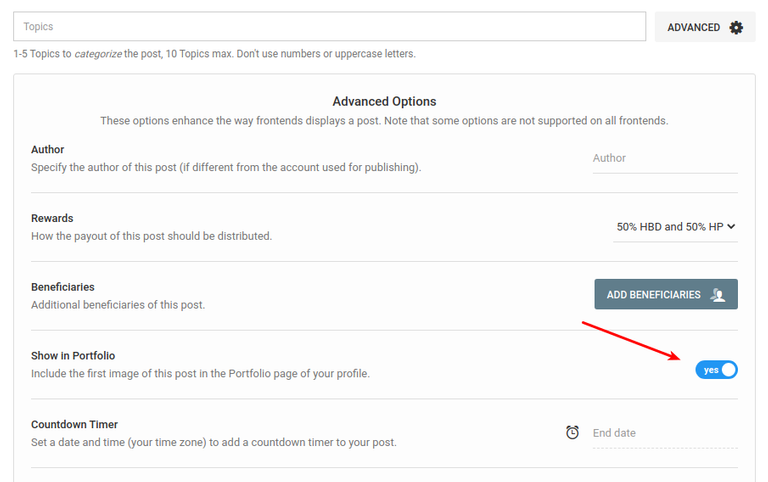 Keep in mind that the old rule is still valid for Portfolio image selection as this is required to avoid major issues for people that already have 'photo' related images available.
Note: the new option will be shown only if you have enabled the Portfolio page in your settings:

4. Some minor improvements and bug fixes
As always some minor improvements, updates and fixes across the website. You can check the full release notes here: https://peakd.com/about/changelog.
# Improvements and Fixes
------------------------------

[update]  Improved layout for reply/vote panel on mobile
[update]  Allow preferred API node to be changed in Settings also when forcing a specific node in URL
[fix]  Fix a rare issue with the wrong video selected as post cover
[fix]  Small fix in closing wallet popup after transfer

---
Support the @peakd project
Now is probably a nice time to remind you of the ways you can support the development of @peakd.

We have a proposal on the Decentralized Hive Fund. You can review the proposal here.
If you agree to the proposal and you think the points mentioned add value to the Hive Blockchain consider supporting it using the above links or directly with this link.
---
We also run a witness server to help produce the blocks for the Hive Blockchain. You can vote for our witness so we are in a position to process more of them.
Vote on the witness page: https://peakd.com/witnesses
Using Keychain: You just have to click and approve the transaction
Using HiveSigner: You'll need access to confirm the transaction with your Active Key at least
---
The PeakD Team
About us: https://peakd.com/about
Join us on Discord: https://discord.gg/Fy3bca5