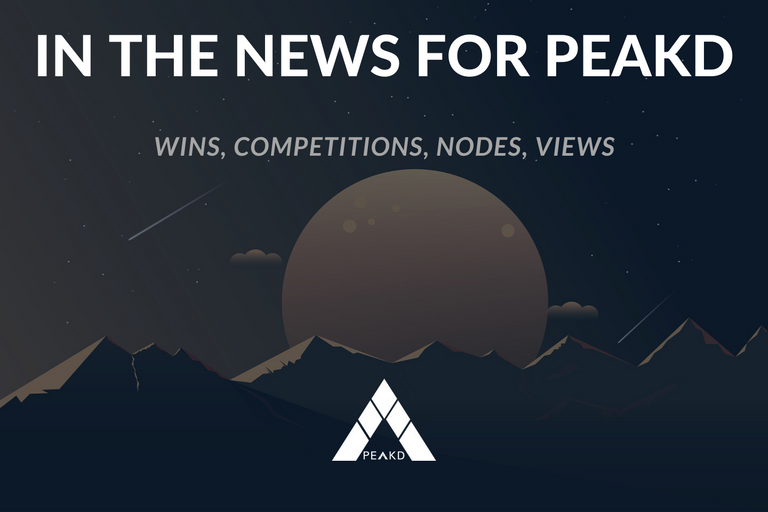 A new version of https://peakd.com/ with some small upgrades is just days away but we thought we'd share an assortment of random news in the meantime.
1 - A WIN
It has come to our attention that PeakD won a competition put on by "NOONIES"
https://noonies.tech/award/social-network-of-the-year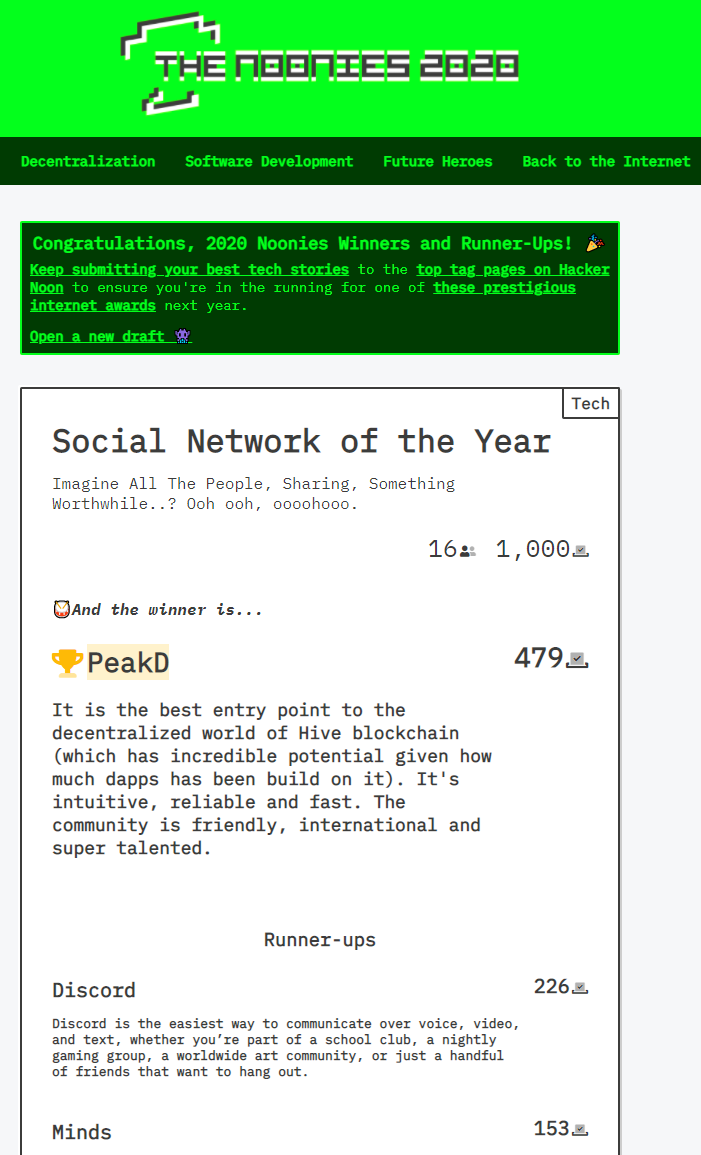 We recognize a contest with about 1000 votes isn't a ton but still thought we would share the fun news.
We can't recall advertising this but someone must have in order to have so many Hive users find it... it does show how how our users are connected with us enough to put their time into a contest.
2 - A GIVEAWAY
We don't have a huge usage case for the prize and would like to offer it to one of our users.
The Winner will also receive a 5 year standard registration for a .tech domain, and a Hackernoon t-shirt.
Thus we would like to give the 5 years of the .tech domain to one of our users. Best idea for how to use the domain will win it. So i guess it's more of a competition?
They have not contacted us and we have no idea how to retrieve the prize so the prize is dependent on this happening. We will look into it if someone has a good idea for using the .tech site
3 - A VOTE FOR HIVE
@hiveio put out a HF recap post
In it they mentioned a COINDESK VOTING COMPETITION
We feel like it is a great way to bring attention to HIVE and are putting our support behind it.
https://www.surveymonkey.com/r/Y2GNH2F
Of note... it's a very easy survey vote... they ask for NO personal information.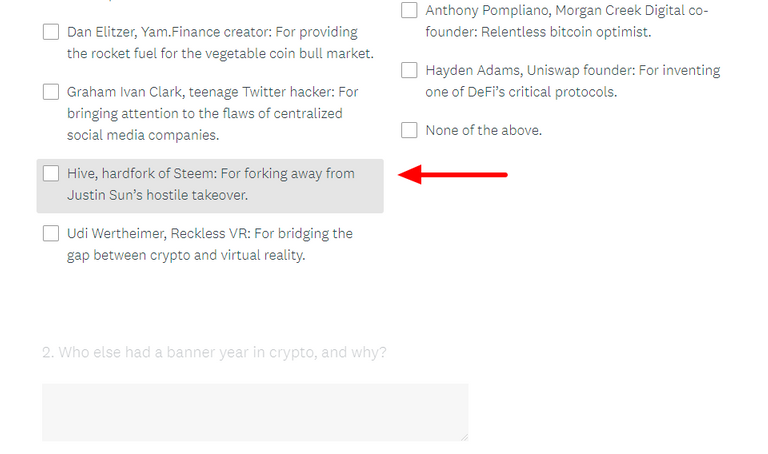 TIP: There are dozens of choices... we suggest doing a search on the page for the word "HIVE" that will make it easy to find that entry.
4 - NODES RECAP
I (@jarvie) wrote a personal post about the NODES issue that we have seen recently on Hive/PeakD
For those wanting to understand the issue in depth please check out the article
https://peakd.com/hive-163399/@jarvie/how-do-we-get-back-on-track-nodes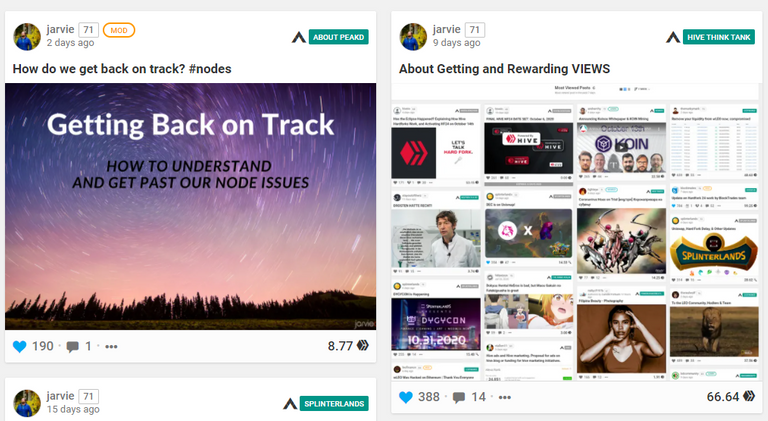 4B - VIEWS DATA
Also of interest to PeakD users is another article written about MOST VIEWS and how this stat can have a positive impact on PeakD/Hive
https://peakd.com/hive-136578/@jarvie/about-getting-and-rewarding-views
5 - NODES FUTURE
We have a benchmark tool (https://peakd.com/me/tools/benchmark) that let's your OWN computer check nodes for a bunch of READ functions speeds.
What PeakD needs is a way for PeakD itself to know what functions of a node are not working. Why?
To know if the node you are using is going to be successful for that transaction.
To help put you on a node that is working correctly.
Maybe even to help give advice/override ("hint") to keychain on what node the user would like to use because we know if it's likely to fail on another node. (given your permission)
Perhaps to give an order of node preference instead of just one solitary node selection.
Maybe even combine this test WE DO together with the Benchmark tool which runs on YOUR computer and compile an automated list for a preferred NODE order.
The truth is that when PeakD/Hive grows exponentially there will need to be lots more nodes and we will need to help those nodes spread out the impact from users.
We need these sets of NODES feature ASAP.
The good news is we are already testing the tool for checking the nodes.

So far the tool does 11 tests and may be expanded. (Suggestions of read/write transactions that have been recently or historically problematic?)
There are a few WRITE transactions and a bunch of READ transactions that are important for PeakD.com to run smoothly.
For stuff like transfer it means that we are actually doing a transfer with all these nodes every X minutes so we know for sure things are running according to plan.
Of note we haven't noticed any internal issues with the claim transaction... it works on every node with PeakLock. It appears the issues users have had with reward claim is likely on Keychain for some users at some times
RECAP:
Creating the tool to do tests is only the first step in helping users avoid future NODE errors. We want to integrate this and the separate benchmark tool](https://peakd.com/me/tools/benchmark) into the user experience. If you want to know more about the role nodes play again we suggest this post https://peakd.com/hive-163399/@jarvie/how-do-we-get-back-on-track-nodes
6 - CONGRATS TO SPLINTERLANDS
We'd like to say a personal congrats to @splinterlands for having 5 of the top 6 posts of the week according to number of views. They have a very loyal group that soaks up their informational posts. ALSO they seem to do a great job at sharing their posts on other places throughout the internet which makes a big impact.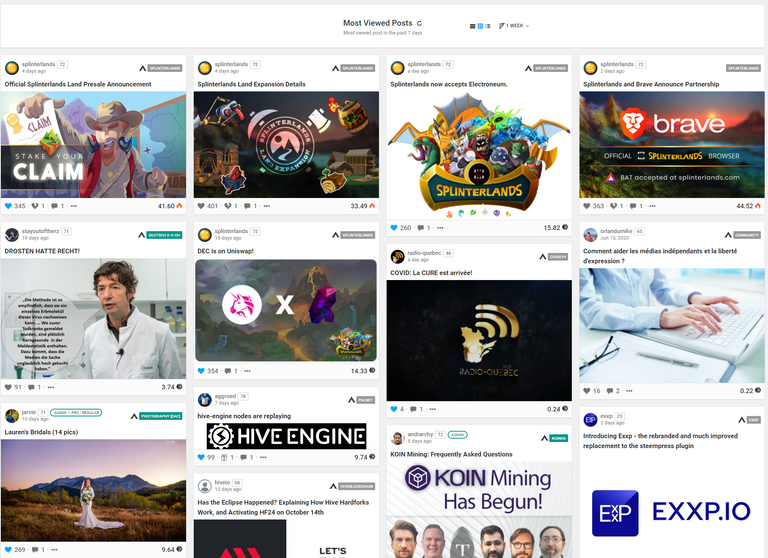 You can see the MOST VIEWED POSTS here on this page : https://peakd.com/views
It is defaulted to a rolling 7 days total but you can sort by today and yesterday as well.
If you didn't know @peakd account also consistently votes on all these posts as well because posts that bring viewers to hive/peakd should certainly be rewarded... if you are looking for how to give votes away we suggest this as a good technique, the hope is it will encourage users to not just write content but to share the content throughout the internet. A good post about this is here
---