Hello everyone!
Today I wanted to continue telling a little bit about my trip in Florence, and it was missing to mention the best (free) sights you can find in this beautiful city.
One of them, of course, is its emblematic old bridge "ponte vecchio" over the Arno river, where when you cross it you will see that it is full on both sides of stores, especially quite expensive jewelry stores.
¡Hola a todos!
Hoy quería continuar contando un poco mi viaje en Florencia, y faltaba mencionar las mejores vistas (gratuitas) que puedes encontrar en esta bonita ciudad.
Una de ellas, por supuesto, es su emblemático puente viejo "ponte vecchio" sobre el río Arno, en el que al cruzarlo verás que está lleno a ambos lados de tiendas, sobre todo de joyerías bastante caras.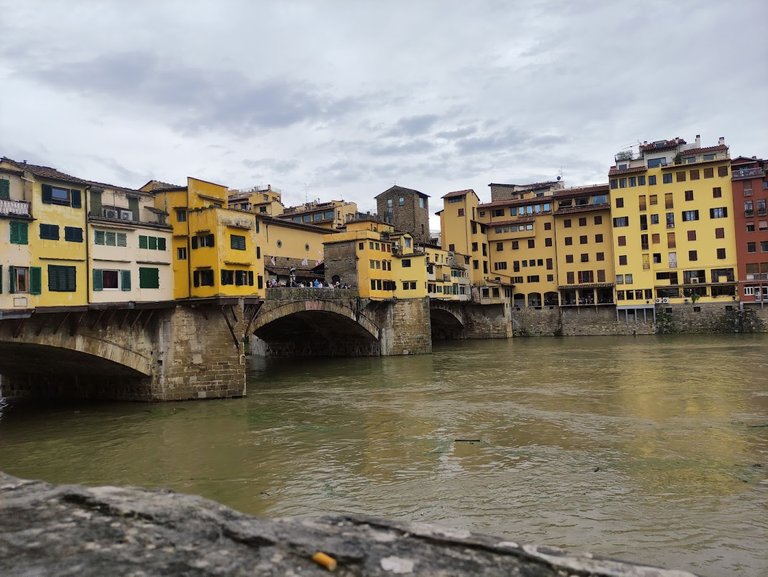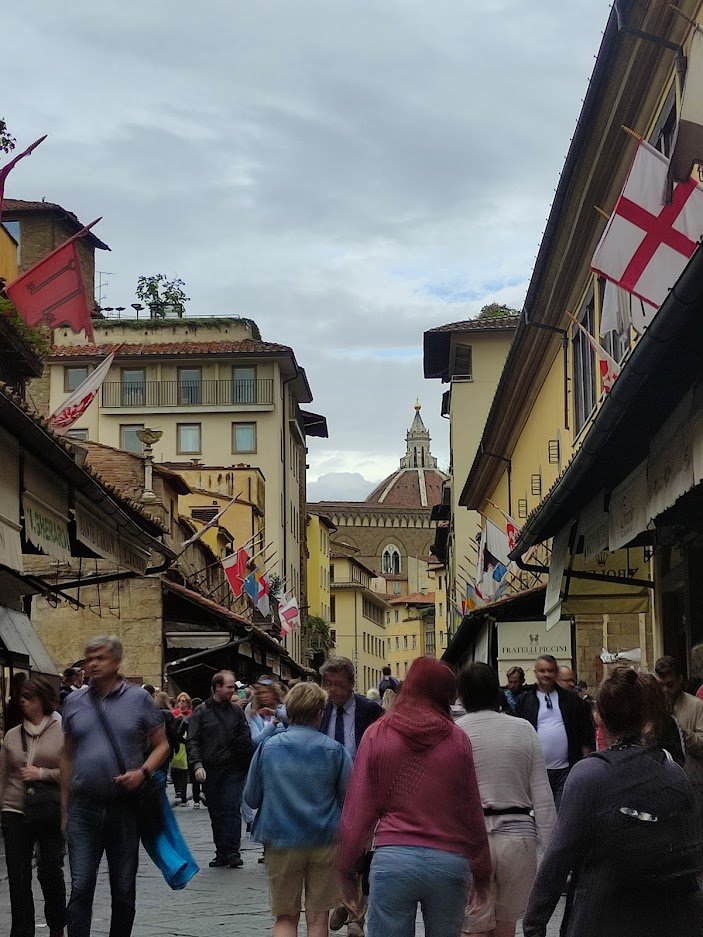 These are the views from inside the bridge:
Estas son las vistas desde el interior del puente: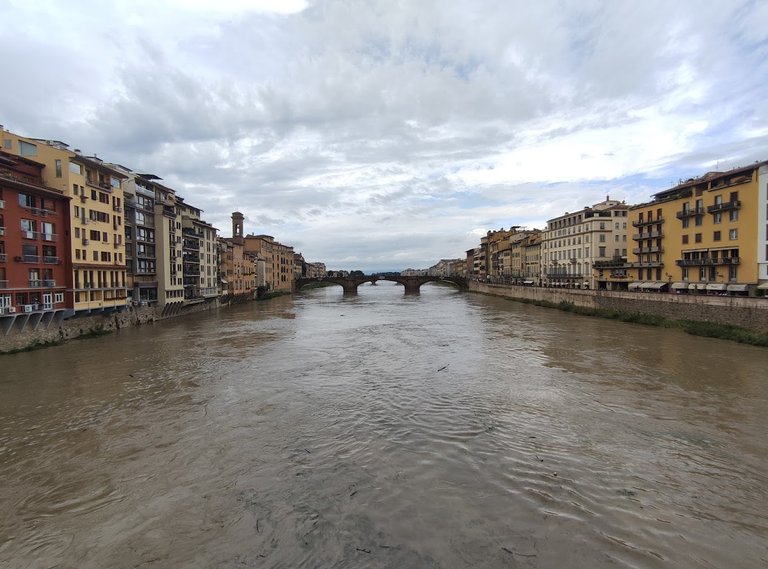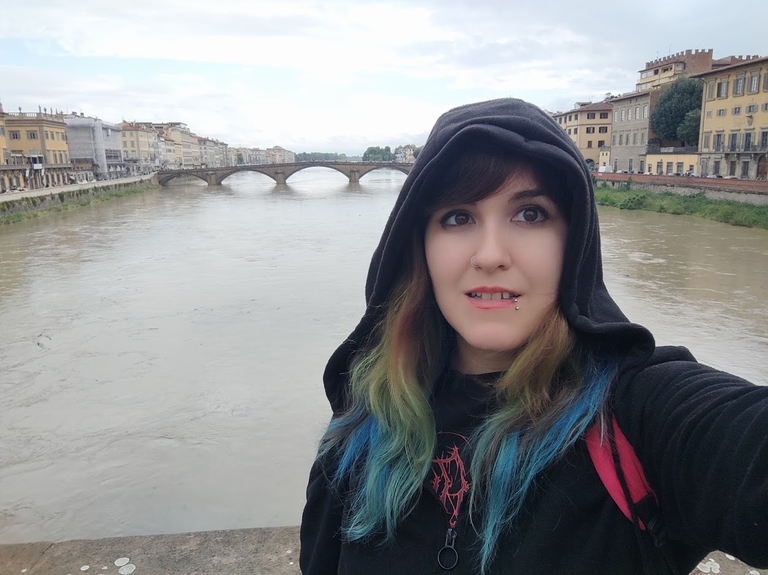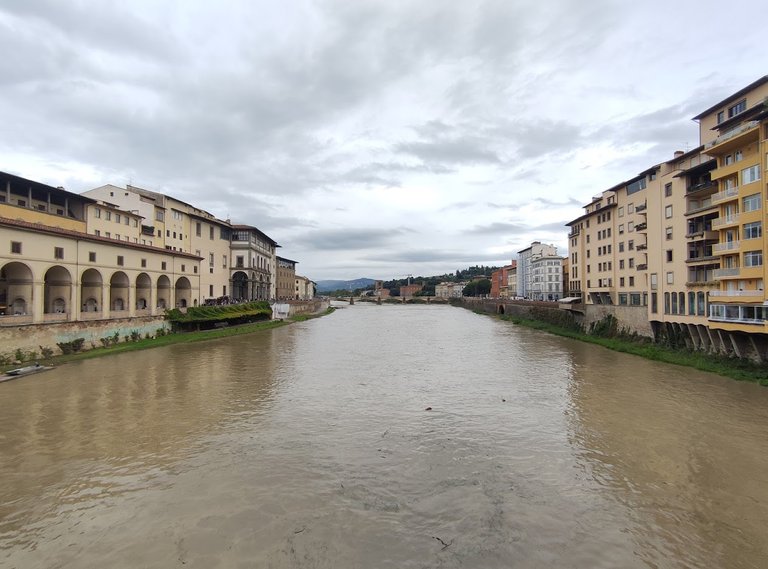 This bridge is very special because, as the name itself indicates, it is very old. It was originally built by the Romans and was made of wood in 150 BC.
It has been destroyed several times by floods and later rebuilt. It even survived the attacks of World War II, although the rest of the bridges were quite damaged at this time.
This bridge also connects Palazzo Vecchio with Palazzo Pitti. The Medici used to cross it, maybe that's why there were so many goldsmiths and luxurious jewelers. Although you can also find food, I bought a pistachio cannoli.
Este puente es muy especial porque como el propio nombre indica, es muy viejo. En sus inicios fue construido por los romanos y era de madera, en el año 150 a.C .
Ha sido destruido en varias ocasiones por inundaciones y posteriormente reconstruido. Incluso sobrevivió a los ataques de la Segunda Guerra Mundial, a pesar de que el resto de puentes fueron bastante dañados en esta época.
También este puente conecta al Palazzo Vecchio con el Palazzo Pitti. Por él cruzaban los Médici, quizás por eso había tanto orfebre y joyeros lujosos. Aunque también puedes encontrar comida, yo me compré un cannoli de pistacho.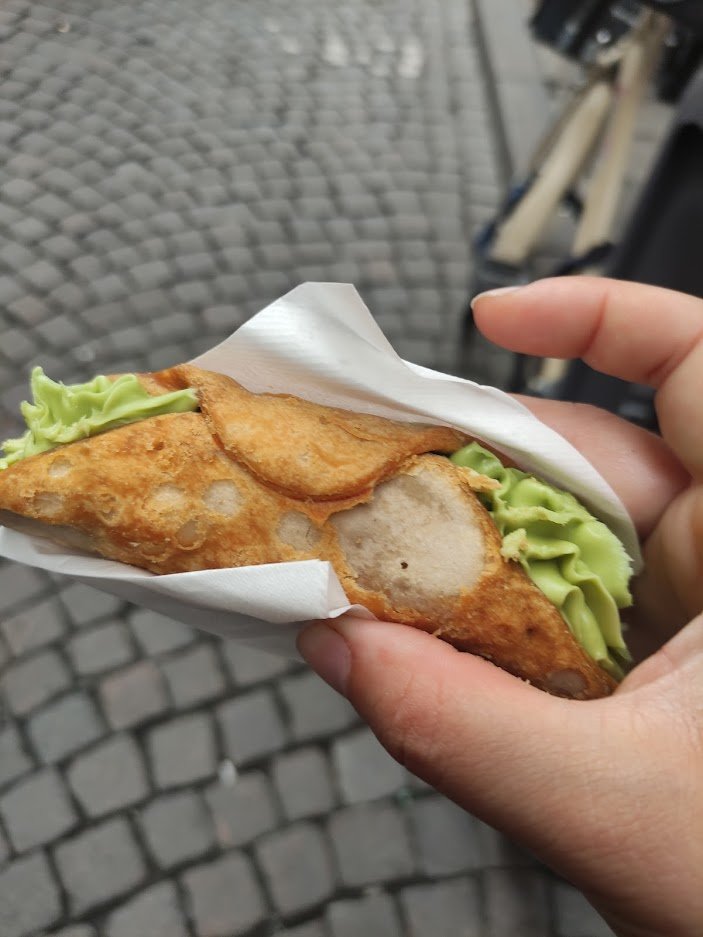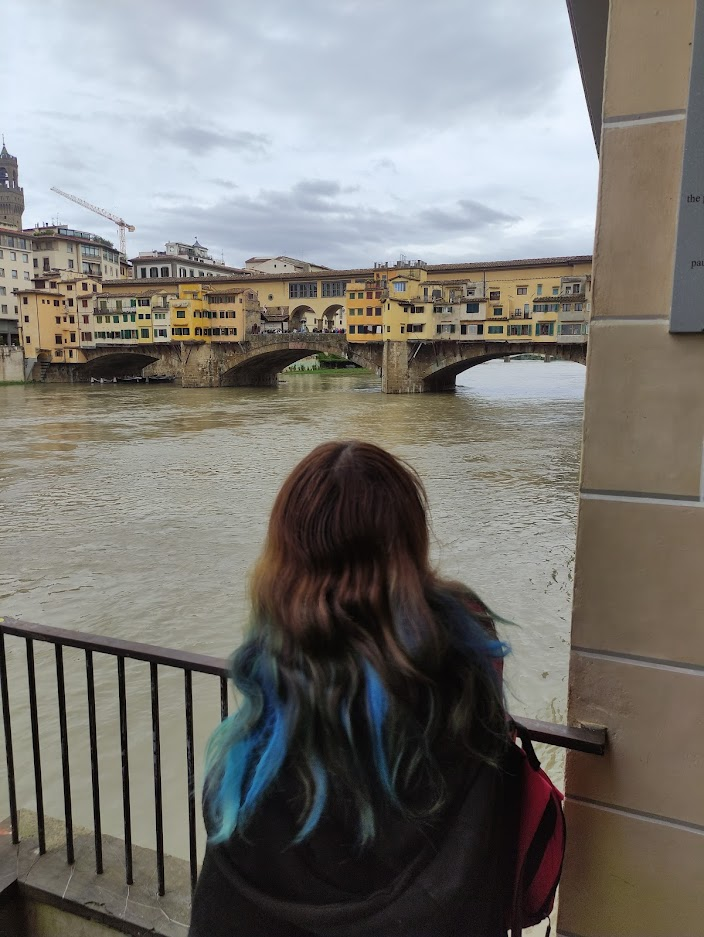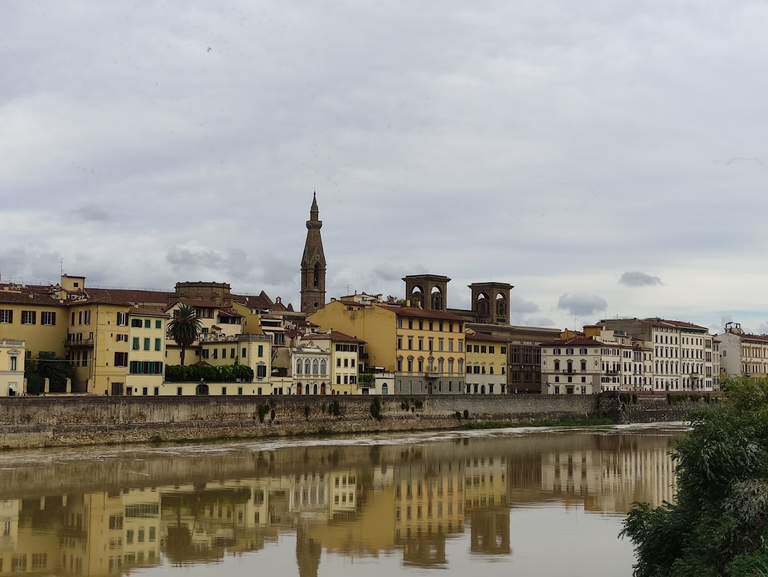 Not far from the bridge, there are some markets
No muy lejos del puente, hay algunos mercados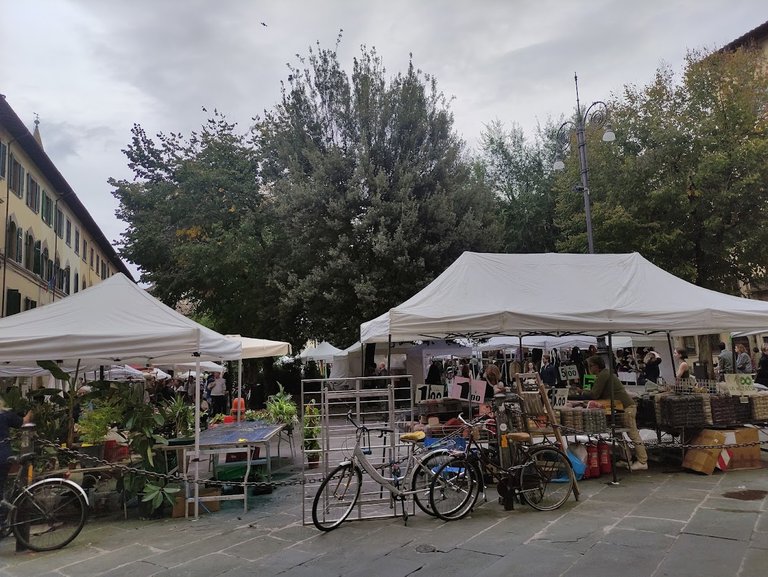 Although the best known is the "new market" or "del porcellino" as it is also known, because there is a statue of a wild boar that supposedly gives luck; if you throw a coin and rub its nose.
Aunque el más conocido es el "mercado nuevo" o "del porcellino" como se le conoce también, debido a que hay una estatua de un jabalí que supuestamente da suerte; si le tiras una moneda y le frotas el hocico.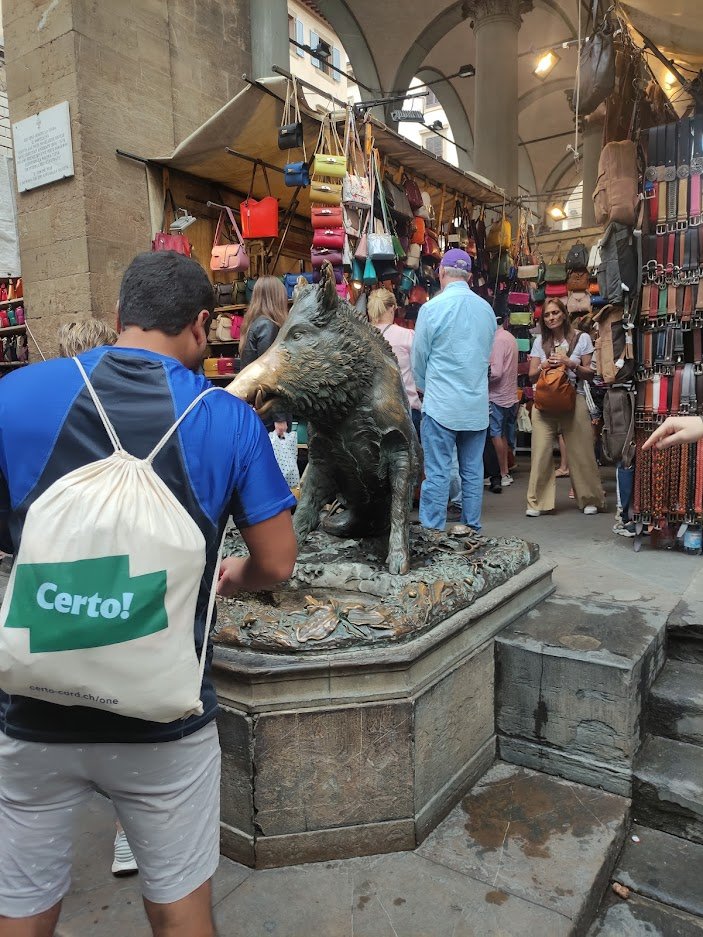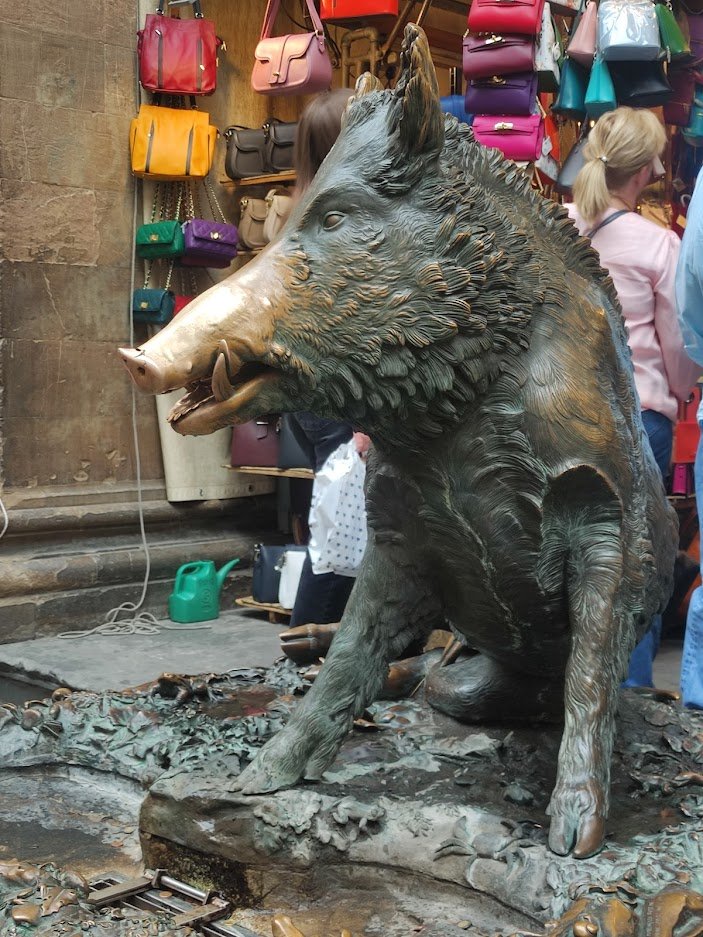 I also recommend passing by the central market, as there is another market on the same street where it is located.
También recomiendo pasar por el mercado central, ya que en la misma calle donde está hay otro mercado.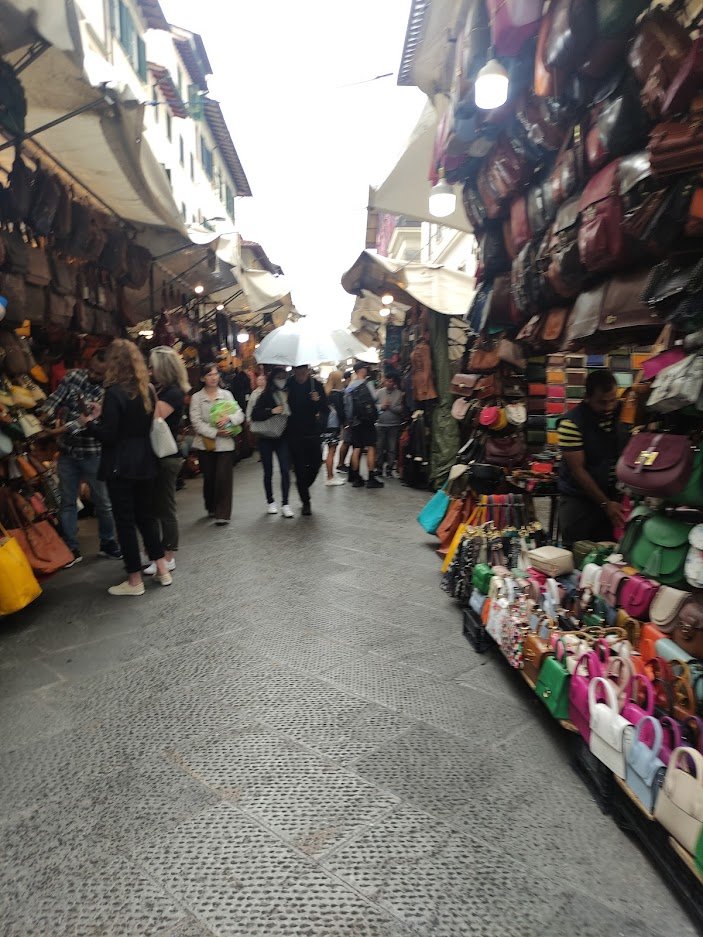 And inside the central market there is a lot of variety of stalls, not only to buy food but also to consume it right there. There I could take a break from eating so much pasta and pizza, and eat roast chicken with potatoes and salad haha accompanied by a beer.
Y dentro del mercado central hay mucha variedad de puestos, no sólo para comprar comida sino también para consumirla allí mismo. Allí pude descansar de comer tanta pasta y pizza, y comer pollo asado con patatas y ensalada jaja acompañado de una cerveza.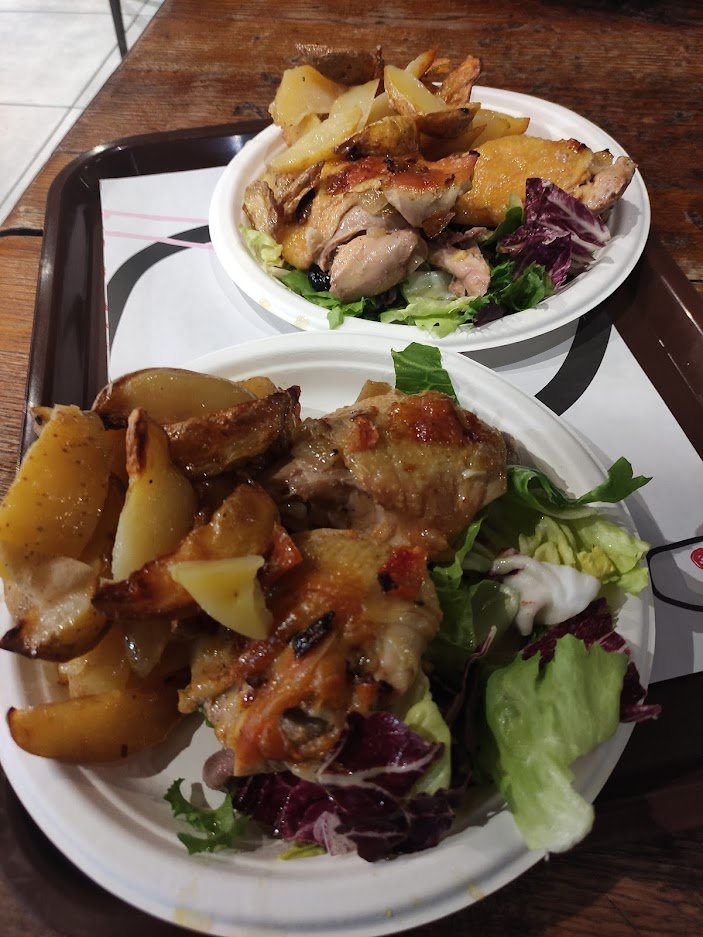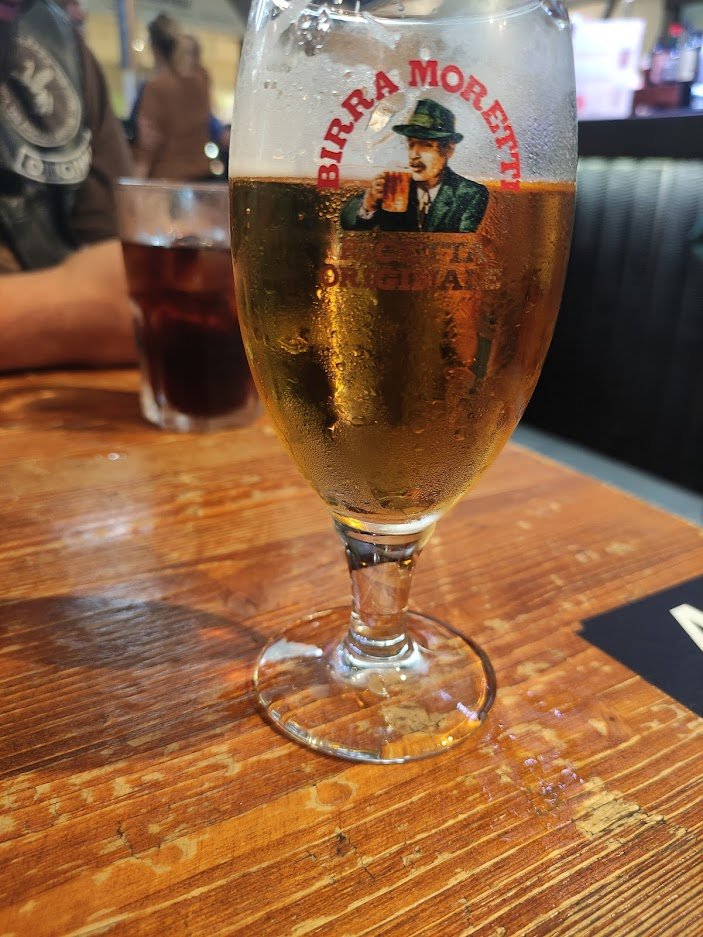 With our energies refueled, we went to a free viewpoint in Michelangelo's square "Piazzale Michaelangelo". To get to it you have to climb quite a ramp as it is at a certain height.
Before reaching the square, there is also a small church if you want to visit it.
Con las energías repuestas, fuimos a un mirador gratuito en la plaza de Miguel Ángel "Piazzale Michaelangelo". Para llegar a él hay que subir bastante rampa ya que se encuentra a cierta altura.
Antes de llegar a la plaza, hay también una pequeña iglesia por si la quieres visitar.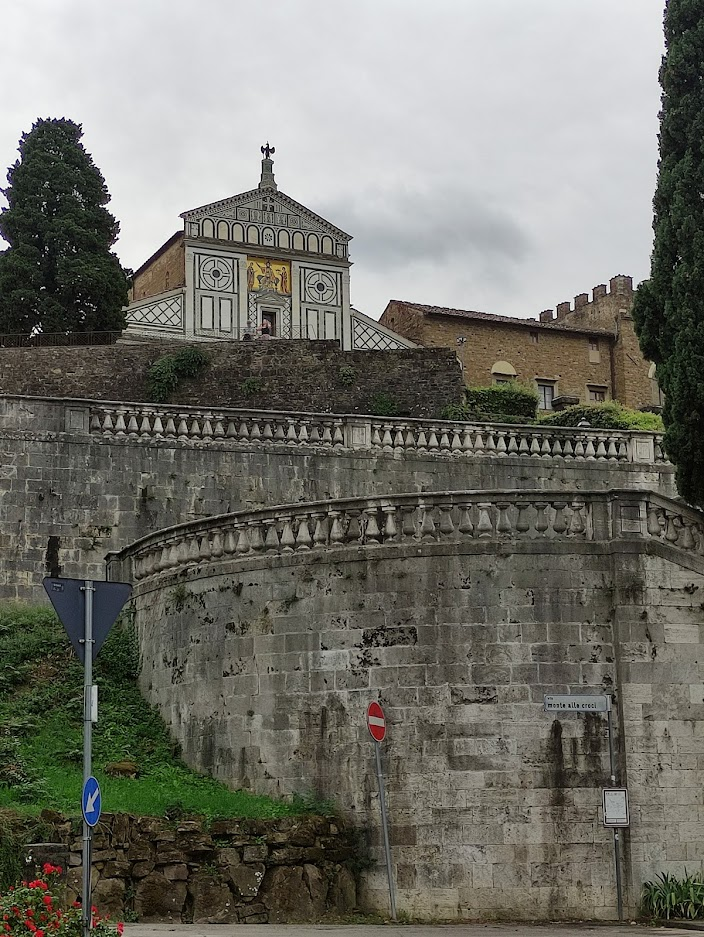 The square of the belvedere is so called, because of course, there was also another statue of Michelangelo.
La plaza del mirador se llama así, porque por supuesto, había también otra estatua del Miguel Ángel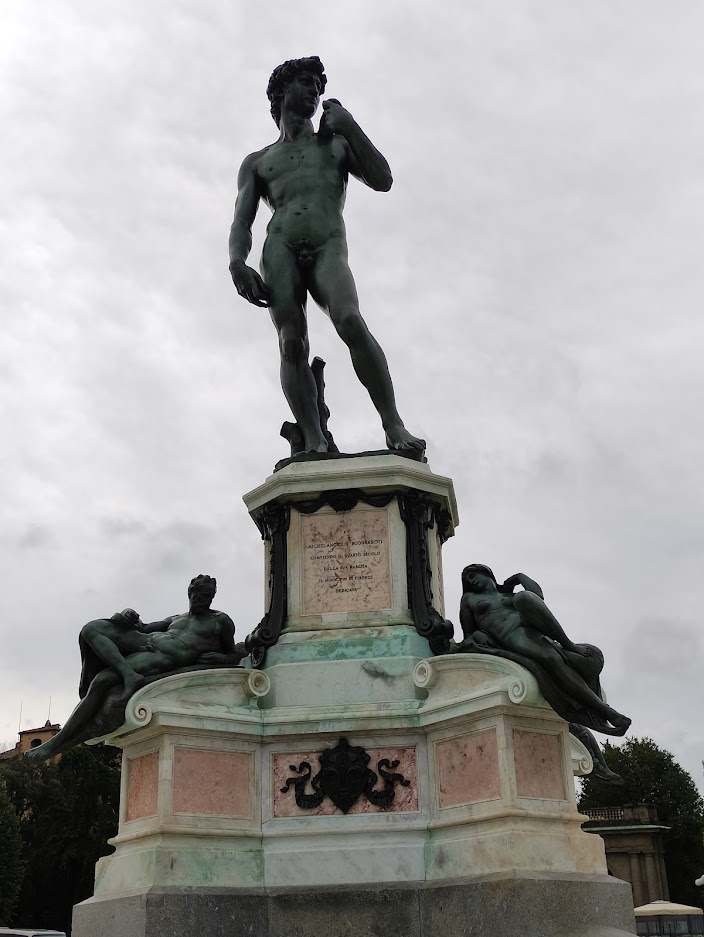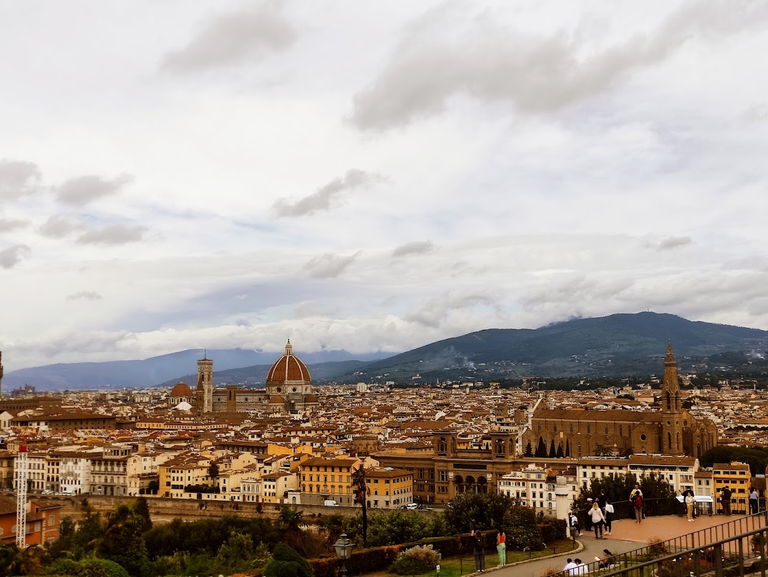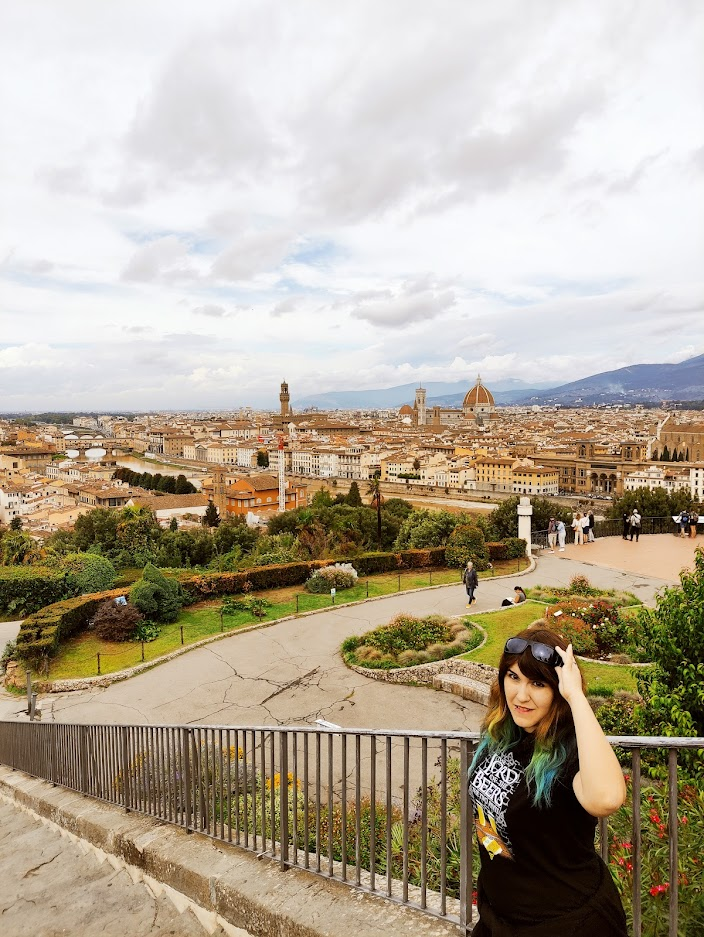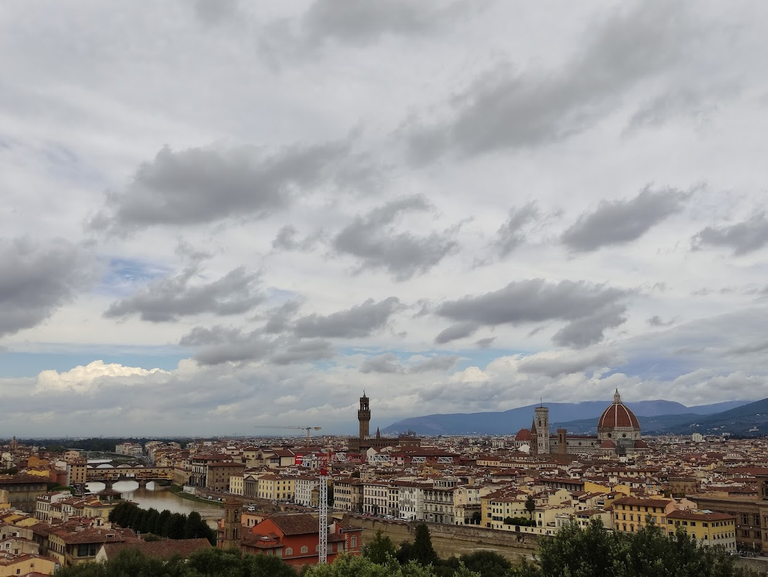 From this point you can have a panoramic view of the city, with the cathedral and the ponte vecchio.
In the square there is also a restaurant in case someone wants to eat there enjoying the view, although I don't think it was very economical.
We started to descend by a different path than the one we had climbed.
Desde este punto puedes tener una vista panorámica de la ciudad, con la catedral y el ponte vecchio.
En la plaza hay también un restaurante por si alguien quiere comer ahí disfrutando de las vistas, aunque no creo que fuera muy económico.
Nosotros empezamos a descender por otro camino distinto del que habíamos subido.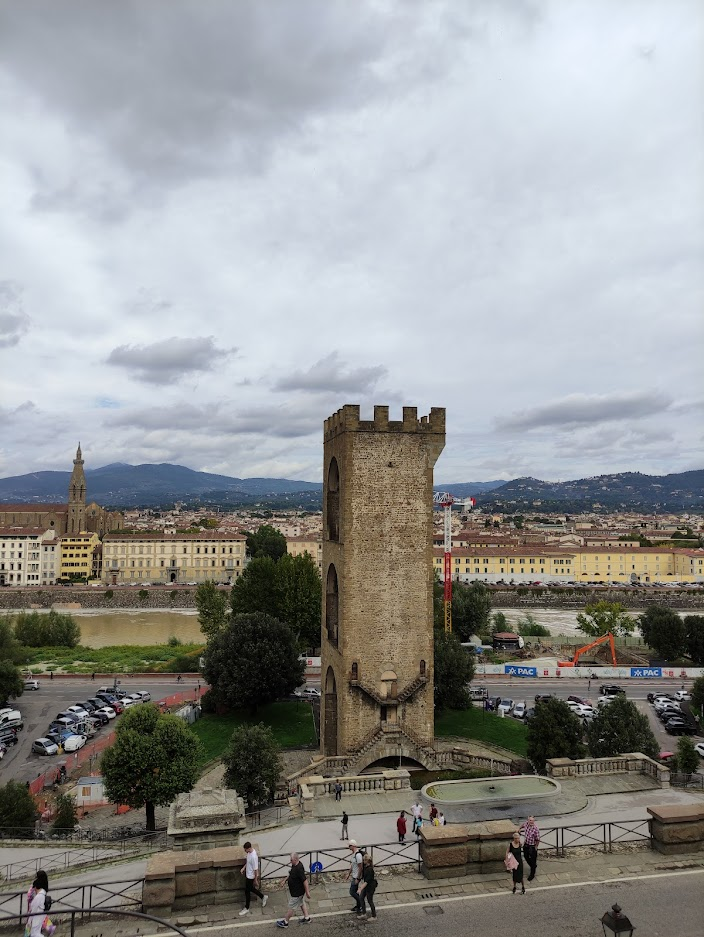 The way down was full of nature and vegetation.
El camino de bajada estaba lleno de naturaleza y vegetación.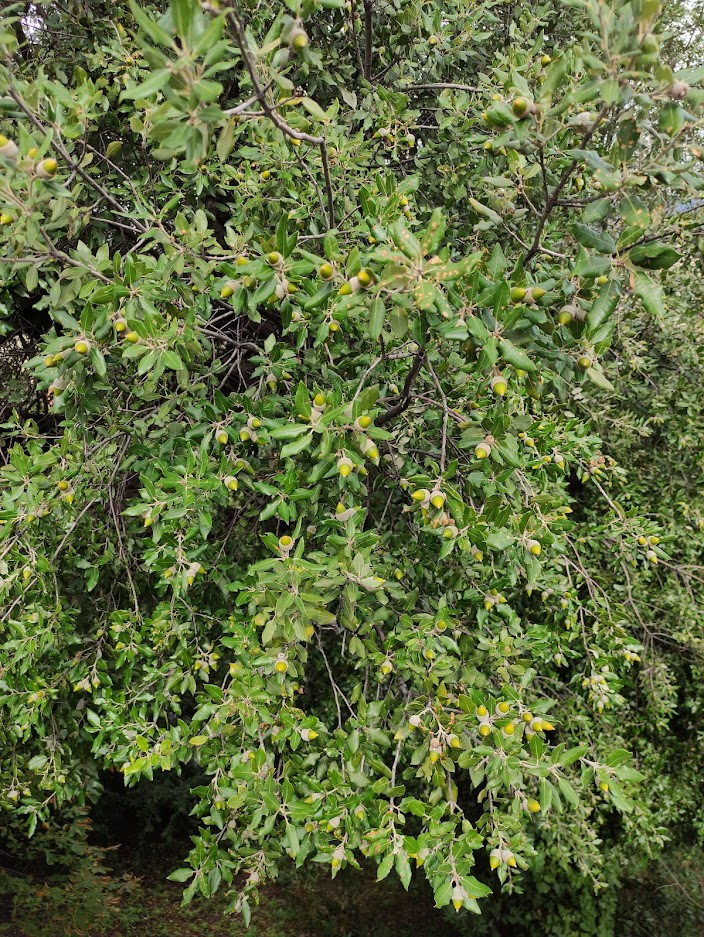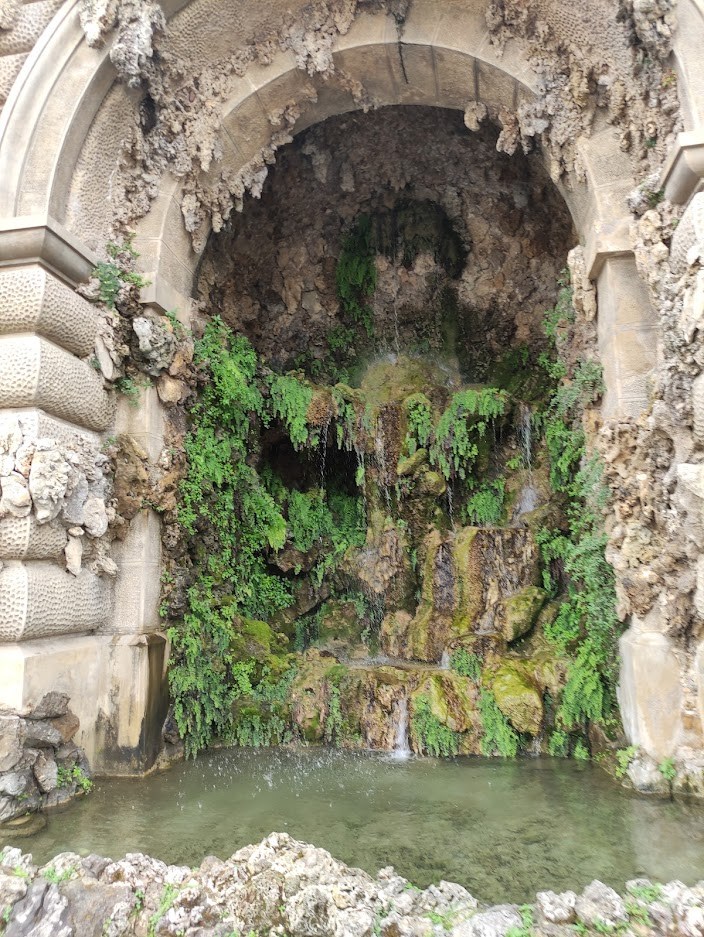 The feet of this lamppost reminded me of the objects with a life of their own in the movie "Beauty and the Beast" 😂.
Los pies de esta farola me hicieron recordar a los objetos con vida propia de la película de " La bella y la bestia" 😂.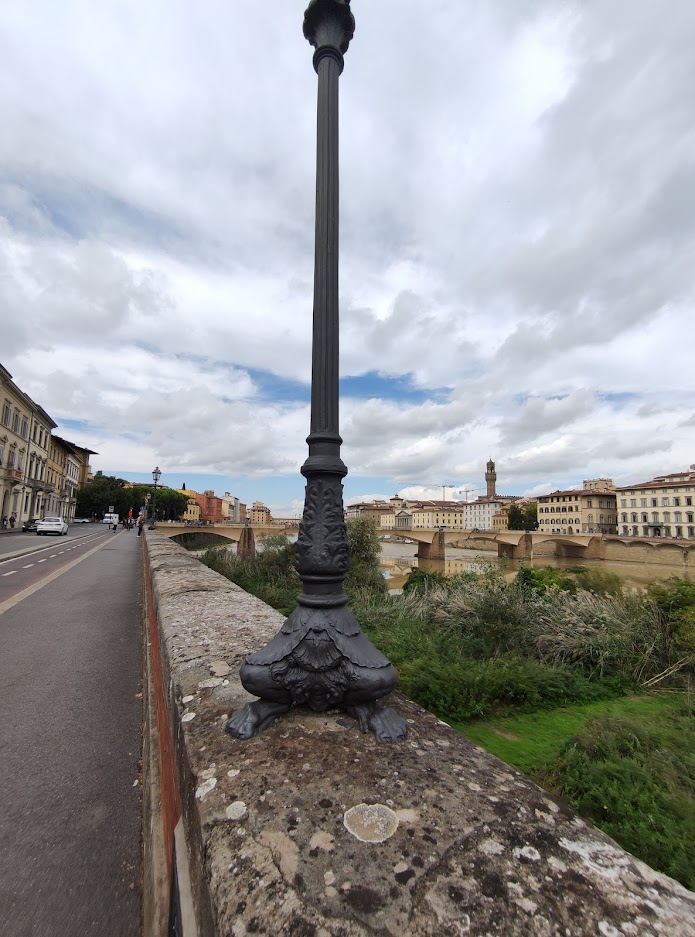 After a coffee at the gelateria dei Fossi, and a little rest from all the walking; we went to dinner.
Tras un café en la gelatería dei Fossi, y descansar un poco de toda la caminata; nos fuimos a cenar.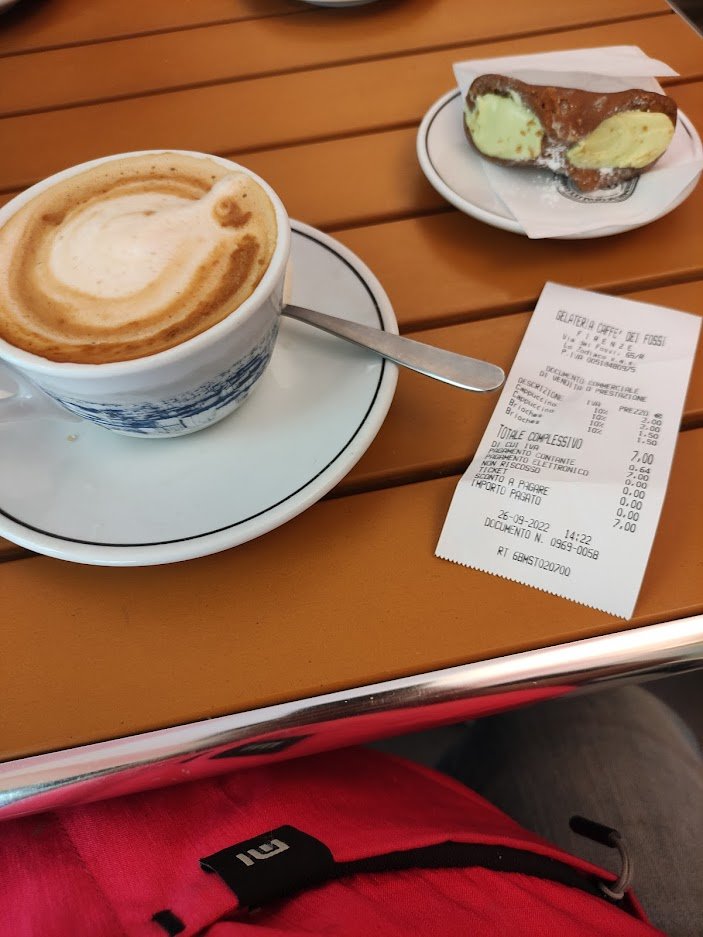 I had heard that just as in Rome the most typical of that region were the spaghetti carbonara, and in Naples the pizza margherita, here in Florence were the papardelle, so I ordered some with veal ragu. We were at "Osteria Pecattori"
Había escuchado que así como en Roma lo más típico de esa región eran los spaghetti carbonara, y en Nápoles la pizza margarita, aquí en Florencia eran los papardelle, así que yo pedí unos con ragú de ternera. Estábamos en la "Ostería Pecattori."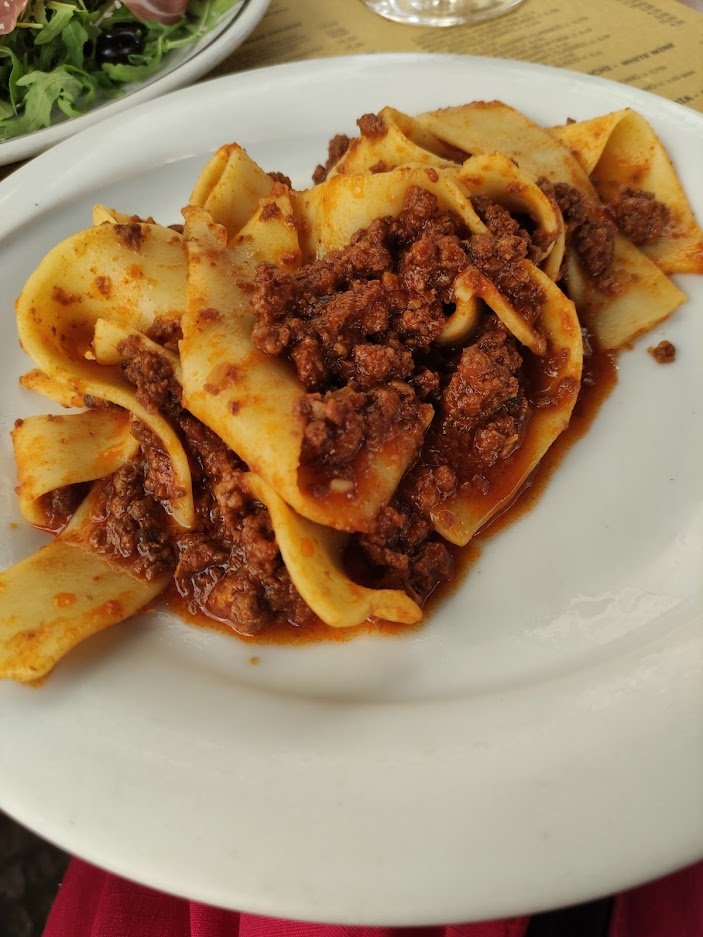 Rubén ordered gnocchi with gorgonzola sauce. And for the center, we ordered a salad with ham and parmesan cheese.
Rubén pidió unos gnocchi con salsa gorgonzola. Y para el centro, pedimos una ensalada con jamón y queso parmesano.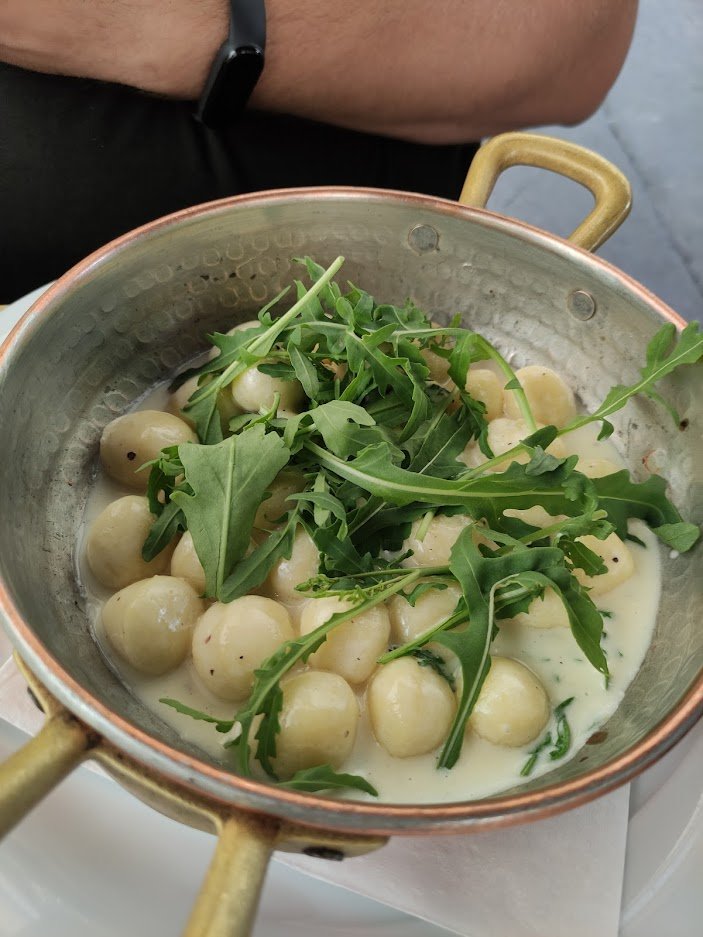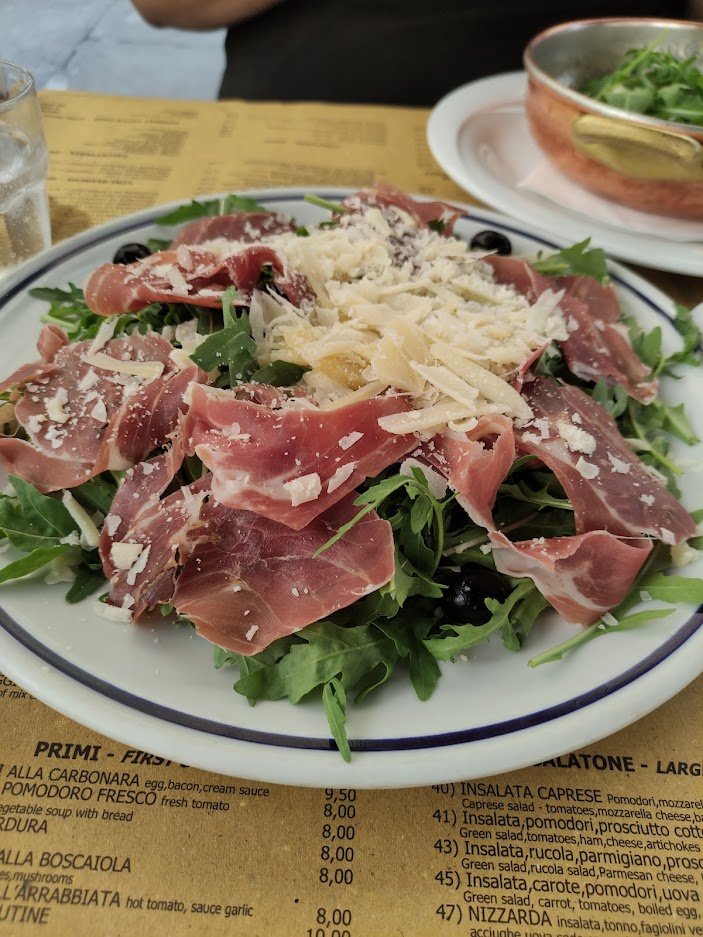 This was the last day we were going to be in Florence because the next day we were going to Pisa, of which I will also tell you about my experience.
I say goodbye with a picture of the Ponte Vecchio illuminated at night, thanks for reading!
Este era el último día que ibamos a estar en Florencia porque al día siguiente ya nos íbamos a Pisa, de la que os contaré también mi experiencia.
Me despido con una foto del Ponte Vecchio iluminado de noche. ¡Gracias por leer!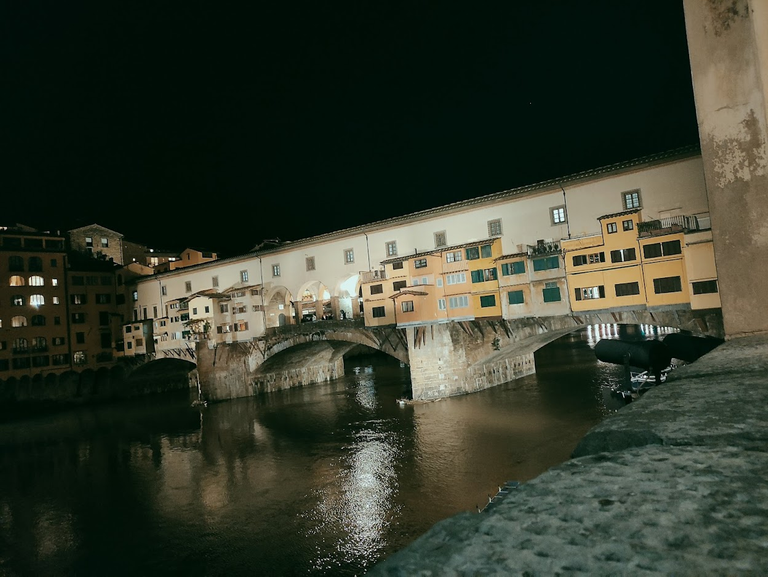 ---
All photos have been taken by me, with my Xiaomi phone, or by my companion on the trip @vonjerico with his Xiaomi phone too, who has given me permission to publish them.
)
All text is by my own, @ayneblood
Todas las fotos han sido tomadas por mí, con mi móvil Xiaomi, o en su defecto por mi acompañante en el viaje @vonjerico con su móvil Xiaomi también, quien me ha dado permiso para publicarlas.
Todo el texto es de mi autoría, @ayneblood
Other trips in Italy
Otros viajes por Italia

My social networks/Mis redes sociales:
Writer Instagram | Travel Instagram | Twitter | Facebook| Youtube