One of the privileges of living in the south of Spain is to be able to take a day trip to Los Lances beach with its incredible views of the Strait of Gibraltar, Africa and the Alcornocales Park. Stroll along the shores of the Atlantic Ocean with its endless sandy beaches and enjoy the spring sunshine.
Unos de los privilegios de vivir en el Sur de España es poder hacer una escapada un día de diario a la playa de Los Lances con sus increíbles vistas al Estrecho, África y al Parque de los Alcornocales. Pasear por la orilla de océano Atlántico con sus interminables arenales y disfrutar del sol de primavera.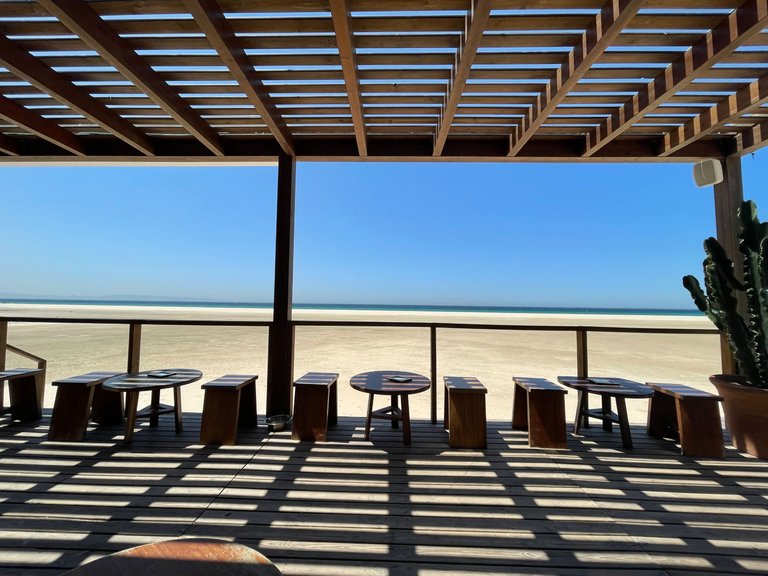 On the daily spring days the small town of Tarifa has hardly any tourists and is much more enjoyable because of the tranquillity and being able to choose where to eat without fear of everything being booked out.
Los días de diario en primavera la pequeña ciudad de Tarifa apenas tiene turistas y se disfruta mucho más por la tranquilidad y poder elegir donde comer sin miedo a estar todo reservado.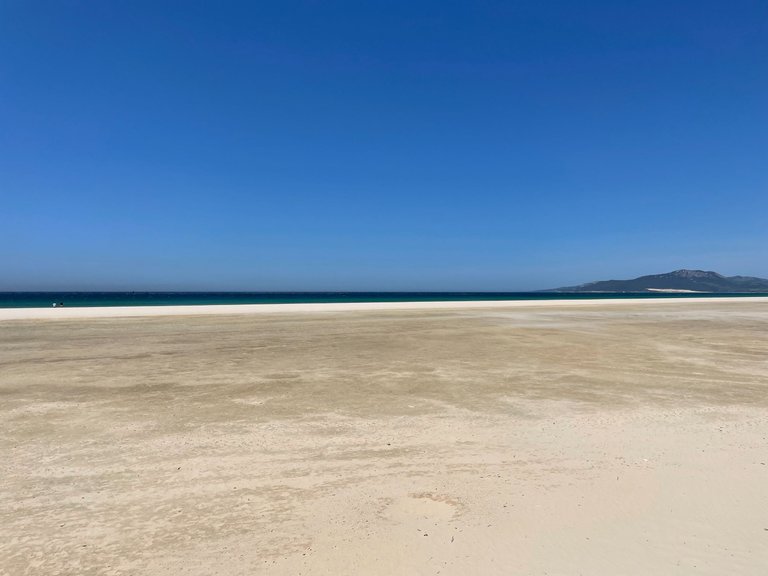 In the middle of this beautiful beach we find an oasis with good music and where you can eat fresh tuna caught in the almadraba.
The chiringuito Demente.
En mitad de esta hermosa playa encontramos un oasis con buena música y donde poder comer atún fresco recién pescado en la almadraba.
El chiringuito Demente.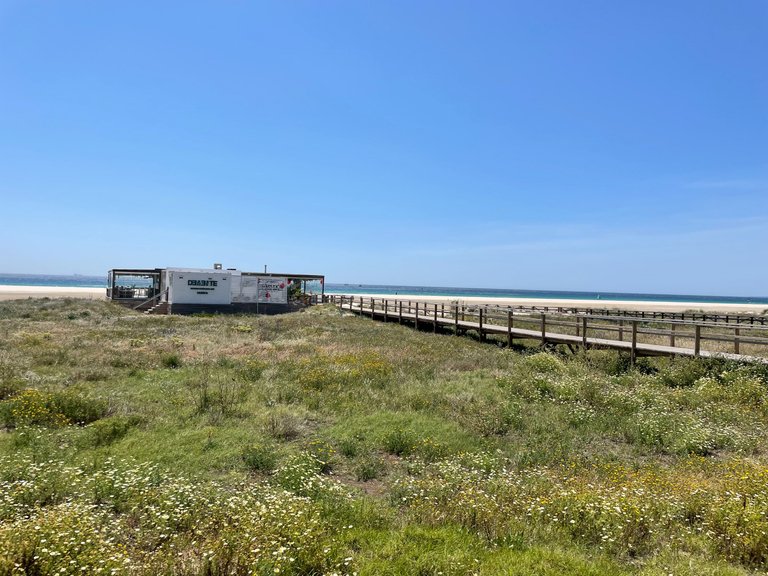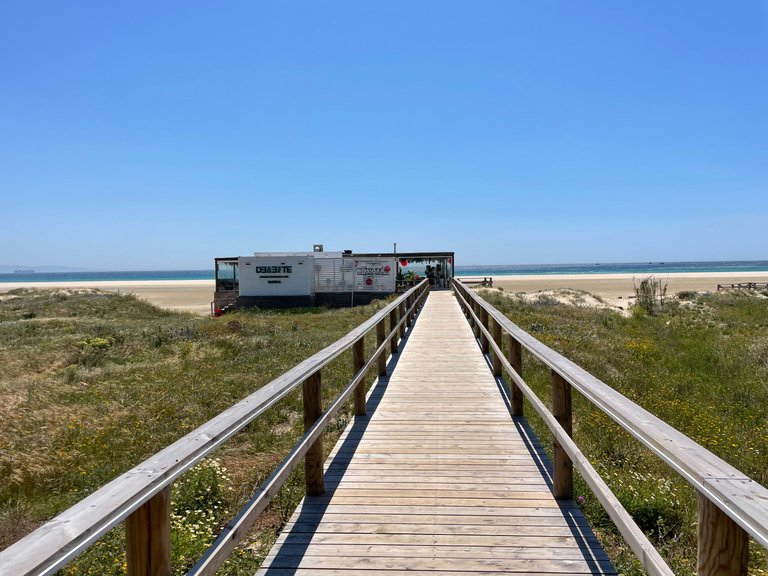 Built on a base of logs on the natural dunes halfway between the shore and the promenade of the city.
Construido sobre una base de troncos sobre las dunas naturales a mitad de camino entre la orilla y el paseo marítimo de la ciudad.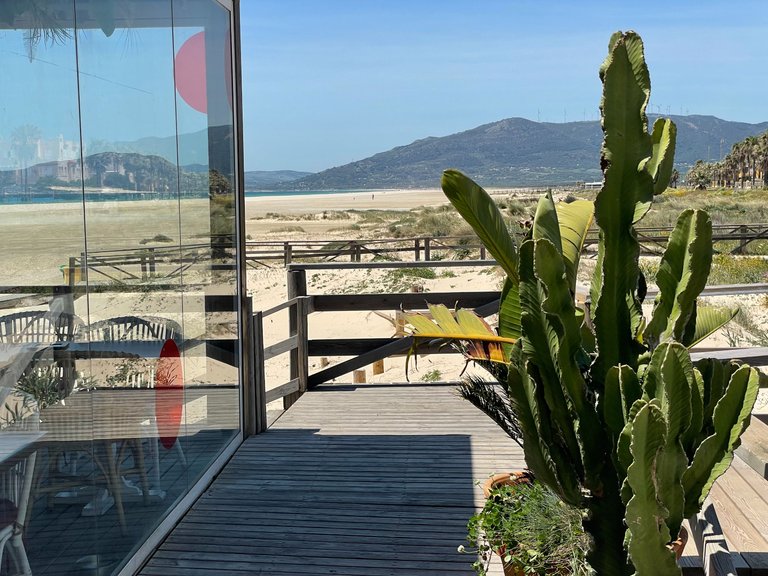 Large glass panels ensure good views and the possibility to open them and let the breeze in on hot days.
Grandes paneles de cristal aseguran buenas vistas y la posibilidad de abrirlos y dejar entrar la brisa los días calurosos.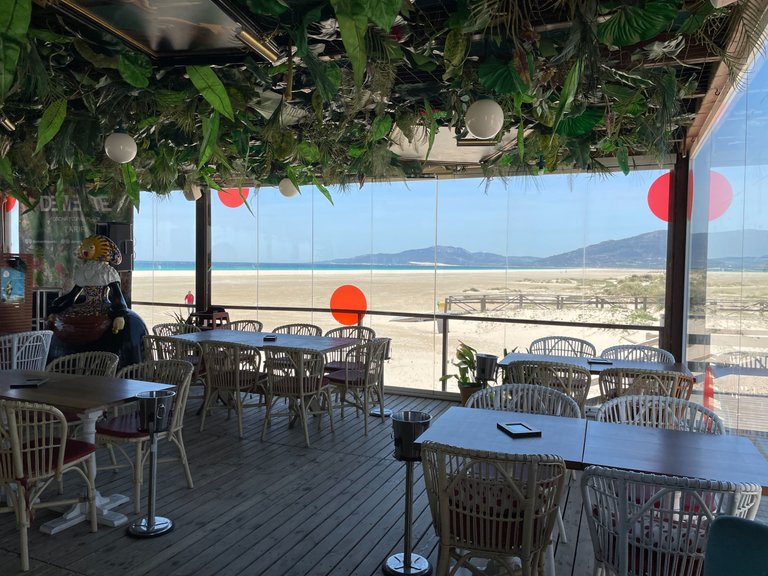 Details and motifs of the sea and the local fishery can be seen throughout the restaurant.
Detalles y motivos del mar y la pesca local se dejan ver por el restaurante.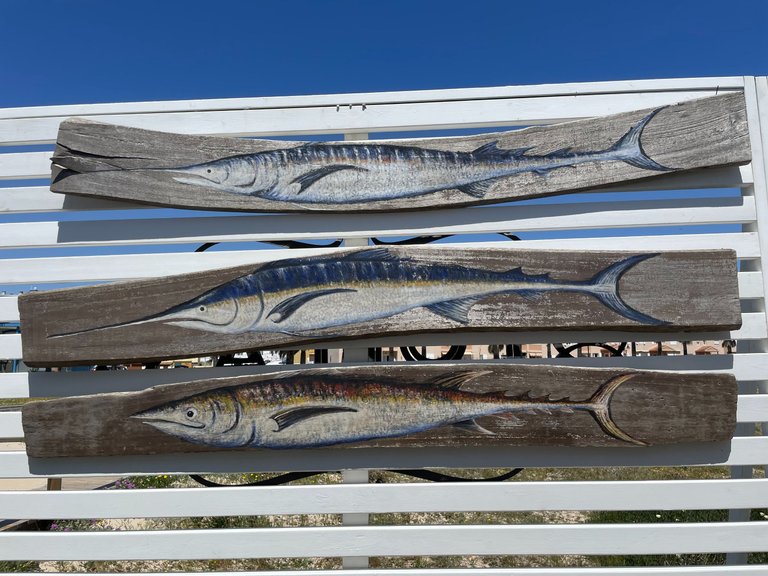 Pets are welcome and fresh water is available for them to cool off and quench their thirst.
Se puede ir con mascotas donde les tienen preparado agua fresca para que se refresquen y se quiten la sed.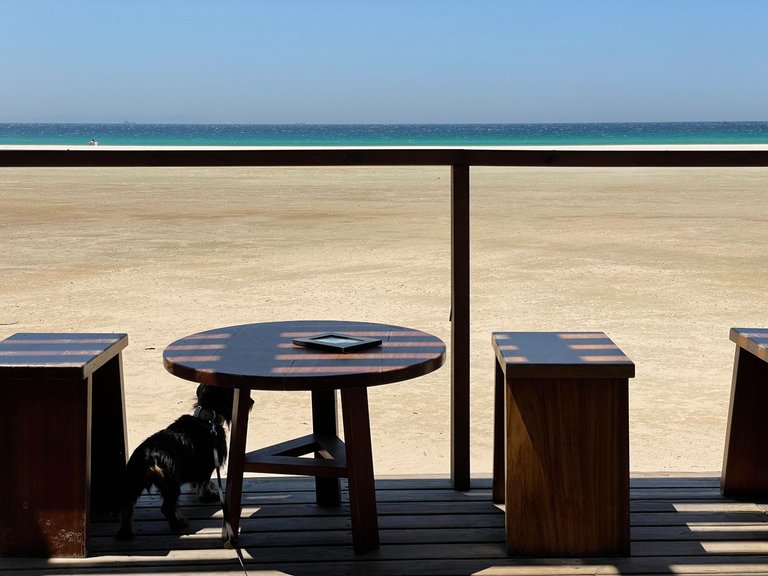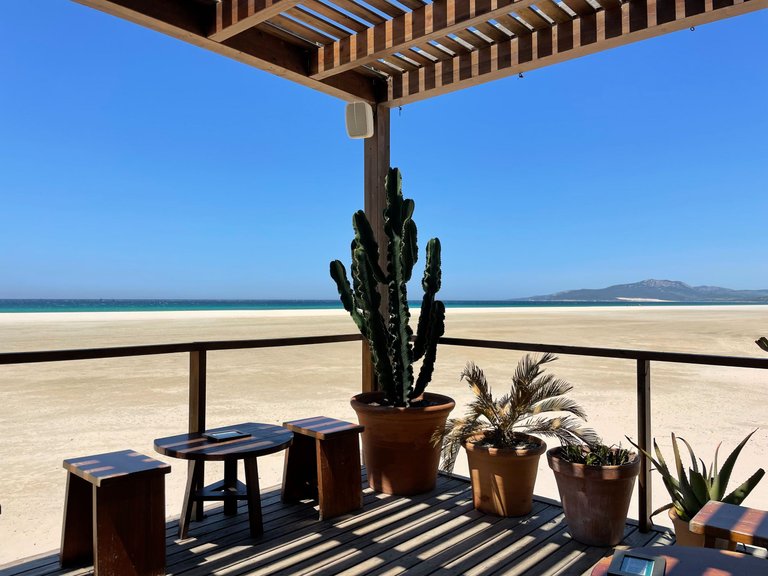 The good music in the background plus the views and the tranquillity leave me drowsy until the kumato tomato salad with avocados and prawns arrives.
La buena música de fondo más las vistas y la tranquilidad me dejan adormilado hasta que llega la ensalada de tomates kumato con aguacates y langostinos.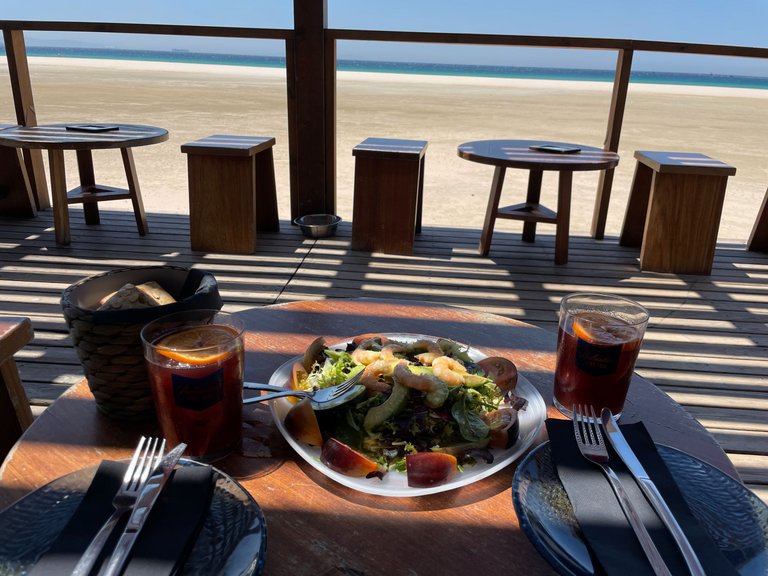 At that moment, neighbours from the city appear and show up eager to eat.
En ese momento aparecen vecinos de la ciudad y se presentan con ganas de comer.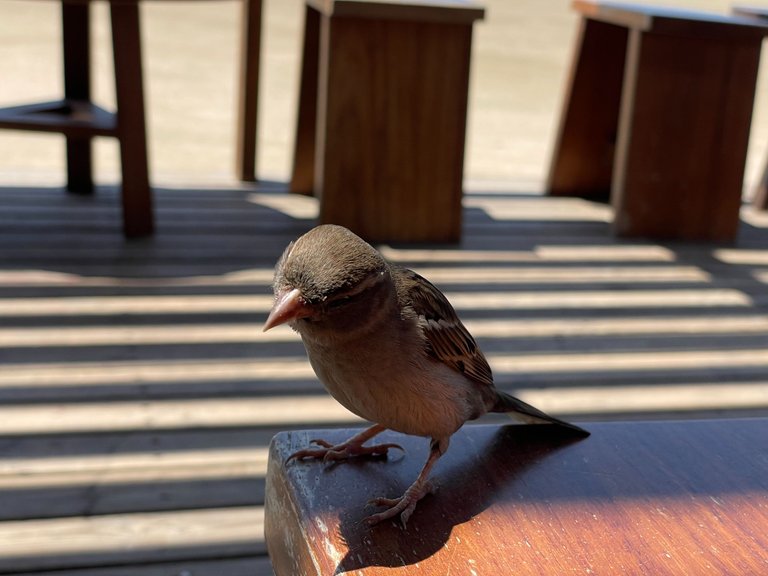 We give them some bread and they take it out of our hands.
Les damos un poco de pan que nos lo quitan de la mano.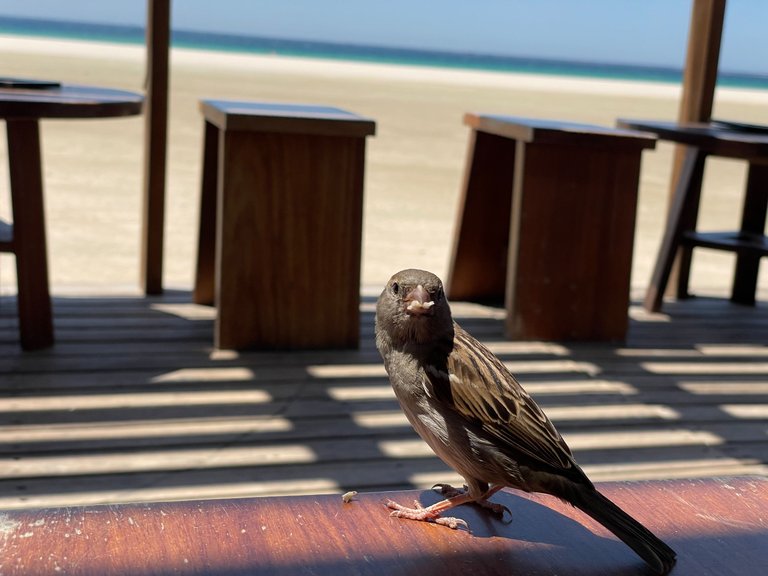 As a starter we order tuna tacos with guacamole, kimchi and peppers.
Como primer plato pedimos unos tacos de atún con guacamole, kimchi y picos.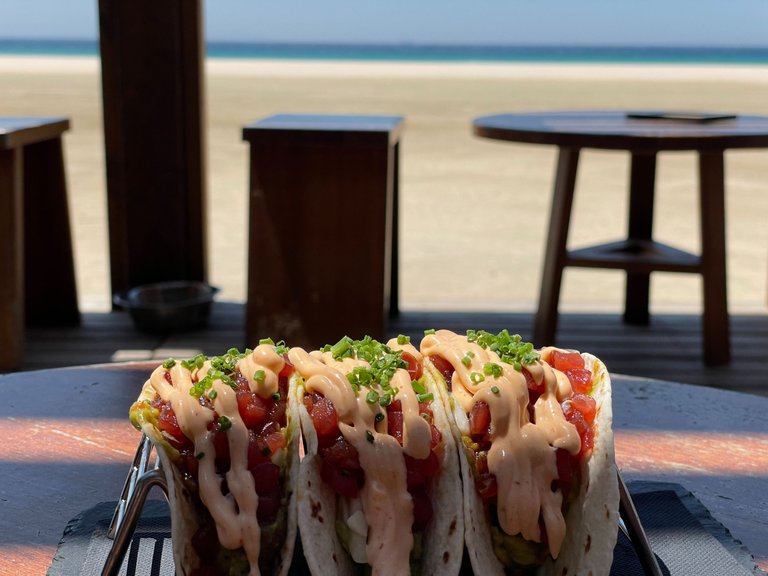 The burritos were very tasty and fresh. I don't think I could have chosen anything better. A delicacy of the gods.
Los burritos estaban muy sabrosos y frescos. Pienso que no podría haber elegido algo mejor. Un manjar de los dioses.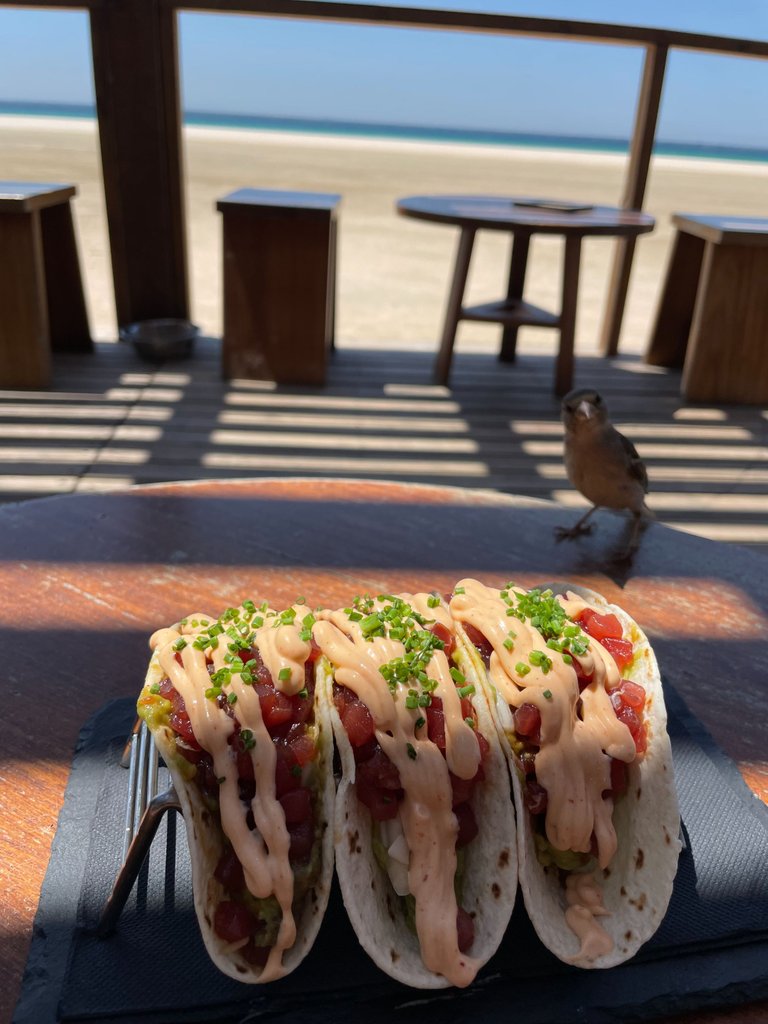 For the main course we had some toasted Iberico molletes with rocket and mayonnaise.
De segundo pedimos unos molletes de ibérico tostado con rúcula y mayonesa.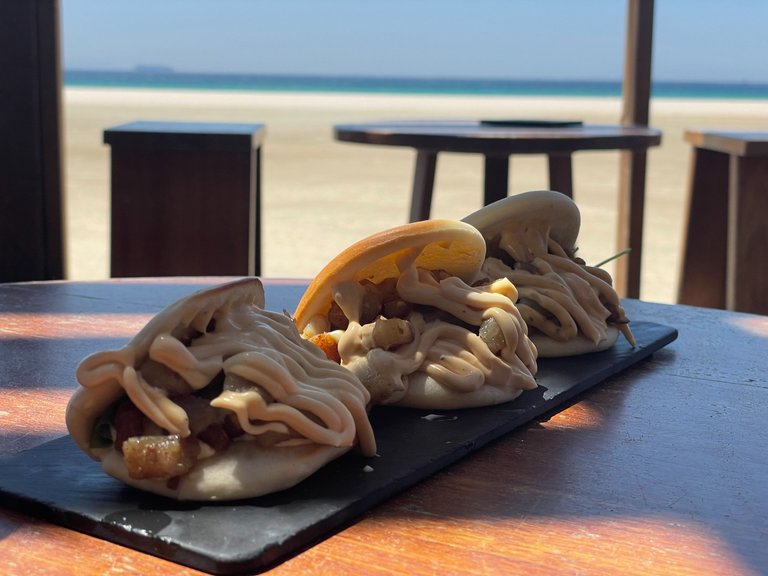 A nice contrast between the fish and the pork that we licked our fingers. Our little dog enjoyed a few pieces of bacon that we couldn't help but give her as she looked at us with her pitiful face.
Un contraste entre el pescado y el cerdo agradable que nos chupamos los dedos. Nuestra pequeña perrita disfrutó de algunos trocitos de tocino que no pudimos evitar darle al mirarnos con su carita de pena.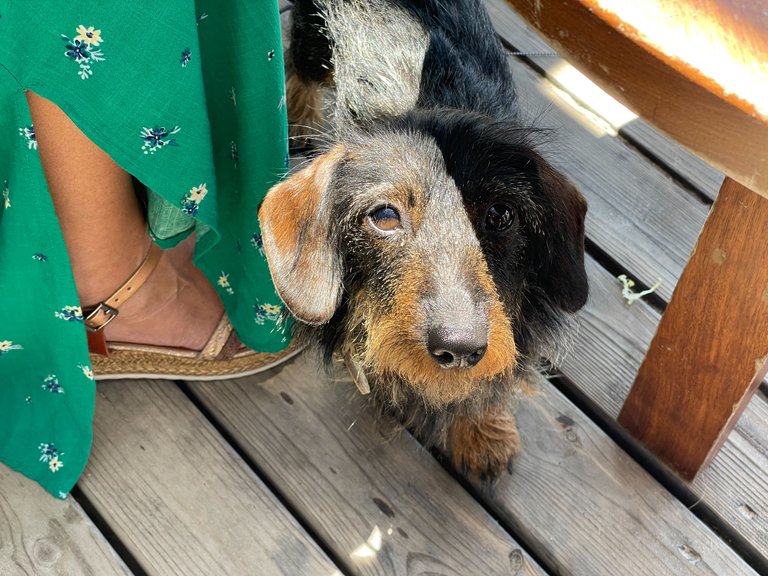 I used a web translator for english text (DeepL)
Photos by @cuvi taken with an Iphone 12 Pro.
2022 All rights reserved.
Fotografías de @cuvi hechas con un Iphone 12 Pro. 2022 Reservado todos los derechos.
By @cuvi,
Creador de contenido desde 2016
Content creator since 2016