Every year, we try to get out of town or the country with the fam bam. It is our time to bond each other because everyone is busy with their own life, haha!
This trip was back in June pre-pandemic time. My sister requested to visit Universal Studios because she loves watching the Minions and Shrek. So, yeah, we booked tickets to Singapore to grant that wish.
In this article, I will focus on my Universal Studios trip. So without further ado~ Let's go!
It was our second day in Singapore. We got up early to eat breakfast provided by the hotel. A bus will be picking us up around 10 am. We arrived a little bit early during the opening hours of Universal Studios.
We bought the ticket ahead through an agency back in the Philippines. I think the ticket price for an adult is $70.
You can click on this link to see more of Universal Studios events, promotions, attractions and shops!
Universal Studios Globe
At the entrance, of course, you will see the famous Universal Studios Globe. Many people were waiting for the globe to turn to the right angle just to get that "Universal Studio" logo. Yeah, I am one of them haha!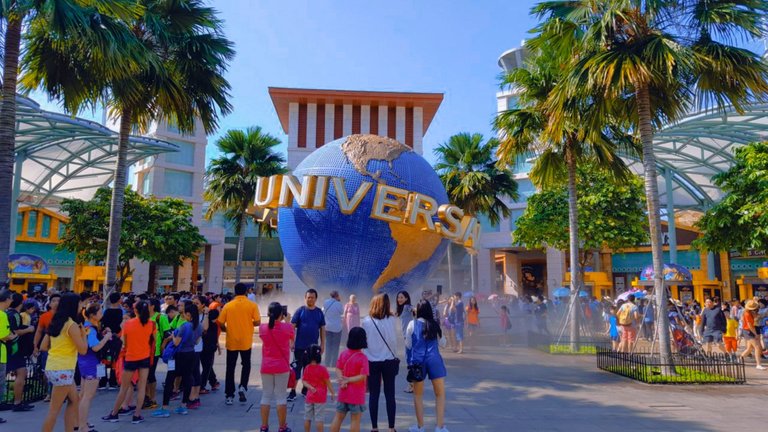 As you go further, you will see toy shops, apparel shops, and coffee shops too.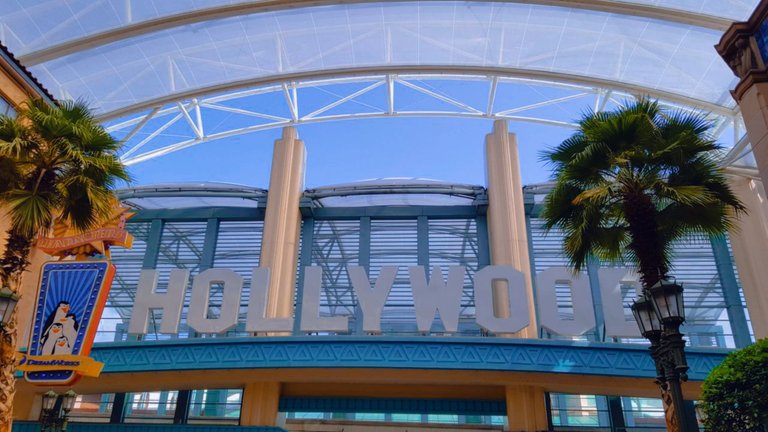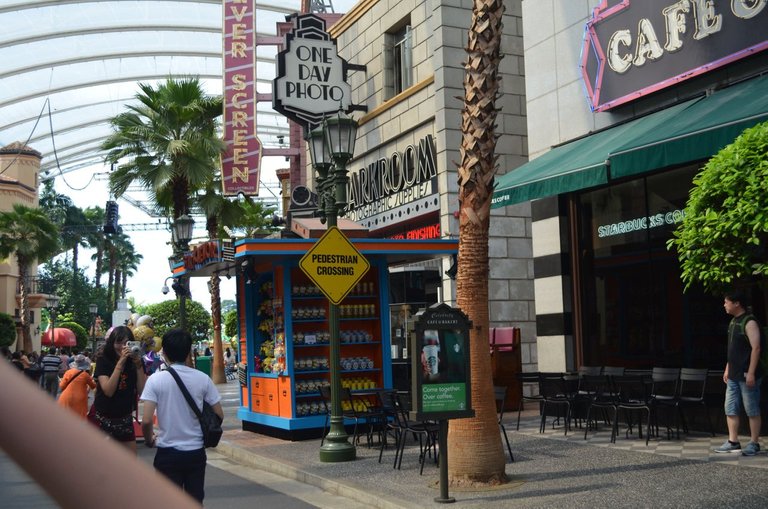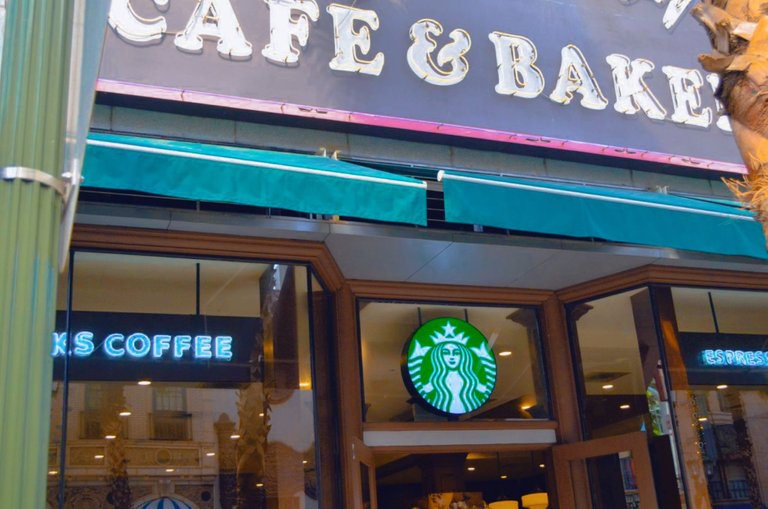 My mom was craving for coffee the moment she saw this shop. I said that we can get coffee after we finished the park because coffee inside is hella expensive! Haha~ And, yeah, she agreed.
Minion Mart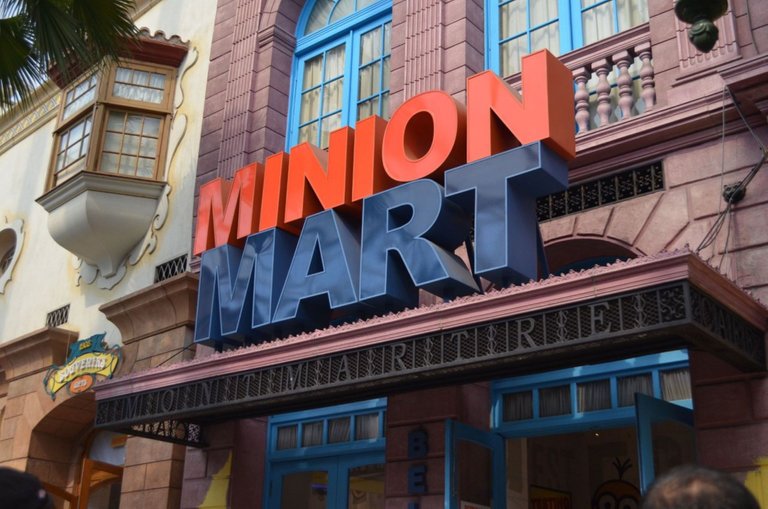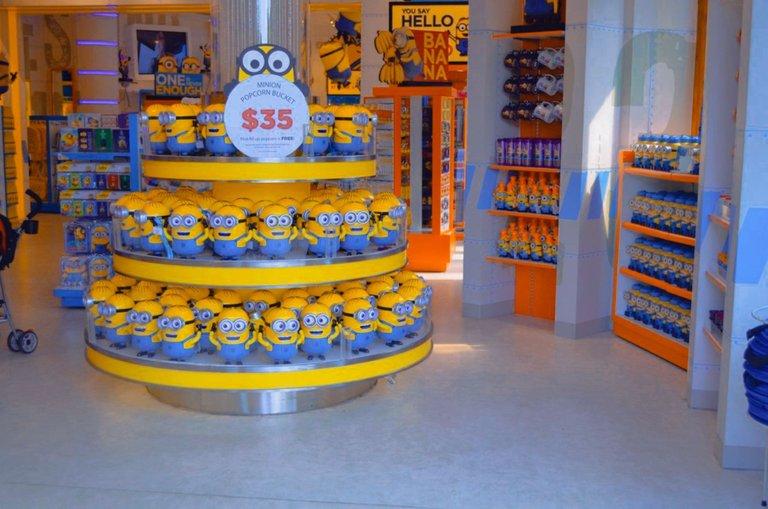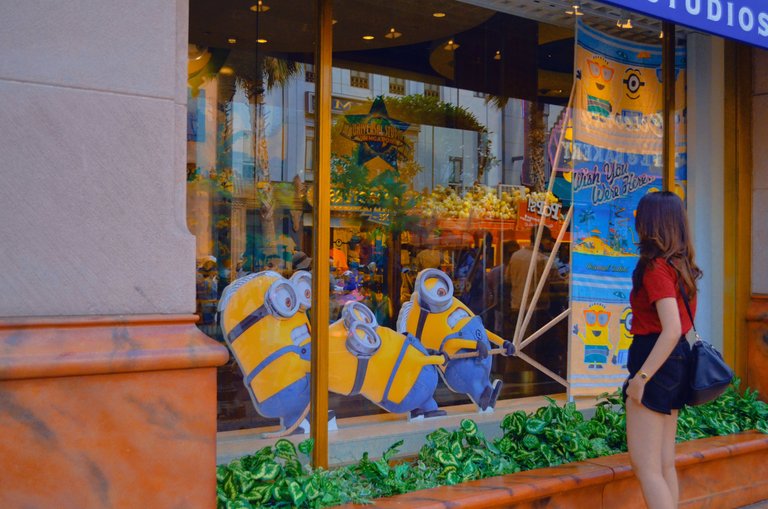 This is me looking through the window of the Minion Mart.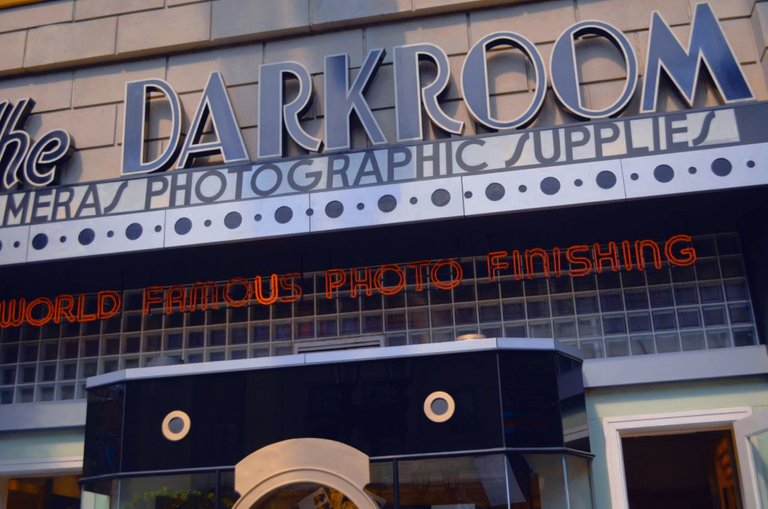 A photo shops. You can take a photo of you or with your loved ones. They also sell photo albums, frames, and films.
Sesame Street Spaghetti Space Chase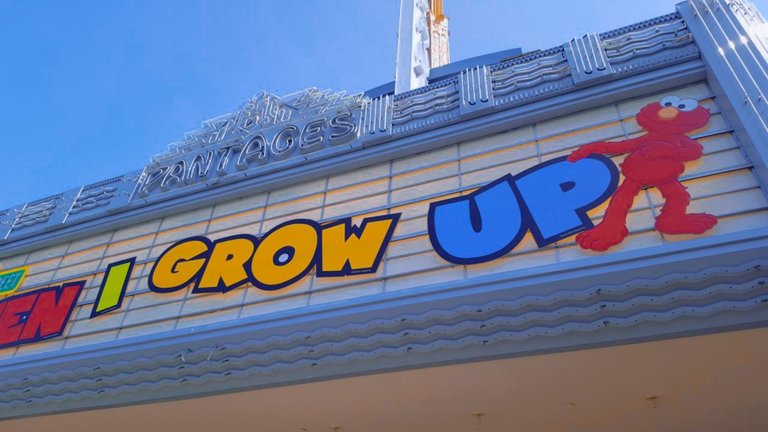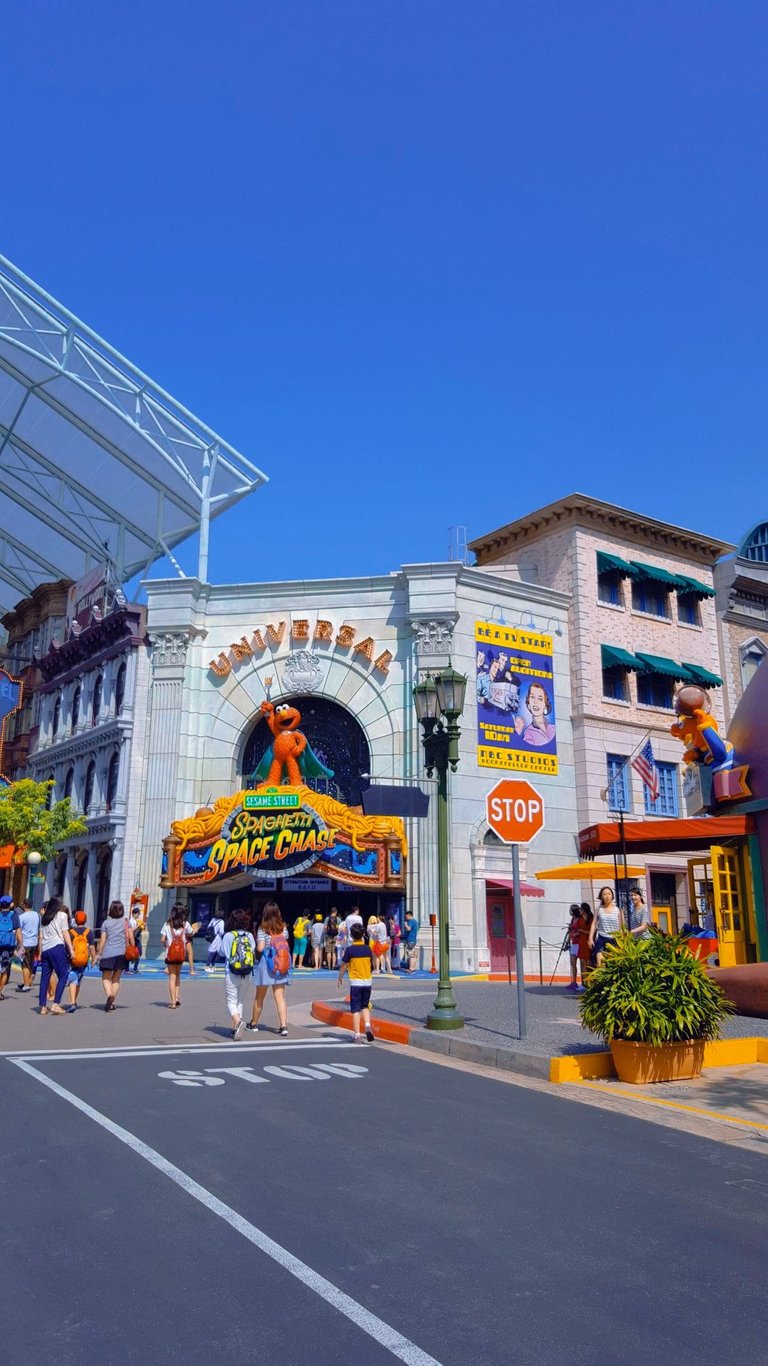 We tried the Sesame Street ride. I honestly got bored because it is for kids haha! Well, perfect for my sister's age.
BEETLEJUICE!
Oh, look , it is Beetlejuice. Agh, I got scared a little bit because he was freaking shouting around. I do not know what he is shouting about but I think he is looking for a ride haha! Some of the tourist too got scared and having second thoughts if he is part of the staff or just a random cool guy.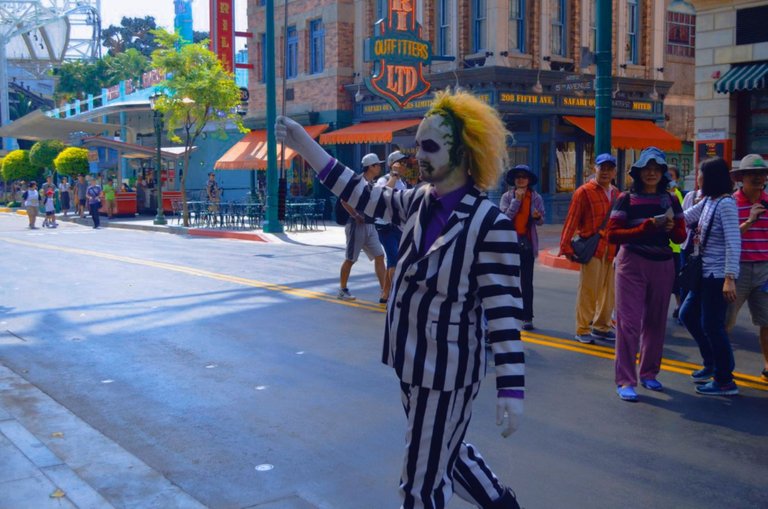 Lunch Time!
We got tired of roaming around so we decided to rest from walking and eat for lunch.
We ordered shakes, pizza, and spaghetti. Their spaghetti was so good! Also, they are generous with the cheese. The pizza is just average, though.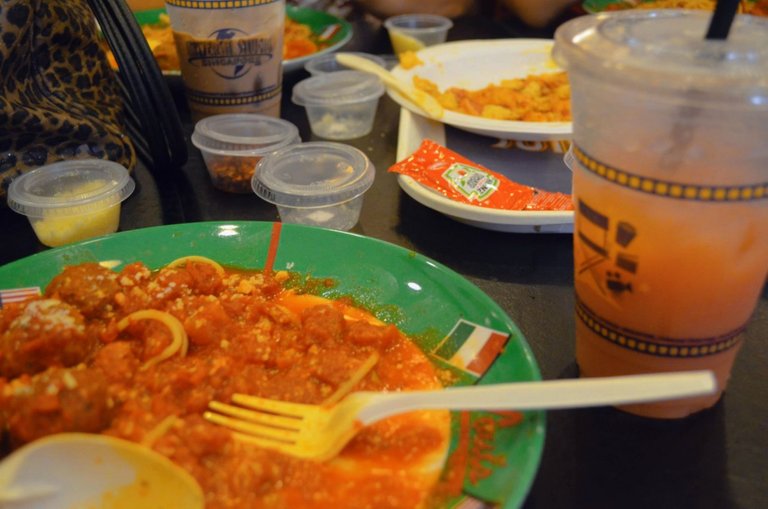 After eating, there is a live band performance. People flocked to the music band to take videos and photos.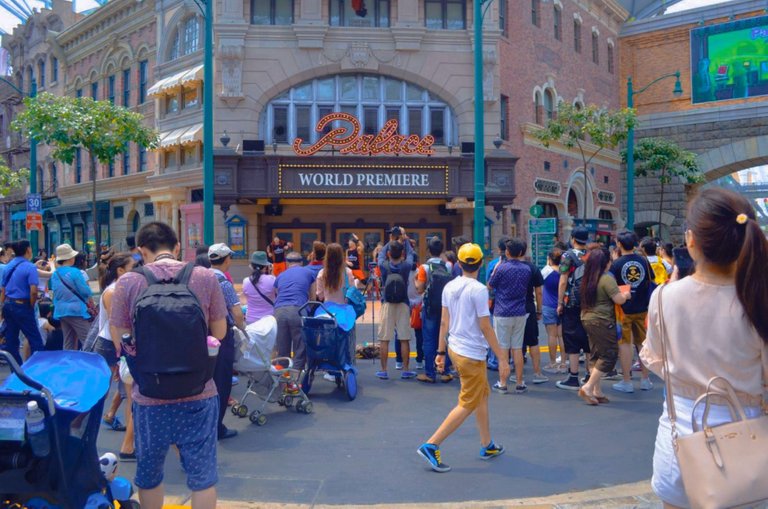 Transformers: The Ride 3D
We tried the Transformers. The line is so freaking long. We regret not buying the express pass. We waited for an hour just to take our turn. The ride was just five minutes.
I am not really a fan of mechas/robot, but because my sister insistead to visit every ride as much as we can, what can I do?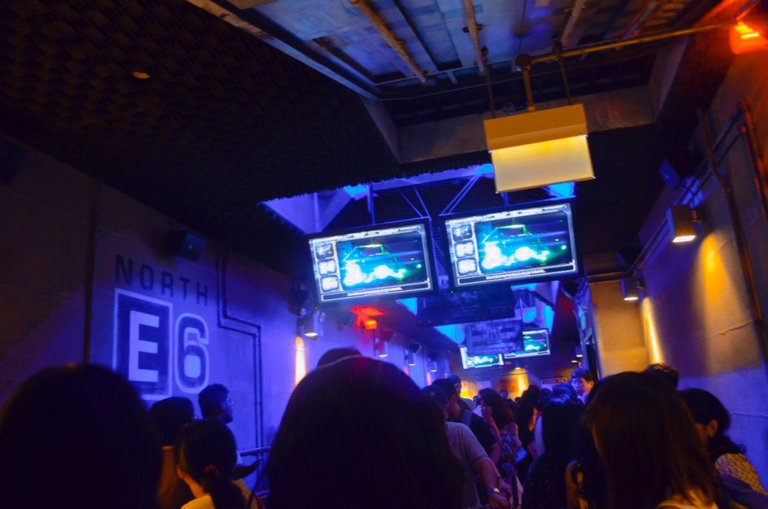 Battlestar Galactica (roller coaster)
This in not for the weak hearts. my sister is forcing me to line for it but no amount of pleading will make me ride that roller coaster. I am not a fan of heights or any extreme rides. It is not my thing. Ending is we skipped it and moved on to the next ride.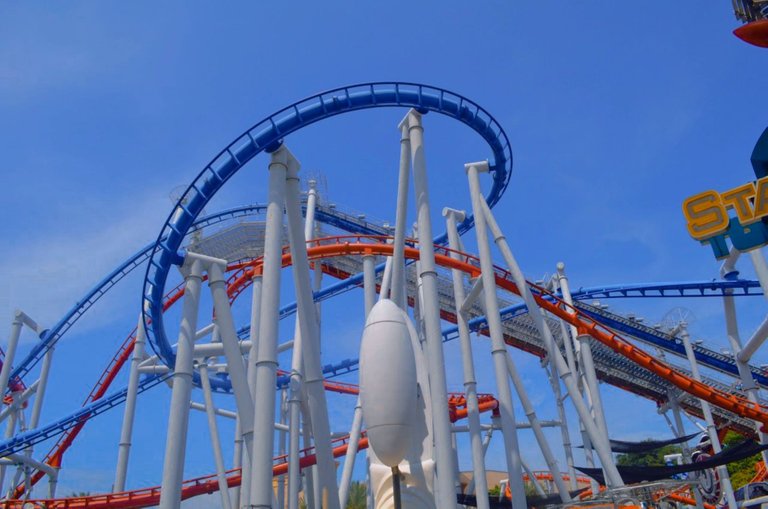 Revenge Of The Mummy
Pharaoh's time! Very ancient, haha! This place was so packed. The heat at this moment is so freaking deadly haha. We cannot take that heat anymore. We looked for a nearby restaurant and ordered some refreshments.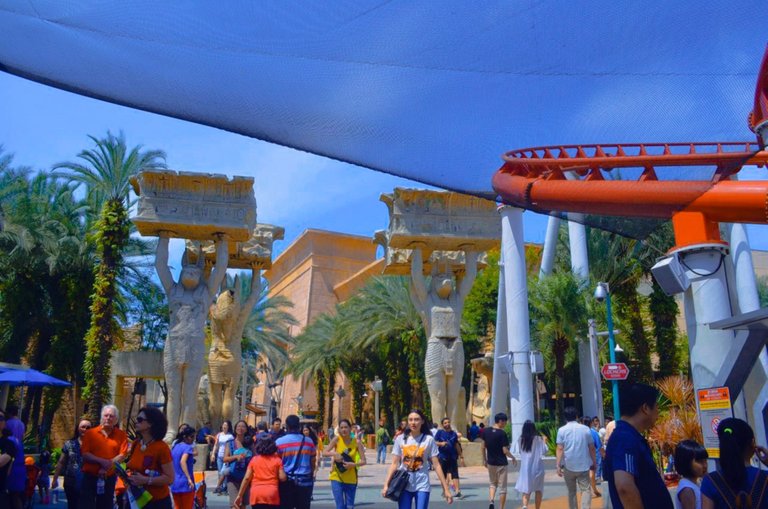 The Lost World
The Jurassic Era! They also have a restaurant and apparel shops.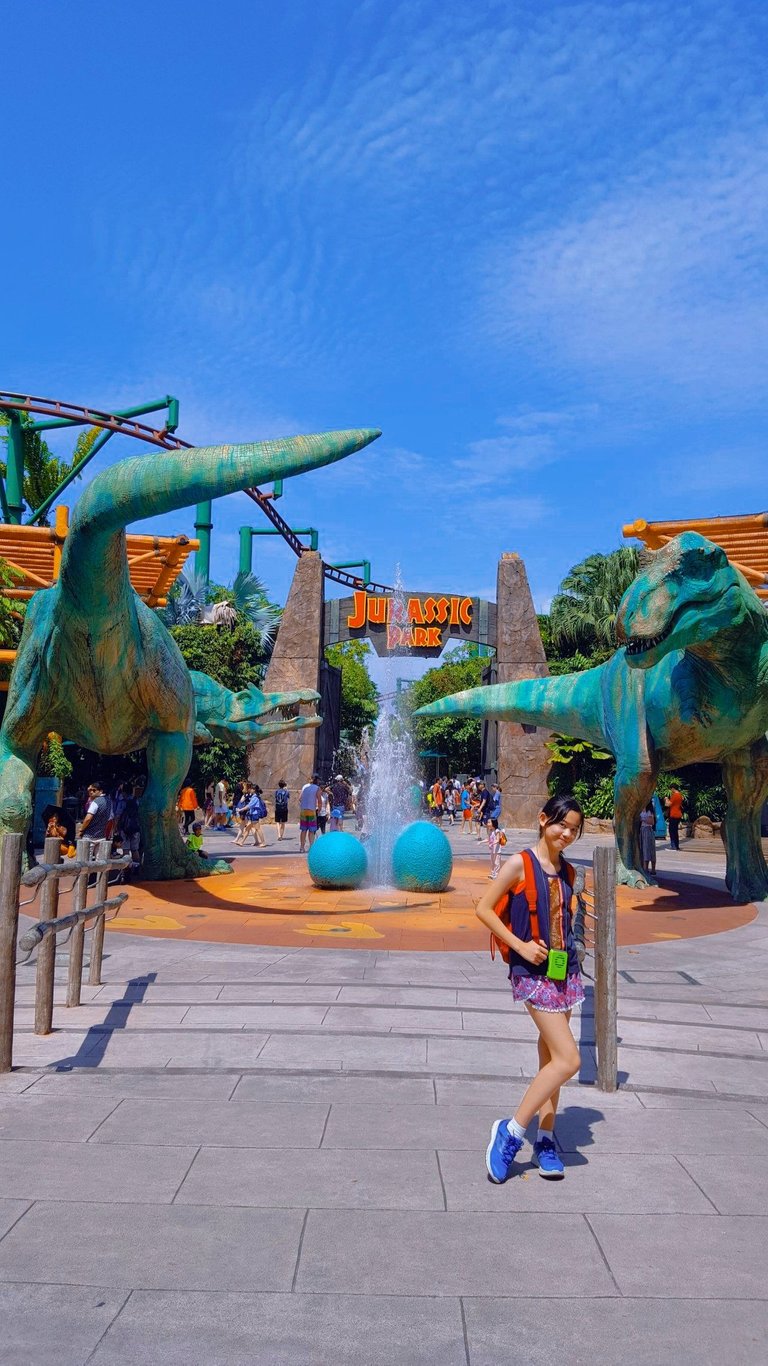 It is so freaking hot, so every 30 minutes, we stop walking and find a shade. We ordered refreshments to keep ourselves cool. My back was soaked with sweat at this point. Ugh~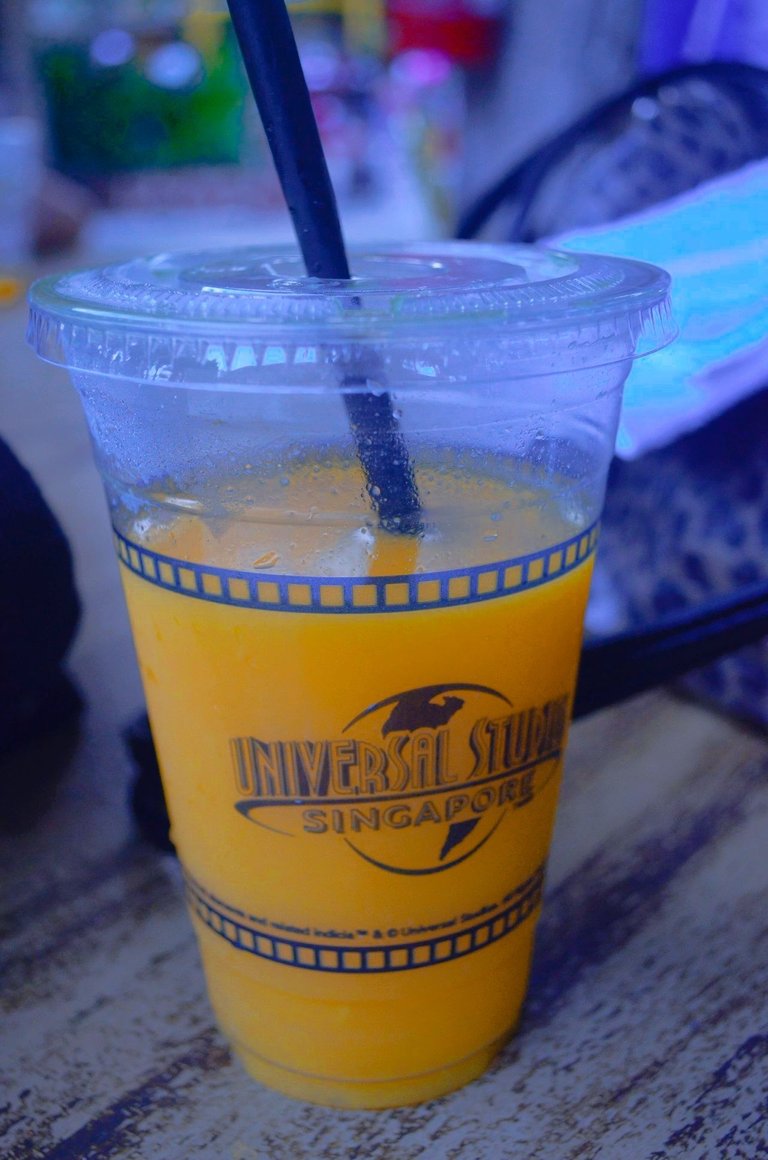 We also ordered ice cream~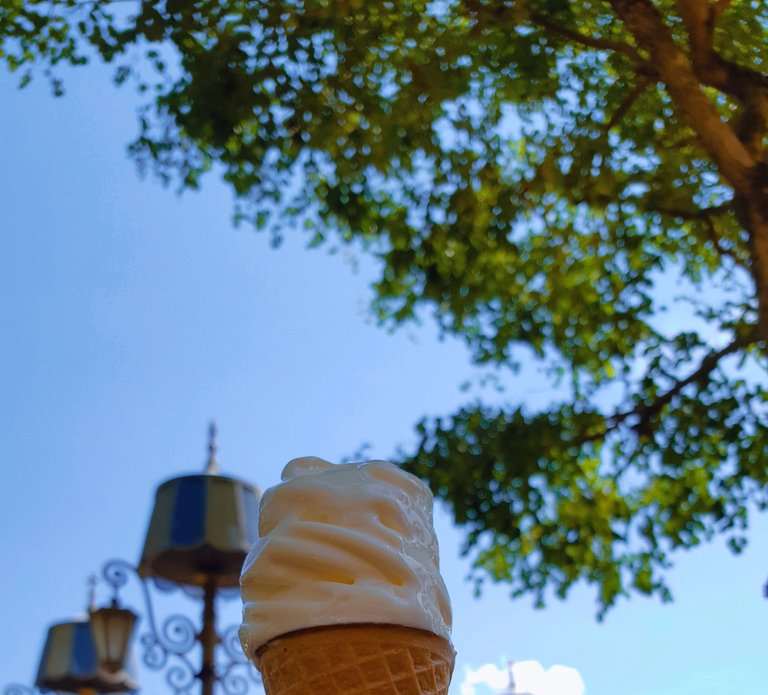 Far Far Away Castle
We wrapped up the trip by taking pictures of the most beautiful castle I have ever seen! The feeling was so magical! It feels like any time, a prince will come out of the balcony, haha! That will not happen because Shrek lives there, lol.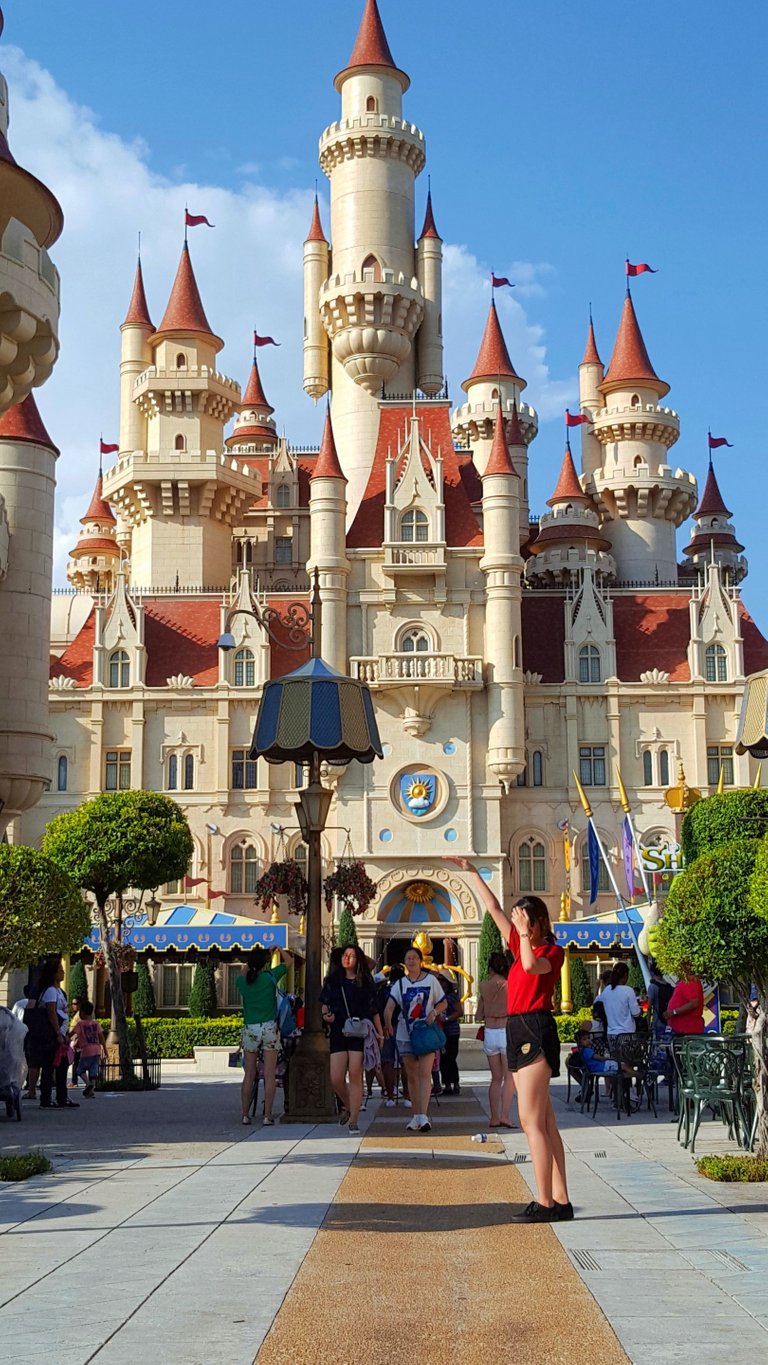 We actually watched a short film inside. The theater is a 5D experience. So when there is rain, we were squirted with water in our face. When the chacarters are cold, the viewers get a cold breeze too! This was my favorite part of the trip!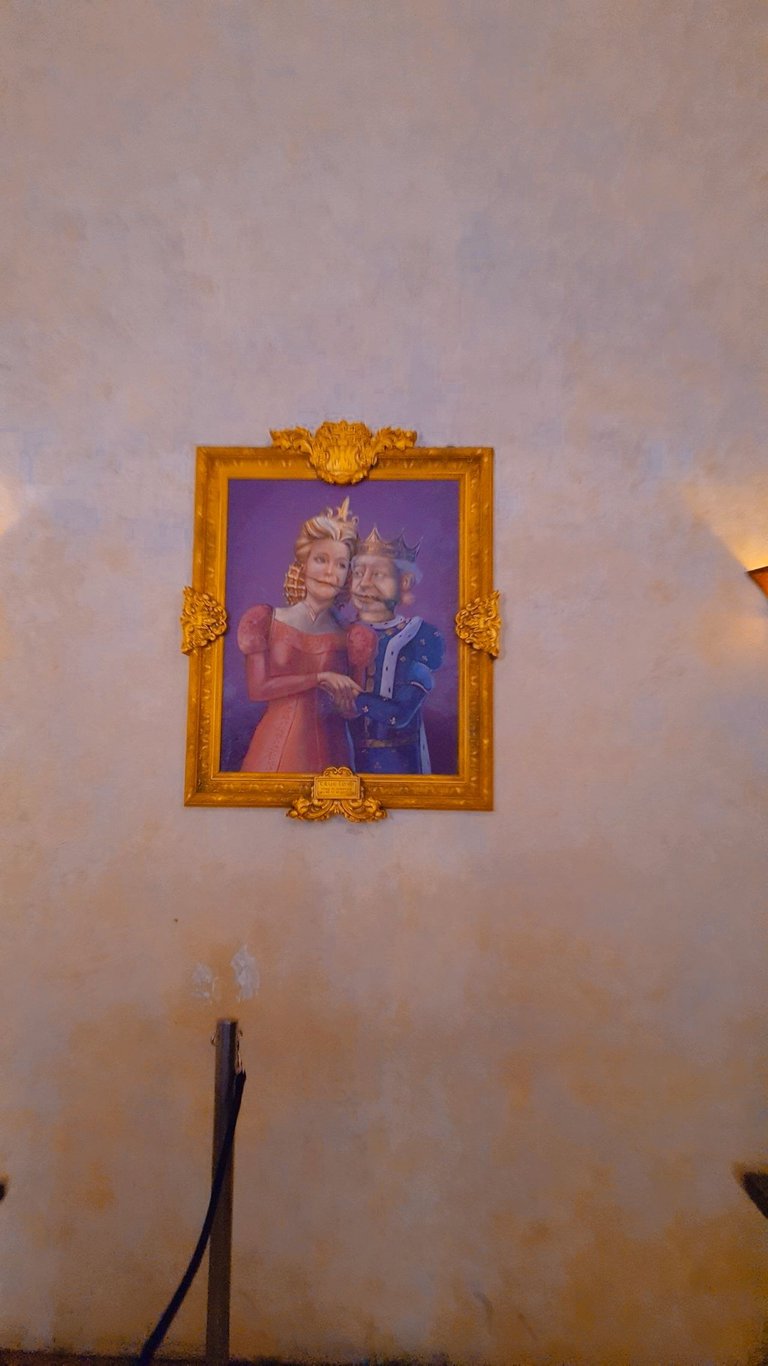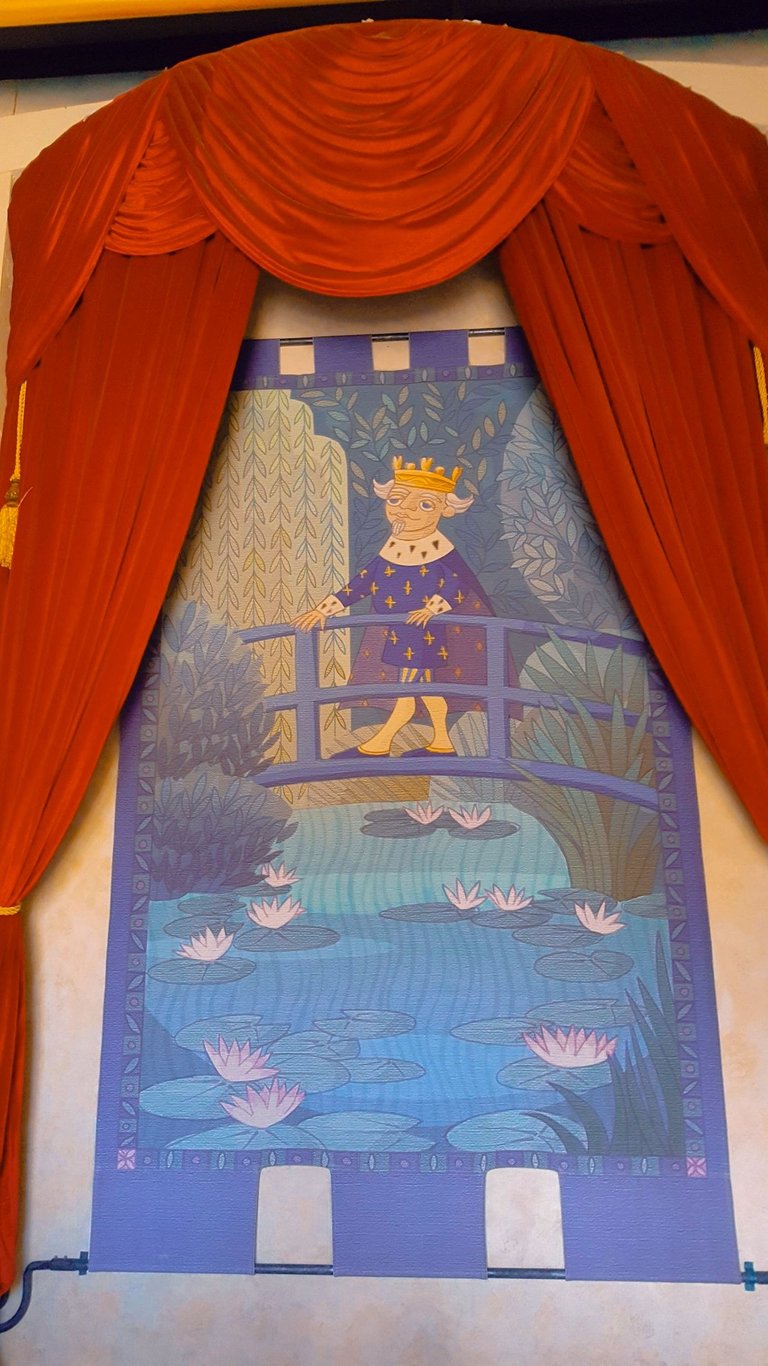 At the end of the castle, there is a all-shrek shop. I was tempted to get the gingerbread guy but instead I got some keychains. Those baby Sherks too are so adorbs!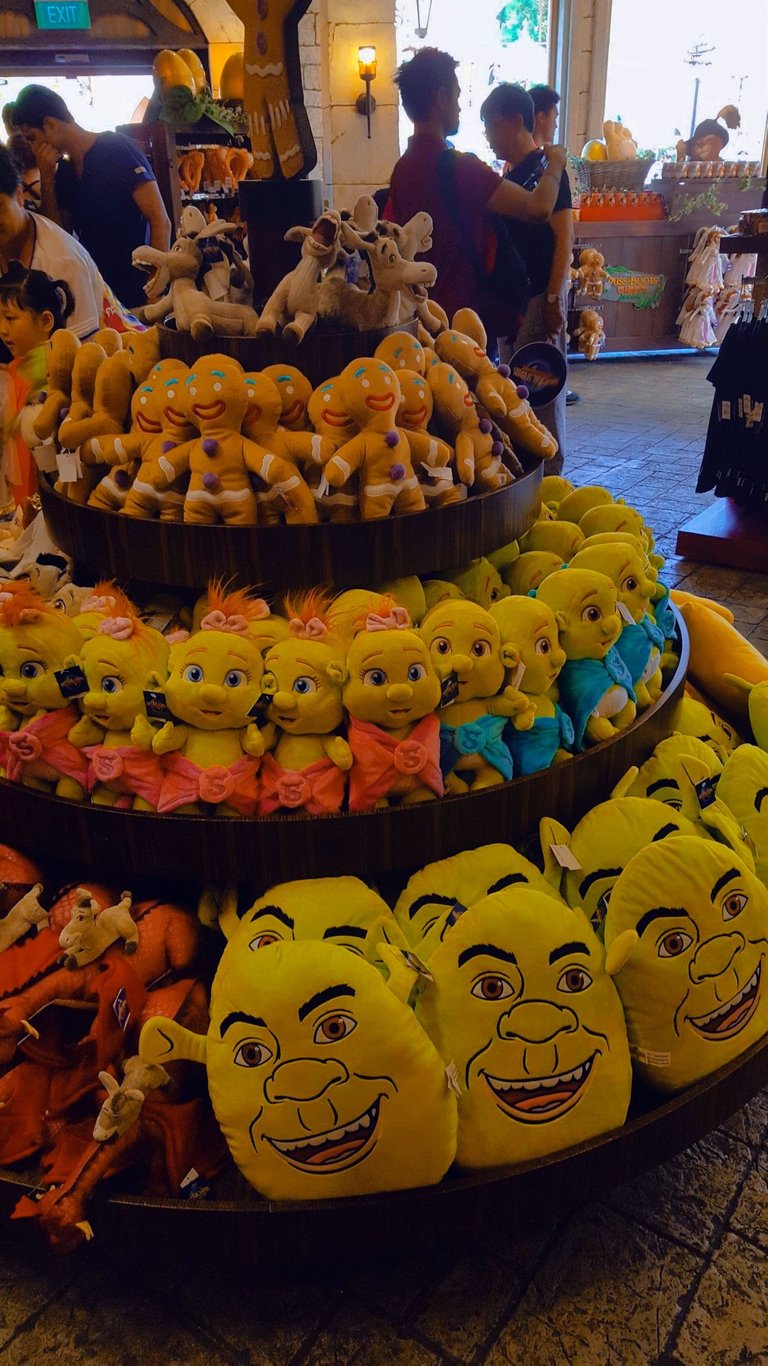 We took many few pictures as much as we can because we might not visit this place again. Our bus fetched us around four in the afternoon.
My sister was so over the moon!~ It was success and fun trip for the fam bam!
---
Conclusion
The park is perfect for a family trip, especially with children. The Park is not the big at all. You can visit every ride and every attraction in about 30 minutes. It is best to take the little map on the entrance for a better guide. If you happen to visit Singapore, definitely book tickets for Universal Studios!
Just some tips!
If you travel during the dry season, consider bringing extra clothes.
Do not travel during peak seasons. In our case, we traveled around June and this is the time that students are on break. We wasted so much time waiting in line for a 5-minute ride.
Buy an express pass to avoid waiting in line. We did not know of this until a staff told us. We should had bought some.
It is easier to book online or through agencies. It may take time to stand in line at ticket counters.
Be early to dibs on rides.
Get a map for the guidance of the Park. Usually it is located on the entrance.
Bring a bag if you are going to buy stuff. Though they provide plastic bag, it is much better to bring your own bag.
Wear a comfortable shoes
---
I hope I shared something interesting in this blog. That is it for now.
📸 All photos are owned and taken by me, otherwise credited. ©️jijisaurart