Yesterday I stumbled upon a post of a travel agency, which ended with the question "What is the most beautiful natural place you've been to"? My visit to Pamukkale 4 years ago immediately came to my mind.
Since I did not use a blokchain communities (such as Hive, Steem or Travelfeed) then and did not share about my trips, I decided to correct this now and to tell you about one of the most impressive natural places I have ever visited,
namely PAMUKKALE.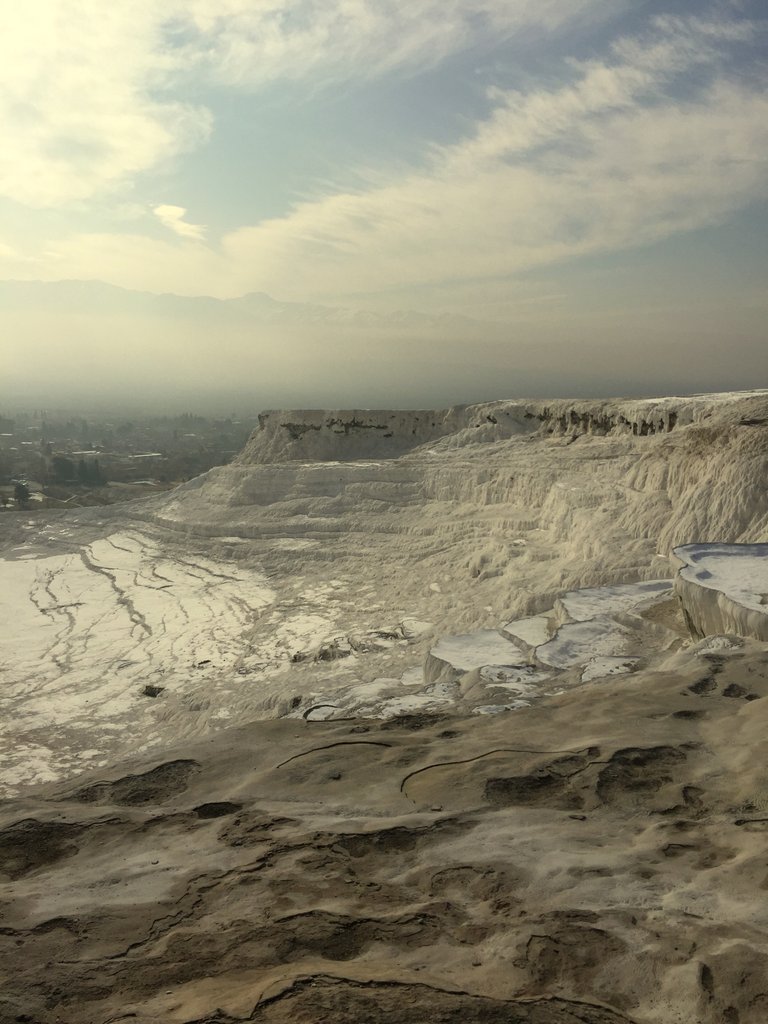 If you haven't heard about it, you may be surprised that it has been added to the UNESCO World Heritage Site. This is an absolute art of nature.
Pamukkale translated from Turkish as "cotton castle" is located
in southwestern Turkey. The nearest town is Denizli, 30 km away.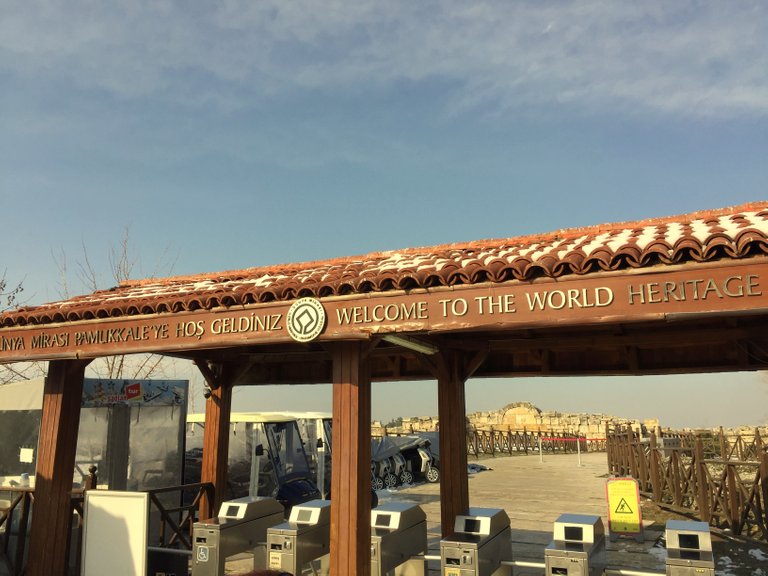 Upon arrival, you realize that the conditions for tourists are perfect.
The entrance fee was 80 Turkish lira/$11.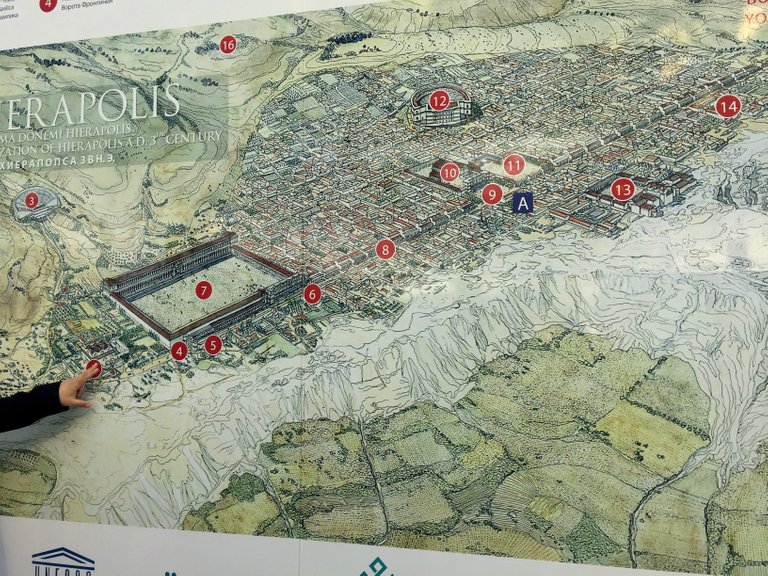 I love to look at the maps of the places I visit.
The scale here is very huge - it's about 1,077 ha !!!

The tour begins with a walk around the ancient city of Hierapolis, where you can see ancient remains.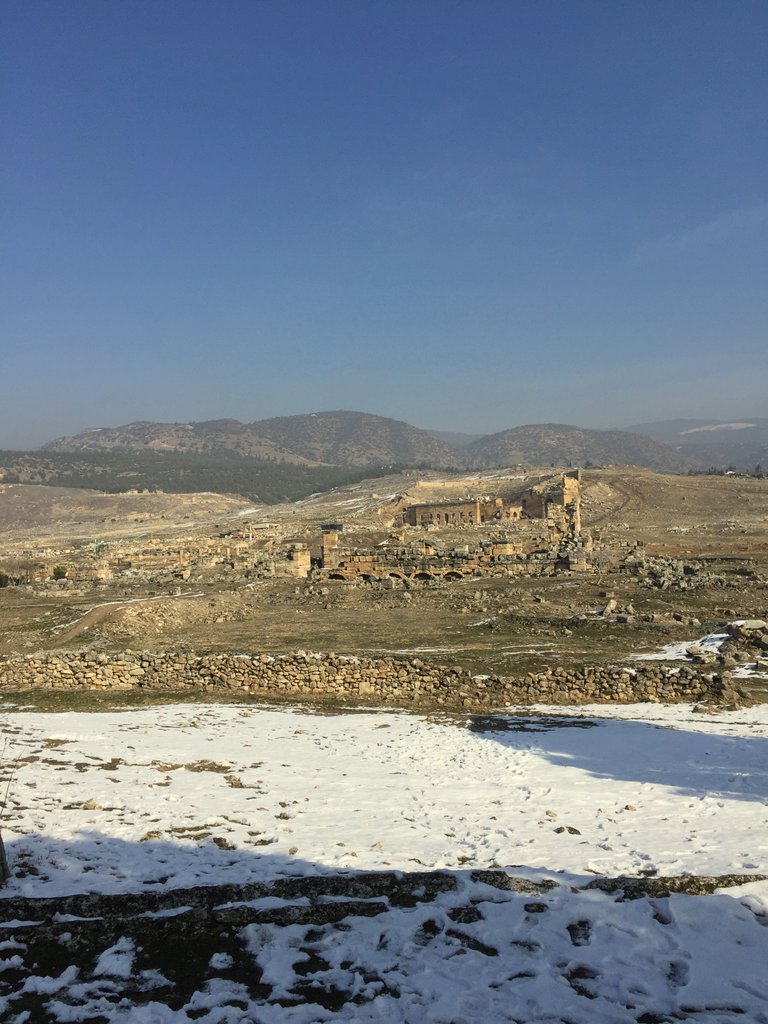 However, it is a city founded in 261 - 253 BC. by Antiochus II Theos.
Since my country Bulgaria does not have palm trees, for me they are quite interesting. Beautiful plants. They change the landscape.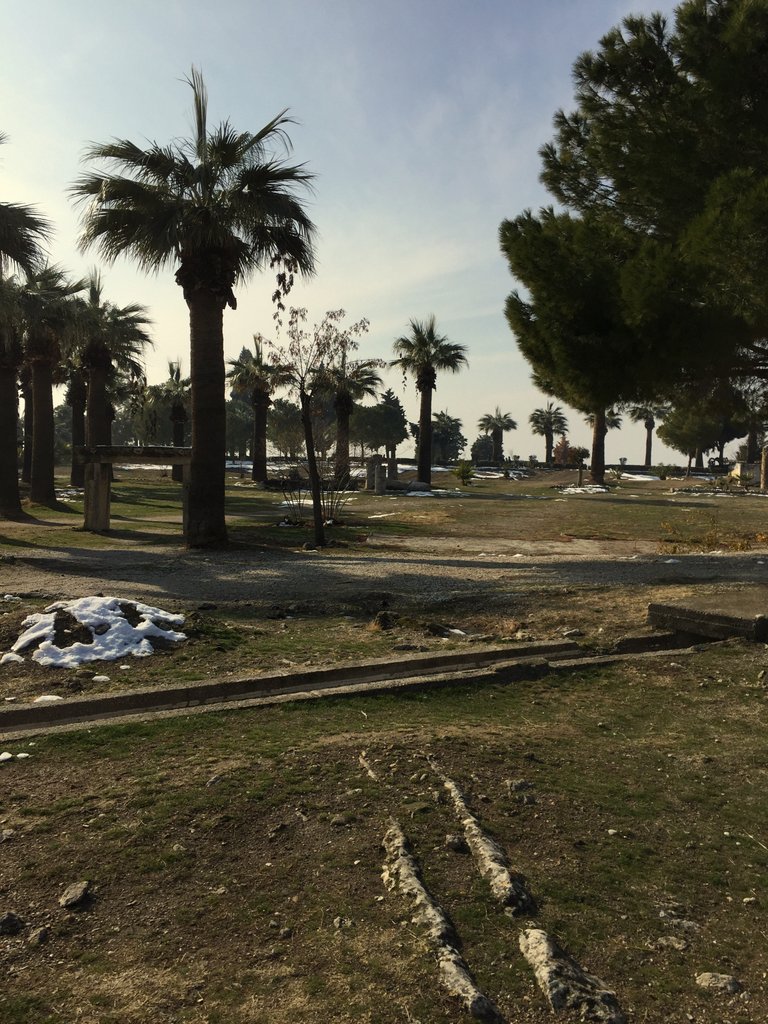 After exploring the ancient remains, you reach the ANTIQUE POOL, where the beauty begins.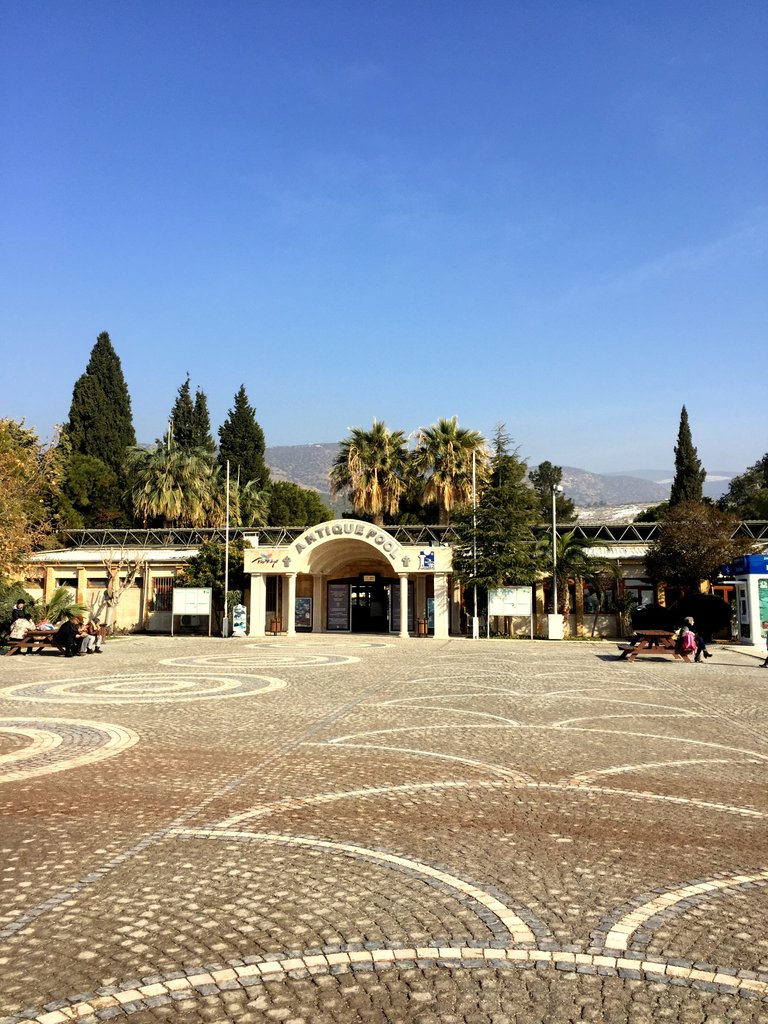 The first thing you will see are the Cleopatra Pools.
Turkey has taken care to modernize this base as much as possible.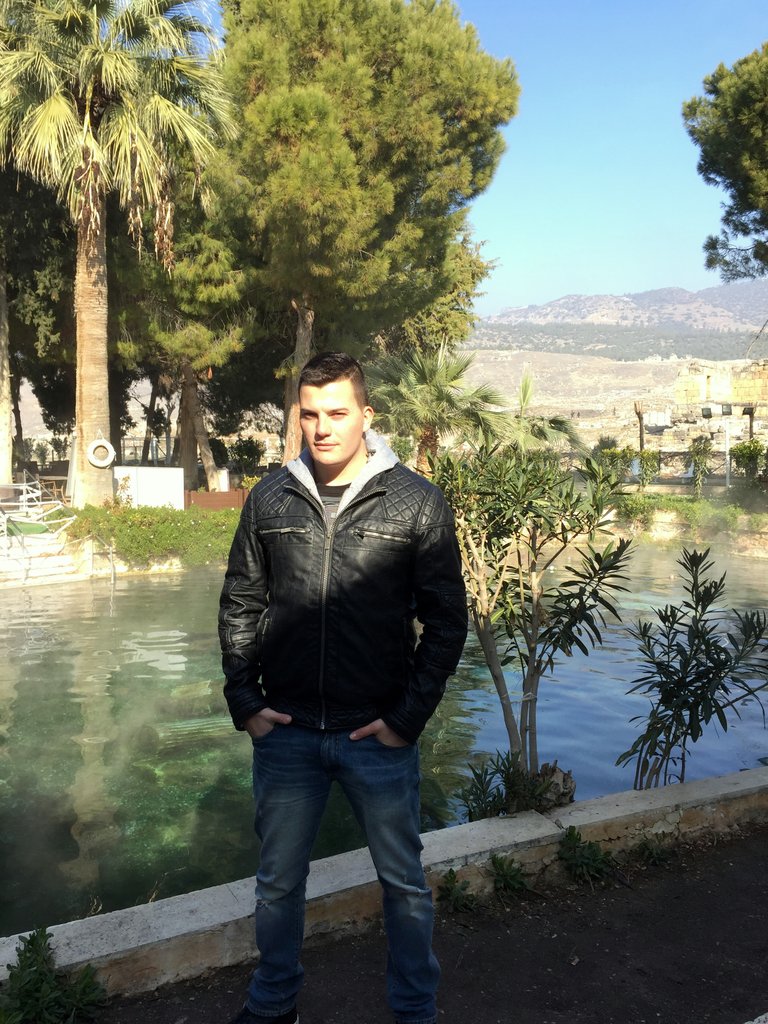 My visit was in January, when it was actually quite cold. As you can see, it looks sunny, but the wind is cold.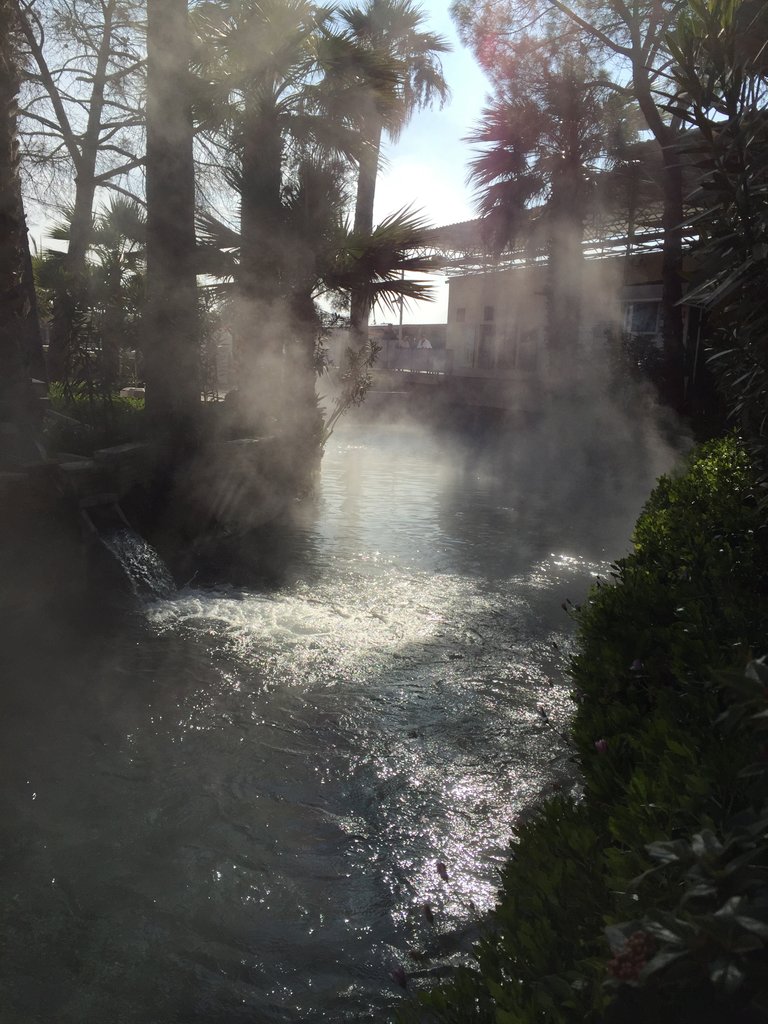 This is exactly why steam is formed. Тhe water temperature there is 38 degrees.
After crossing a small bridge you reach the beginning of the "castle".
I admit as soon as I saw it, I was instantly impressed.
As a matter of fact, it seems to be covered with snow, but in fact it is a carbonate mineral left by the flowing thermal spring water.
Of course the fault for this was the Snapchat effect, which I was using at this time 😫 It really looks like this: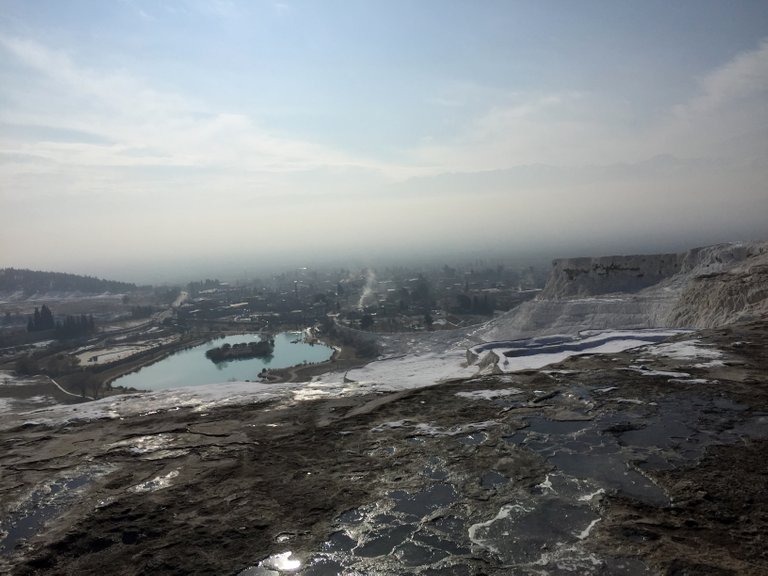 The city can be seen from afar.
You can see for yourself how high it is.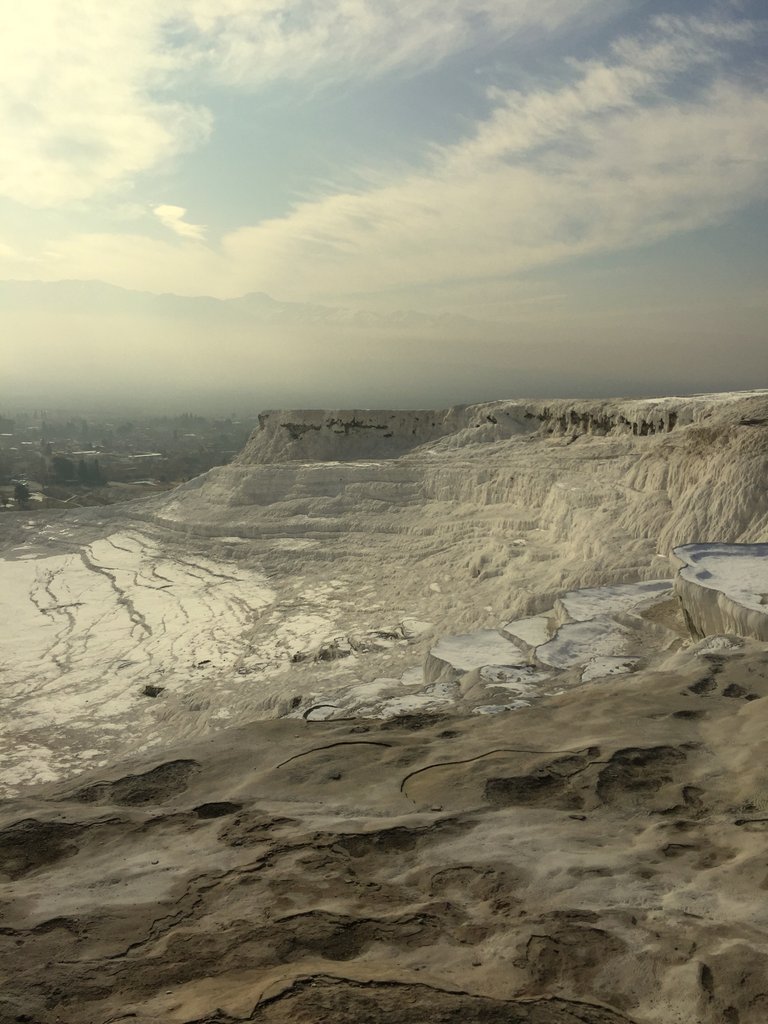 It looks like a frozen waterfall. Very beautiful!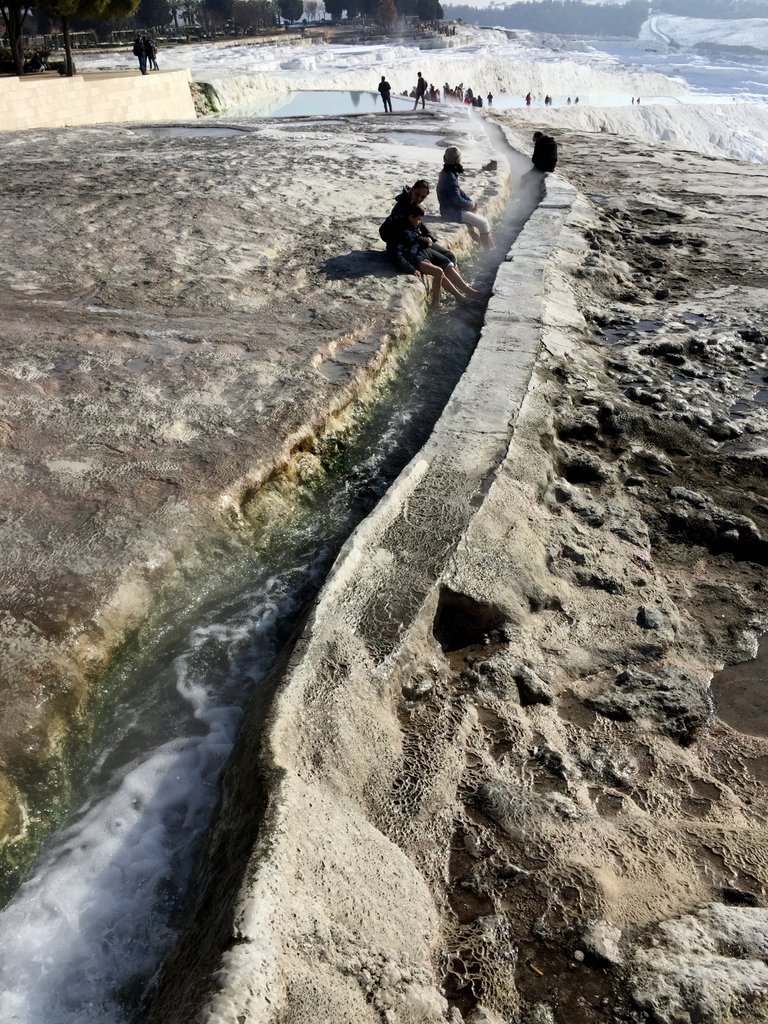 It is said that the mineral water that flows in this "small river" helps to cure all diseases.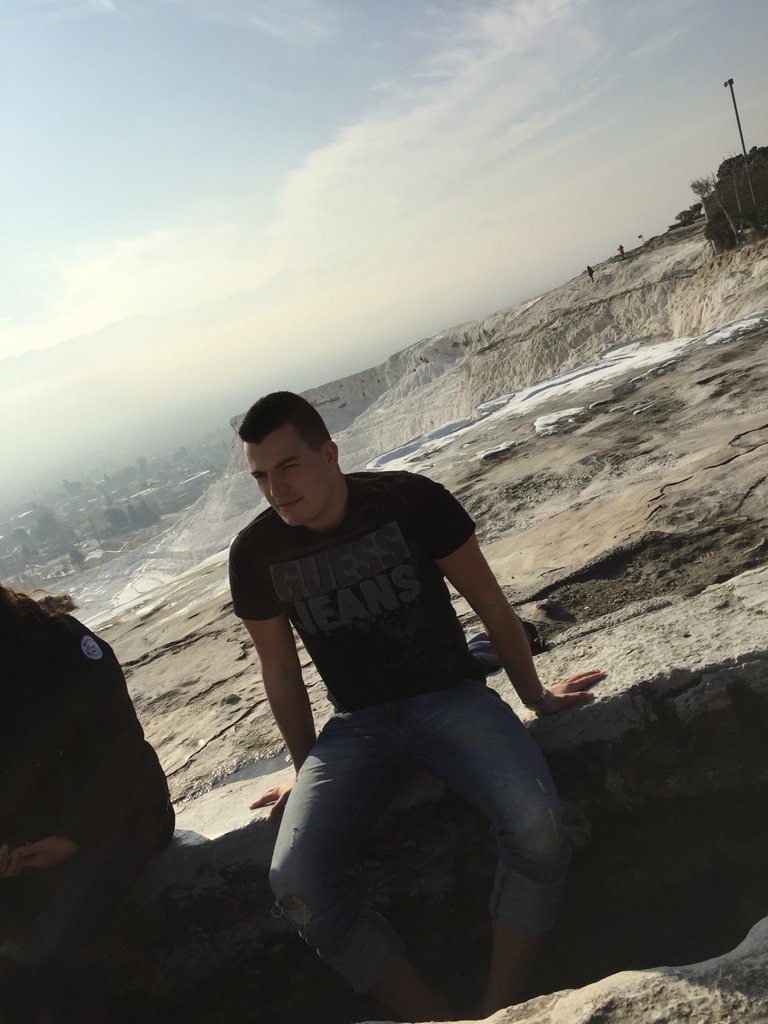 Well, I couldn't help but test. As they say, it's like going to the Vatican and not seeing the Pope.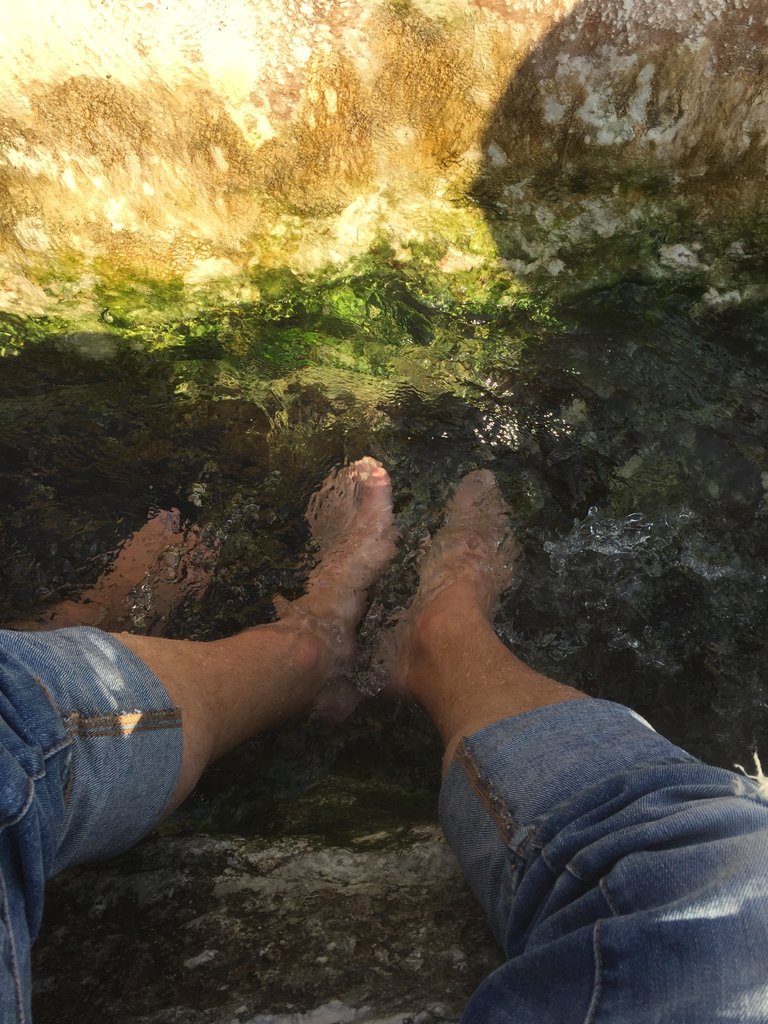 I dipped my feet in the otherwise warm water. I hope I wouldn't suffer from any diseases. By the way, as soon as you get used to it, you feel good.
I know there are people like @iliyan90 who walks quite often barefoot, I also love, but in Pamukkale you have to be careful because you can fall.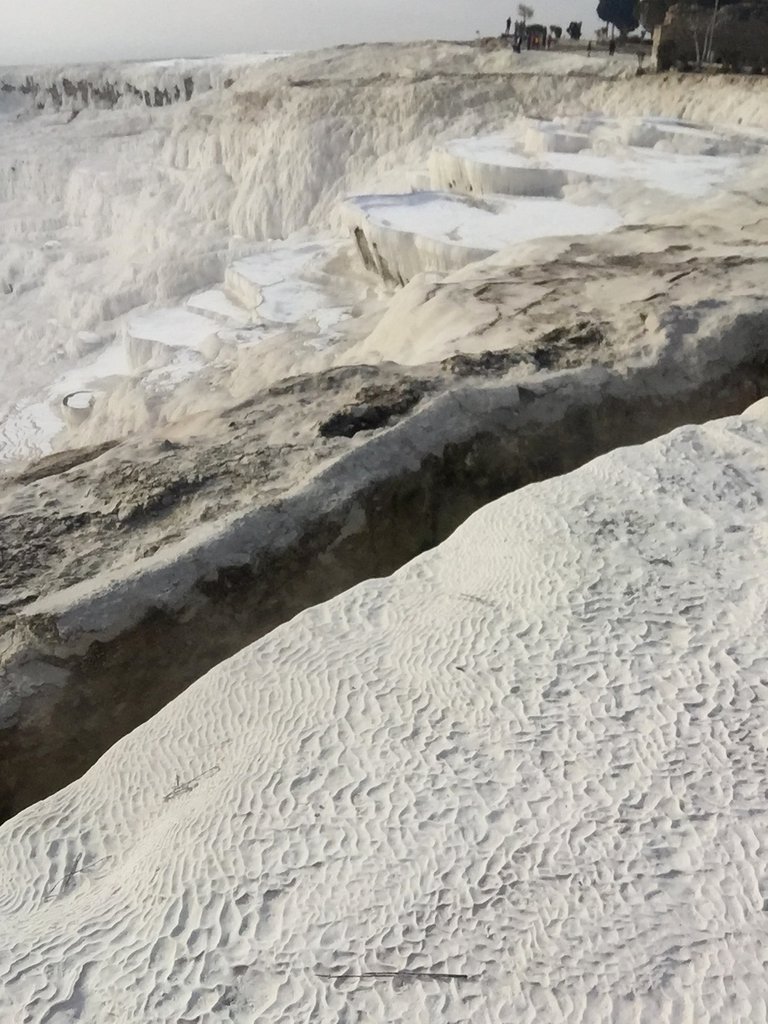 Now is the time to say that I was not alone. My girlfriend Gigi was with me too. I hope she don't mind uploading a photo without her approval (guys, maybe you know what I mean).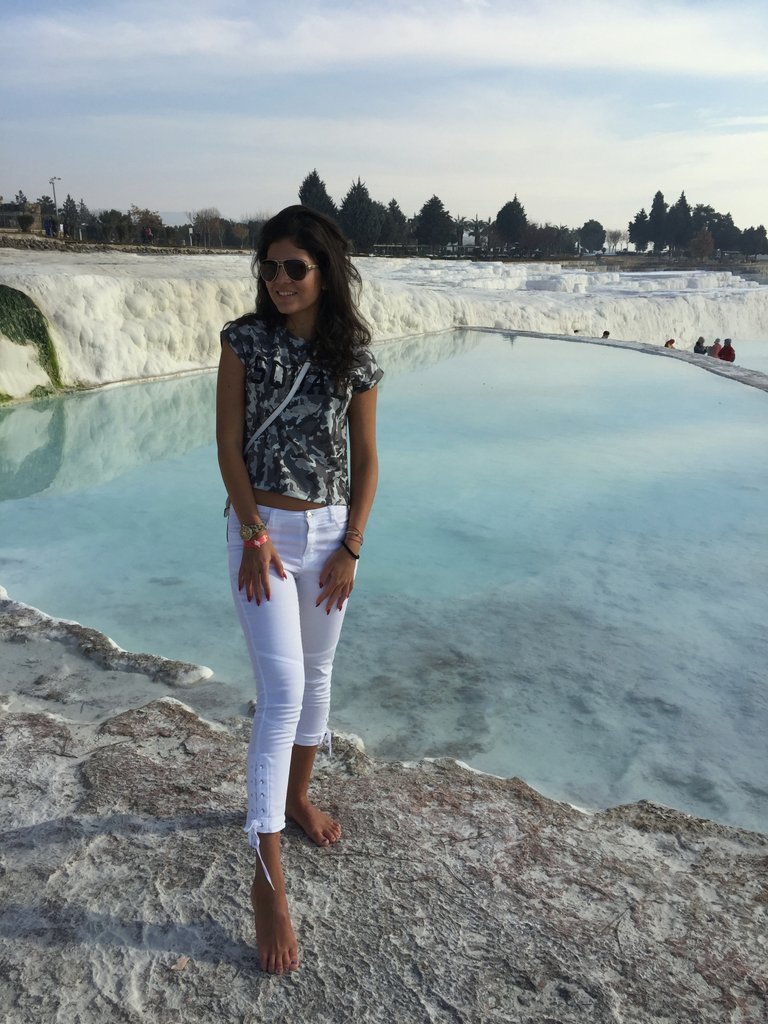 The little "lake" behind her also is considered to have healing water.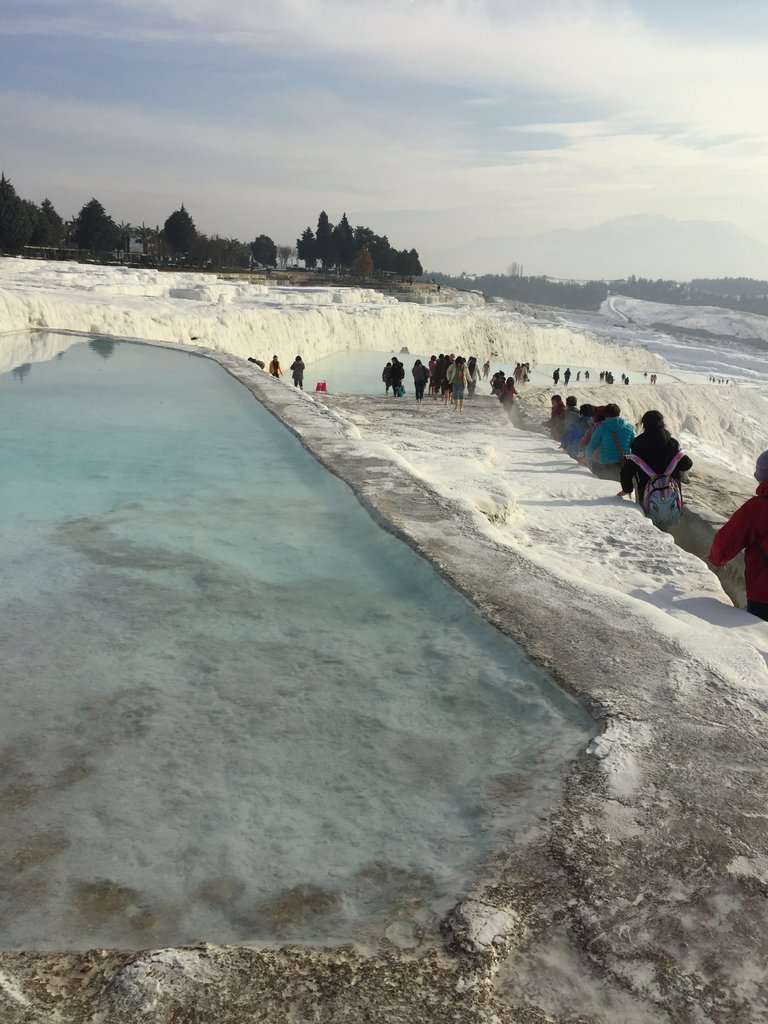 It is interesting to note that it is not forbidden to enter the water.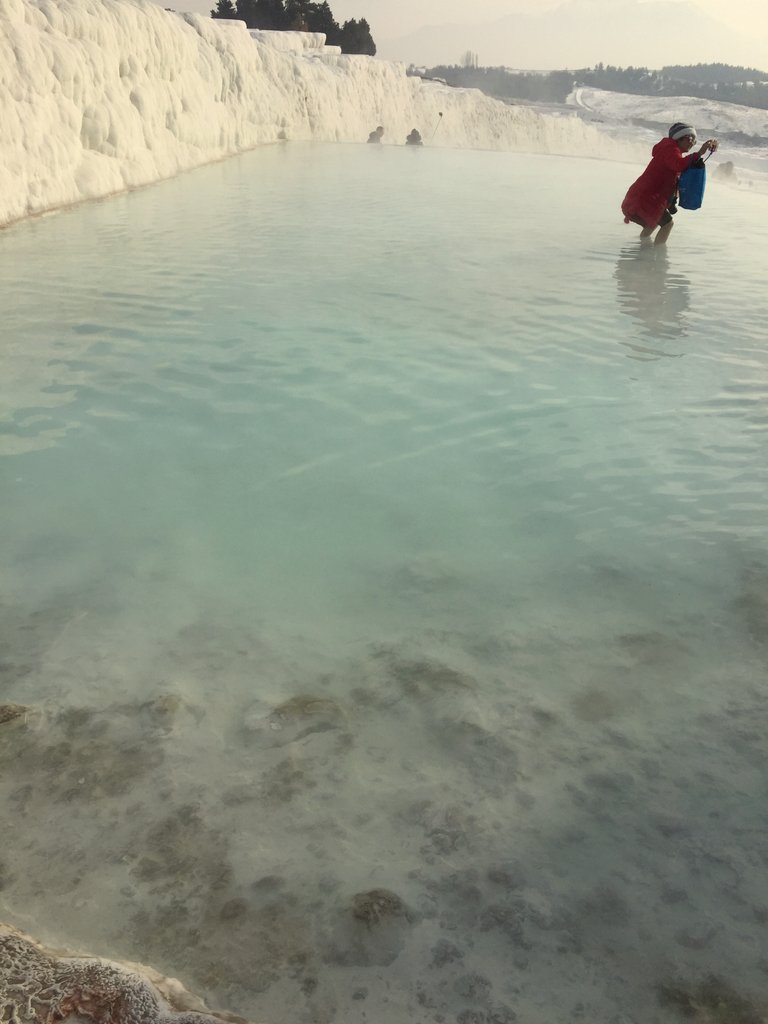 In the interest of the truth, a chinese woman (yes, these are the most common tourists there) did it to take a picture..So she ruined mine and I had to wait her.
I'm not the most patient person, but definitely waiting for this photo worth it.
It is very beautiful, right?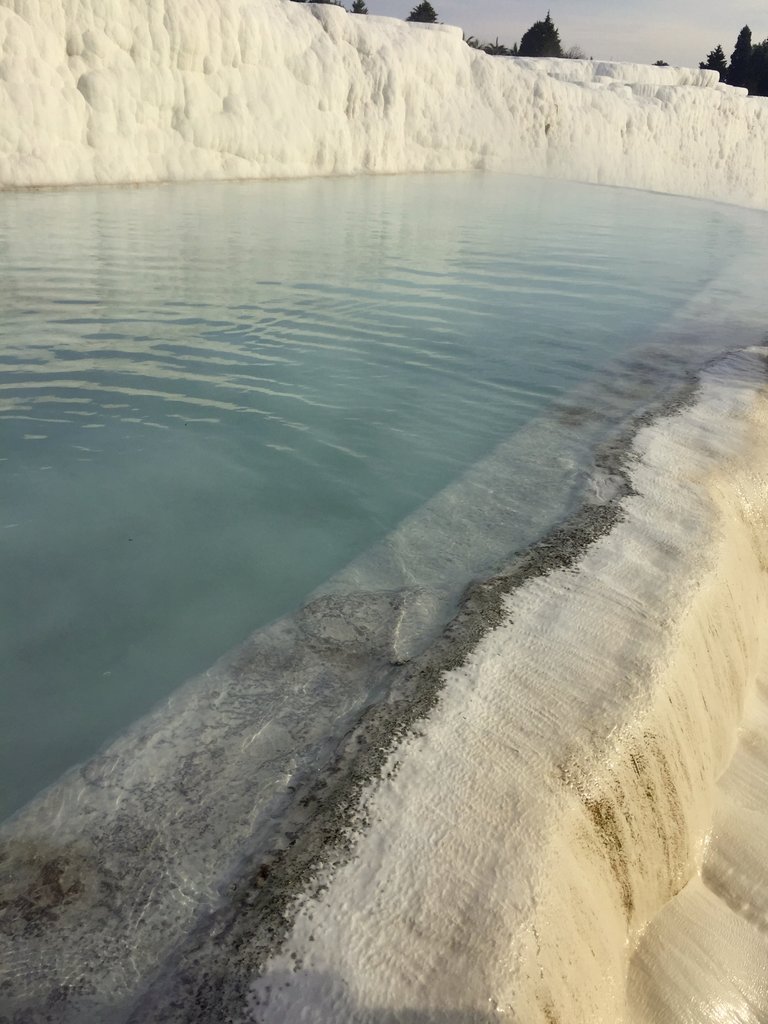 In such a place you can not help but admire the beauty of nature. so I sat and watched the beauty of Mother Nature. Definitely in such moments you enter into harmony with yourself.
Well, after this spiritual moment is over, it's time for some photos for Instagram 🤣 There's no other way..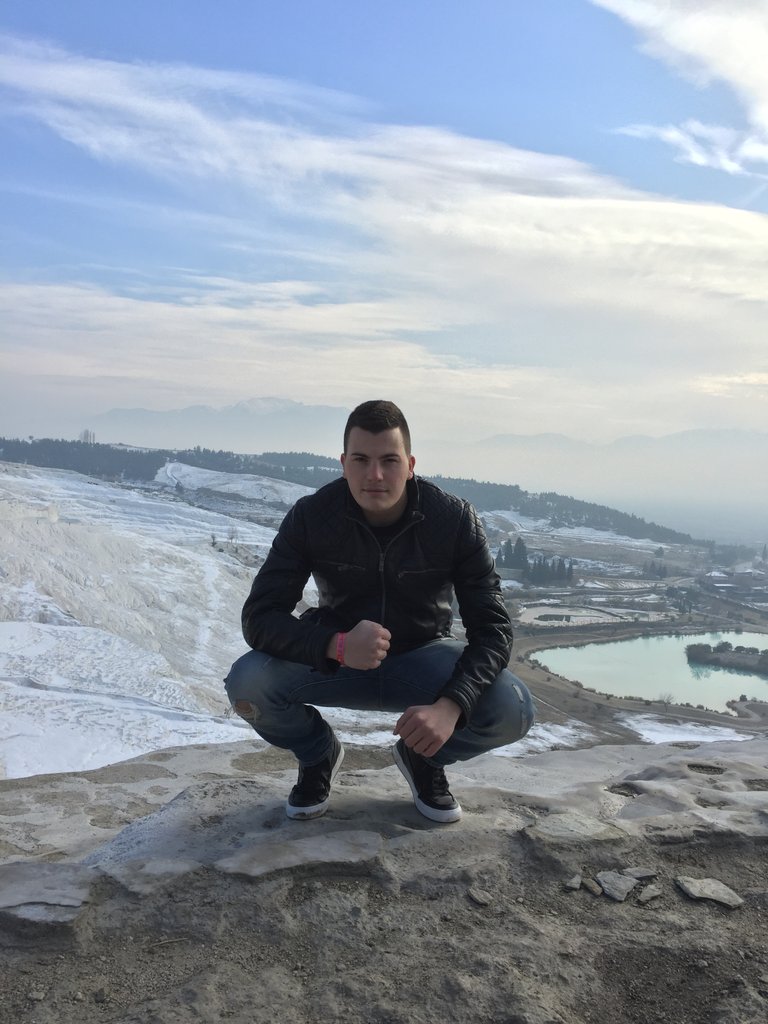 As I mentioned, my visit to Pamukkale was 4 years ago. It is certainly a place worth visiting many more times. I hope to have this opportunity again soon.
For those who have never been the- put it on your "TO GO list". Believe me you will not regret it.
Thank you all for reading,
STAY POSITIVE!