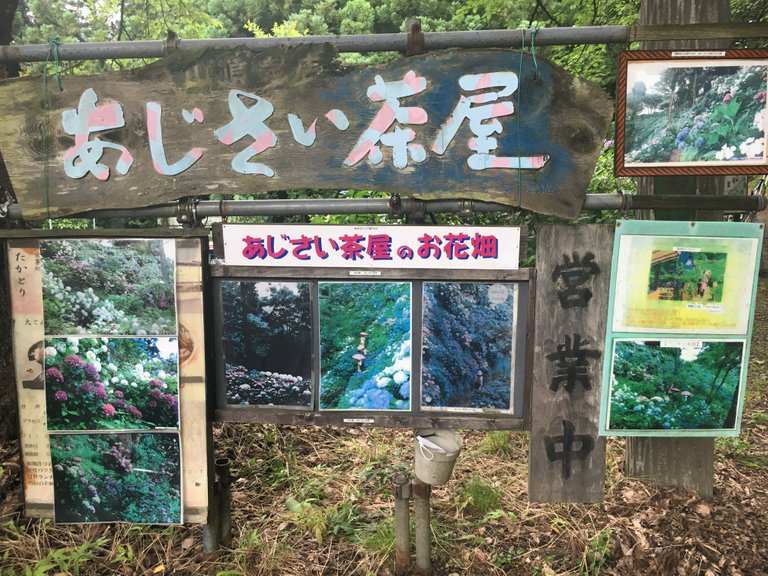 Japan, this doesn't mean only sea, but also mountains, and most of the country is covered by mountain ranges and hills, which forces people to move closer together and jostle in the coastal cities. But fortunately, mountains and forests always invite me to hikes and walks, out there in the nature it's still the most beautiful and I am able to shake off and forget a bit of the stress of the big wide world.
So this time I will take you on a walk again, more precisely to the Gomadoyama Hydrangea Park 護摩堂山あじさい園 (Gomadoyama Ajisai-en), which is located on top of the Gomadoyama, a mountain of the rather lower category. But as we started almost at sea level, it was still a bit of a hike, and not just a simple walk.
Hydrangeas thus, on top of a mountain. Since I had already enjoyed the spectacle last year, I knew what was coming, and that it would be worth it. The thermometer showed around 30 degrees Celsius and it was quite humid, since we are now in the rainy season. But that shouldn't stop us, because the hydrangeas don't bloom for too long, the sky showed its bluer side and it didn't rain. So there was no reason to cancel and postpone our trip and we were all looking forward to a little hike in the forest.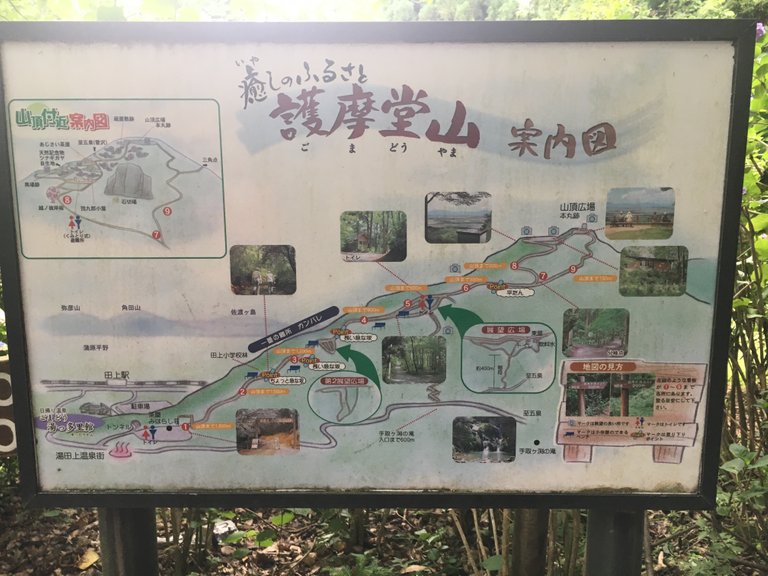 We couldn't miss the way up to the flower park, and we weren't alone there either. It was a Sunday, and on that day most Japanese finally have some time off and catch up on everything they didn't manage during the week.
It was a good 2.5 kilometers in one direction, and even though it was almost all uphill, the way up was actually quite easy to manage. If there wasn't that extra 15 kilos of "luggage" which I had to hold in my arms in carry every now and then. And in this weather, this "luggage" then also acted like a small heater, which may be quite pleasant in the winter. But nevertheless everything was well to manage and the way up was already fun.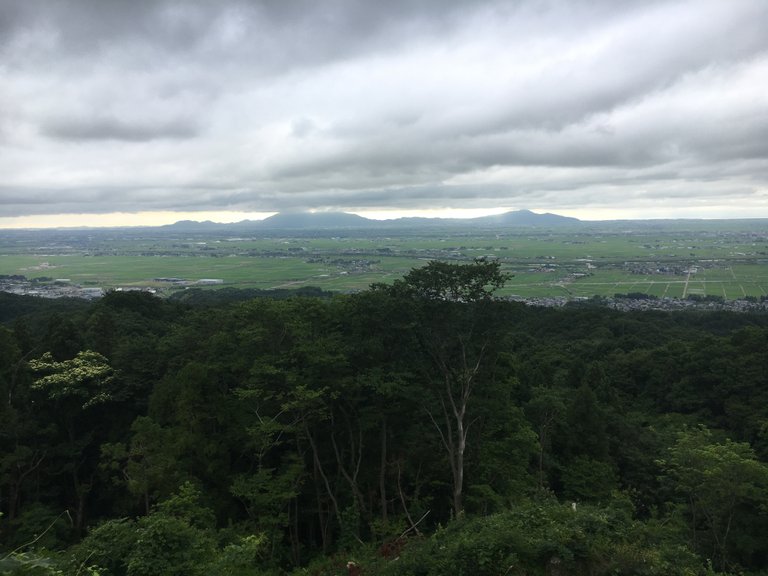 And from there we were offered this nice view. Behind the mountains in the distance is the Sea of Japan and in between you can sea a part of the rice chamber of Japan, where the grow the great Koshihikari rice.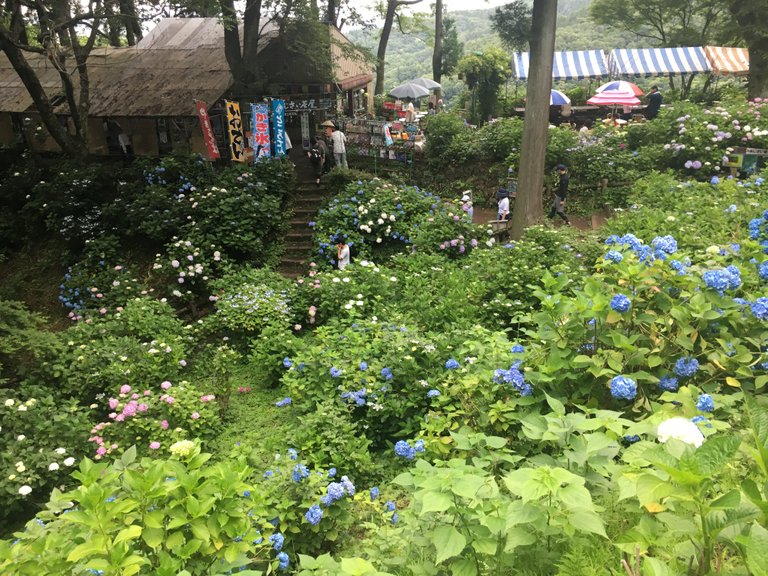 And then the spectacle began. Hundreds of hydrangea bushes lined the path and the slopes, and bloomed in many colors. The operator of the hut in the background told us that he himself started planting and caring for the hydrangeas here over 40 years ago. Due to his age and some infirmities, the municipality has taken over some part up here now, and he also managed that it looked much more delighful back in the days.
It was still wonderful though, as you can see well on the next pictures.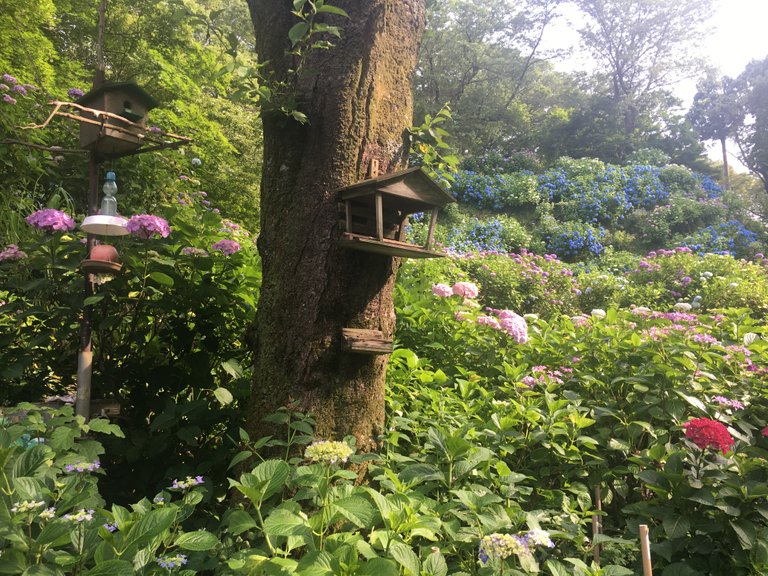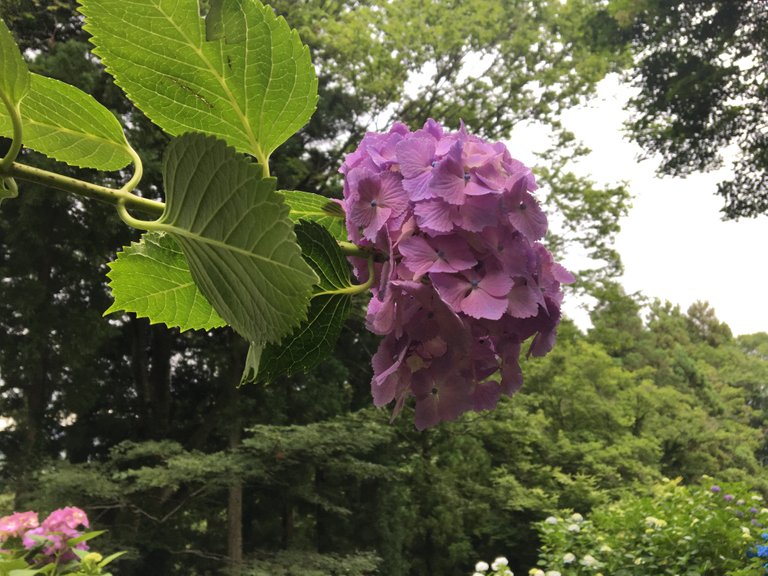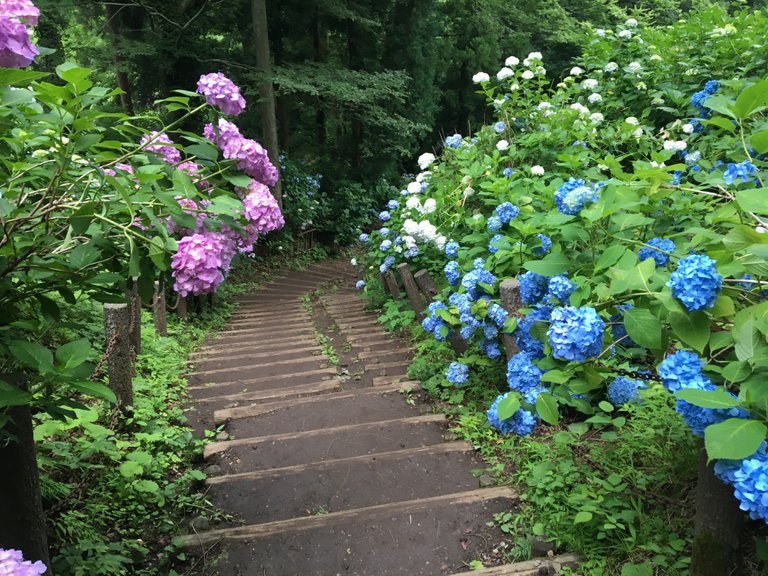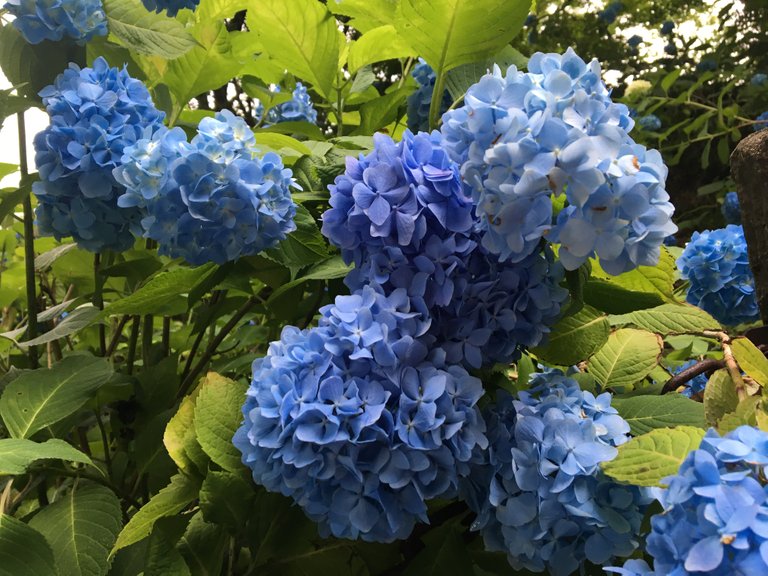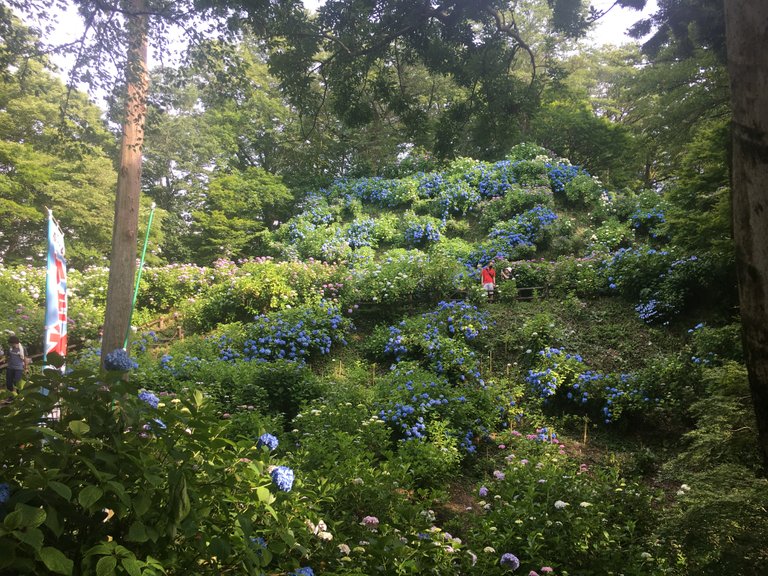 So the walk up here was well worth it again, and actually we didn't want to go back. Of course, we took our time and enjoyed looking and strolling around, because we probably won't get up here again so quickly. Probably not until next year, and then it will certainly be beautiful again.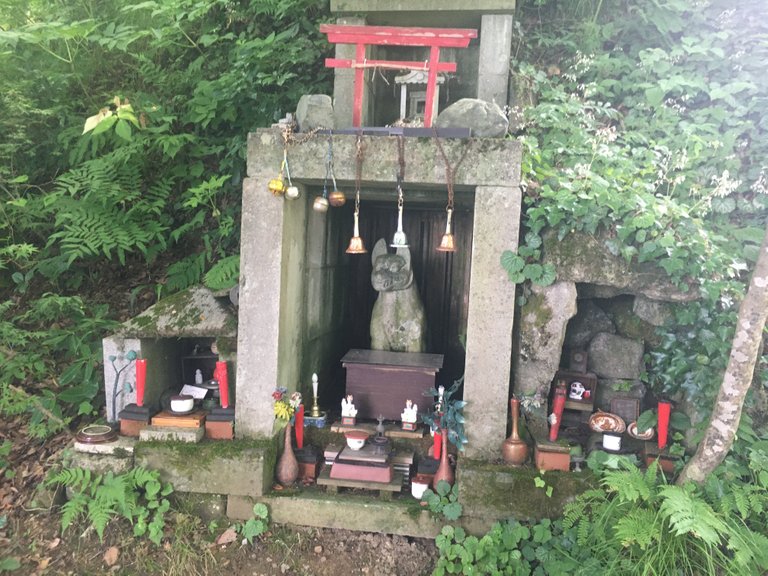 And there was also a rather small shrine to find, it was a bit hidden but actually almost in front of our eyes. This shrine was dedicated to the fox goddess Inari, who is revered as a fertility goddess.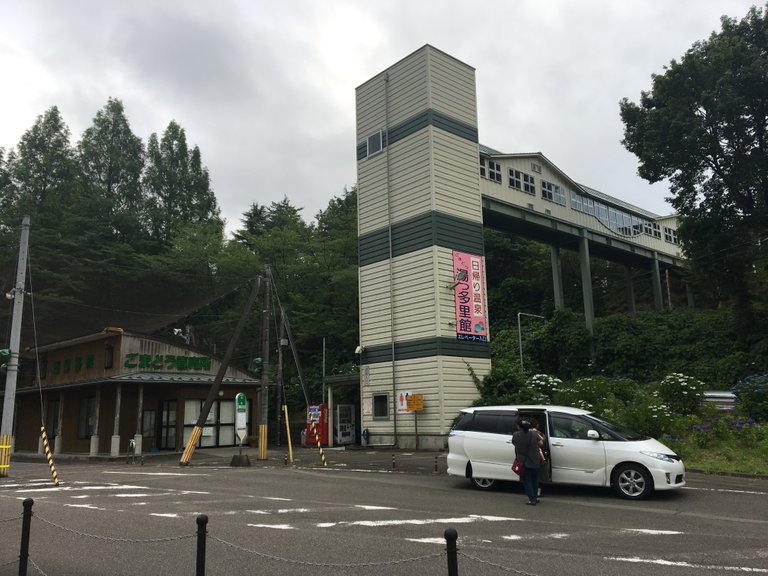 At the end of the hike, you can see this construction which serves as the gateway to an onsen, a thermal bath. Whoever wanted could still indulge in a warm bath, to relax their tired limbs. But with the prevailing temperatures this was not really inviting to us, and we were not that tired either.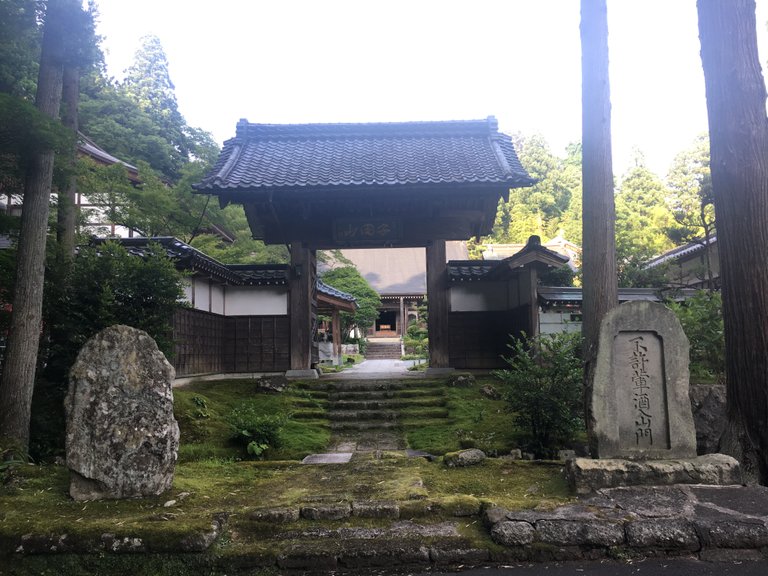 Instead, after we were back at the foot of the mountain and at our starting point, we made a small detour, because we still had enough power and desire to look at a small temple, which was located right next to our path. The Sotoshu Ankokuyama Toryu Ji Temple 曹洞宗 安國山 東龍寺 had already caught my interest last year, but this time our curiosity had won out and we took a detour before heading back to the car.
Sotoshu Ankokuyama Toryu Ji - the name of this temple already is a statement, and from a distance, surrounded by so much greenery, this temple looked inviting and very relaxing. I was particularly taken with this moss carpet, it exudes such a special, slightly mystical charm.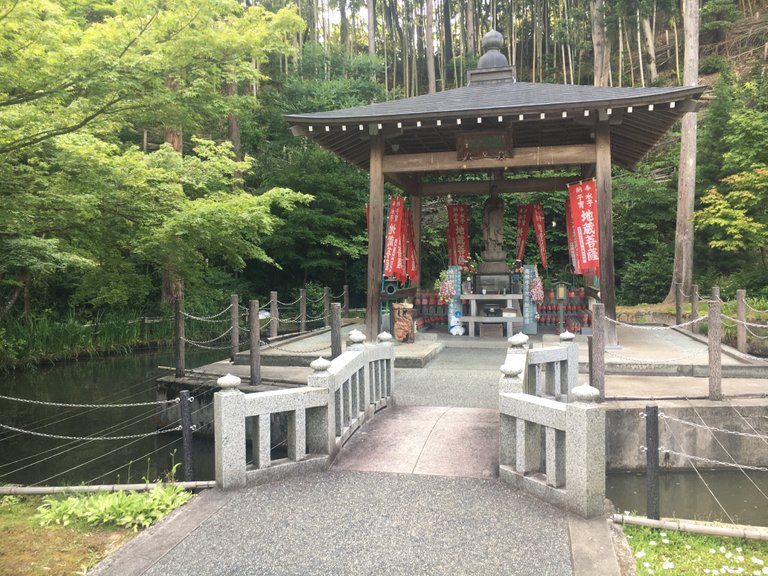 In the temple area, there were several statues from Buddhist mythology and the whole complex almost seemed a bit fairytale-like. When we strolled through here, we were also all alone, which had enhanced and intensified the whole feeling.
But let's let the Sotoshu Ankokuyama Toryu Ji work its magic on us...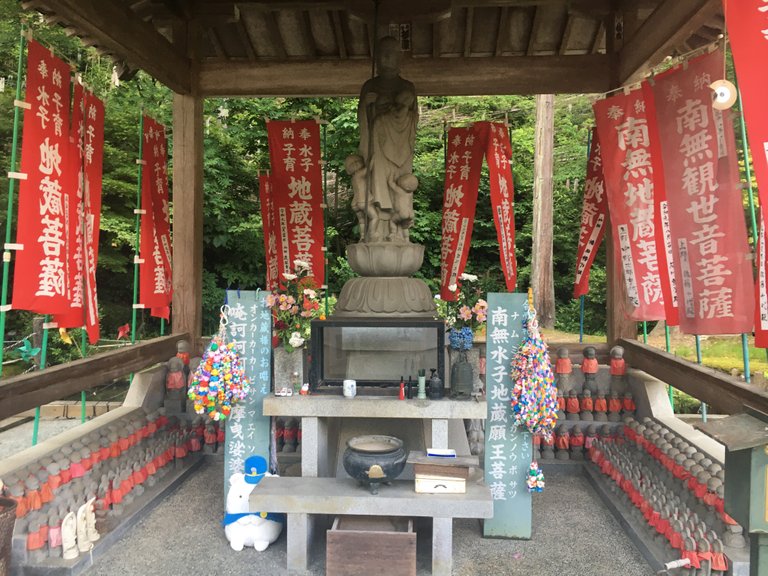 This place is dedicated to the welfare of mother and child. Children seem to play a special role in Buddhism, as they do in real life.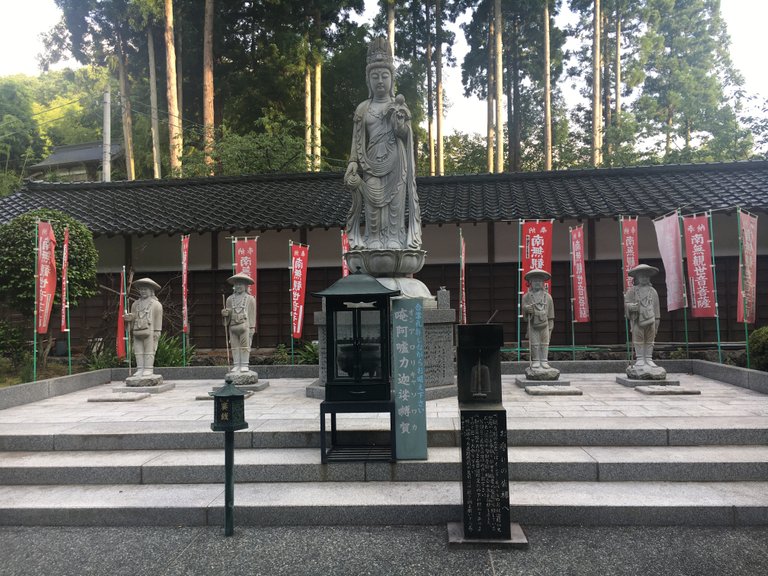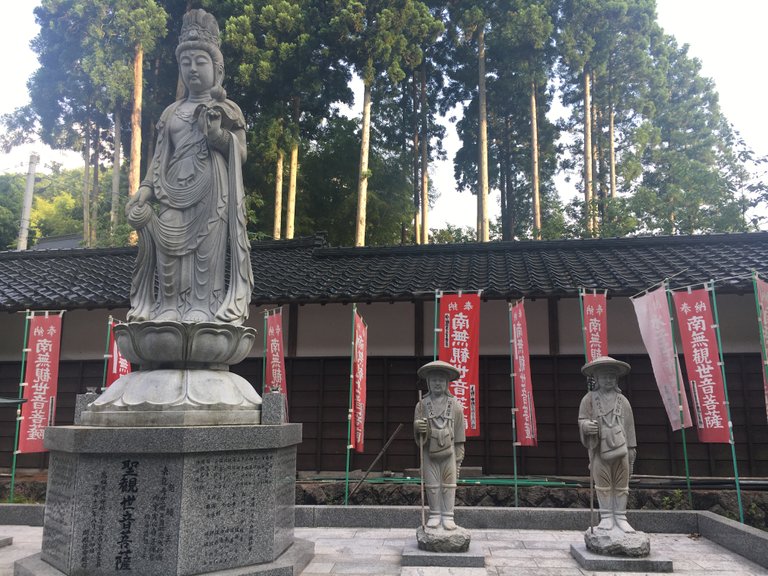 Around the 6th or 7th century, Buddhism came to Japan from Korea and China and quickly spread here through the country. Over time, various schools and sects have emerged, but most of them coexist rather harmoniously.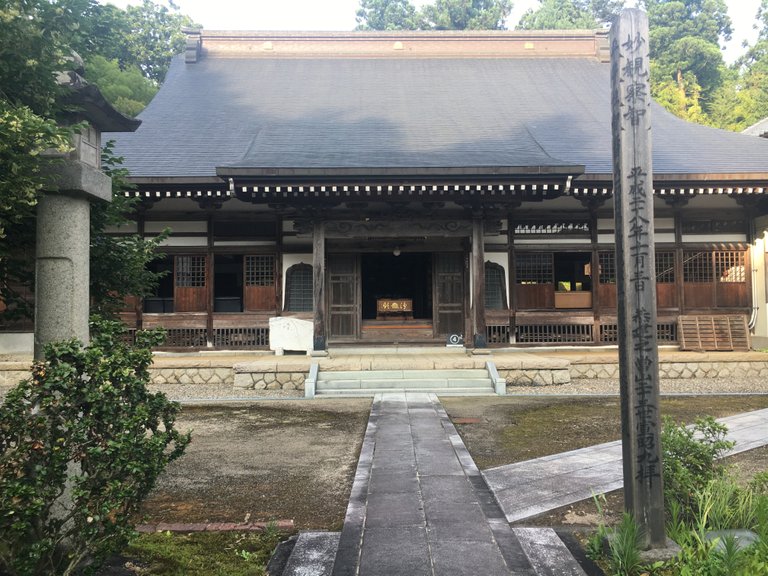 The main hall of the temple, which was interestingly decorated from the inside, but out of respect I refrained from taking pictures here.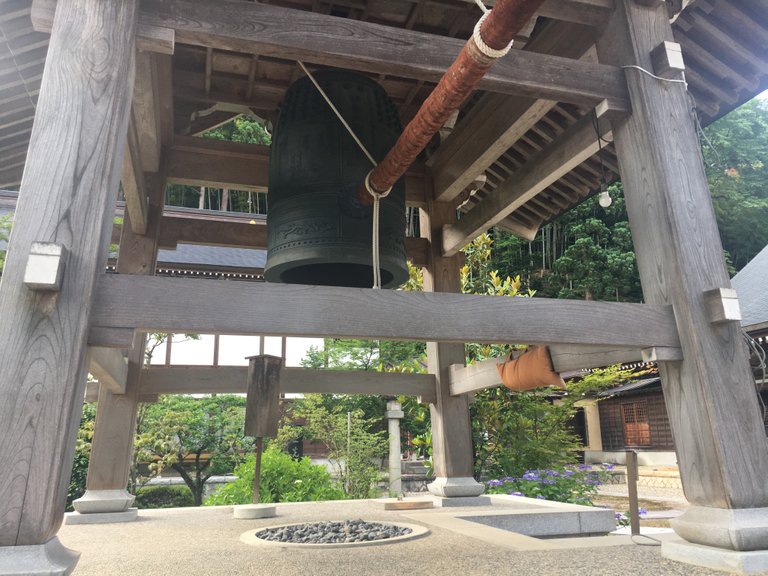 And what is a temple without a proper bell. Yes, of course, I would also like to ring this bell, but this fun will probably be denied to me until eternity.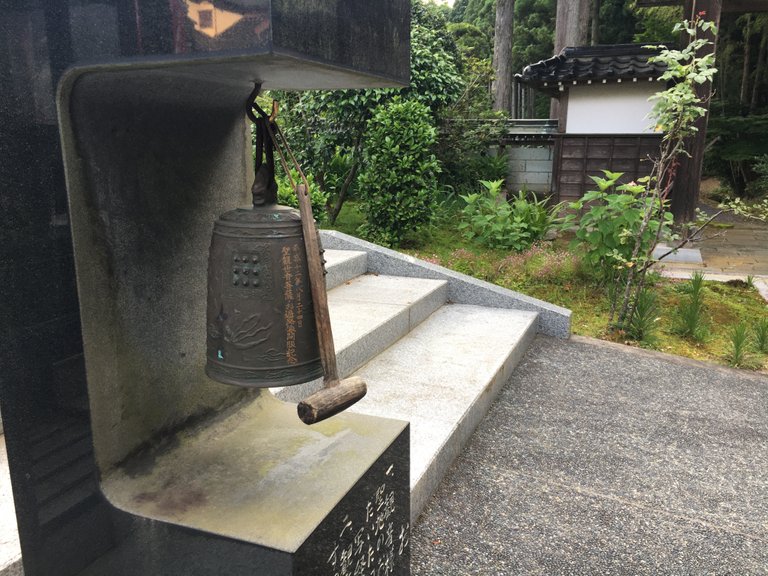 You can try to start with this little bell. After a prayer you sometimes clap your hands, at other times you ring a bell. Here in Japan this is the same way in Shintoism, when you want to end your prayer.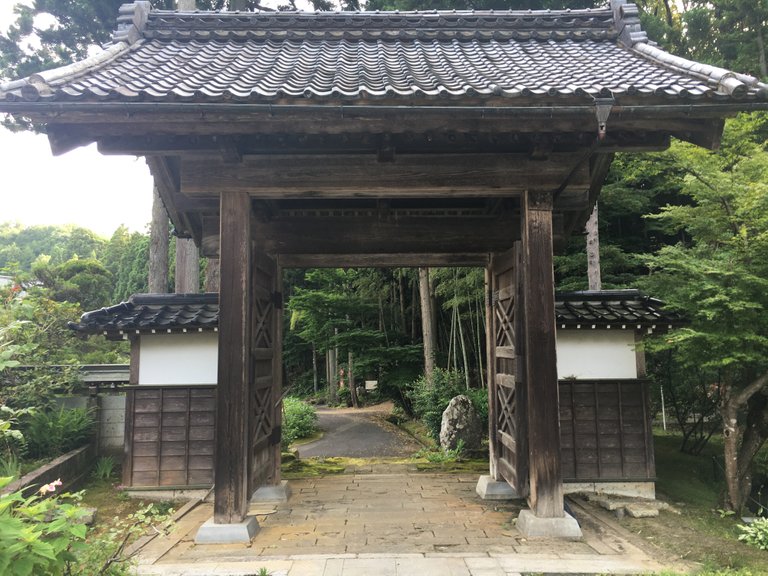 From the inside, the entrance gate completes the overall impression perfectly, this temple is another special place I was lucky enough to visit. You just have to let your thoughts and feelings guide you every now and then, then you will find all the wonderful places, even in your own neighborhood.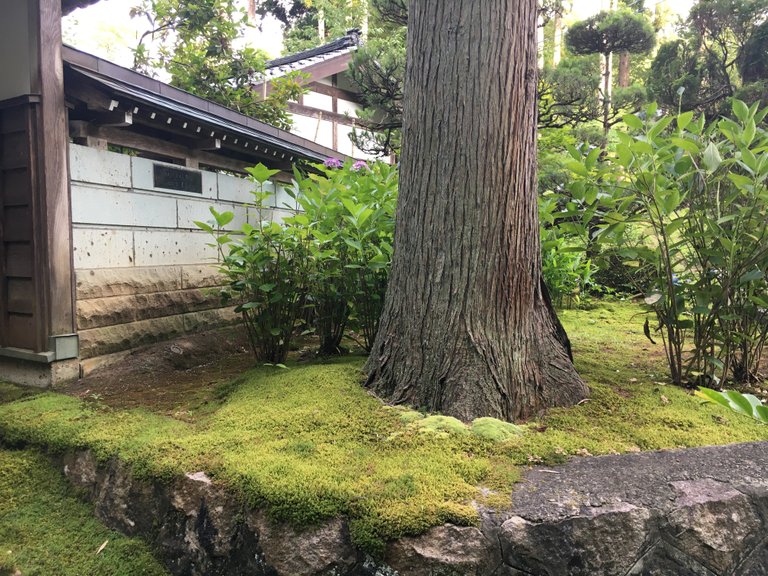 Oh this moss carpet! I guess it doesn't really come through in the pictures, but to me this green floor looks simply attractive and fascinating. And then those tall and majestic trees, some places are just gorgeous!
That's it for today, I hope I could share a little of the mood that had surrounded us on our last trip. I'll be back soon with new pictures and impressions from the land of the rising sun, as there is still a lot to see and share.
またね matane


[//]:# (!pinmapple 37.717503 lat 139.099446 long Ajisai-Park and Sotoshu Ankokuyama Toryu Temple d3scr)