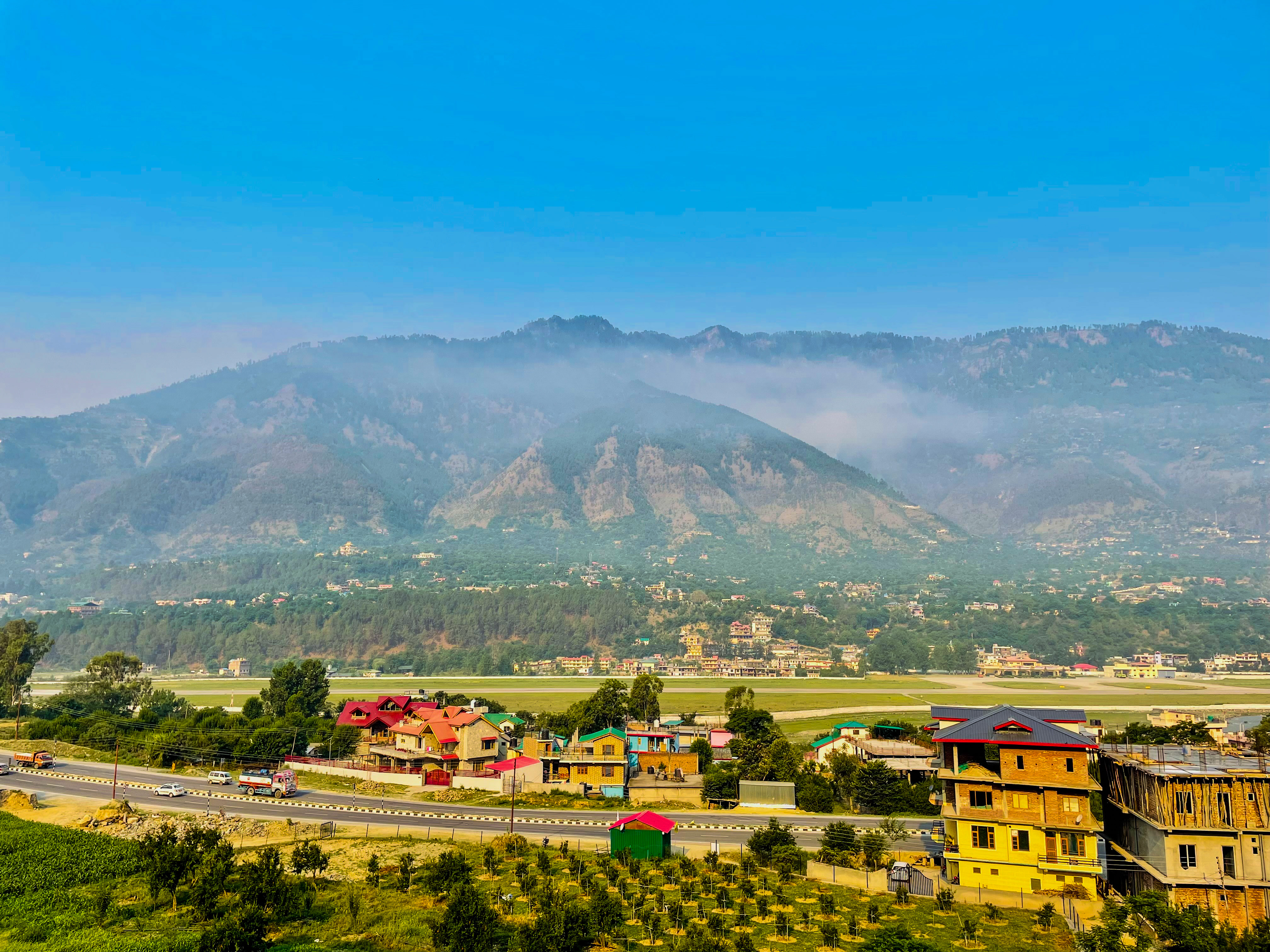 Hello Everyone,
A long while since I have visited Bhuntar. A place which was the capital trade centre for fruits and vegetables a long while ago for the whole District of Kullu. Bhuntar is also known as a Summer Paradise of Himalayas by the people of Kullu Valley.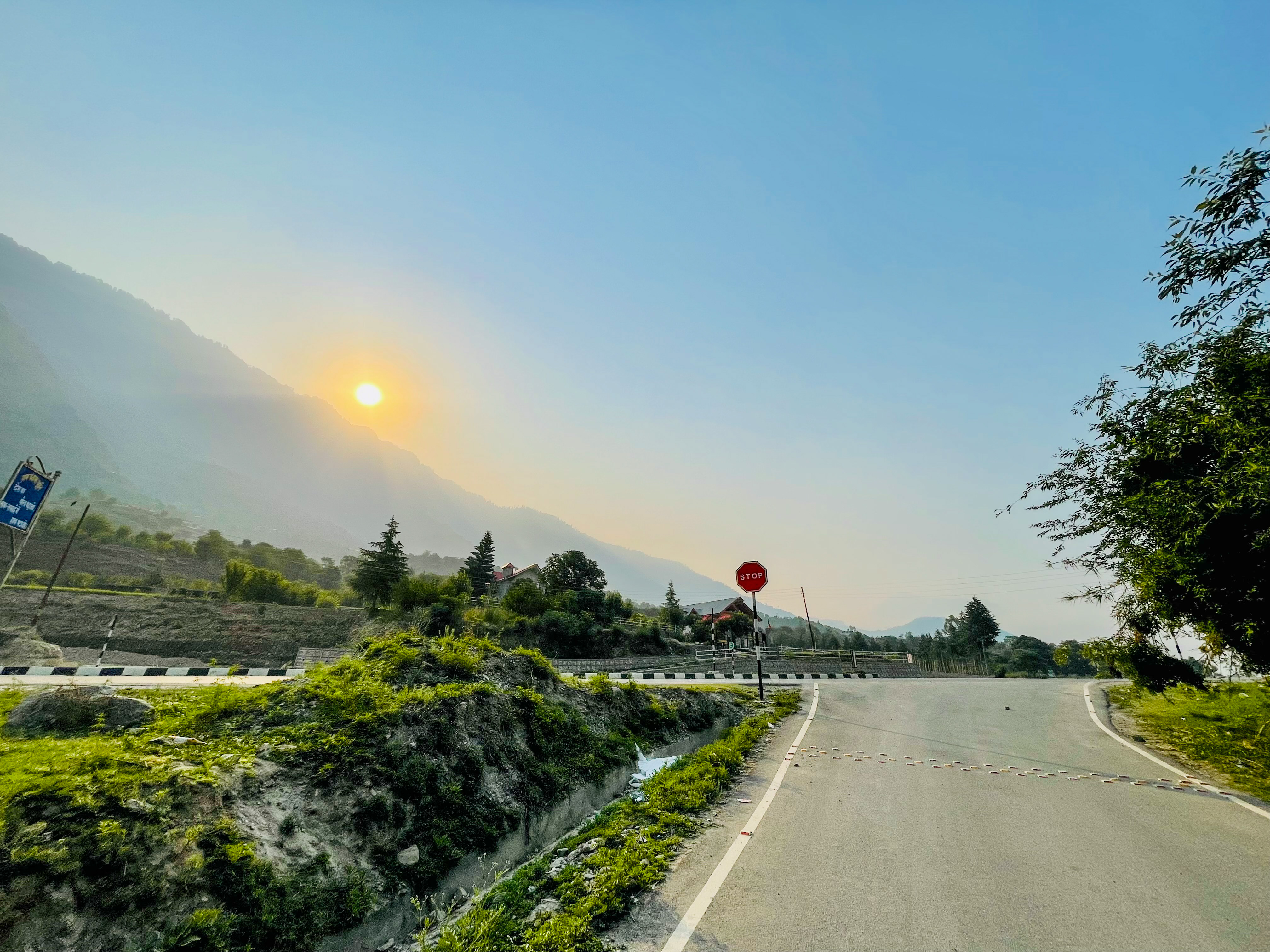 A lot of changes took place over time. When I visited this place I was just so amazed to see that this place was nothing as what It used to be...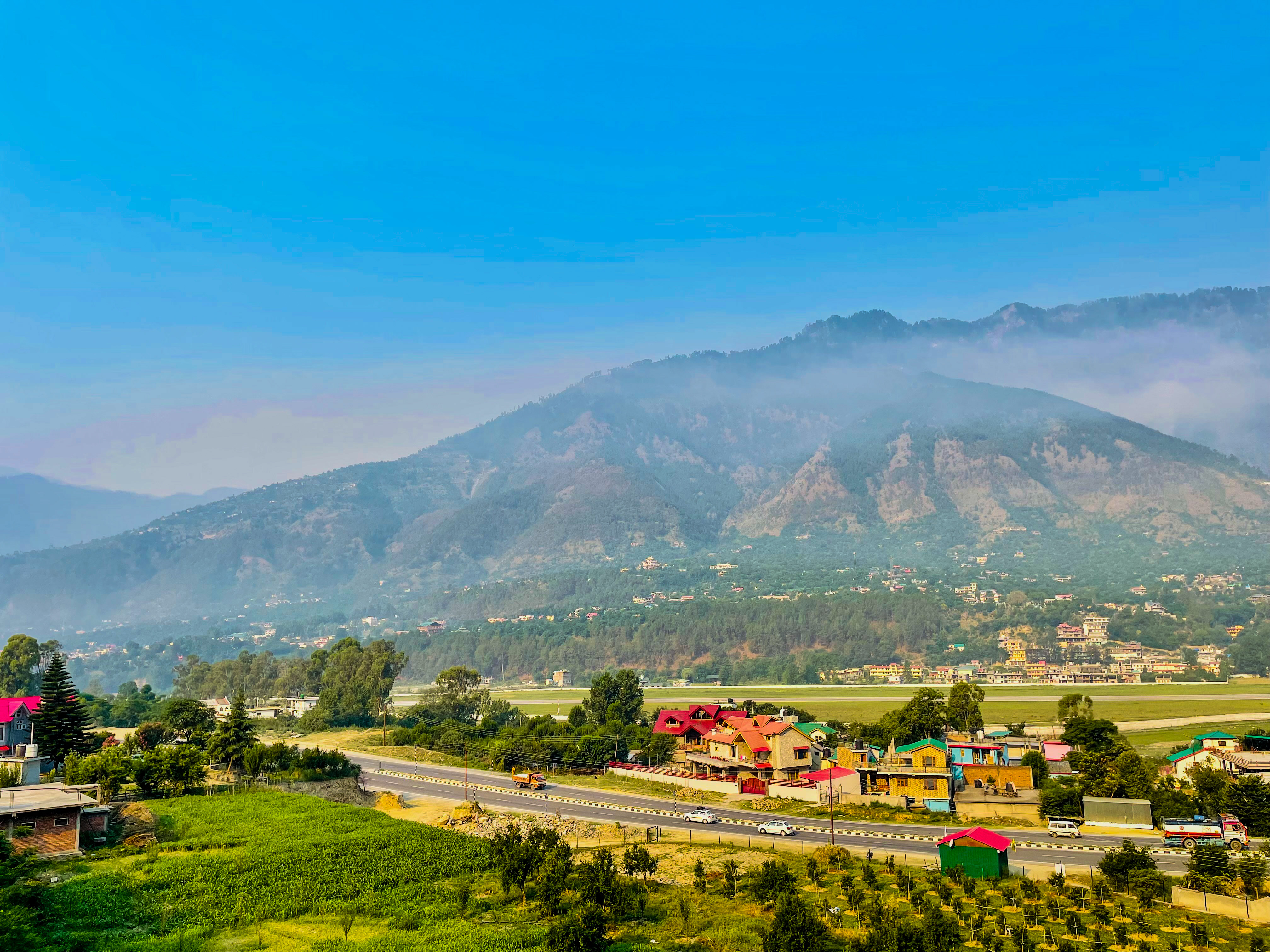 The construction of new houses of modern style took place... The new four lane highway made to transportation facility so easy and relaxing. The airport which is seen in font of this village also changed this whole region.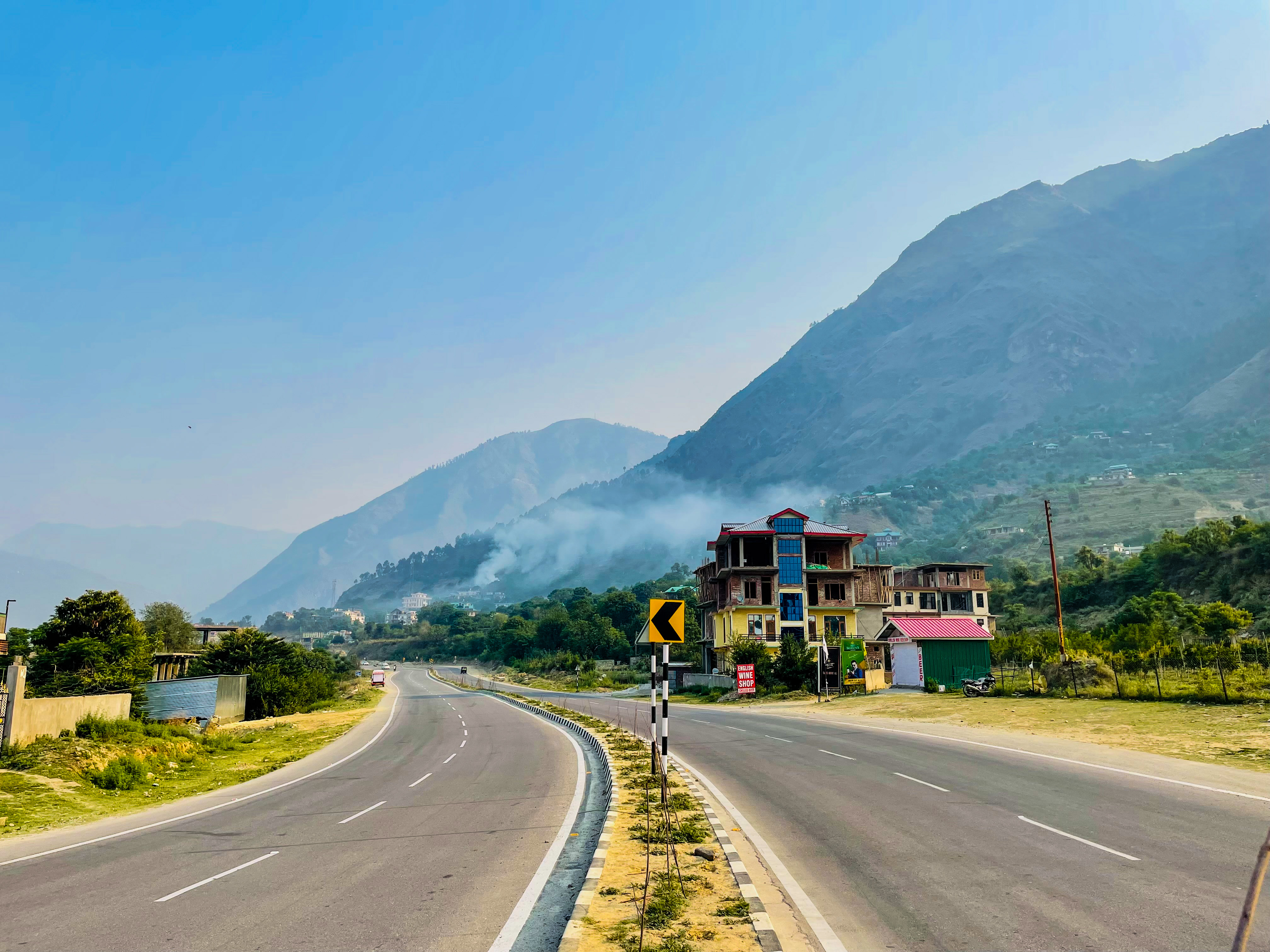 Almost all the cars were just running above the speed of 100 on this Himalayan Road. To be very honest after construction of this highway It was just a whole new new experience driving... With the few of the best views of the whole valley.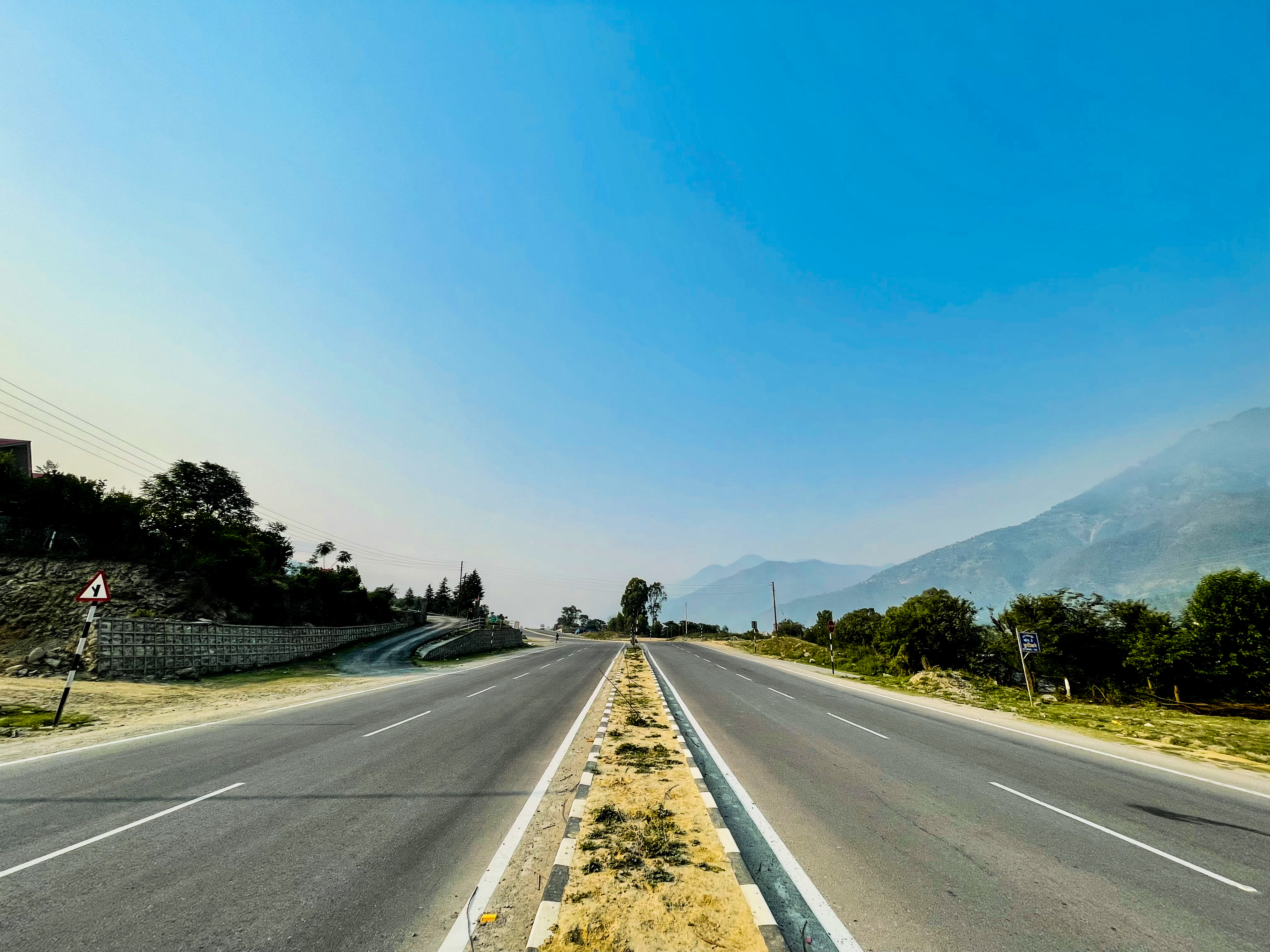 Few of the trees were also planted between the separated land between the road. Which means that after around 10 years this whole lane will be separated by the natural separator which will the the huge wild pine trees.
So it was around 7 o'clock in the morning, I decided to explore this place without knowing that where to go. I visited Bhuntar yesterday evening and stayed a night at this place. I was just planning my expedition to this wonderland so this weekend I finally got a chance too..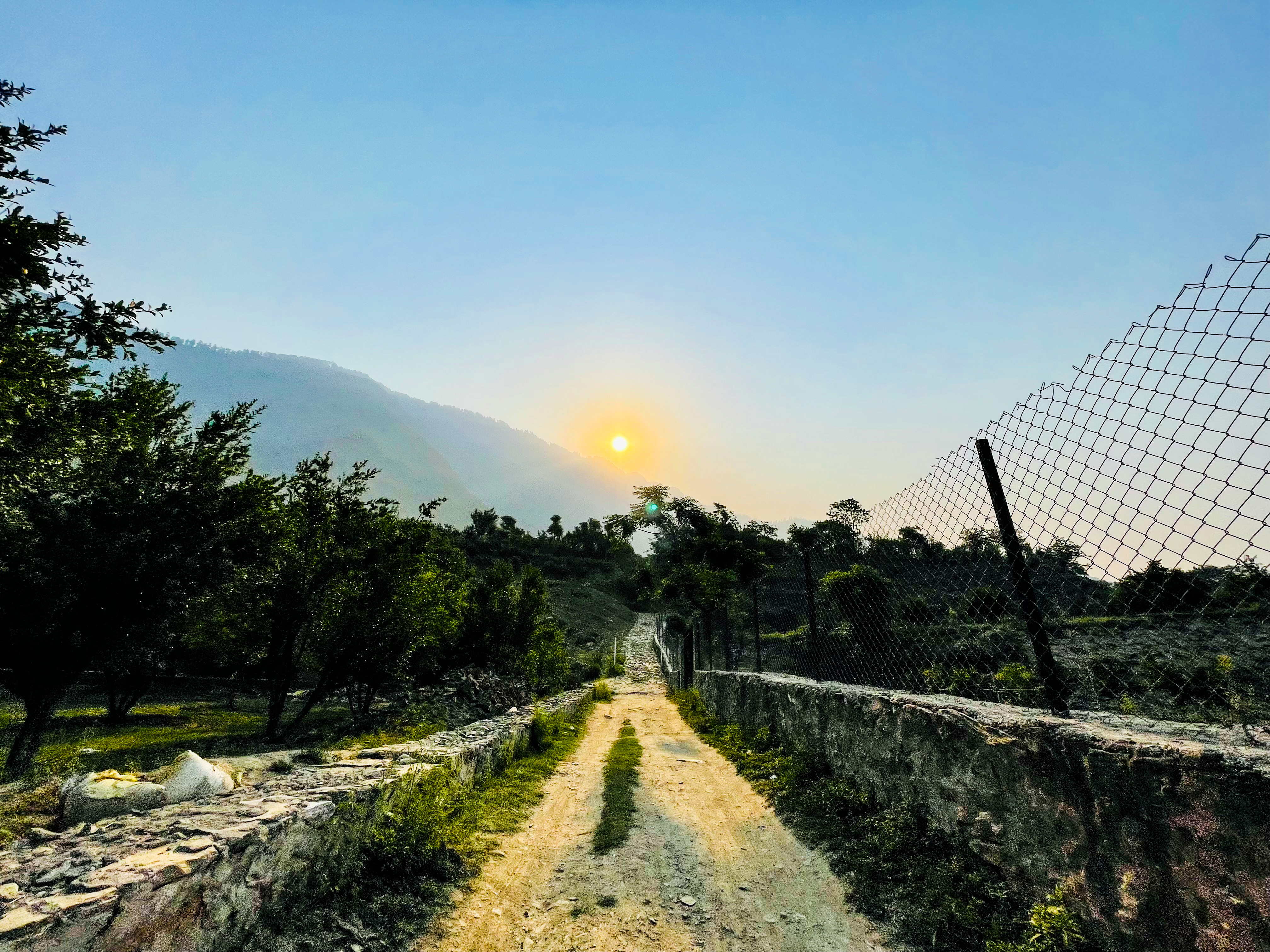 So while walking by the highway I saw this path, it was going to the top of the little cliff which could be seen in front. So I was ready for the adventure. Took my camera.. wiped and cleaned the lens and started capturing my journey..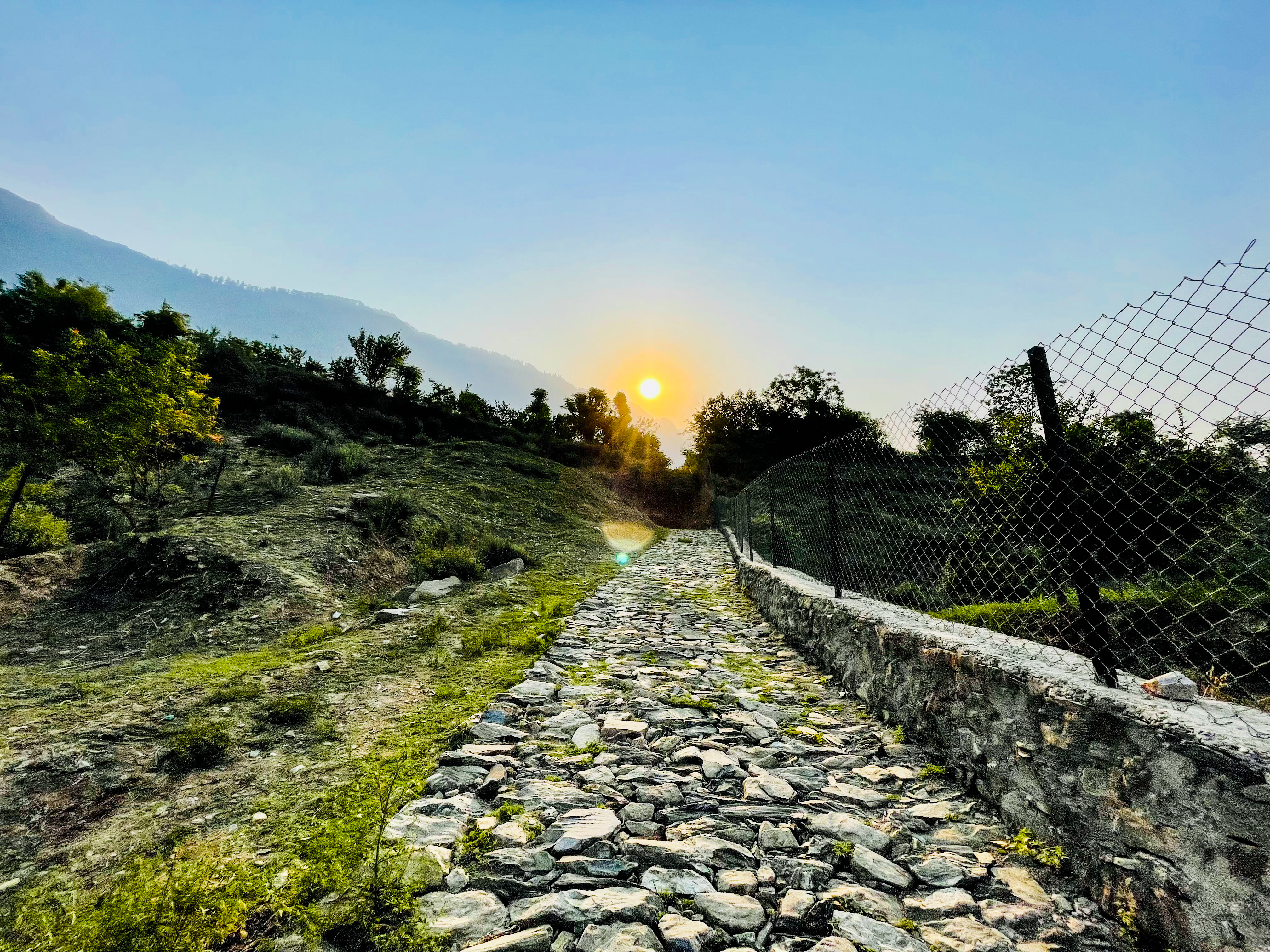 After covering the dry muddy portion of road I came across this Stoney path. As per the geography I think there used to be a huge rock at this place which was broken into pices and filled this road to decrease its elevation.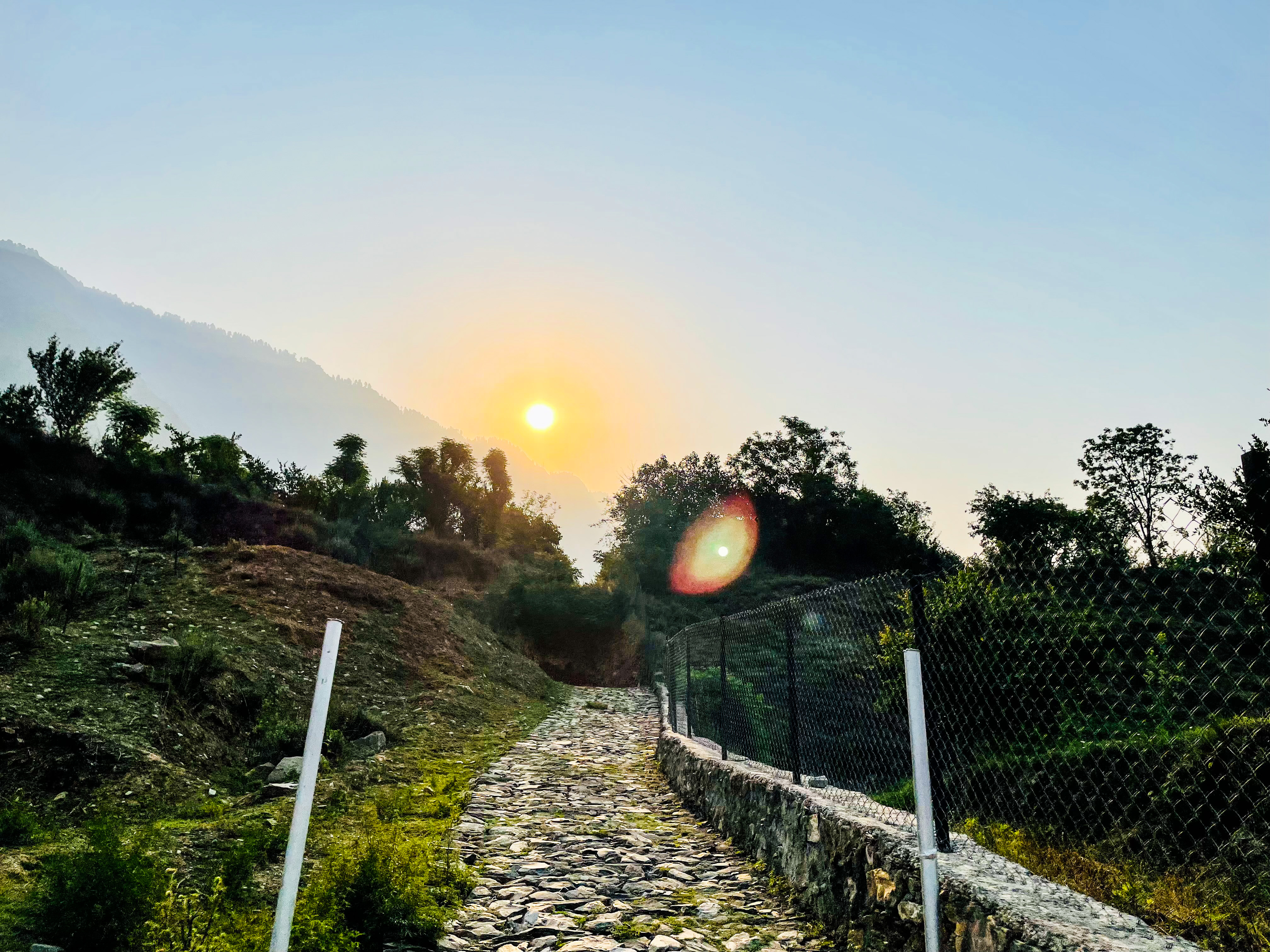 The sun was shining so brightly as the sunrise look place just few minutes from now. The wind was so fresh and soothing. This while moment was not less than heaven.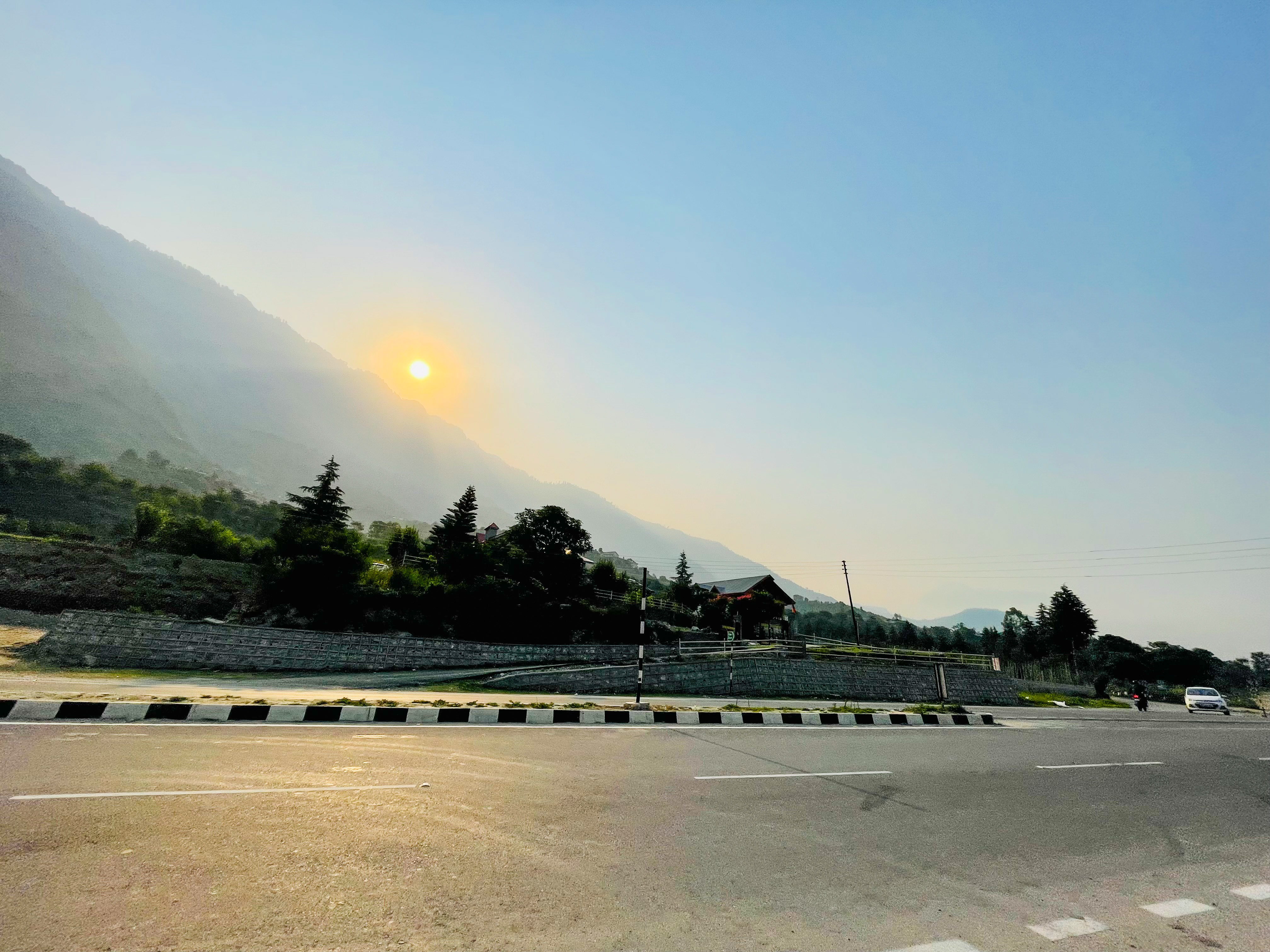 A photograph captured by me right after the Sunrise at 7:12AM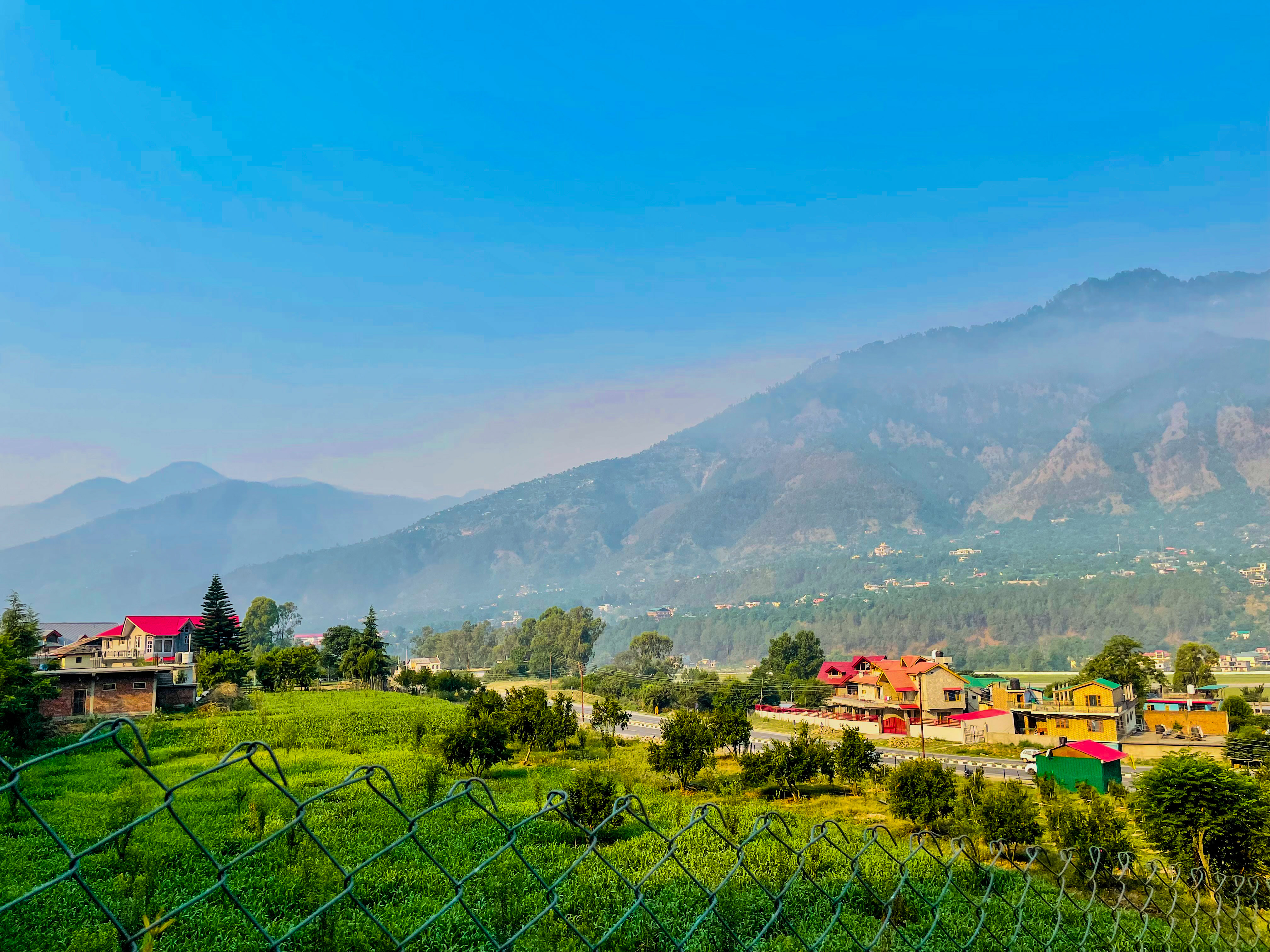 The sky was all blue....The fields were all lush green..The weather was all pleasant. In other words it was just a lovely day.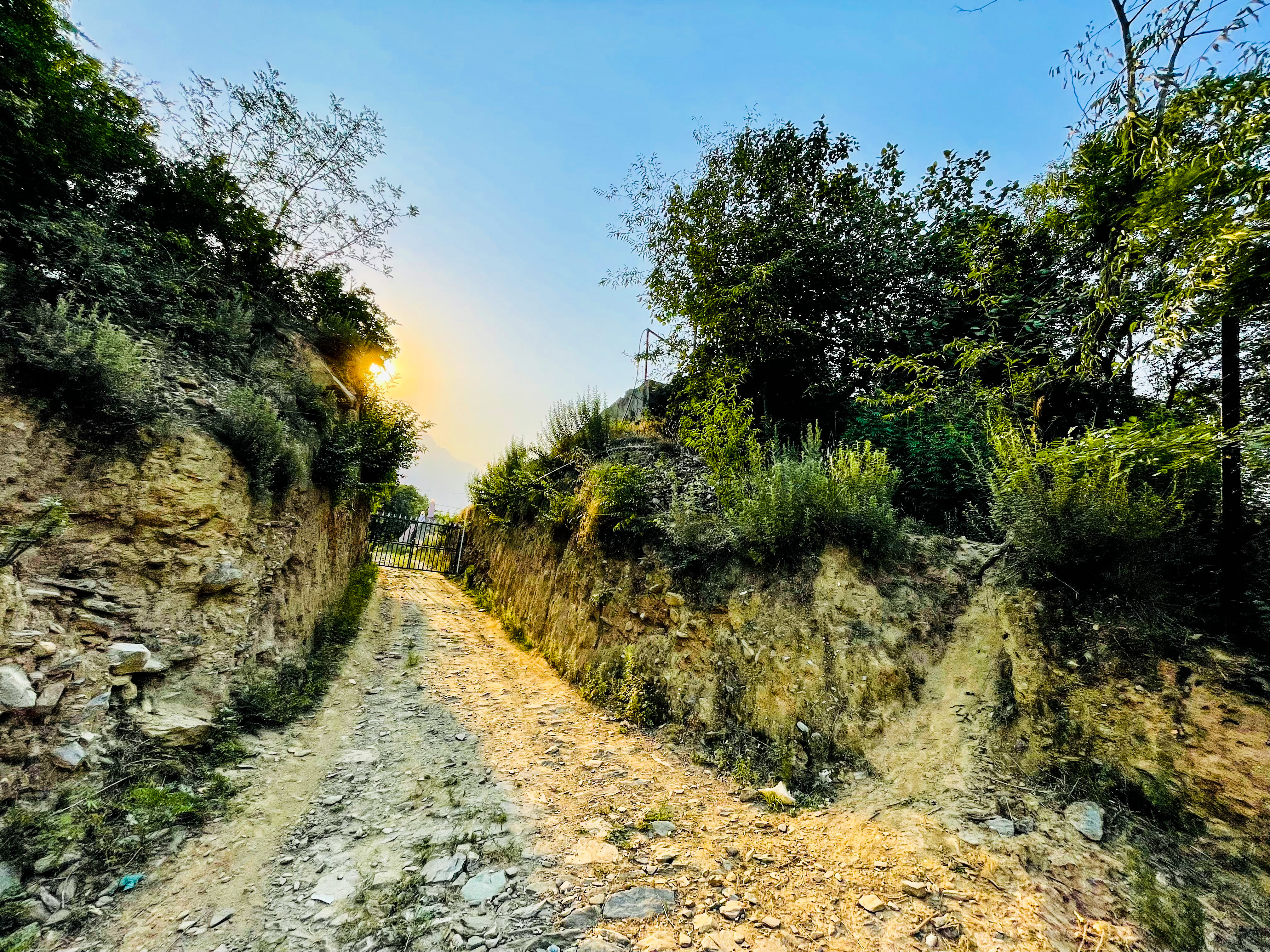 So I finally covered up the whole distance of the pathway which was to the top of the cliff. After reaching I came to know that after this there was a private farm and the gate of that farm was closed. I had a conversation with the gatekeeper of the farm and he told me to take the path which was the second one form this place.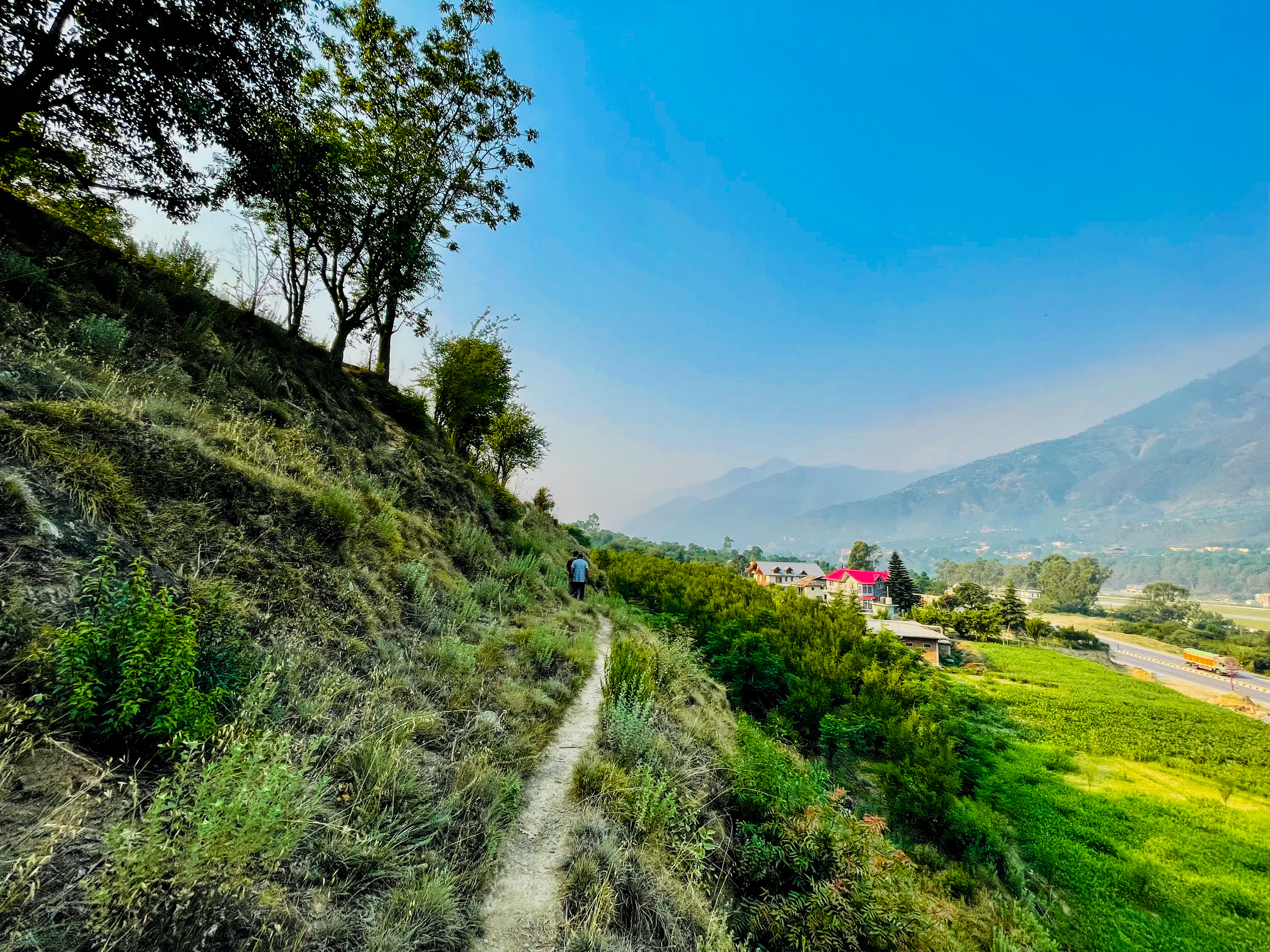 The gatekeeper told that this pathway will take me the oldest farm of this
whole region which was the first-place where organic fruits and veggies where planted using a great research.
The pathway was really very narrow and at a few places it was steep and a few places it was gentle.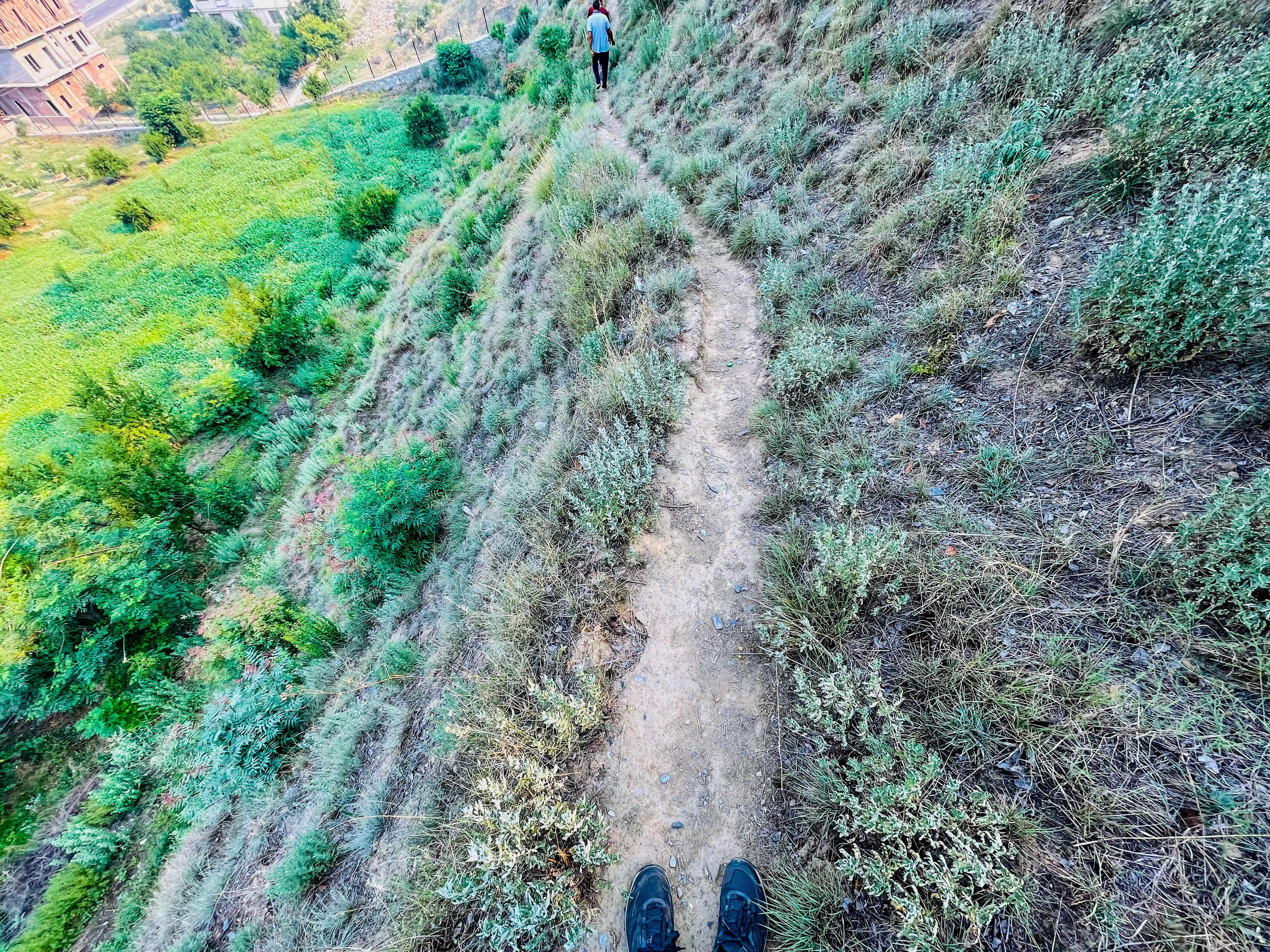 This whole pathway was running by the side of this steep cliff which we climbed till now by the road.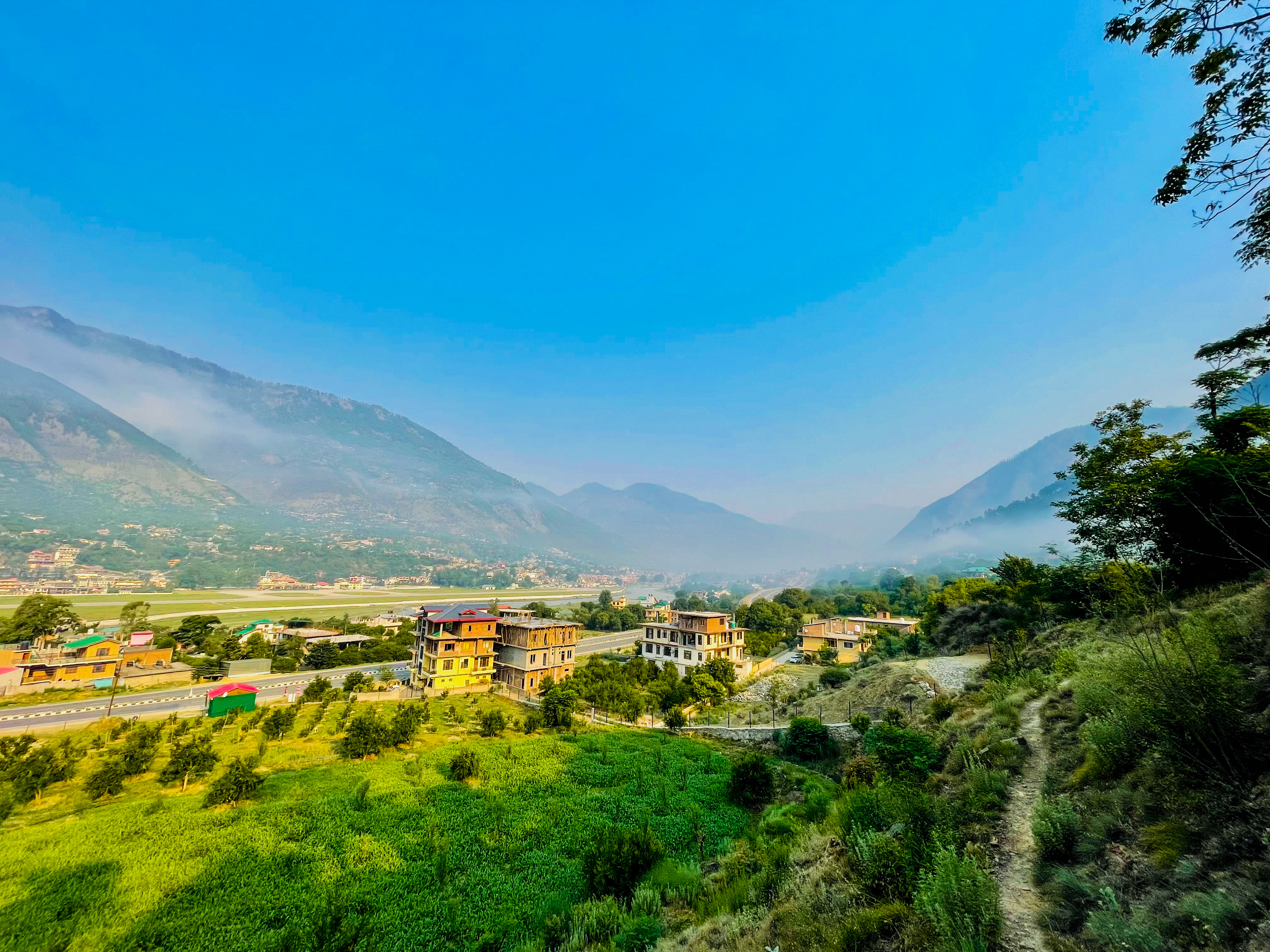 As we were covering up the distance the view was getting more heavenly.. The places which were far away were also visible now...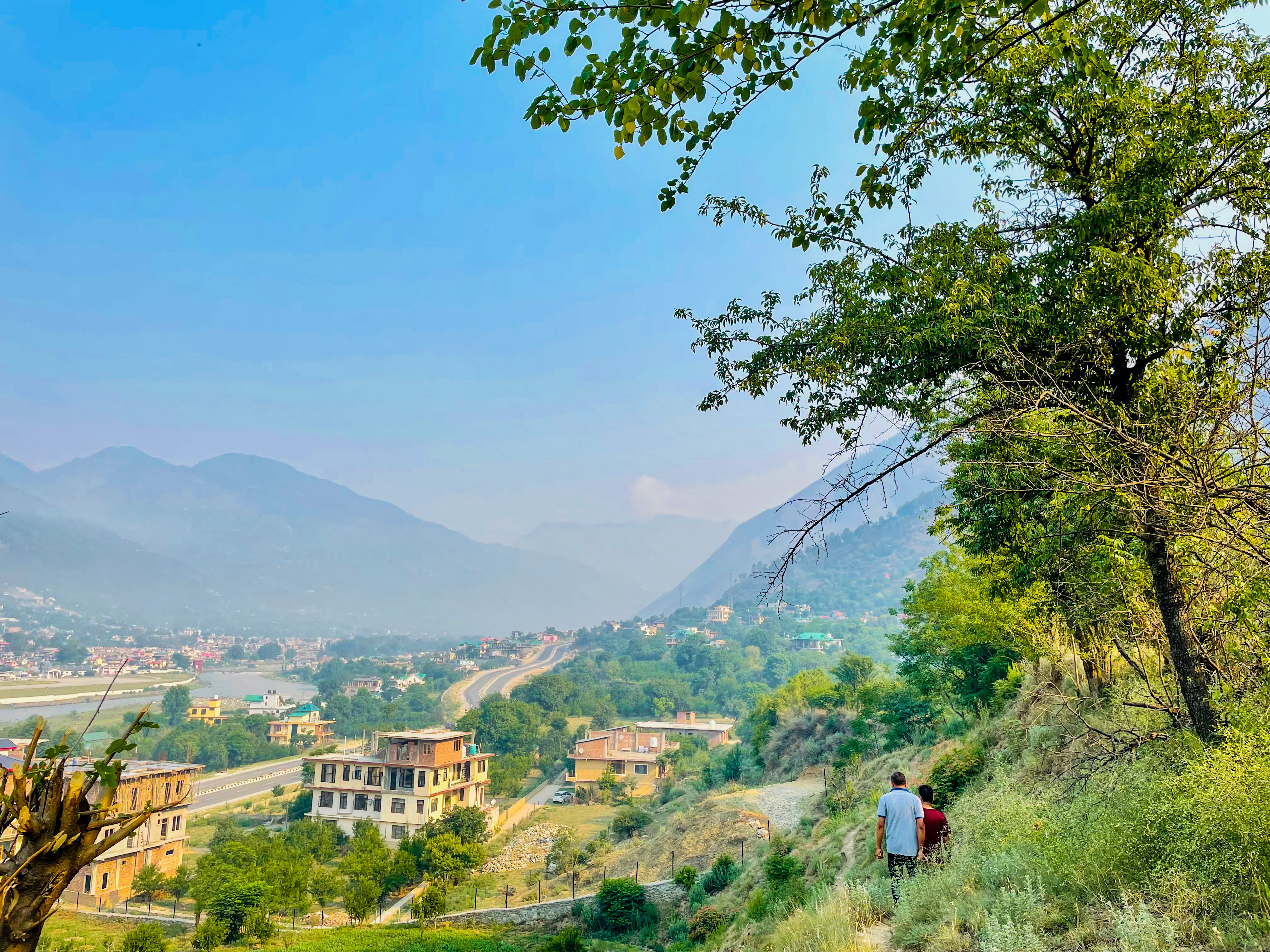 While walking through this path A thought came into my mind that a lot of modernisations has taken place but few of the places are still the same and will be the same forever. As these huge mountains are still the same and will be the same and the ancient pathways will too stay the same unless they will be disturbed.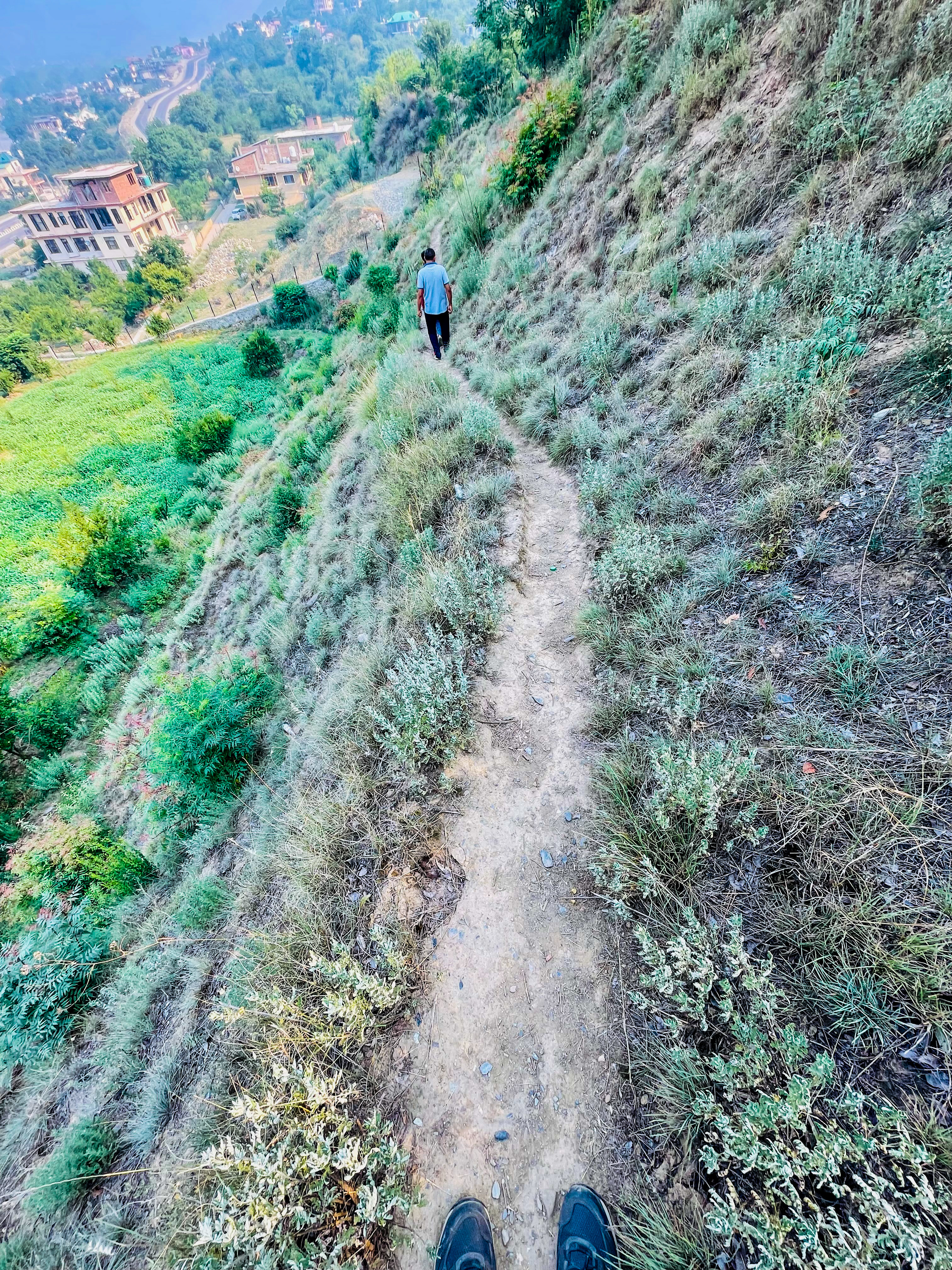 It was just a whole new refreshing moment for me, I did walked through narrow paths like these but they were on the plain land. This was just a heavenly wonder to walk over this ancient path.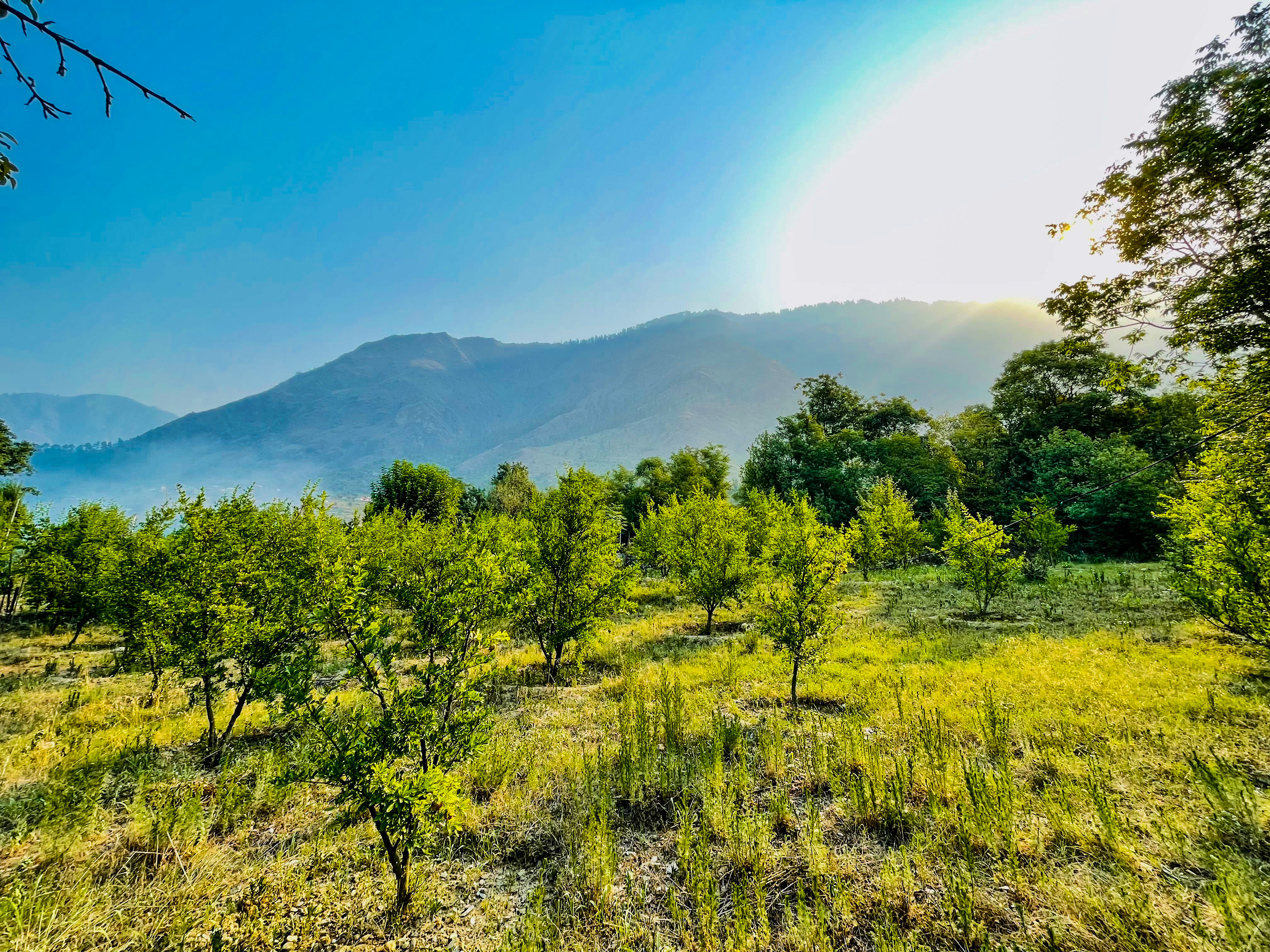 After covering up the whole path till now, I reached at this orchard. As the gatekeeper told me that this is the oldest farm in this whole region. New plantation of the Pomegranate trees was done as this place.
By looking at this farm It seems like that a new plantation has been done at this place. Almost all the trees which were planted were young and were almost ready to give fruit.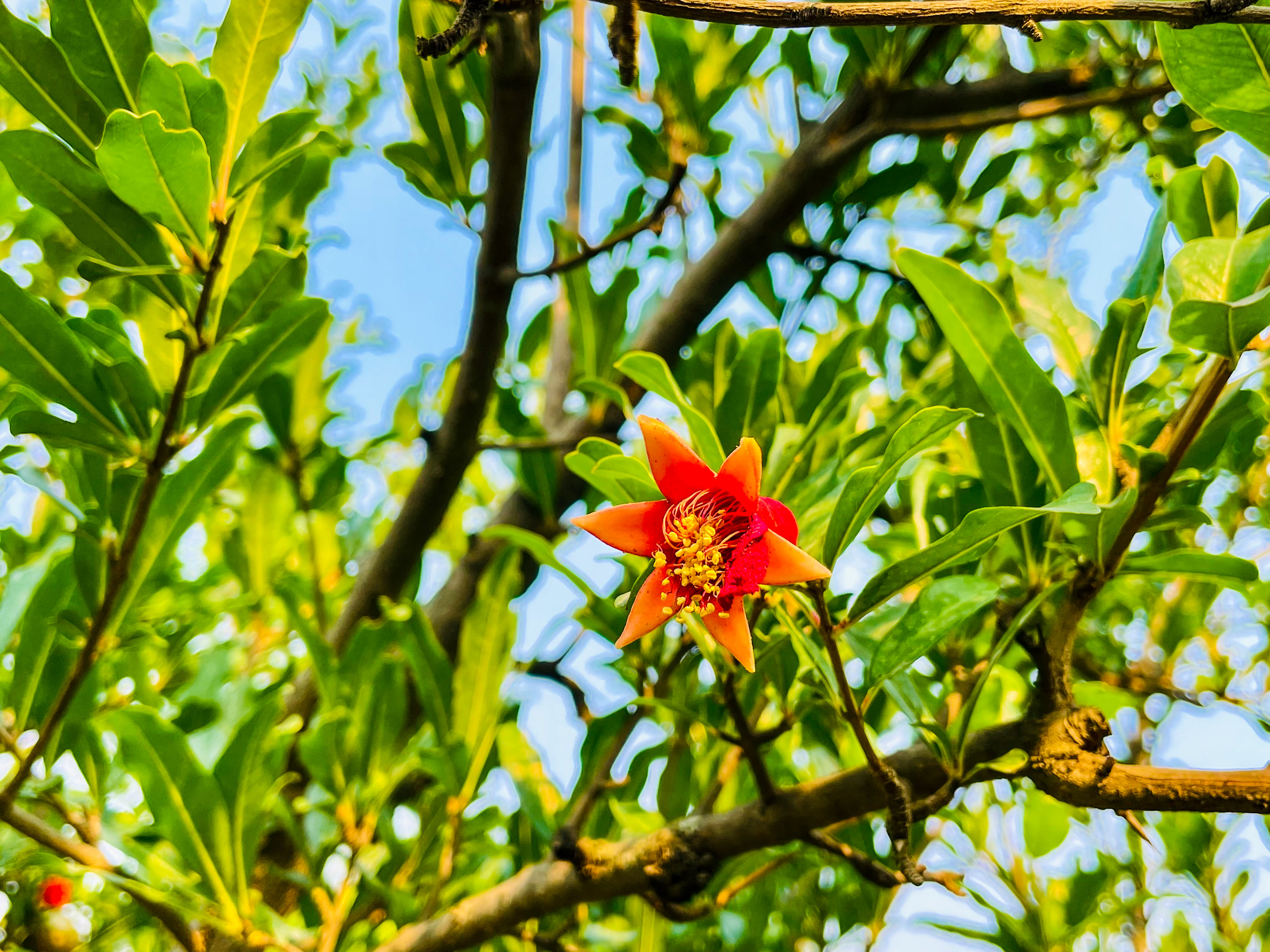 When I came closer to the plants I saw that few of the plants were still at their blossom stage and few of them were truly developed into tiny pomegranates.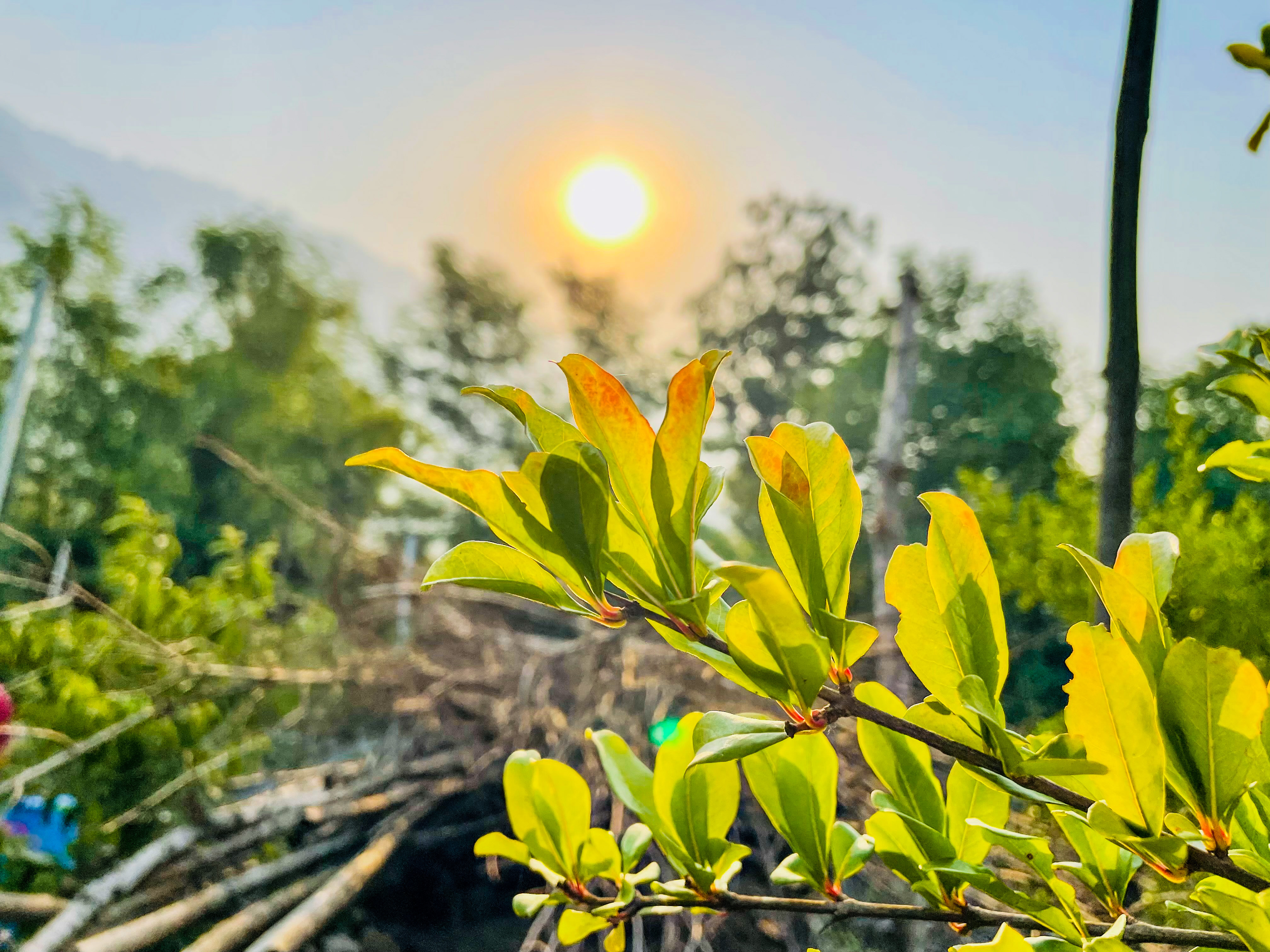 The leaves of all these pomegranate plants were all fully grown. The sun was shining so brightly over the leaves and the leaves were too shining so brightly making this a magical moment. The true essence of happiness was visible on all of these leaves.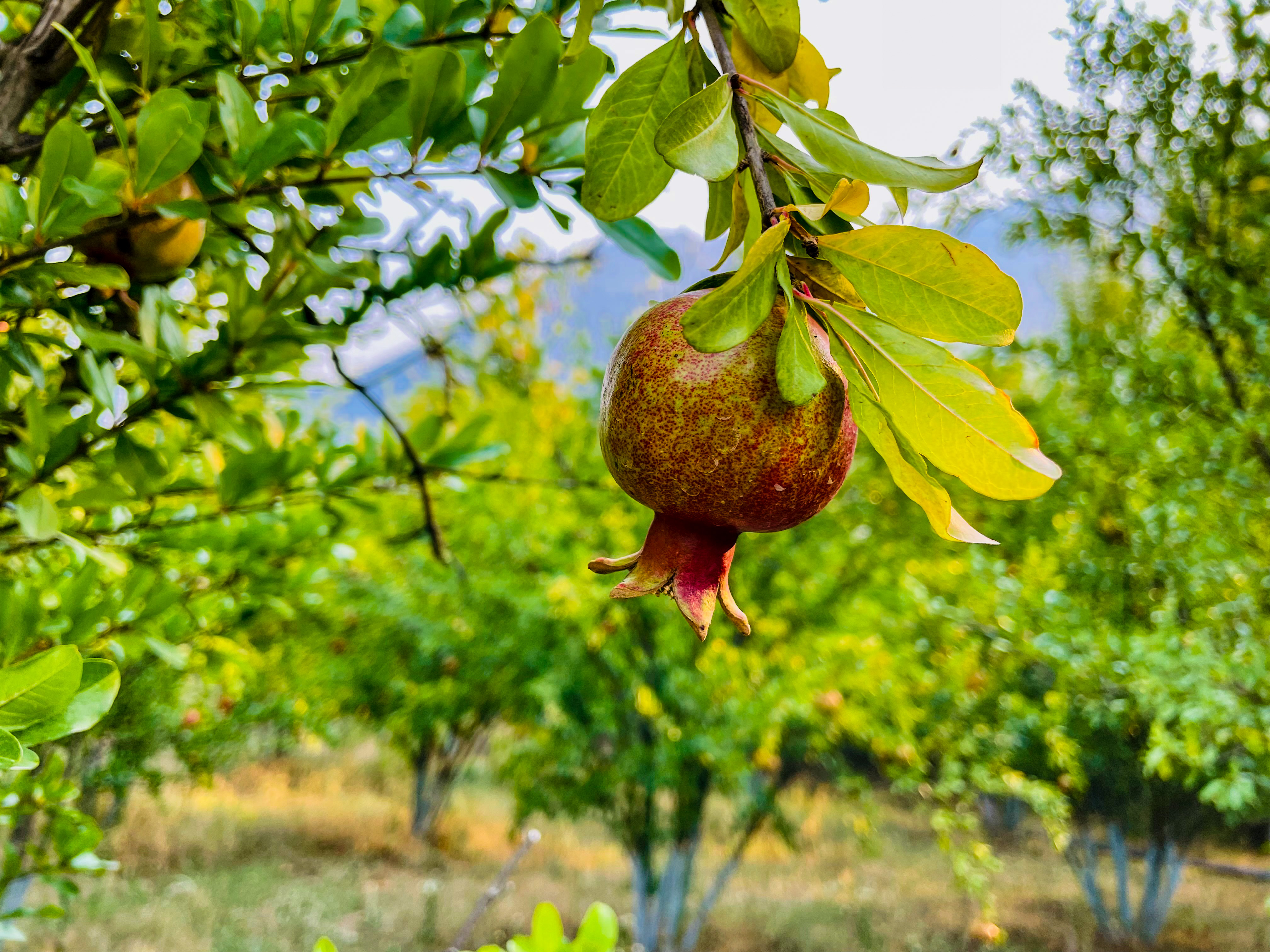 These pomegranates were properly pollinated and were ready to be the best quality pomegranate after completing its formation period.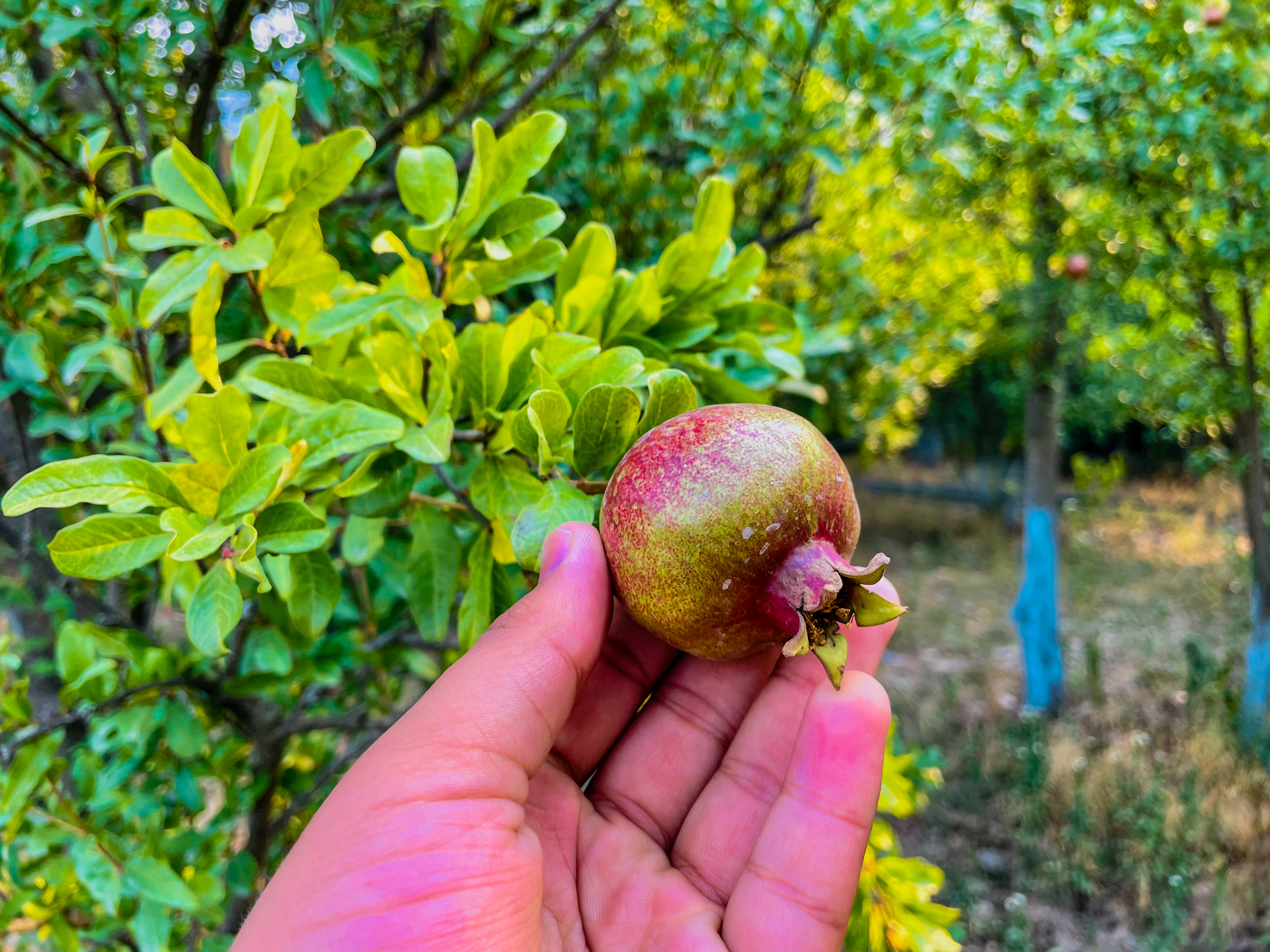 Few of them were even changing their colour to red. Which shows that they were growing at a great speed.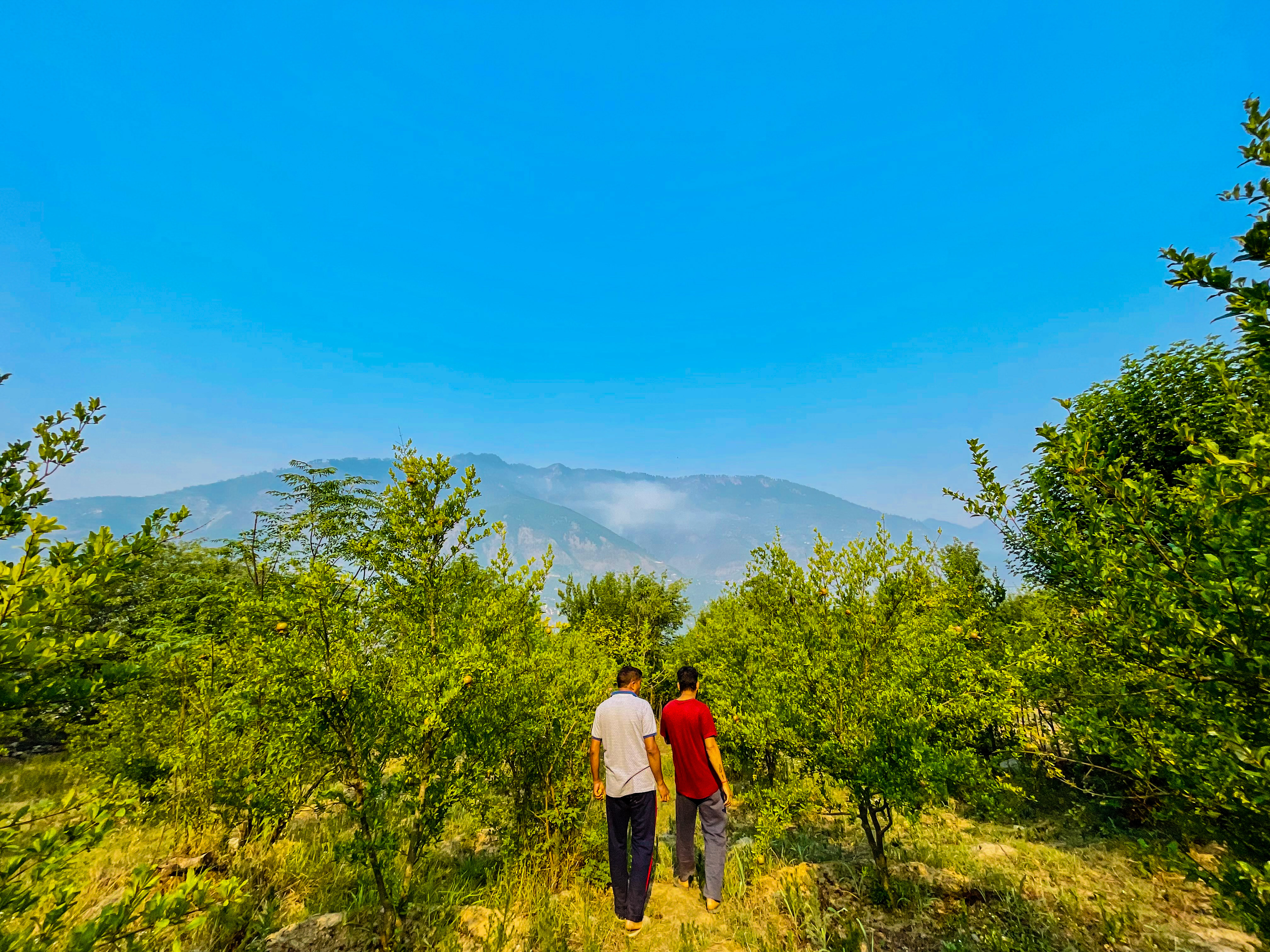 A thing that I have noticed till now is that all the residents of this while area are very hardworking. They all grow fruits and vegetables themselves in their farms. All the plantation which is done by the locals is all organic.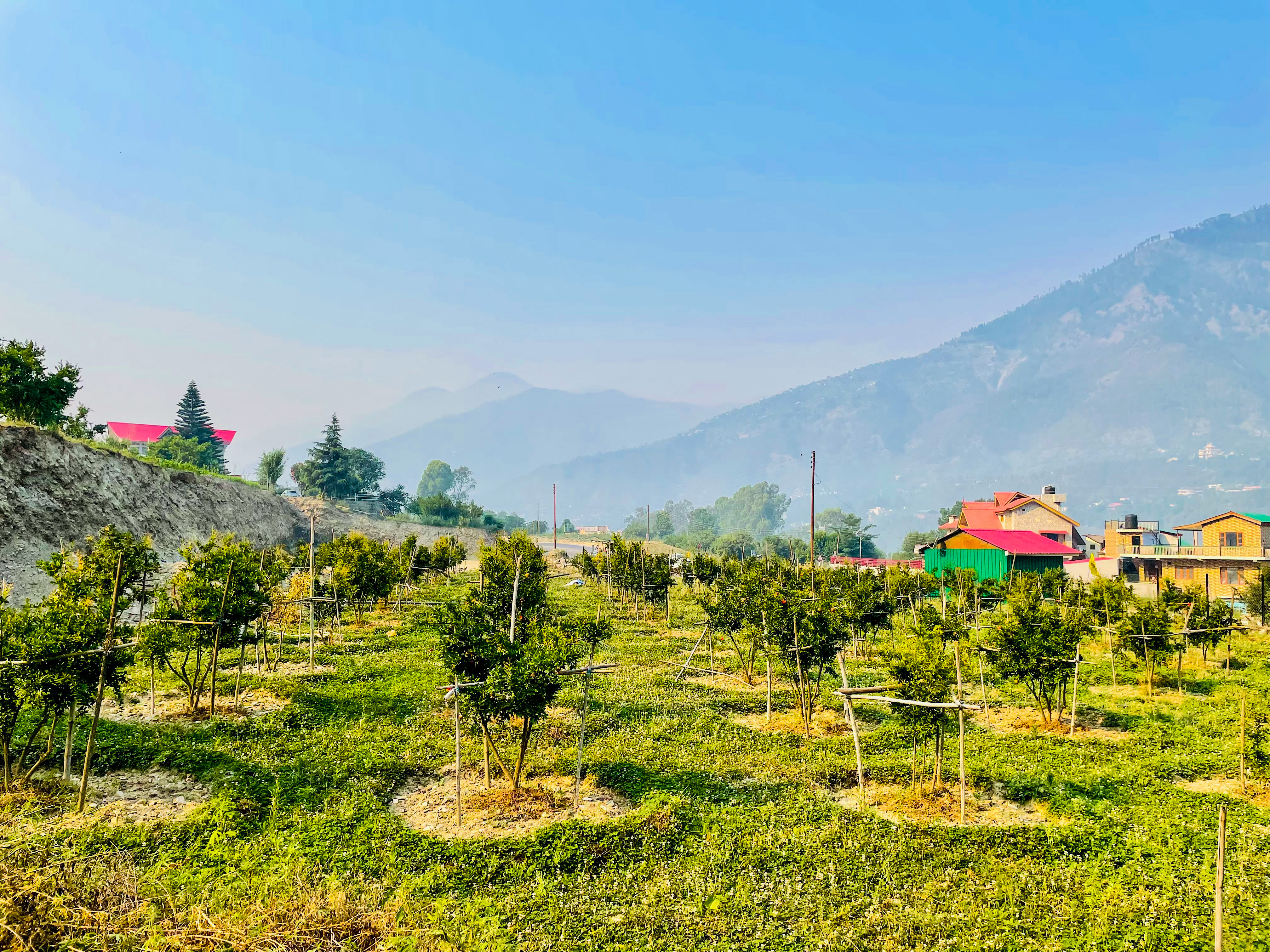 A tiny portion of the farm which was at the starting place of this expedition was also covered with tiny pomegranate plants.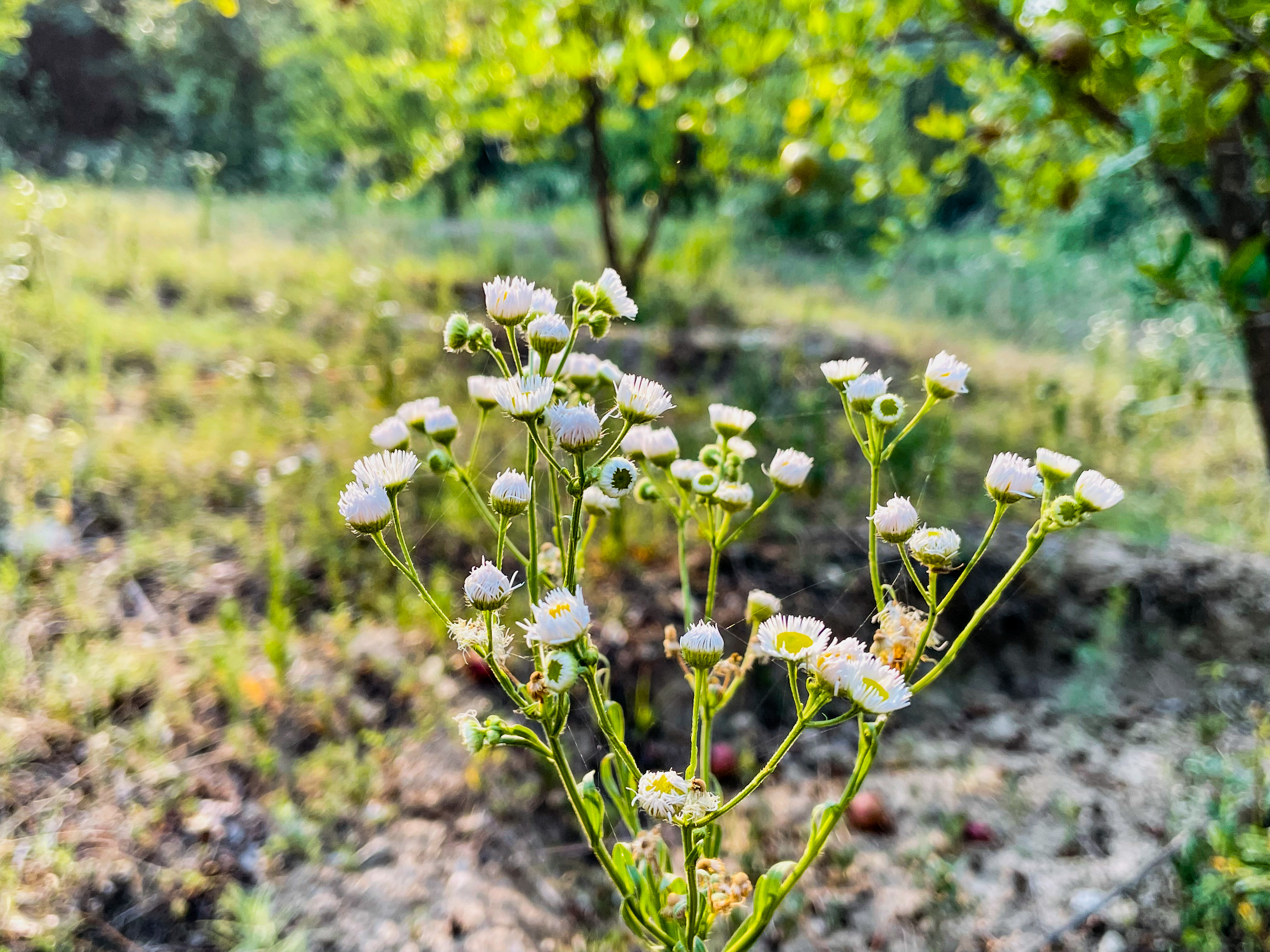 While wondering somewhere in this wonderland I was few of the wild tiny flowers and I captured them.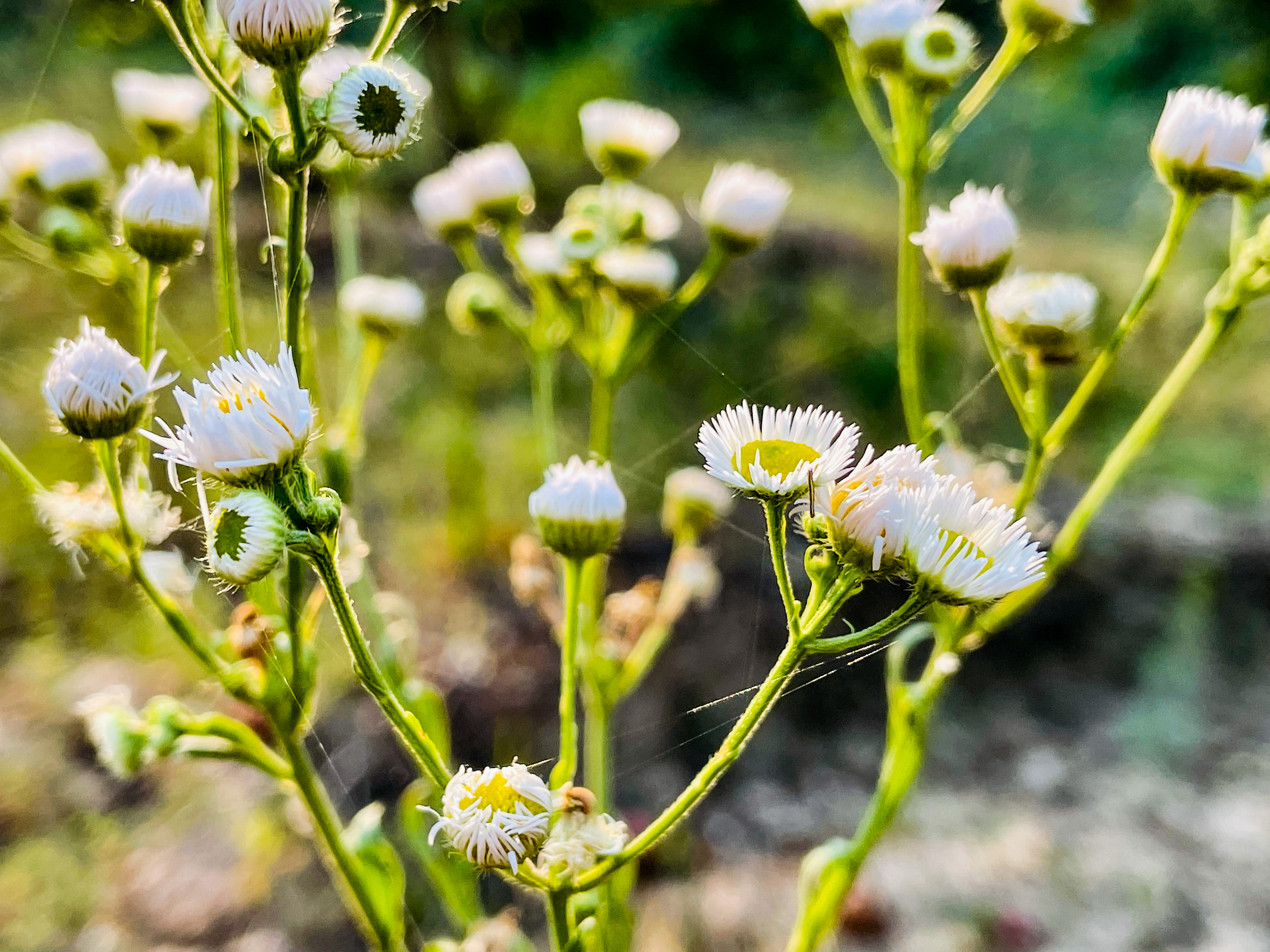 If you'll look closely you will notice that the branches of this flower is tired with webs of spider. Maybe it would be a home of his..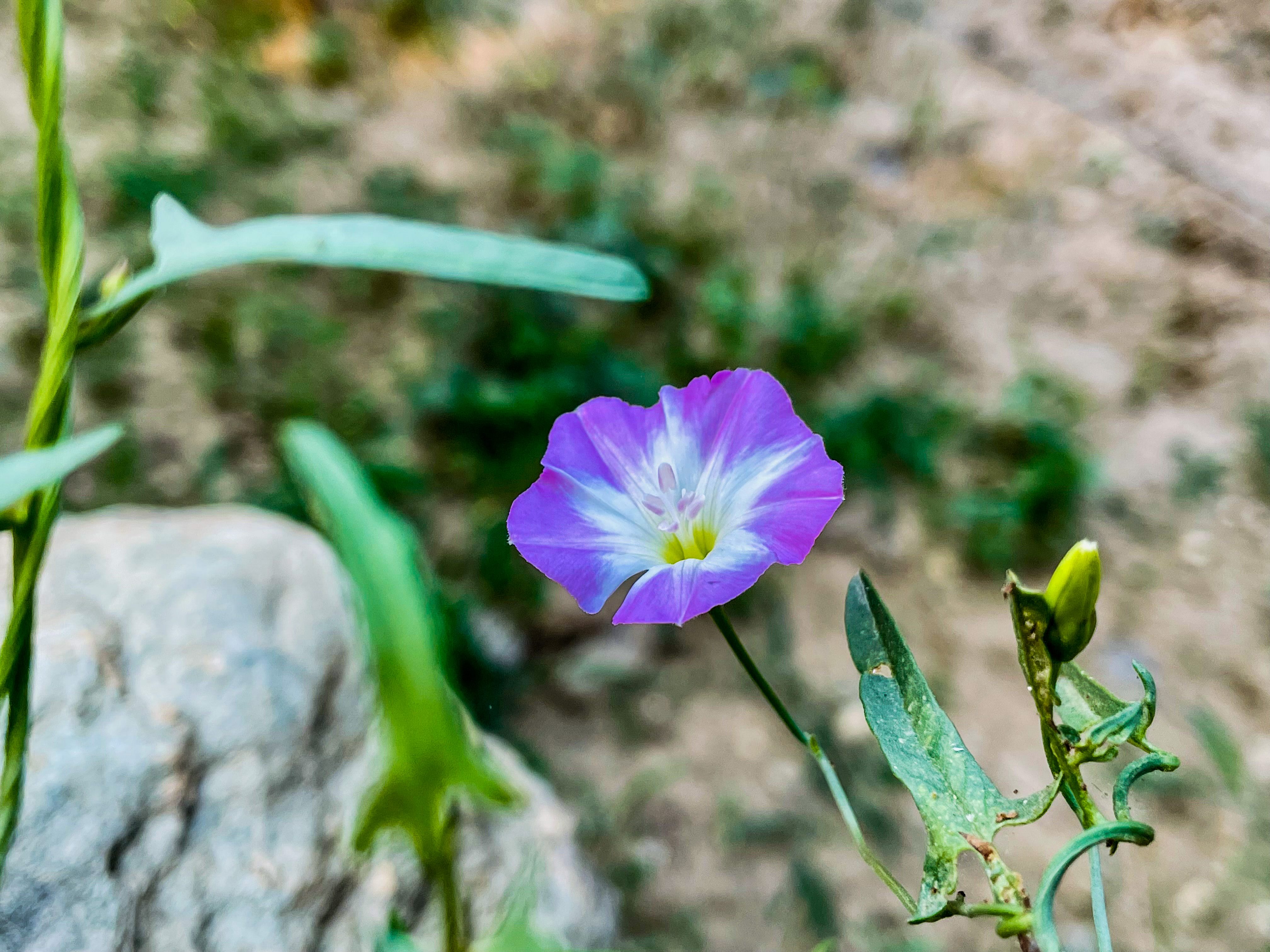 These wild flowers were so tiny in size, but were so beautiful.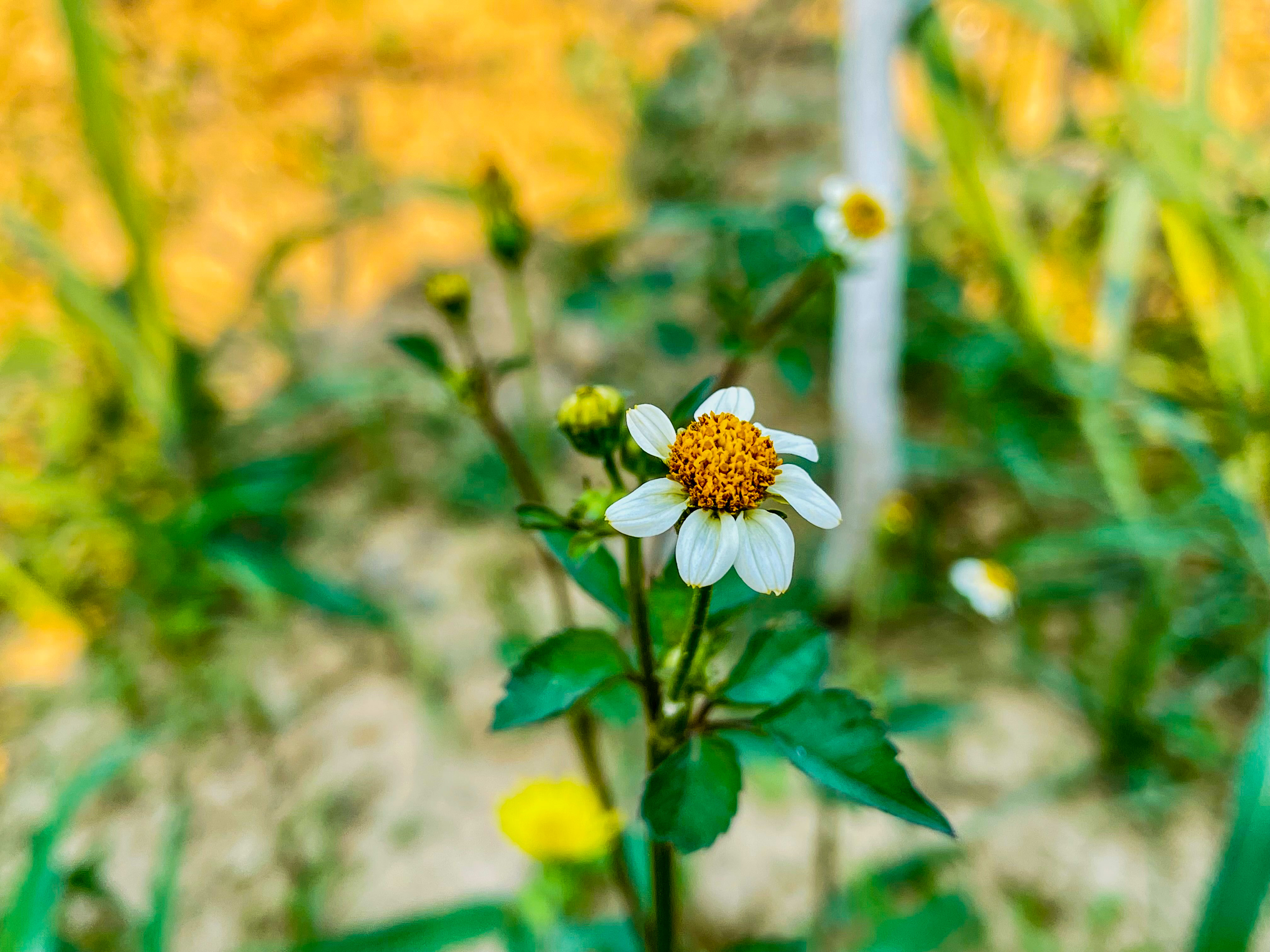 I don't know the name of them or what they are called, please do let me know if someone knows about them. In the comments section.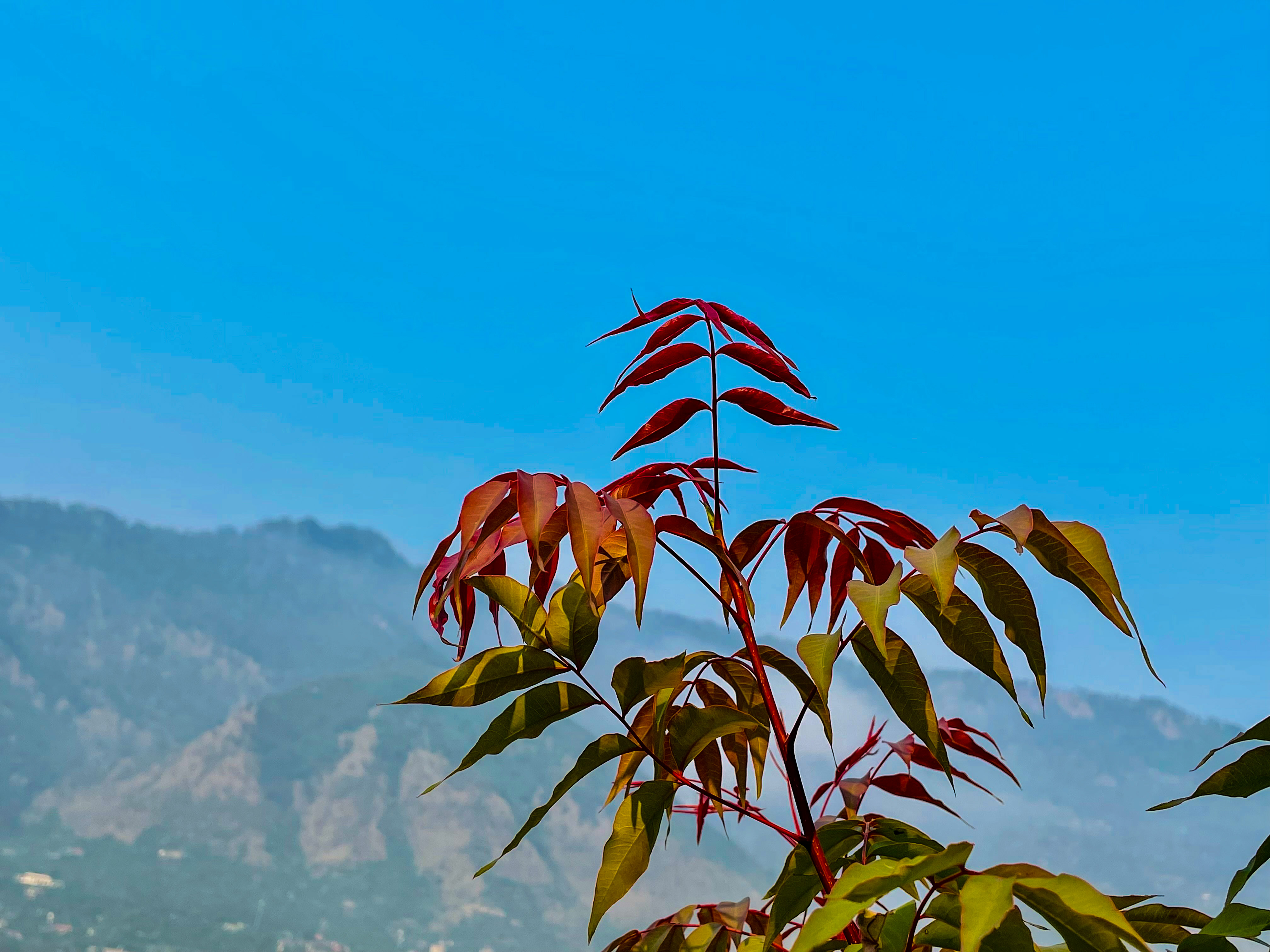 This was a plant which just had the leaves no flowers. So I even captured it, maybe this one has it's own story to express.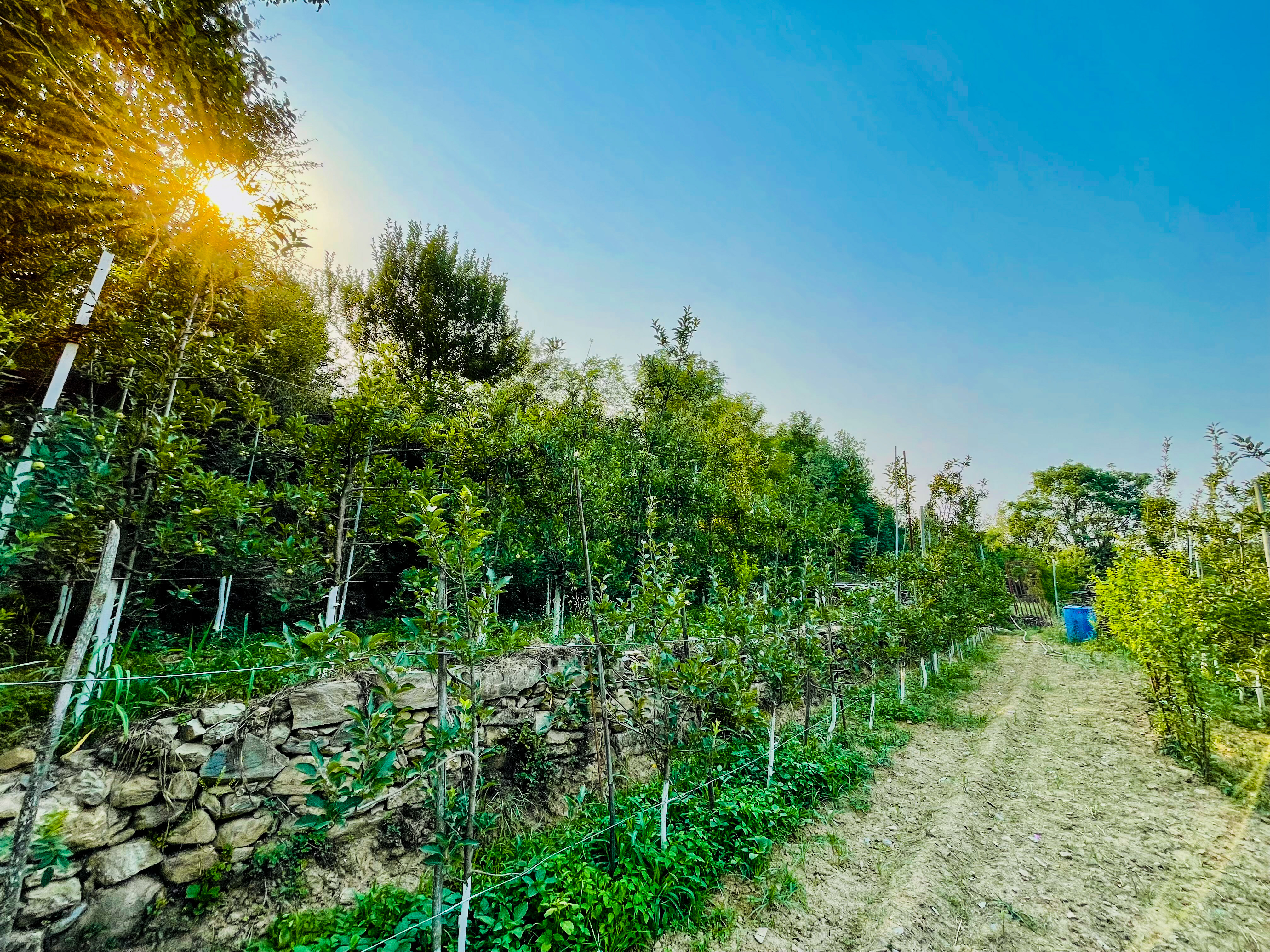 After walking through the pomegranate farm, I came to this wonderful apple orchid, All these apples tress were well planted using Italian technique.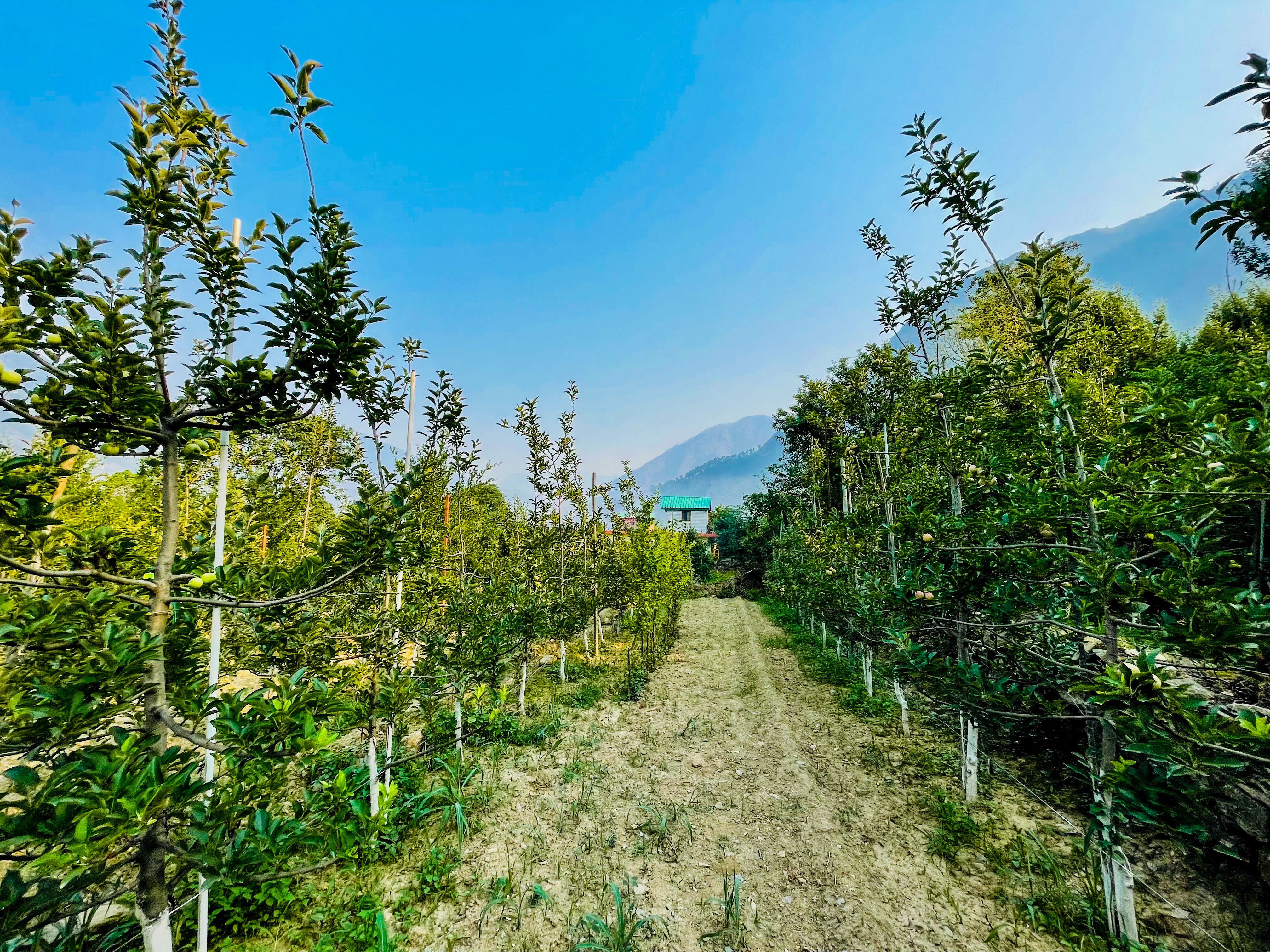 All these plants were properly well maintained and different type of techniques were used to get the successful result which was to produce the best quality fruit.
All of there young apple tress had a bunch of tiny apples just because of the hard work of the farmers.
These apple tress were given a proper support using poles and cables, so that they should stand firm.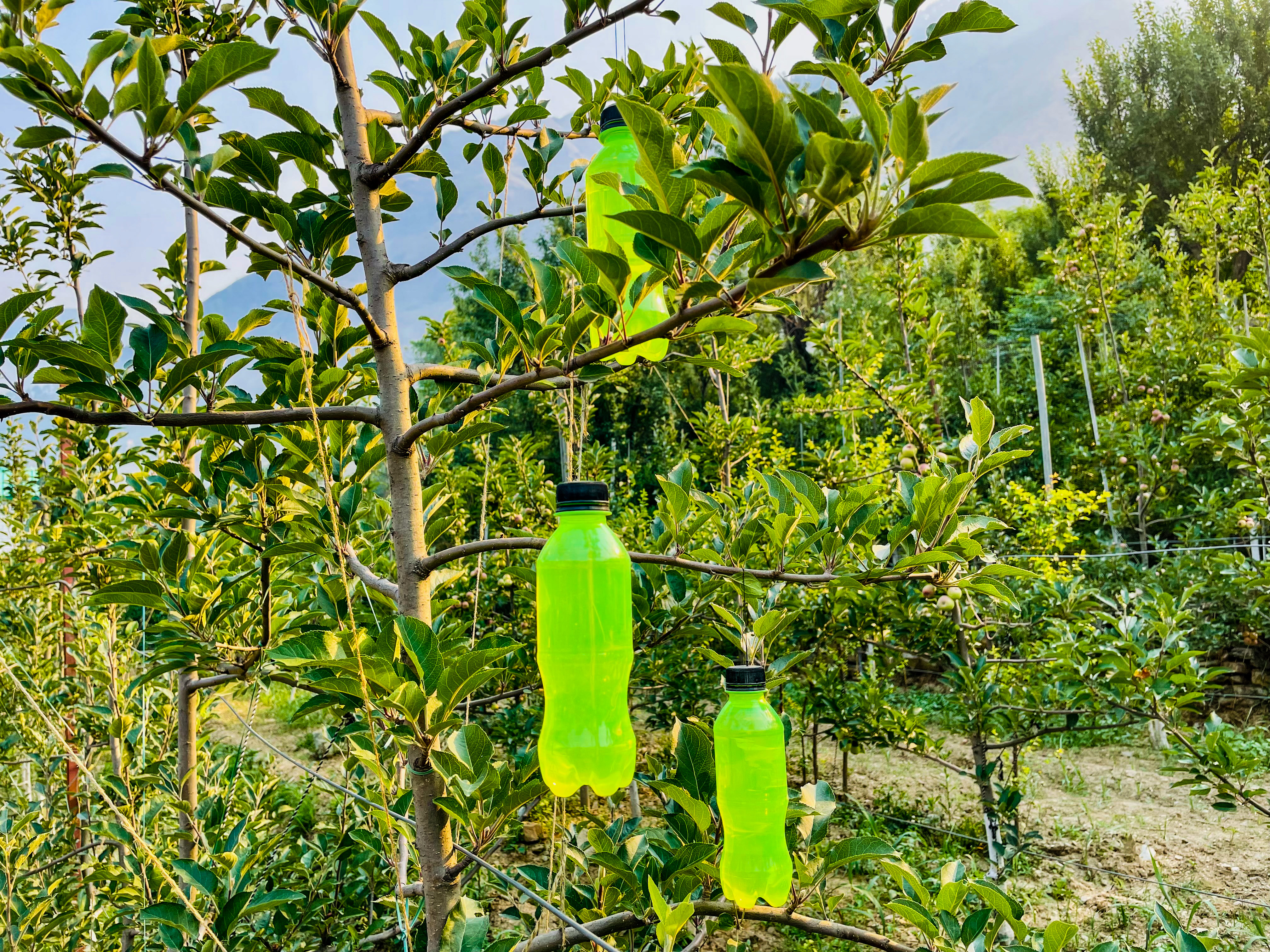 At a glance when I was looking at the apple tress and was talking photograph of them I noticed few plastic bottles filled up with water. This attracted me see the tree closely. This was a technique which was used by the orchidist of this orchard for keeping the branch or this young apple tree strait so that maximum branches could me obtains from the little tree at a little space. All the bottles were attached to the branch using a jute thread and had equal amount of weight. I was so impressed by looking at the hard work and smart works of the people of this region.
This kind of technique was even used in small apple tress as they the branches of the tree was tired with the soft jute thread to keep it strait.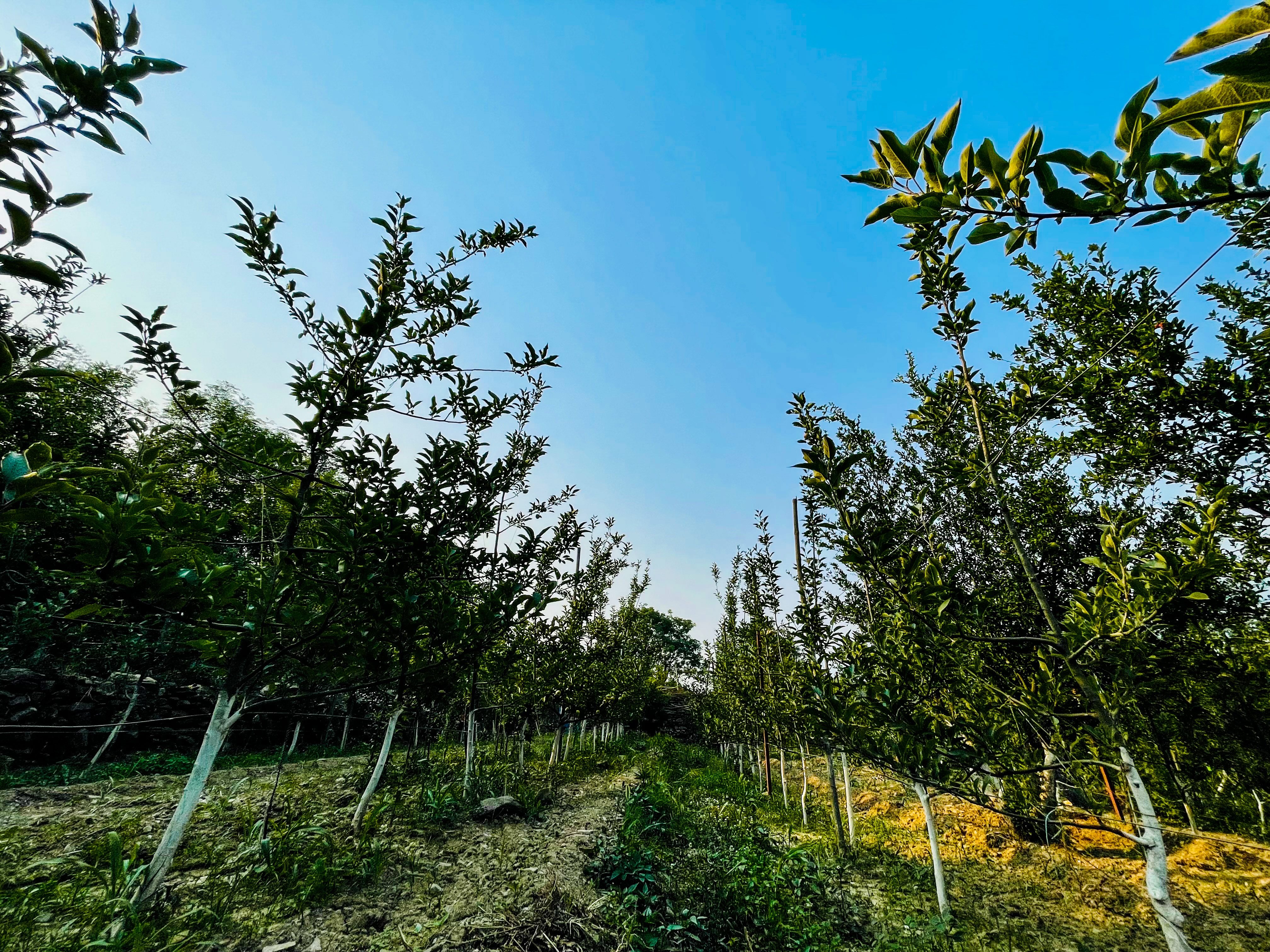 This orchid had almost near about 100 apple tress. Among which all of them were growing so well.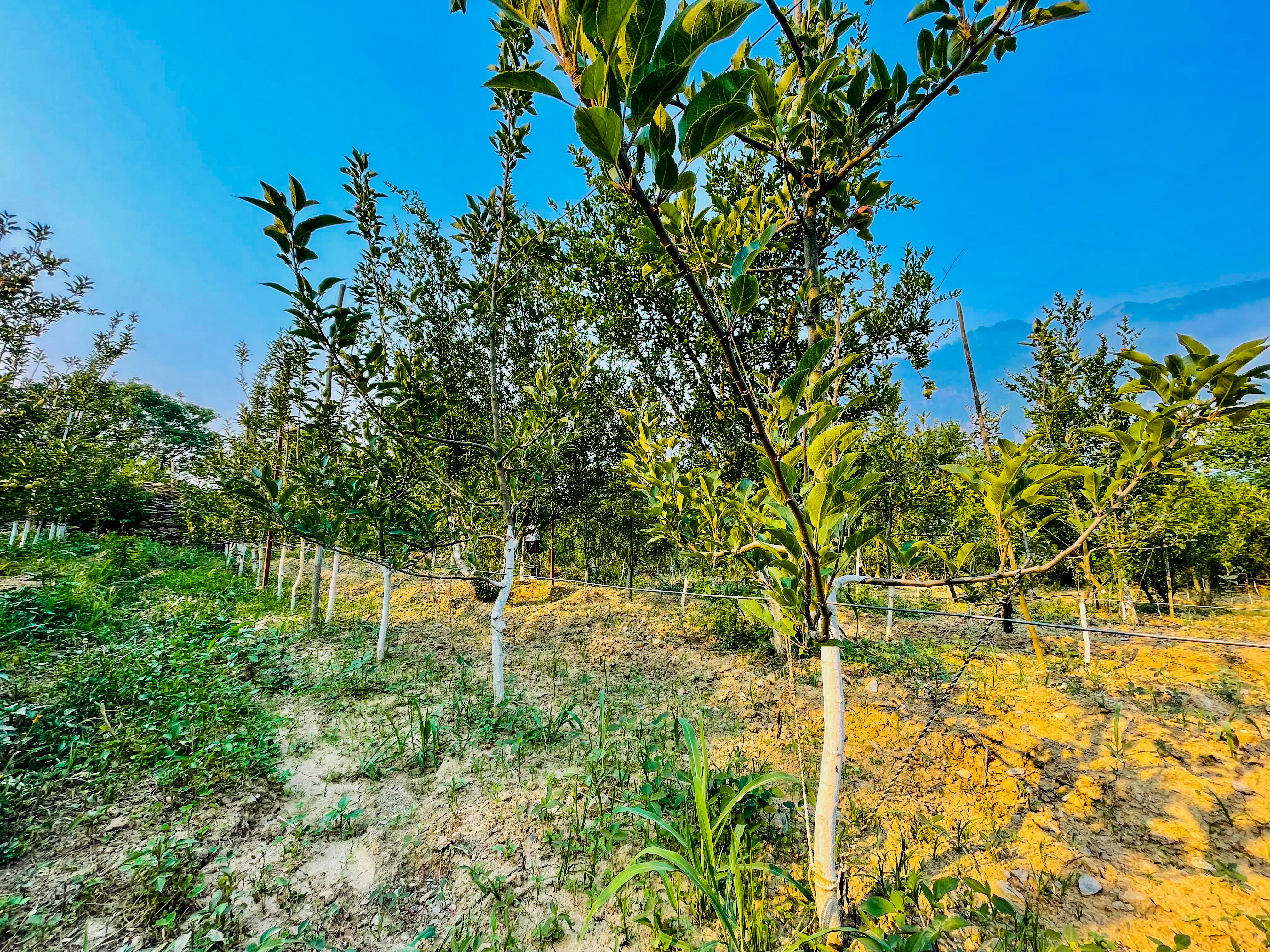 I also noticed that few of the apple tress had some sort of white lime powder painted on the bottom part of it. I don't know why it was so. I think it was for the protection of apple tress form sunlight.. not sure about it. Do let me know guys, if you have any idea about it.
So it was finally the time to say goodbye to this wonderland. This morning expedition was so special to me guys, I honestly enjoyed a lot, being so close to the nature and sharing this experience with you guys.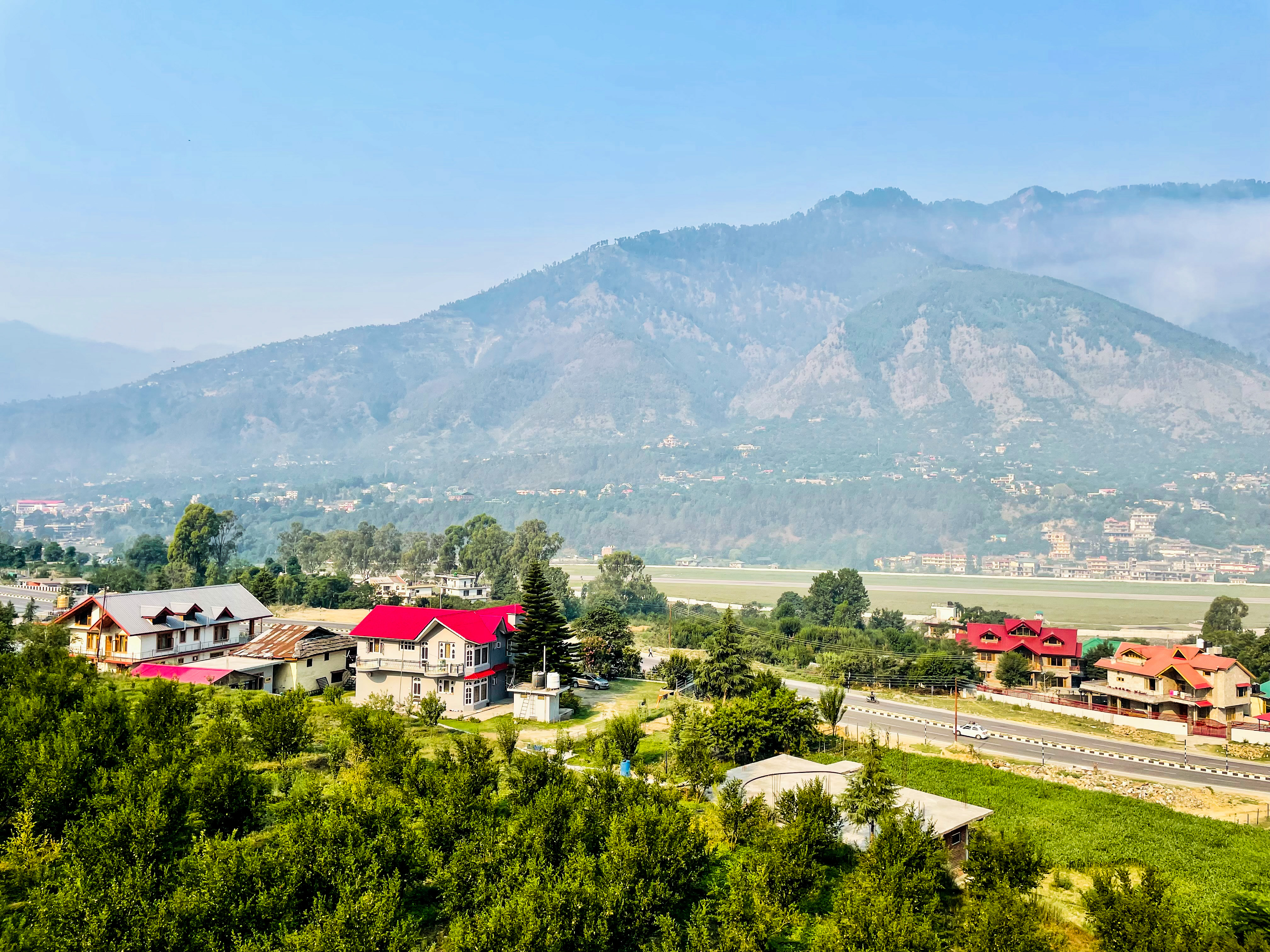 All these photographs were captured by me using my iPhone 12 mobile phone and were edited using Lightroom.
Thanks for your precious time.🙏
Love form the Himalayas❤️