Most of my city tours or explorations in the Netherlands are last-minute plans. I don't do much research before going to any city now considering my mental health situation. The fun fact is I check social media and Google before visiting a city and just go there randomly. I know the Netherlands is a beautiful country so exploring any city would be a blessing for me. People from all over the world come to the Netherlands. They plan their trip for a very long time, and save money where I just recharge my train card and go; it's not only an advantage but also I consider it a blessing. I avoid crowded cities for example big cities like Amsterdam. Small cities, municipalities, and villages are perfect for me to explore.
In my last post, I wrote that I am going to write about a city that I have explored recently. But, yesterday, all of a sudden I had decided to take a long walk in a city that is not only a famous tourist spot but also popular with social media influencers. As I mentioned above that I plan nothing, I just check Google for nearby cities, check the location details, and transportation, and just go there.
Zaandam - Downtown
---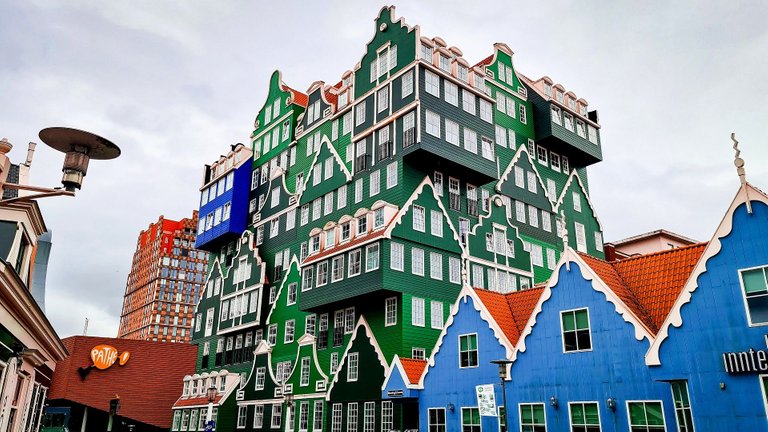 The best idea would be to start the post by sharing the most popular and magnificent architectural structure of Zaandam.
Rainy Friday morning, like usual I started my day, took my dog out, and went to a nearby shop to buy my coffee. Well, I started drinking coffee once again like before but not too much. Anyway, while drinking coffee, I was checking my social media profile and a picture caught my eye. Basically, I am in a Ukrainian group where people post travel photos and there I noticed the picture. Instantly I started searching for the location and when I figure out that the city was not far away from my location, I decided to go. I was hesitating a little bit seeing the weather but then determined in my mind that I have to go no matter what. My doctor also suggested doing more activities so I thought nothing would be a better idea than exploring a new small city.
The best way to go to Zaandam from Almere city is by train. The most convenient way I would suggest. At first, I took the train to Amsterdam Central, and from there I had to change the platform to catch the train to Zaandam. From Google Maps, I got all the information and I figured out the station and where to go. Amsterdam Central was kind of overwhelming feeling but I didn't have to wait for too long for the train to Zaandam. After reaching the Zaandam station, I figured that a lot of tourists were there already. But it was not overwhelming as it was not so crowded, and people were busy taking photos.
It took around 45 minutes to reach Zaandam from Almere by train. Zaandam City is very close to Amsterdam.
To be honest, I had no idea what was waiting for me.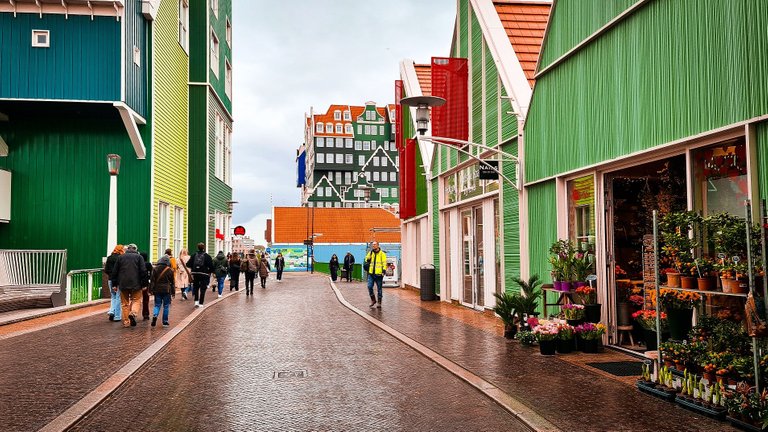 After leaving Zaandam station, I was kinda shocked to see the outside world. It felt like I ended up in a colorful dream world. I have never seen such a colorful city in my life. Well, you can compare this city with lego land or toy world, the only difference is it was not a fantasy world, it was a real world where people actually live. Zaandam station is located in the city center so when you leave the station, you will be ended up in the city center.
Zaandam is the main city of Zaanstad located in the province of North Holland, Netherlands. The city is surrounded by the Zaan River and is known for windmills, the Industrial Revolution, and the whaling industry. You can read more about Zaandam here.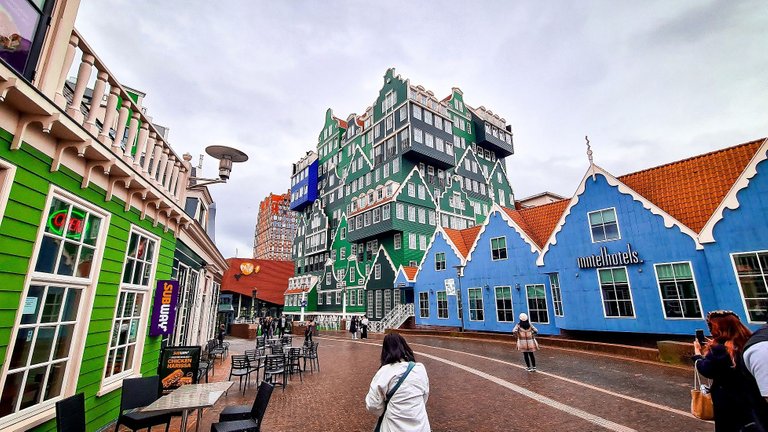 ---
Not only this city is holding history but also this city has a very unique character from an architectural perspective. Most of these colorful wooden houses are known as Zaan Houses and they are worldwide famous.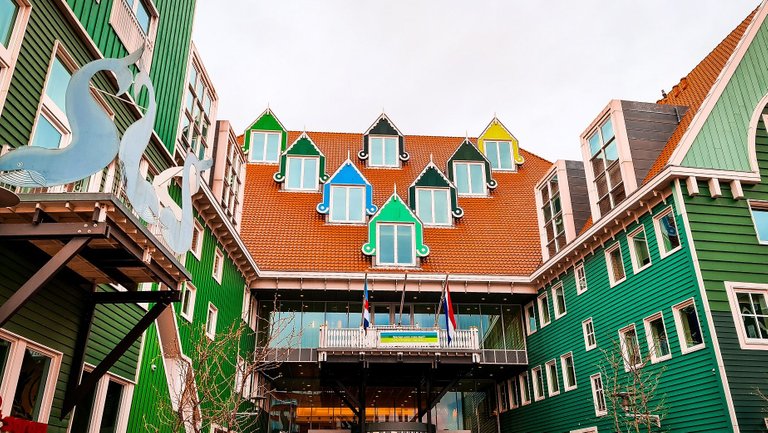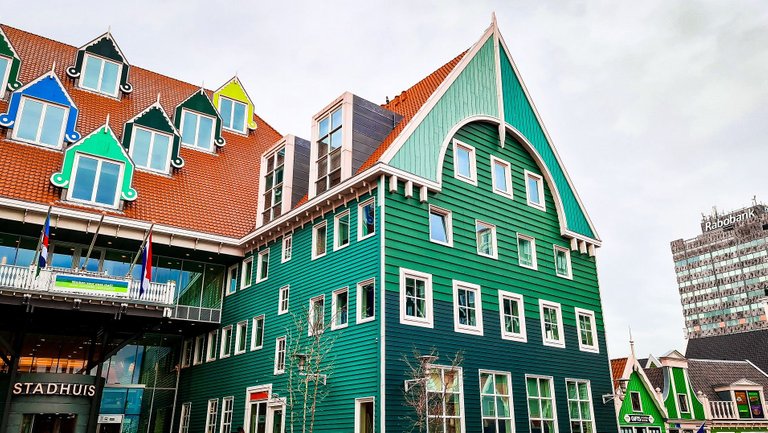 There are a lot of things to do in Zaandam. At first, I got introduced to the Zaandam municipality building. At first glance, I thought the building is a historical heritage but later I found out it is a municipality office. Trust me, these buildings look like showpieces which you want to keep at home. It's hard to believe that these houses and buildings are functional.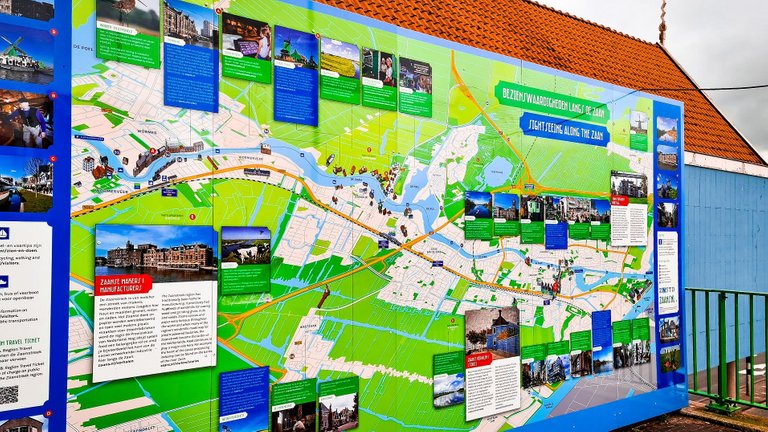 I slowly started walking around and this city map caught my eye.
This city was founded in 1811 and its outstanding features are known as Dutch characteristics. Very impressive city and a lot of things to do.
The city center is also called the old downtown but to get a real experience of Zaandam, you have to go further. You can either take a train, bus or bicycle.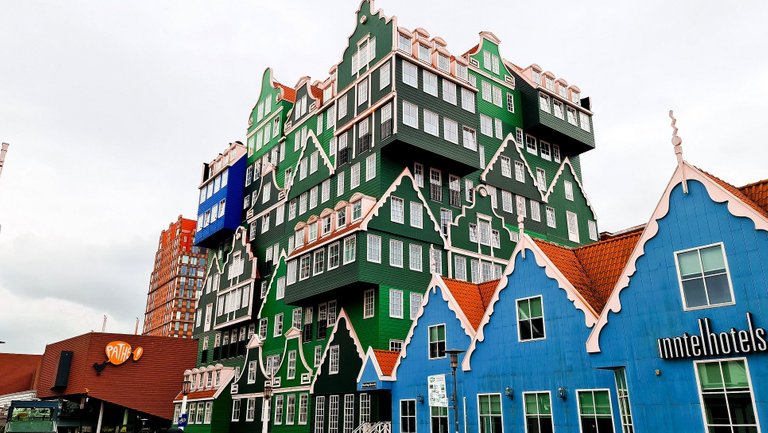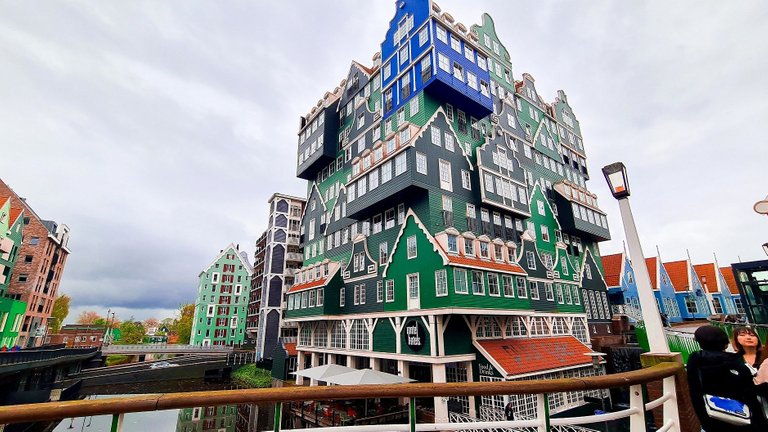 After visiting the municipality building, I started browsing around and saw small souvenir shops, cafes, boutique shops, and a lot more. People around me were taking photos, and videos and some were making vlogs as well. Most of the people were tourists and all the local people here mostly speak English because of tourists. It was Friday and it was busy, I wonder about the situation during the weekend.
Afterward, I saw this huge, colorful, and impressive building which is basically a hotel. I had no idea a hotel exterior can be like this, I guess I don't know anything about building design yet, hahaha... All the tourists were busy taking photos in front of this building.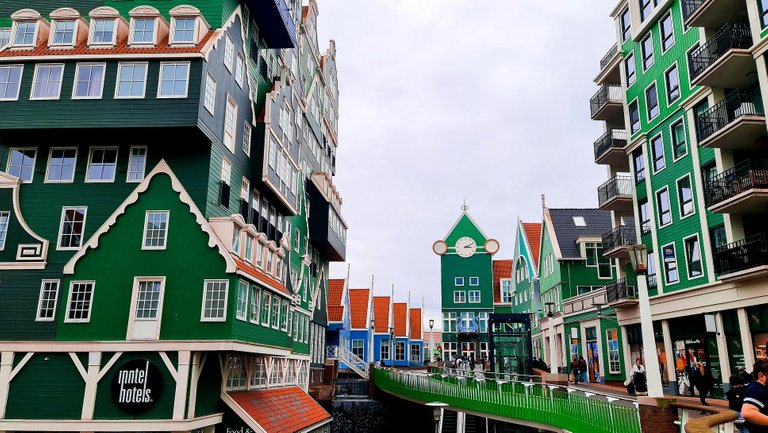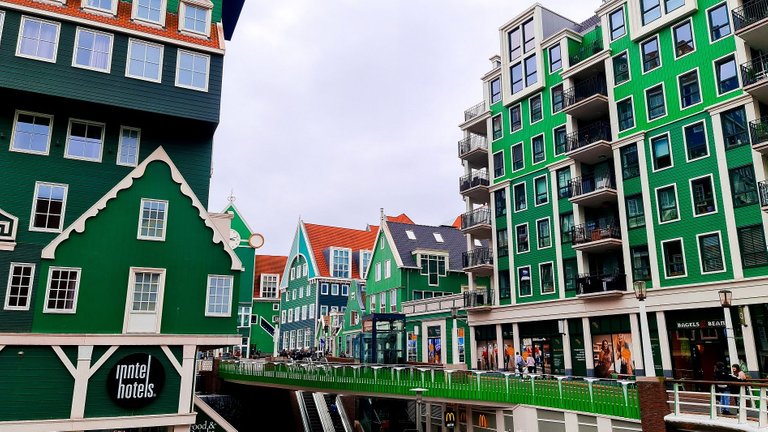 ---
Rain and cloudy weather couldn't stop tourists from taking photos and enjoying the city view. Nobody actually cared about the weather. All were having fun and were having the best moment in life.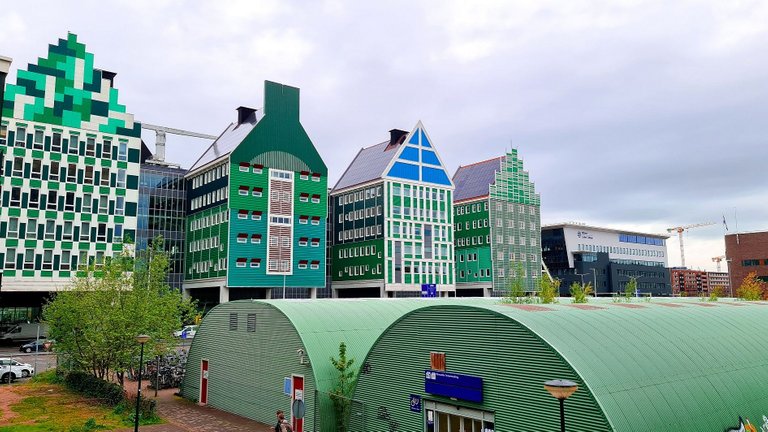 I found a tourist information shop while walking and out of my curiosity, I went there to ask for information about the city and sightseeing. I came to know that this old town was just the beginning, there were a lot of locations to explore especially the windmills. The lady was kind enough to explain to me the map of Zaandam and told me to go outside of the downtown. She provided me with all the necessary information because I was curious. All of a sudden I have decided on my next destination which I will share next time.
---
I was fascinated by all the colors of the building and by the cityscape. A lot of branded shops were there too, some tourists were shopping as well. Truly I felt like I was in a new world.
---
I felt excited and took a lot of photos. Surely, I was out of my depression box, and for a while, I felt all by myself. I forgot about my health condition and had dedicated myself to the flow of colors.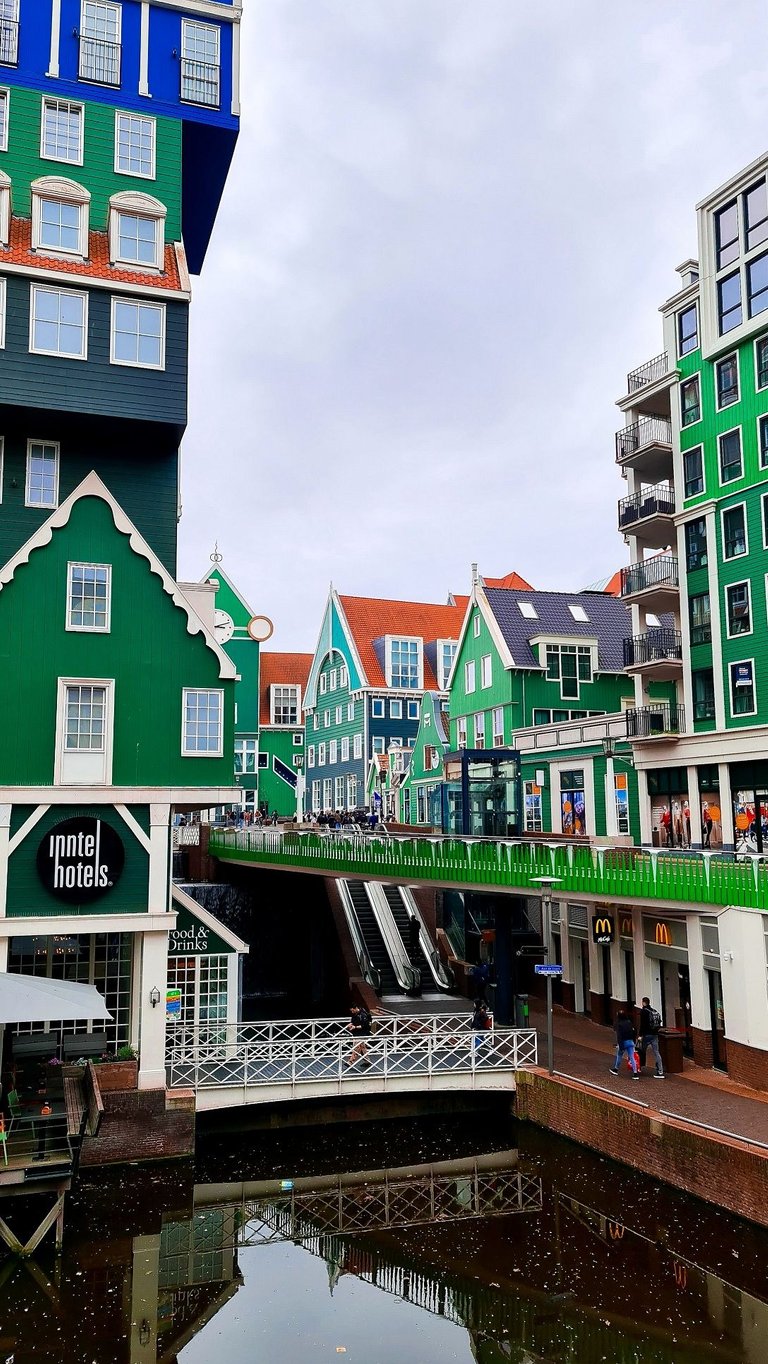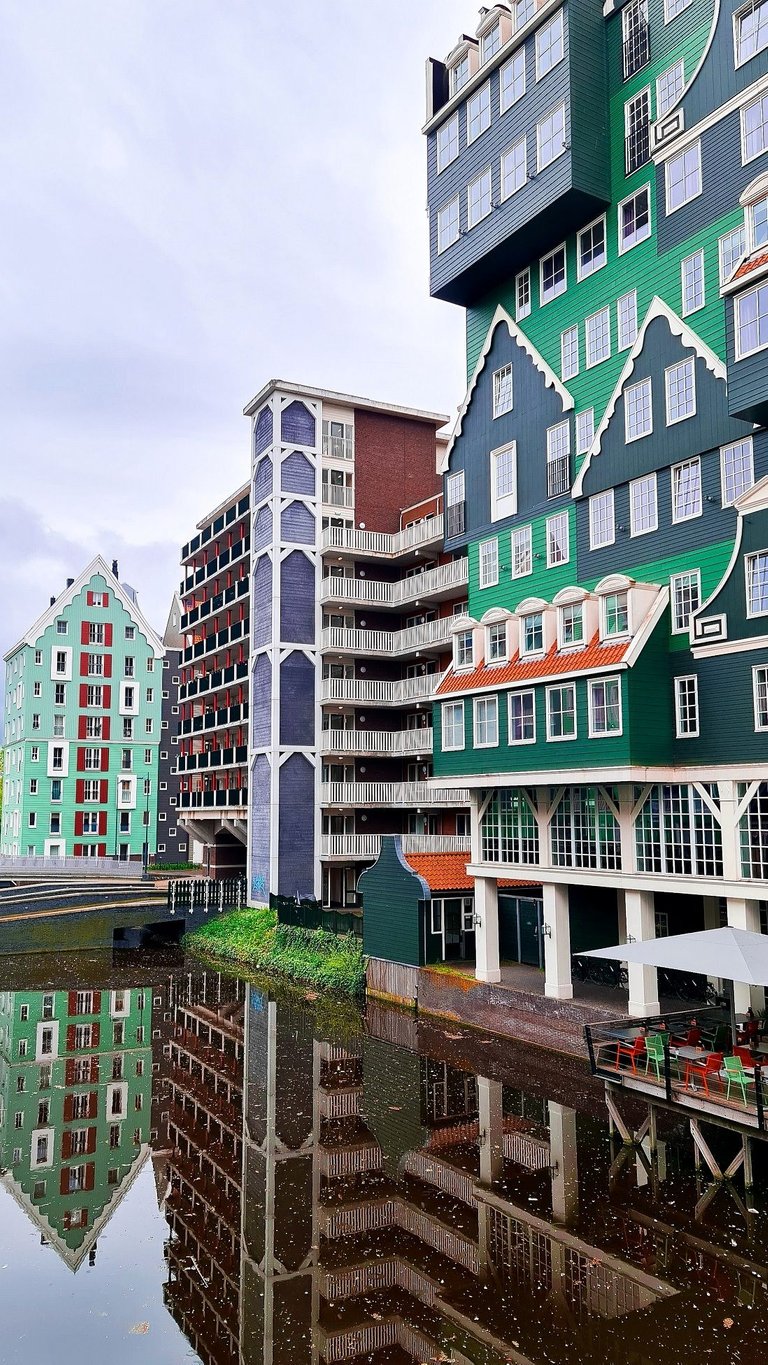 You must be thinking where were all the tourists when I was taking the photos!! The credit goes to me...
To experience the Dutch countryside, Zaandam is the best. In this post, you only saw the beautiful downtown of Zaandam.
The story is not finished yet...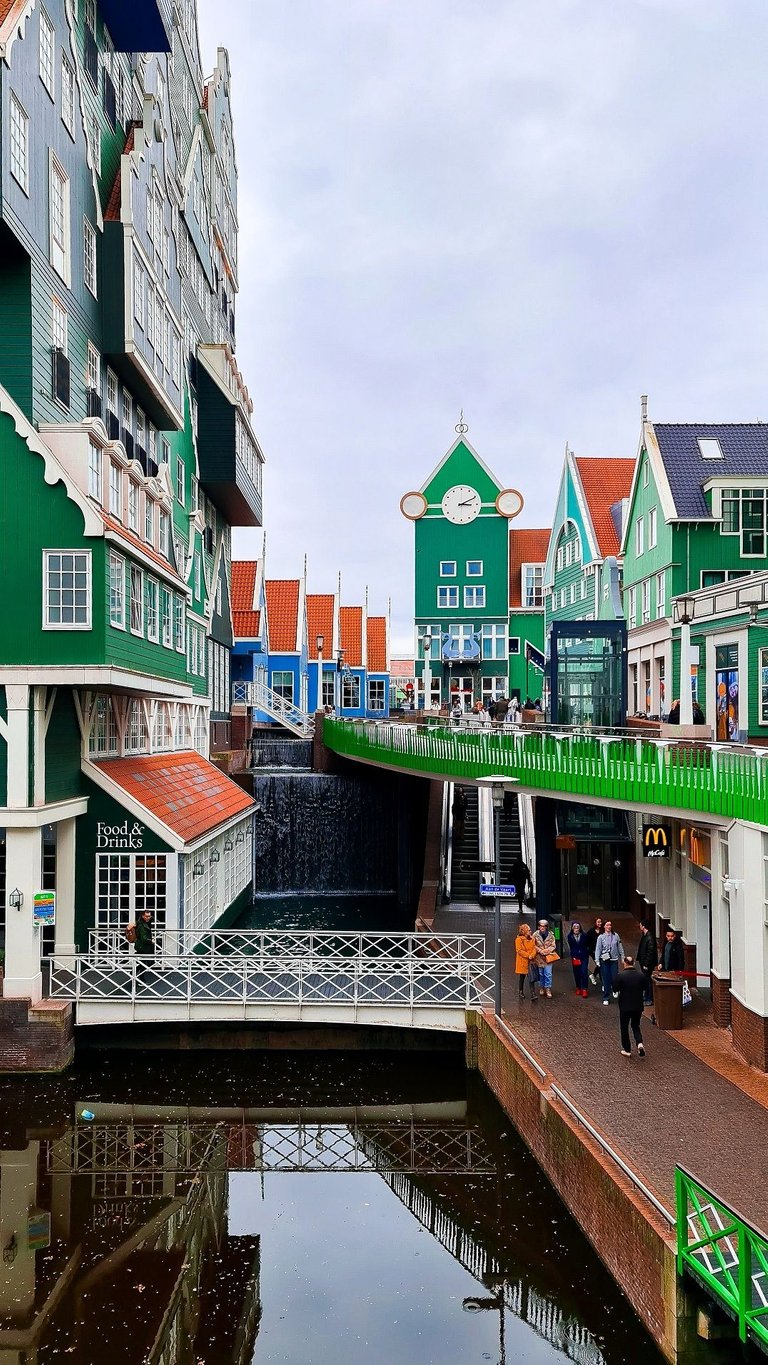 I had to catch the train for the next destination that's why I couldn't visit Zaan theatre and Dam Square of Zaandam. But I walked into the shopping street of Zaandam and the Short Rozengracht.
Until the next destination... Bye
---
---
Love
Priyan...
---
I am @priyanarc.... An architect, a dreamer, and a passionate writer who loves to write about life. I try to present my own perspective and experiences. Please leave your feedback and criticism because it's the only way I can know and reach your mind and thought easily...
---
Find me on:
---
All images used are captured by the author...