I'm quite far behind on my traveling blogs. I've been spending the last couple of weeks mostly traveling and hiking which has left little time to do some actual blogging. There's been some micro-blogging done through D.Buzz and a bunch of scheduled let's play videos.
I am going on another hike today as well but before I get going with that I want to show off my visit to Ålesund, a gem of a city located on the coast of Sunnmøre, the region of Norway where I grew up. It's a city that's rich in history and one that I have a lot of childhood memories of.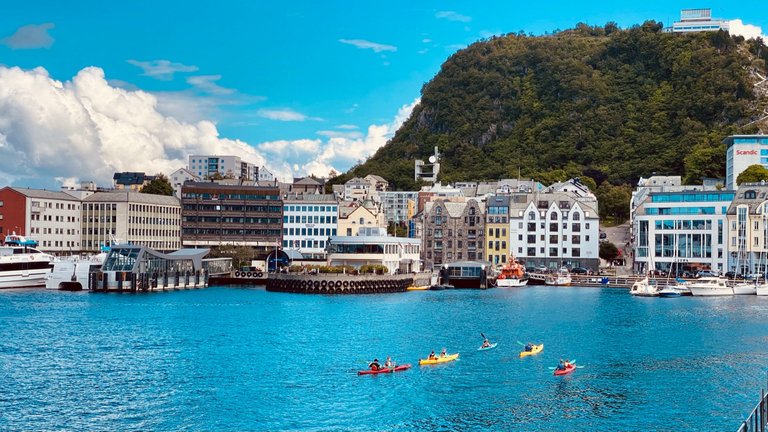 ---
The history of Ålesund
Ålesund is a bit of a special town. In 1904 pretty much the whole of the city burned to the ground. Out of the 1100 houses in the city only about 230 were left after the fire. Miraculously enough only one person died in the city wide fire 1.
When the rebuild started they moved away from the timber and wooden houses and raised pretty much everything out of brick and concrete.
These days the city is known for it's art nouveau architectural style. Most of the buildings from the rebuilds has these nice towers, spires and decorations 1.
Ålesund also played a central role in the resistance against the nazis when they occupied the country. The city was known as "little London" 2.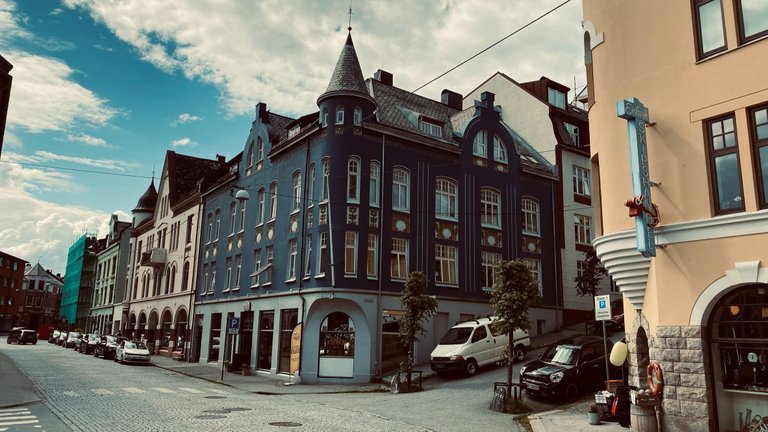 ---
Our visit
With my girlfriends vacation home being just about an hours drive from Ålesund we decided to visit the city. I haven't been here in 15 years probably. When I grew up we lived in a town on an island not far from Ålesund and we would often take the boat here to go shopping. I remember I would always cry for us to go to Mc Donald's when we was here. Making quite the ruckus if we didn't go. Gotta get that Happy Meal!
We were really just walking around and taking a look at the views. I definitely appreciated the city more now than I ever did as a kid. Back then I didn't care about the decorative buildings and the general beauty of the city. It was nice to get to appreciate the city for the beauty that it is.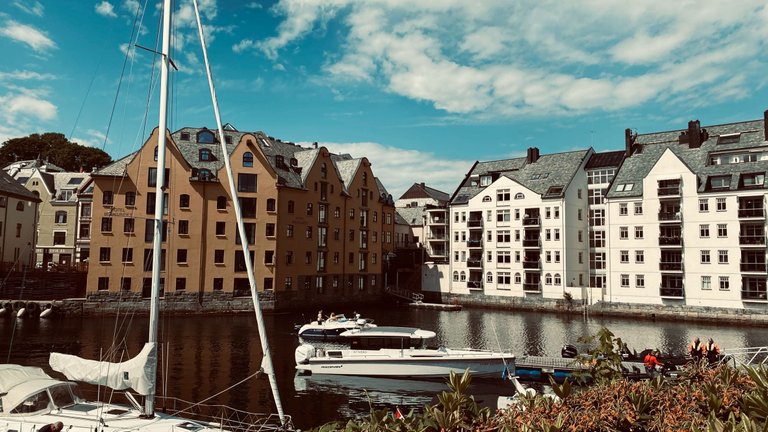 We walked around in the "new" part of town before heading og to the old town where there were still some wooden buildings that were left from the fire. My girlfriends dad loves his history so he could tell us pretty much everything about the names engraved on the side of the buildings. Businessmenn, traders and shipowners that left behind fortunes and helped build the city. Oluf Holm, whom owned the building in the picture below, being one of those people.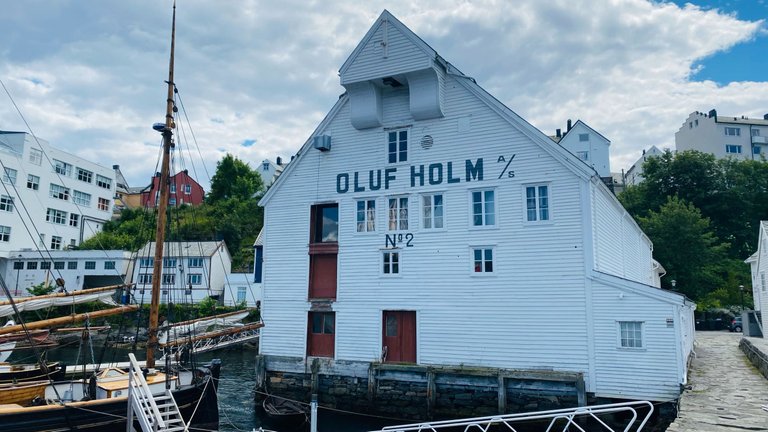 We also walked past a fishing museum showcasing a lot of older fishing boats and gear. They were closed sadly but there were a lot of cool boats showcased in the marina. I know my dad would have loved this place. He's a lover of the sea, having worked on boats pretty much all of his life, starting out as a sailor in his younger days and now he's a captain on supply boats in the North Sea.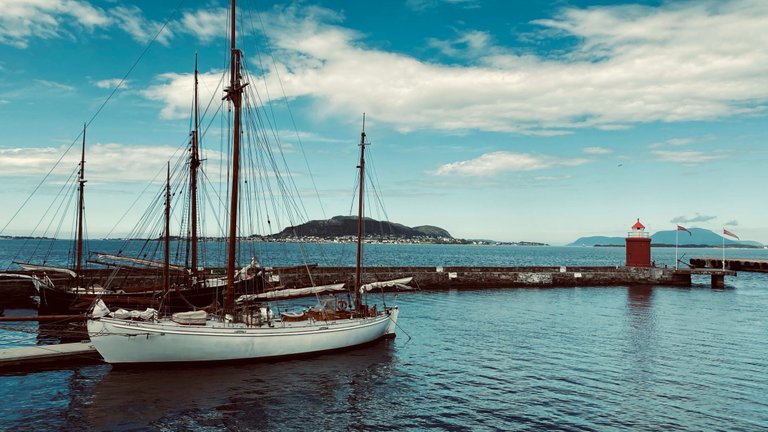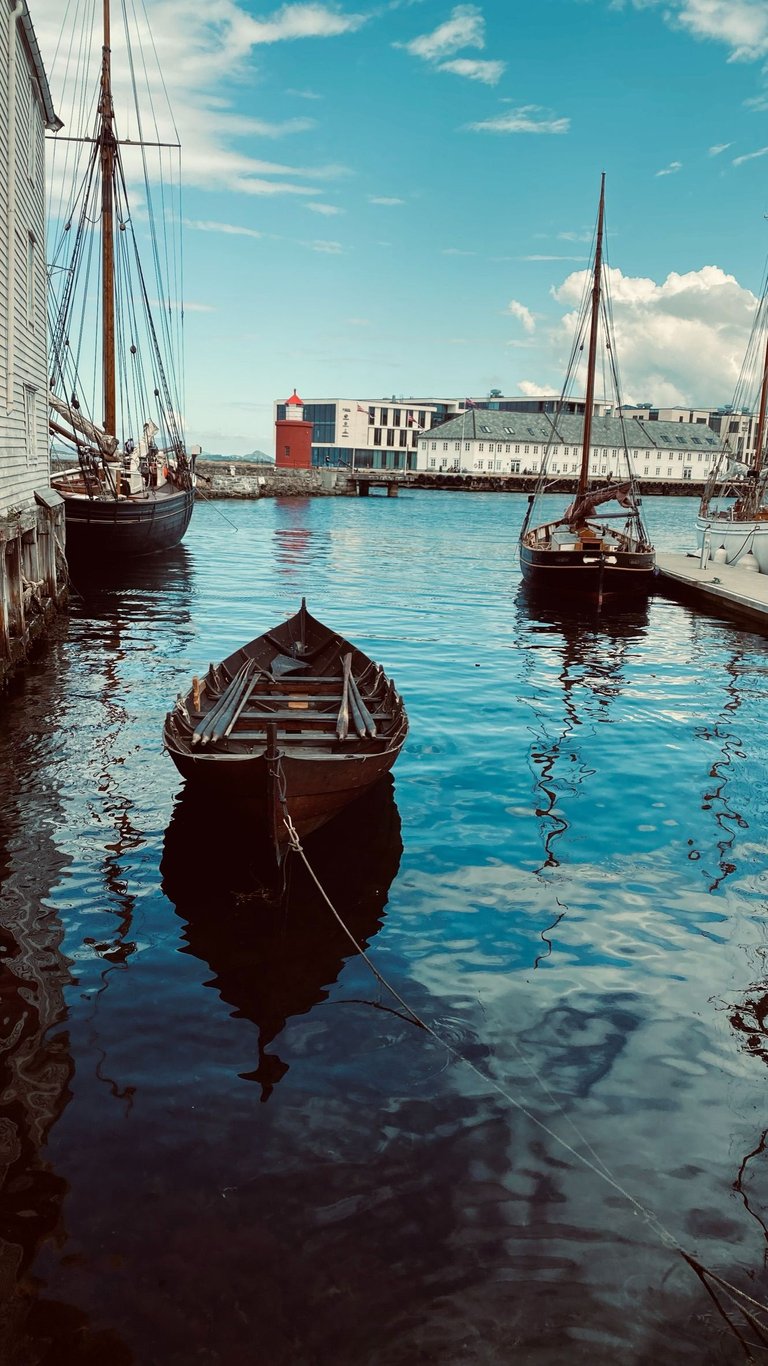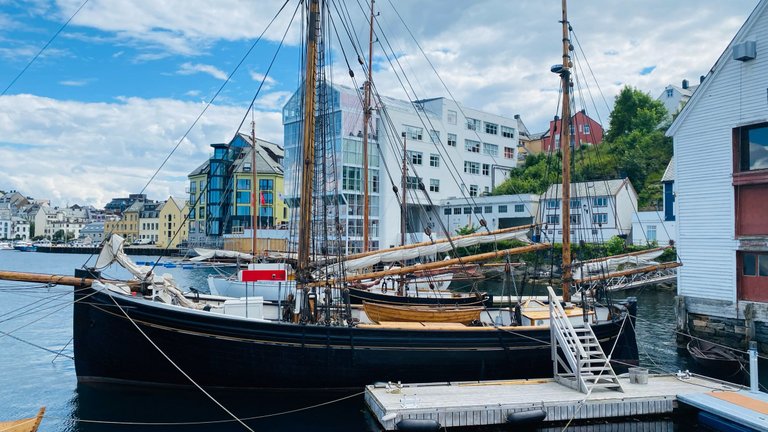 We also walked out to a pier that had a lighthouse on it. This let us gaze in over the cityline by the water which was pretty cool. It also let us see out to an island called Valderøya which was where my girlfriends mom grew up.
We also met an awesome lil' chonk of a cat that was real cudly. Being the cat lover that I am I forget everything around me as soon as I see a cat. He became my sole focus for as long as he was around.
On our way to the old town we also came over this street art piece, if you can even call it that, which I thought was pretty cool. Could as well just be the doodles or ramblings of some kids but I really liked it. I have this thing with art where I just love some pieces for reasons I can't ever explain. I'll go to a museum and label 40 pieces as boring and uninteresting but then find that one piece I'll stare at for 20 minutes.
I just feel like there's something mystical about this figure but I can't place it. Probably due to the weird leg placements and such that makes him almost look like a sort of symbol. I don't know.
To end off our visit we ate a burger at a steakhouse that I didn't even bother to depict due to having to wait almost an hour for the burger to arrive at our table. My impatience and madness grew proportionally to my hunger. They didn't even have good beer.
So that marks out visit to Ålesund. I'll round off the post with excess pictures that didn't fit into the general post.
---