Hi friends, how are you today?!
We've returned for more Bombinhas... are you already exhausted? I've been here a few times and each time I enjoy it as if it were my first.
Explore 4 charming Beaches in Bombinhas
Intro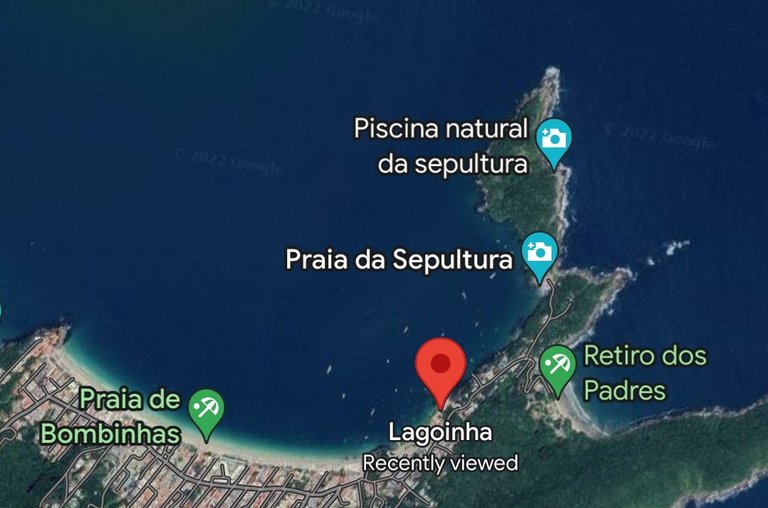 I'd like to introduce you to four of my favorite beaches:
Prainha,
Lagoinha,
Retiro dos Padres,
Praia da Sepultura, my personal favorite.
The beaches' locations can be found on the map to the side. They are very close to each other; just after the end of Bombinhas beach, turn left and you will arrive at the first beach; continue forward to reach the others.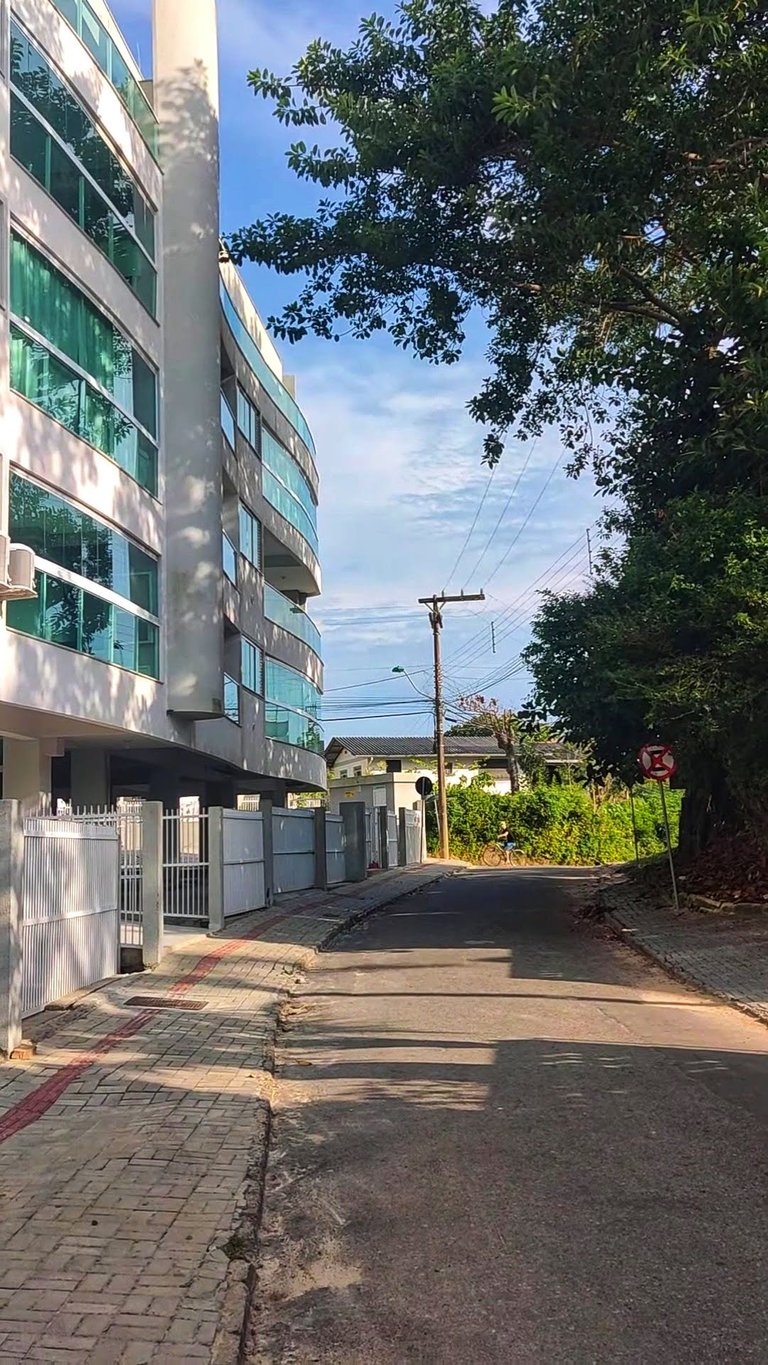 There is a trail that leads from Sepultura beach to other beaches and Ponta das Garoupas, which I will show you in my next post.
This is where our journey begins. The first of the four beaches, Prainha, is located at the end of it.
As I previously stated in my last posts, I chose to visit Bombinhas during the winter to get to know the region better and observe daily life with fewer tourists.
It is a nature of exuberant beauty, with many beaches, trails, and restaurants. At this post you will see 4 relative small beaches, surrounded by green nature called Mata Atlantica, great places for snorkeling, scuba diving, surfing, fishing and much more aquatic sports.
In case you missed my last posts about Bombinhas, is located in southern Brazil and it is an incredible destination for those who enjoy beaches and nature.
So, buckle up and let's start.
---
Prainha
Arriving through the main Bombinhas street, you will spot Prainha, a small beach with a length of about 50m, as the name suggests. Prainha in Portuguese means little beach.
Because of the pier, I don't believe it's the best place for beach time, swimming and sunbath. A lot of people walking around and passing through to reach the others beaches.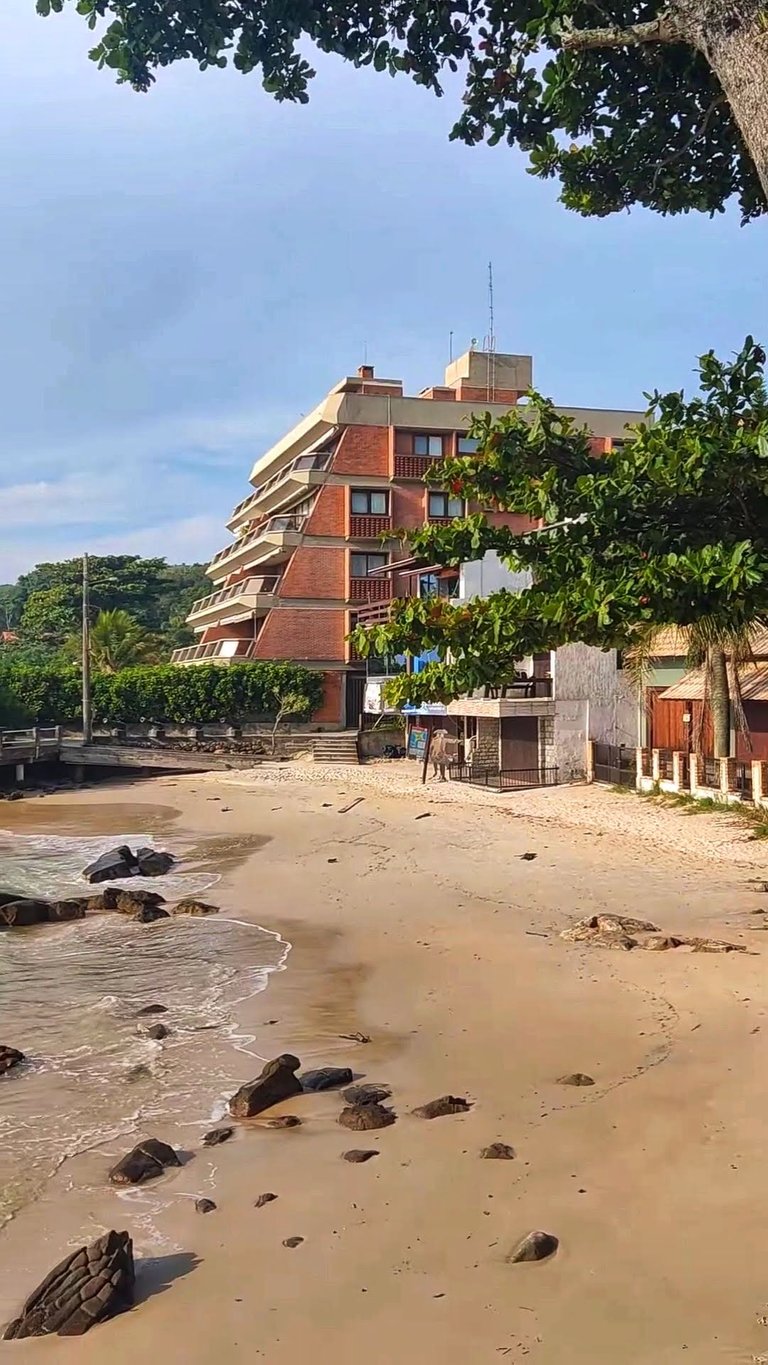 In low season, this small beach is practically deserted, but in high season, tourists flock here for a spot in the sun.
This pier serves as a meeting point for several boat trips, but besides those things, a beautiful scenery which you can spot several fishes in that crystal clear waters.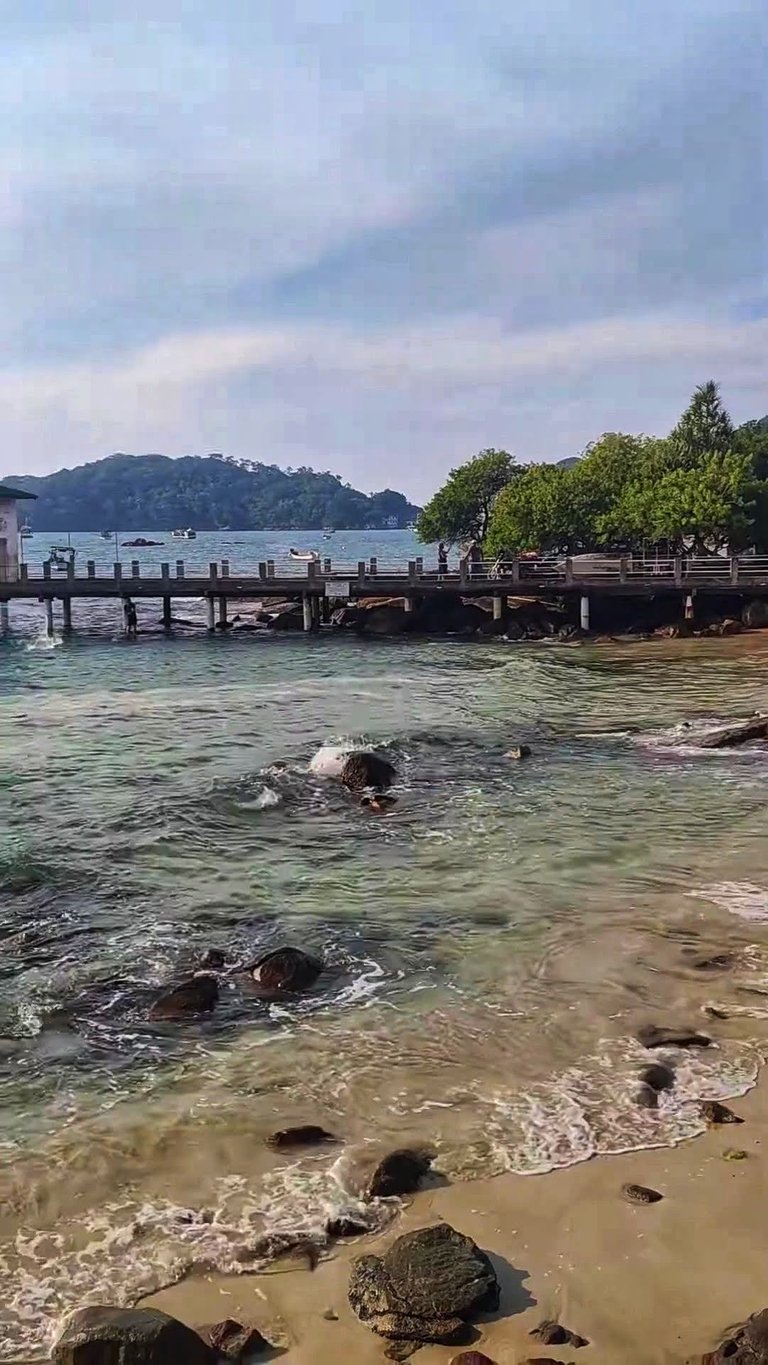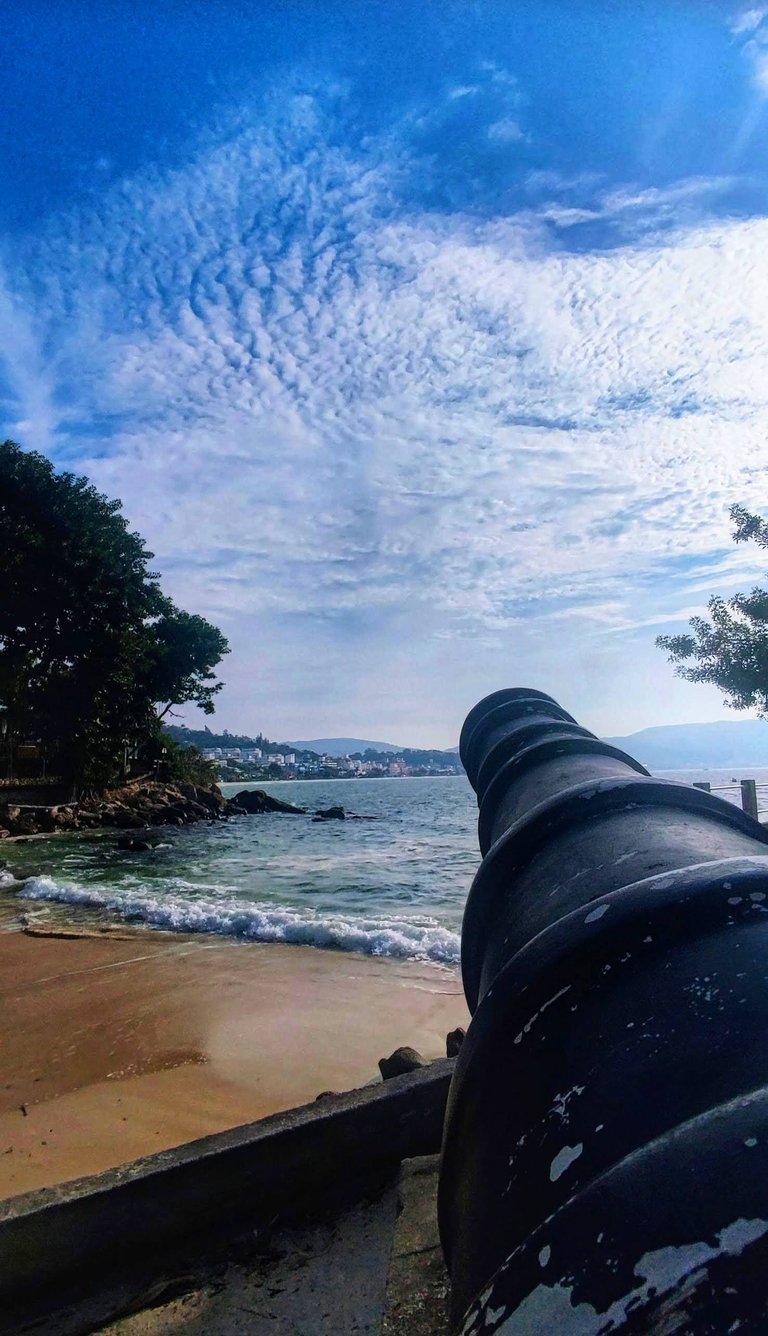 ---
You can see some cannons in the background, which I believe are just for decoration and not functional. Soon after, there are some benches under the trees where you can relax in the late afternoon and watch the sunset right in front of you.
I did this for a few days because it was close to where I was staying. You will find some museums telling about how this village was founded and others touristic informations.
Without wasting any more time, let's go to Lagoinha, which I think is an amazing place right next to Prainha.
---
Lagoinha
Lagoinha, which means "little lagoon" in Portuguese, is probably so because of the calm sea and the formation of a kind of lagoon, making it ideal for families traveling with children.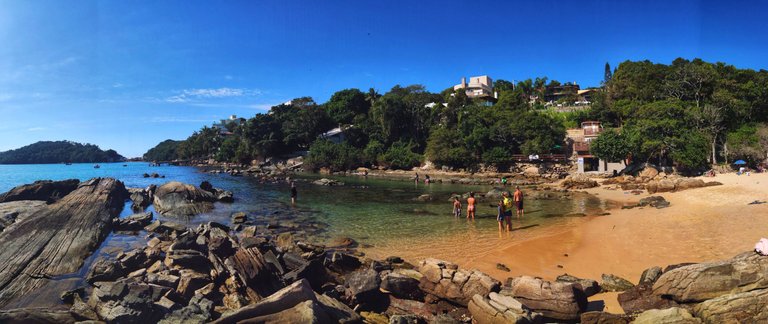 Water that is shallow and delicious, with little danger for children. Swimming and diving are popular activities on this beach.
Its tranquil waters form a natural pool. I'm sure you'll want to spend a lot of time swimming there. Even more so in the summer heat.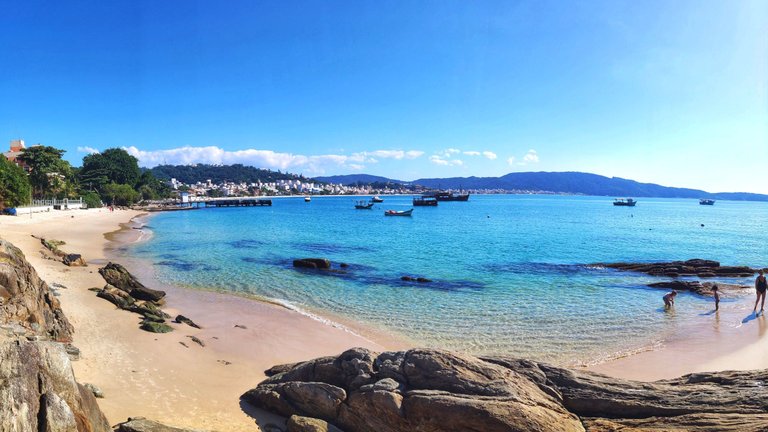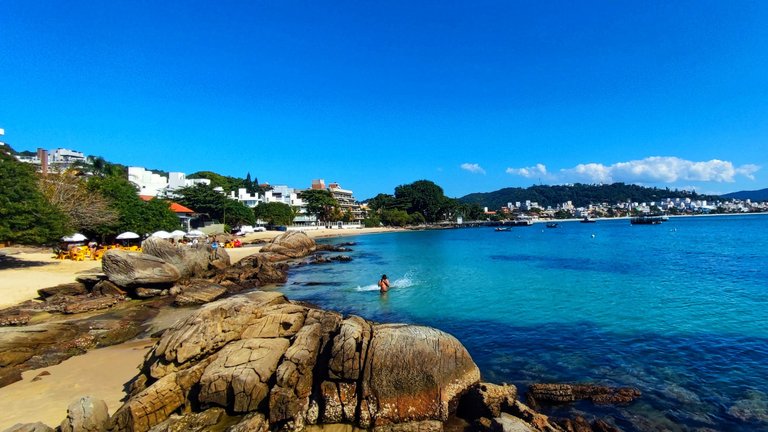 It's great to sit on the beach and sunbathe while being served by restaurants that serve snacks, food, drinks, and drinRefreshinghing coconut water and a beer go very well together.
Walking over the rocks is also a fun activity, and it's a popular spot for friends and couples to take photos with the blue sea right below them.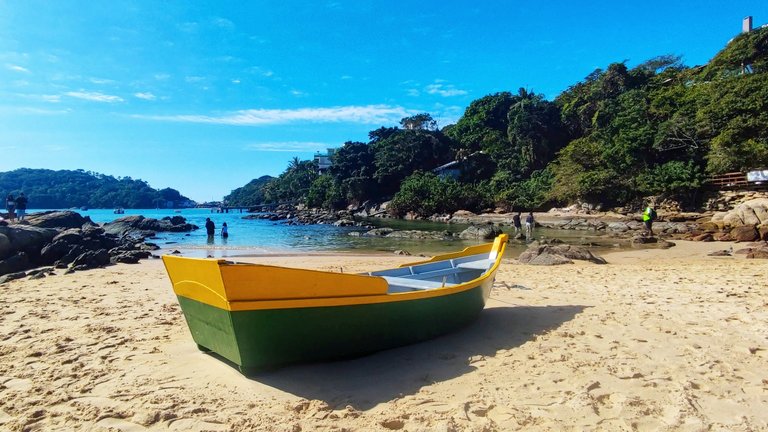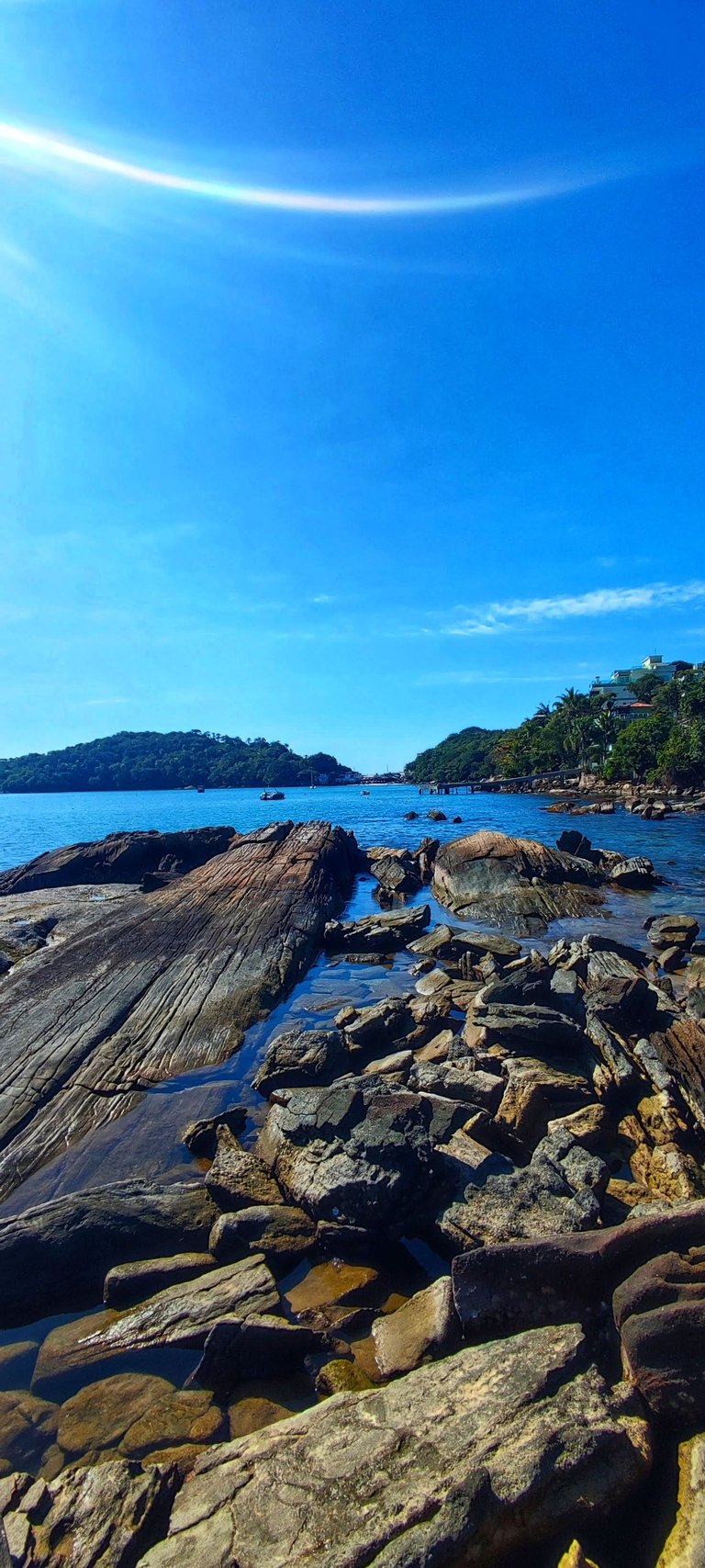 People on this beach are very attractive to people like me who enjoy rock formations and a full plate.
The desire to stay up there is strong, and with luck, you'll be able to find a nice spot to sit and enjoy the scenery.
Spread out a towel, grab a drink, and even though it was early winter, this day was extremely hot. Remember to use sunscreen. We don't want to turn red le a shrimp around here.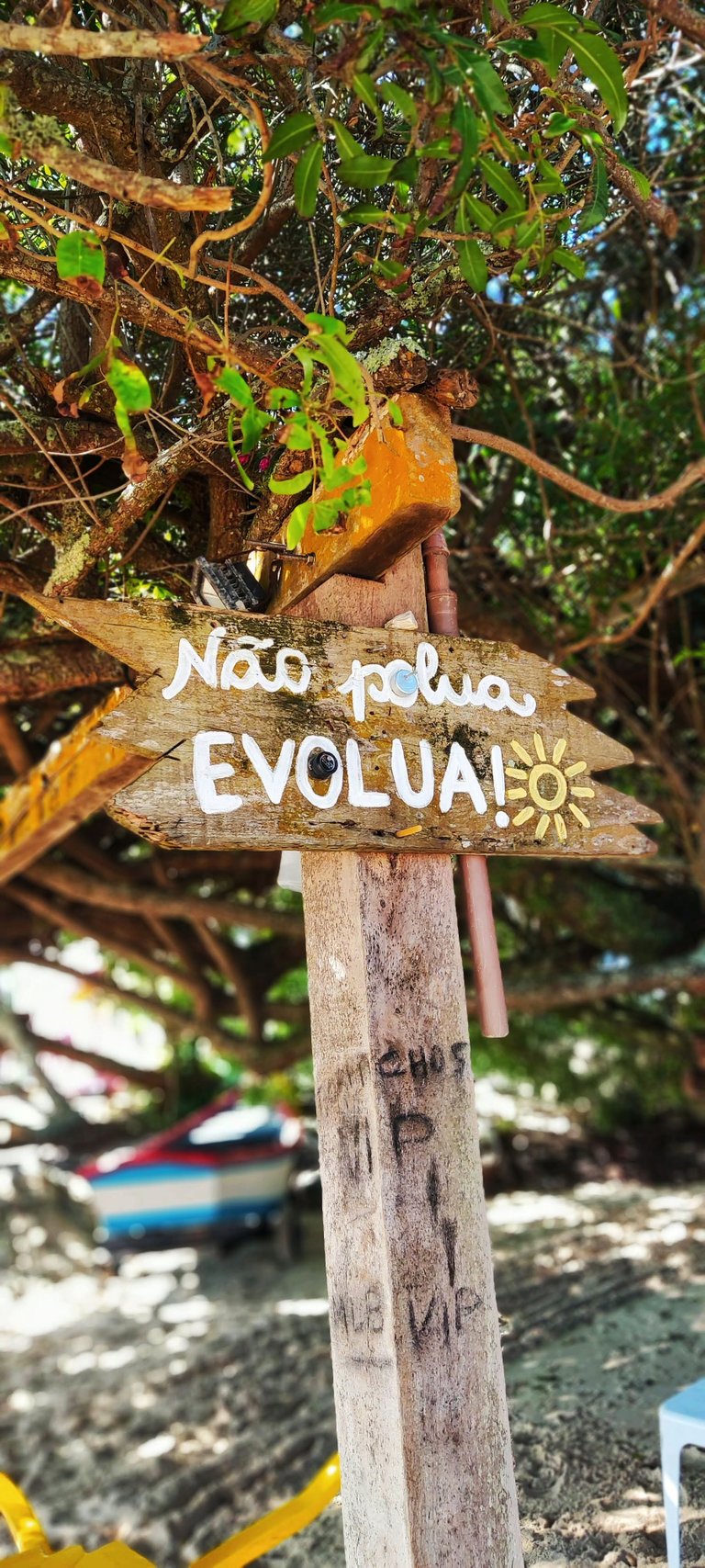 Something I like about this region is the emphasis on environmental preservation. Several signs remind us to care for the environment. That sign means: Don't Pollute, Evolve!
It appears to work, at least now that is low-season, as there was very little trash on the beach. Even if it isn't mine, I collect it when I find it.
It can be difficult for people to understand in the middle of 2022 that it is not litter, particularly plastics, that is killing marine life and birds.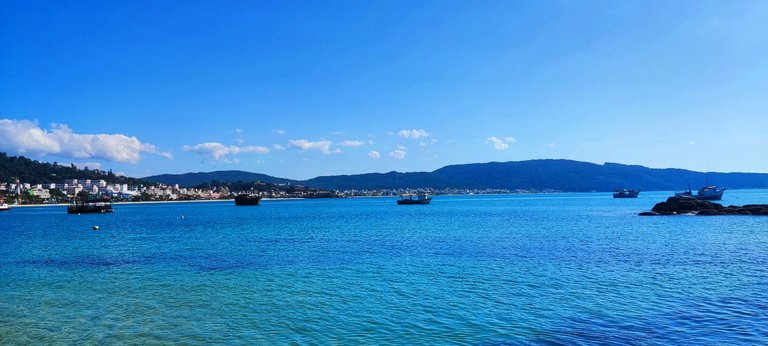 After leaving Lagoinha and climbing the hill, you have this unique view of the beach, which appears to be a find in the middle of the vegetation to me. We'll continue to our next destination, Praia Retiro dos Padres.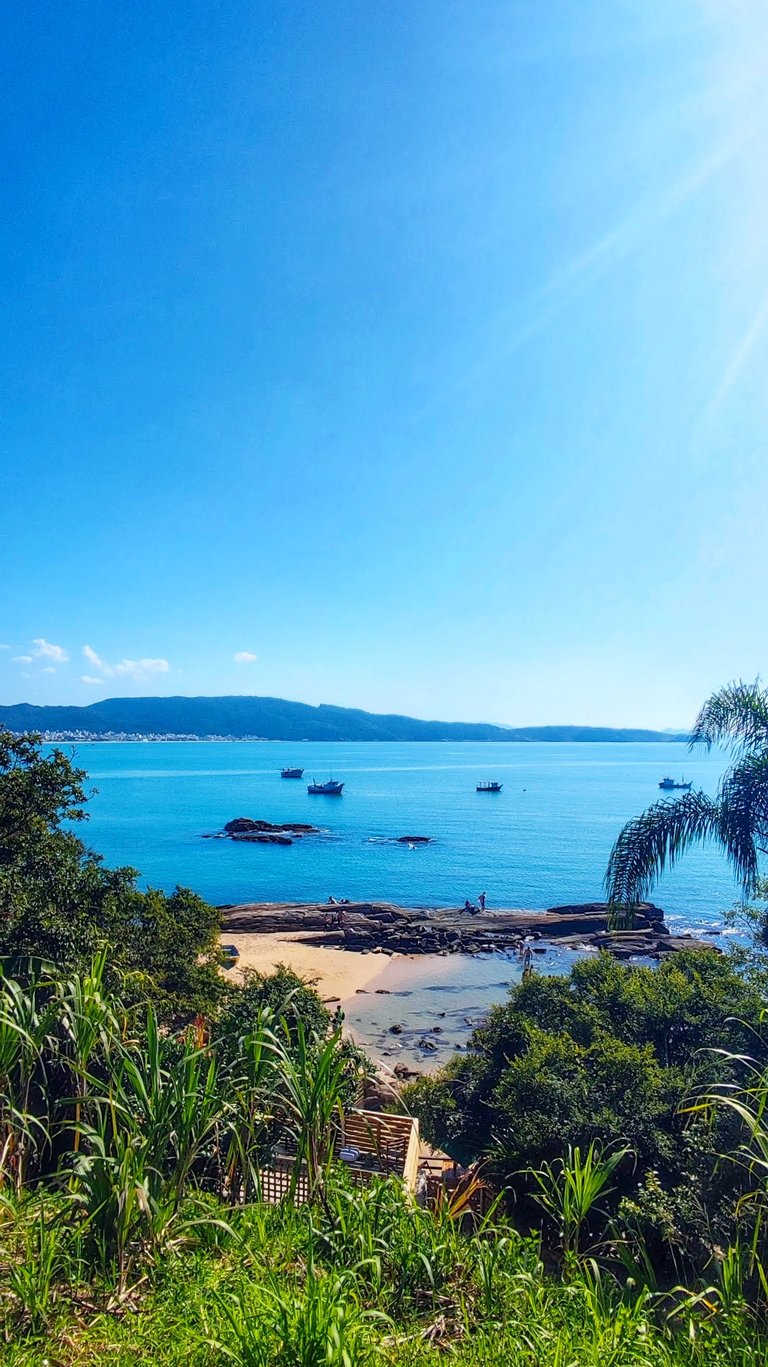 ---
Retiro dos Padres
After leaving Lagoinha, climbing a hill, and returning to the street, we walked to the Retiro dos Padres, which means priests' retreat.
A must-see beach if you're in the area. It's a little off the beaten path, but I'm sure you'll enjoy it. The charm of this beach, in my opinion, is a large tree at the end of the beach with a privileged view.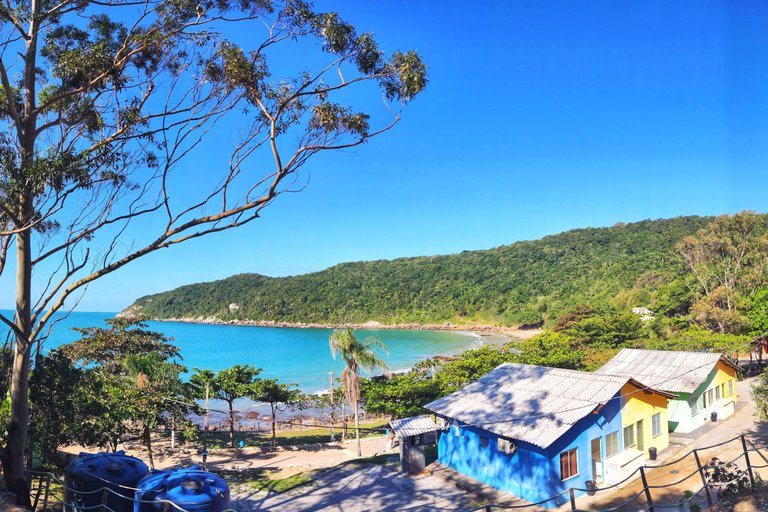 The beach with the longest extension of all of them, about 100m long. You will first come across two fantastic restaurants, both of which serve delicious local cuisine based on fish and seafood. Usually served with french fries, rice & beans, and salad on the side.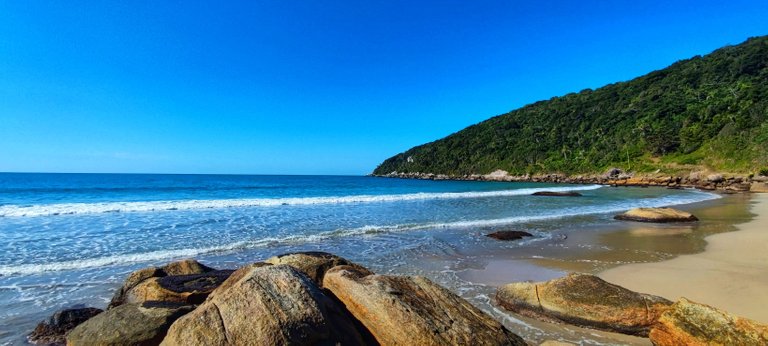 Retiro dos Padres There isn't much vegetation to provide shade, so bring your own sunshade. However, it has an incredible beach with more waves than the others.
If you enjoy surfing, this is a good beach to visit. There will be good waves depending on the tide. Also excellent for snorkeling.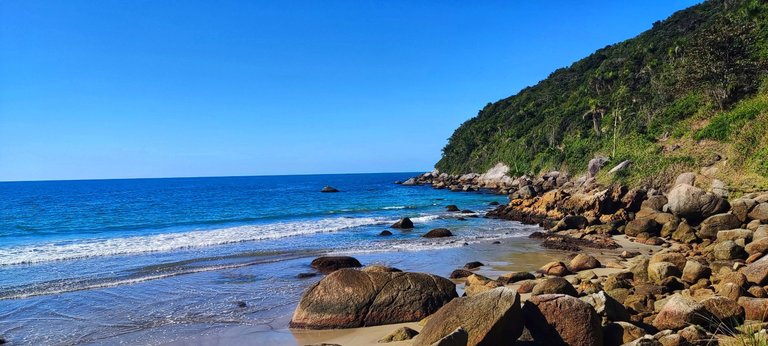 I'm not sure what the name of this tree is; I was told but forgot. Please leave a comment if you know. So I will call it a large tree.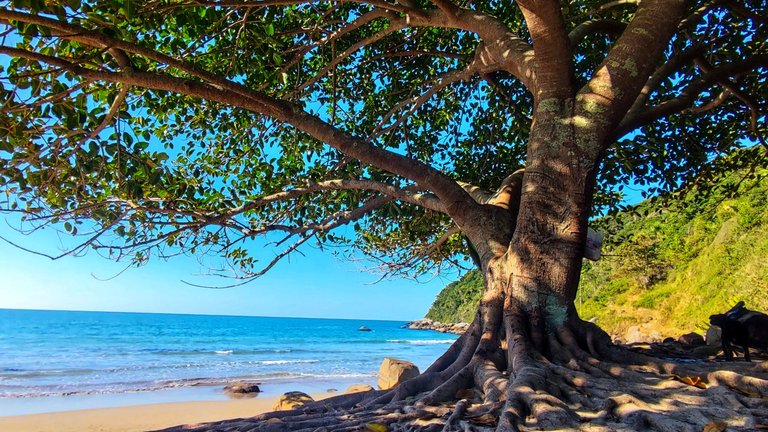 As you can see from the photos, the entire beach is surrounded by vegetation, some trails leads to other beaches, such as 4 Ilhas, which is a continuation of the 4 Ilhas Trail, which I mentioned in this post: fishermans-lookouts.
I also like this beach because it is quieter; while families with children prefer beaches with smaller waves, this beach, which is also larger, allows you to choose a location away from other tourists.
This beach is also ideal for those who enjoy fishing. However, because it is a permanent preservation area, you must be aware of the fishing seasons, and there are several rules for marine sports in the area.
---
Praia da Sepultura
After eating, drinking, and relaxing, it's time to depart Retiro dos Padres and make our way up the hill to Sepultura beach.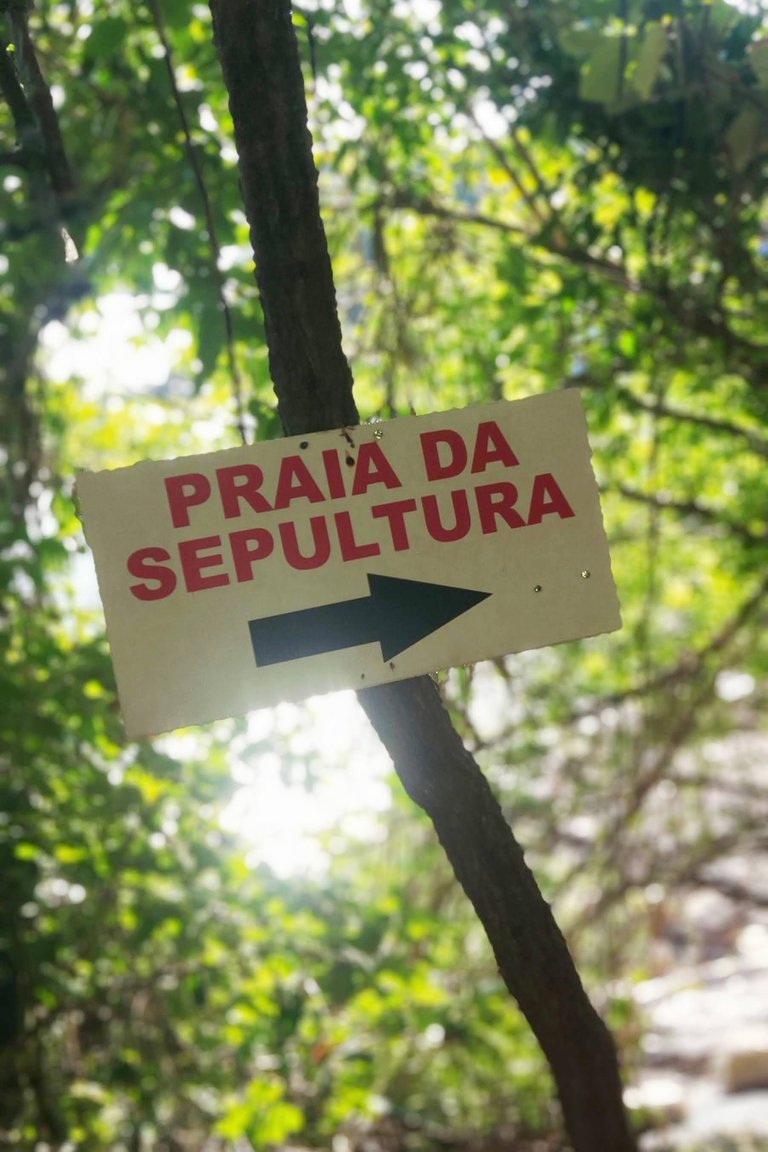 There are several entrances to Praia da Sepultura, one of which is via a parking lot, and the paths are already well-marked, but it can be slippery, especially in the morning when the ground is damp with dew.
Throughout the trail, you can see the sea through the trees, with its typical blue and emerald. Signs are directing you to the beach, and you do not need a guide to get there.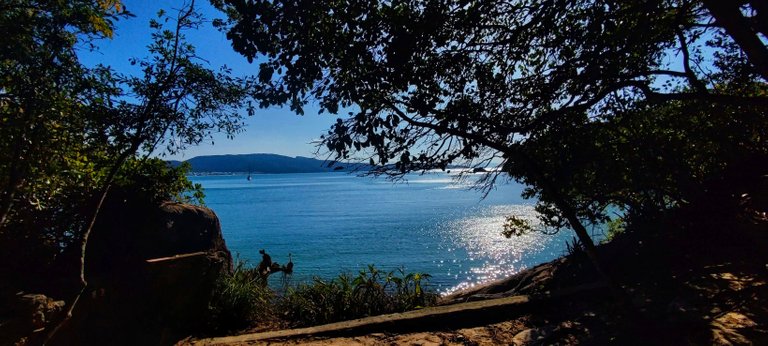 There are benches to enjoy the view and even barbecues along the trails. Another one of Brazil's obsessions. Beaches, beer, and BBQ are an excellent pairing.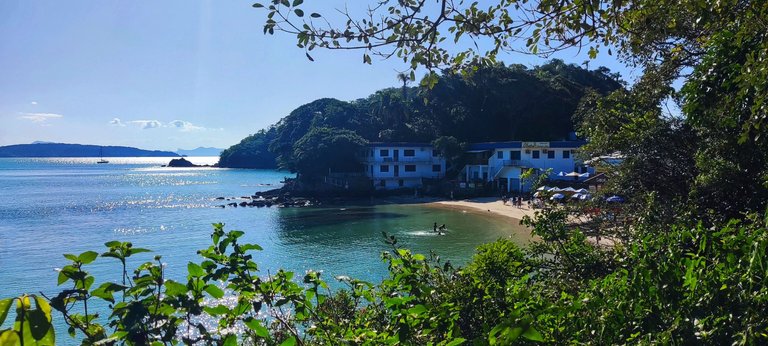 Arriving at Praia do Sepultura, a small stretch of sand that is extremely popular in the summer, tourists and kiosque's tables compete.
With a snorkel, you can see a variety of fish and other marine animals. Hopefully, turtles from the area will be swimming alongside you.
A cliff with rocks on the left side allows you to reach the other beaches, but in a more risky way.
It is important to know where to take the risk of crossing from one beach to another by the rocks, as many of the rocks are slippery due to the waves.
On this side, you can also find some fishermen.
There are also several Dive Exit options. There is no need for a boat; simply walk until the dive begins.
I like to hang out on the rocks on the left side, away from the sand, where you can sit and relax without constantly being passed by people.
Even with a little luck, you'll find a spot to relax under a tree.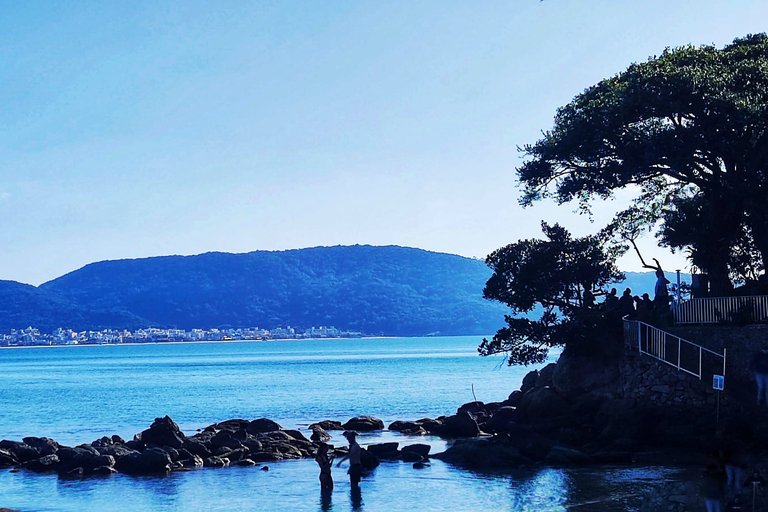 On this beach, on the right, there is a viewpoint with some benches where locals are conversing. A lovely setting that is shaded by trees.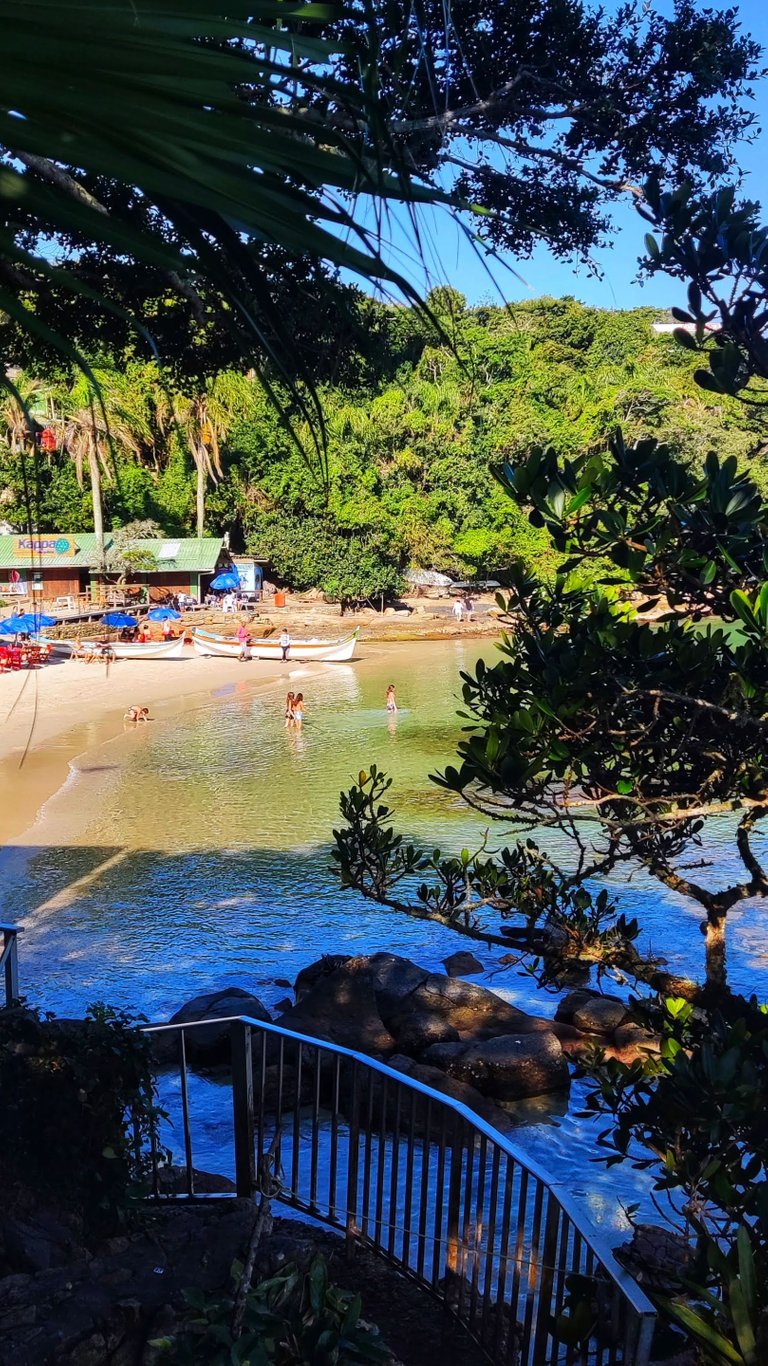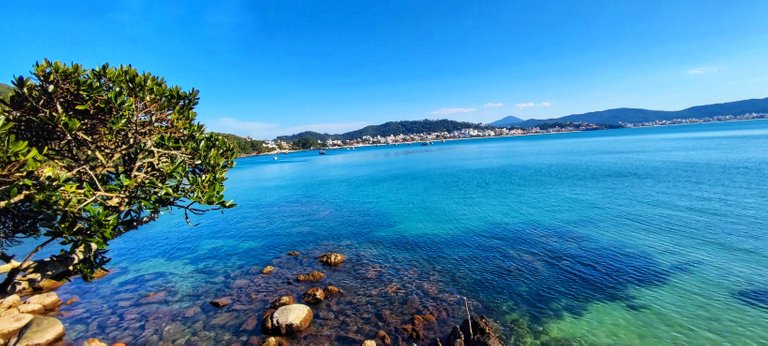 On this beach, getting a spot on the sand is difficult, so arrive early.
Sepultura has two restaurants as well as a diving school. I inquired about scuba diving, but they were unable to do so due to mullet fishing. Dives at this location do not take place by boat; instead, you walk to the sea and begin your dive right there.
The slopes offer a spectacular view, and the maximum depth can reach 15 meters.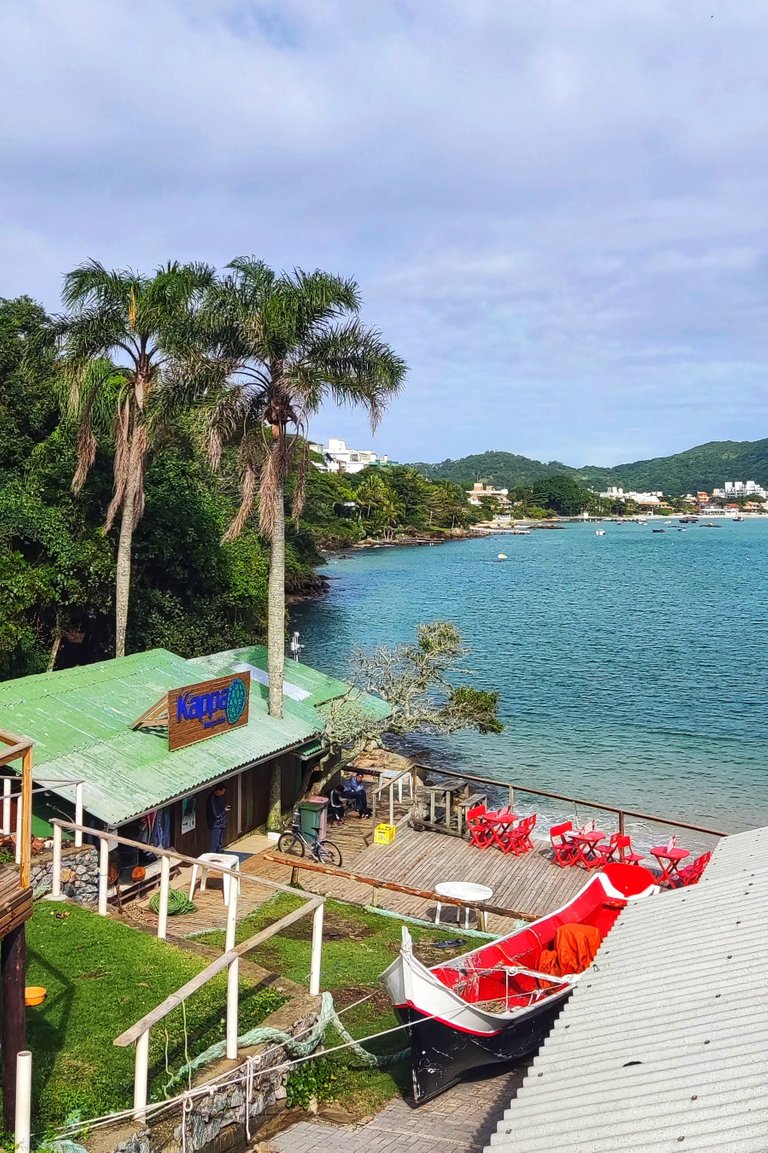 The path to the Sepultura natural pool begins on this beach, which you will defend along with a few other locations in the following post.
Hope you have enjoyed this hike thus far, and we will return soon to continue with more trails and beaches.
---
Thanks for reading.
Leave a comment that I'll be glad to reply to.