From the last week till now, my days are busy but I am taking everything slowly. I wrote before that I was going to introduce myself to a new psychiatric team who are going to help me for a longer period of time. Despite my slow recovery process, I still need instant help for some specific reasons. My trauma is still there and my nightmares returned. This time the nightmares are more intense and more visible. I rarely could sleep due to my anxiety and afraid mind. I can see some improvement of my treatment process but my condition is still delicate.
Currently, I have two doctors, one is a psychiatrist and one is a psychologist. My psychiatrist always takes care of my medications, my mood, and my recovery process. Before meeting my psychologist, I had no idea that I am going to meet a psychologist and the difference between a psychologist and a psychiatrist. It's strange because I thought both of them are similar but they are not. The approach of a psychologist is kind of friendly and all about therapy and talking. You can talk shit, cry or stay silent... Well, I will write about my first session later...
I have to meet my doctors once a week and for this reason, I have to go to the adult psychiatric hospital twice a week. I never wrote about my hospital location so today I have decided to write about it. A day before yesterday I had an appointment with my psychologist for the first time. The hospital is located at Parkwijk West, Almere which is a beautiful residential location. From my place which is Almere Centrum, it takes 15 minutes by bus. Very easy to reach the hospital. I don't go out often due to my mental condition and I often keep myself away from doing activities. But fortunately, this time I had reached the hospital 1 hour before my appointment with the psychologist. So, to push myself out of my own created barrier, I thought I should take a walk to explore the surroundings of the hospital. I also thought this decision will help me to relax my mind and brain and also will be good for my health as well.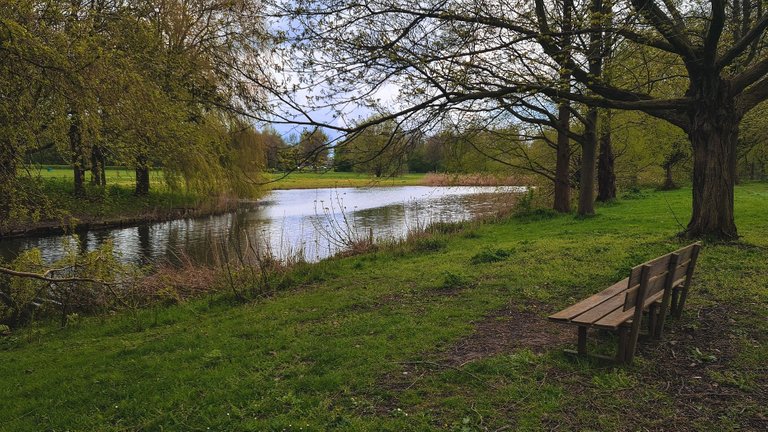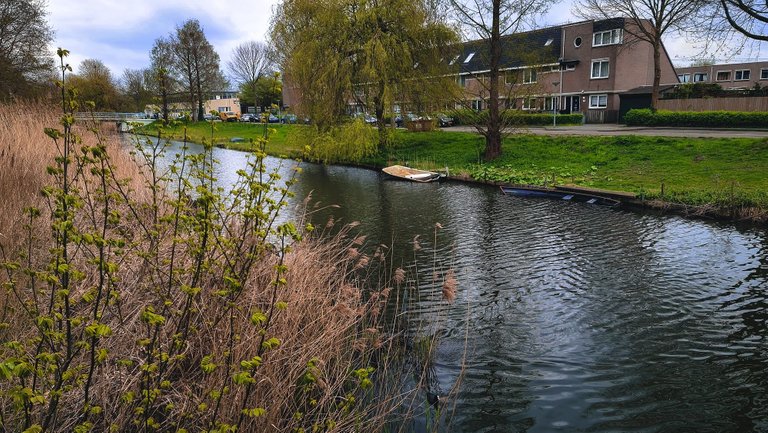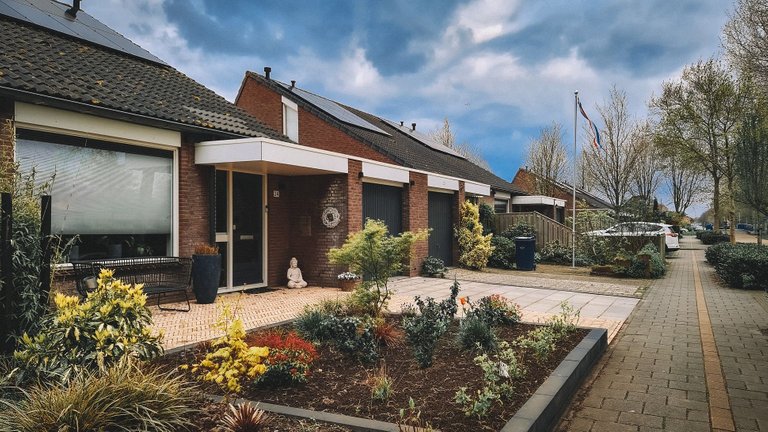 Before my walk, I never thought this place can be so relaxing and beautiful. After coming out from the bus, I started walking following the nearby neighborhood of the hospital. As I have written before that this was a residential neighborhood so most of the structures were low-rise, typical Dutch houses. But the planning of the area is very organized and easily accessible.
At first, I followed the small walkways of the residential area.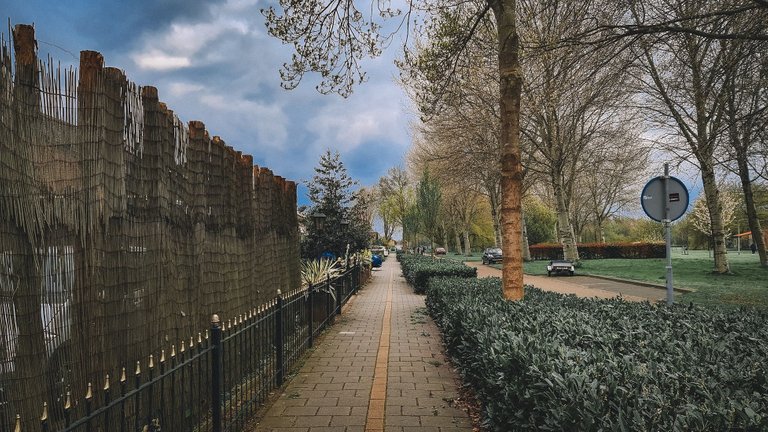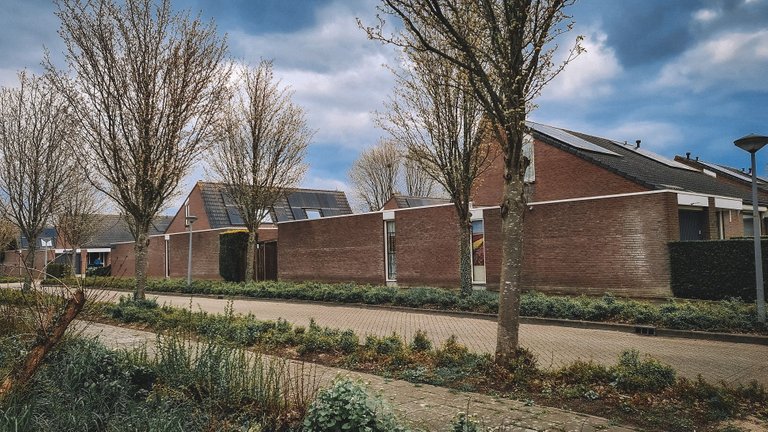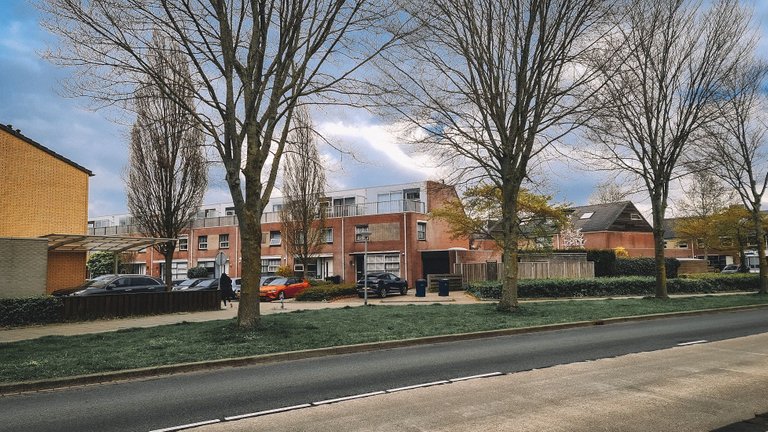 This time, I also took some photographs to break the barrier of my thoughts. My brain and mind are still not fully focused and my concentration level is almost 0. So, I find it quite challenging not only to walk in an unknown neighborhood by myself but also to take some photos. This small step might seem so small but considering my condition, it was a nice step following my recovery process.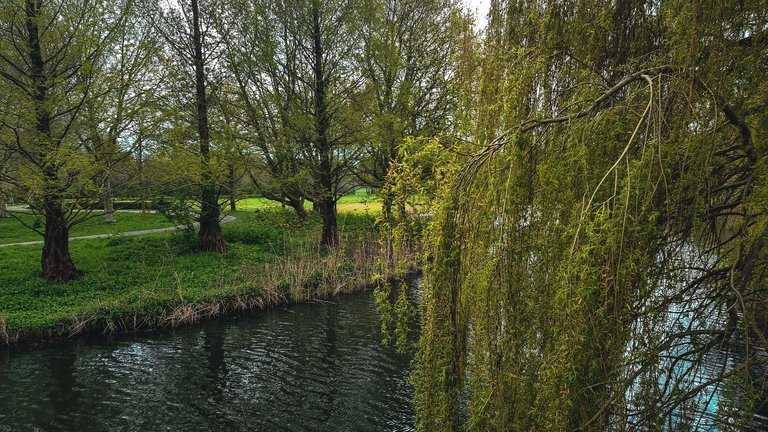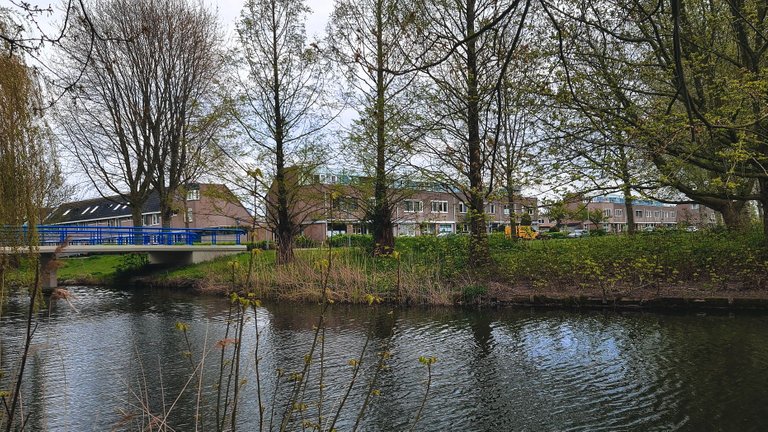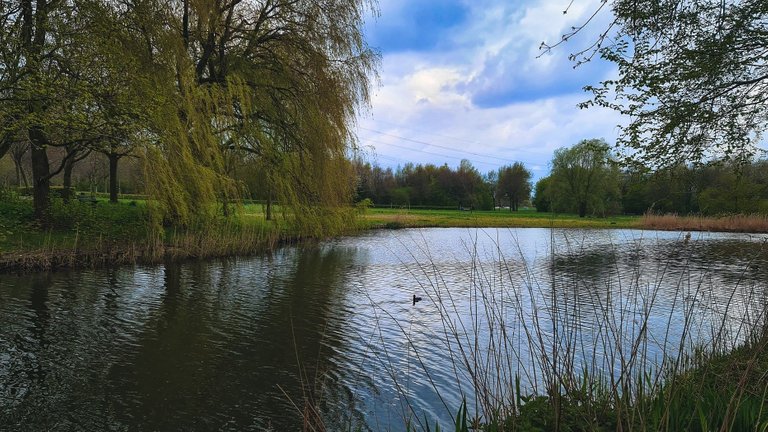 After walking in the neighborhood, I have discovered myself near a beautiful canal. It was not just a regular canal, a nice park area was located near the canal. I guess because of the greenery and beautiful scenery, this location is called Parkwijk. This park is called Hannie Schaftpark.
I have seen many dog walkers walking with their dogs off-leash and some were playing with their dogs. Because of spring, small white daisies and yellow dandelions were everywhere, so it is a great place for the dogs to run and play in the beautiful green meadow. A lot of things to smell for the dogs I must admit.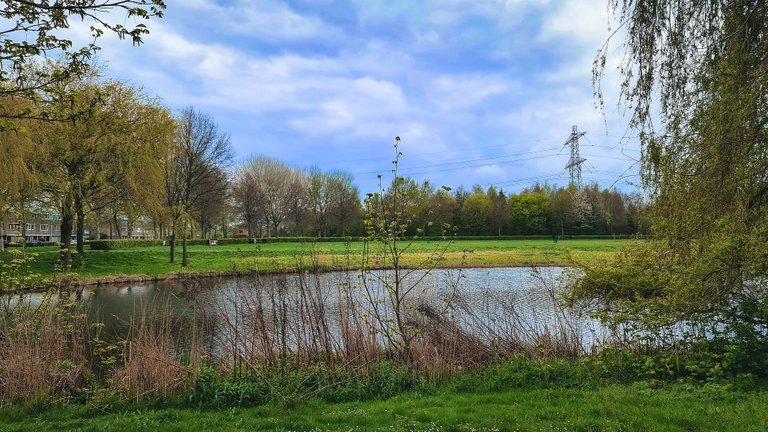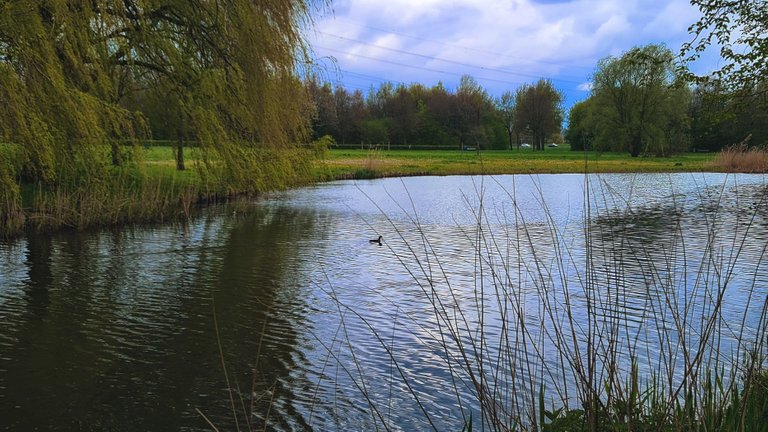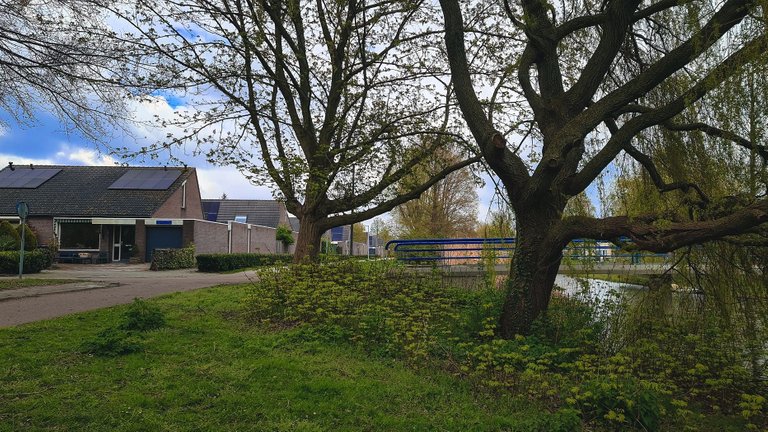 The mild, cold wind was blowing gently and the ducks were swimming on the canal. The place was so calm and like other neighborhoods in the Netherlands, Parkwijk was not exceptional and the atmosphere was so similar. I was kind of recalling my walk in my neighborhood in Kharkiv. The similar kind of feelings I was having there while walking around, the only difference is I will never be allowed to live there, unfortunately...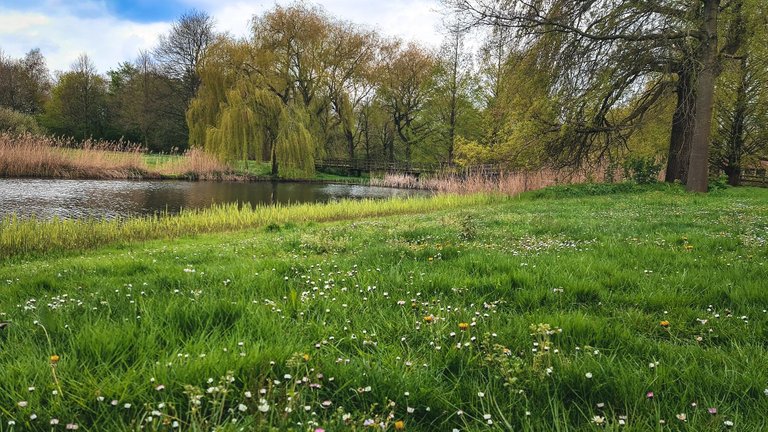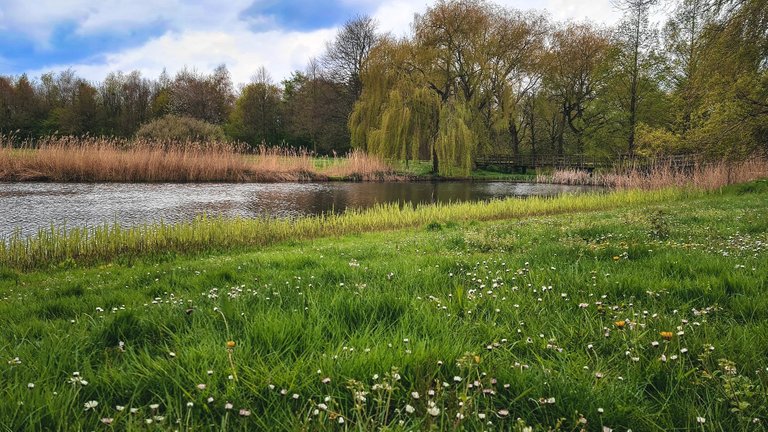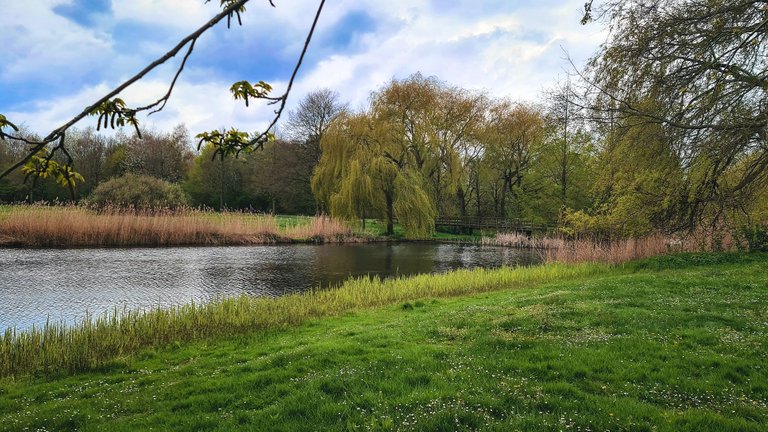 You might have seen a lot of locations like this around you but for me, it was a part of my treatment process, to discover myself once again.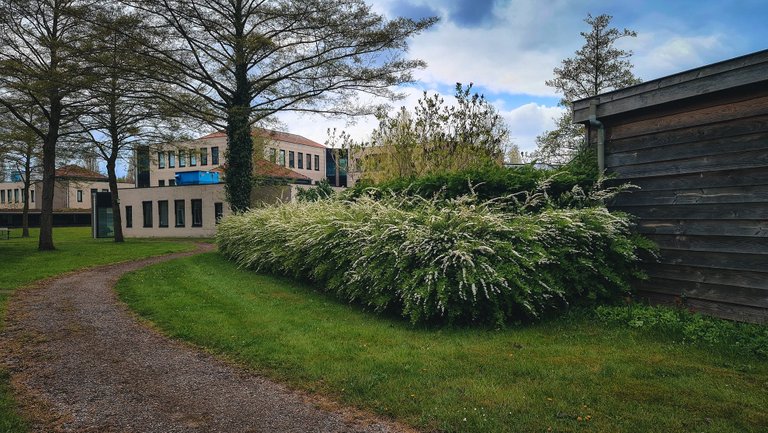 I saw some flowers, don't know their name obviously. I also discovered small structures which I assumed are used as community space or BBQ areas.
---
Although the walk was small and I was in hurry, I was able to enjoy it and relax a bit. It was helpful before my appointment.
My appointment with my psychologist for the first time was quite strange. I didn't know where to start or what to say to her. I knew I had a lot to say and discuss, I just couldn't because of the first meeting. I was also in dilemma about what to say and what not to say. I guess my psychologist also understood my dilemma and hesitation and that's why she told me to see her once every week. Later I came to know that she is going to help me to process my trauma, tragedy, and all kind of feelings and also will help me to get back to normal daily life. I still don't know what kind of therapy she is going to give me but I guess in time I will understand that.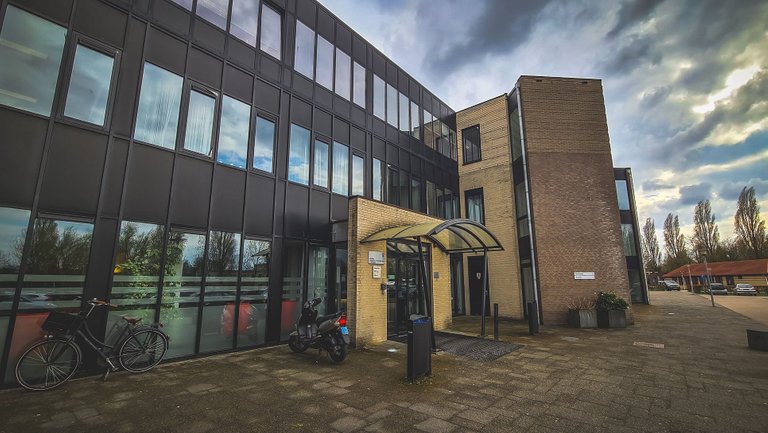 My psychiatrist added a new medication to help me sleep better. But in my opinion, after taking the new medicine along with the older medicines, my nightmares are becoming so intense and scary. I scream at night and I wake up instantly. I cry and talk a lot in sleep and suddenly I wake up. I can remember all the bad dreams and they are scary. So, my morning starts in a very strange way. I don't know what's going on with me now, nights are now very difficult for me to survive rather than the daytime. Not only it's a struggle to deal with such scary nightmares, but also for my health and mental health, they are not good. I know it because I can remember my nightmares clearly in the morning. I don't know what can be the solutions.
I am recovering slowly but I am also seeing a lot of side effects from the medications...
---
Love
Priyan...
---
I am @priyanarc.... An architect, a dreamer, and a passionate writer who loves to write about life. I try to present my own perspective and experiences. Please leave your feedback and criticism because it's the only way I can know and reach your mind and thought easily...
---
Find me on:
---
All images used are captured by the author...