Every day I discover something new about me, well I don't do anything, my psychiatrist discovers and tells me about the treatment. Yesterday, 20th march was my birthday and I developed depression with PTSD. I don't know if this is serious or not because my doctor told me everything very calmly with a straight face. It was hard to read his face and what exactly he meant. Is this curable, the answer is yes it is curable. But it will take time.
Every moment of my life changes dramatically, it's like a web series because a movie has an ending. My life stories never end. I thought my suffering level is going to end soon but the more I go deep into the treatment, the more things come out. My 6 weeks of home intensive care treatment for my PTSD is going to end but the hospital extended this process. After the extension what gonna happen, well all I understand is that this emergency section is going to transfer me to another section for the long term. The doctor was explaining to me the entire process, then he looked at me and I said do you think I can remember all these? He said, no problem, you will eventually see everything.
A new anti-depression medicine was introduced to me today, obviously, there are side effects and now I am going to take 3 kinds of medicines. I am a little bit scared but I have no other option. Seeing my condition and living style, I decided to take anti-depression medicines once again.
The tasks of the past week I didn't complete and I couldn't do them. It's not like I didn't try but in the end, my thought was what's the point of living life? I was a fighter even though I still believe I am a fighter. I am just demotivated, and exhausted with my life. Many of you supported me and tried to help me. I sometimes miss replying to the comments but trust me I appreciate each and every comment. That's why I guess a part of me trying to see the light of life otherwise I would have done something to myself.
Yesterday was my birthday as I mentioned and I am getting old. You can say that age is just a number but sometimes this number reminds me of my achievement. What I have done with my life? What's the point of living such a life where I am a living zombie? All of my friends have a life, a family of their own, a house, and happiness. And me!!! I am dealing with my illness. I am sick and I know I am dealing with depression and PTSD. I wonder what I have done in life and what was the reason for my punishment.
I wanted to do something good for my birthday because it was a celebration. A reason to feel better but instead I started thinking about why my mother brought me into this strange world. This is very strange that I started questioning my birth. I did nothing, I stayed in the room and got depressed. One of my colleagues from Ukraine came to wish me for my birthday. She brought beautiful flowers and balloons. Flowers are now in a vase and balloons are flying here and there. I thought Gigi will feel uncomfortable with the balloons but she plays with them. My room is so messy and I don't clean. The entire 18 hours I spend only thinking and sitting in a corner. Other 6 hours I sleep because of the medicine. I lost weight obviously because I don't take care of myself properly. I don't eat from time to time and eventually, food gets rotten.
I am really tired, exhausted, and still angry...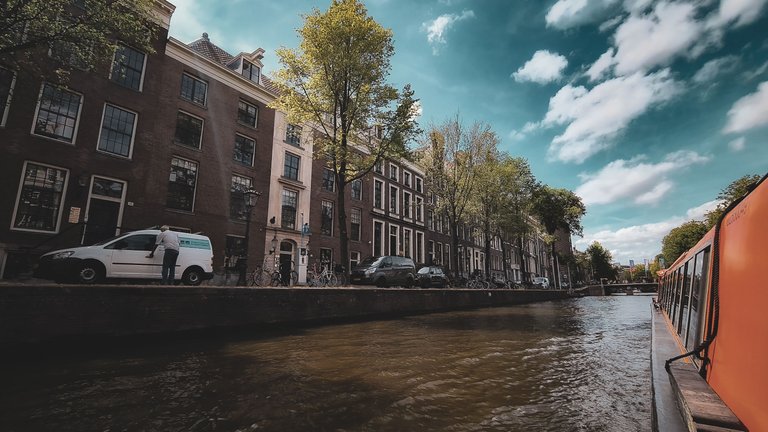 I could have done something for my birthday. Probably get dressed up and go somewhere nearby. But I didn't feel like doing anything when the time came.
Oh, I did something, finally, I was able to finish my document work for immigration. My resident permit in the Netherlands already expired on 4th march 2023 so I was kind of forced to do the work. Today once again I had a long session with my psychiatrist and most of the time I was silent.
Yesterday was also the anniversary of Hive. I called it 3rd hive birthday. Cannot believe 3 years have gone. The hive community is growing every day and going forward with a lot of development where I am going backward in life. It's strange because people always tend to move forward, nobody has time to look backward.
I don't have much to say about the Hive community now because I already said before that I am grateful to this amazing community. Over the past 3 years, Hive has been part of my life. Well, my blockchain journey seems like ancient now because my 5 years anniversary is coming. The hive community was always with me both in good times and bad times. It is the only platform where I felt safe sharing almost everything.
Thank you for everything... Thanks for so much love and care...
Goodness really exists in this world...
---
Love
Priyan...
---
I am @priyanarc.... An architect, a dreamer, and a passionate writer who loves to write about life. I try to present my own perspective and experiences. Please leave your feedback and criticism because it's the only way I can know and reach your mind and thought easily...
---
Find me on:
---
All images used are captured by the author...