Hola querida comunidad mi saludo cálido para todos esos papitos que a diario luchan porque esta comunidad de @Motherhood siga creando contenido de calidad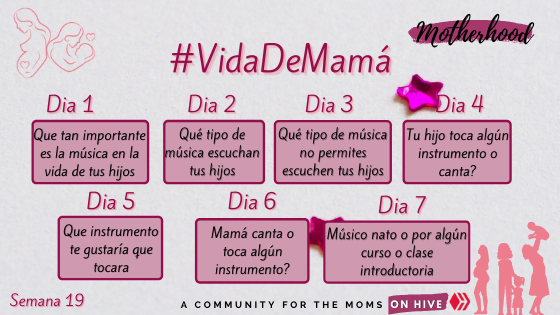 Hello dear community my warmest greetings to all those daddies who daily fight for this @Motherhood community to continue creating quality content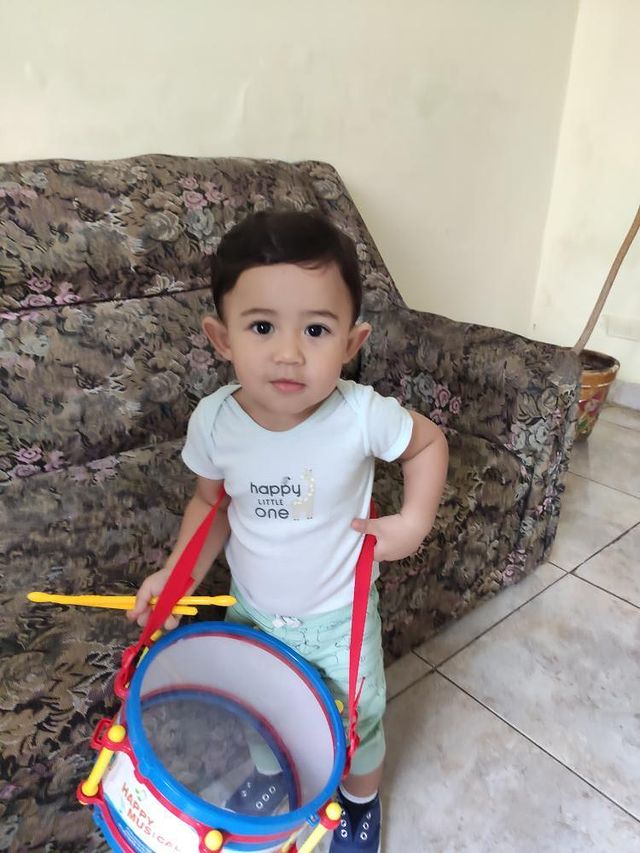 Dicen que el arte es el don de tocar el alma con una expresión precisa que sale desde otra alma a través de alguna forma o expresión, esta puede ser a través de la pintura, la música, el baile, entre otros artes que se desarrollan a través de los años.
They say that art is the gift of touching the soul with a precise expression that comes from another soul through some form or expression, this can be through painting, music, dance, among other arts that are developed over the years.

Pues bien en nuestro país el arte no es tan apreciado como debidamente es en otros países en donde hay programas de aprendizajes significativos, y donde hay un lugar preciso para los artistas. Esto hace que en el crecimiento de nuestros hijos y a medida que tienen uso de razón nosotros los padres nos enfoquemos en darle un rumbo a otros espacios de la vida, comúnmente se le ve a las madres decirles a sus hijos Este será el doctor de la familia, o este será abogado igual que su tío.
Well, in our country art is not as appreciated as it is in other countries where there are significant learning programs, and where there is a precise place for artists. This makes that in the growth of our children and as they have use of reason we parents focus on giving a direction to other areas of life, it is commonly seen mothers tell their children this will be the doctor of the family, or this will be a lawyer like his uncle.

Pero es muy raro ver que una familia tenga una postura de apoyo y de acompañamiento para el talento o lo que se le dé más fácil a ese niño que va creciendo, y es un aspecto tan esencial de la vida de un ser humano que nosotras como madres tenemos que tener la certeza de que el apoyo que hagamos y el acompañamiento tenga que ser para lo que realmente nuestro pequeño es bueno.
But it is very rare to see that a family has a posture of support and accompaniment for the talent or whatever is easier for that growing child, and it is such an essential aspect of the life of a human being that we as mothers have to be certain that the support we give and the accompaniment has to be for what our little one is really good at.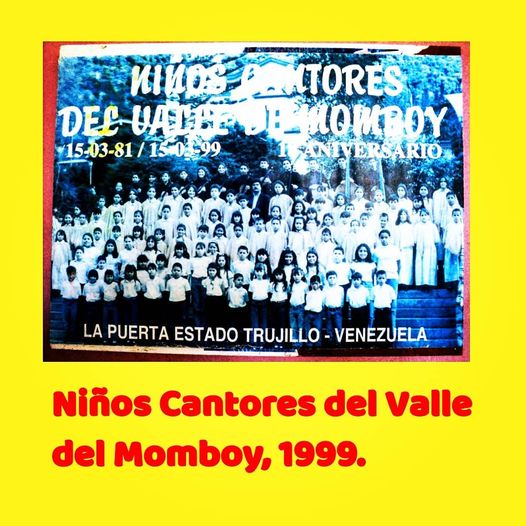 Niños Cantores del Valle del Momboy, 1999. Afiche del 18 aniversario de la fundación de este grupo coral.
Niños Cantores del Valle del Momboy, 1999. Poster of the 18th anniversary of the foundation of this choral group.
Fui por 12 años ininterrumpidos músico Violinista y Corista perteneciente al sistema de orquestas sinfónicas de Venezuela del estado Trujillo del núcleo de la puerta para ser más exactos, programa que ahora se encuentra acéfalo de aquellos quienes en sus directrices impulsaron a el único programa real que ha apoyado el talento y el arte sin distinción y que ha salvado más vidas que cualquier psicólogo, religión y cualquier hospital de mi país. Pero como muchas cosas han cambiado en mi país este también se ve en deterioro general y no sabemos si algún día vuelva a brillar a nivel mundial como lo fue…
I was for 12 years uninterrupted musician Violinist and Chorister belonging to the system of symphony orchestras of Venezuela of the state of Trujillo of the nucleus of the door to be more exact, program that now is acephalous of those who in their guidelines promoted the only real program that has supported the talent and art without distinction and that has saved more lives than any psychologist, religion and any hospital in my country. But as many things have changed in my country this one is also in general deterioration and we do not know if someday it will shine again worldwide as it was ...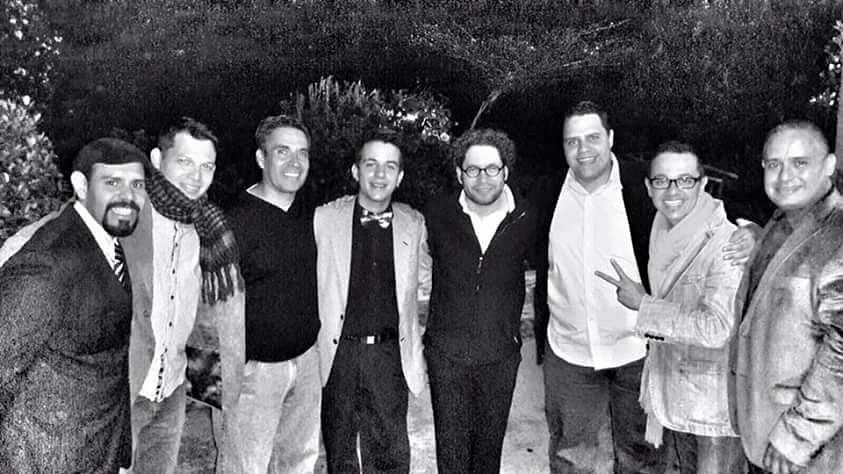 Su padre es un músico nato Pianista ,cantante, de la región de Andina de Mérida tiene prácticamente toda su vida haciendo uso del arte de la música, con la cual ha trabajado , sobrevivido, este arte le a entregado lo que tiene hoy por familia ya que fue por la música que nos conocimos hace ya 9 años.
His father is a born musician, pianist, singer, from the Andean region of Merida has practically all his life making use of the art of music, with which he has worked, survived, this art has given him what he has today as a family because it was through music that we met 9 years ago.

Como lo ven la música es la vida misma para nuestra familia, es la bendición que Dios nos puso en nuestro camino para formar todo y para alejarnos también de todo lo malo y de las peores influencias que nos rodean y que nos rodearon en algún momento.
As you can see, music is life itself for our family, it is the blessing that God put in our way to form everything and also to keep us away from all the bad and the worst influences that surround us and that surrounded us at some point.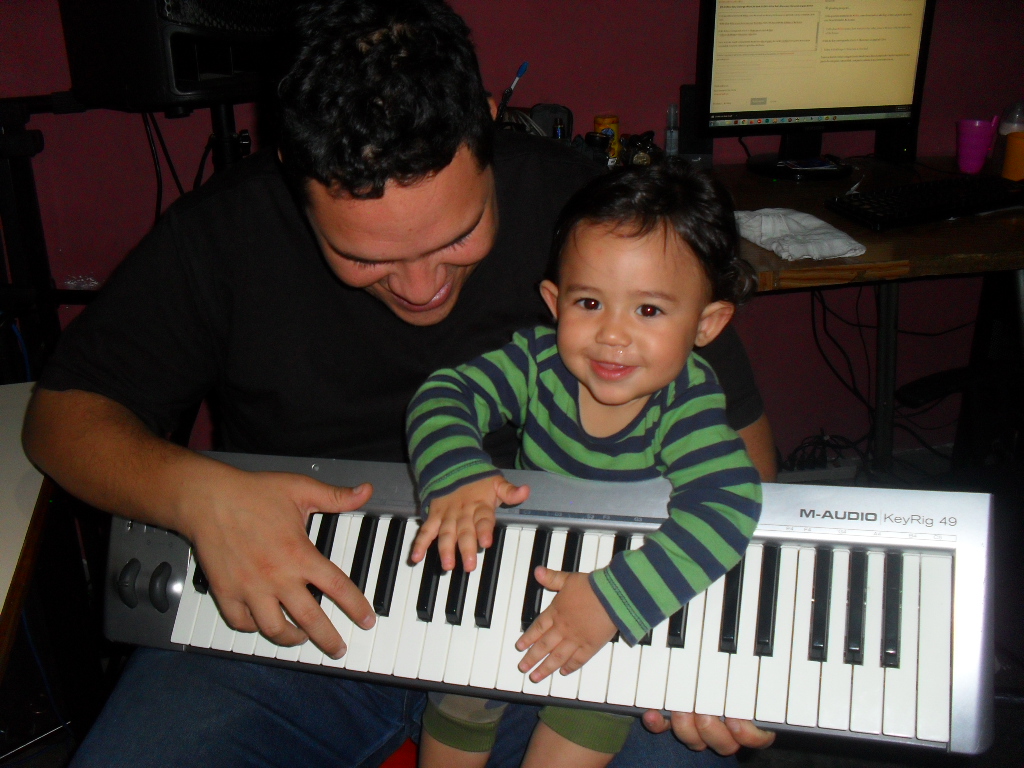 Ahora hablar de la música en forma de género y de manera didáctica no es lo mismo que hablar de una manera pura, artística y como forma de vida. Creo que al hacer esta pregunta del challange de esta semana nos referimos en que impacta la música que escuchamos a diario la vida de nuestro Camilo, y bueno la vida con la música que escuchamos en los comics que Camilo ve, o los artistas que solemos escuchar , de hecho diariamente su padre está tocando para estudiar su repertorio, Camilo ve la música con una perspectiva que se va educando a diario, escucha y es capaz de seguir algunos ritmos con las manos.
Now talking about music as a genre and in a didactic way is not the same as talking about it in a pure, artistic way and as a way of life. I think that by asking this question of this week's challange we are referring to the impact of the music that we listen to daily in the life of our Camilo, and well, the life with the music that we listen to in the comics that Camilo sees, or the artists that we usually listen to, in fact daily his father is playing to study his repertoire, Camilo sees music with a perspective that is being educated daily, he listens and is able to follow some rhythms with his hands.
.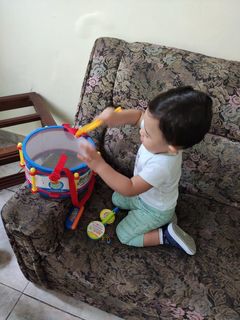 Desde hace poco Camilo esta empezando a imitar sonidos y a vocalizar algunas canciones que a diario le cantamos de manera didáctica, al principio su papa no quería infundir nada musical, pues dice que es mejor que que vaya descubriendo que le gusta, pero ha sido sorprendente la manera en que se comunica haciendo música y lo sabemos porque hay maneras de comunicar que le gusta y le atrae mucho la música.
Since recently Camilo is beginning to imitate sounds and to vocalize some songs that we sing to him daily in a didactic way, at first his father did not want to instill anything musical, because he says that it is better for him to discover what he likes, but it has been surprising the way he communicates making music and we know it because there are ways to communicate that he likes and he is very attracted to music.
.

Creo que la vida de nuestro bebe está siendo impactada de manera positiva con la música, lo estamos enseñando a amar, respetar y querer el arte desde todos los puntos de vista, y esto es una dicha , a pesar de que para nosotros fue difícil entrar en este mundo porque nuestros padres no estaban del todo dentro de ella, ahora nosotros como padres tenemos la oportunidad de guiar con experiencia y con todo el amor del mundo a nuestro Camilo que si le sigue gustando la música como ahora no tengo duda de que será el más grande.
I believe that our baby's life is being impacted in a positive way with music, we are teaching him to love, respect and love art from all points of view, and this is a joy, although it was difficult for us to enter this world because our parents were not fully into it, now we as parents have the opportunity to guide with experience and with all the love in the world to our Camilo that if he continues to love music as now I have no doubt that he will be the greatest.
.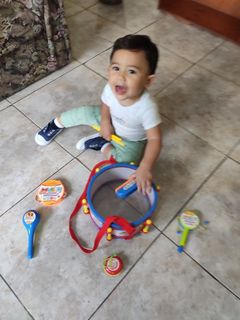 Gracias por su apoyo incondicional, nuevas historias y anécdotas nos esperan para seguir compartiendo.
Thank you for your unconditional support, new stories and anecdotes are waiting for us to continue sharing.