Hello, Community of Mothers, today, I want to give you a: Virtual Floral Gift, Mother's Day, by virtue of greeting you and wishing you a wonderful Mother's Day, together with your children, grandchildren and family, achieving thus, a pleasant and fun sharing, during this beautiful day.
Although Mother's Day is every day, it is a date where our children and grandchildren ((to whom we are grandmothers) enjoy the love and affection that they offer us during this day, especially my daughter and grandson have already booked a lunch at the Sirio Club Restaurant, located in Castaño-Maracay, to celebrate that day, in particular, Arabic food, which is my favorite.
I am pleased with everything that my daughter is planning for me, along with my grandson and husband, to make me feel wanted, loved and pampered on this special day.
Next, I present the materials and steps for its elaboration:
.
Hola, Comunidad de Madres, el día de hoy, deseo obsequiarles, un: Regalito Floral Virtual, Día De Las Madres, en virtud, de saludarle y desearles un maravilloso Día de las Madres, en unión de sus hijos, nietos y familiares, logrando así, un compartir ameno y divertido, durante este hermoso día.
Aunque, el Día de las Madres, es todos los días, es una fecha donde nuestros hijos y nietos ( (a las que somos abuela) , disfrutamos, del amor y el cariño, que nos ofrecen, durante este día, en especial, mi hija y mi nieto, ya reservaron, en el Restaurante del Club Sirio, ubicado, en el Castaño- Maracay, un almuerzo, para celebrar ese día, en particular, comida árabe, que es mi preferida.
Me siento complacida, de todo lo que mi hija, me está planificando, junto a mi nieto y esposo, para hacerme sentir, querida, amada y consentida, en este día tan especial.
A continuación, les presento, los materiales y pasos para su elaboración:
---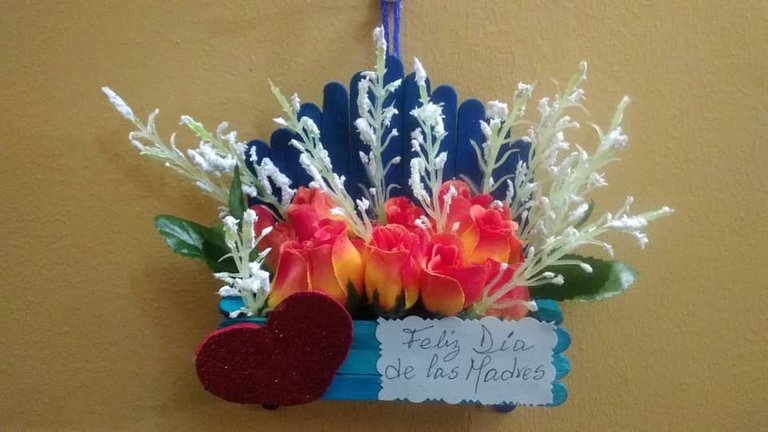 ---

Materials:
ice cream popsicles
Liquid silicone
1 piece of cardboard
tempera
Brush
flowers (rose buds will be used)
scissor
foami (optional)
Materiales:
Paletas de helados
silicón líquido
1 retazo de cartón
tempera
pincel
flores (se utilizarán los botones de las rosas)
tijera
foami (opcional)
---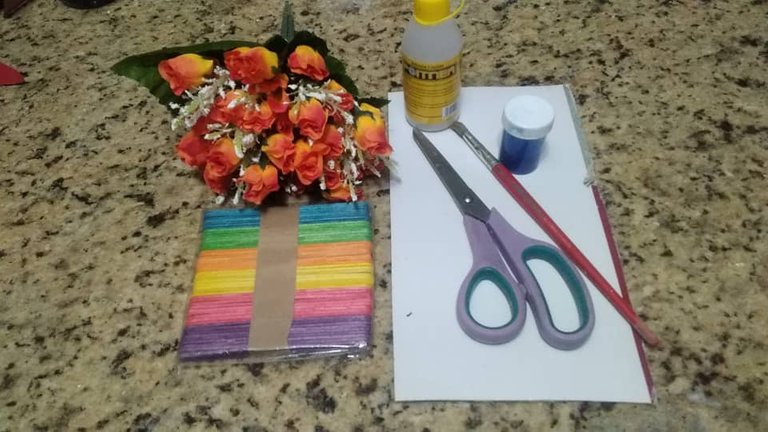 ---

Step 1:
Join 11 ice cream popsicles, in descending order, taking the center popsicle as a reference, then join them by gluing them with 3 popsicles from the back, with liquid silicone. Let dry (see photos).
Paso 1:
Unir, 11 paletas de helados, en orden descendiente, tomando como referencia, la paleta del centro, luego, unirlas pegándolas con 3 paletas por la parte de atrás, con silicón líquido. Dejar secar (ver fotos).
---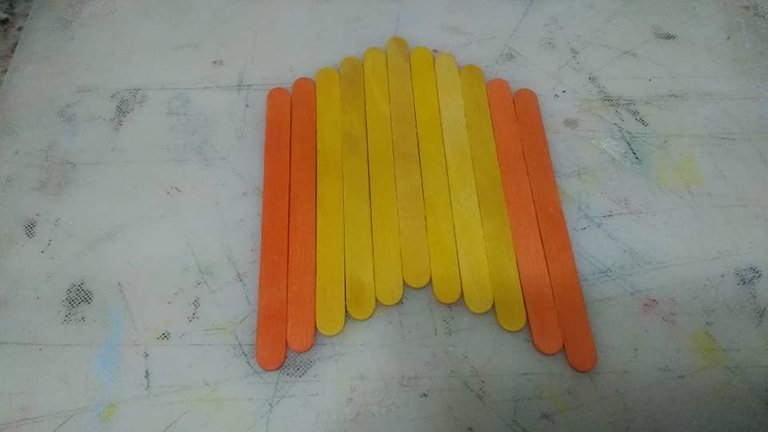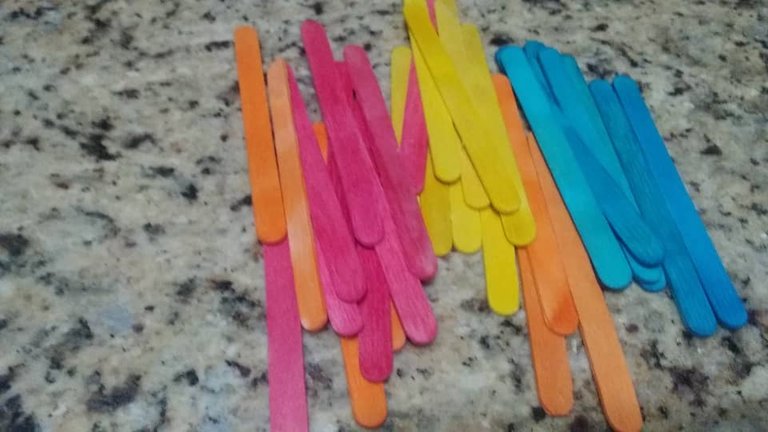 ---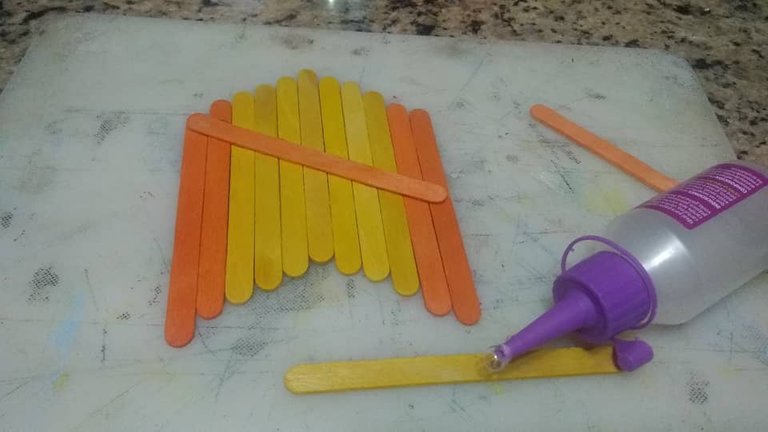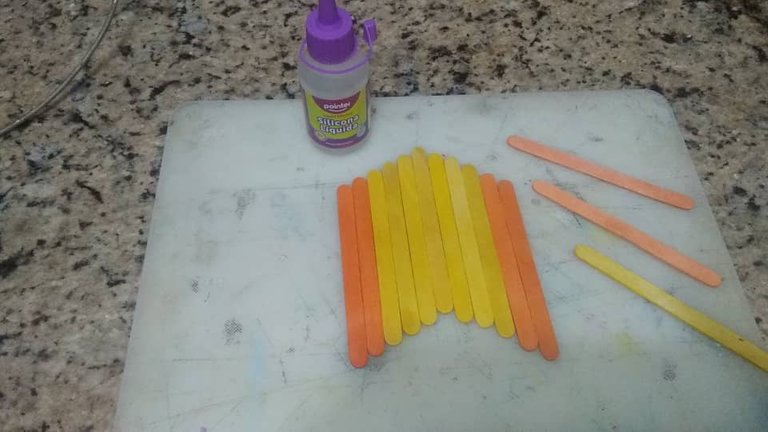 ---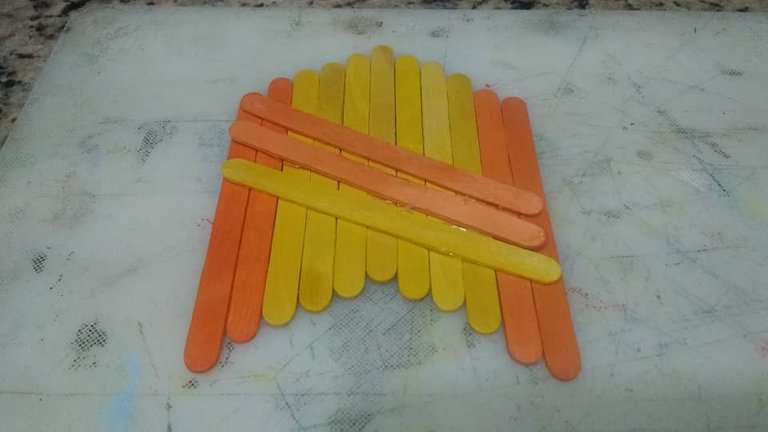 ---

Step 2:
Cut the cardboard, to make a kind of drawer, taking as a measure, for the width and height of 3 or 4 pallets, in my case, use 3, so that it covers the surface, made in step 1 and glue this cardboard base on said board. (to see photos)
Paso 2:
Cortar el cartón , para elaborar, un especie de gaveta, tomando como medida, para el ancho y altura de 3 o 4 paletas, en mi caso, utilice 3, de manera, que el mismo abarque, la superficie, elaborada en el paso 1 y pegar esta base de cartón sobre dicho tablero. (ver fotos)
---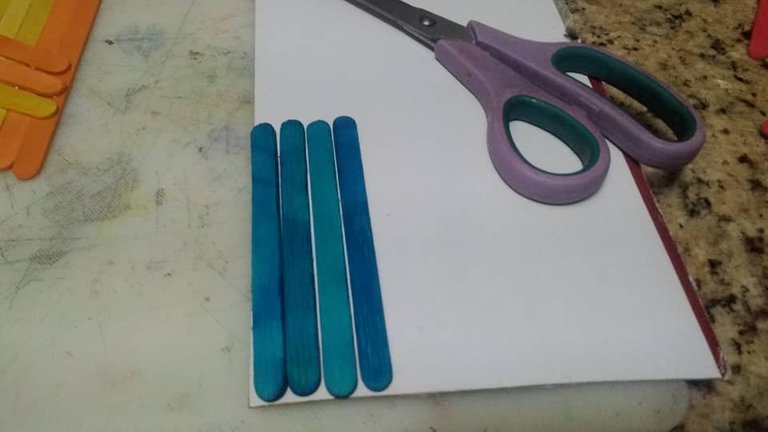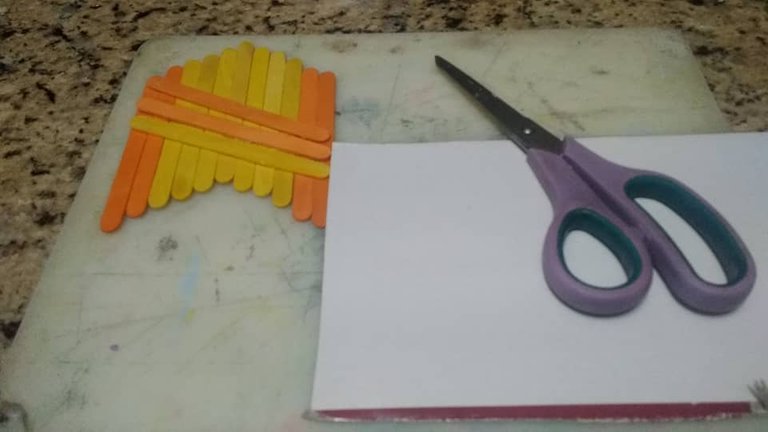 ---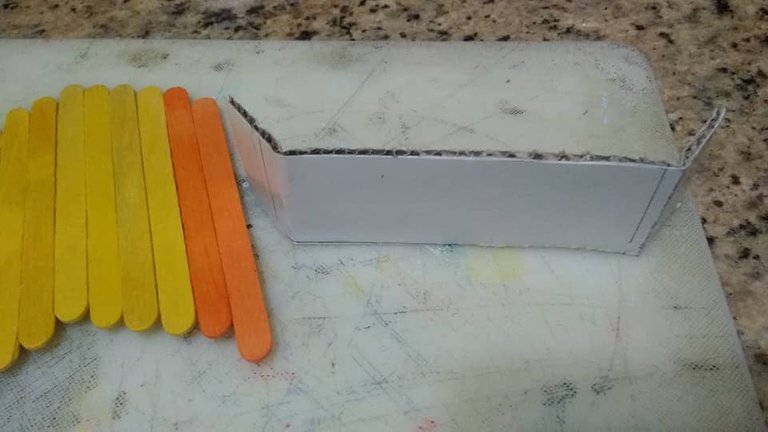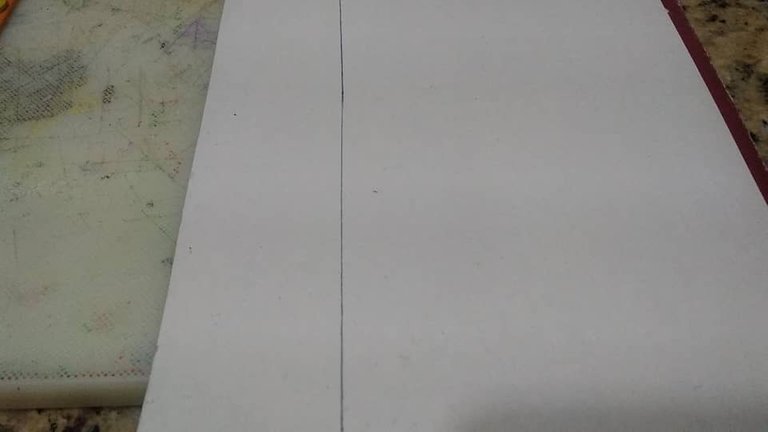 ---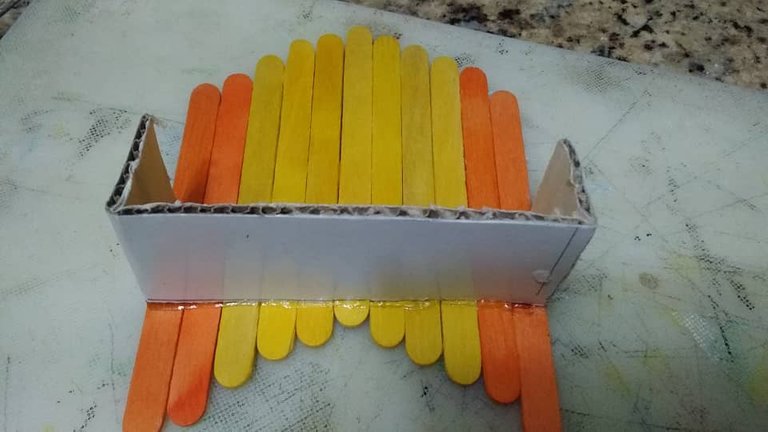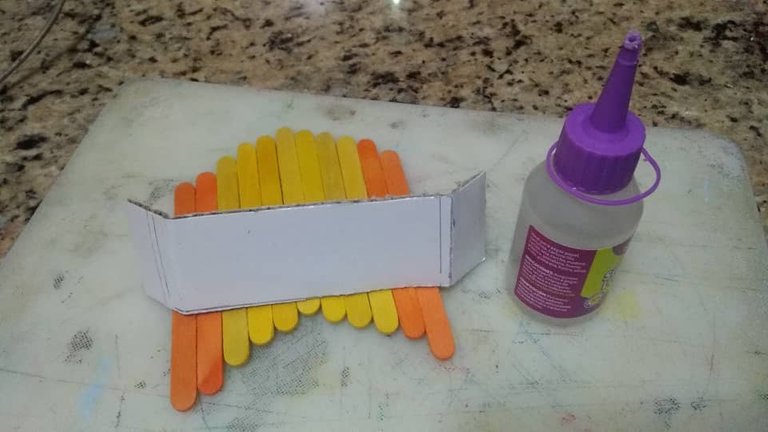 ---

Step 3:
Glue the pallets with silicone to the front and sides of the cardboard drawer (see photos).
Paso 3:
Pegar, las paletas con silicón, al frente y a los lados de la gaveta de cartón (ver fotos).
---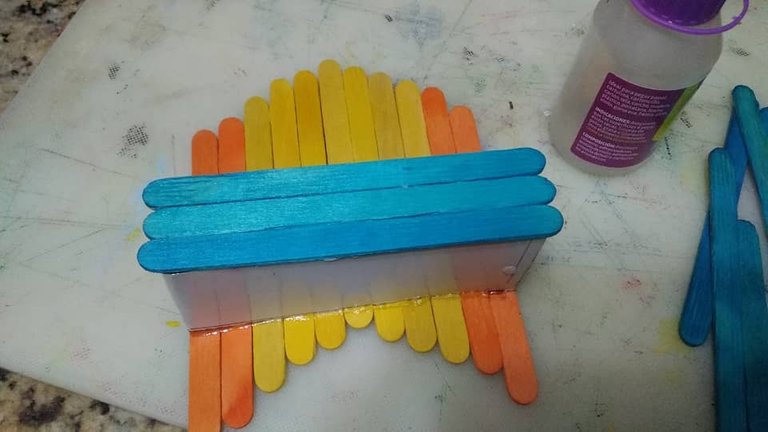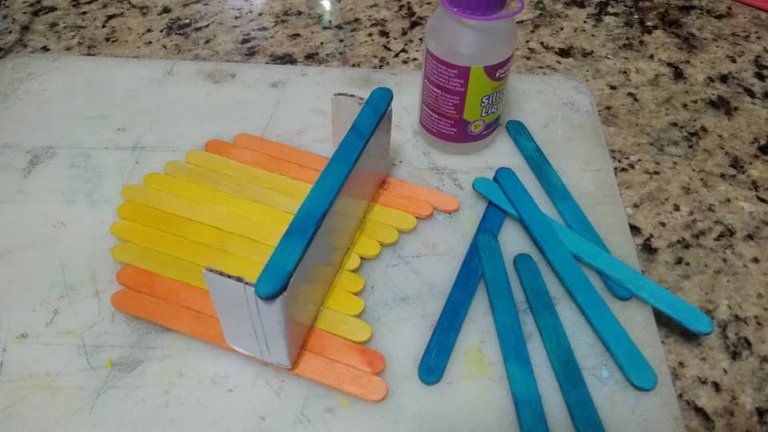 ---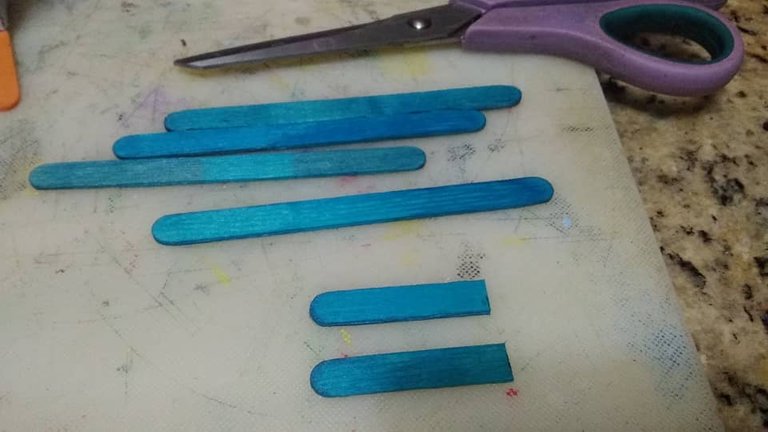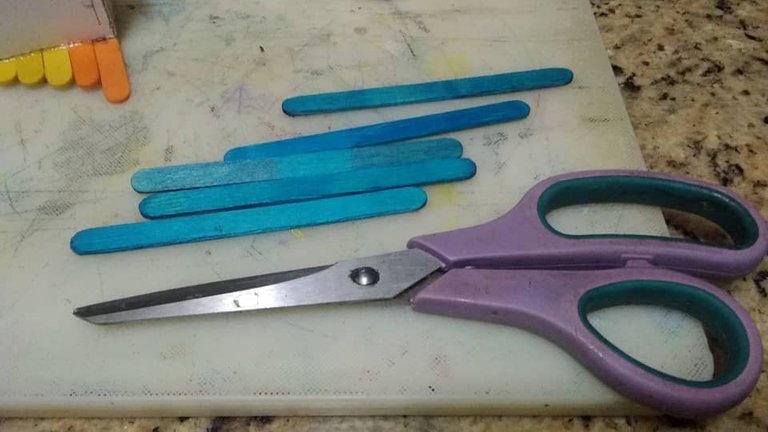 ---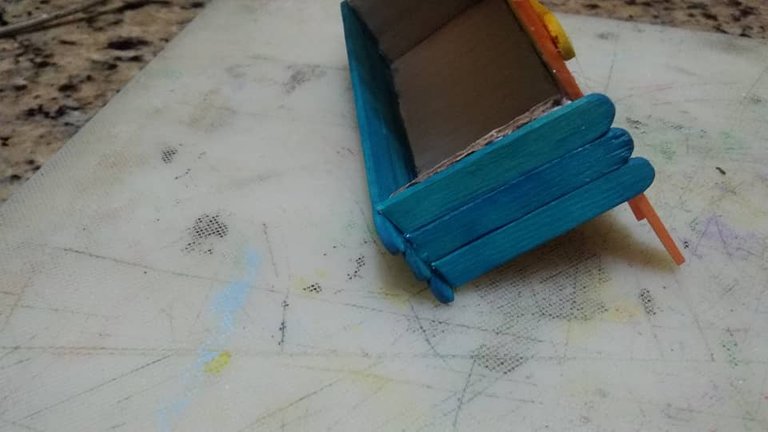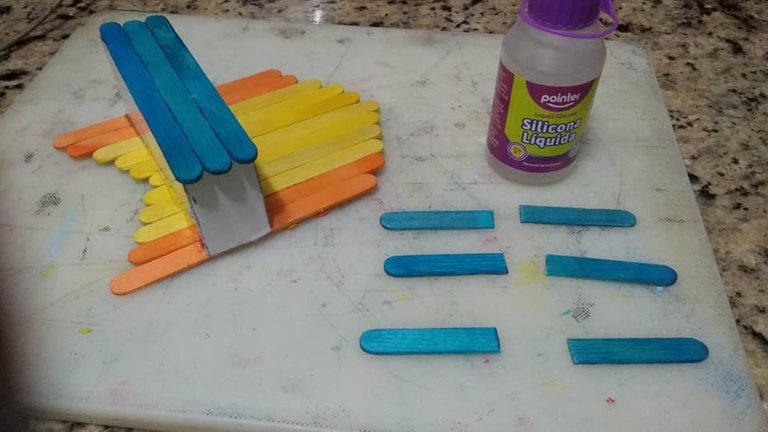 ---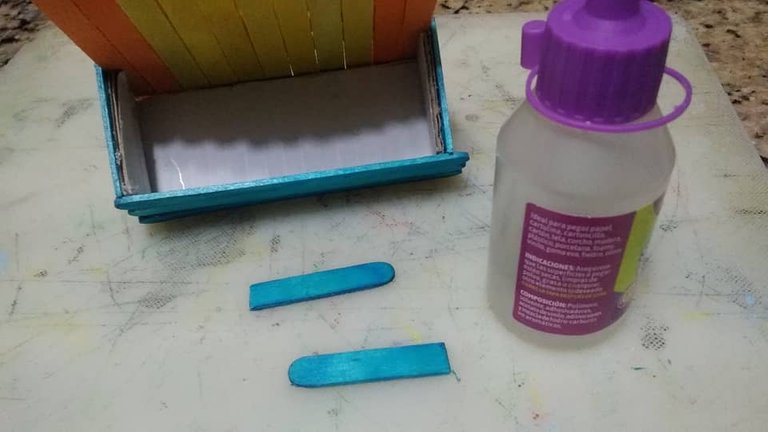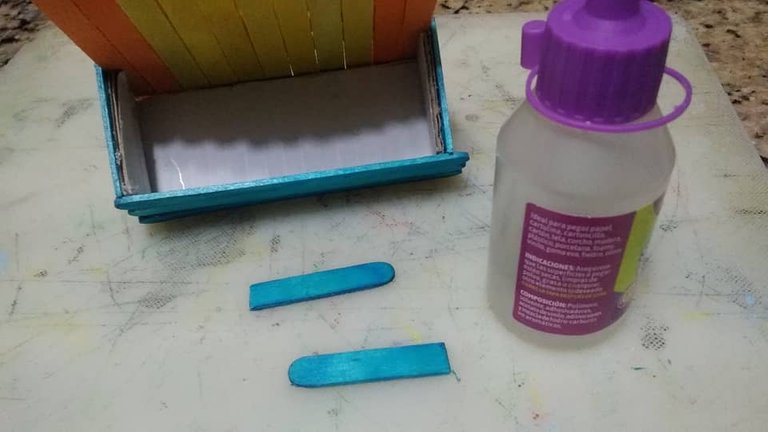 ---

Step 4:
Paint the palettes in the color of your choice, in my case, I painted them blue, let them dry. Paste with Silicon, on the back, a piece of yarn or tape, to hang the floral decoration, on any wall or space you want. (to see photos).
Paso 4:
Pintar, las paletas del color de su preferencia, en mi caso, las pinte de azul, dejar secar. Pegar con Silicon, por la parte de atrás , un pedacito de estambre o cinta, para guindar el adorno floral, en cualquier pared o espacio que desee. (ver fotos).
---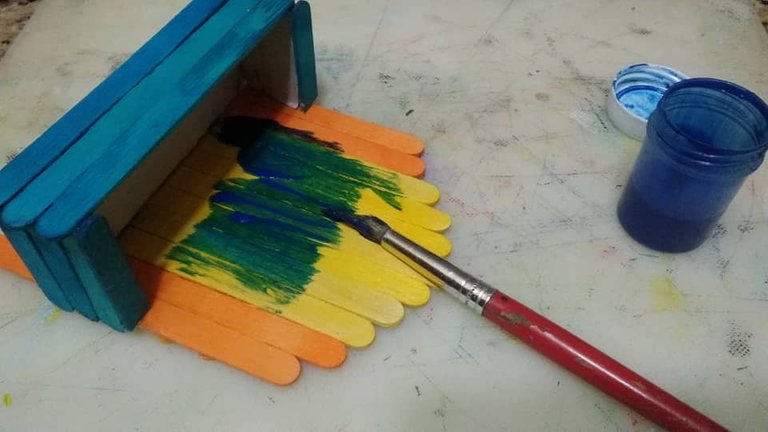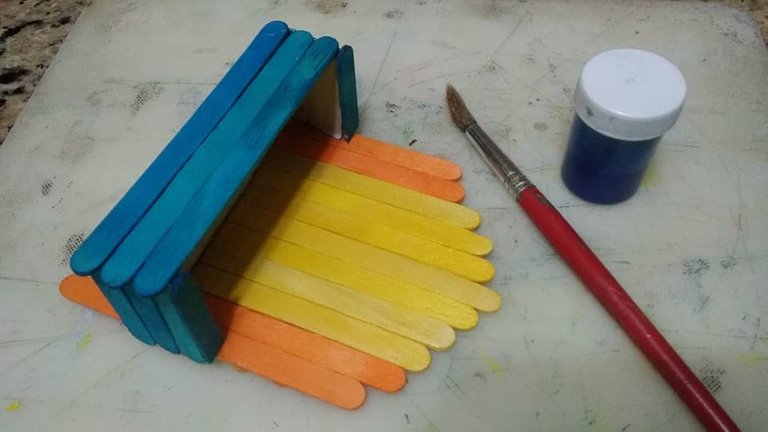 ---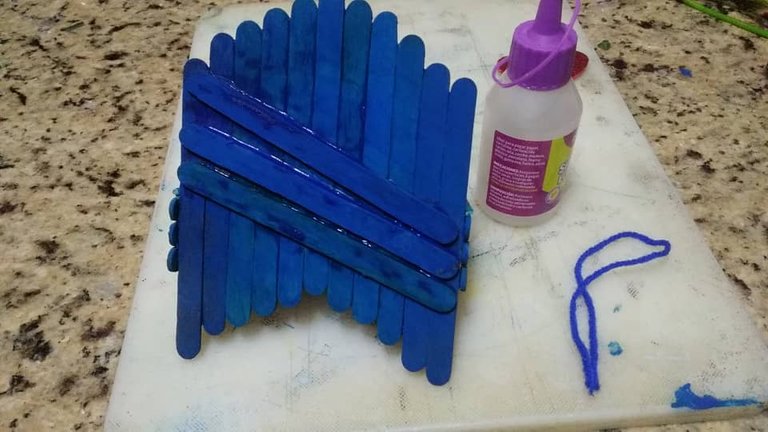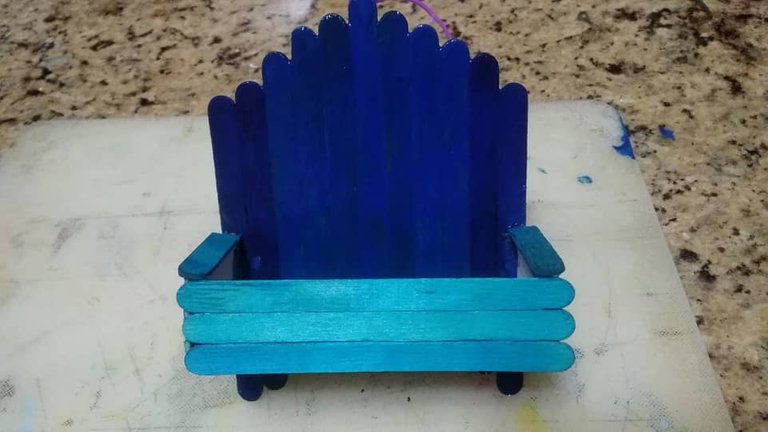 ---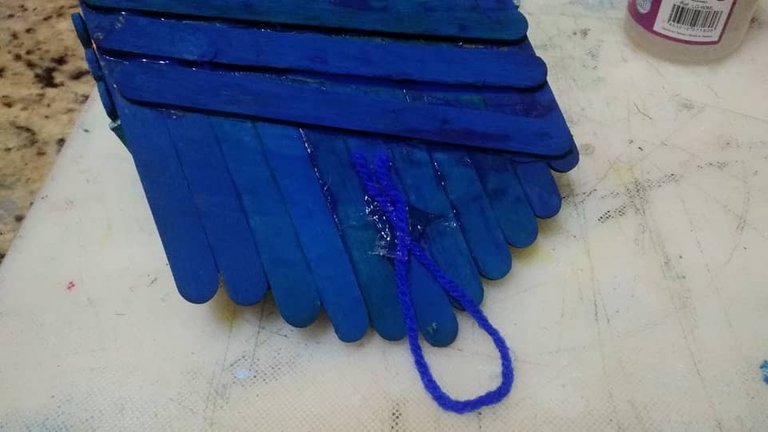 ---

Step 5:
Once it has dried well, we will proceed to decorate it (you would do it to your liking) in my case, at the bottom of the dresser, paste with silicone, sanitary paper and on it, I was pasting, the artificial rose buttons, with silicone , also the pistils and side leaves, until it is full. Then, with polished red foami, I made a heart (optional), to stick it to the front of the dresser and with a sheet of white paper, I wrote Happy Mother's Day.
Paso 5:
Una vez, que haya secado bien, procederemos a decorarlo (usted lo haría a su gusto) en mi caso, al fondo del gavetero, pegue con silicón, papel sanitario y sobre el mismo, fui pegando, los botones de rosas artificiales, con silicón, igualmente los pistilos y hojas de lado, hasta llenarla. Luego, con foami rojo abrillantado, elaboré, un corazón (opcional), para pegarlo al frente del gavetero y con hoja de papel blanco, escribí Feliz Día De Las Madres.
---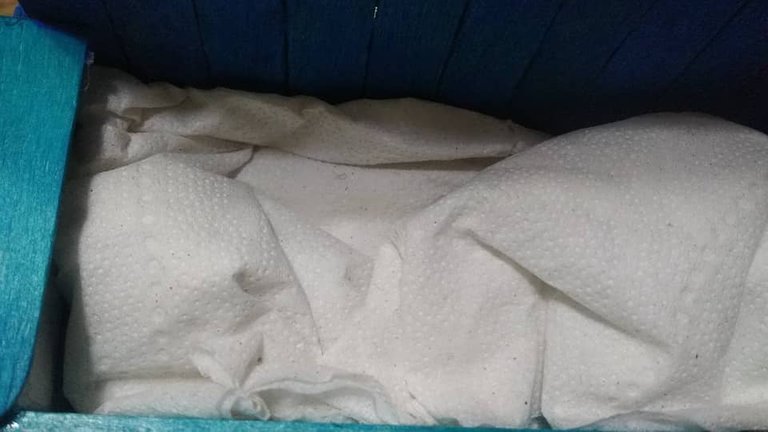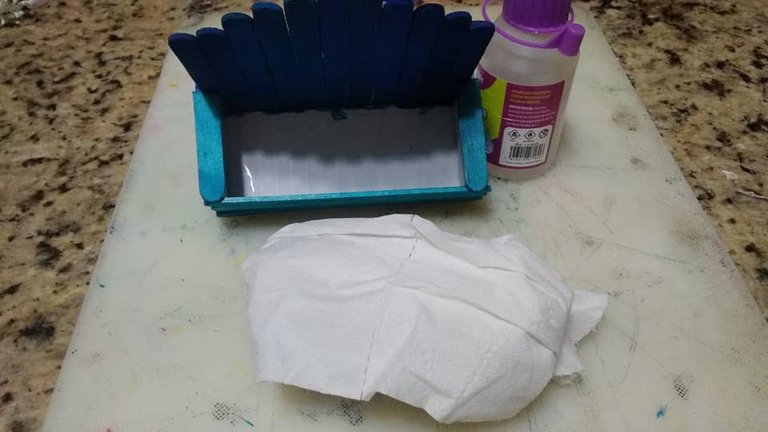 ---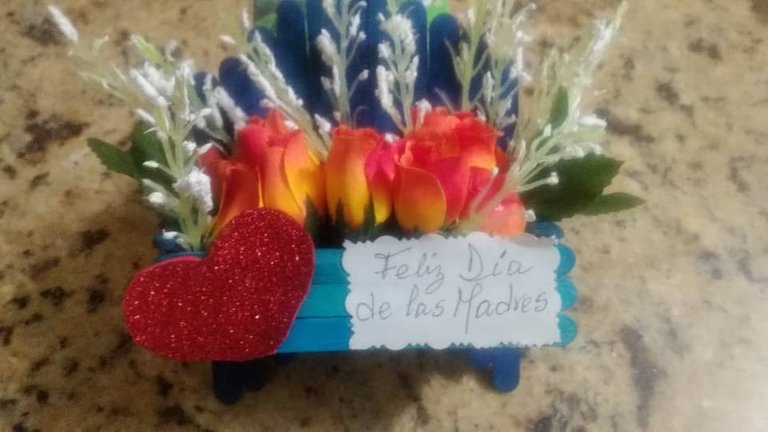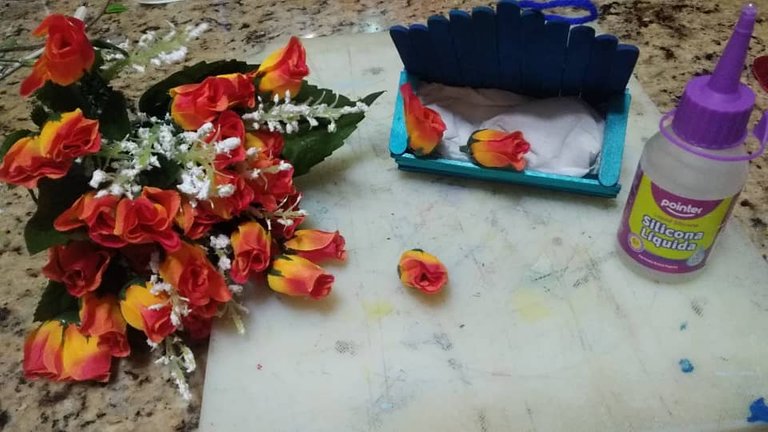 ---

Thus, it was ready, this beautiful and subtle, Virtual Floral Gift, Mother's Day, as a gift to these beautiful mothers and grandmothers, who share this wonderful community.
Así, quedó listo, este hermoso y sutil, Regalito Floral Virtual, Día De Las Madres, en obsequio a estas bellas madres y abuelas, que comparten esta maravillosa comunidad.
---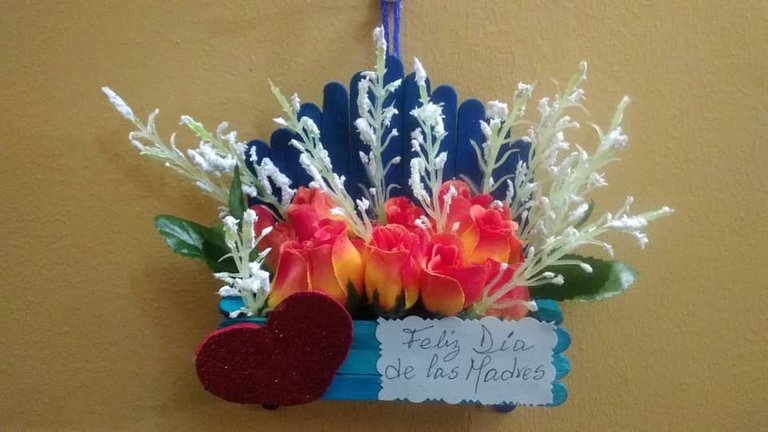 ---

Waiting, it is to your liking and you can elaborate it, to give a present to your mothers, sisters, friends, on this Wonderful Mother's Day.
Thank you, each of you, for taking your time to read my post. Greetings
Esperando, sea del agrado de ustedes y puedan elaborarlo, para darle un presente, a sus madres, hermanas, amigas, en este Maravilloso Día De Las Madres.
Gracias, a cada uno de ustedes, por tomar de su tiempo, en leer mi post. Saludos
---
---

Until next time/ Hasta la Próxima
---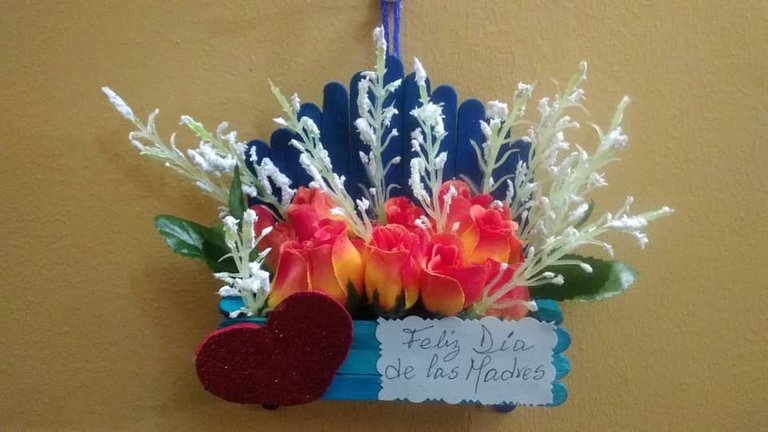 ---
All photos are my property taken with my Redmi Go smartphone
.All separators are my property, free to use.
.English it is not my native language, I help myself with translators to make these posts
............................................
. Todas las fotos son de mi propiedad tomadas con mi celular inteligente Redmi Go
. Todos los separadores son de mi propiedad, libres de uso
. El inglés no es mi idioma natal, me ayudo de traductor