Hello, guys. I've been reading a lot of opinions and watching movies all this time, and even I don't consider myself a critic, I'd like to recommend you some LGBTQ+ movies that I love and hope you like them.
Note: this is my first post in the community, so I'm quite nervous.
Ok, let's get started.
My Three Favorite LGBTQ+ Movies
Nº 1: Disobedience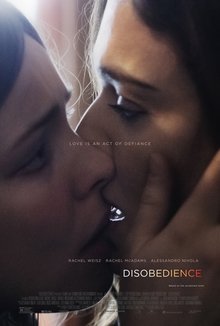 Disobedience is a 2017 romantic drama film directed by Sebastián Lelio and written by Lelio and Rebecca Lenkiewicz, based on the novel of the same name by Naomi Alderman. The film also stars Rachel Weisz, Rachel McAdams, and Alessandro Nivola.
Set in North London, Disobedience tells the story of a woman who returns to the strict Orthodox Jewish community for her father's funeral after living in New York for many years, having been estranged from her father and exiled by the community for a reason that becomes clearer as the story unfolds.
For this movie, as for many, I read the book right after watching the movie. It really caught me and flourished a sentimental persona in me. I really enjoy love stories, but when it comes to this kind it's more than obvious that we learn some new things; in my case, learning about life in the Orthodox Jewish community, their culture, their beliefs, and gastronomy. But what really made an impact on me, was the marital life and how if some deviate from that it turns exiled.
Also, I want to mention that the performance of these two amazing actresses was outstanding, they did great work and it's worth watching them in this movie.
Note: Poster's Source
---
Nº 2: Happiest Season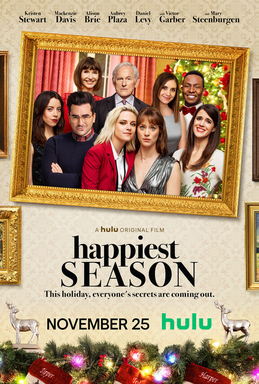 Happiest Season is a 2020 American romantic comedy-drama film directed by Clea DuVall, from a screenplay written by DuVall and Mary Holland. And with a great cast consisting of Kristen Stewart, Mackenzie Davis, Alison Brie, Aubrey Plaza, Dan Levy, Mary Holland, Victor Garber, and Mary Steenburgen.
Abby and Harper are a couple who have been dating nearly a year. Abby has disliked Christmas since her parents passed away, so Harper invites Abby to celebrate the holidays with her family in her hometown. Abby sees this as the perfect opportunity to introduce herself to Harper's parents and propose to her on Christmas morning. However, on their way to Harper's house, she reveals she lied to Abby about coming out to her parents previously.
I think this has become my favorite romantic comedy-drama movie. I just loved it. I have read a lot of opinions about it and some of them weren't positive, but this is mine. I believe this movie is funny and lovely, and at some point even sad, and that's what makes it valuable. It has a great dialogue, great performances and it's a movie I can watch alone all the time and feeling happy because even if the end is so cliché, it's what we expect. A beautiful happy ending…
I don't want to talk more about it because I don't want to give you spoilers… just watch it.
Note: Poster's Source
---
Nº 3: Becks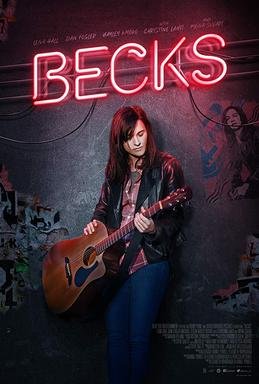 Becks is a 2017 American musical drama film co-directed by Elizabeth Rohrbaugh and Daniel Powell, and co-written with Rebecca Drysdale. It stars Lena Hall, Mena Suvari, and Hayley Kiyoko.
The film centers on a lesbian musician named Becks who moves back to her childhood home in St. Louis, MO after a failed relationship. Becks is broke, without money, and moves to her catholic mom's house who claims she has accepted Beck's sexuality and supports her. Later she starts to play songs in her high school best friend's bar. There she played her original songs and meet a new girl. But all that turns complicated due to that girl is married to the man who bullied in high school.
I'm not so fond of musical movies, but I have my top 5 indeed. This one is one of them. All songs in this movie gave me goosebumps; they were so real and perfect during the whole film that I assured you would love them all.
You might be asking if this movie would have a happy ending. Well, you should watch it and figure it out.
Note: Poster's Source
---
Well, this is all for today. I really hope you like this post and leave some comments below.