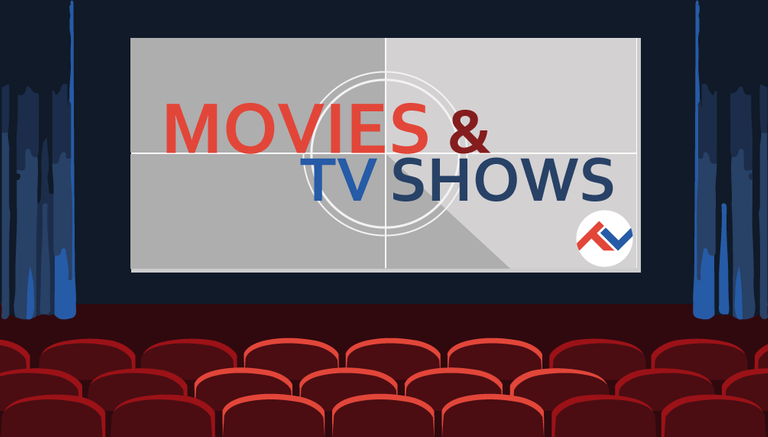 Hello! As part of our ongoing efforts to improve both interaction and curation in the Movies and TV Shows Community, this post is one of many to highlight and boost members of the past week that have posted what we believe is exceptional content.
The Details
Each week, our Moderators will monitor the posts within the Movies and TV Shows Community and handpick the ones that are believed to stand out under numerous factors: post quality, length, and subject. Over all effort will be considered, and those chosen will be featured in a post just like this with a percentage of the post rewards being distributed as a reward.
There are no entry requirements, and this is not a contest, but simply a roundup intended to provide additional exposure to all of you for your efforts. Just have fun posting in the Movies & TV Shows Community and five or more posts will be chosen frequently.

Author: @aibi93
Reseña capítulo 3 : "Mujeres asesinas" - Claudia Sobrero, Cuchillera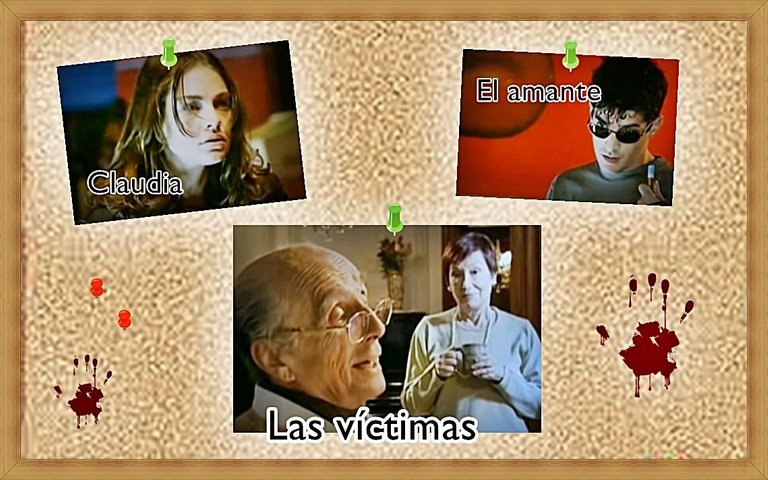 You know, I've been a fan of this series since I was very young and talking about each chapter generates an emotion that I can't describe. Make no mistake, it's not that I'm happy about the murders that occur, but the way they captured it on screen, it's a pleasant work of art for lovers of TV series. Yes, I know, I always adore this series but with each chapter I review you will understand why, although I must admit that there were chapters that I didn't like very much but today's is one of the most painful to watch. It is not the strongest in itself (I'll get to that one) but it is one of the ones that generated the most mixed emotions in me because of the nature of it and, for being one of the most spread at the time (I'm talking about the real case but not the chapter since it was towards a Famous so to speak) but let's not get ahead and first let's leave a small spoiler alert here in case you did not see the chapter although, I will not touch the strong points of the chapter, but I will be giving an opinion of some things. And also, a sensitive content alert because, the series is raw and if you are a sensitive person, I don't recommend you to watch it. If I who am not so sensitive am affected more a sensitive person. Let's remember that this series is of police genre, suspense and also, a touch of horror because yes, there are chapters that can easily be horror movies, therefore, it is not for everyone. With these two things in mind, let's start with today's review.

Author: @arlettemsalase
Film review: El Menú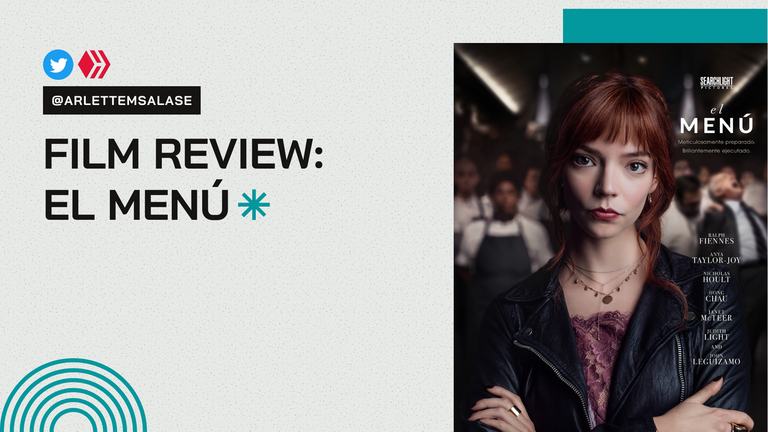 At the beginning it seems like one of those indie films that you might not watch because it would bore you and you decide to leave it because of the big name actors, so you keep watching and by the time they get to the island, shortly after, you know why everyone liked the film. I'll admit we were pretty tense because as its tag says, it's suspenseful and it succeeds from the beginning to the last second of the end. The soundtrack along with all the elements of the film transport you to the film in an incredible way and you won't stop watching it because you will always want more of what is going on. There are specific scenes and parts of the plot that left me with some doubt, and so in a couple of days I will watch it again to see if I didn't get it in the first instance but the resolution of everything at the end by the protagonist was quite strategic although it leaves you with doubts about the fate of all.

Author: @maryed
La verdad se oculta entre las capas de una cebolla | Knives Out: El misterio de Glass Onion (reseña sin spoilers).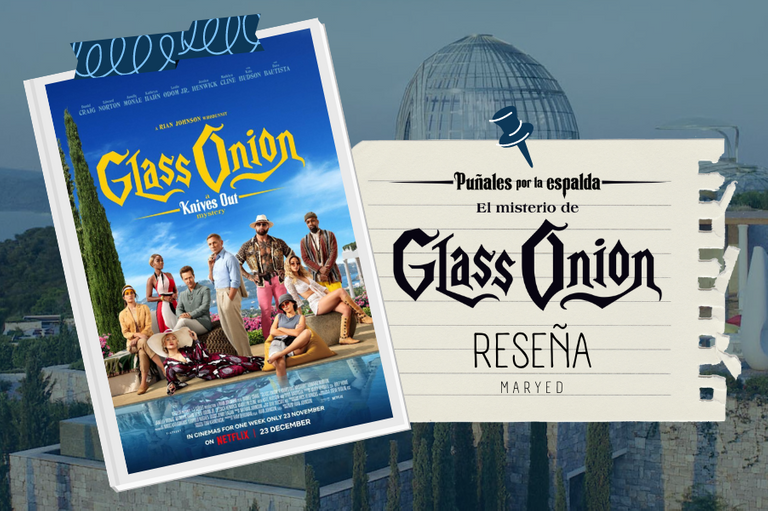 There is no shortage of plot twists in this film, but the truth is that some of them become somewhat unnecessary making the film a tedious back and forth until we really get to the heart of the matter, to the center of the onion as Blanc would say. In Knives Out the interest remained latent throughout the film, unlike Glass Onion where the first half of the film may bore more than one and transmit that feeling of wanting to stop watching the film. In my opinion, it is right in the middle of the story where the interesting and unexpected twist really happens and the whole picture changes drastically. I'm not going to lie to you, I liked that change of events to another direction that I definitely didn't see coming, but what I didn't like was that the whole first part of the movie went so slowly. At some point one comes to question the fact that if there isn't a real murder, then what is the detective doing there, what is he supposed to be investigating? But wait calmly, it is right in the middle of the film where we will get the answer to these questions.

Author: @freidimar18
Review | The triumph of a dream | August Rush (2007)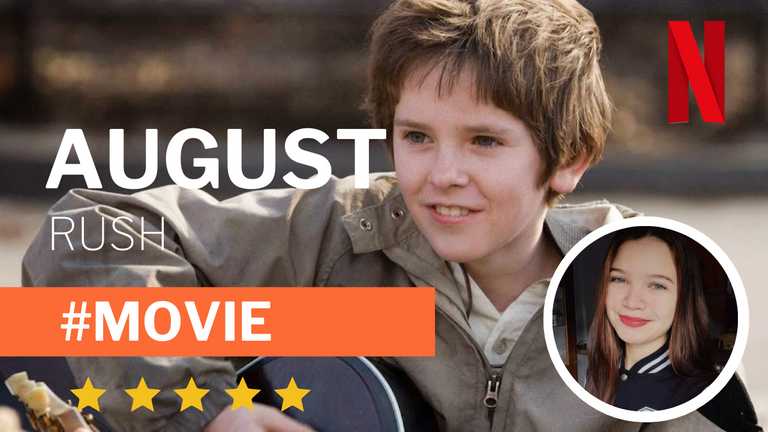 Regarding Louis, he was also very outstanding with his beauty and the song he played, as I mentioned at the beginning, every time I hear that music it brings me back to this film. Finally, I also highlight the bad guy of the plot, well, his role took him to the hair, nothing more and nothing less than we are talking about Robin Williams, so, you can already have an idea of how his performance was. There are more characters in the movie that also stood out as August's little friend Hope, she was too cute in every scene she appeared. Finally, it is a beautiful story that will move you deeply and make you shed a few tears. The cast in general, is a clear example that music is our escape to our emotions, we can calmly drain them while listening to a song or playing an instrument. "Music is all around you, you just have to listen to it"One of the most influential lines in the movie. Finally, based on my experience I give it a score of 5/5 Thanks for making it this far movie buff! Blessings.

Author: @dedicatedguy
The Medium (7/10) - A fictional documentary that lacks innovation but is still enjoyable.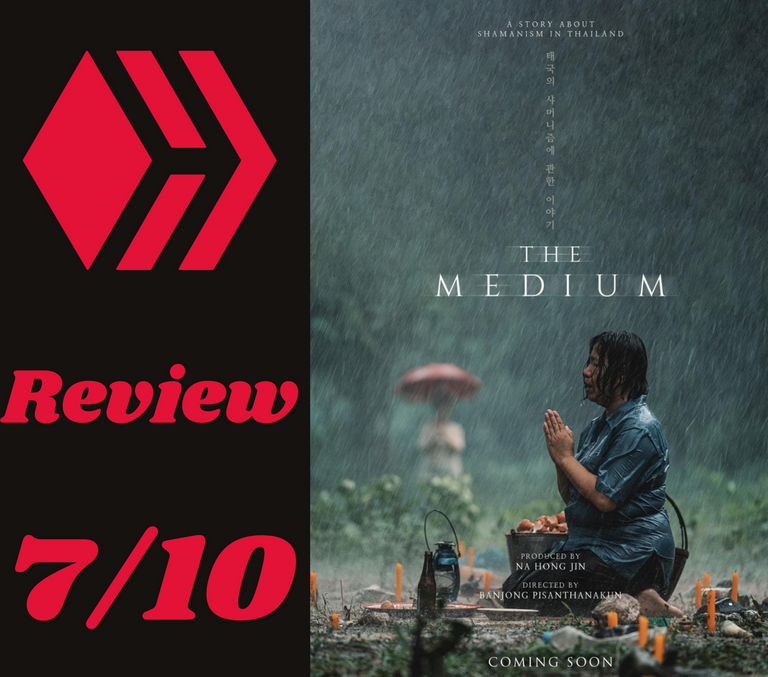 The development of the possessed character follows a similar series of events that many fans of the genre already know from previous productions, but the thing that I enjoyed the most was the type of ending they decided to have. I won't say much about it, only that many people will probably consider it a breath of fresh air when it comes to horror endings. It was nice to see this type of resolution for once, and there were some times that I could describe as intense and very fun to watch. The movie took its time to begin with the intensity, but I loved how it slowly began to expose the complexity of the plot, to then send the viewer to a massive tornado of paranormal chaos. Having patience with the film will pay off in the end.

Author: @belug
Mother there are only two: an excellent Mexican comedy that will also make you think
Beyond the comedy and the laughs it generated, I find it fascinating how they have approached the subject of women, motherhood and sexuality. It is a series that, in a very kind way, approaches these realities that many people still deny and discriminate against and that need to start taking more and more place in society. I am referring to the role of the woman as a businesswoman; to the mother who is single and to the woman or man who is bisexual (or homosexual, transsexual or whatever). These topics, as I mentioned, still delicate and taboo for many people, are shared with tenderness and delicacy, but without taking away their strength. In addition, I love that it is not exclusively about these issues, but about how these realities can coexist and be "friends" with other more traditional ways of life.

Author: @paolamandelbaum
"MANIFEST", the most intriguing series I've ever seen ✈️🌀 | Opinion and Review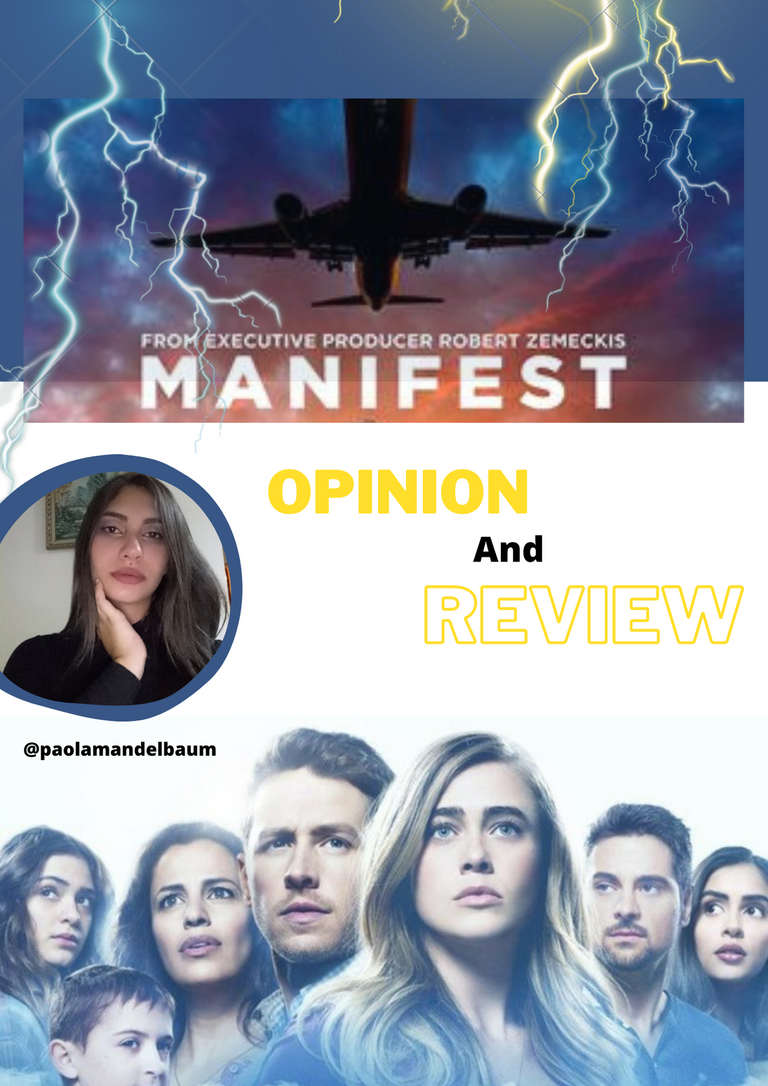 This series grabbed me from the first chapter, what made me watch it is that I had just finished a series I was watching and I felt that now it was time to look for another one that I could also enjoy. I remembered that some time ago I had seen a video recommendation of Netflix series that had been lately in the top 10 due to how much watched they were, and one in particular caught my attention and it was this one so I decided to investigate a little more about this series. The first thing that caught my attention is that one of the videos I found about this series talked about it being inspired by a true story about a plane that disappeared and a long time later came back and in my mind I thought A plane that disappears and then appears after so many years? No doubt it's something I'm going to love.


Congratulations to everyone that was chosen, and thank you to everyone posting in Movies and TV Shows! We look forward to the next report and highlighting even more of you.
Join the Movies and TV Shows Community Discord.
Follow us on Twitter!
Follow our curation trail