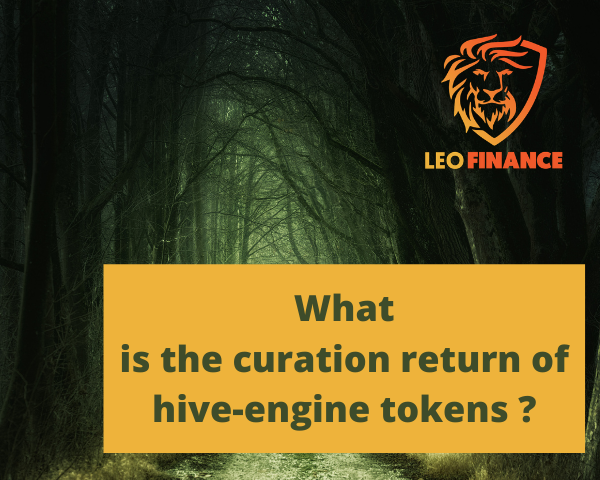 Ever since the hive-engine tokens exist, I wondered what the return for curation on these tokens was. It's not that easy to calculate it but I gave it another try. My objective is not to get a precise number but rather an approximation to see what can be the result of this activity.
How to calculate the return from curation rewards?
For the Leo token, I have a specialized account (@achim03.leo) that upvotes posts with the LEO tag. I don't create content with this account. The only other source of income it has part from curation is from a delegation to @leo.voter.
With the flat reward curve it doesn't really matter when I vote with this account. This makes the calculation easier.


source: hivestats.io
If I look at Hivestats and the curation rewards the account generated, I can see that it was quite stable between 0.28 and 0.30 LEO per day during the last 6 days. For my calculation I took the average return during the last 6 days.
If I now compare this return with the amount of LEO that are staked on the account this would give a wrong image of the return. Let's not forget that the return that were generated during the last 6 days was actually based on the amount of staked LEO from the 7 previous days.
What is earned today is the result of the stake from 7 days ago !
I therefore tracked back the stake I had during the 7 previous days and for simplicity's sake took the average LEO power from this period. Since the account doesn't create content, the stake was quite stable during this time frame.
Even though I have now a stake of 573 LEO on this account, the average staked amount during the time period that I need for my calculation was 538.7 LEO.
Taking these numbers, I calculate a return for curating with this account of ~20% per year.
What about other hive-engine tokens?
I've tried to make the same calculation with another hive-engine token. I choose to do it for the CTP token first because the CTP token pays 100% liquid tokens and also because I have a specialized account with this token (@achim03.ctp).
For the CTP token I managed to calculate an APR of ~39%
What I have to say here however is that I had to approximate much more than with LEO. The curation rewards can vary very much from one day to another since the token doesn't have a linear reward curve.
For this account, I only use about 3 votes a day for manual curation. The rest is automated and set to vote at about 4 to 5 minutes after post creation. I use the manual upvotes mainly on comments and there might be some losses there because of the dust effect. For the CTP token, there is a 60% author and 40% curator split.
When I look at the difference between LEO and CTP, I imagine that the return on curating can be changing a lot from one token to another. I believe it's important to calculate this return by number of tokens generated, divided by the number of tokens staked. Doing it this way, the price of the token doesn't have any influence on the results.
For curation there are a lot of factors that have to be taken into account: flat curation curve or not, time of voting, manual or automated voting, voting percentage, quality of content.
What are you experiences with calculating returns for curation of hive-engine tokens? What returns have you calculated?
---
Let's connect ! You can find me on these platforms:
Posted Using LeoFinance Beta