Fade the Move
In trading there is always a move, and then there are people (traders) out there who is ready to fade the move. Most bench trader fall for the "fade". Currently, US stock market and perhaps the global market is following a short term period of 'uncertainity'. So, market is trading flat intraday and prices are moving sharp on either side of VWAP and EMA. This is a difficult market condition to trade.
Source
To add the problem, the ATR (Average True Range) of the indices are dropping like a rock post election. Meaning volatility is dropping. Day traders live for the volatility and high daily range. The range in /ES is still high enough but it is not as high as it used to be.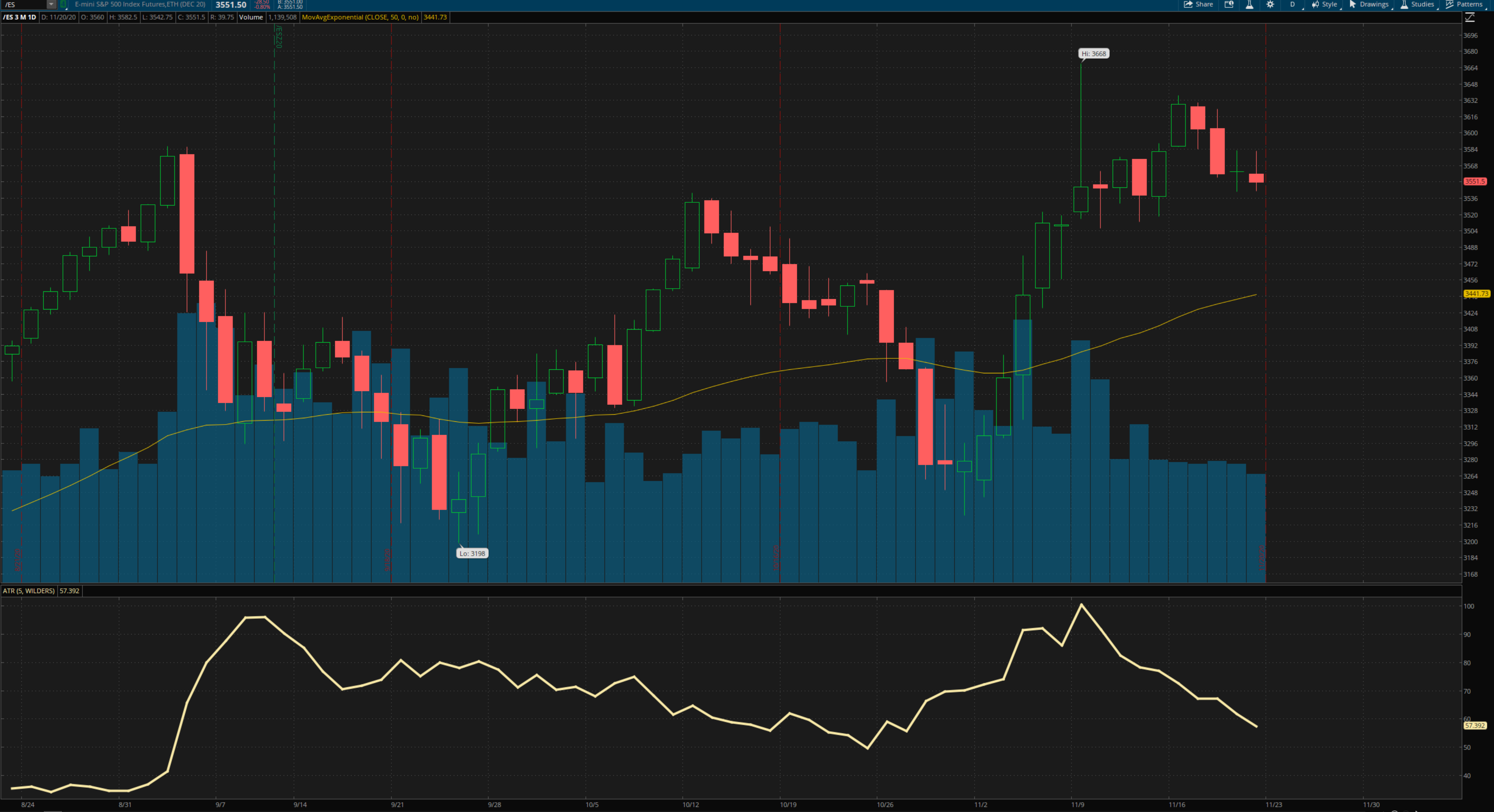 The above is a daily chart of S&P 500 index futures. Currently the 5 period ATR is 57. It is still high (above 40 is usually considered high), but it is not as high as it used to be and dropping fast! We can't choose the cards, we play the cards we are dealt. So currently short term trade is still the mantra. Also since the market continue to trade near ATH, my personal bias is towards the short side. Therefore I am looking to fade any move to the upside.
Example of a real trade
This one uses the $VOLD, as explain in my previous post. This is a Friday trade. On Friday, especially these days, most traders don't want to keep long position open into the weekend. Who knows when the 'orange man' going to tweet what (there is still 2 months that he can do damage) :) So usually Fridays are soft. Meaning market tend to go down on Fridays (these days, and sometimes). Therefore, I was looking at the market bredth and tring to get into a short position. $VOLD helps, which is the NYSE volume difference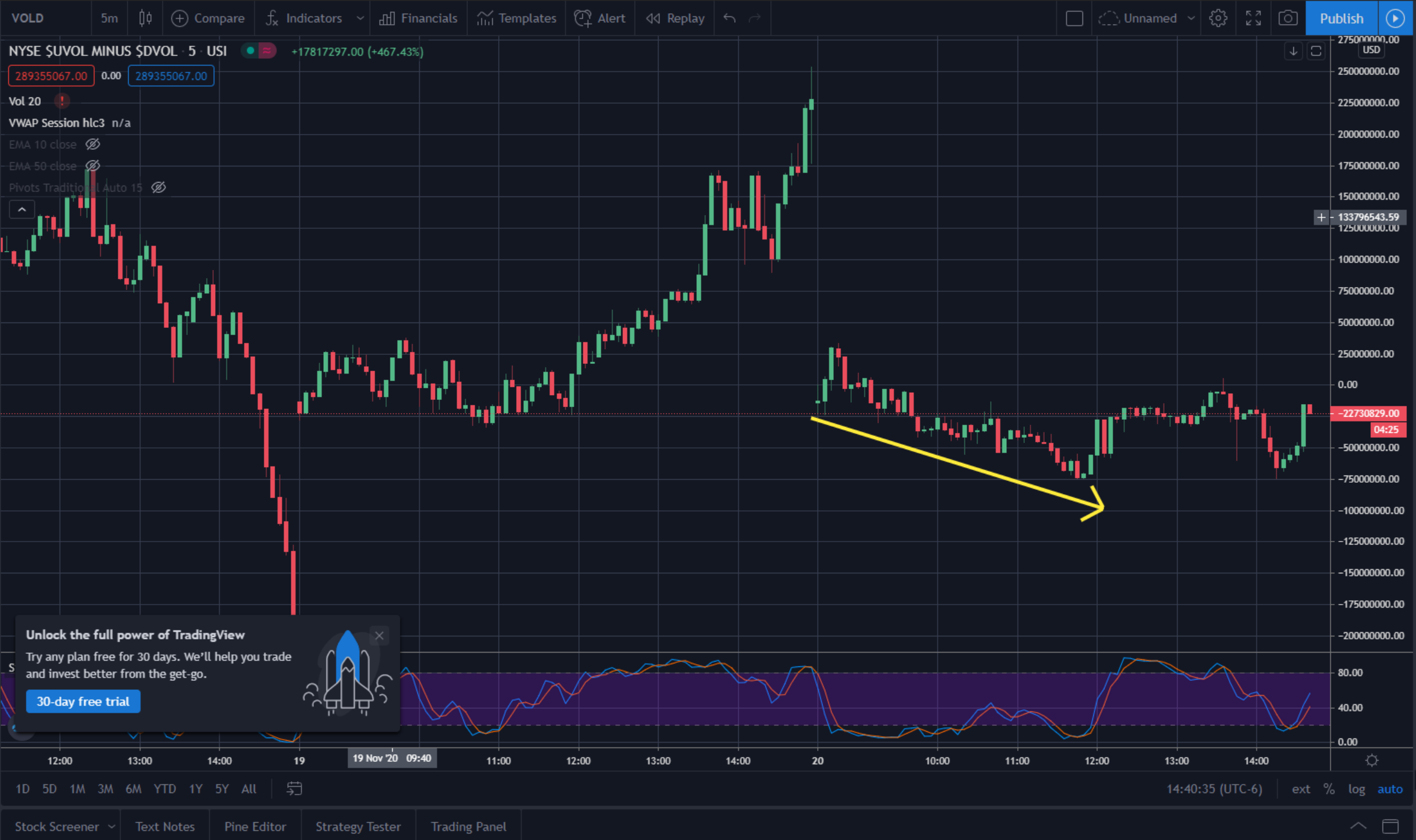 As you can see that $VOLD started a downtrend almost as soon as the market open. I pulled up /NQ, which is the stronger of the indices intraday. Concept is, stronger indices correct deep, if there is a correction.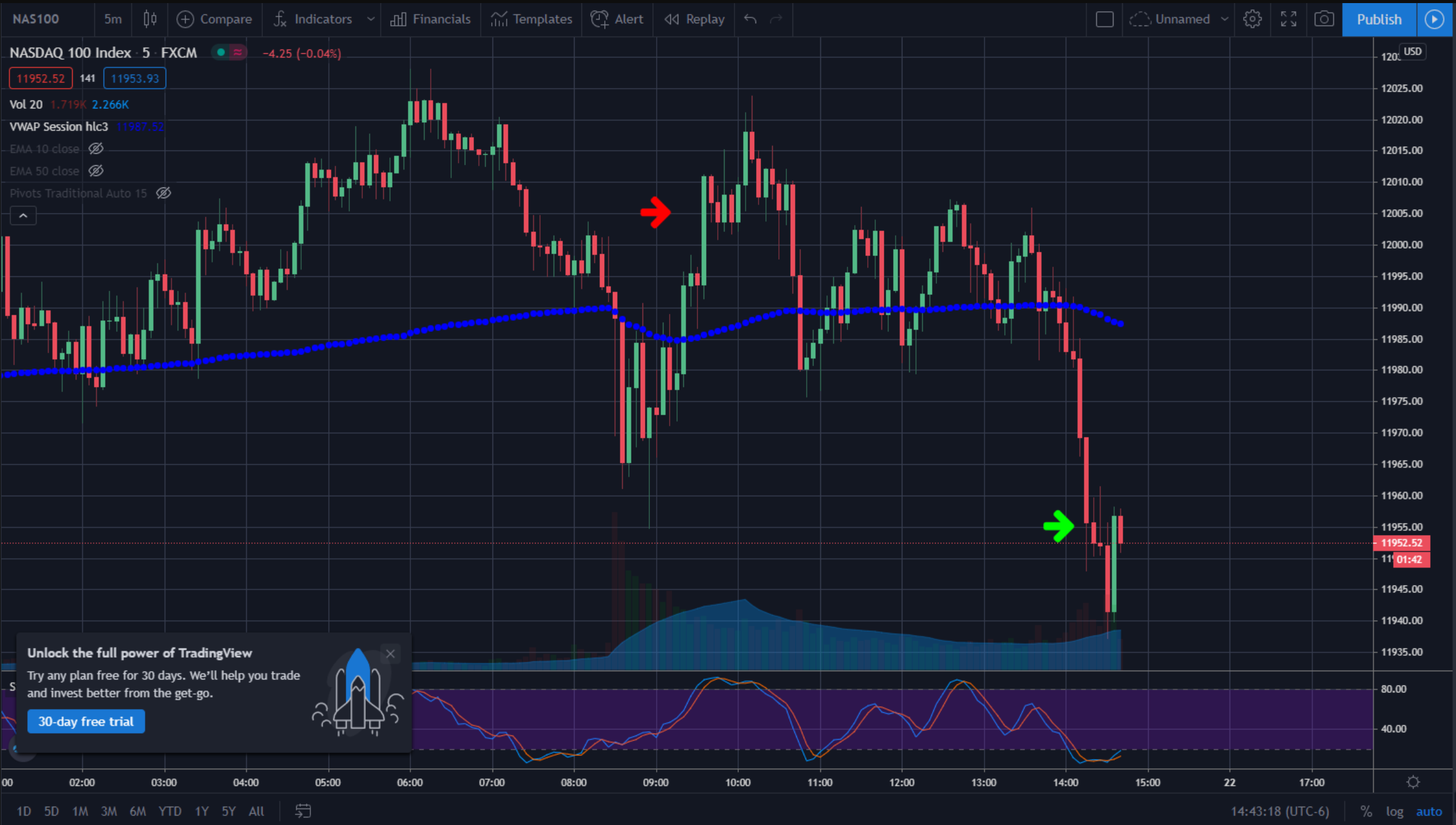 As the /NQ rallied out of the gate, around 8:30 AM, I was looking for the 12000 level. That general area is getting rejected a number of times over the last few days. So I was looking to short that level. /NQ promply rallied and took my order and rallied higher. I had a 40 point stop and a 60 point target. It tried several times to break above 12000, but each subsequent effort was feeble. Finally around 14:00 it keeled over. I got a 60 point move captured.
This is the way to fade to back :)
Disclaimer: This is NOT professional advice, this is all just my own opinion and experience. I am NOT a Certified Financial Adviser. Consult professionals for any financial, accounting or legal related questions you have.
Charts are created in Tradingview.com, which is a free service.

Posted Using LeoFinance Beta