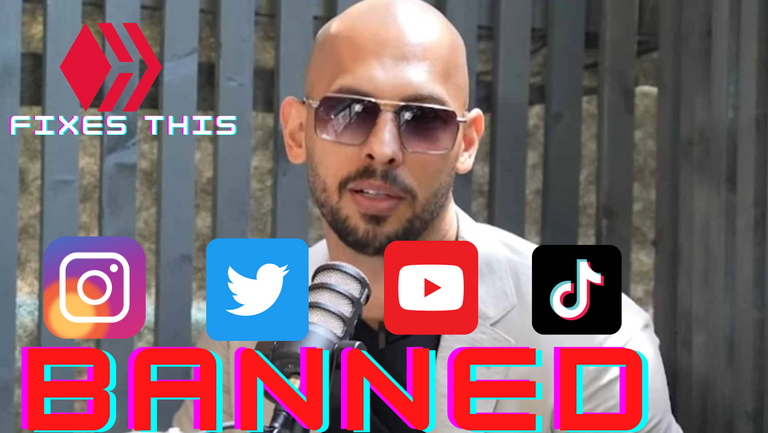 For what it's worth, I have no idea who Andrew Tate is. I am only hearing of the name today and at the time of writing this very paragraph and the next one, it is important to note this very fact.
Now here's the thing, I don't know the guy but it seems he's currently subject to widescale deplatforming across pretty much every single social media platform. In fact, the only reason I have even heard of the name is because of the bans he's facing and it makes me wonder if he has heard of hive.
There's something about the Andrew Tate name that seems to divide opinions on social media. As one that at this very moment still hasn't done the customary Presearch search, I'm fascinated by how this guy seems to have true believers that think he's being maltreated and detractors that feel his widespread bans are warranted.
Personally, I don't care for any side of the fence and I respect everyone's views, so that's not in my place to judge. One thing for sure is that everyone should be able to share their views on society, and I believe that this is supposed to be where Hive steps in.
Okay I'm searching now
Ah okay, so I get why he's banned. A simple Google search of "why is Andrew Tate getting banned?" Popped up with amole information for me.
So, basically, Tate is a misogynistic, rape apologist asshole that talks stupid shit online. I get it, he's an asshole.
I guess what makes Tate a big deal is because he's famous and talks shit. Considering the number of people referring to him as "top g" on Twitter, I reckon it means that these people agree with what he says, how come they're not getting banned?
If I was Twitter and I was trying to create a fair place without misogynistic people like Tate, I'd ban everyone that calls him "top g" or praises him. Not this mafia-type approach of banning a famous person to "send a message" like some gangsta movie shit.
Twitter won't ban all the misogynists though. Nah, they'll bam just the right amount to ensure that there's still drama for people to tweet about on the platform. Their "algorithm" will keep a blind eye until you've offered up enough drama and then they'll kick you out.
Andrew said we're all fucking nerds
I've actually seen a video of Andrew and he was really laying into the crypto community. He said crypto bros are all broke virgins living in their parent's basement.
Okay, he didn't actually say it that way but he did insinuate it. I can't remember it well because I found it funny but he was generally talking about how crypto people don't have any ostensible show of wealth because we all lack style or some shit.
When I saw the video of him bashing crypto people, the only thing I thought was, how can we get this fucking guy on hive? Oh don't get me wrong, he's right, we're all fucking nerds but I'd have really liked that have him around here for the entertainment.
Can we get him on hive?
It is highly unlikely that we onboard him on hive but how much fun would that be? Hive will be getting some attention for giving one of the most famous de-platformed individuals a place to share their opinions.
Then after giving him a platform, we can all flag him for sharing misogynistic shit. However, since he's so rich and we're all broke virgins, he pumps hive by buying like $6m worth of it, upvotes his own posts and now his shit appears on trending.
That would be a lot of drama for hive and it is the type of blockbuster shit that could even bring more attention to hive.
So Andrew, if you ever read this, I'm a crypto virgin asking you to join hive, buy a shit ton of hive since you're so rich, share whatever the fuck you want and make sure your voice is heard.

Posted Using LeoFinance Beta