Hey Jessatoshis
The deeper I go down the Bitcoin rabbit hole, the more I feel I don't need to use altcoins and other chains.
I get the argument that these chains are cheaper and faster than Bitcoin base chain, but when we look at second-layer solutions like liquid and lightning, that argument is no longer plausible.
I realize that it's still a well-kept secret for those who are not into Bitcoin, and managing your different Bitcoin can be a learning curve, but I feel it is well worth it.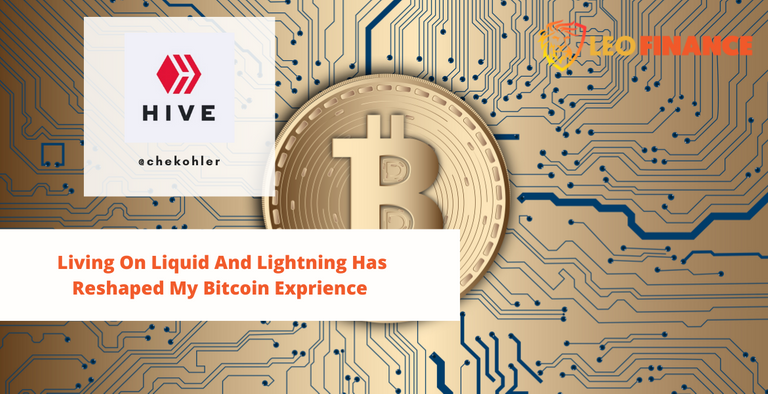 Main chain Bitcoin
Tried and tested and the safest way to store your money once I secure a big enough amount of Bitcoin either from buying or earning I secure it on-chain in cold storage, never to be seen again.
This is my wealth storage, and I take it seriously. This is for future use if ever I need it, and I hope I never need it.
Lightning Bitcoin
This is my day to day wallet; any Bitcoin I earn or coins I earn, I convert into Lightning Bitcoin and consolidate it on this level.
If I start to move above a million Sats on the lightning network, I'll consider locking some into cold storage.
I do keep a few Sats on Lightning as I'm waiting for DEFI options using Lightning. The liquidity pools for Lightning are shaping up, and as more nodes come online, they may need to borrow liquidity to fulfil transactions and pay a return for the capital usage.
Lightning might not be as secure as the base chain or Liquid, but I prefer this over custodial services.
Lightning also allows me to consolidate Satoshis cheaply and manage my UTXOs better on the base chain so I don't increase my on-chain footprint and costs.
Liquid Bitcoin
I've recently been purchasing a lot more liquid Bitcoin late, and I've been lending it out on HODLHODL for a return.
Since everything is done with a multi-sig wallet, it is peer to peer and non-custodial.
I can get better rates than the likes of these CE-FI platforms, and with liquid BTC, the on-chain fees are pretty small, so I can keep doing multiple transactions and fulfilling different contracts and still move on with a profit.
Liquid Bitcoin is now my preferred DEFI Bitcoin, where I am willing to risk some of my capital to get a return.
Compatibility is key
Since all three layers can talk to one another and use the same base chain, you can use the same or similar wallets to manage your different Bitcoin.
Liquid also supports stable coins if you would like to hold those in your wallet too.
Bitcoins base chain has the widest adoption, and as the second layers grow, I'm sure any platform supporting Bitcoin can open up to lightning and liquid.
So having Bitcoin on all 3 layers for different use cases will become more apparent in the future.
I think as these 2 solutions and other second layers like RGB, OMNI and state chains roll out, it makes Bitcoin more robust and starts to eat into many use cases altcoins based their business models on
This will, in turn, reduce their effectiveness and pull more users into the Bitcoin ecosystem.
Have your say
What do you good people of HIVE think?
So have at it, my Jessies! If you don't have something to comment, "I am a Jessie."
Let's connect
If you liked this post, sprinkle it with an upvote or esteem, and if you don't already, consider following me @chekohler and subscribe to my fanbase
| Safely Store Your Crypto | Deposit $100 & Earn $10 | Earn Interest On Crypto |
| --- | --- | --- |
| | | |
---

Posted Using LeoFinance Beta