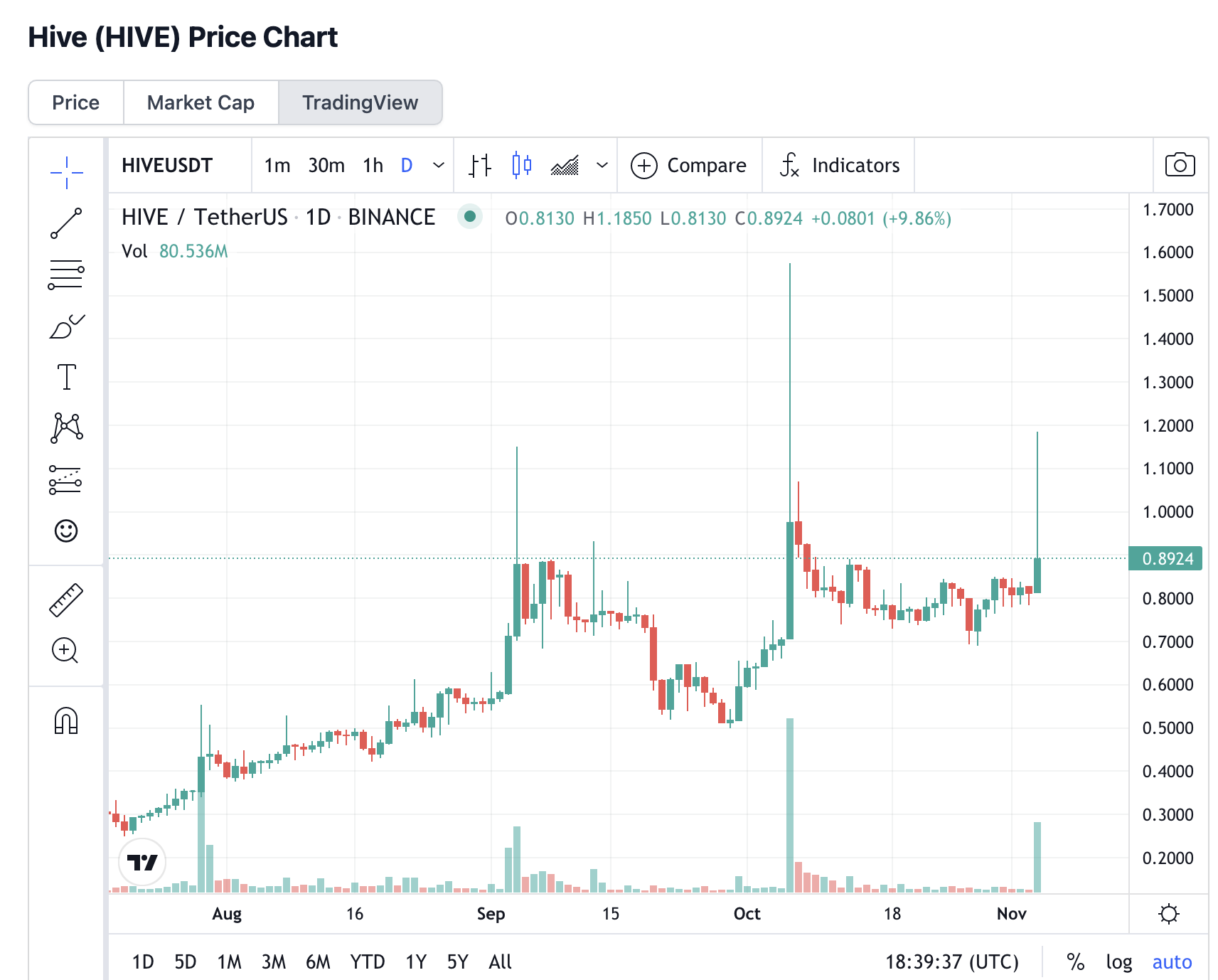 ---
Every once in a while I spend some of the precious time I have here on Earth by looking at crypto charts. Specifically, at the Hive chart. There's a certain hidden beauty in there, carefully concealed deep down the graphs.
For instance, the chart above. You can clearly see 3 big green candles, or, in mundane terms, 3 big pumps and dumps. Let's have a closer look:
first one was on 2 consecutive days: 3rd and 4th September, highest point: $1.14
second was on a single day: 6th October, highest point: $1.57
third was today, 4th November, highest point: $1.18
As we can clearly see, history doesn't repeat itself, but it certainly rhymes. Each pump was in the first week of the month, almost in the same day. If we take into account that the biggest volume came from Asia, specifically Korea, we can safely say each pump happened every time on a single day (September probably started a bit later and stretched over 2 days in CoinGecko chart, but it was probably just one trading day in Korea). Speaking of volume, the October one was almost as big as the other two combined.
It's kinda obvious that there is some rhythm to this. Every month, in the first week, some whale (or bot, or pump and dump group, or crazy billionaire, or alien trying to infiltrate the world, or time traveler knowing something from the future, make your pick) is pumping Hive hard.
Which makes me believe the next big volume pump coming from Korea might be at the beginning of December. Possibly December 5th, which is also the beginning of the holiday season. Santa Claus, just so you know, if you read this, I behave this year, so it's safe to put me on that list, you know which one.
If this pump will actually happen on that day, I guess we all agree we should name it the Santa Claus pump.
Please be aware that this is not financial advice.
Also, please be aware that Hive can be pumped from many parts of this world, not only Korea, so we may see some other pumps even earlier than that.
Posted Using LeoFinance Beta