Friends, we've been robbed.
Oh, the dollars and cents are still there, that isn't the problem. In fact, there are more dollars now than there ever have been.
What's been stolen from us is the money itself. Gold, silver, and copper aren't simply "what coins used to be made out of". Those metals are money. And in 2020, the money's long gone.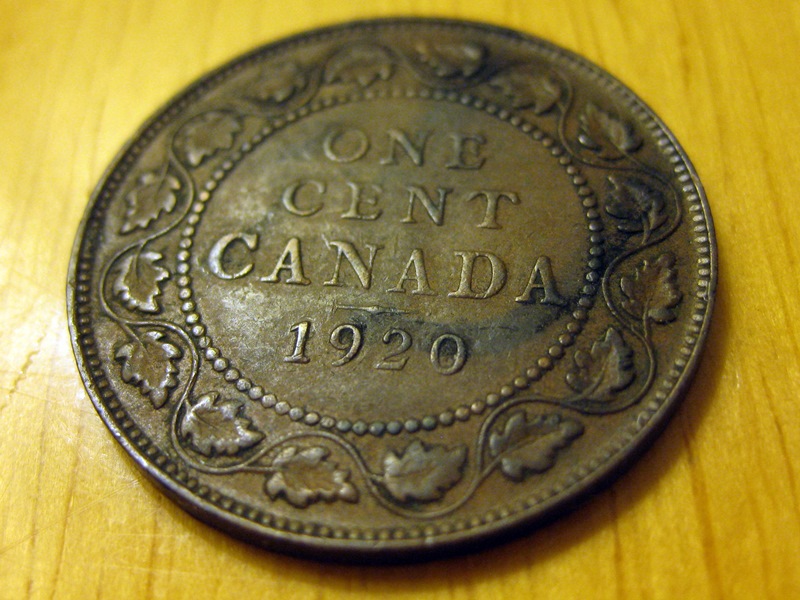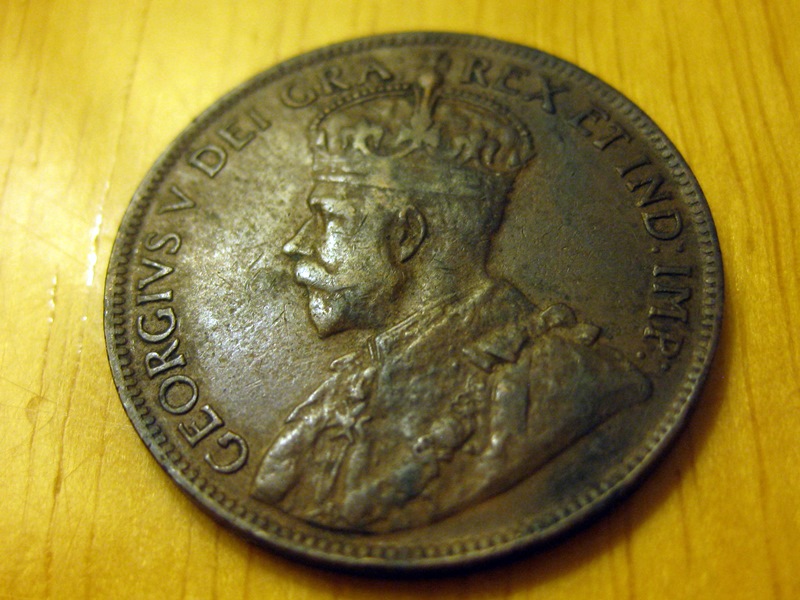 From my personal coin collection, that's a 100 year old Canadian penny. You can't tell, but it's large, and heavy - 1/5 of an ounce of pure copper. A dollar? Either a nice chunk of silver, or a huge pile of copper bullion: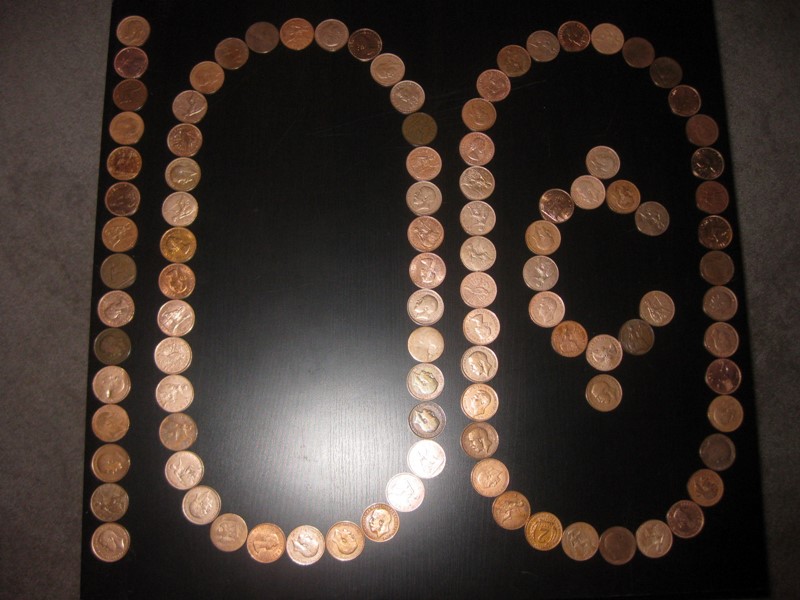 At the time - right about the middle of the Russian revolution - gold and silver were also widely used in circulation. Notes made of paper were also used, but less commonly. As it had been for thousands of years, metal was real money. Notes were nothing but receipts for the money.
Here in Canada, 1920 was a year we switched up our coinage. A smaller penny was minted in addition to the regular one (and from then on, only the smaller penny was minted).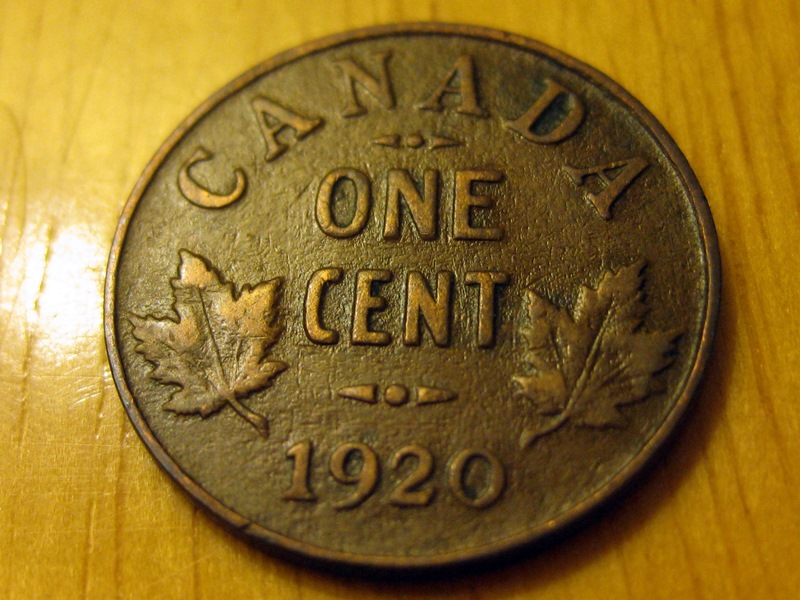 It was still pure copper, but much lighter. And just as they had with the larger penny decades earlier, the public rejected the new coin. They found it too small, and made of too worthless a metal. Eventually, it was begrudgingly accepted, and a dollar became a much smaller amount of copper: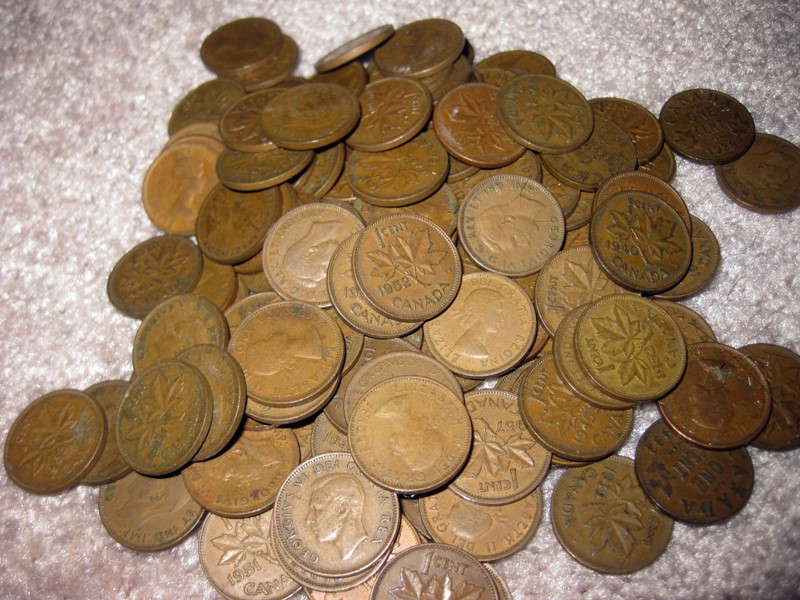 And so it went, every few decades. The size was slightly decreased. The copper got watered down. The thickness was decreased. Finally, the penny was made of steel, with just a thin layer of copper paint, to make it look like real money.
And in 2012, they killed the penny completely. All purchases in Canada now round to the nearest $0.05 (aka "nickel"... which isn't really a nickel anymore because it's made of worthless steel).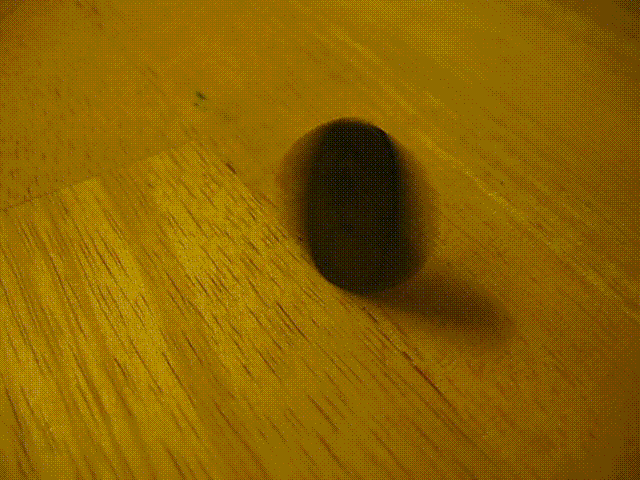 Never clean coins!
Don't do this. Seriously, never clean coins. Even if you know what you're doing, like me, DO NOT DO IT! Every coin collector or appreciator, every historian, every antique lover..... they will tell you not to clean coins. And I agree with them. Don't do this. (And don't leave me comments saying I shouldn't have cleaned my coin!)
That said, I decided to clean the 1920 large cent. I wanted to see how the metal looked when it was fresh from the mint once century ago.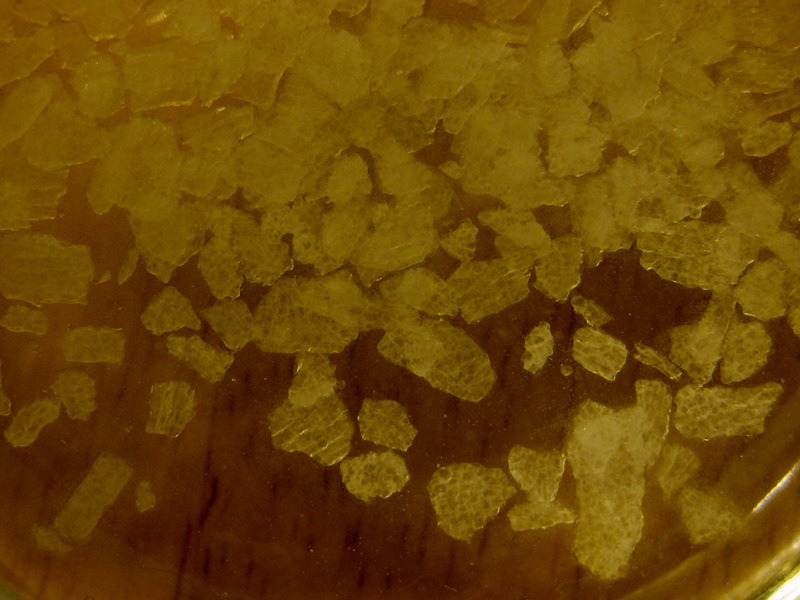 That's salt, dissolving in vinegar. To that, I added the penny: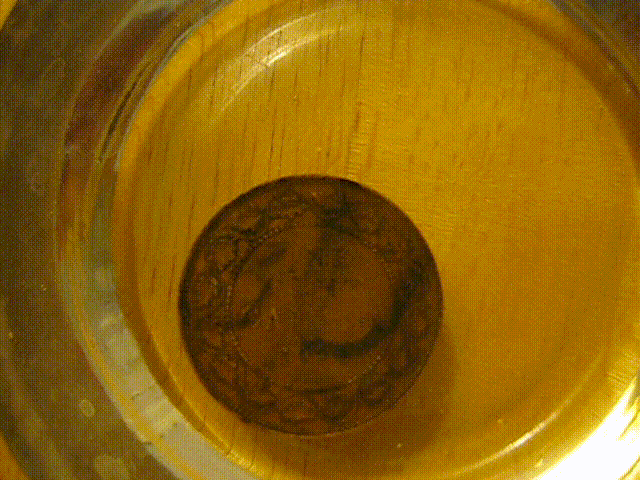 It took salty vinegar 1 minute to remove most of a century's dirt, grime, and patina. After giving it a gentle wash with hot soapy water...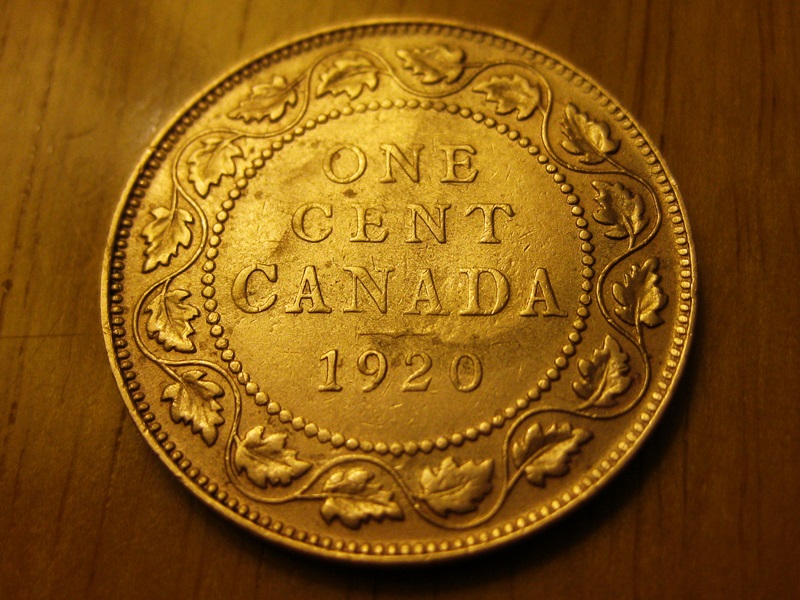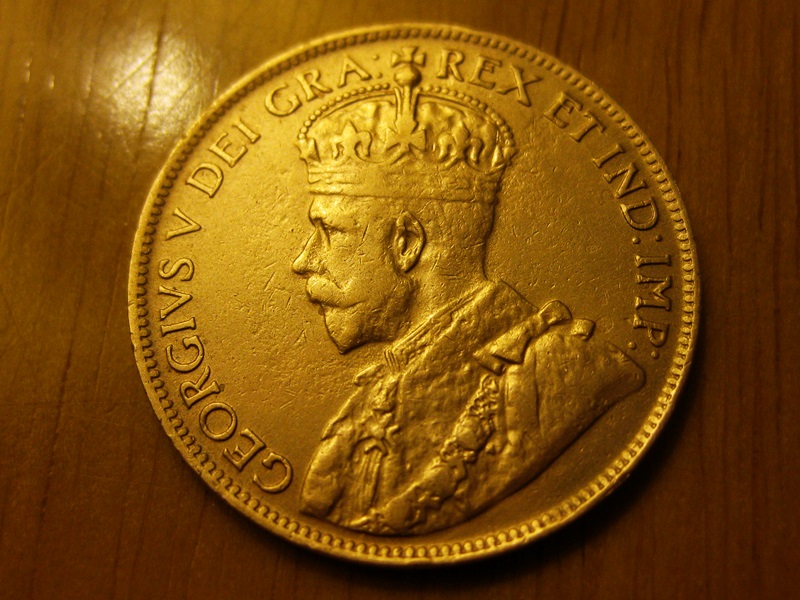 So that's what it looked like, fresh from the Royal Canadian Mint, in 1920! Gorgeous luster. And now, every little nick in the surface shows up. What other coins banged against this one in somebody's pocket, to create those tiny dings? Where did this coin journey before it found itself in my grandfather's hands somewhere around 1960?
What did this coin once buy? It bought a lot more than one cent does nowadays, that's for sure. Inflation is the hidden tax. Now that our currency is backed by nothing, and our coins are totally worthless (if we're even allowed coins at all anymore), nothing stops the central banks and governments of the world from robbing from the people. Trillions are created from thin air, without even a single piece of copper backing them. This devalues EVERY other dollar already in existence.
That is how we've been robbed, friends. Slowly, over generations.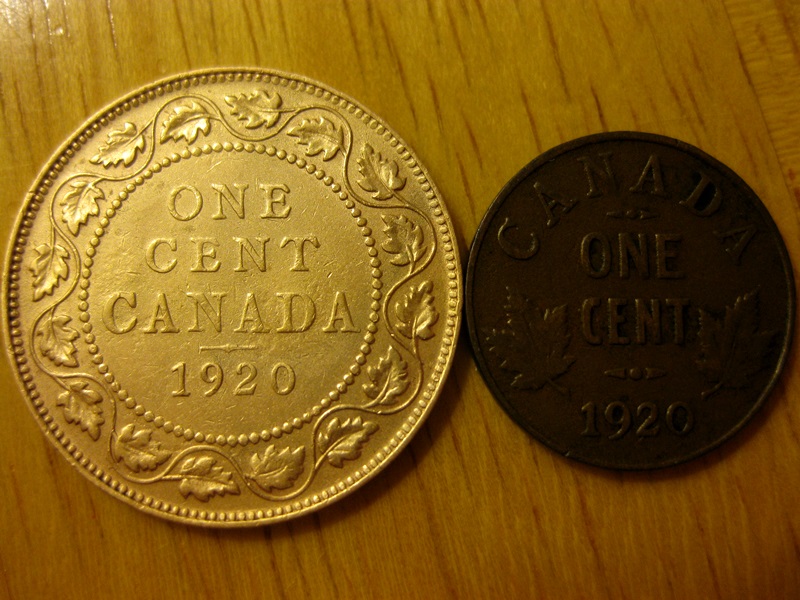 Skeptical citizens 100 years ago complained that real money was being taken from their currency. How can both these coins be worth one cent, they asked. And rightfully so.
Today, we are almost cashless, meaning ALL coins, along with notes and any other form of private currency, are being removed from circulation. All that's left for the people are 1s and 0s in computers, stored on little microchips, backed by nothing.
Consider me skeptical that removing physical currency is going to empower the people any more than removing the metal from it has.
DRutter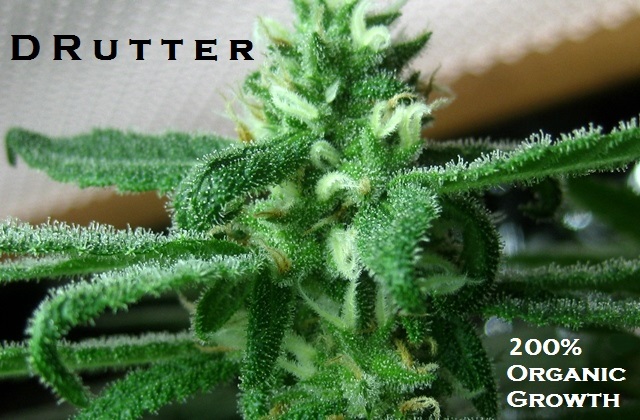 Posted Using LeoFinance