There might be some out there who found themselves locked up in the SmartBCH chain due to the halting of the bridges off and to the protocol, apparently by CoinFLEX.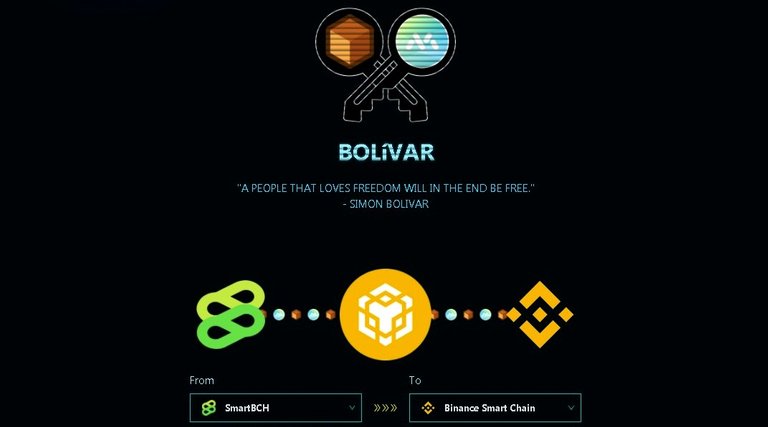 Bolivar Bridge, came out on 25th June in the BlockNG platform to facilitate exit and entry from (or to) the SmartBCH network.
How to use it?
Swap BCH to bcBCH at MistSwap.
The price is outrageously different. It is not 1:1 ratio so you must check. At the time of this writing, 1 BCH = 0.6884bcBCH





After swapping, convert the bcBCH to Binance-Pegged BCH
You do this by going to the Bolivar Bridge and inputting the necessary details on the bridge fields.

From SmartBCH and to Binance Smart Chain.

Select bcBCH on the drop down menu.

Input how many bcBCH you are taking out

Then click "SWAP"

You need to "confirm" the transaction on your wallet.





After it is confirmed, a transaction hash will appear. Open it on another window (so you will have a copy just in case). Check the box to enable "Manual Claim of Previous Transaction"





Click "Switch to BSC Network"

Confirm the network switch in your wallet

After the network is switched to BSC, the "CLAIM" button will appear.





Click it to claim your BSC pegged BCH. Confirm it for the transaction to process.

To see the token (BCH) in your BSC wallet, custom add the token's Contract Address 0x8ff795a6f4d97e7887c79bea79aba5cc76444adf.




And now you can breath having taken out your BCH off the SmartBCH chain, if that is what you want of course. Additional info about BlockNG and the cross-chain bridge here.
I heard that CoinFLEX is planning on opening the bridges on the 30th June so personally, I'm waiting if it does happen. I did use the Bolivar Bridge twice using small amounts of bcBCH to test it. Both transaction arrived to my BSC wallet without a glitch.




DISCLAIMER: None in this publication is an endorsement. Please use the bridge at your own risk.




Images and or screenshots are from BlockNG and Metamask. No copyright infringement intended. 30622/11:35ph
Posted Using LeoFinance Beta