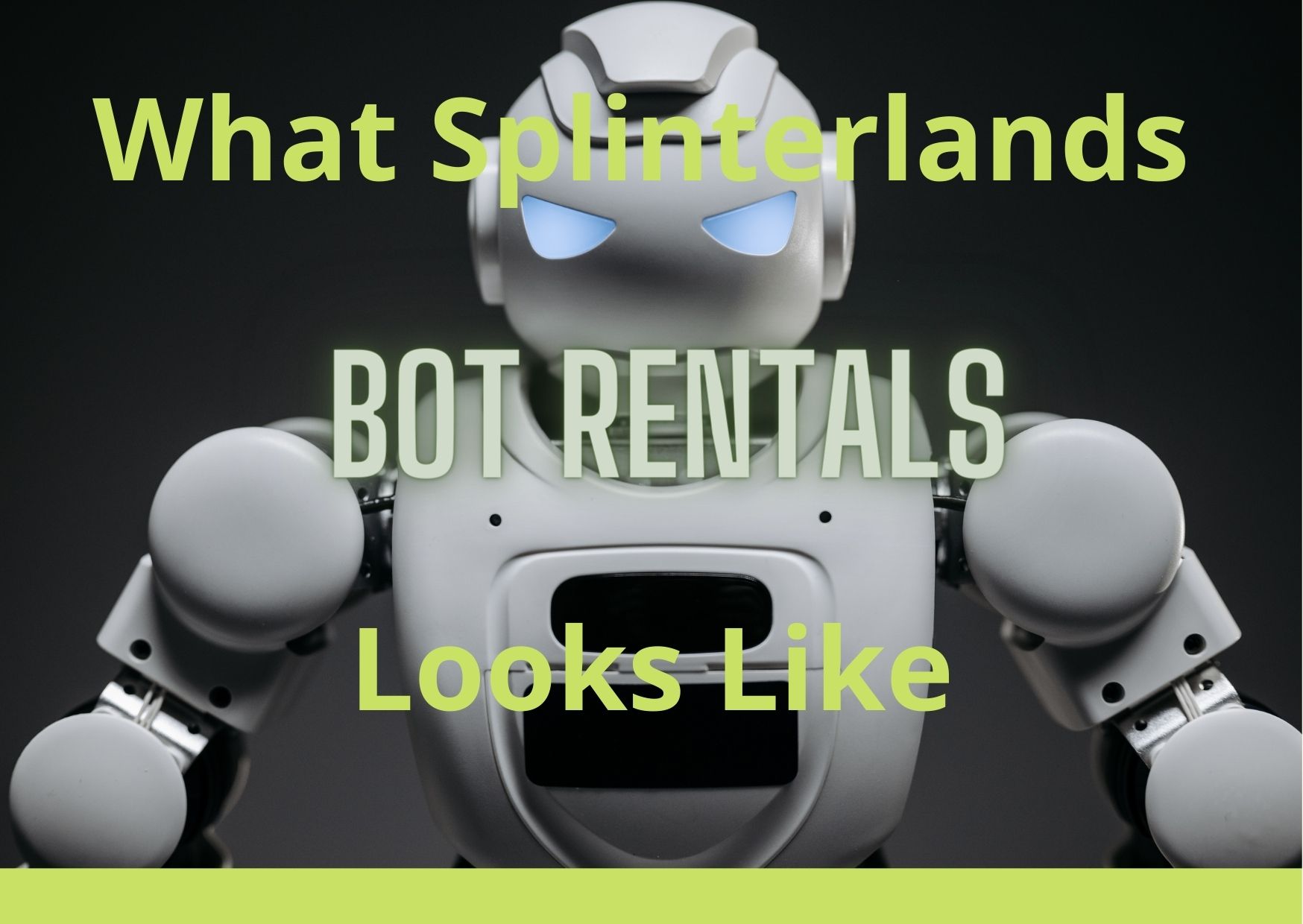 I am not good at the game of Splinterlands. That's fine with me because playing the game is much less interesting to me than the economy.
However, since this season began, I've been breezing through games with probably a 90% win rate. I have decent cards and with the rental market in the toilet and an interest in what the new rewards looked like, I decided to make a go of it. Right now I'm sitting in SIlver 1 and up until today, I've been cleaning up. Got 29 daily chests one day and with only about 8 games picked up 21 yesterday. All those gold and alphas really help but so does a 50% win streak bonus.
But today things are different. Today I've lost 6 out of 7 games in a row. Curious who I was losing to and why, I decided to do some research on my last two games.
And it looks like we have some talented bots.
How do I know they're bots? A few ways.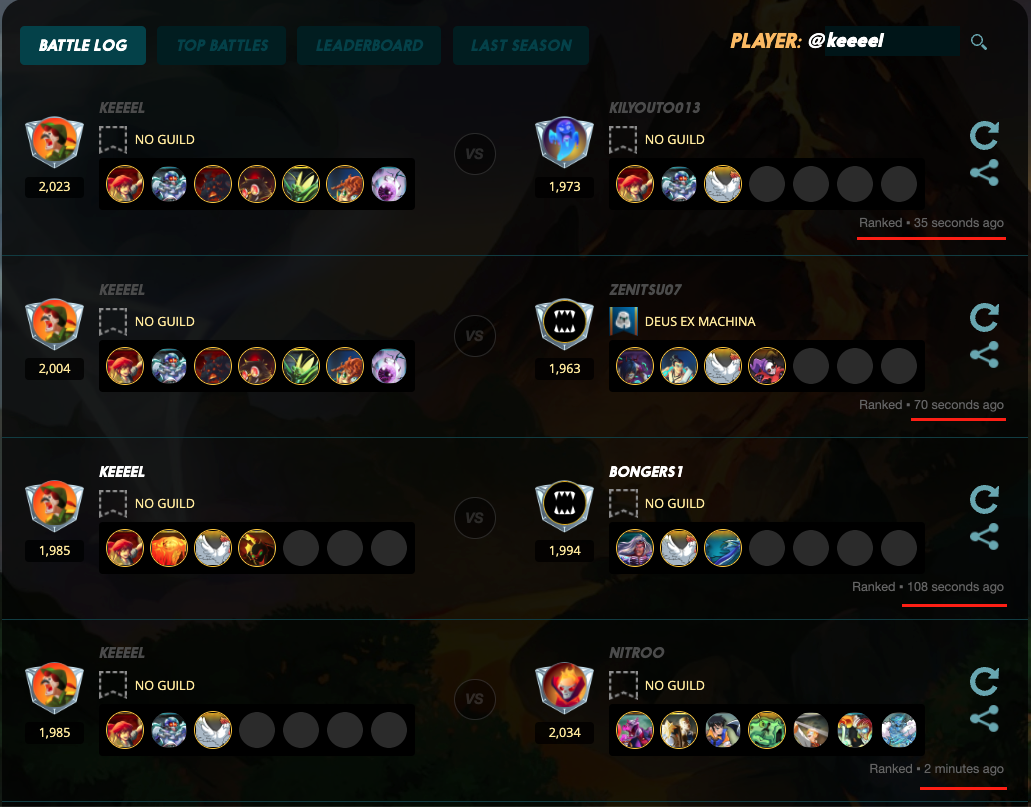 Check out those times. KEEEEL here plays one game every 35ish seconds. It goes on like this for a while. Pretty robotic, eh?
But also, guess how many cards these two accounts playing in silver I own between them?
Not one. Both of them have their entire deck rented. 74k CP and strong playable cards. Old cards and gold cards and legendary cards.
Let's look!

Not one card owned. But now let's look at the cards rented to keeeel that would be sitting dead on the market if not for this bot renting.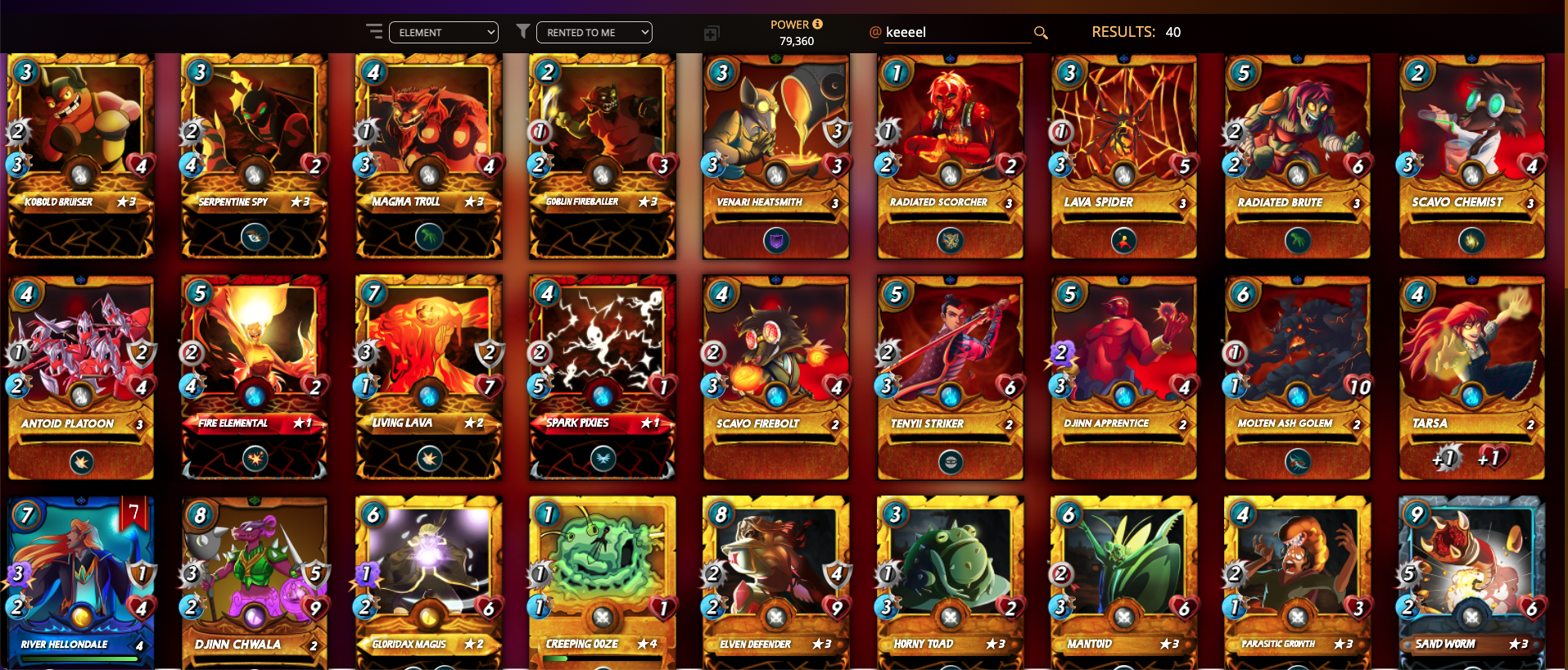 That's a lot of cards right? Now imagine 10k more of these guys replace the 100k freeloaders we just got rid of? Or if we hit a growth phase and get 100k more of these or 1 million renting even up to bronze 1. You can see how quickly we end up running out of cards.
Many of the cards this bot rented only had a few hundred or a few thousands copies minted and most of those aren't on the market. Let's look at those beta rare gold cards keeeel here rented.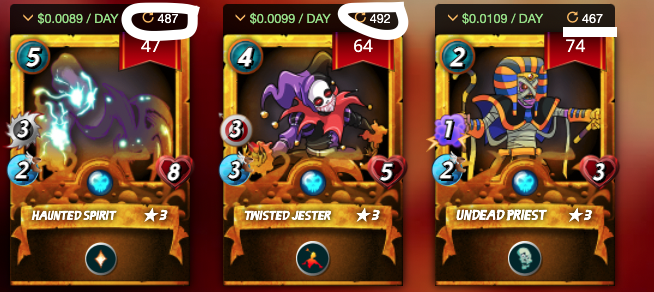 Each of those cards has under 500 mints. That's it. Once a few more are rented, these are off the market and the prices soar on the rental, meaning people and bots need to move onto other cards. Imagine a game in which you face different monsters instead of the same few over and over again? Where you have to find new strategies to play to maximize wins and rewards.
Imagine a game in which resources become scarce, asset owners are rewarded with high prices and great rental income while the rewards players get for renting are far higher than they are getting now because those rewards are cards and currencies everyone wants and needs.
That's what we're looking at here. When you see the level of cards this single account has to rent, you can tell in a hurry how few of these accounts it would take to change this game back to worthwhile profitability for asset owners and even players who don't own.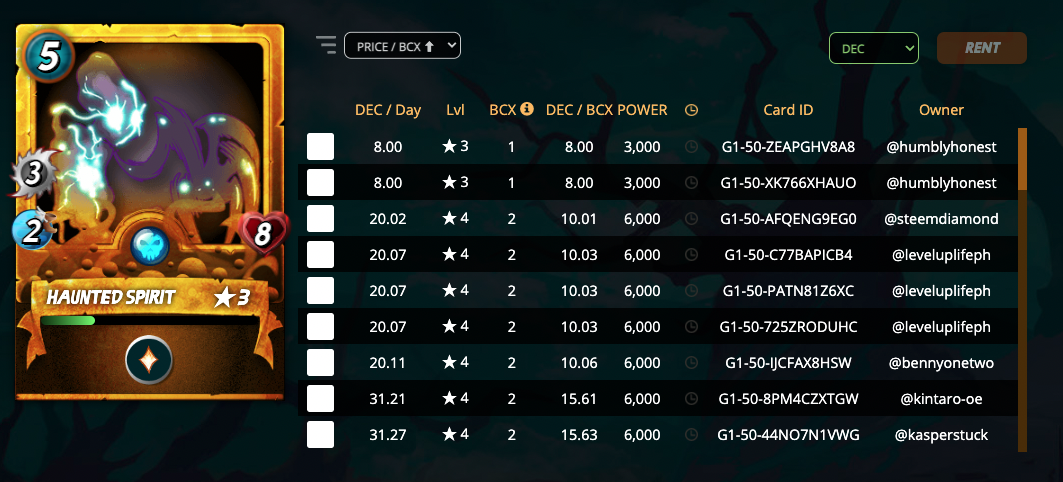 Let's look at Iceman28, or as we shall call him, bot #2.

Again, owns 0 cards yet plays silver 1. Again, has had to rent 74k CP and a bunch of rare cards to go with them.

While there's lots of gold cards here to give nice CP (including that gold chicken), you can see where the CP top off is. 83 Fungus Fiends.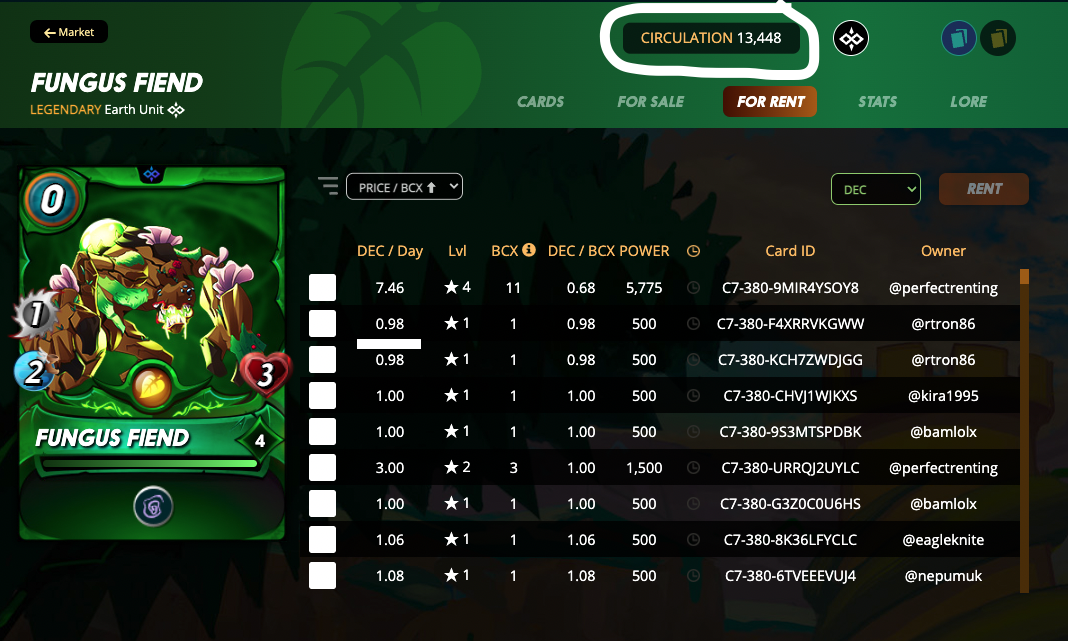 Why? Because there are a ton of them. Even with this bot renting 82 of these things they can still be rented for under 1 dec. This is what I was talking about recently with CP vs strong playable cards.
There is SOOO much CP out there with the new cards that there's a good chance strong playable cards start to make a comeback.
We are seeing that happen right now as the CP need dropped off with the more basic bots who rented CP to get into silver 1 and then just played starter cards long enough to get their 5 wins. Now there is an inventive to win more while ECR is high and to play with cards that will give bonuses.
Going up to silver one and playing 30 games to get 5 wins with starter is completely worthless while many of the cards you need to win are becoming scarce.
Eventually when we get back some of these bots, CP will go back up but they'll still need to play with cards that win and hopefully give bonuses while they have the ECR to make it worth it.
These bots I'm playing and beating me have strong decks they are renting. They are winning and if they want to stay profitable, they have to keep winning. This is an arms race right now and those accumulating serious weaponry are going to do well.

Posted Using LeoFinance Beta