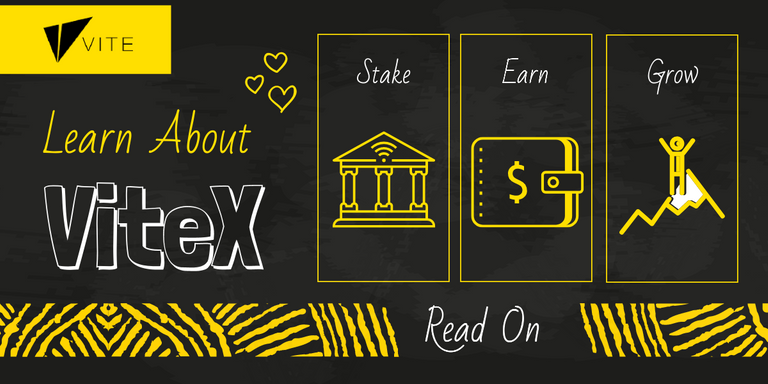 Best Way to Spend Some BTC Gains : STAKE ViteX (VX) | VX Staking APR:67 % !!!
---
I have been on HIVE for about two years, it's the longest crypto community I've been a part of, the second-longest is the VITE project.
At first, I thought it was a scam (much like I did about STEEM), but the more I been using it the awesomer it gets.
What I am most excited about is the passive income opportunity that it generates every day for me when I stake ViteX (VX).

Every day I earn about $8 worth of Crypto.
But it's not just some BS token ($MyRipOffToken) No, you are paid out in #BTC, #ETH, and #USDT based on the amount of ViteX (VX) you hold.
The money come as all the treating fees that are collected by the VITE decentralized trading platform (*A platform that is free to use with no KYC), is put into a shared dividend pool and distributed at a rate of 1% per day.
Today's VX Mining Dividend Dashboard

Here is the Break out for staking 1000 ViteX (VX) Tokens for 1 year...
Staking for one Year, Estimated returns.
DO YOU SEE THE 67% APR, just Madness
Pre-much in summary, Stake $173.31 / Earn $0.32 per day, and in one year have $116.89 Divided between BTC, ETH, and USDT + still have the tokens that will rise in value... Or transfer that money out at any point you want, trade and buy other tokens with that as earn your returns.
---
Its Free to Join, NO KYC, You Own your Keys,
Here is the link
My Affiliate link :
My Referral Code: 2293309318

Transparency : If you use my link to sing up, you get reduced trading fees and as the referee, I will be rewarded with 5% of all invited users' trading as mining proceeds and 2.5% of all market-making as mining proceeds. Basically, using my link reduces your trading fees and I will earn a little to help keep posting!

But, the choice is your!
Non Affiliate Link
---
Thank you for taking a moment to read about this, Hit me up with questions you may have down below the comments and I'll do my best to try to answer them.
Here is to your success in 2021!