Bitcoin has been very volatile around the same time of day as of late...
What if you could just look at a clock and decide when you wanted to trade BTC simply based on that?
New data coming out of Binance, Skew, and Coinbase shows that the largest amount of volatility each day in BTC seems to be happening around the same time each day...
What time of day you might be wondering?
The most volatile time of day for bitcoin is at 4 pm UCT.
Check it out: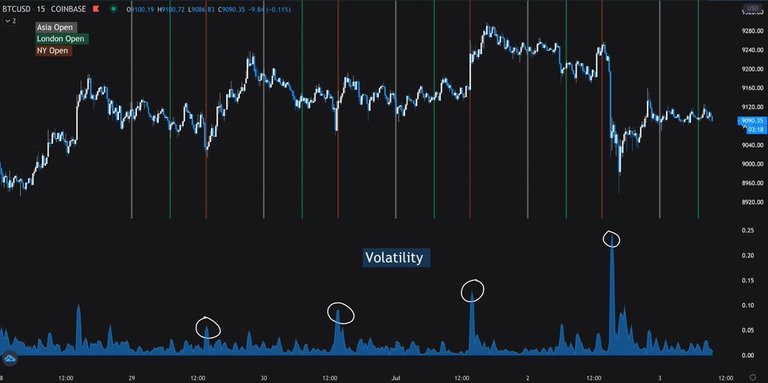 (Source:
1278987713526427648) twitter metadata:SHNha2FUcmFkZXN8fGh0dHBzOi8vdHdpdHRlci5jb20vSHNha2FUcmFkZXMvc3RhdHVzLzEyNzg5ODc3MTM1MjY0Mjc2NDgpfA== ~~~
For those wondering, 4 pm UCT is 12 pm EST.
Do you have a guess why bitcoin seems to be moving so much around this same time each day?
I do I do!
What has bitcoin been highly correlated with as of late?
I have done numerous posts about it over the last several weeks, some which can be seen here:
https://hive.blog/hive-167922/@jrcornel/whether-you-like-it-or-not-stocks-are-going-to-soar-and-so-is-bitcoin
https://hive.blog/hive-148441/@jrcornel/this-is-likely-the-start-of-a-dip-in-bitcoin-and-stocks-but-it-s-a-great-opportunity-to-buy-the-dip
Did you figure it out yet?
The US stock markets open right around the same time that bitcoin experiences well above average volatility each day.
Though I should rephrase that even more, bitcoin experiences this heightened volatility each WEEK DAY.
More highly correlated than ever before
This kind of phenomenon is something that shouldn't surprise as bitcoin is now more correlated with the S&P 500 than at any other point: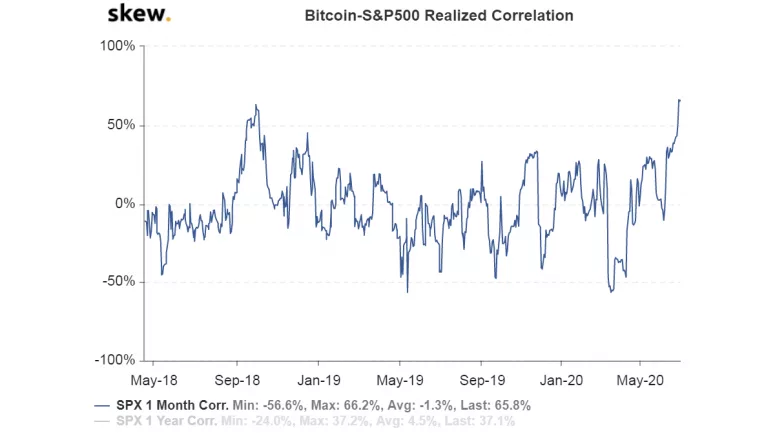 (Source: https://analytics.skew.com/dashboard/macro)
The correlation currently stands at 66%, which is the highest correlation ever for BTC.
So, if you want to trade bitcoin and catch the biggest moves each day, just set your alarms for when the US stock markets open and you should be able to ride the biggest waves each day.
Stay informed my friends.
-Doc
Posted Using LeoFinance