The last time we saw this level of BTC being HODLed was in 2016 right before BTC went on its massive rally
Another day and another pattern emerges that's similar to what we saw the last time bitcoin was in the early stages of a major rally.
We seem to be getting a lot of these lately...
This one is in the form of dormant BTC.
Bitcoin that hasn't moved in a year or more...
As of right now we are seeing the highest levels ever, which previously happened right before the massive bull market rally that started back in 2016.
Check it out: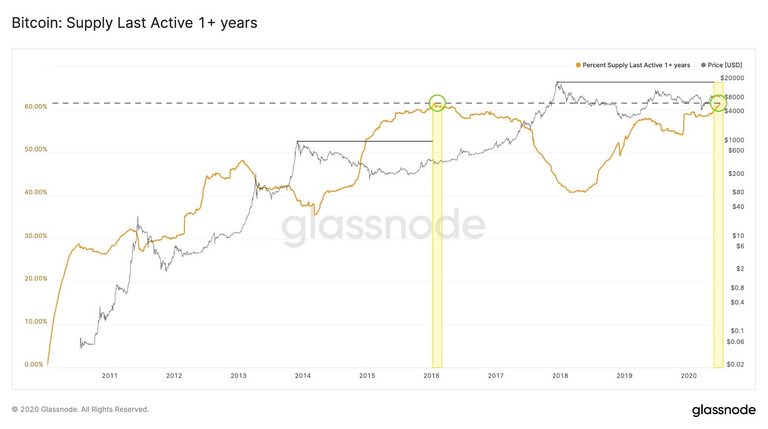 (Source:
1277235618918129666) twitter metadata:Z2xhc3Nub2RlfHxodHRwczovL3R3aXR0ZXIuY29tL2dsYXNzbm9kZS9zdGF0dXMvMTI3NzIzNTYxODkxODEyOTY2Nil8 ~~~
Do you see it?
The percentage of BTC that hadn't moved in over a year first breached 60% back in early 2016, just prior to the halving.
Roughly a year and a half later, BTC was topping out around $20k and the percentage of BTC that hadn't moved in over a year dropped pretty much in line with the price gains.
A possible inverse investing indicator?
My big take away from this is how the number of BTC that hasn't moved, on a percentage basis, in over a year very strongly correlates with market activity.
Pretty much since bitcoin was first created.
When bitcoin is making highs and topping out, the percentage of BTC that is being held drops significantly.
Then, as that pullback consolidates the percentage of BTC being held starts climbing again.
One could feasibly make the argument that a good investing strategy would be to buy when those holding BTC for more than a year breaches a large percentage (like 60%) and sell when that number drops to about 40%.
Or perhaps a better sell indicator would be to sell when when the percentage holding for more than a year drops by over 20% or so...
Either way, this is literally the same setup we saw back in 2016 and a major bull market soon followed.
One thing to keep in mind is that the supply of BTC is higher now than it was back in 2016, so on an absolute basis, more BTC hasn't moved in over a year than ever before.
And as this chart shows us, that's a good thing for price increases.
Stay informed my friends.
-Doc
Posted Using LeoFinance