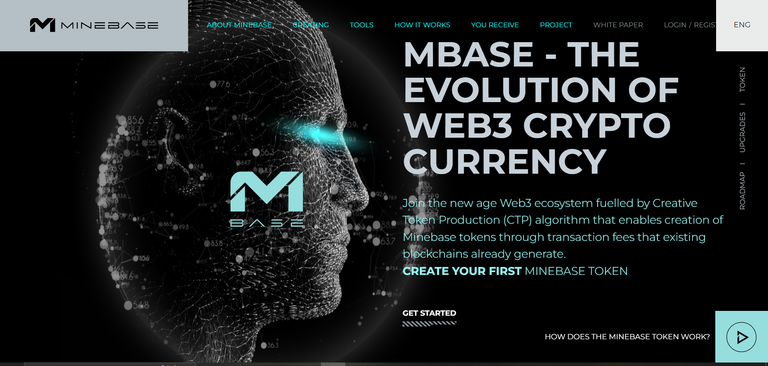 Very good morning HIVE community, I hope you are having a great time, today I bring you info on how to claim the MBASE tokens for free.
First some info: it is a token that already has market in two exchanges so far, Bitforex and Digifinex, at the time of writing this post has a value of 0.57 USD each token.
You can claim 1 MBASE every 25 hours.
To make the withdrawal requires minimum 20 MBASE and pay the Ethereum blockchain commission, which would not be profitable. How could it be profitable? Keep claiming tokens every day, until you collect a considerable amount, and if the project works and has response can increase its value over the days and weeks, by that time we will have in our wallet a larger amount of tokens and a higher value, of course, all that in case it goes well.
Muy buenos días comunidad de HIVE, espero que la estén pasando genial, el día de hoy les traigo info de como reclamar los tokens MBASE de manera gratuita.
Primero algo de info: es un token que ya tiene mercado en dos exchanges hasta el momento, Bitforex y Digifinex, en el momento de escribir este post tiene un valor de 0,57 USD cada token.
Se puede reclamar 1 MBASE cada 25 horas.
Para hacer el retiro se requieren mínimo 20 MBASE y pagar la comisión de la cadena de Ethereum, lo cual no seria rentable. Como podría ser rentable? Seguir reclamando tokens todos los días, hasta juntar una cantidad considerable, y si el proyecto funciona y tiene respuesta puede incrementar su valor con el correr de los días y semanas, para ese entonces ya tendremos en nuestra wallet una cantidad mayor de tokens y a un valor mas alto, por supuesto, todo eso en el caso de que salga bien.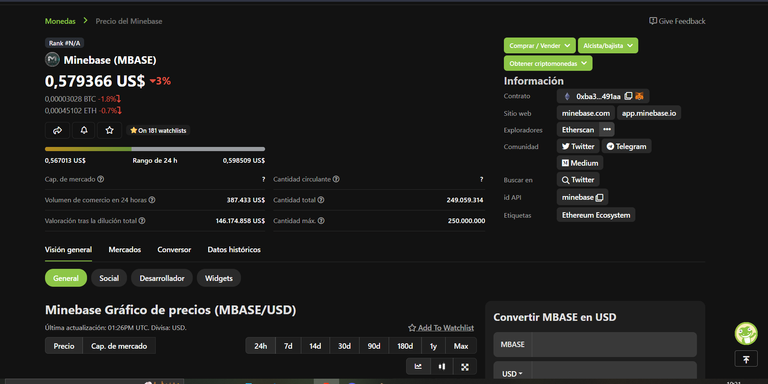 Here is the referral link that takes you directly to the Minebase page.
Completing the data and verifying the account by email, is very simple, but it asks for a phone number (I leave the clarification because I know that there are many people who don't like to share that information in this kind of projects).
Aquí les dejo el link de referido que los lleva directo a la pagina de Minebase.
Completar los datos y verificar la cuenta por email, es muy sencillo, dato extra, pide numero de teléfono (dejo la aclaración por que se que hay mucha gente que le molesta compartir esos datos en este tipo de proyectos).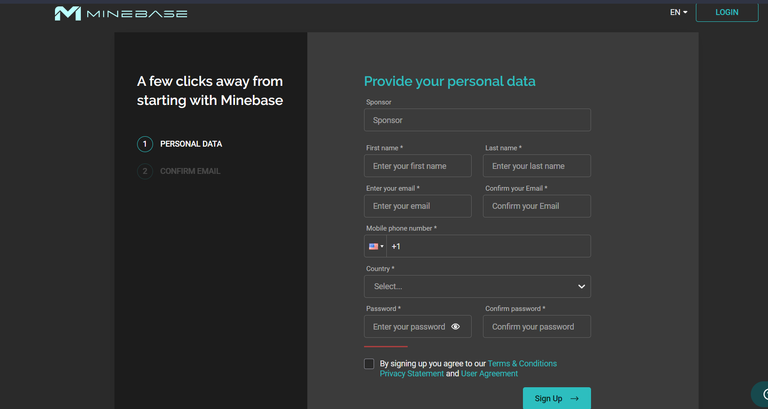 Once the e-mail address is verified, we can access and our wallet will be seen like this.
Una vez verificado el correo electrónico ya podemos acceder y así se vería nuestra wallet.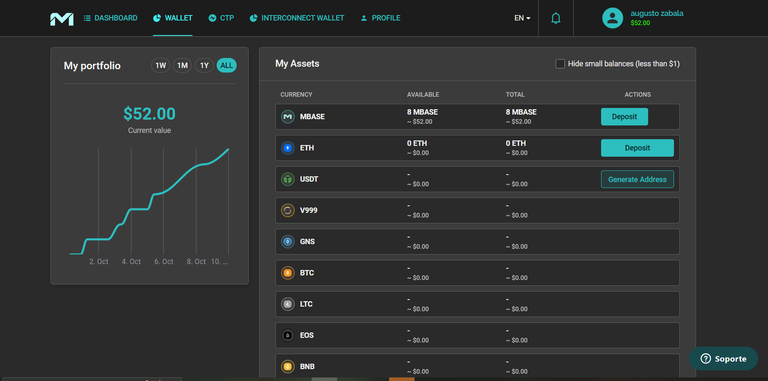 The next step is to go to the upper part where CTP appears, once there we go to Period of Time.
El paso siguiente es ir a la parte superior donde figura CTP, una vez ahi no dirigimos donde dice Period of Time.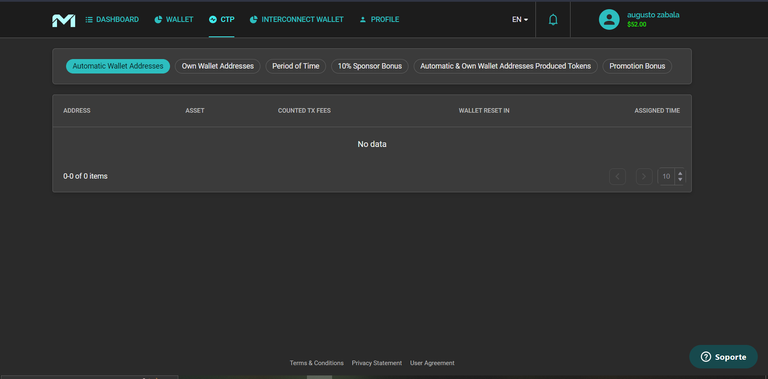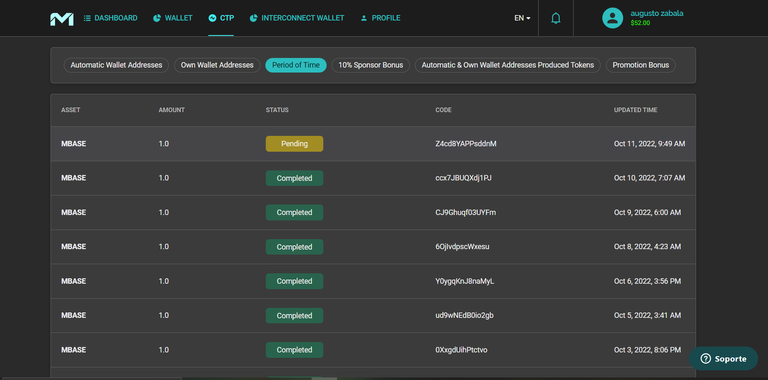 Once here, every 25 hours we will be able to see a code that we will have to copy and paste at the bottom of the page to make the claim.
Una vez aquí, cada 25 horas podremos ver que se nos habilita un código que tendremos que copiar y pegar en la parte inferior de la pagina para hacer el reclamo.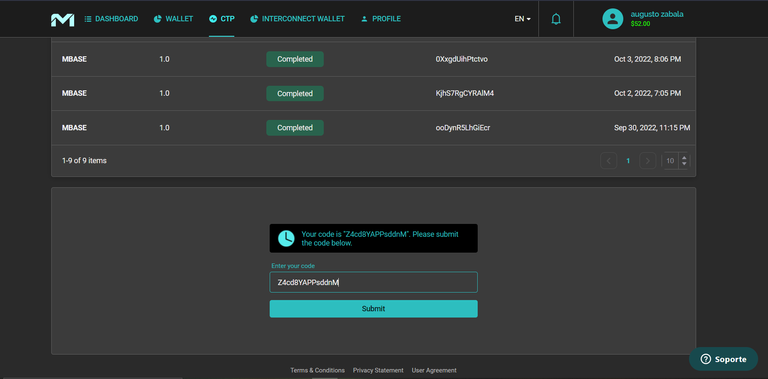 Clarification: the value shown at the top of the Minebase page is NOT REAL, the value is 0.57 usd each token.
Aclaración: el valor que figura en la parte superior de la pagina de Minebase NO ES REAL, el valor es 0,57 usd cada token.
I have not started to investigate in depth how the project works due to lack of time, but in these days I promise to look for more information and share it with you, by then we will already have several tokens and be able to use them.
I also leave you the link to the page where you can read his whitepaper.
Here again the referral link:
https://app.minebase.io/?su=7f7fd3cd
Without further ado, I bid you farewell with a big hug and have a great day, until next time.
No me he puesto a investigar a fondo como funciona el proyecto por falta de tiempo, pero en estos días prometo buscar mas información y compartirla con ustedes, para ese entonces ya tendremos varios tokens y poder darles utilidad.
Les dejo también el link a la pagina donde pueden leer su whitepaper.
Aquí nuevamente el link de referido:
https://app.minebase.io/?su=7f7fd3cd
Sin mas por hoy me despido de ustedes con un fuerte abrazo y que tengan un excelente día, hasta la próxima.
Translated with www.DeepL.com/Translator (free version)
Posted Using LeoFinance Beta