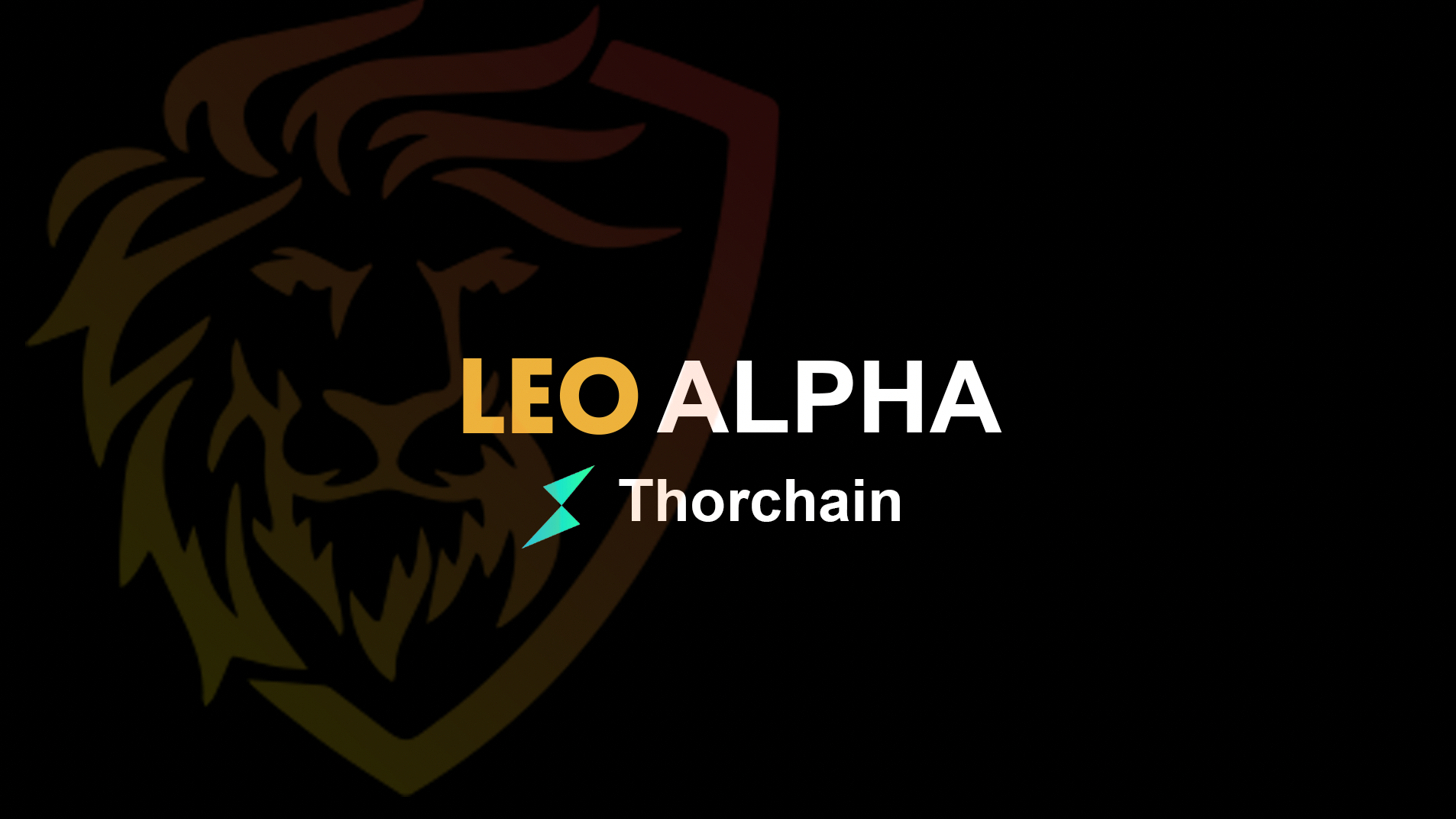 Welcome to the first LeoAlpha post. ICYMI, I wrote about this idea I have for generating more Alpha for everyone here on LeoFinance. We have a unique collective brainpower on this platform that we can leverage to evaluate new projects in the crypto space and discover and disseminate great ideas.
Our platform and community are so uniquely positioned to generate and share Alpha with each other. That Alpha leads back into value amongst all of our community members which in turn raises the average wealth of LeoFinance community members.
A higher average wealth of our community members = a higher potential value on our community's own tokens. You see where I'm going with this. Sharing Alpha on LeoFinance can be both a selfish and selfless act when done this way. I'm excited to see it unfold.
The goal of these #LeoAlpha posts are to get LeoFinance authors involved in a research process to generate ideas and write content about a specific project that might lead to some Alpha. Think of this as being like a research division within LeoFinance. We find an idea, start with some key topics and then pull the thread as a community to see where it leads us. See below for details on how to write a LeoAlpha post and link to it for extra curation. Read more about this idea in my post from yesterday LeoAlpha: A New Series.
---
Thorchain (RUNE) - Still The Underdog in an Emerging DEX Environment
What better way to kick off the LeoAlpha series than talking about one of the best performing trades this community has ever seen: RUNE.
If you go back to early 2020, the talks of RUNE began. @shanghaipreneur was the first to bring it to the community and then other members like @jk6276 started picking up on RUNE and talking about the future it could provide.
Back then, RUNE was trading somewhere between $0.10 and $0.40. Today, RUNE is trading at $8.40.
The run for RUNE is far from over in my opinion. In fact, back then the trade was highly risky: Thorchain barely had any working product. They had a vision, they had a team and they had an emerging community of hardcore believers in the project.
Much like the early days of BTC vs. today, the risk profile of RUNE is far lower now than in its infant stages. You may have less upside now that RUNE is above $8 vs. $0.40, but that doesn't mean you don't have a lot of upside. You've traded in a lot of the risk of early stage investing for some of that upside.
Key Metrics: What I'm Watching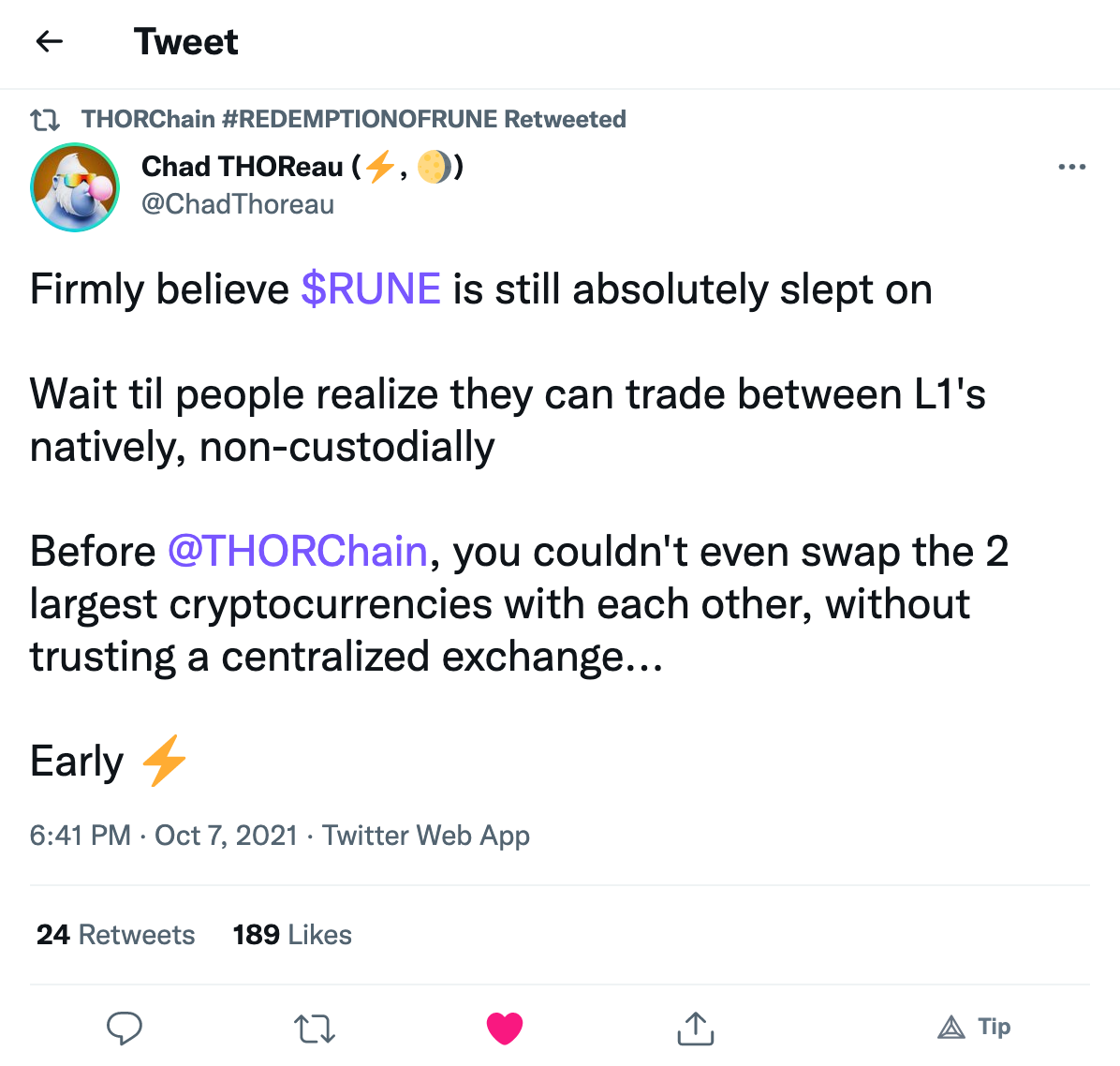 In my opinion (and I think in the opinion of many others who are watching Thorchain), RUNE is absolutely undervalued.
We're living in a world where CEXs like Coinbase and Binance are being heavily scrutinized by regulators. The hammer is dropping on major Centralized Exchanges and they can only outrun the suits for so long.
With this in mind, cross-chain decentralized exchanges are the future. How will we trade BTC for ETH or BTC for LEO or BTC for CUB? How will value transfer from one chain to another in a permissionless, decentralized way?
Right now, there is only one truly decentralized protocol that supports 5+ major blockchains. It allows you to permissionlessly move assets across various chains and its "competition" is non-existent.
So if Thorchain is to fulfill this mission, how big should its market cap be?
First, you may want to look at the cross-chain volume that is out there right now. Looking at how much value is transferred on the Bitcoin blockchain, the Ethereum blockchain, Litecoin, Solana, BEP2, etc. etc.
Then consider a future where Thorchain captures a % of that market.. Does it capture 5%? Does it capture 20%?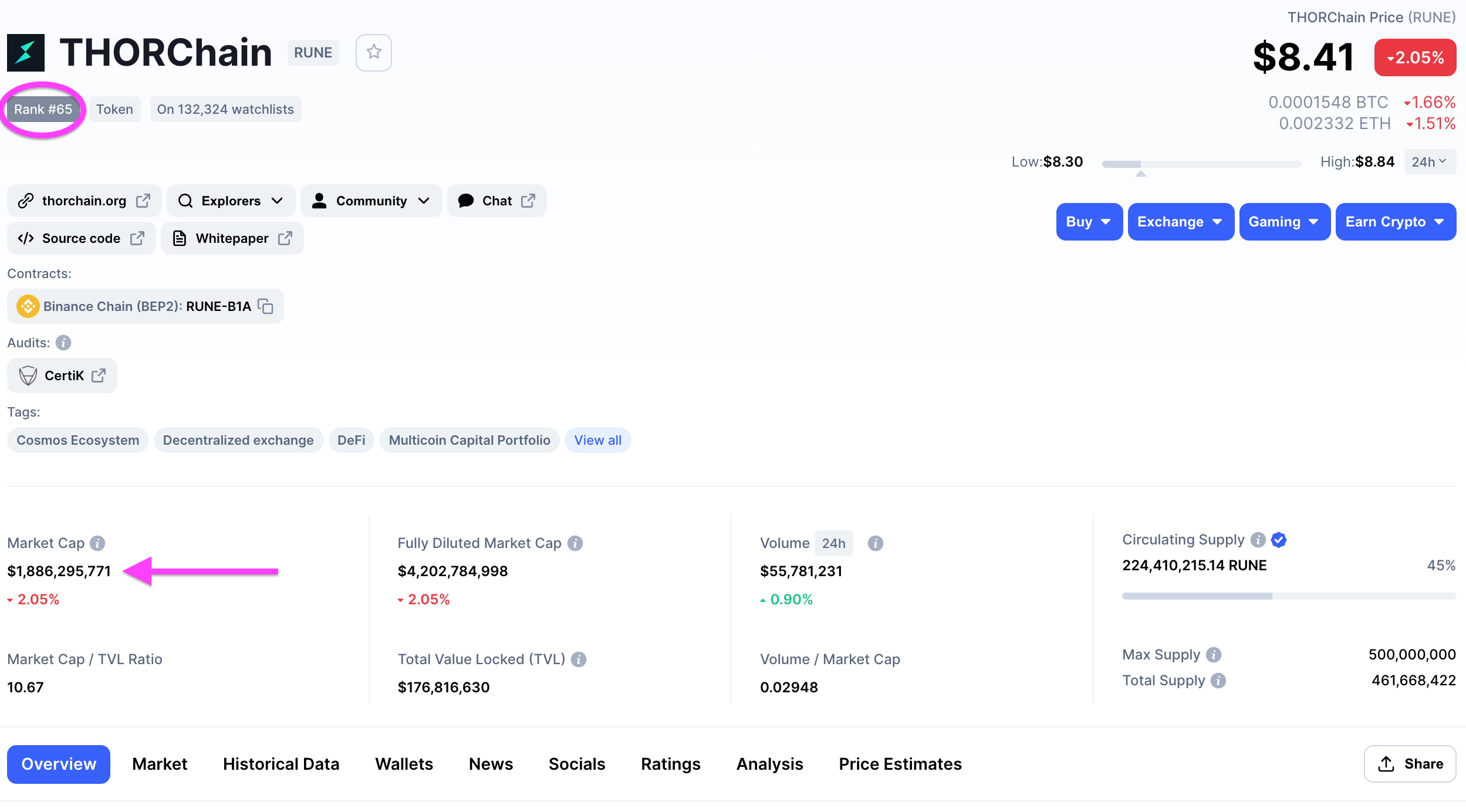 I think we can all agree that a $1.8B market cap and rank #65 for the only project that has a working decentralized, cross-chain protocol for native BTC, ETH, LTC, etc. is severely undervalued.
Research Points
So the structure of LeoAlpha (at least, in this first post as we all are learning this on the fly) is as follows:
I (or whoever wants to host a #LeoAlpha post) will publish some overview information on something we're watching. It might be a small-cap project on Hive or a small-cap token that just launched on BSC. Or it could be something like RUNE - a major emerging player in the crypto industry.
We start with an overview and then we deliver some broad research points.
Then it's up to you - the writers in LeoFinance - to research the project using those points (or other points if you create them yourself). We all dive into the project deeper together, consider if there is some Alpha to be gained by putting together our collective knowledge and then making our own investment choices based on what we all collectively learn about the project.
Market Cap of Thorchain - how does it compare to other "similar" protocols (closest protocols being things like Uniswap/Sushiswap even though they aren't cross-chain)
Research the Thorchain network (https://thorchain.org/) - how does it work, what are the key points to know about its technology?
The Thorchain team - who's behind Thorchain, what's their involvement? How decentralized is Thorchain?
Platforms on Thorchain - there are dozens of apps being built by independent teams. This could be considered bullish for RUNE itself as it captures value from all of these apps - which are the most exciting ones and how could they lead to value for RUNE?
Research & identify the TAM (Total Addressable Market) for Thorchain - I mentioned briefly that Thorchain solves one of the biggest issues in all of crypto: transferring value permissionlessly across major blockchains. How big is this market? What can you learn about researching value transfers in crypto?
How are CEXes performing? How much of that market will Thorchain eat up as the CEXes like Binance close to certain markets due to regulation?
...
Links to help you in your research:
Research, Report & Earn
I'll be giving out massive upvotes in LEO from my accounts + massive HIVE Upvotes from @leo.voter to anyone that follows the LeoAlpha guidelines to generate some research and publish a post on https://leofinance.io.
The guidelines are very open and I'll curate any research articles based on my subjective view of their quality:
Research and write a Post about RUNE (Thorchain) on LeoFinance.io
Insert a link anywhere in your article back to this article you're reading now - link
Leave a comment below with a link to your article so I can find it easily
Bonus points: find other articles about RUNE (Thorchain) on LeoFinance.io and include relevant links in your post. This helps with cross-linking, readability and SEO.
What's the Point of LeoAlpha?
Consider the purpose behind LeoAlpha as you research and write: our goal is to create high quality research-based articles about various cryptocurrencies and topics in the industry that serve two primary purposes:
Generate Alpha for the LeoFinance community - spreading awareness about opportunities to create a high-powered return
Generate high quality articles for the LeoFinance platform - evergreen content that will rank well on Google and on Social Media
Posted Using LeoFinance Beta