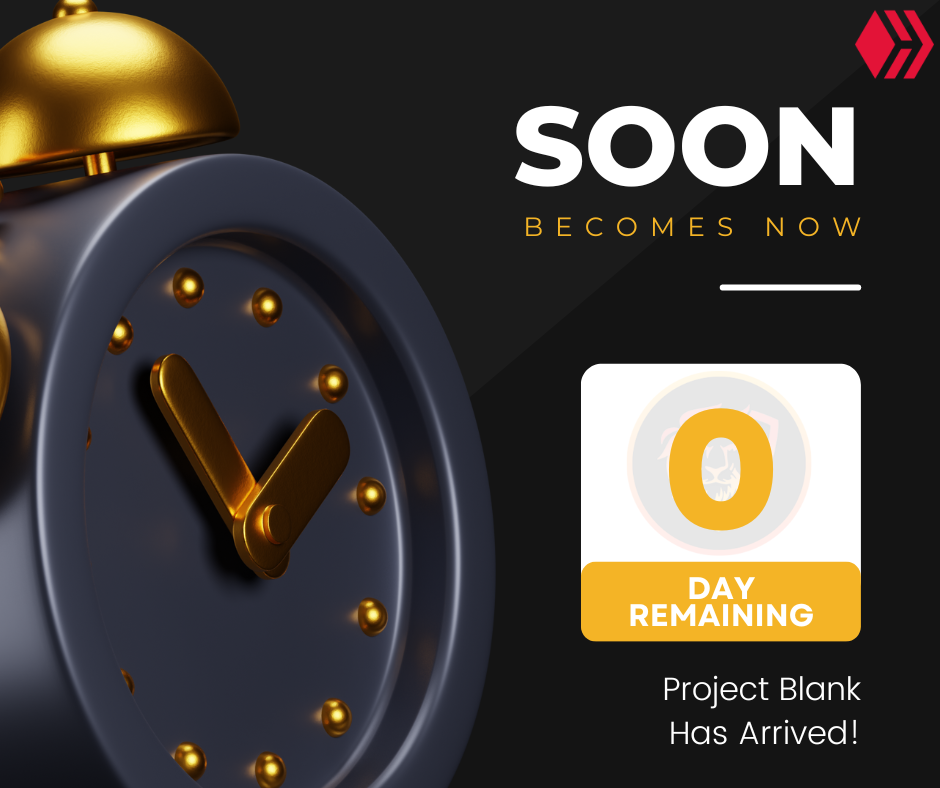 Wow... I'm sure all of you have been wildly anticipating that we would one day put "introducing project blank" in the title of one of our posts.
We've been working so hard on this project. It's been 2 years now since the origins of Project Blank began reverberating around LeoFinance and the Hive Blockchain.
The work that has gone on behind the scenes is pretty astounding. From ideation to design to development and now, to Open Alpha.
---
If you're reading this, Open Alpha is now Live!! Please check the disclaimers at the end of this post before you ask "Wen This, Wen That"... This is a multi-phase period of testing and we need a lot of feedback on each feature before we unlock the next feature for you. Each week, a new feature will launch and we hope you test it and give us feedback so we can launch the next feature.
Enjoy Project Blank, Frens 🦁
---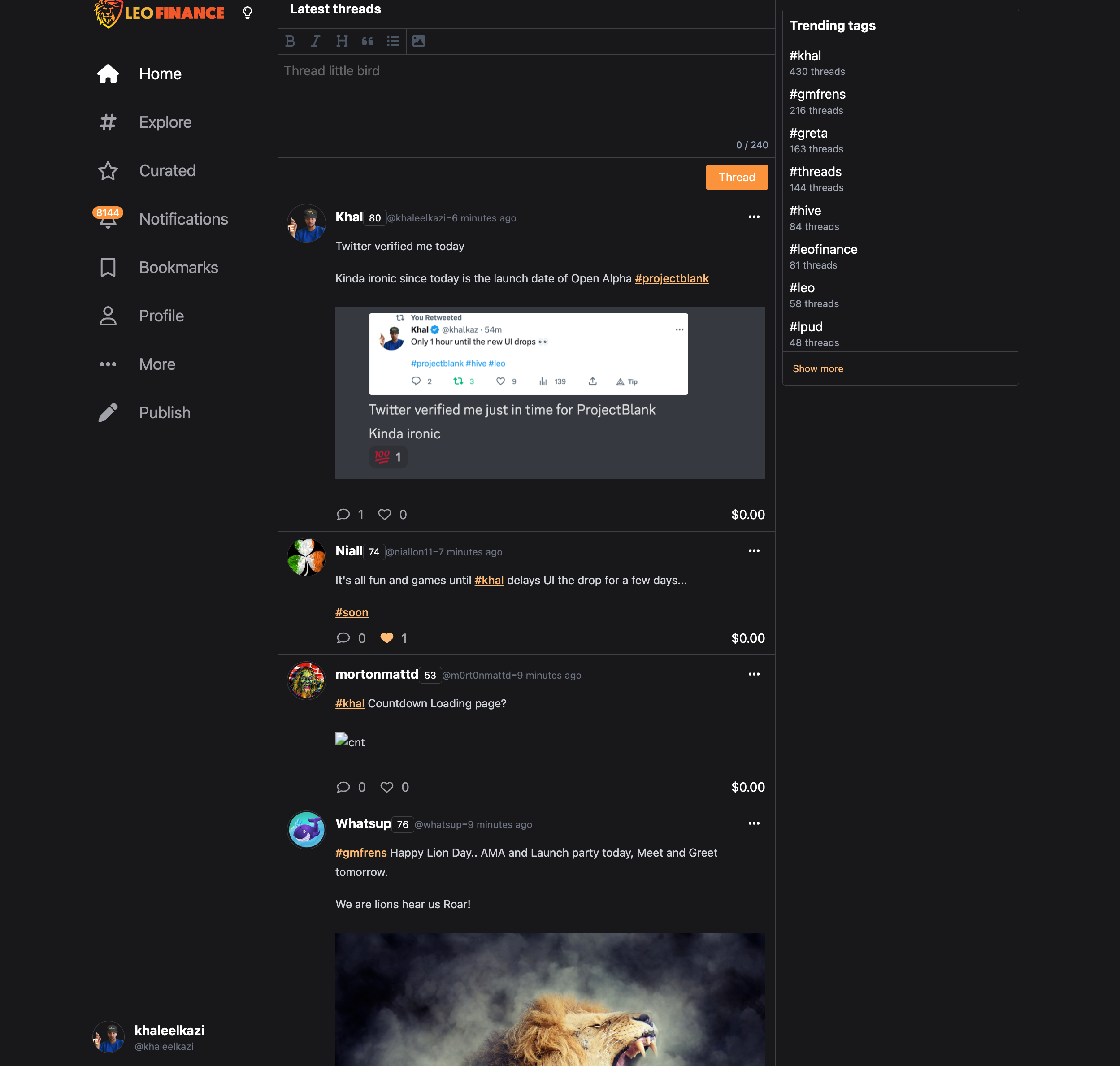 Project Blank has taken on a lot of different meanings. It's incorporated massive levels of feedback as we had an idea, shared the idea and then began the backend design framework that would eventually become ProjectBlank.
The original idea was to launch "Twitter on the Hive Blockchain" and with it, create the "BLANK" token and also a completely separate app from the LeoFinance application suite.
As time went on and our ideas evolved, we decided to take on an entirely new approach. We learned a lot of hard lessons along the way as we worked in other spaces like DeFi, etc. Instead of launching a separate token and a separate brand, we decided to merge Project Blank and LeoFinance to create...
The Everything App for Hive.
The Everything App gives itself away in the title. It is an application that incorporates:
Microblogging
Blogging
Hive Blockchain Technology
Web3 Principles of Immutable Content
True User Account and Data Ownership
LeoInfra Onboarding for Hive Lite Accounts
DeFi
NFTs
Community Pages
and so much more!
A Home for All Content
Our vision of Web3 has evolved over the years. It began by having segmented content and policing people who created content that didn't fit the mold of crypto & finance.
Since then, we've realized that a new approach is far better. Instead of forcing people into the crypto/finance content niche, we decided to open it up.
Web3 is all about giving people the tools to do what they want to do. To build the community, following and authorship that they want to build.
Our mission is to democratize knowledge and access to finance. Finance is always at the core of who and what LeoFinance is about.
With that being said, Web3 is opening finance to all niches of the world. No longer do you need to be segmented into a bucket. With Web3, even basket weaving has some relation to Finance.... Since Basket Weaving creators can now build a Web3 business for themselves by simply sharing their basket content on Web3, tokenizing it, maybe even turning it into NFTs or a weekly "Substack-style" newsletter...
Our mission is still to democratize knowledge and access to finance but now we're opening ourselves up to all types of content.
That's the power of Project Blank... Create unlimited content. As much content as you want. Nobody is here to police you on the "quality" of your content or the "length" of your content.
Project Blank is Microblogging
Project Blank was originally intended to be Microblogging-only... Obviously, The Everything App incorporates both microblogging and long-form content.
If you head over to the Open Alpha now - https://alpha.leofinance.io - then you'll see content that is related to all sorts of topics.
Now you can microblog anything you want. Want to post a pic of your dog? Then post it and tag it #dogs. There is no limit to what you can do here.
Engagement is Everything
Now, engagement is everything. Our ad revenue as a platform has more than doubled since we launched microblogging as a testing grounds for PBLANK's backend a few months ago.
Our mission is to simply expand the tools and offerings that LeoFinance as a Web3 ecosystem brings to the table. Then, you as the community and users are given the mission to turn it into something that you love to use on a daily basis.
Enough Backstory, Now Blank
After 2 years of Wens, we know that you all are anxious to get onto Project Blank and start using it.
The time is NOW... Open Alpha is Here!!
In some subsequent posts, we'll talk about all of the features of Project Blank and what you can do with it. We'll talk about the new vision of LeoFinance and what it means for the LEO Token Economy and our community.
LEO is going to get supercharged from all of this.
Disclaimers
These are important.
Project Blank has been in Closed Alpha since Christmas time. It's been an important time for the team to find bugs and patch them while also incorporating new features.
DISCLAIMER the Open Alpha product launches in a multi-phase approach.
What you see today is not the full app... It has all of the major core features but there are dozens of other features that are unlocked as the Open Alpha progresses.
Rather than give you the full product all at once to test, we will be giving it to you piece by piece, week by week to test.
We hope to receive and highly encourage feedback. We need this feedback to bug fix and also add new features. As we roll things out each week, please test the latest features and then give us feedback right away! This will help us exit Open Alpha and move to Production release quickly.
We're anticipating roughly 1 month for Open Alpha but it will really depend on feedback. The more feedback, the better.
Scaling this app has been a focus of ours but keep in mind that as an Alpha product, this can still have a lot of bugs! Be patient with it and keep giving us feedback so we can rapidly improve things and get from Open Alpha to Production.
Another disclaimer: if you're writing posts/content within the Alpha UI, just be conscious of perhaps saving an extra draft somewhere else (i.e. a local note file on your computer). While we don't anticipate you'll lose any content you're working on while you're writing, nothing sucks more than losing a draft.
Another disclaimer: (well, a repeat disclaimer) - I know many people are going to ask "wen this, wen that" in terms of features. They are being rolled out week by week... So when you wonder where your wallet page is or why the curated feed isn't loading or why there is only Hive Keychain login and no LeoInfra integration... Remember that we are rolling each of these major features out in phases so that they can be tested 1-by-1...
To get the next feature unlocked faster, give us feedback so we can improve the previous feature and iron out any bugs! Can't stress this enough.

About LeoFinance
LeoFinance is a blockchain-based Web3 community that builds innovative applications on the Hive, BSC, ETH and Polygon blockchains. Our flagship application: LeoFinance.io allows users and creators to engage & share micro and long-form content on the blockchain while earning cryptocurrency rewards.
Our mission is to democratize financial knowledge and access with Web3.
Twitter: https://twitter.com/FinanceLeo
Discord: https://discord.gg/E4jePHe
Whitepaper: https://whitepaper.leofinance.io
Our Hive Applications
Join Web3: https://leofinance.io/
Microblog on Hive: https://leofinance.io/threads
LeoMobile (IOS): https://testflight.apple.com/join/cskYPK1a
LeoMobile (Android): https://play.google.com/store/apps/details?id=io.leofi.mobile
Delegate HIVE POWER: Earn 16% APR, Paid Daily. Currently @ 2.8M HP
Hivestats: https://hivestats.io
LeoDex: https://leodex.io
LeoFi: https://leofi.io
BSC HBD (bHBD): https://wleo.io/hbd-bsc/
BSC HIVE (bHIVE): https://wleo.io/hive-bsc/
Earn 50%+ APR on HIVE/HBD: https://cubdefi.com/farms
Web3 & DeFi
Web3 is about more than social media. It encompasses a personal revolution in financial awareness and data ownership. We've merged the two with our Social Apps and our DeFi Apps:
CubFinance (BSC): https://cubdefi.com
PolyCUB (Polygon): https://polycub.com
Multi-Token Bridge (Bridge HIVE, HBD, LEO): https://wleo.io
Posted Using LeoFinance Beta